---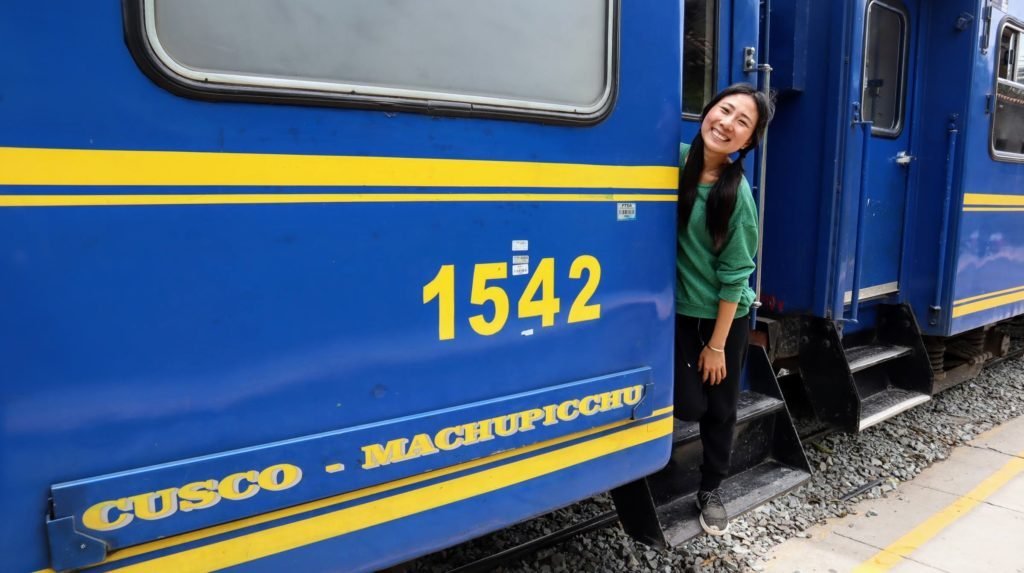 ---
*** PERU RAIL
*** MACHU PICCHU
*** AGUAS CALIENTES
A lot of people dream to visit the world's 7 wonders. I honestly hadn't really dream about it but luckily, I had a chance to go visit one in Peru, the world-famous 'Machu Picchu!' but is Machu Picchu worth visiting? As the cost and effort of getting there are not that low. We got there using a cool way of traveling '360 Panoramic train ride' by Peru Rail. Is it actually cool as people imagine it would be though?
The world's wonder Machu Picchu in Cusco, Peru
Machu Picchu is an Incan citadel set high in the Andes Mountains in Cusco, Peru built in the 15th century. It's renowned for the sophisticated dry-stone walls that fuse huge blocks without the use of mortar.
Still a mystery how did the Incans build such a place way back then. With our own eyes seeing how huge the stones they use are and how perfect the condition of the Machu Picchu still is after many earthquakes for a thousand of years, gotta say I'm amazed.
To get there, even us in these modern days have to make such an effort. I wonder how they really did it back then. Anyways, I think that's the point how this amazing place has become one of the new world's wonders and allure people to visit Machu Picchu and the beautiful country of Peru in general.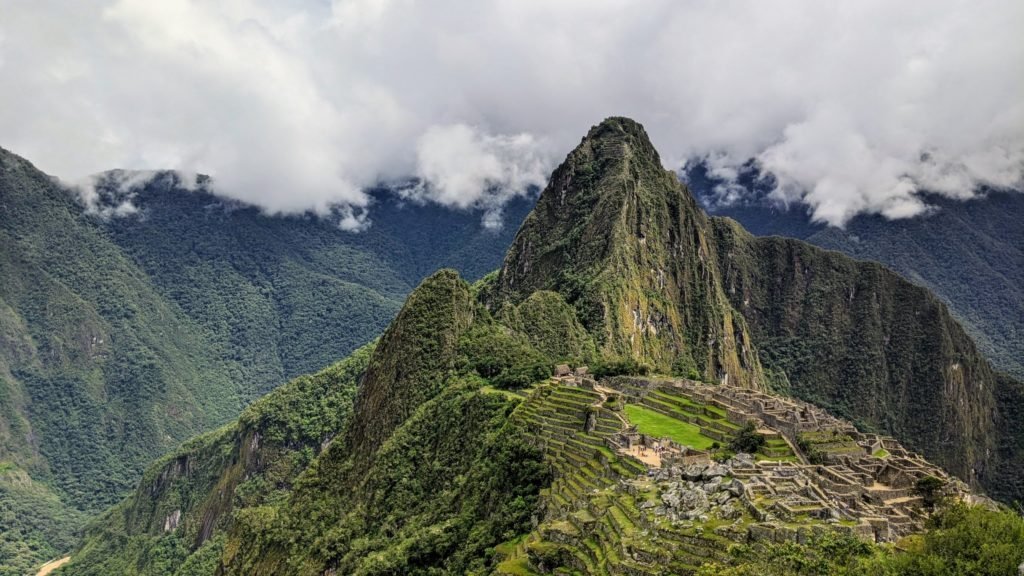 Going to Machu Picchu by train
There are a few ways we could get there.
The easiest way to get to Machu Picchu - Buy a tour package and go by bus straight from Cusco
To get to Machu Picchu for adventurers- Crazy hike for a few days with tour companies
The cheapest way to get to Machu Picchu- Take a bus and car from Cusco to Santa María to Santa Teresa to Hydroelectric. Then, walk from there.
Convenient but expensive way to get to Machu Picchu- Get from Cusco to Ollantaytambo either by collective or taxi, then take a train from there to Aguas Calientes, take a bus to Machu Picchu.
We chose to go by train as we wanted to get there fast and also, we had heard some hype about a 360 panoramic train ride where you can enjoy the nature outside, the food and the show that come with the train package.
2 train company to choose from in Ollantaytambo train station: Peru Rail and Inca Rail
Both offer high-quality tourist services. The majority of daily departures in both cases are at Ollantaytambo station. 'The Expedition' and 'The Voyager' are the cheapest services of both companies. We chose the cheapest one to Aguas Calientes and the second cheapest on the way back.
Our cheap ticket prices during low season in Peru still cost us about $130 both way (2 hours train ride each way). I honestly think that's still pretty outrageous. *Menu of the day of Peruvian local food in load tons of local restaurants cost S/ 5 or $1.5. Now you do the math!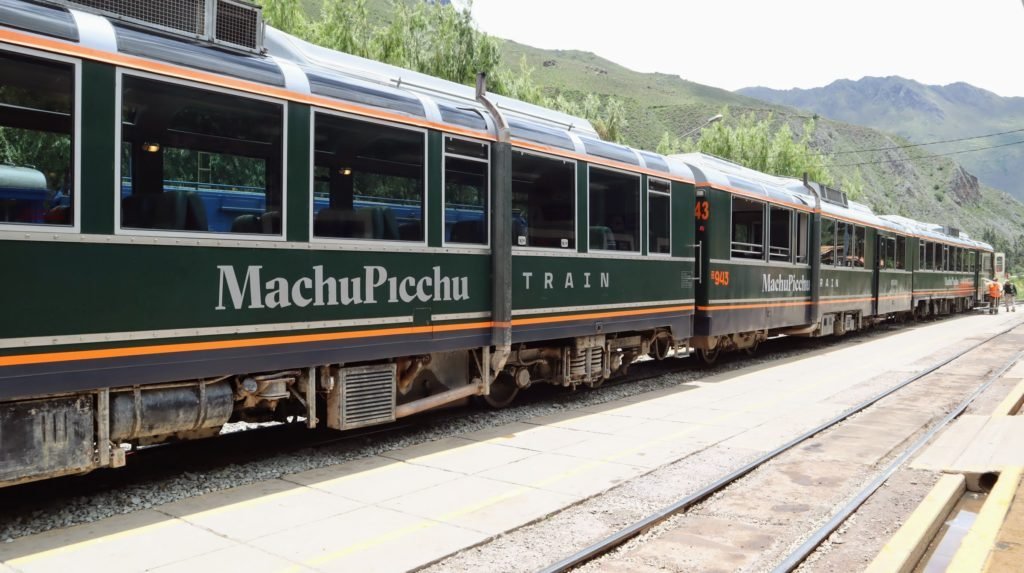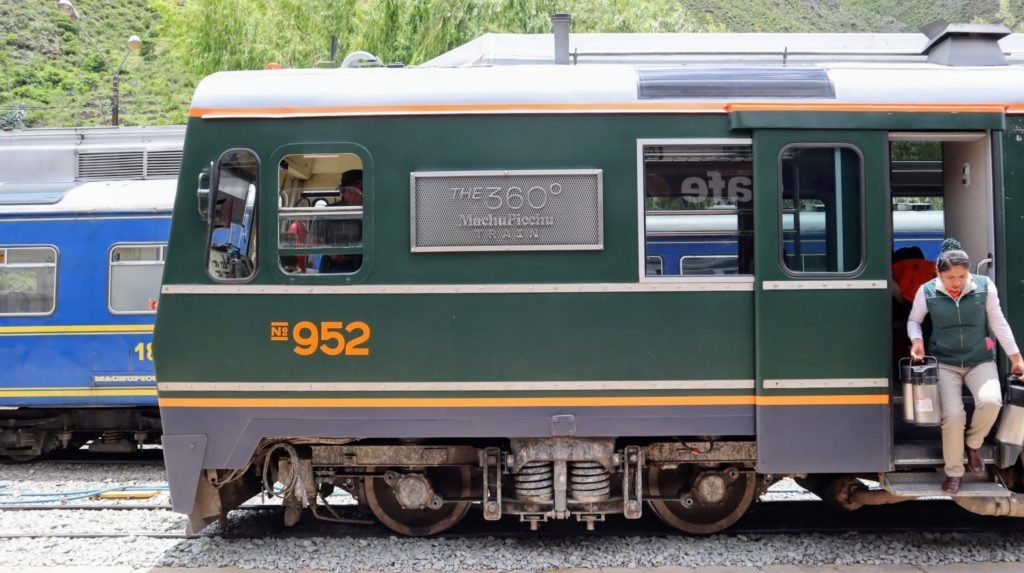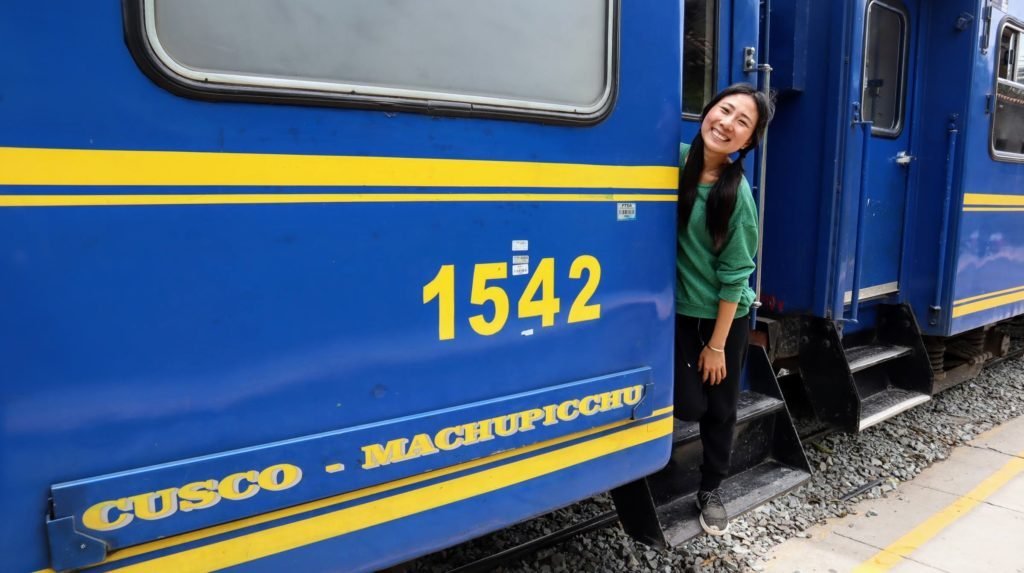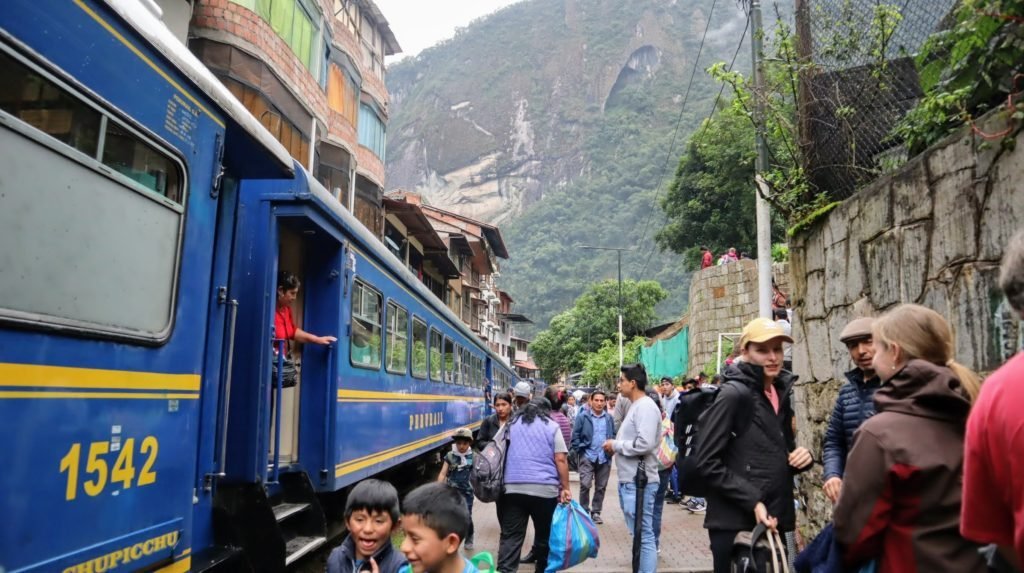 Our experience in The Expedition and Vistadome train ride with Peru Rail to Machu Picchu
For some reason, we chose Peru Rail to get from Ollantaytambo to Aguas Calientes. Then we gotta take a bus from there to Machu Picchu. The Expedition is the most inexpensive service Peru Rail offers. No food, no drink, nothing but the panoramic view. The Vistadome, the second least expensive Peru Rail offers. For about $30 more expensive, we got a small piece of cake and one drink hmmm.. Oh wait! A dance show and fashion show as well.
Nature along the way is quite enjoyable. Though, I don't think it's actually 360 or panoramic like they claim. The show was alright. Nothing too fancy. Just a few same staff get changed and walked back and forth along with the music. HONESTLY, next time (if there's any), I would go with the cheapest service Peru Rail / Inca Rail offers or just take a tour directly from Cusco. It's not worth the price...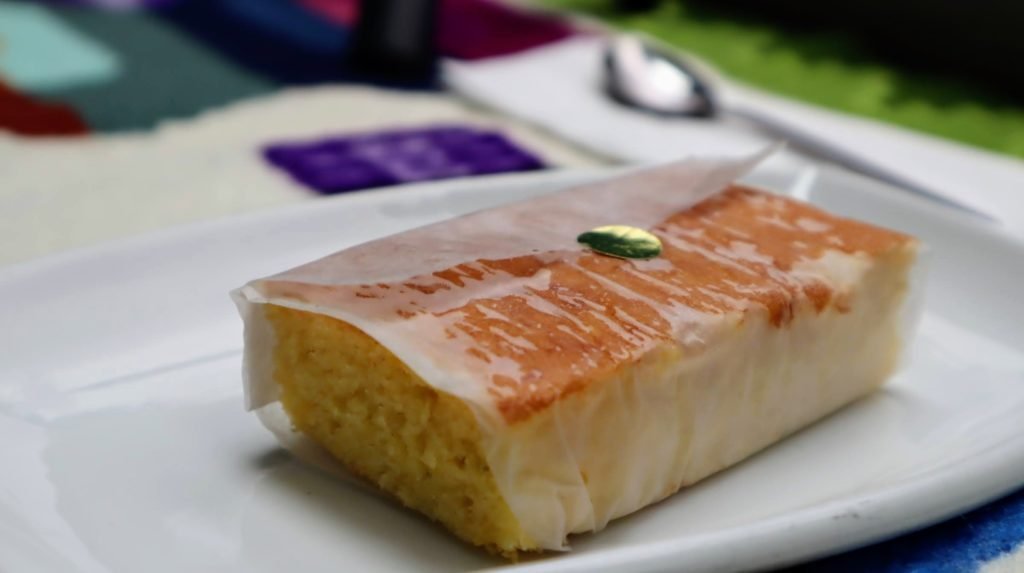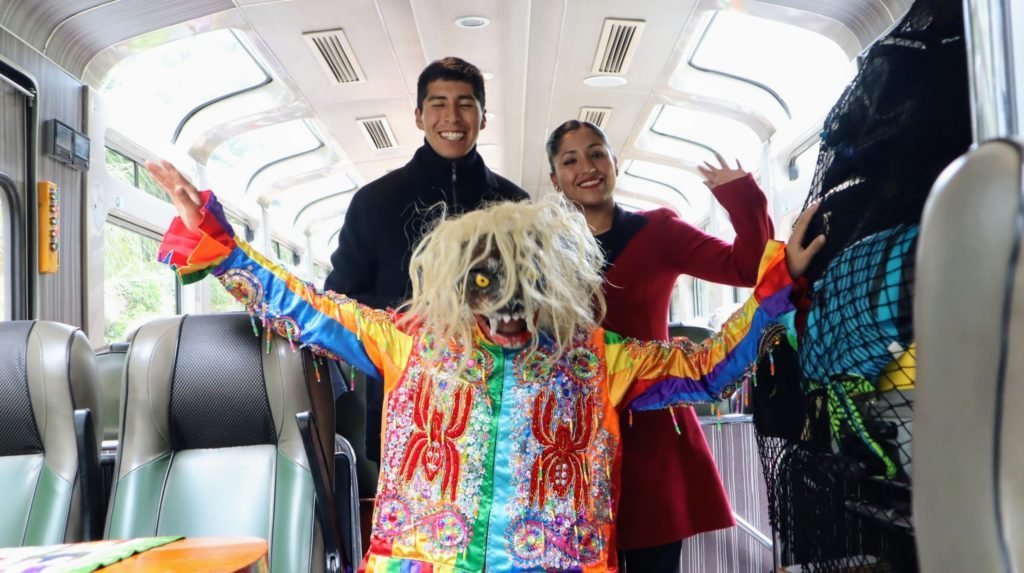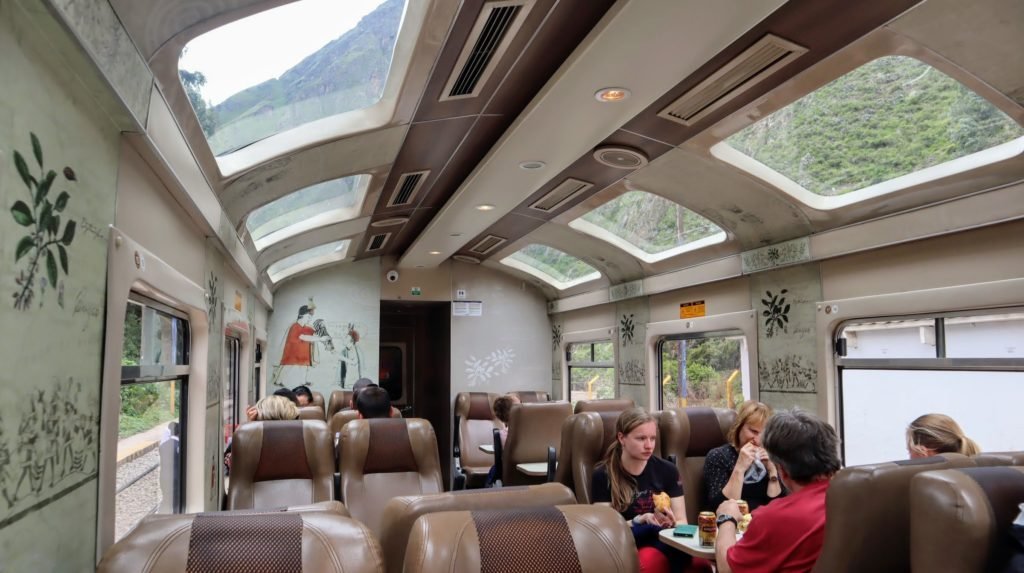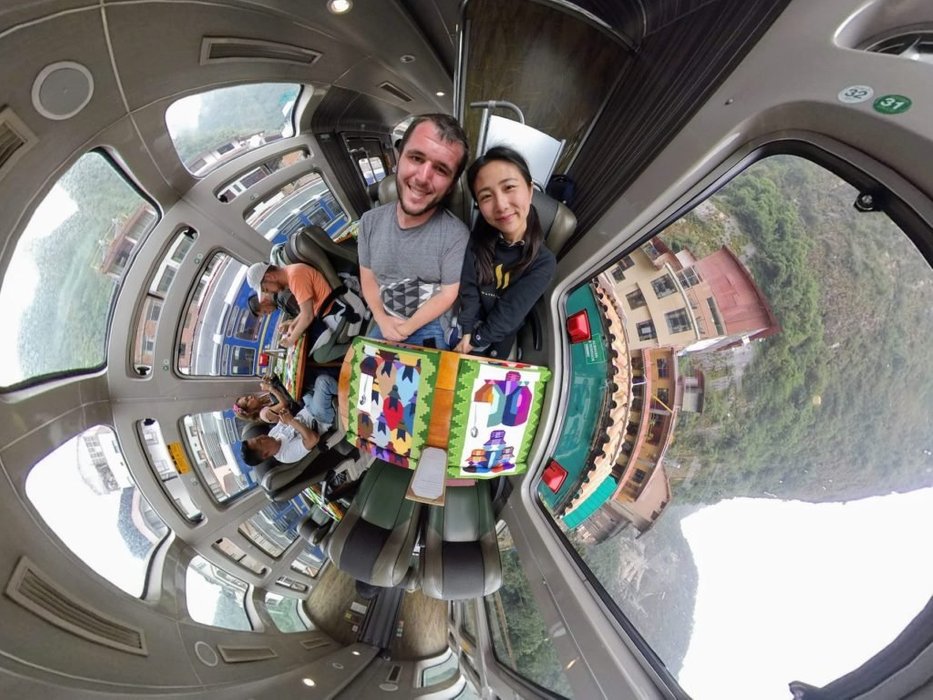 Our Vistadome train ride back to Ollantaytambo taken with this 360 camera
Take a ride with us and look around in Virtual reality what it really looks like! Subscribe for more 360 travel video around the world!
Shot with this 360 camera
Get to Machu Pichu from Aguas Calientes
Finally, we're here! Aguas Calientes, Cusco! The last stop before Machu Picchu. Why is the village called 'Aguas Calientes'? - Agua means water. Caliente means hot. As simple as that, a few hot springs around. In the Aguas Calientes where the tourists hang out, there's one up the hill that we can visit. Hot Springs Pools and Bar
The entrance fee for foreigners is S/ 20 without towels. A few pool along the Aguas Calientes River (Rio Aguas Calientes). At this point, you will probably think who is this snobby Asian writer but sorry, once again, I honestly don't think I was so impressed by the hot springs here. Water is not even that hot at the hottest pool there is. Many people hang around in each one.
Good thing though, there's a bar on site. We could just chill and someone came to get orders every so often. The cold beer with salt rimmed cups and lime juice. I liked it, I liked it a lot!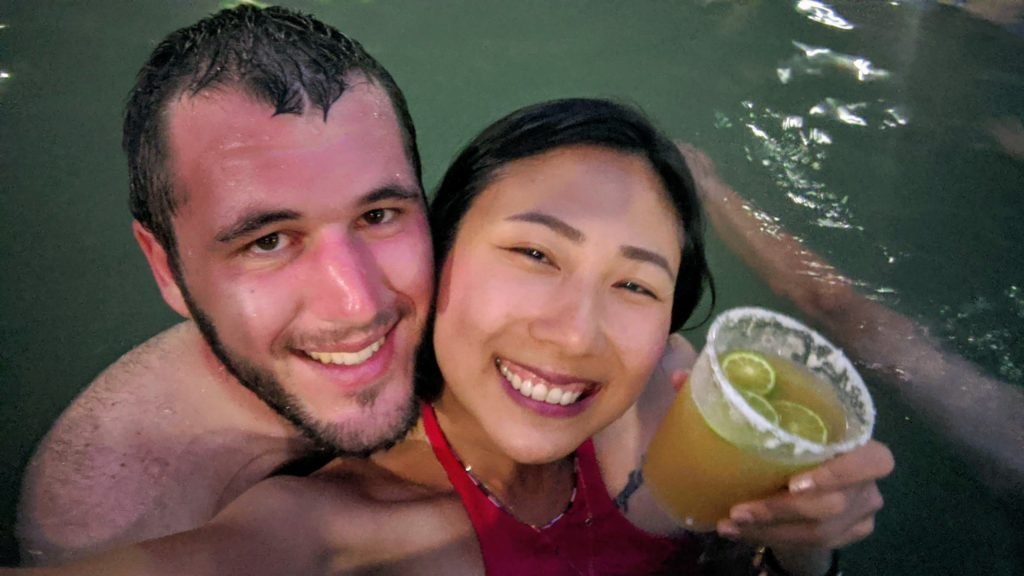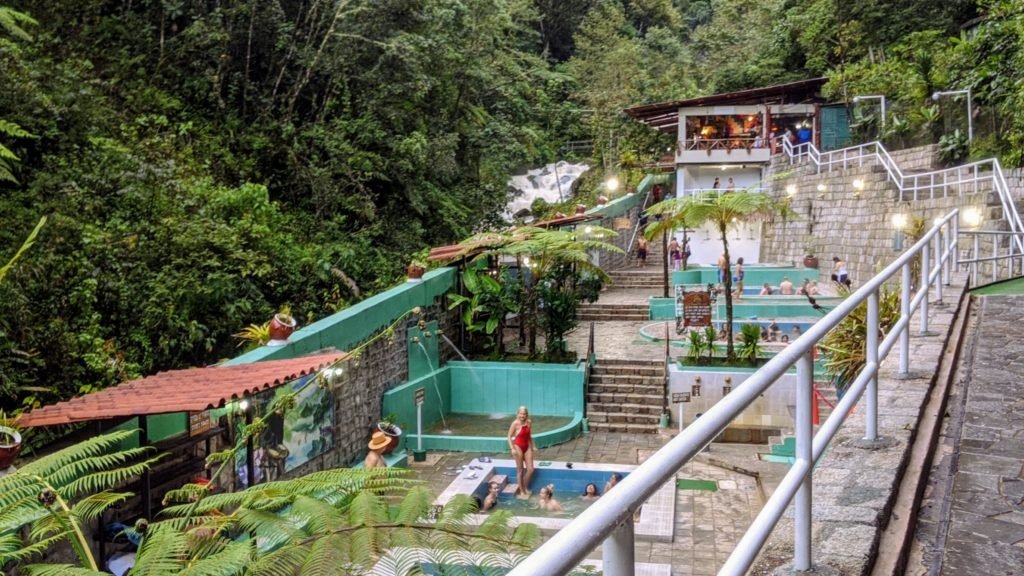 Machu Picchu tickets
During low seasons, no rush, take time and buy whenever. During high season, it's crazy busy and you gotta book so many months in advance especially, if you want to also go beyond Machu Picchu. There are 2 more mountains you could also go visit while in Machu Picchu which are Huayna Picchu and Machu Picchu Mountain.
The price of the tickets that include the additional mountains are more expensive. We got the only Machu Picchu ticket as we were not too sure about the weather. Once we got there, dang! sunshine! We tried asking at the entrance if we could buy the add-on ticket for the 2 mountains or not, the answer is 'No'.
Where to buy Machu Pichhu ticket? Buy online easily : https://www.machupicchu.gob.pe or buy at the office in Aguas Calientes.
Getting from Aguas Calientes to Machu Picchu
Aguas Calientes is a lot of people's last stop before getting to Machu Picchu itself as the train stop there. Also, there are buses run from 5AM to 9PM. The bus tickets can be bought in town and they cost $12 each way for foreigners.
We were told to go very early so that there are not many people around. No, we couldn't stand to force ourselves waking up that early so we went with the Machu Picchu scheduled at 10 and we take a bus at 9. Also, as it's a rainy season, it rained cat and dog the night before, so hard that I told myself 'f what are we doing here?*'
Machu Picchu is located above the Urubamba River valley so the whole windy ride. So many Ss we gotta take but thank Pachamama, they drive carefully slow. After enjoying the really beautiful nature and scenery along the way, we arrived safely!


Must know when visit Machu Picchu
It's a one time ticket. Get in, get out and we're done.
It's a one-way path in Machu Picchu so you'd better walk your way smart. Grab a map!
No toilet once you pass the entrance so, do your things before!
There's food in front of the entrance but quite pricey. Have breakfast before coming and go have lunch again in town.
No selfie stick allowed.
There are local Peruvian guides offer services in front of the entrance. Grab one or read online before visiting so that you're not one of the dumb tourists walking around ruins and have no idea what they are.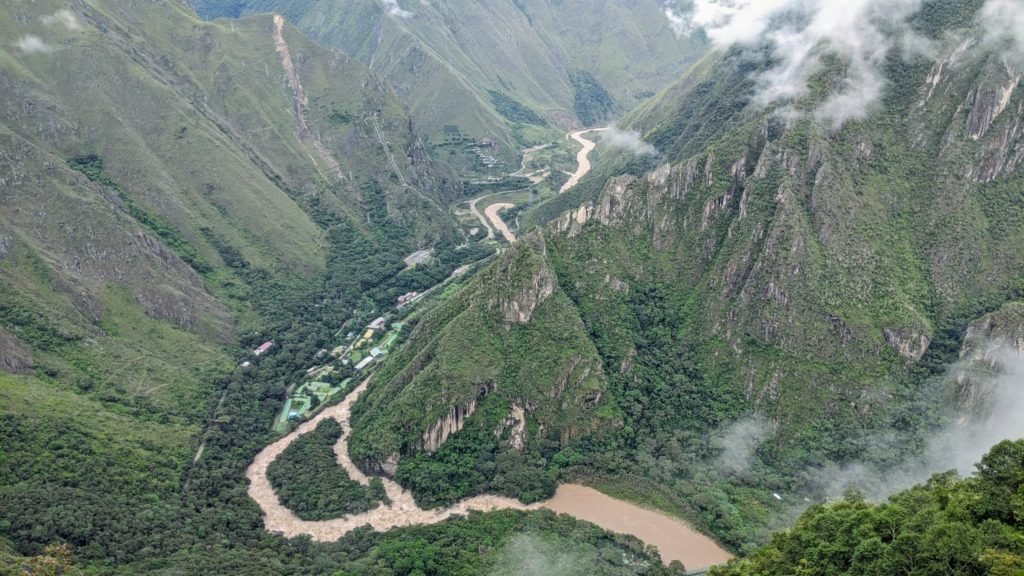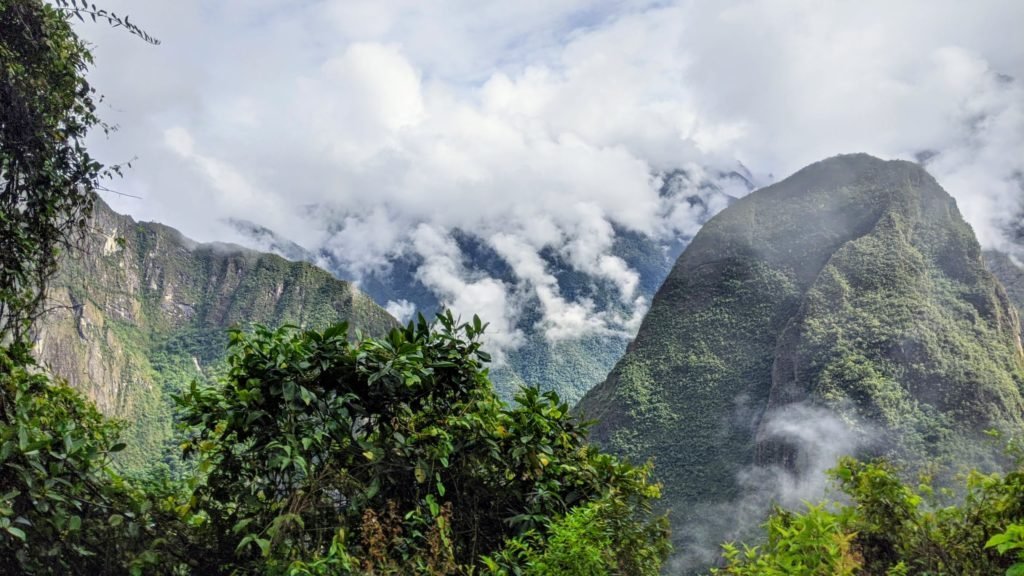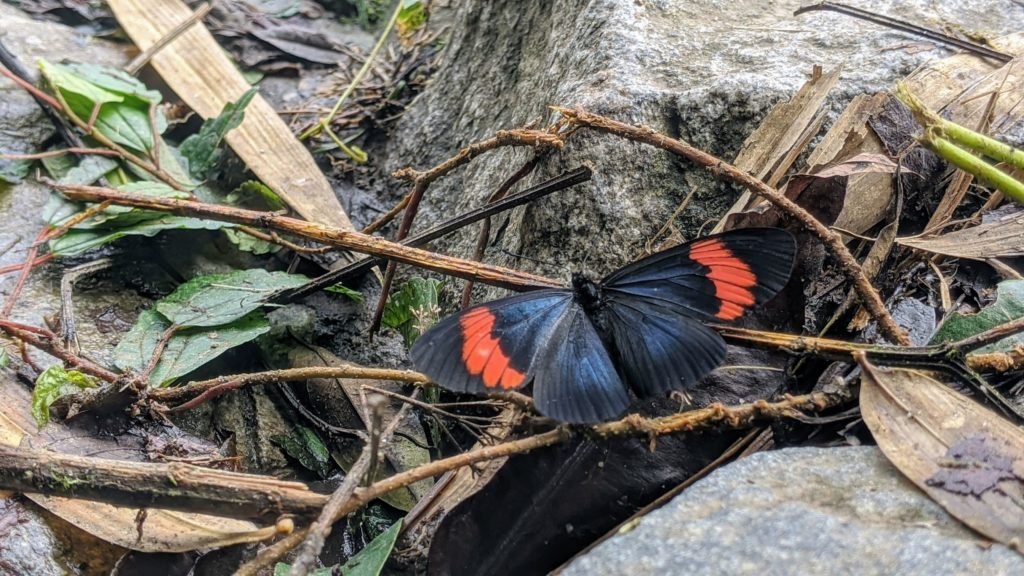 Is Machu Picchu worth visiting?
We visited Machu Picchu during the low season. We needed luck. So much good luck to be there without the rain during this rainy season. Hello there! We're lucky! Just around the time we got to Machu Picchu, the rain stopped and the sun started to shine. Crazy and yes, so pretty I gotta admit.
Though, to make an effort for such a long way from Cusco, paying over $200 in total (low season price)... is it actually worth it?
The ruins are amazing! Machu Picchu is one of the new world's 7 wonders. Nature and the mountains surrounded are totally gorgeous. History lovers and/or ruins lovers would totally die for just to see in once. Totally worth it. For a foodie like myself, for the effort and money, I'm not quite sure. It all depends, what type of a traveler/tourist are you?
Shot with this 360 camera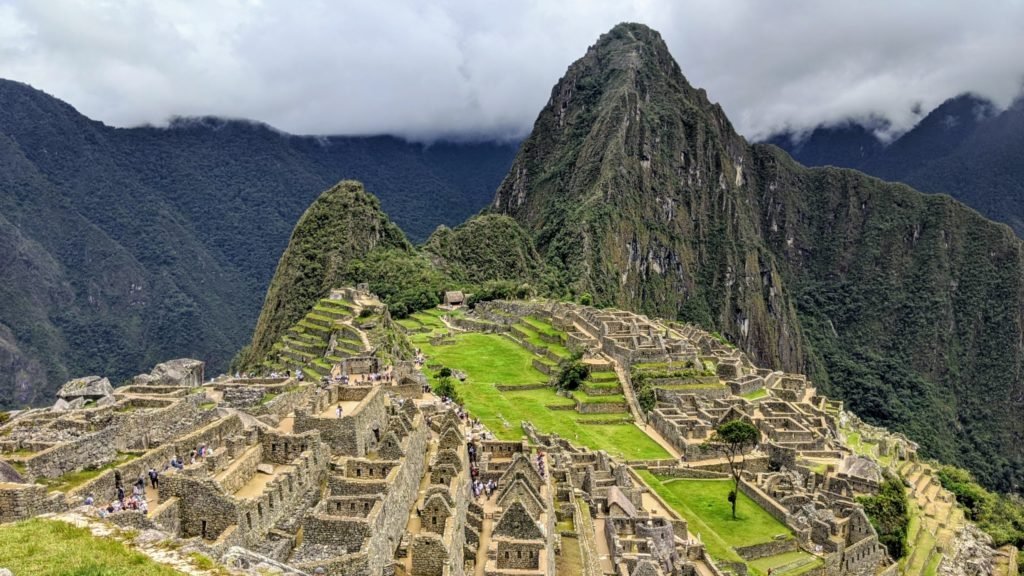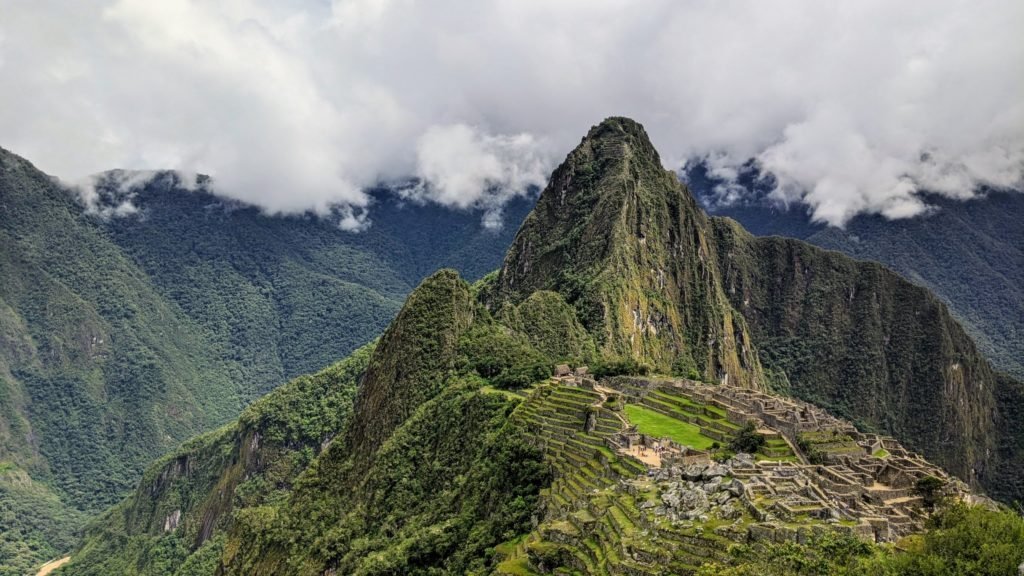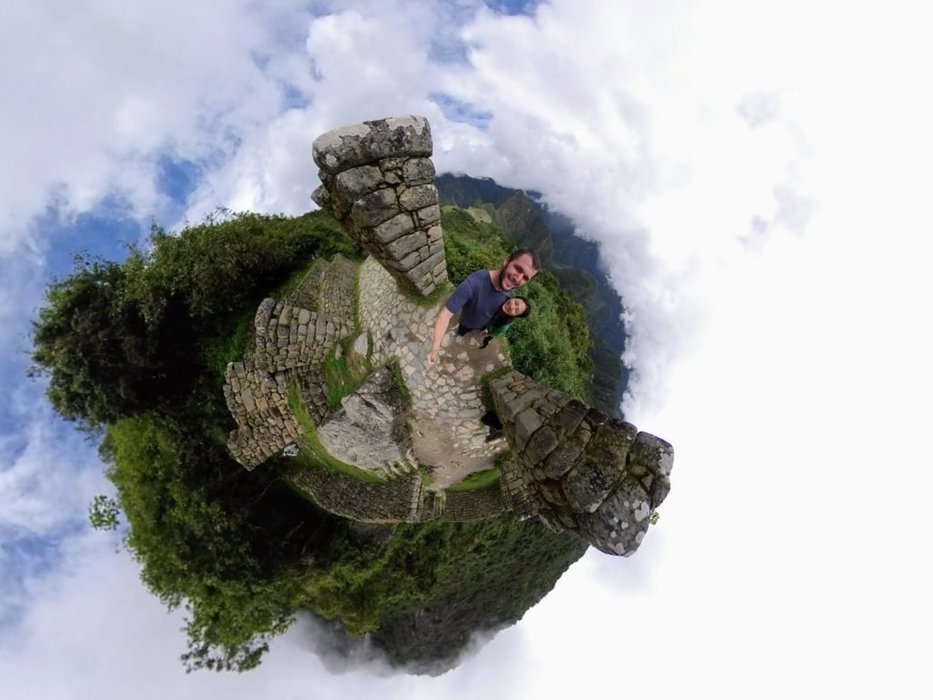 Little planet selfie at the Sun Gate, Machu Picchu taken with this 360 camera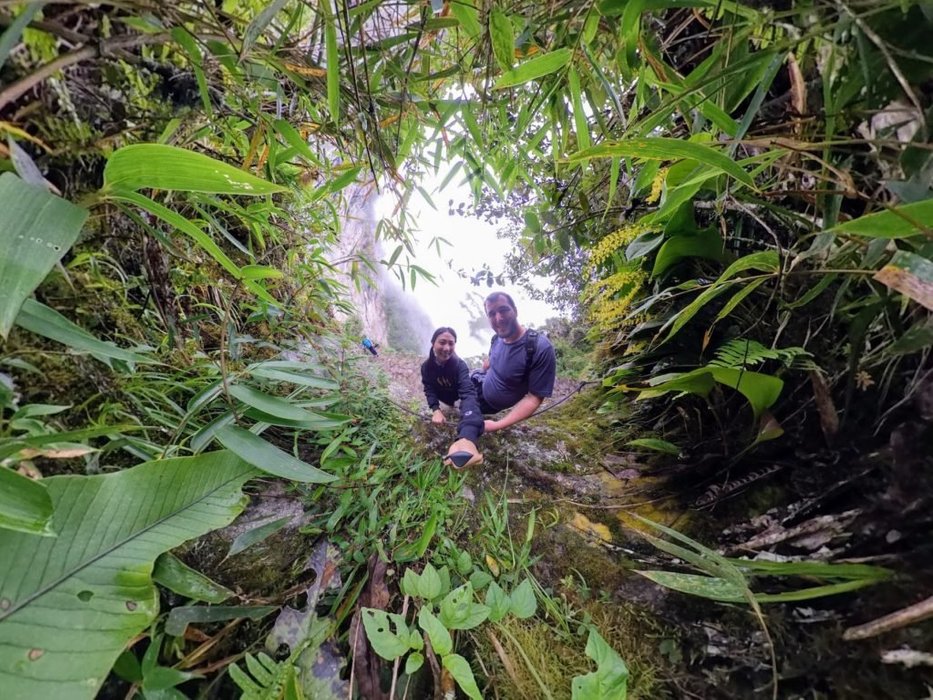 One our way to the Inca bridge, Machu Picchu taken with this 360 camera
♡ Get $55 TRAVEL CREDIT
♡ EARN CRYPTO while browsing
🎥 Check out all MY GEAR
---
All copy and photos are original content by me.
TO SUPPORT WITH LOVE ♡ PLEASE SUBSCRIBE!!! TO MY SUPER DUPER FOOD CHANNEL