---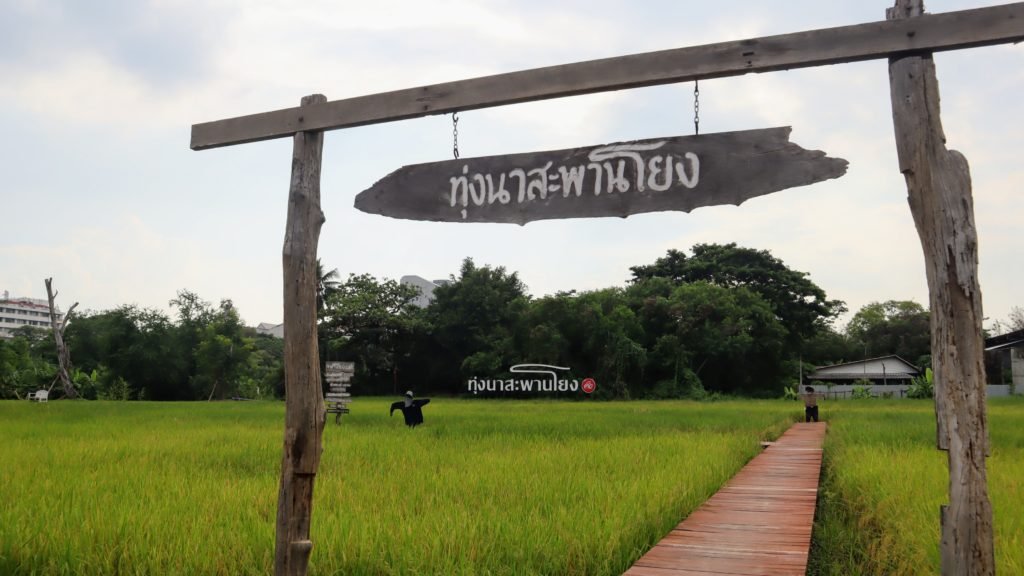 ---
Rice field Café
Rice fields are never really too interesting until there's this idea / hype going on in Thailand. They put a cafe on a rice field or close enough to it.. Like, it's a part of a cafe so you can go absorb some nature or take some nice green photos.. Like, lovely! If you remember that super duper cute one in Kanchanaburi I have written about a while ago. That was the first one I have experience and that changed the whole game of rice field. It's not just a place where you grow and harvest Thai people's most eaten food but it could be such a cool hang out spot! Here, at Saphan Yong Cafe (ร้านสะพานโยง จ.ศ. ๑๒๗๙) is pretty much something like that.. But right in the city somewhere hidden.
Saphan Yong Cafe (ร้านสะพานโยง จ.ศ. ๑๒๗๙)
How weird, it's just right there in the city where my family live. I have been in the city my entire life (Well, not really but close enough). I spend a lot of time in Nakhon Pathom where Saphan Yong Cafe (ร้านสะพานโยง จ.ศ. ๑๒๗๙) located. Too close yet too far. Never really heard of a place 'till my foreign friends came to visit. I was just looking for a place where to bring them to, what to do for fun and this unique cafe just popped right up.
We went there without any hesitation. The photos and the reviews just led us to the 'Yes'.
Believe it or not, it's literally less than 10 mins drive from my family's house. Sure it's a little hidden but dude, less than 10 mins and I had never discovered the place! First minute, Just 'Wow'.. This kind of place right in the middle of the city, like, seriously? How spacious the place is and how green the rice field makes you feel so refreshing.
One path going into the rice field so that some nice photos with you surrounded by nature could be taken :)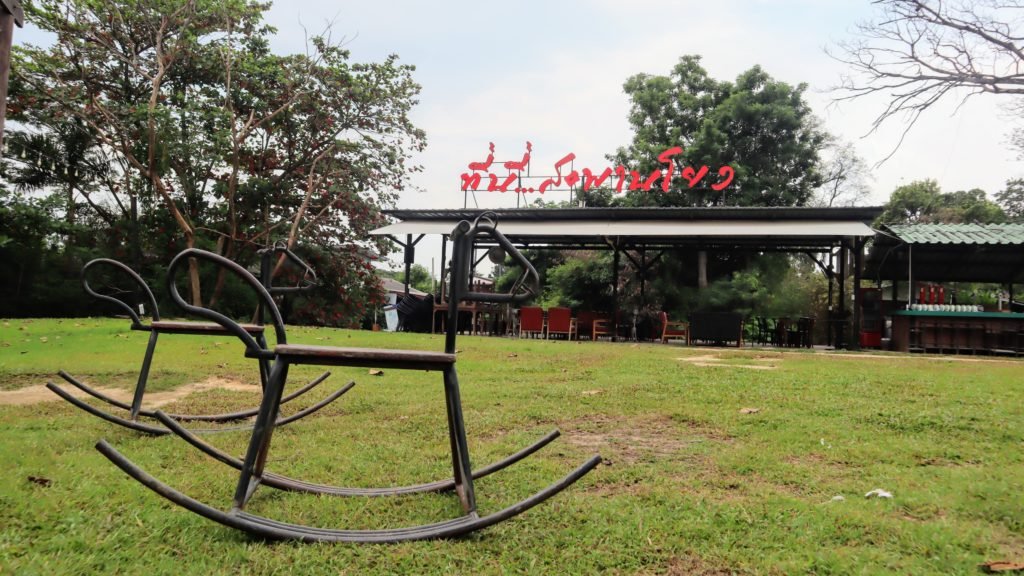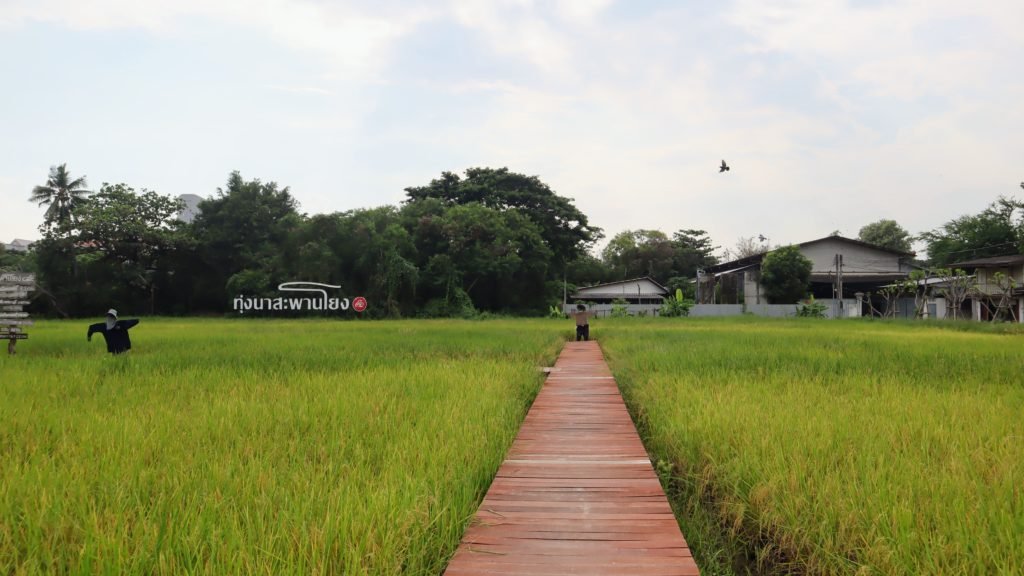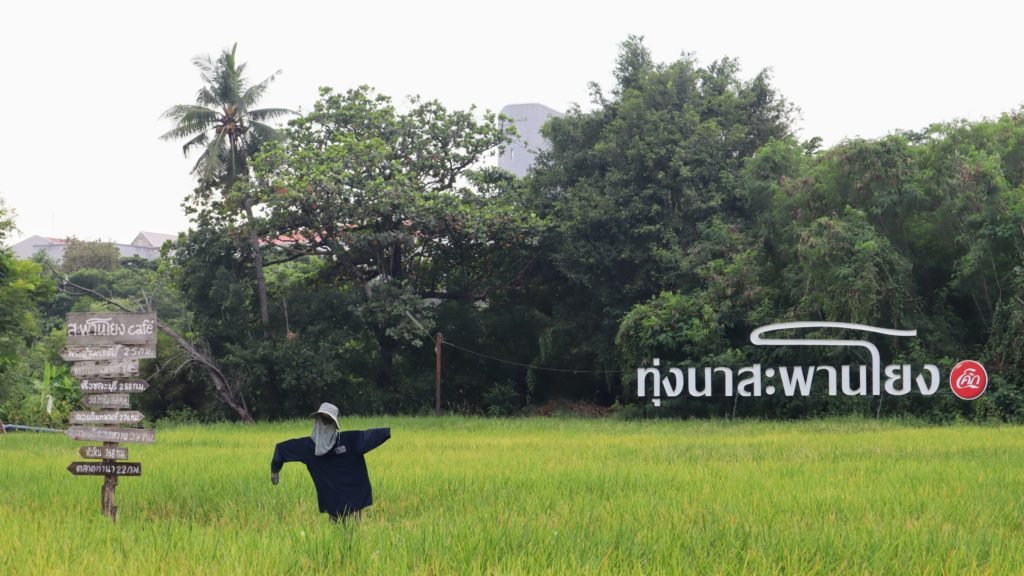 Inside the Saphan Yong Cafe (ร้านสะพานโยง จ.ศ. ๑๒๗๙)
Love it I love it in here!
Outside is nice and all with the greens and some fresh air.. but during the day at the 35 degree celsius plus, dang you, the air-con room's just way nicer. That's not really the point why I love it though. I love how spacious the inside it. How high the ceiling could go.. All the glass windows so it's light and bright..
This would be such a great hang out even for a really big group of friends. A nice and chill spot to come work on your laptop and so on..
A very big portrait of King Rama 6 of Thailand..
This surprised me a bit but then, not really once I realised he has such a role in Nakhon Pathom, in the past. Though, the reason I was surprised at first, in Thailand elsewhere, mostly, people hang the photos of King Rama 5, 9 ( As they have done so much for the country)and lastly, the present one. By the way, this is a huge one..
Then if you may wonder, what does the read sentence say in Thai both outside in the rice field and inside the shop. It says 'Here's Saphan Yong Cafe'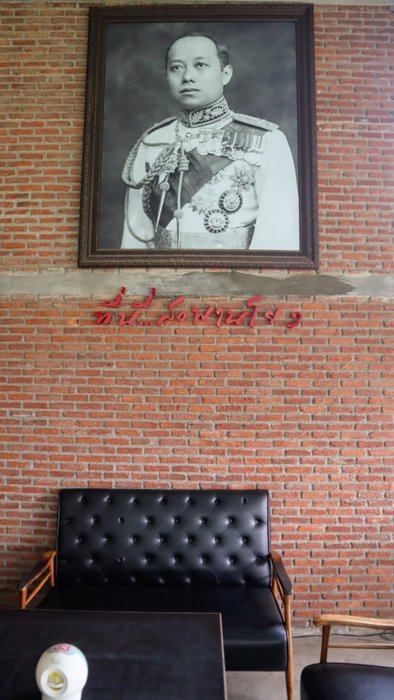 Food and drinks at Saphan Yong Cafe (ร้านสะพานโยง จ.ศ. ๑๒๗๙)
Too bad during that time, it was a vegan festival in Thailand and I was one of a lot of people who turned himself to be a vegan for 10 days.. I coudn't try any cake or milky drink but a cup of coffee. That was okay. I'm more like an acidic taste kind of coffee. This one was straight bitter.
My 2 friends got a cup of milky coffee and a piece of cake. Heard it's delicious! Oh! They do serve actual food as well. Like, main course and all.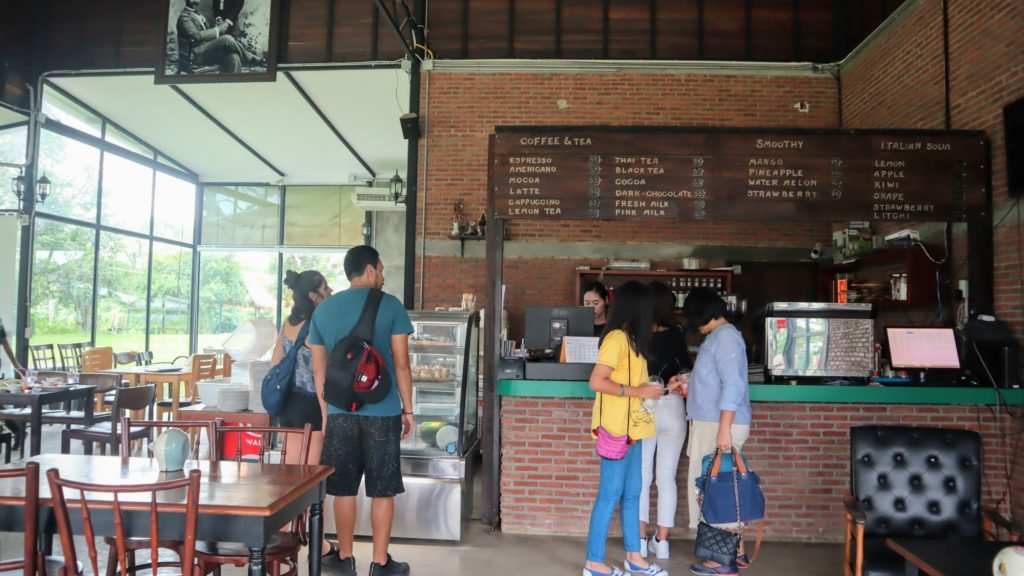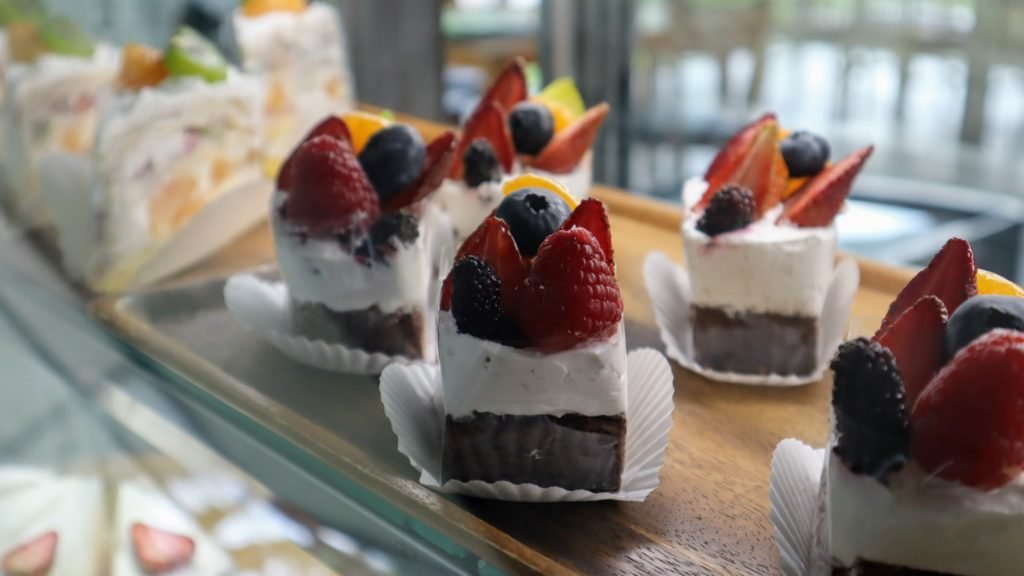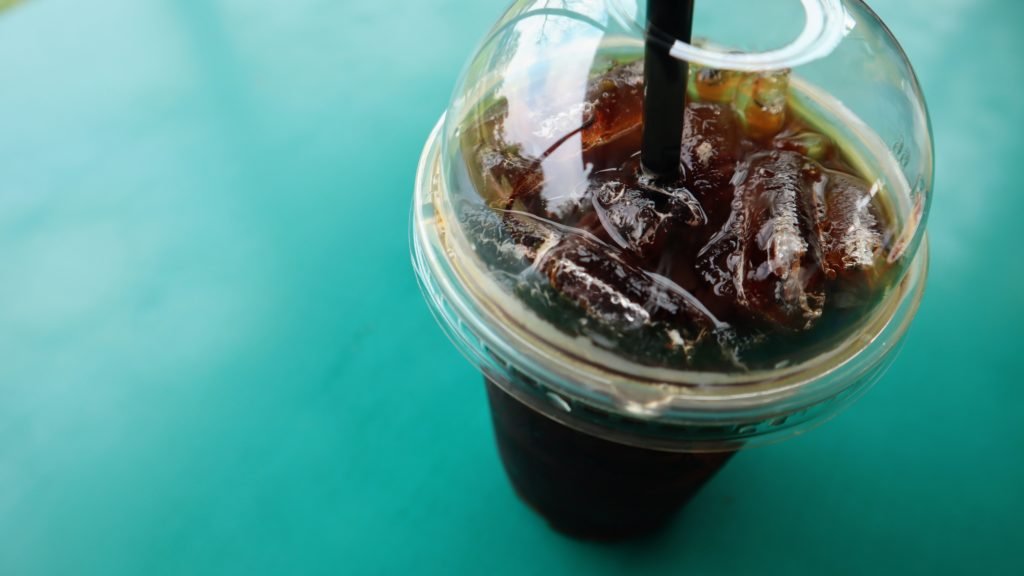 No, not just a cafe and the rice field
On the other side of the whole area, there's this small river passing through along the side the outside chilling spots : A few benches, a beer area.. Yes, they serve beer at night. Looks like it could be so chill and at the same time, you could catch a malaria Ooops!
There are even a few swings and also, swinging chair.. if that's what it's called? Totally the instagram hot spot or Appics hot spot.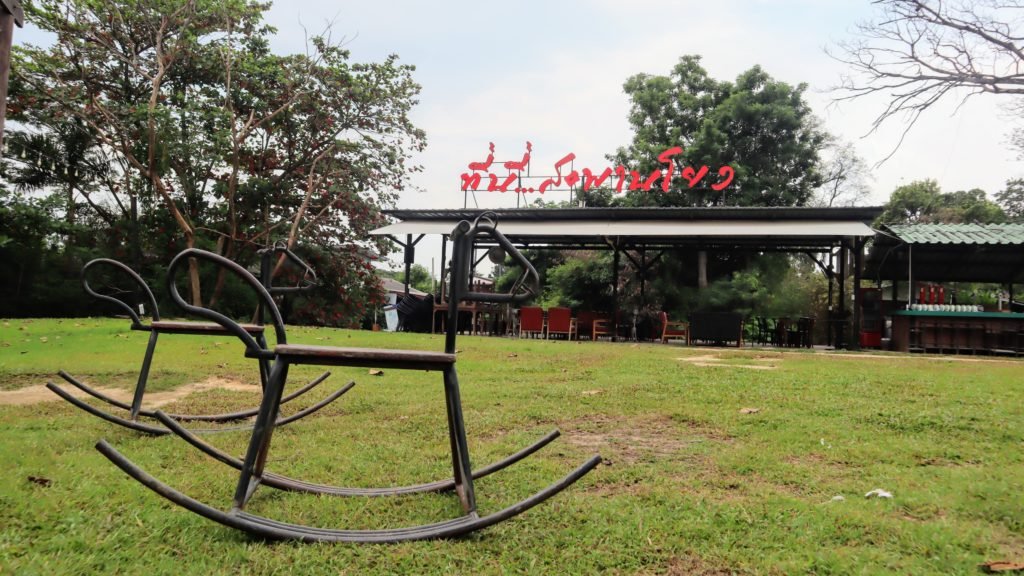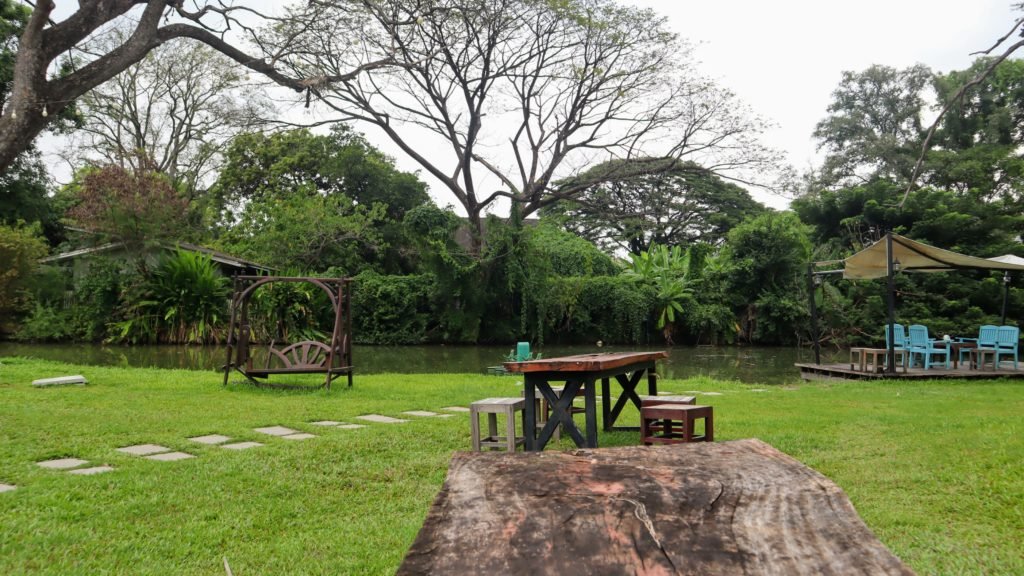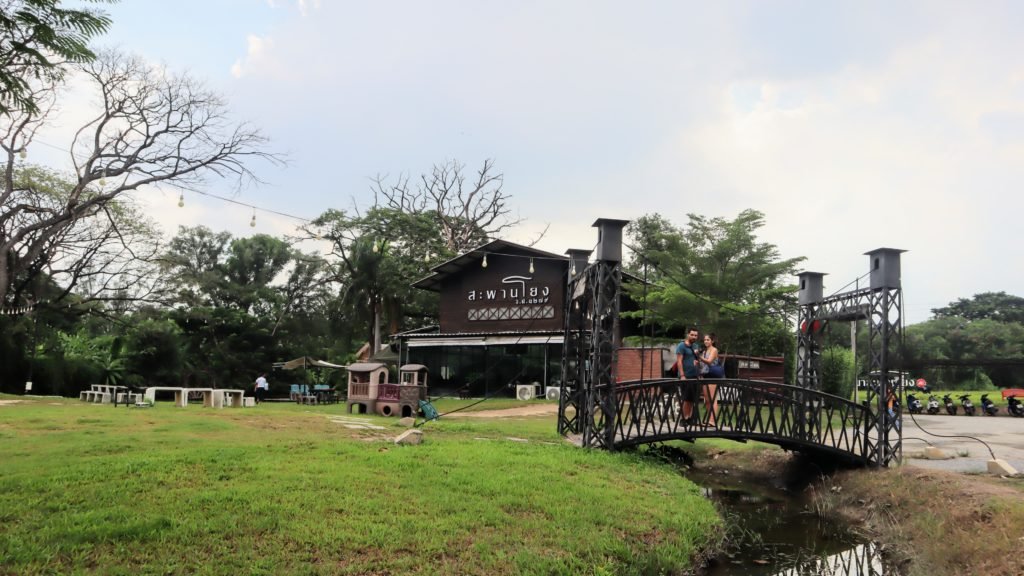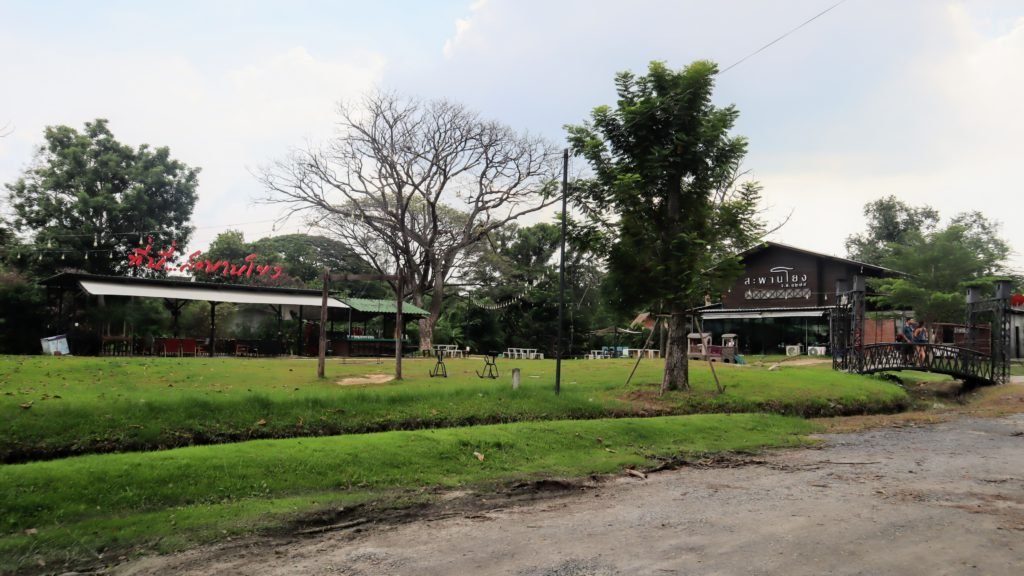 I totally was impressed by the place. What a spot to chill and relax in such an atmosphere. What a green scenery right in the middle of the city. Glad we found it! Sure will be back <3 I sure recommend Saphan Yong Cafe (ร้านสะพานโยง จ.ศ. ๑๒๗๙) if you ever pass by Nakhon Pathom one day.
Saphan Yong Cafe (ร้านสะพานโยง จ.ศ. ๑๒๗๙)
Address : Unnamed Road Nakhon Pathom, Mueang Nakhon Pathom District, Nakhon Pathom 73000
Tel : 097 923 1279
Not on Steem yet?? Let the ninja gets you a Steem account and start earning crypto!
㋡ Get $55 off your first adventure on Airbnb
㋡ BEST Boba Tea in town [Bangkok].
---
All copy and photos are original content by me.




TO SUPPORT WITH LOVE 💙 PLEASE SUBSCRIBE!!! TO MY SUPER DUPER AWESOME YOUTUBE CHANNEL :)