---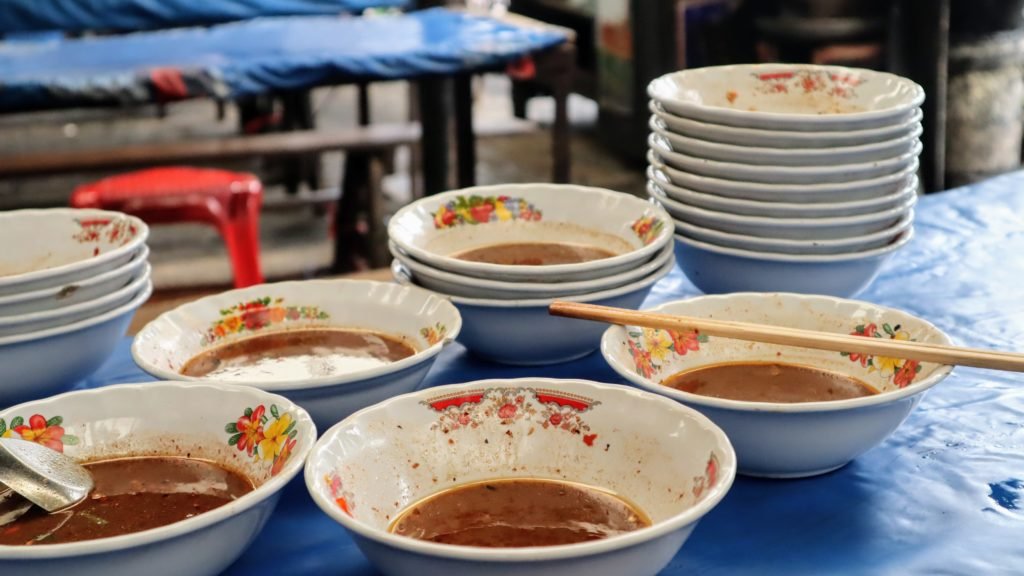 ---
Vietnam has Pho, Japan has ramen, China has chow mein, Thailand had padthai.. Wait.. What?! We're way beyond that so let's just go for something that may shock some of you.. 'Noodle in a pig blood soup'. Are you shocked yet?! I'm pretty sure some of you are! Not a lot of countries eat this kind of stuffs. In Thailand, we do commonly. It's even one of my favourite types of noodle!
Boat noodle (ก๋วยเตี๋ยวเรือ)
So small yet powerful
This Thai noodle soup I'm showing you is not the regular size one. It's real small, like, 2 spoon-bamn-done small! These littles, we call them 'Boat Noodle' in Thai means 'Kuay Teow Rua (ก๋วยเตี๋ยวเรือ)'. They really sold these in boats in canals or rivers back then when water transportation's widely used even more than cars.
Nowadays, they still sell boat noodle commonly in Thailand. Just not on boats like before. Well, if you come across those fancy ones that take the whole boat on land and sell the noodle with it, then good for you!
One of the best Boat noodle (ก๋วยเตี๋ยวเรือ) in Bangkok, Thailand
I'm a noodle fan so whatever noodle we talk about, follow my lead!
So many places around but not that all of them are good. I know one good one that I always stopped by after class when I was in a university and still recommend it to all the people who crave for some bowls. It's that good!
Every bowl is so flavourful. You don't even need to spice it up yourself as the cooking lady (Auntie Pad) got it all handled! :) I usually ask for less sugar..
Here's how to order
Choose a type of noodle out of the 3 types : Small rice noodle, egg noodle and the very small one
Pork or beef
With or without organs
You could always say no to the blood but I suggest you don't do so. It's so perfect and delicious with the bloody soup!
Here's how they freshly make it bowl by bowl
That raw pig blood spooned into the ladle. Then dip one side of the ladle into the pot with boiling soup to get some of the soup in and mix with all together. The blood cooked quickly in the ladle and yay! Pour into the bowls.
That simple. That delicious!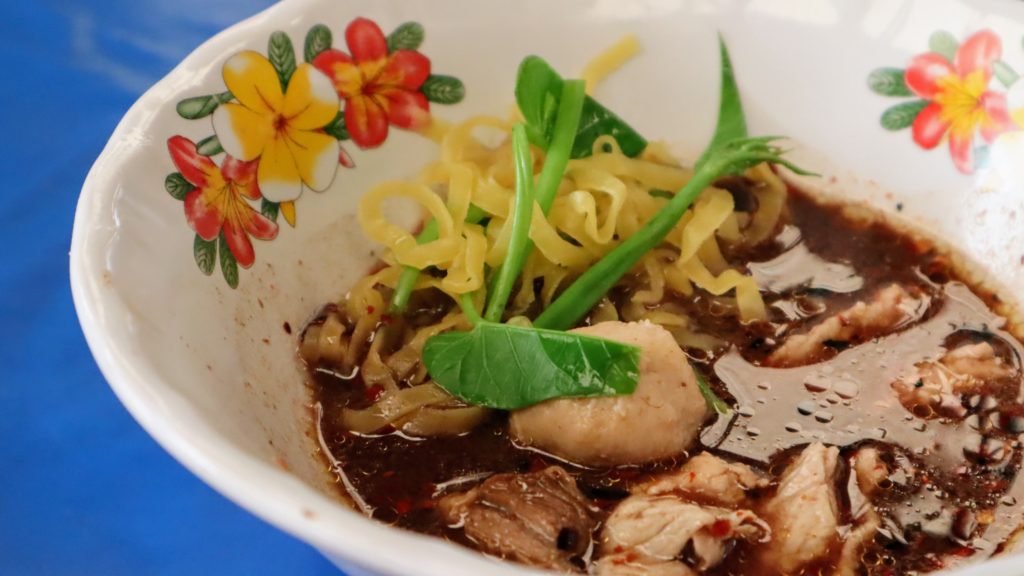 How many bowls a meal, how much a bowl?
As it's so small, you would normally need more than 1. With my 90lb body, I give up at number 5-6. I saw people finish 15 before so..
Normal size noodle in Thailand nowadays would cost you around 30-50THB ($1-1.5). This is the baby bowl, 10THB!
Gak Moo (กากหมู)!
Not sure if you ever put pork grind / chicharones in your soup ever, we do put pretty much the same thing into these small little ones.
The deeper, the better!
The place doesn't even have a name or nothing fancy. Just a small little one hidden in a small wall hole next to a dirty canal in Victory Monument Area
Here is exactly where it is and as mentioned, it's in a wall hole next to a canal. In the hole got like 4-5 different noodle shops. Don't get confused! It' the last one and Auntie Pad will be there waiting for you!
Oh! Hope you don't get so grossed out of the condition! :)
Oh my!!! I have been loving the place for more than 6 years+ and will continue supporting. If you ever pass by Bangkok and crave for some Thai style bloody noodle soup, that's the place to be!!
Address : Samsen Nai, Phaya Thai, Bangkok 10400
Winners announcement!
For the random giveaway easy peasy question asking how many bowl could I handle this time.
@acinad, @chiama, @eoj, @benfreed, @deceth, @chekohler, @dmilliz, @stackin, @foxkoit and @wolffeys joined. Thank YOU all for holding this and the one and only winner who guessed exactly right..
@acinad guessed '5 bowls of noodle soup!'
㋡ Earn free crypto : https://www.waybeyondpadthai.com/free-crypto
㋡ Play dice and earn Steem (or lose!)
㋡ Get $27 credit on Airbnb
---
All copy and photos are original content by me.




TO SUPPORT WITH LOVE 💙 PLEASE SUBSCRIBE!!! TO MY SUPER DUPER AWESOME YOUTUBE CHANNEL :)