Well, well, well, Peruvian Ceviche it is! One of the first dishes I would love to get my hand on just the first moment we got to Peru! One of Peru's national dishes. It's everywhere throughout the country but when you're in Lima, I think it's best for it. Ceviche on the Peru's Pacific coast baby!
Also, this is not one of a beautiful garnished dish served along with a fancy Pisco Sour cocktail drink like some of you may be imagining. We're doing it a little wild. Street food we all love! Peruvian street food, si!
Peruvian Ceviche (Cebiche)
Fresh raw fish or cooked seafood cured in citrus juices, such as lemon or lime, and spiced with garlic, chili peppers, chopped onions, salt, and coriander. + Potato and corn nuts! Peruvian style!
We all know it's not just Peru that has this dish but the place of its origin, Peru! #surprise! That's why it's one of their national food.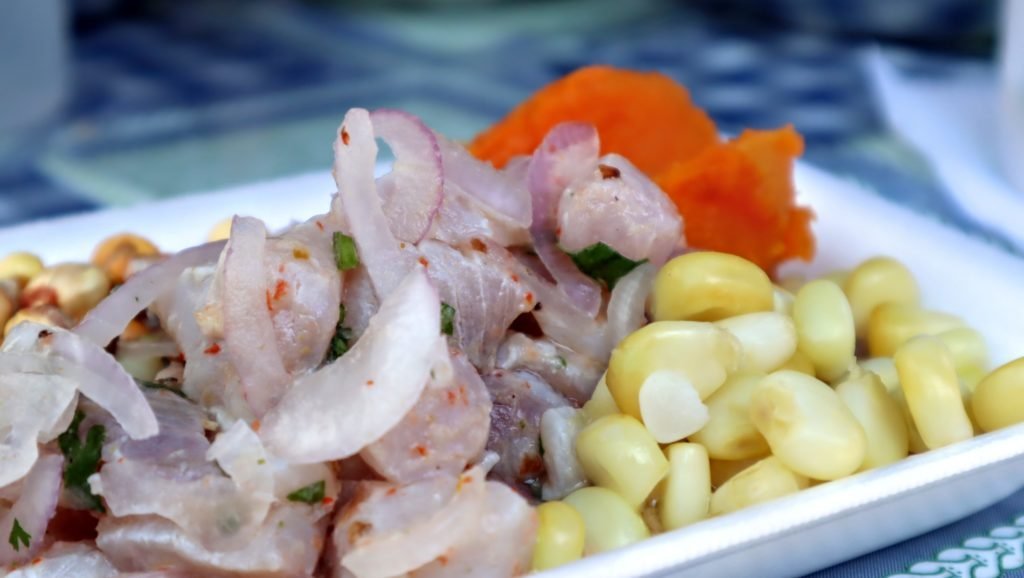 The first day, we had a hard time looking for some Ceviche. Once we got used to the streets and all the places a bit, we see it everywhere just like magic! Ceviche de mariscos (seafood), Ceviche de Pescado (fish)... Our first Ceviche ever in Miraflores, Lima, Peru was at this hidden local Peruvian food spot we luckily came across. Loved it!
This time, it's an intention to go find it at the source where they sell meat, fish, seafood and any other fresh goods, a local market!
Mercado Nº 1 de Surquillo
We're not exactly in Miraflores but actually, in Surquillo. It's walkable from an Airbnb we stayed so here we are. We were actually looking for a place where they have a pile of fish and other seafood ready to cook for us in the markets just like we've been told. Though the minute we got there, there's a farmer market, 'Bioferia de Surquillo
' going on! and it's normally open just only on Sunday... How lucky!
Many fresh fruits, baked goods, cheeses and popped up restaurants. #Oops! I think we had a big piece of cheesecake!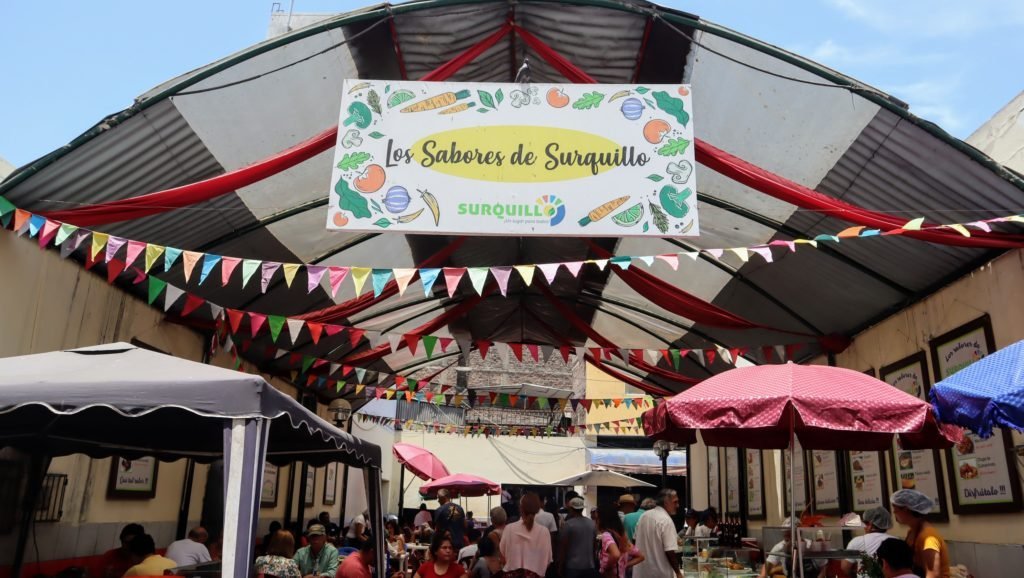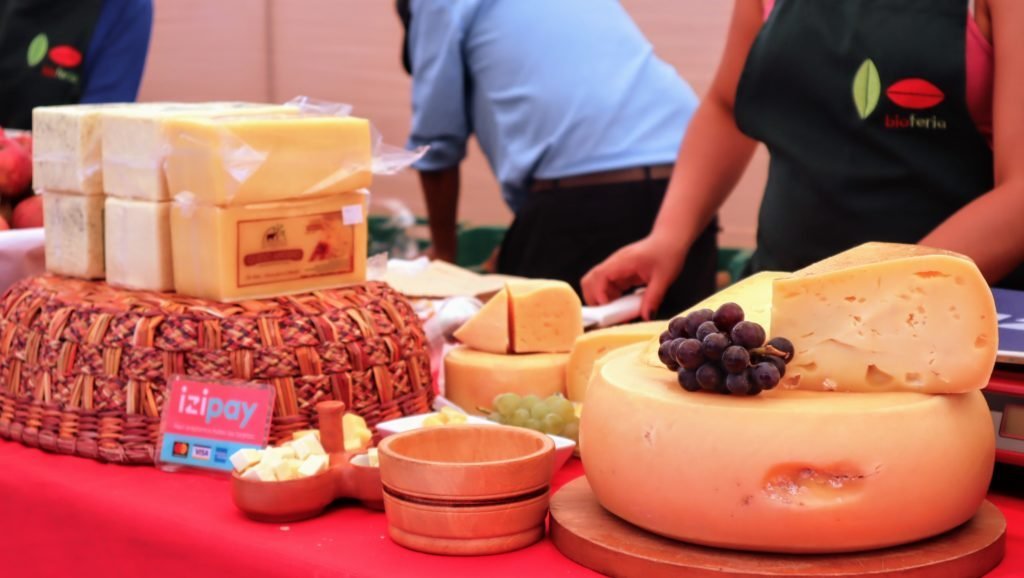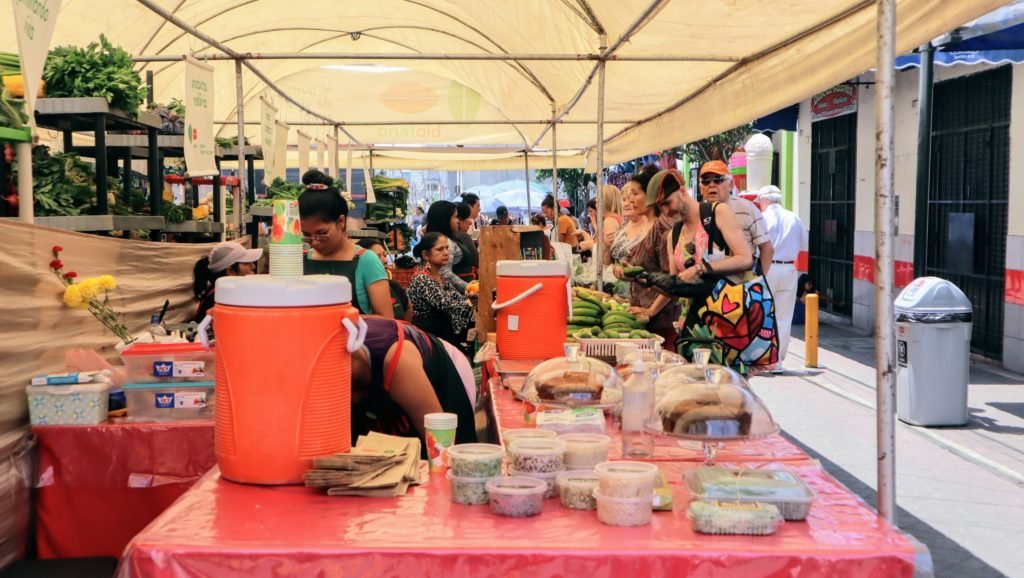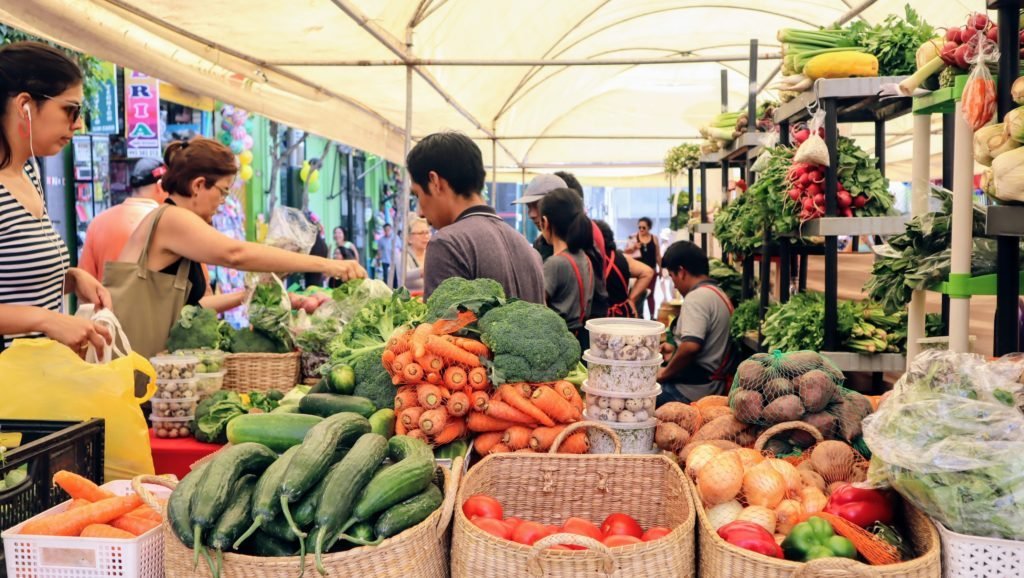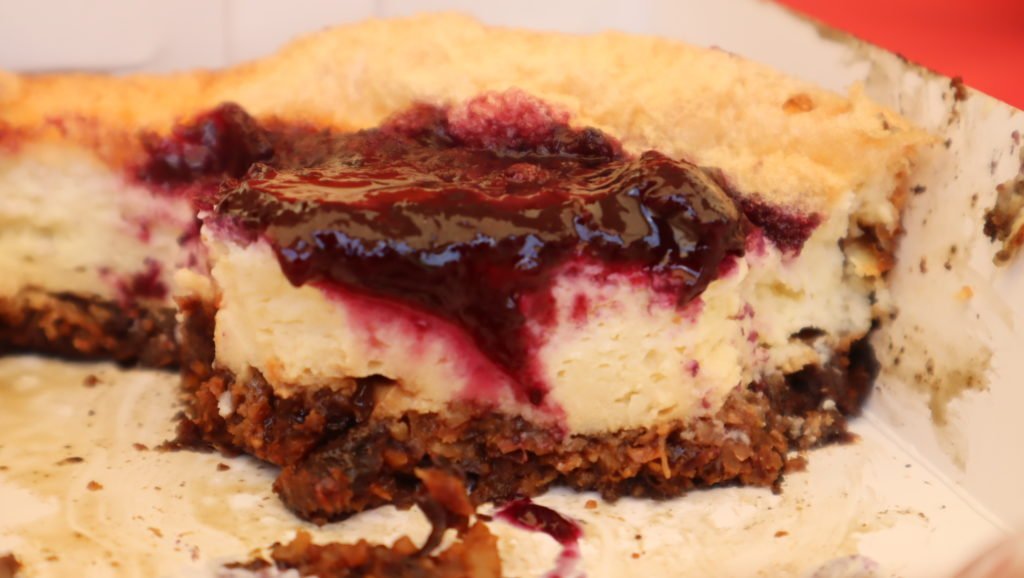 Also, we found this auntie street stall selling a delicious looking Peruvian ceviche on the other end of the Bioferia de Surquillo farmer market. We just couldn't help ourselves ordering some!
Are you sure? Raw fish on the street?
My thought on Peruvian Street food
Because I'm from Thailand, I don't think I'm in a position to complain so much about hygienic stuffs. Anyways, here's my thought on Peruvian street food. They are clean! They know what they're doing and they respect the customers' well being.
Most of the time, the cooks have their hair covered. A lot of places, they also use gloves. We had fresh-squeezed orange juice many times at street wheeled stalls. Believe it or not, they won't take money with the same gloves they use to make the juice. I'm amazed! Compared that to many places in Thailand, it would be hella different story. Don't get me wrong, I love my beloved country and its street food goodnesses too!
Spoiler Alert!!! We got food poison a few times while traveling in Peru in the first 3 week period. #Oops! Just don't freak out. Let's continue with this delicious ceviche made by a local auntie. This one we were safe and sound!
Epic street Peruvian Ceviche and Leche de Tigre
It's a simple set up with her small cart and the bowls filled with all the ceviche ingredients. Fish, of course, some seafood, lime, corn (boiled and deep-fried), potatoes, and other spices. 2 menus she offers, Peruvian Ceviche and Leche de Tigre.
Not many people talk about the Leche de Tigre ever. It's translated to English 'The Tiger's milk',
The liquid concentrate that is left behind and infused with the colors and flavors of the lime juice, hot peppers, salt, onions, and fish that's used to prepare the ceviche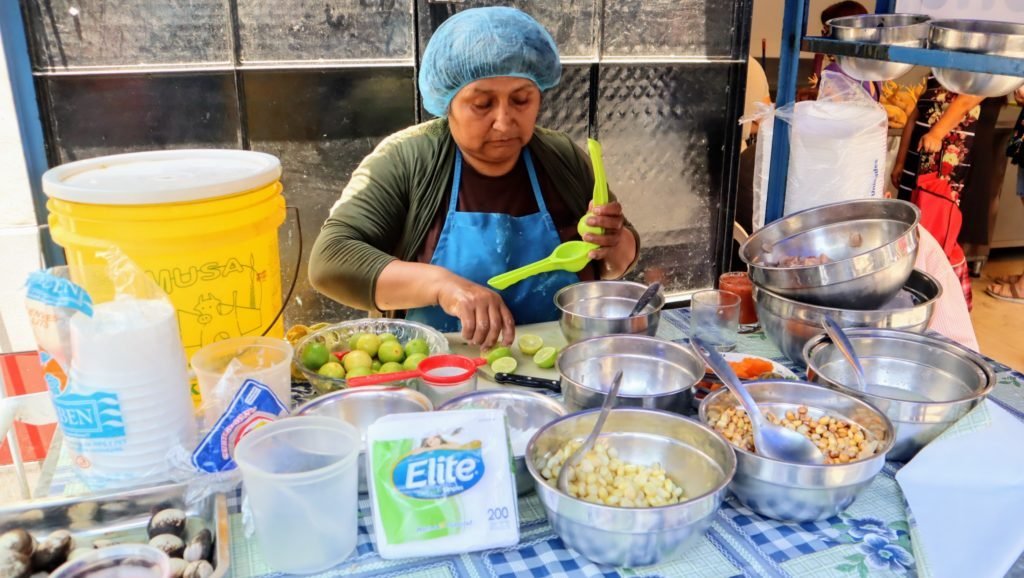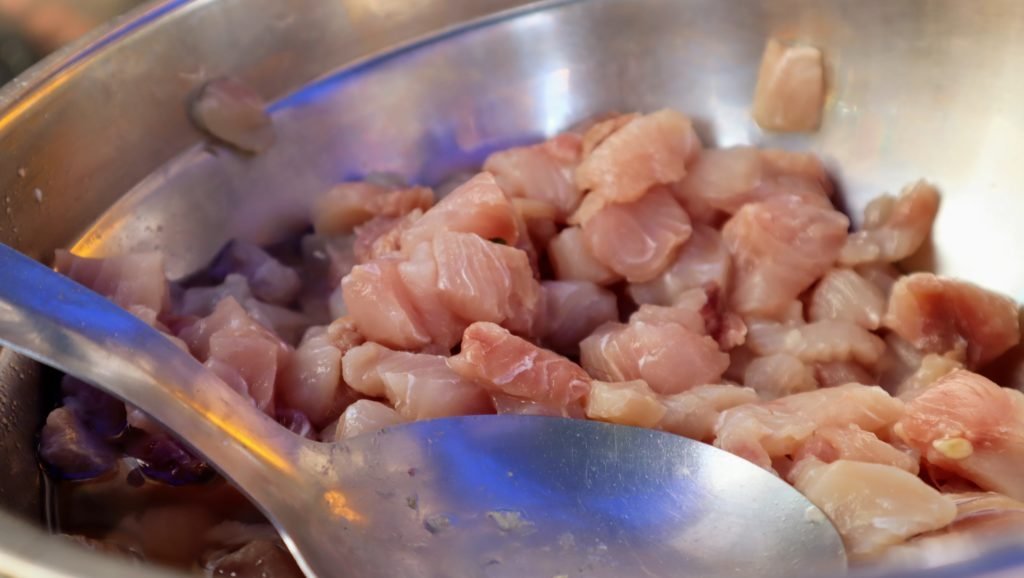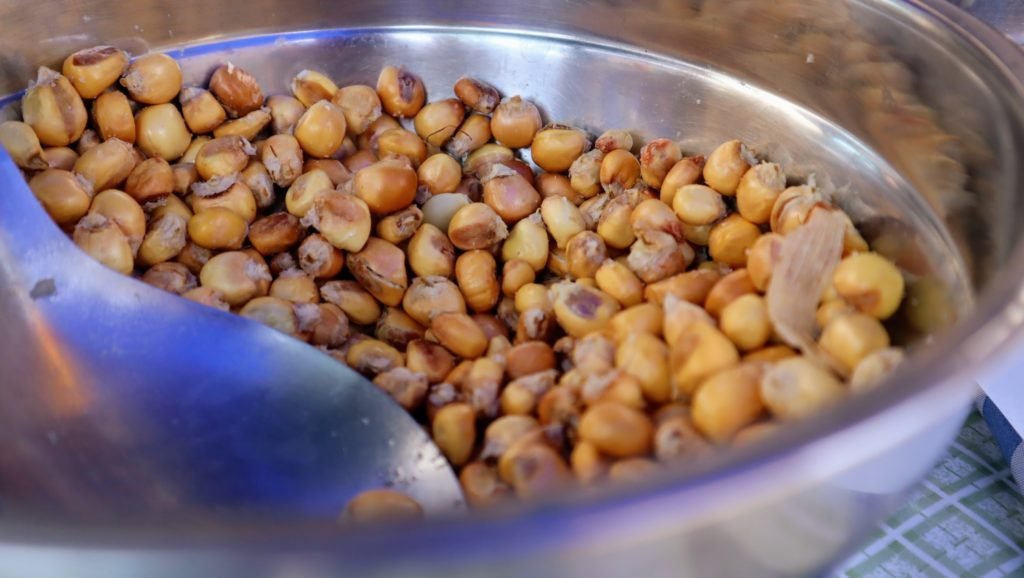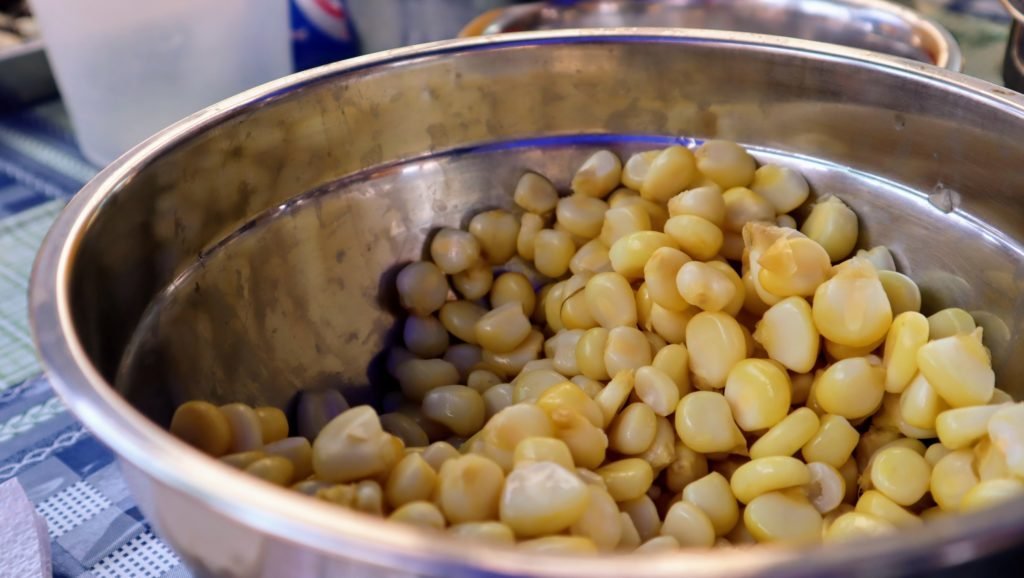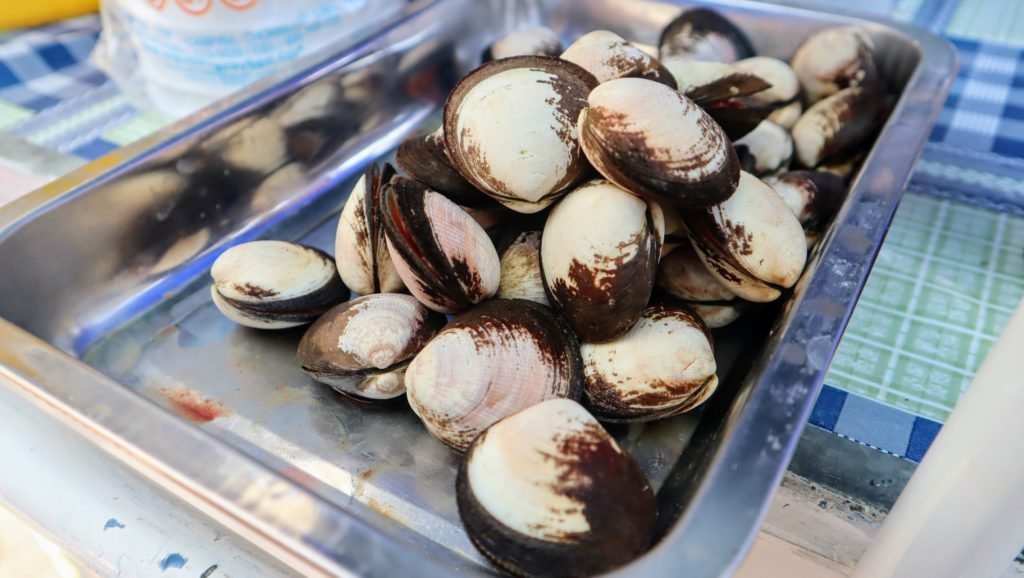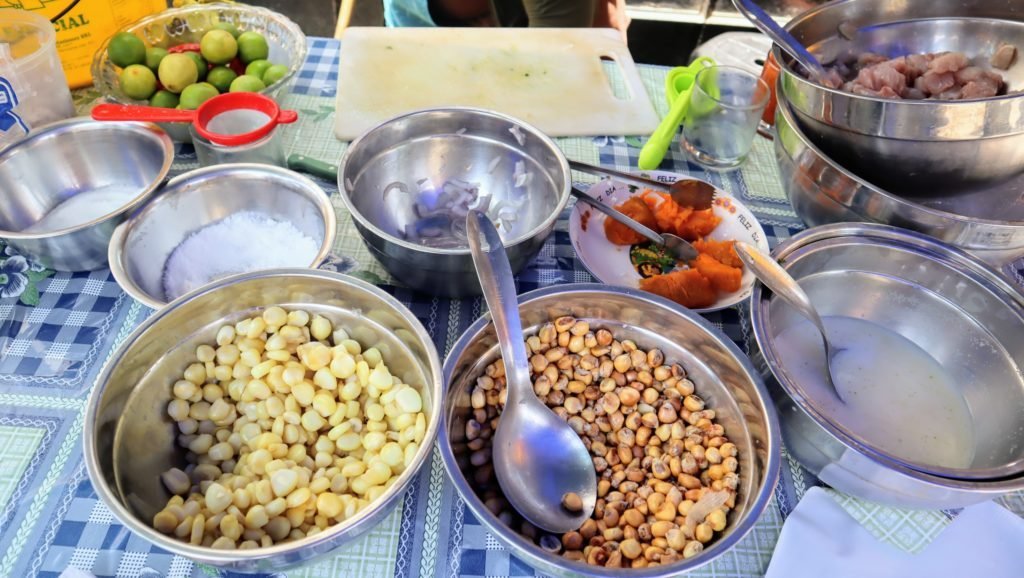 We got one of each. One Peruvian ceviche (S/ 10) and one leche de Tigre (S/ 5)
Both of them are so good. I don't think there's much different between them. They both taste just like ceviche and maybe a bit more liquidy and creamy on the Leche de Tigre one which sounds about right.
The lime taste is so intensive. Super duper limey and not much of the spiciness as I expected at all. Though, I love it! The sweet potatoes and corns give it such a great contrast as they're quite sweet. The fish was fresh as it's supposed to be as you know, we pretty much eat the fish raw (the inside part, at least) so it'd better be.
It's believed that all the juice holds so much nutrients and all that but honestly, we couldn't. It's just a bit too sour to slurp it all alone without any other things.
We got so stuffed of those Peruvian ceviche. It's somehow quite filling and at the same time, refreshing! and oh my my my! Just S/ 15 or $4.45 for all that. Quite reasonable, huh? That's a street food charm. We don't find many of these elsewhere either. Seems like they're somewhere near the local markets most of the time.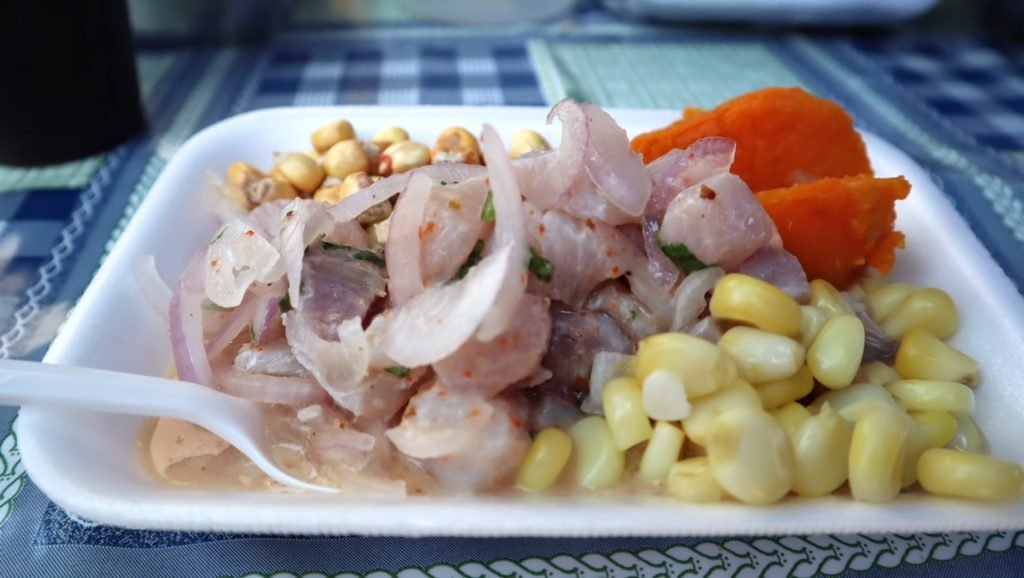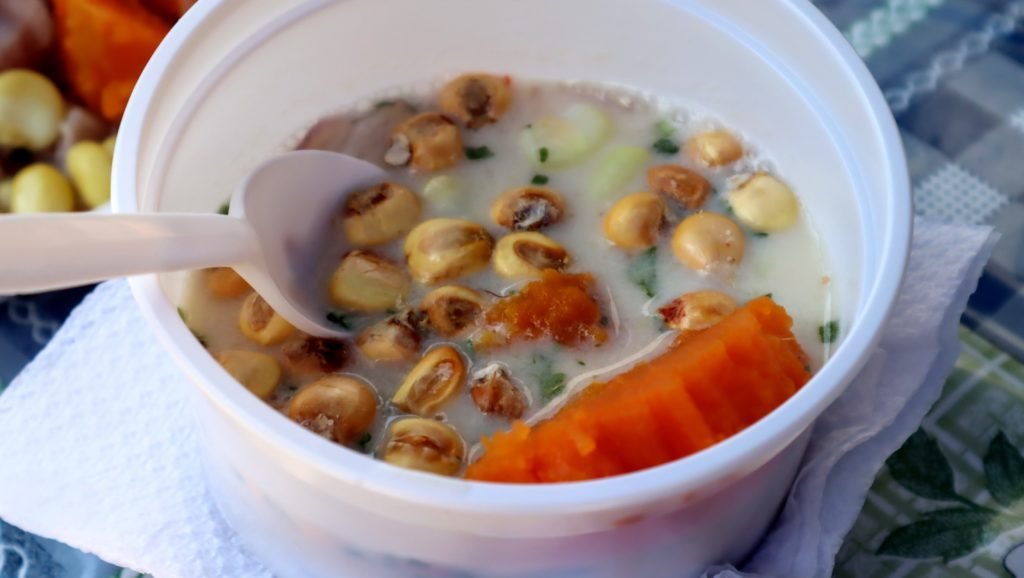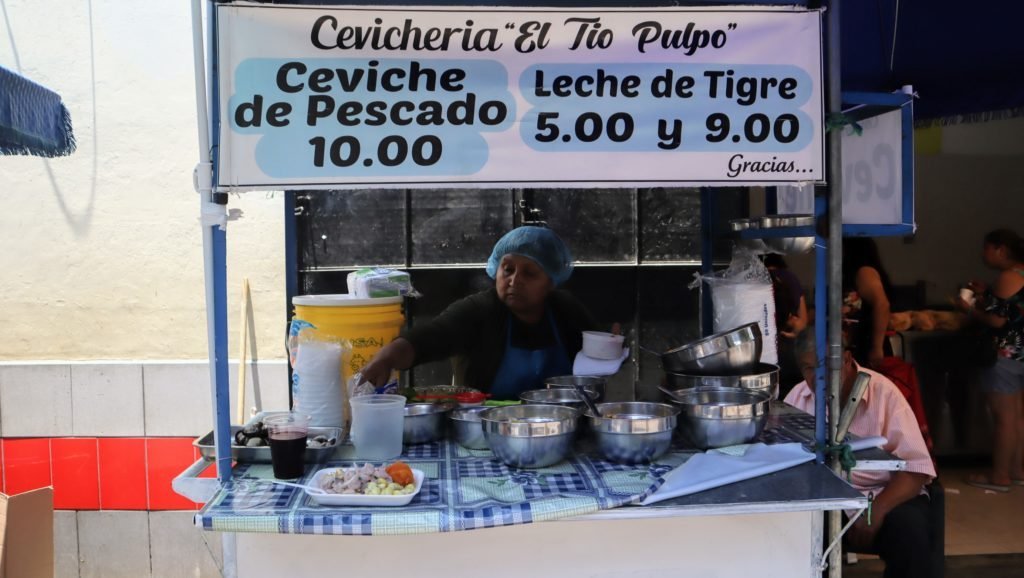 Lovely! If we're ever back in Miraflores, Lima, Peru or somewhere nearby, for sure we will hit this place up again for some Peruvian Ceviche. Also, we will make sure it's on Sunday so we also have a chance to wonder around the Bioferia de Surquillo farmer market. Though, if you we don't make it on Sunday, Mercado de Surquillo or Surquillo Market still has a lot more to offer...
Mercado Nº 1 de Surquillo
There's also Mercado Nº 2 de Surquillo but we're only at Mercado Nº 1 de Surquillo. The local market where all the fresh goods sold. Also, some food served here so if you feel like some sandwiches as a light meal or a cup of fresh juice,Mercado Nº 1 de Surquillo got you covered!
Keep an eye on as there's actually some more goodnesses. Peruvian ceviche prepared fresh right at the market! Big piles of seafood laid on ice ready to be cut up and stirred around in a lime juice and other spices so...
That could totally be a really good choice for your Peruvian ceviche crave as well!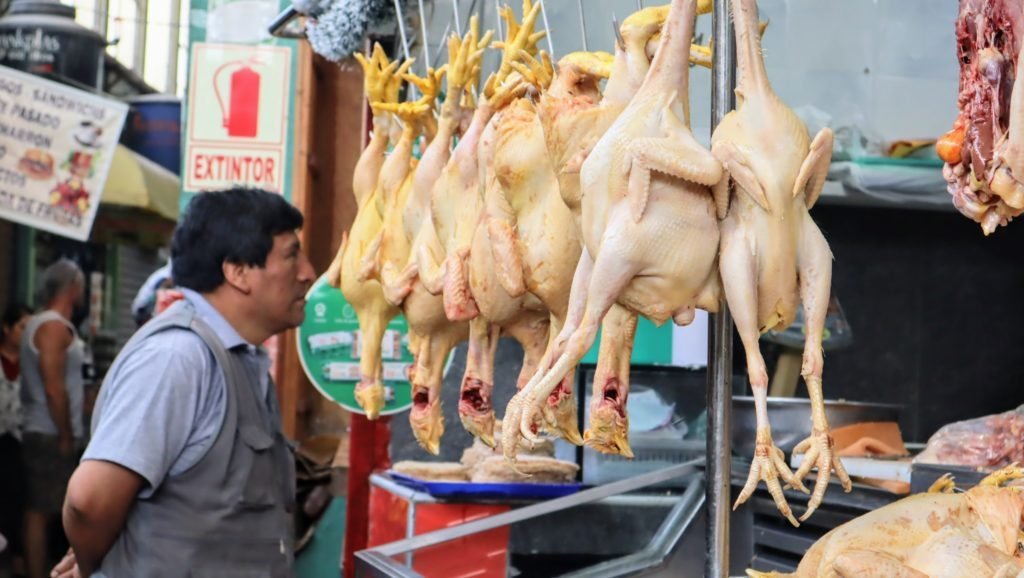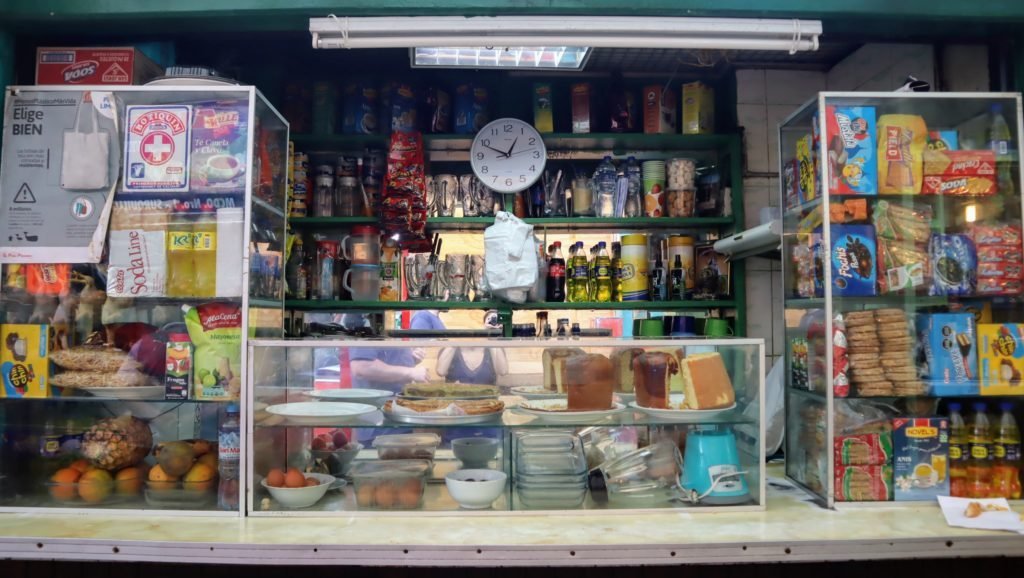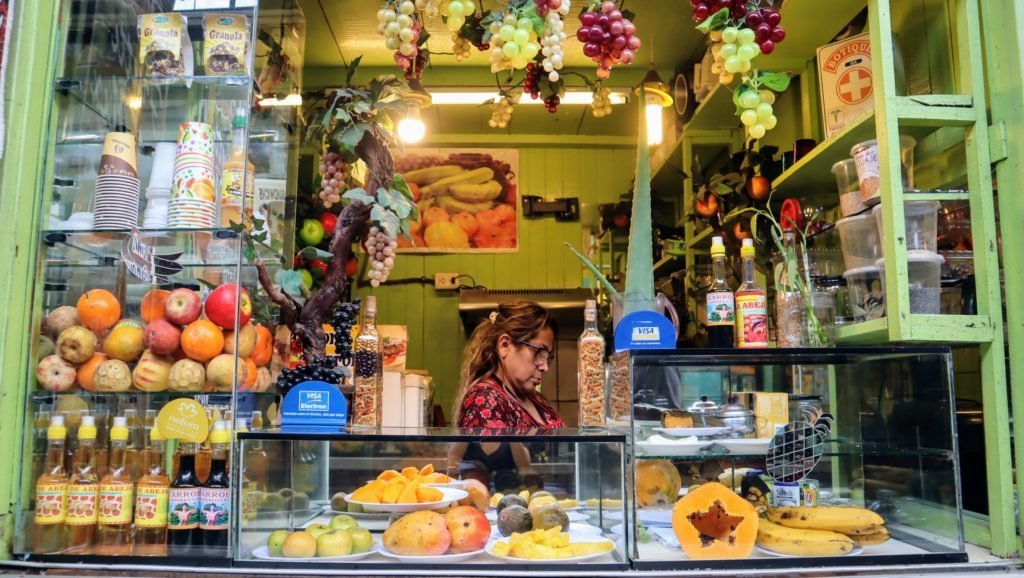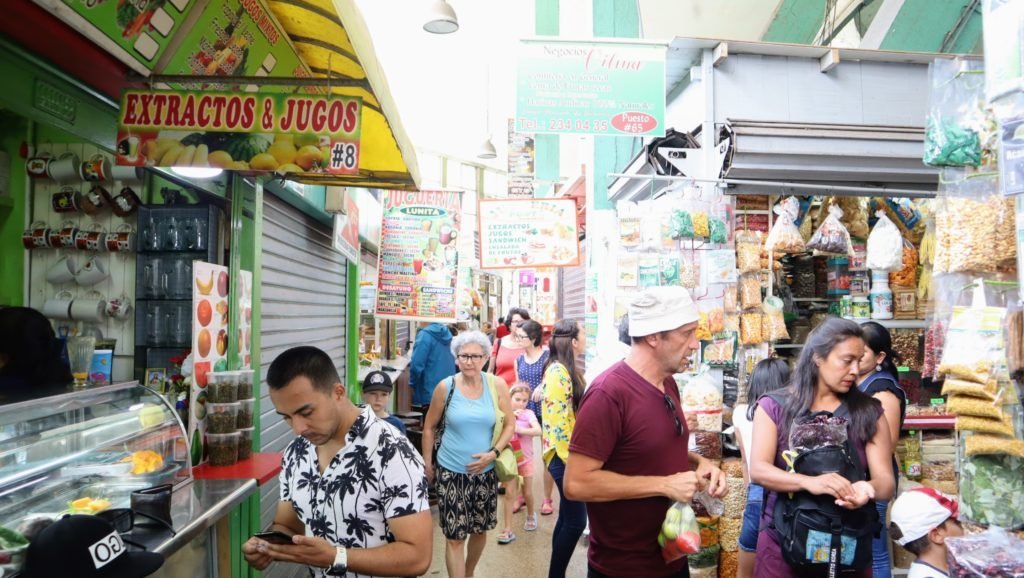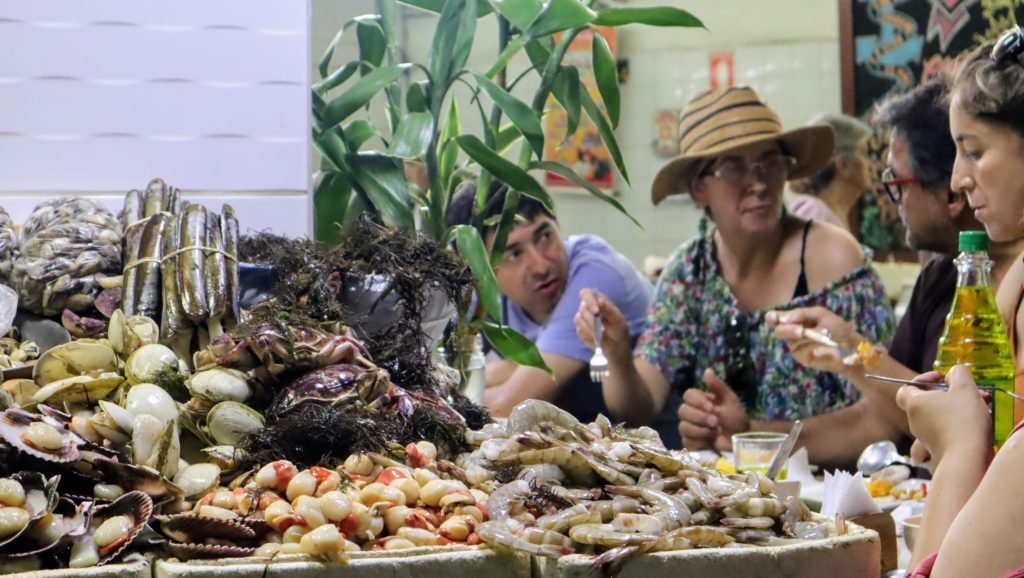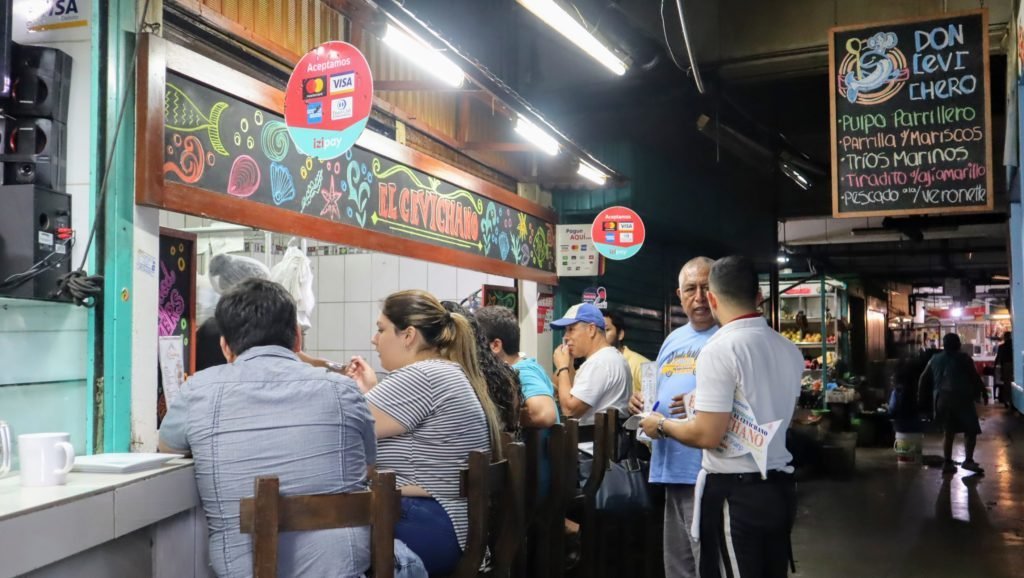 Once again, we stayed in a lovely area and close to all the local spots. We were able to find such a place because of Airbnb, I suggest you check it out if you haven't already :)


Bioferia de Surquillo at Mercado Nº 1 de Surquillo
Address: Jirón Narciso de la Colina 580, Surquillo 15047
Hours: Sunday 8AM-2.30PM
㋡ Get $55 TRAVEL CREDIT
㋡ GET PAID to Google Search
㋡ EARN CRYPTO while browsing
🎥 Check out all MY GEAR
---
All copy and photos are original content by me.

TO SUPPORT WITH LOVE 💙 PLEASE SUBSCRIBE!!! TO MY SUPER DUPER AWESOME FOOD VLOG CHANNEL AND THE BRAND NEW 360° VR TRAVEL CHANNEL. SUPER FUN! COME JOIN! :)