Bang Kachao (บางกะเจ้า)
Bangkok is hectic and sometimes we need some escapes. Doesn't really matter if it would be just a day or half a day so when we had a chance, 2 friends and I took a day off a head to Bang Kachao.
Bang Kachao (บางกะเจ้า) is an artificial island formed by a bend in the Chao Phraya River and a canal at its western end. It lies south of the Thai capital Bangkok in Phra Pradaeng District of Samut Prakan Province. The island, covering 16 square kilometres (6.2 sq mi), has been traditionally agricultural with only a relatively small population.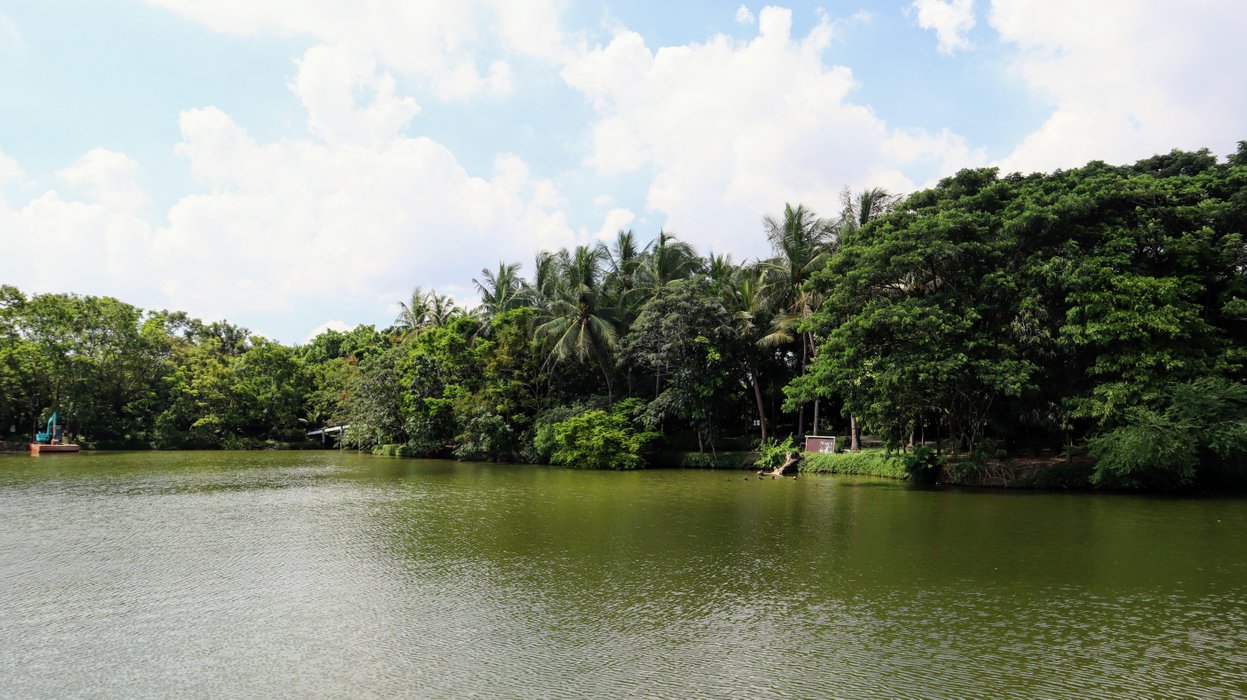 Bangkok's green lung
It is sometimes referred to as the "green lung" of Bangkok". In 2006, Bang Kachao was named "best urban oasis" by Time in its "Best of Asia" series and is frequented by nature lovers and cyclists. - Wikipedia -


This is not my first time visiting the area. I have been to this Bangkok's green lung already a few times. To be honest, it's not the easiest place to get to by public transportation. Something like, Take MRT/BTS to Asoke station , a little walk or a motorbike taxi and a boat. Wow, what a journey!
This time we went by taxi so it's pretty convenient.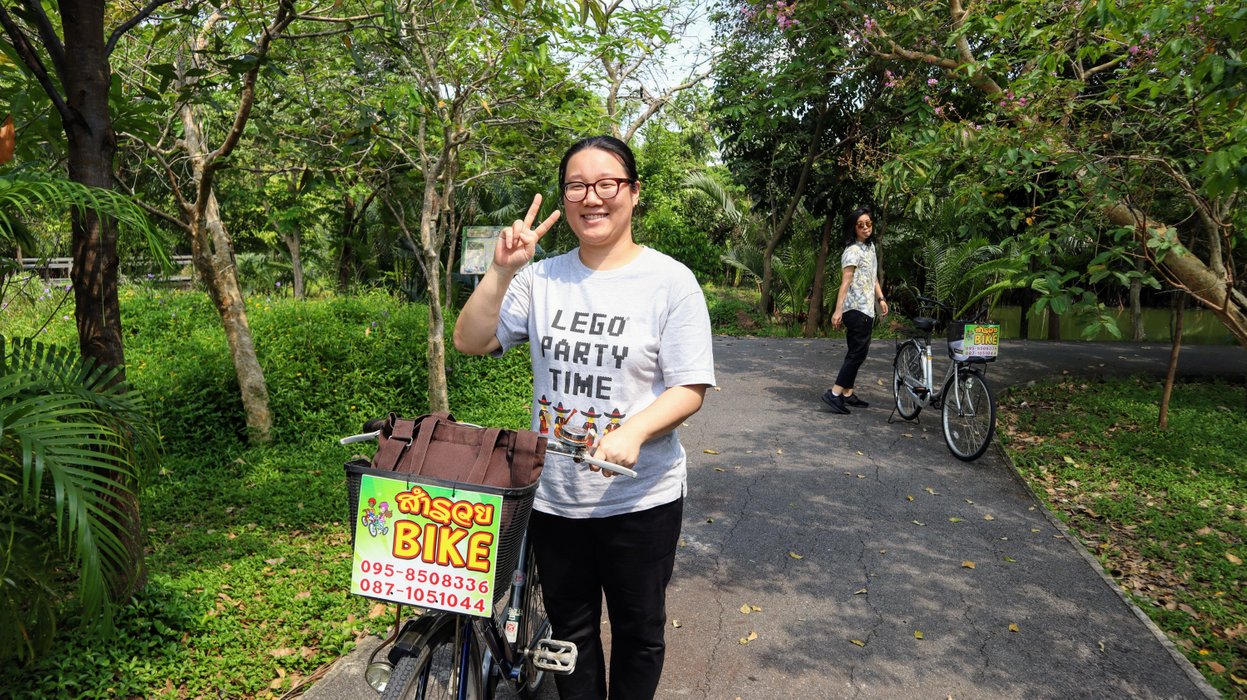 Renting a bike in Bang Kachao (บางกะเจ้า)
No.1 thing to do in Bang Kachao is to cycle! So first thing we did was just looking for a bike and we got it at Samruay Bike (สำรวย), a small shop that had just a few bikes to offer. It's a good thing to support a individual local but if you come by boat and get off at any of the pier, I would actually recommend you rent one there as they're actually more professional in the field. Paying the same price with a bit better bikes plus a free bottle of water.. Well, I'm just saying..


Sri Nakhon Khuan Khan Park
One of the spot in Bangkok's green lung that people love to come cycling is Sri Nakhon Khuan Khan Park, the park located in the center of the island. There're also a big lake at the middle of the park with some of the spots for you to sit and chill.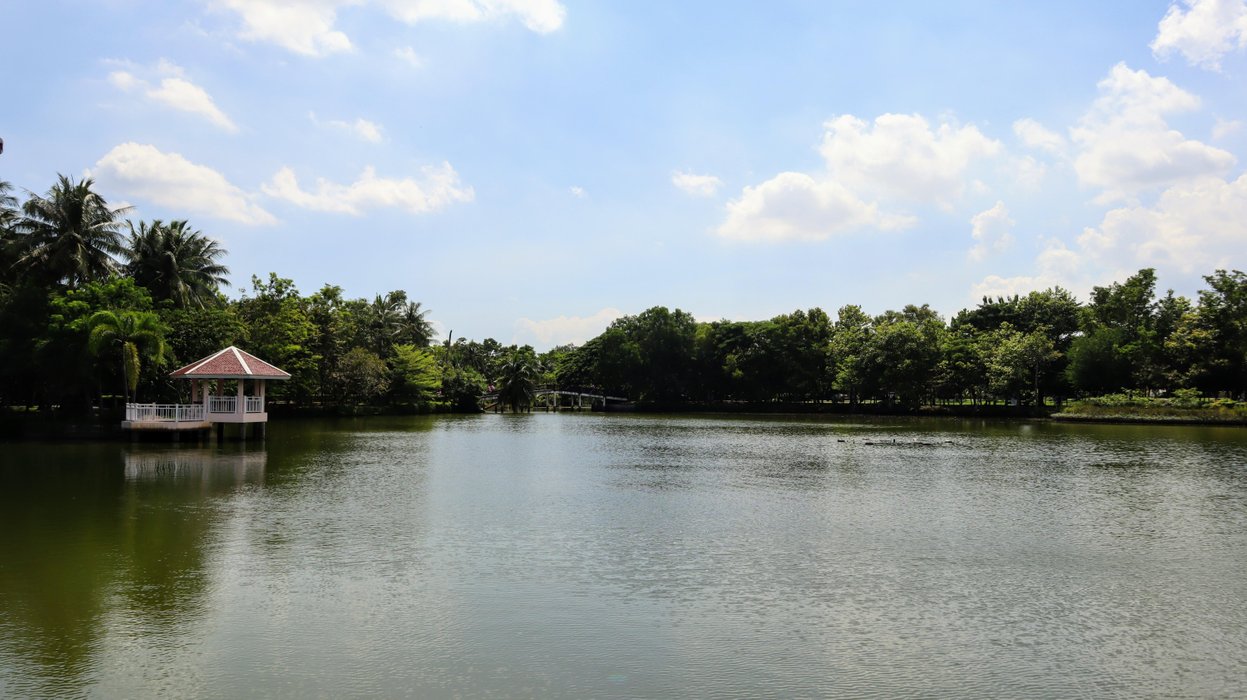 There's also a lookout and some learning center about nature, plants, birds and etc. That's why we met a group of students there taking a tour around ther park..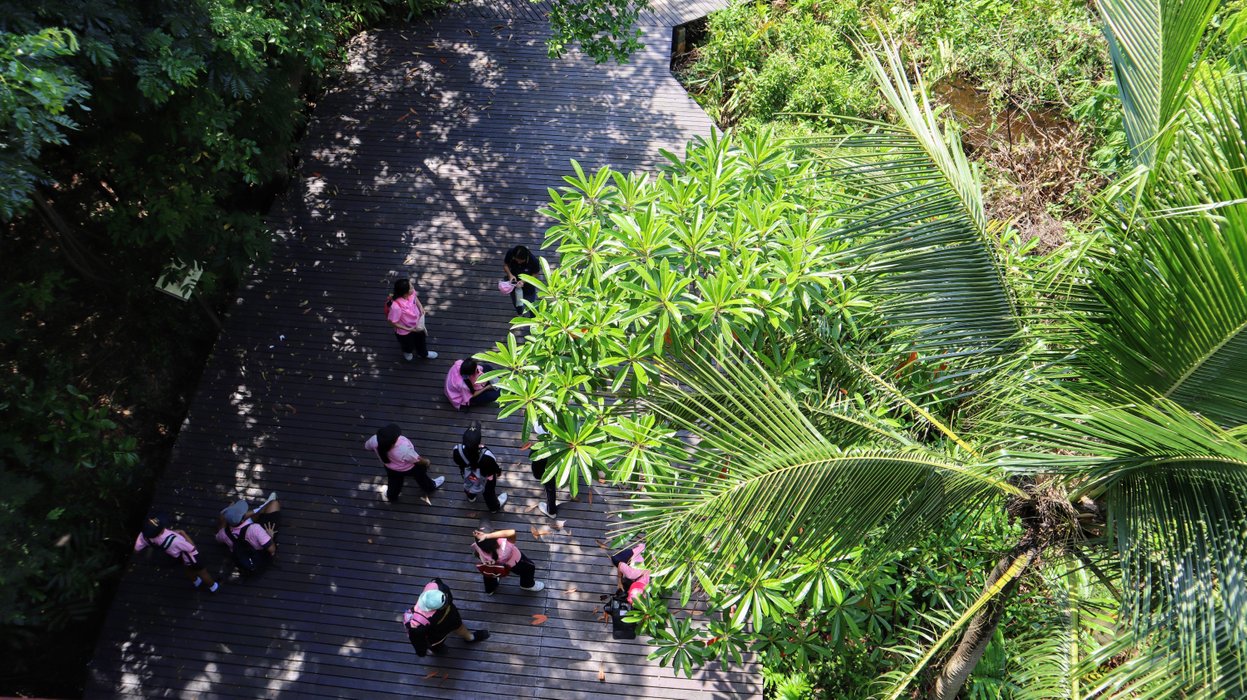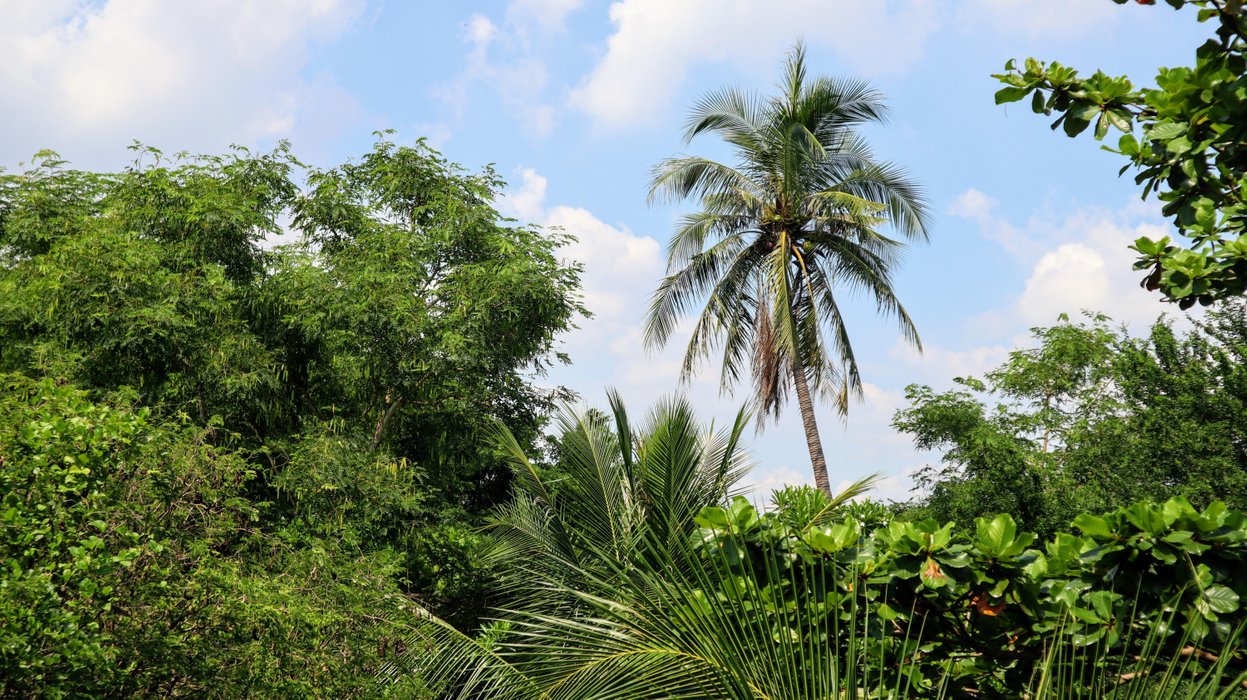 The view from the lookout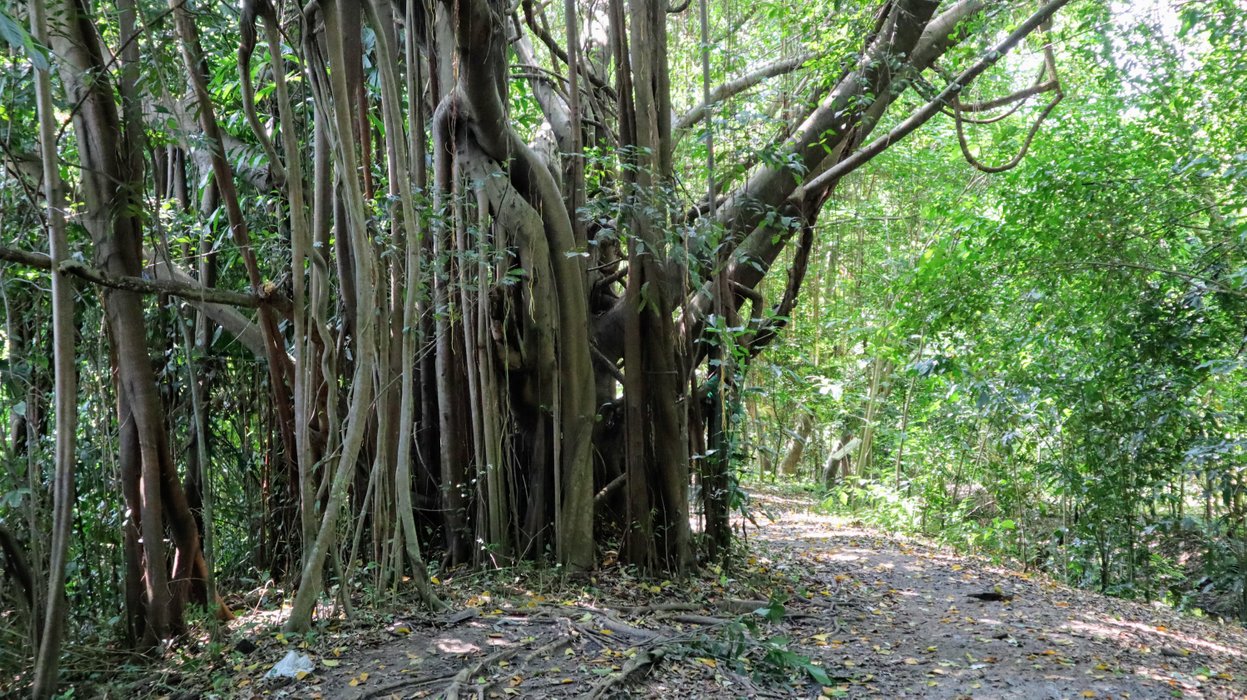 The park is nice and clean but it's somehow not my favourite spot I love most at Bang Kachao. I found myself enjoy a lot more when we could cycle around onto the small concrete road that we could actually find in a small little alley anywhere along the main road.
I love the way locals live there. You literally can't find it like this anywhere else or if not, pretty rare especially somewhere close to Bangkok like , here.
Oh! Did I tell you.. it's Bangkok's lung but it's not really in Bangkok!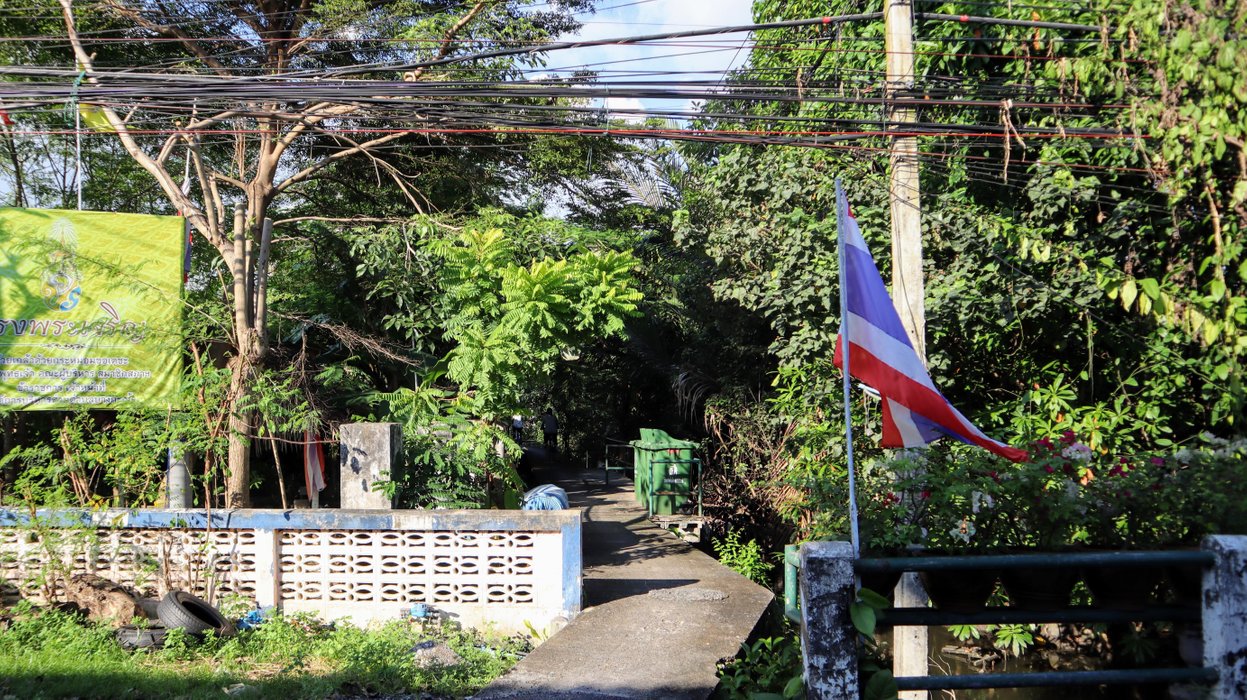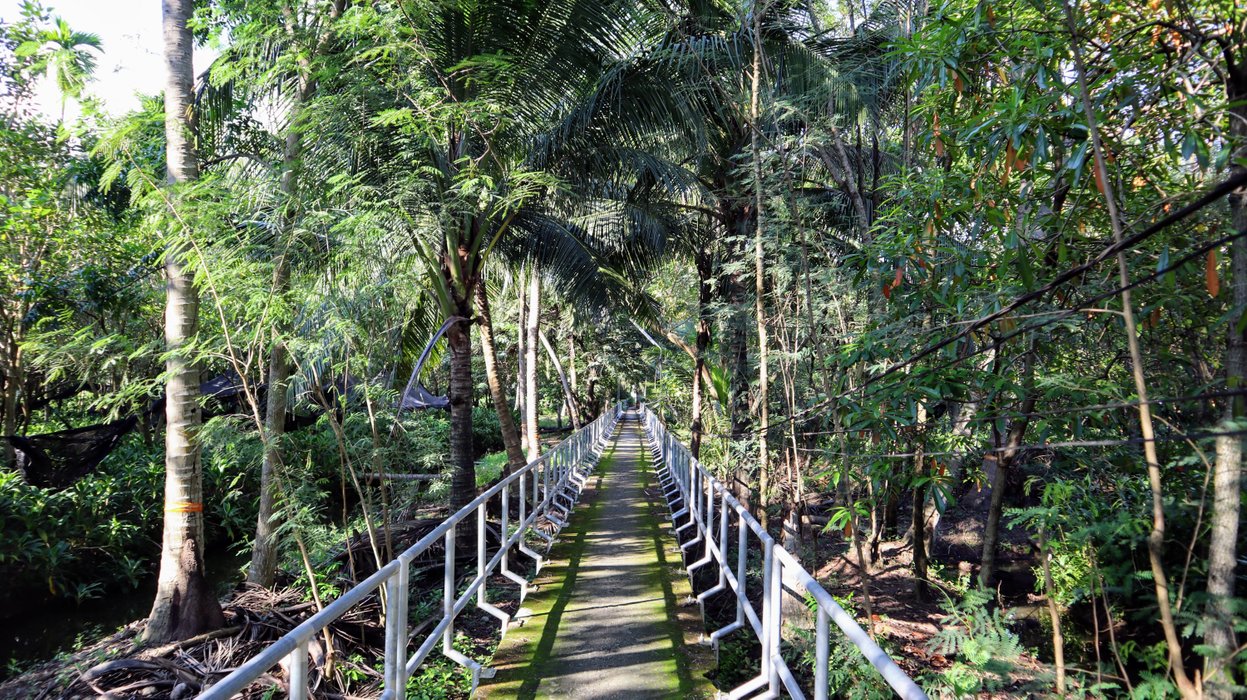 Small concrete road where people commute on..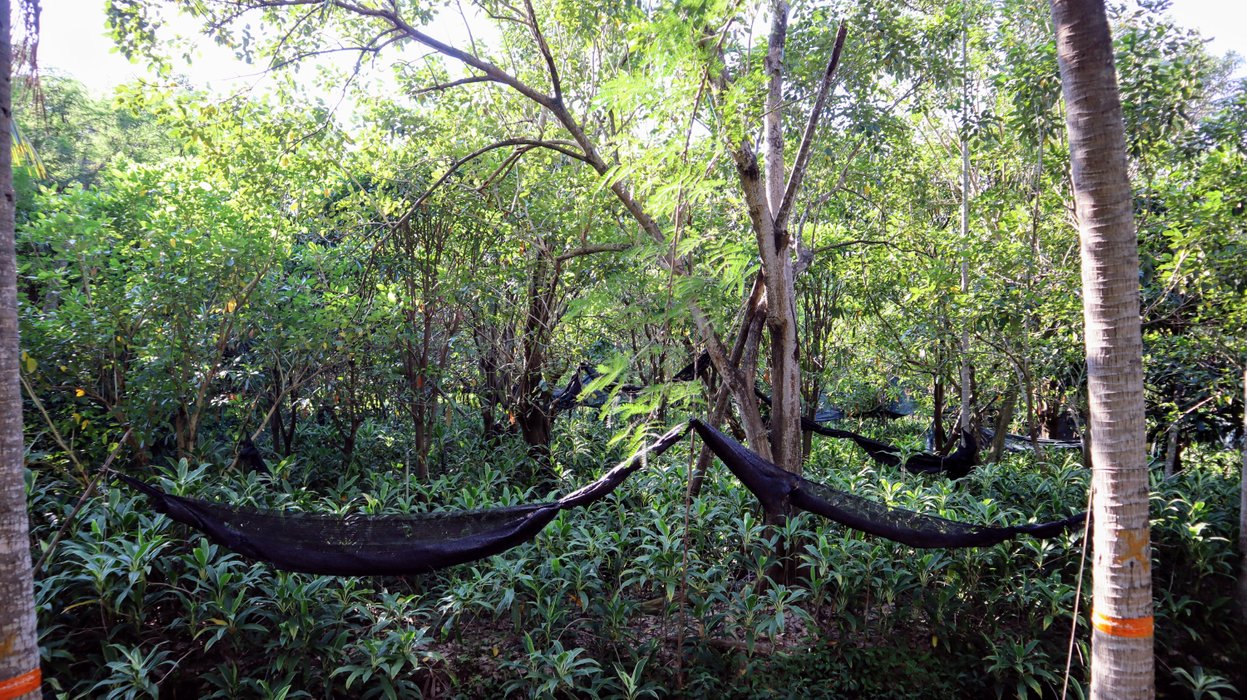 A farm grown by locals I saw while cycling along the small concrete road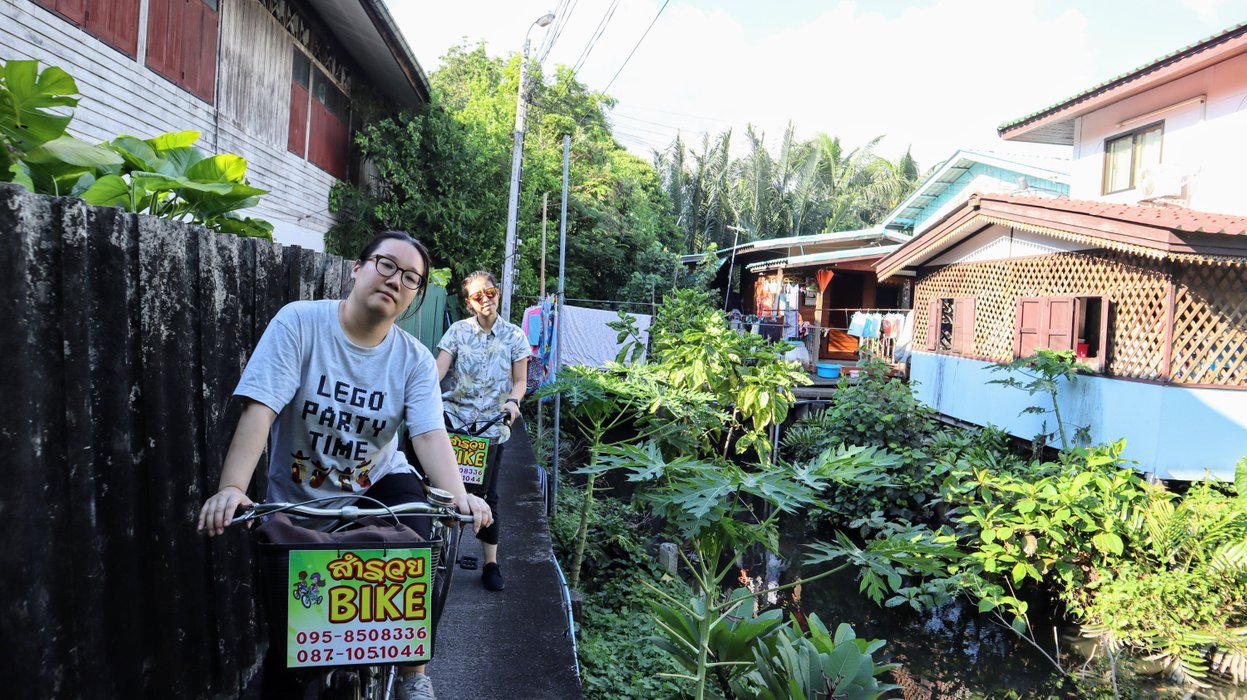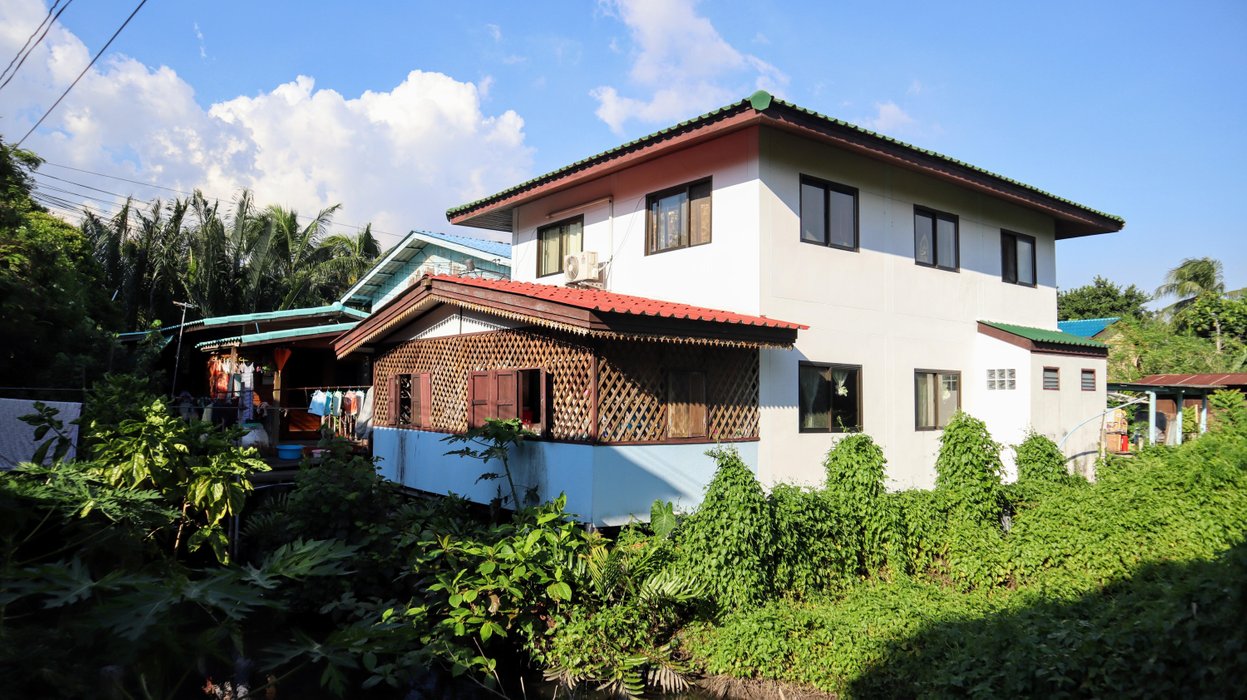 A lot of houses are just literally built on the greens and surrounded by the greens also just like this one. Really, do you find something like this cool at all? I found it dang cool as I don't see it often at all.
It's Thailand!
You couldn't say it confidentally that you have visited Thailand without having experienced 'Sweating your butts off'. Thailand's a hot country and we chose our way to cycle in the sun in the afternoon on a sunny day.
Next thing we knew, we're sitting and chilling at this cool looking cafe called 'Rose Apple' on the Petchahung Rd 25.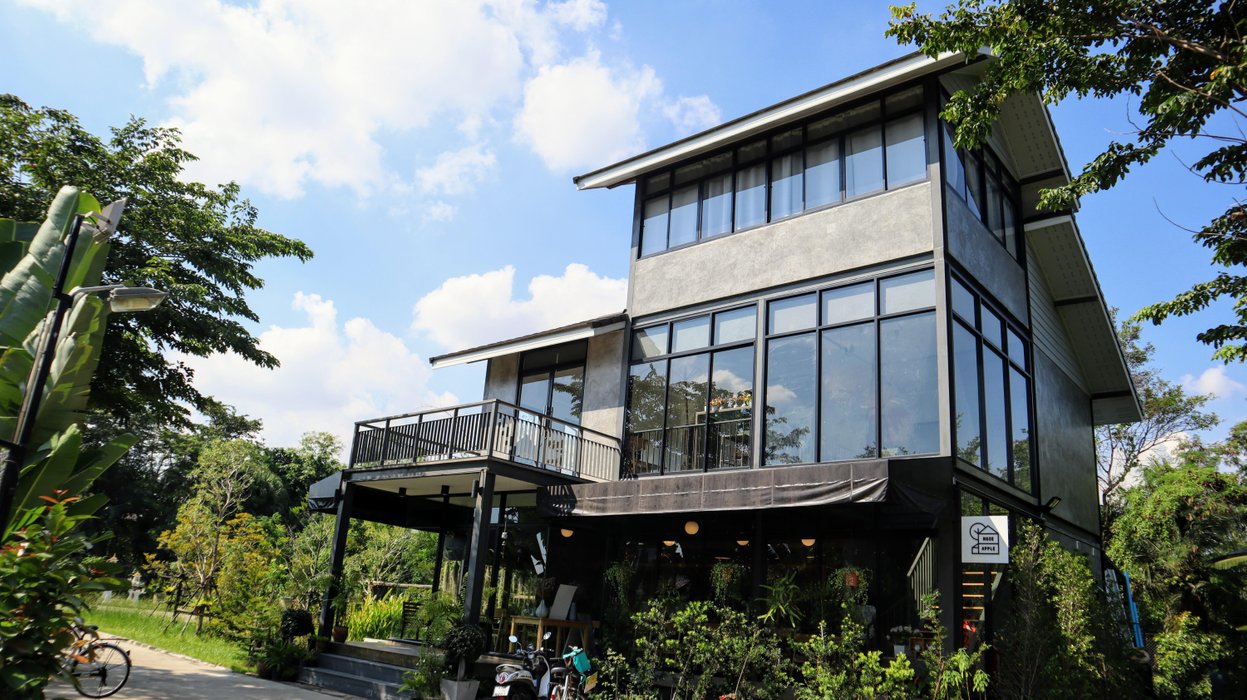 Eating around Bang Kachao
I was sooooo loving the eating condition around the island. So many street food and local restaurants offer reasonable priced food. We stopped by at this small restaurant not far from that place we rented the bikes.
Ordering these 2 dishes.. I would say these are the most common ones we eat in Thailand (Ones of them , at least..)


Pad Kaprao (ผัดกะเพรา)
Stir fry basil with any type of meat you'd like. This one was pork and I add pieces of livers with a fried egg. Of course, with steamed rice! :)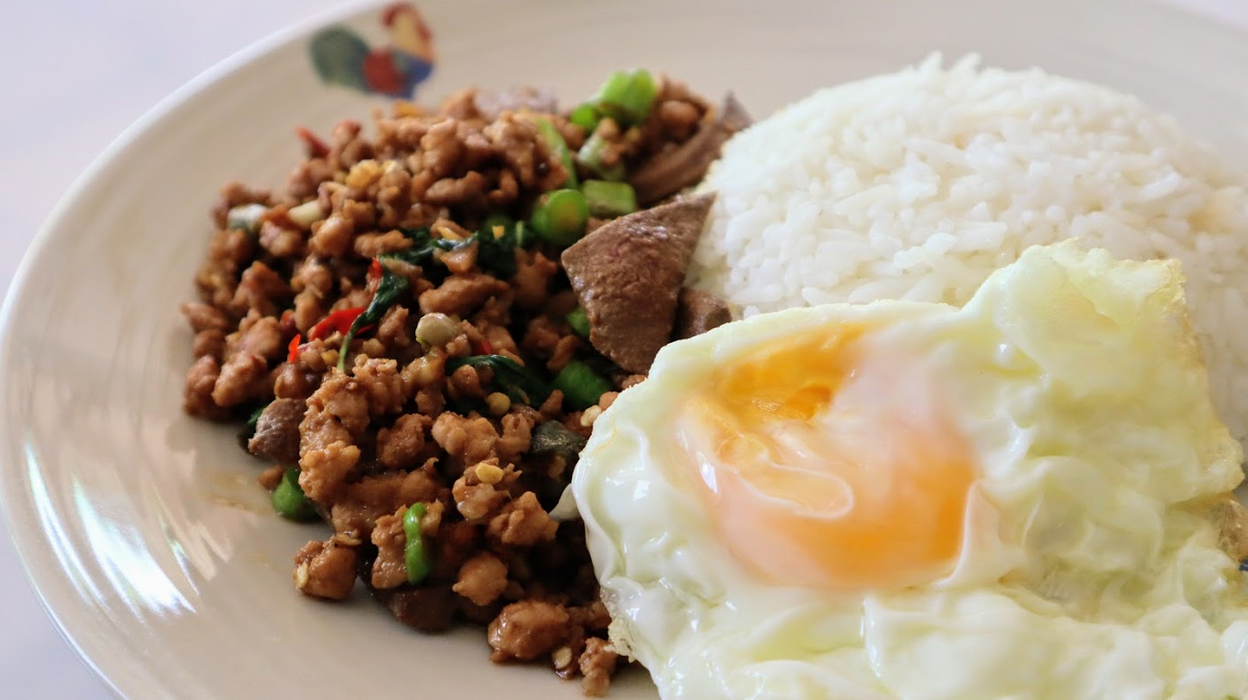 Pad Thai (ผัดไท)
Well, not much I need to say about the dish. Don't you know 'Pad Thai?'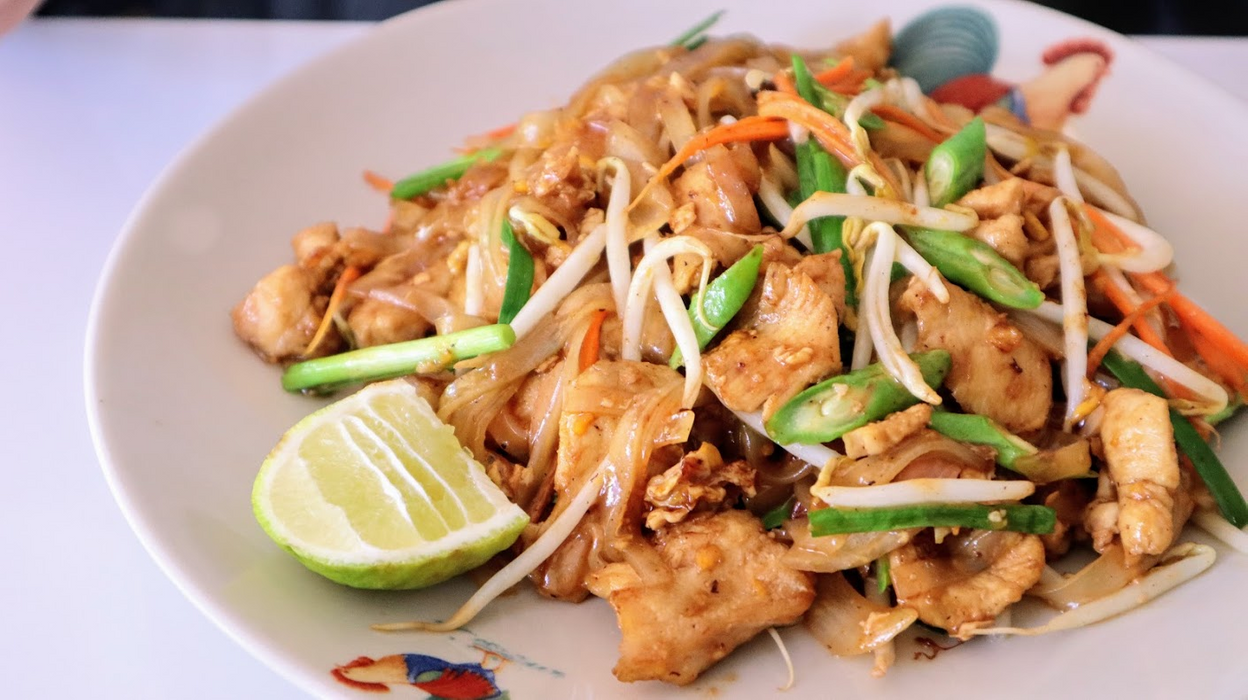 I hope you enjoy this small cycling trip around the Bangkok's green lung, Bang Kachao. It's totally one of the greenest spot you could find around Bangkok / or in Bangkok.
Of course, it's a Bangkok's Green Lung!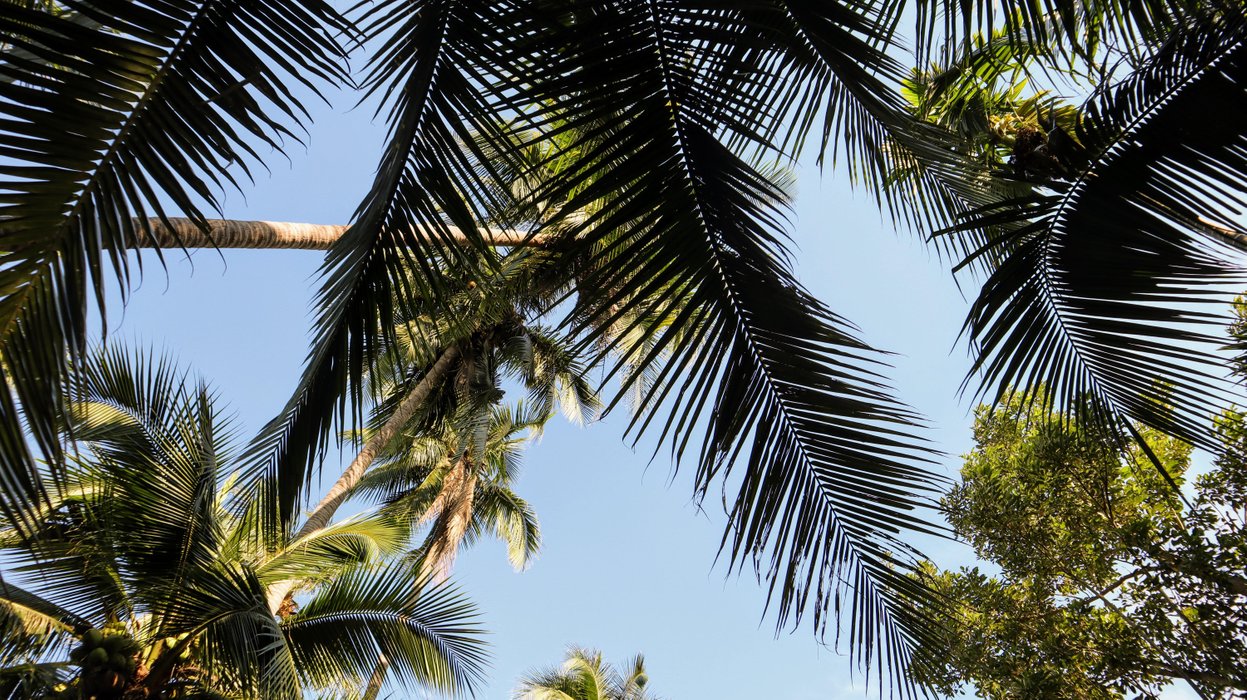 Here
's Bang Kachao exactly on Google maps.
Lots of lots of love,
Mo ❤
---
I DO USE. I DO LOVE ! ❤
㋡ Here's my main gears !
All copy and photos are original content by me.
© waybeyondpadthai.com
We would love to talk to you ! on Fundition Discord server & eSteem Discord server