---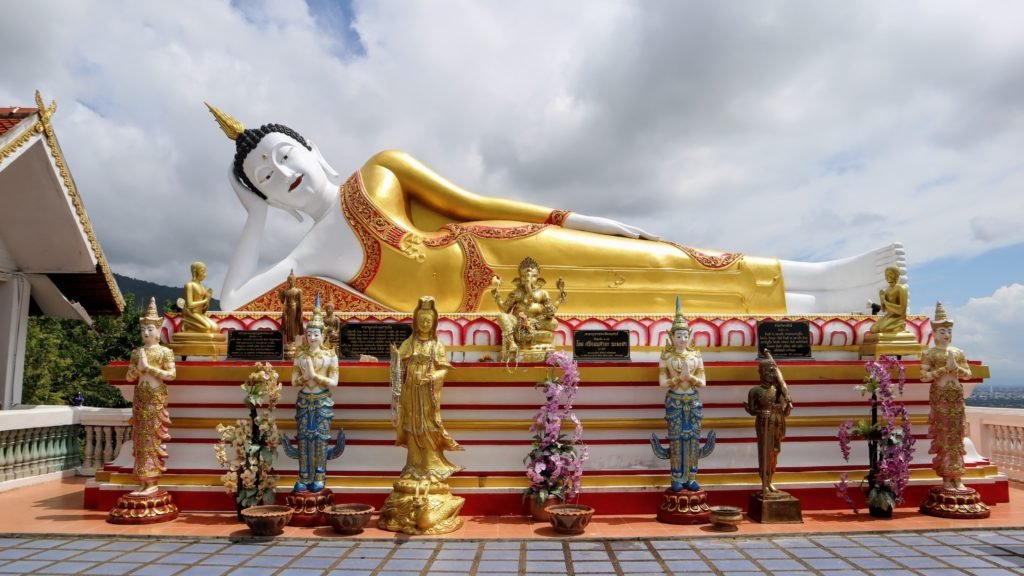 ---
I'm not really a temple person but gotta admit, every time I go to any of the temples in Thailand, they have their own beauty and it's just beautiful. This time let me bring you to one of a really really beautiful buddhist temple up in Chiang Mai, Thailand. Wat Phra That Doi Kham, one of a well-known temple up north. This was not my first time here at this temple but I said 'wow', like I had never been there.
Wat Phra That Doi Kham (วัดพระธาตุดอยคำ)
Wat Phra That Doi Kham (วัดพระธาตุดอยคำ) or Phra That Doi Kham Temple is atop a forested mountain featuring ornate gold carvings & a 17-m. sitting Buddha statue
Yes!!, it's surrounded with all the greens and to get to the temple itself, we need to drive up or catch a ride! Not a normal boring car ride like always, the temple provides quite a lot of Rod Song Taew (รถสองแถว) meaning, two rows pick-up truck : The pick-up truck with a roof at the back and 2 rows of long seat attached on the left and right of the back of it.
See! How cool is that!
Usually this costs 20THB (USD 0.66) each way but luckily, the day we went, there's a Birthday of the monk leader there so.. Oh Yeah! Keep that 40THB for the next meal, shall we?
At the back of the truck, they don't have any barrier or nothing so be so careful as a passenger. I was so nervous as it's not a flat way but going up the mountains with windy roads.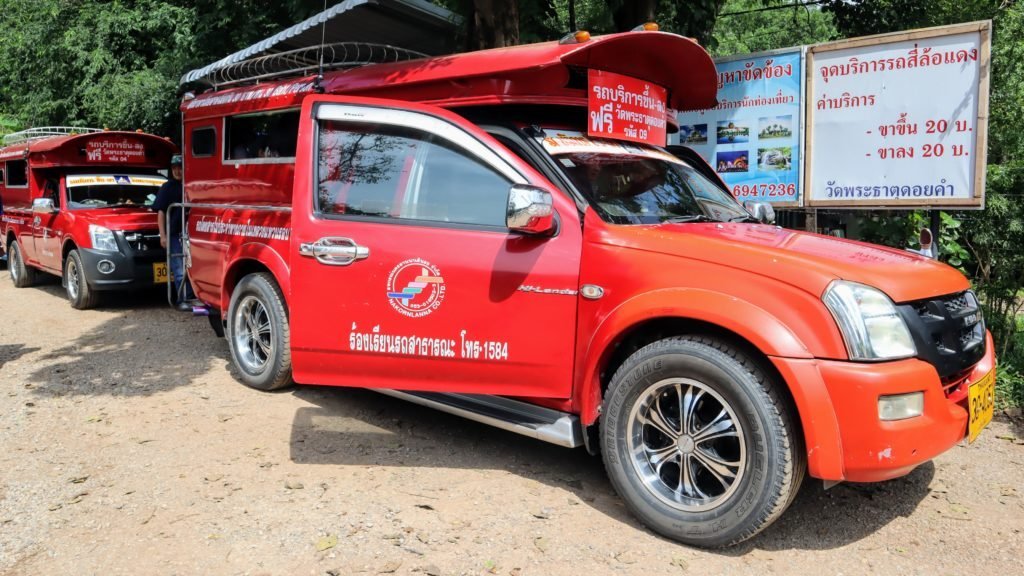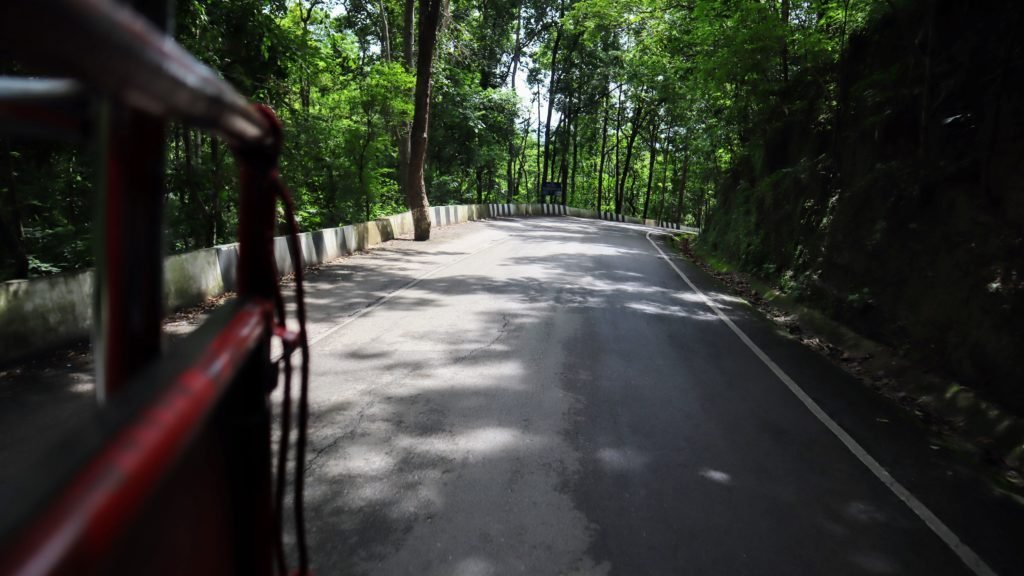 The beauty of Wat Phra That Doi Kham (วัดพระธาตุดอยคำ)
Once we got to the top, there's this huge space with many zone for us to explore. I like all the arts and statues. Why not start with the one Google Maps mentioned, a 17-m. sitting Buddha statue.. Giant, huh? With those 2 Thai style kind of green giants as protectors on both sides.
Then, a few more poses of Buddha Statues. All of them are pretty huge. I don't think you could find these in all temples where a lot of the statue are real huge. This is impressive.
Phra That (พระธาตุ) as seen in the temple's name means 'Ashes of Buddha' and the golen stupa you see believed to be a place where the ashes are stored. Not just only here, but Buddhists also believe the ashes are distributed to many temples.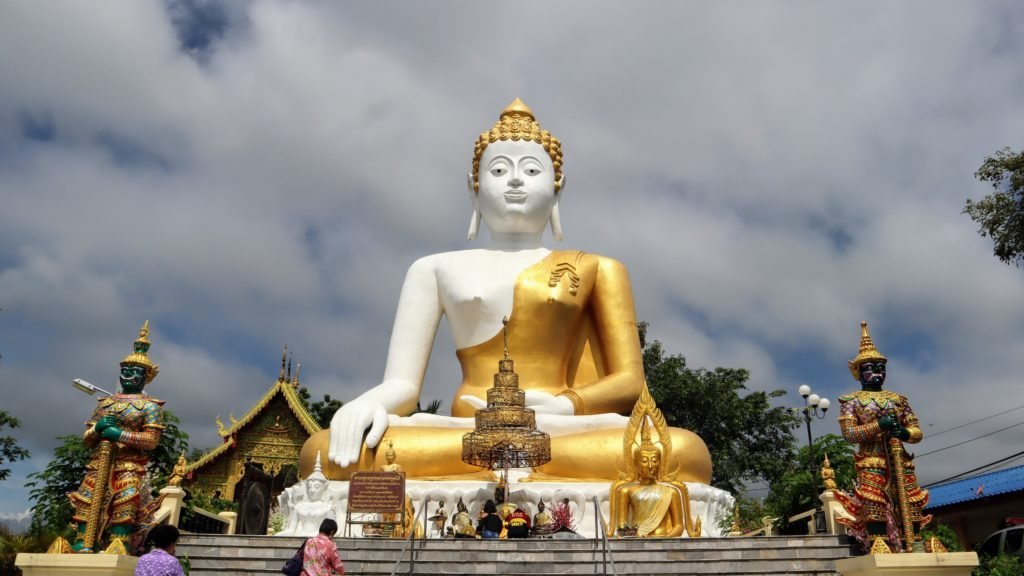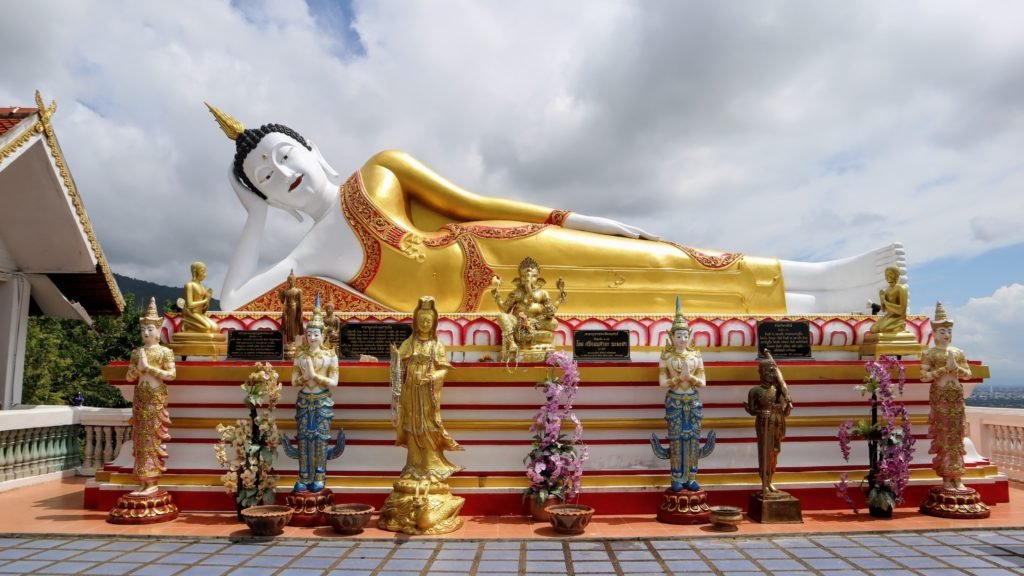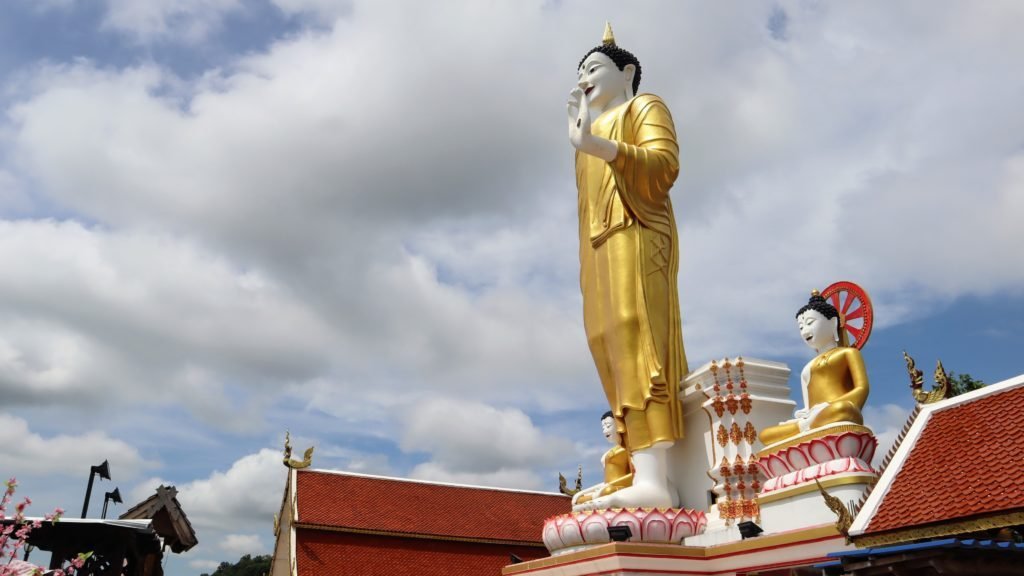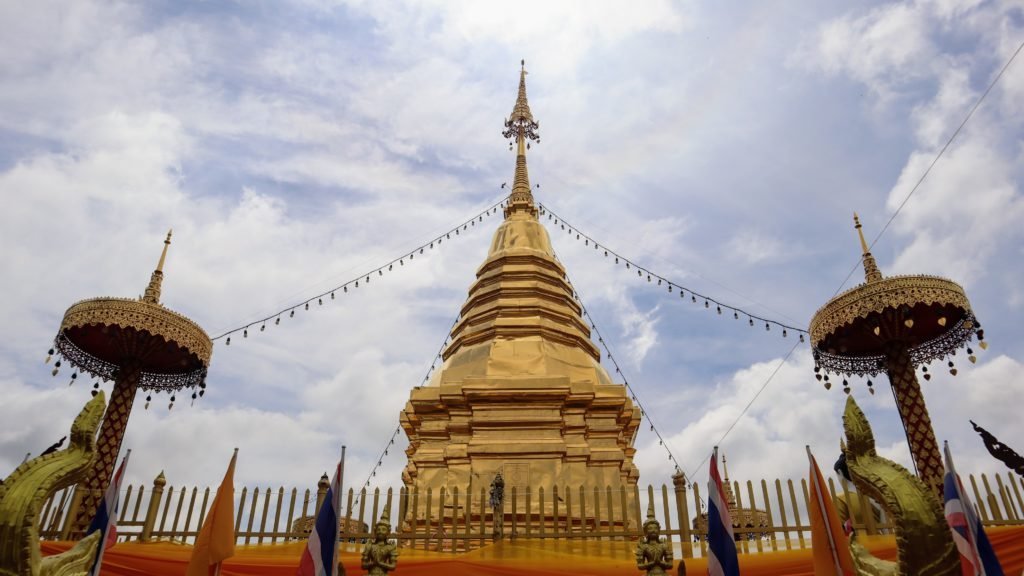 A few / a lot of animal statues are standing all around the temple. Elephants, golden elephant and quite a few things I couldn't actually define what they are exactly. They're hybrid, for sure..
Not just Wat Phra That Doi Kham (วัดพระธาตุดอยคำ), many temples have elephant statues as 'Chang (ช้าง)', meaning elephant, is Thailand's national animal and has such long history since in the past.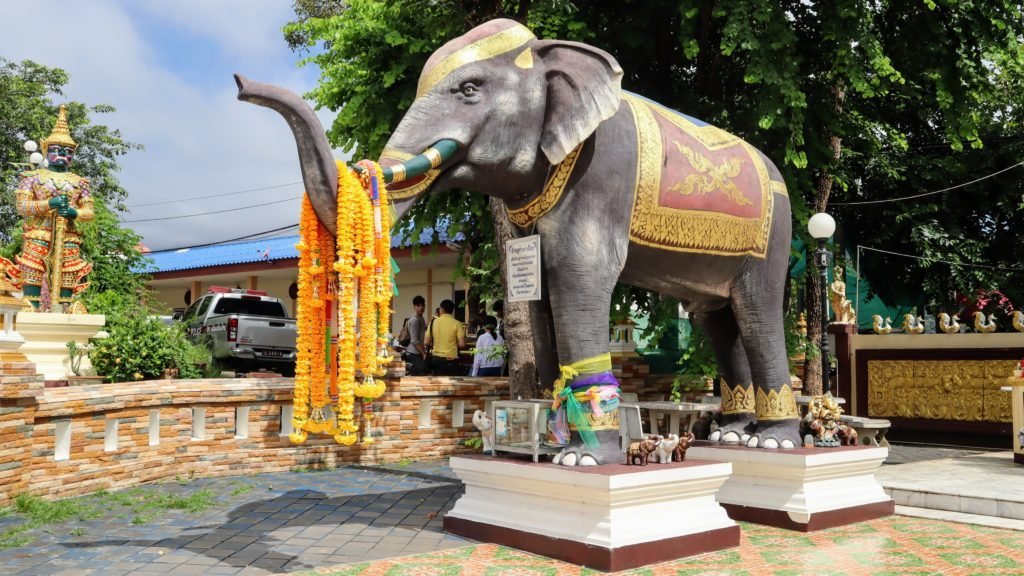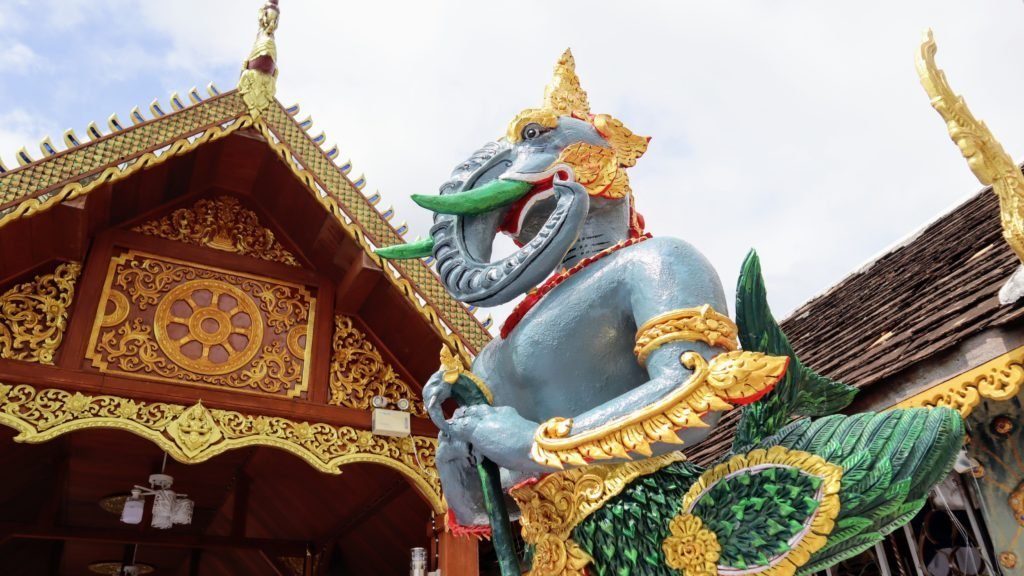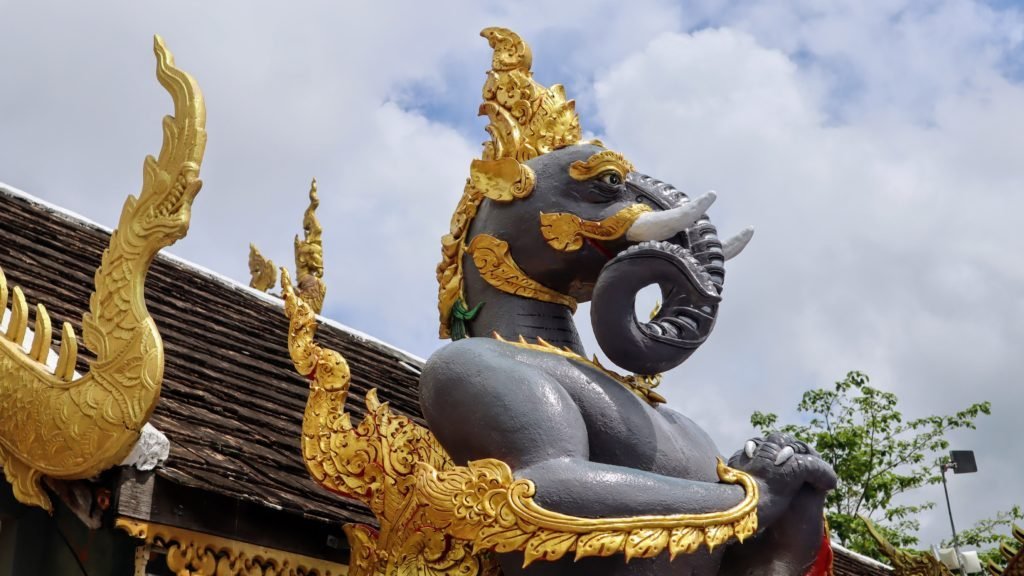 Other believes at Wat Phra That Doi Kham (วัดพระธาตุดอยคำ)
In Thailand, it seems like people believe in a lot of things science can't prove. Some statue they pray at and have their wishes come through. The small buddhist pendants that they believe it gives good luck.. Just to name a few but here, at Wat Phra That Doi Kham (วัดพระธาตุดอยคำ), Luang Por Thun Jai is something people really go there for. I mean, my dad and step mom took the trip (this trip) to Chiang Mai actually especially for this 'Luang Por Thun Jai'
Luang Por Thun Jai is a monk statue that people believe would make their wishes come true.. Like, real soon.. I did ask for stuffs too actually. It didn't seem like I got what I asked for :/
The last two, I'm not too sure. A lady with a few monkey statues. Also something people pray at and believe in.. Saw this while walking around Phra That (พระธาตุ).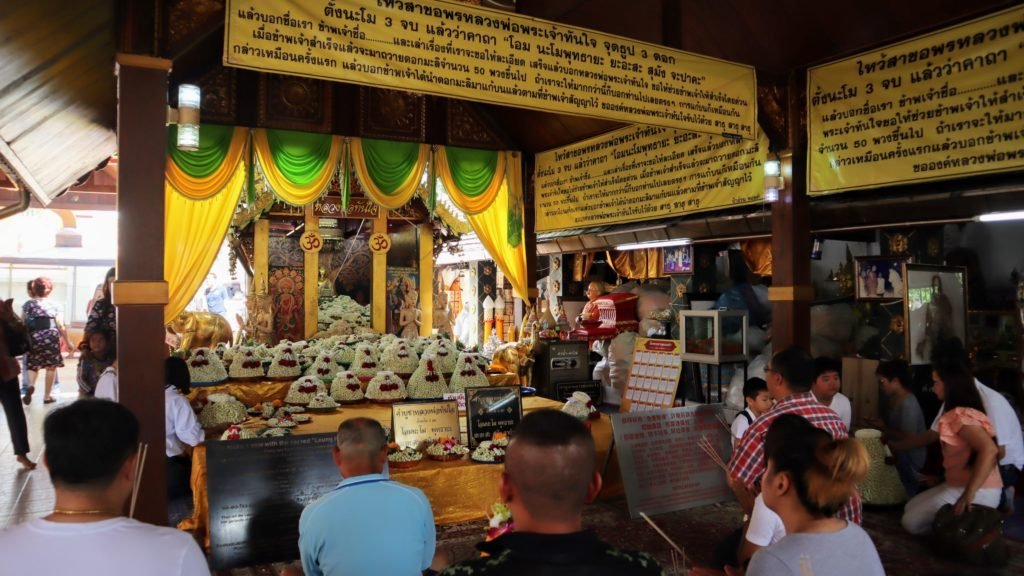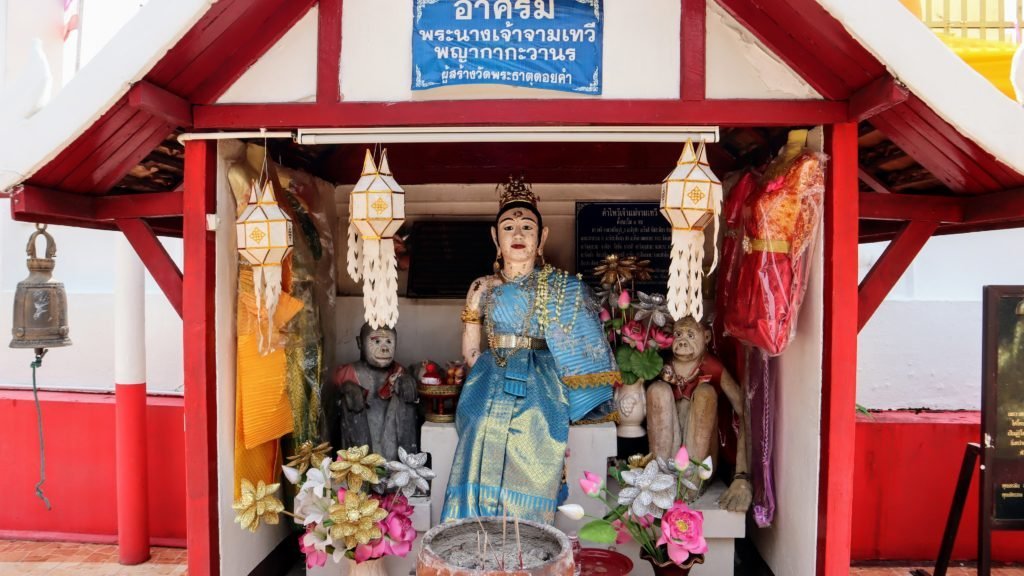 Epic view at Wat Phra That Doi Kham (วัดพระธาตุดอยคำ)
As said, this temple is surrounded by mountains so, the surrounding is all green. Nice breeze when you're up there on the mountain. At the same time, it's dang hot as we get closer to the sun.. I think that makes so much sense, actually.
There're a few spots where you can take nice panoramas as well.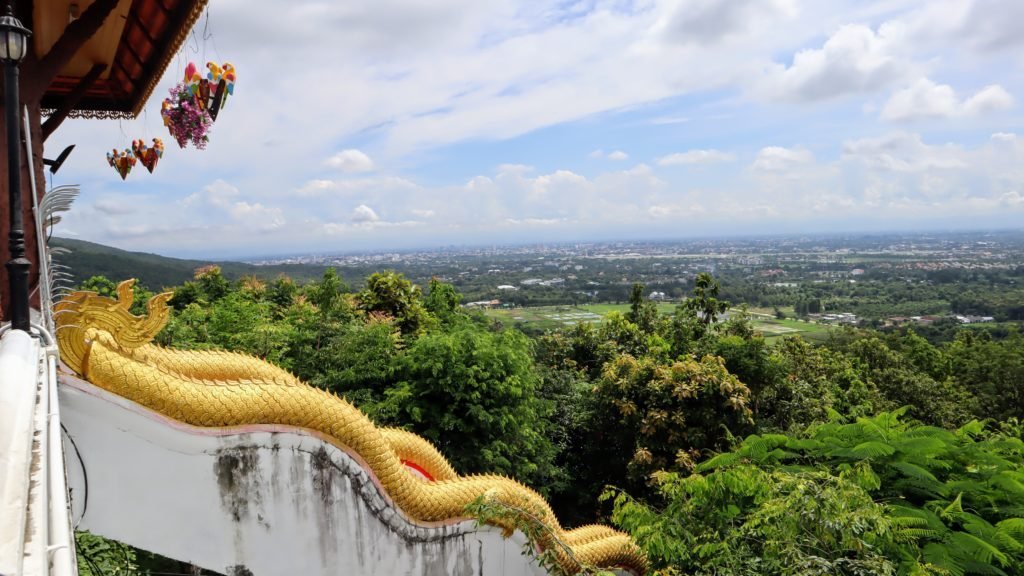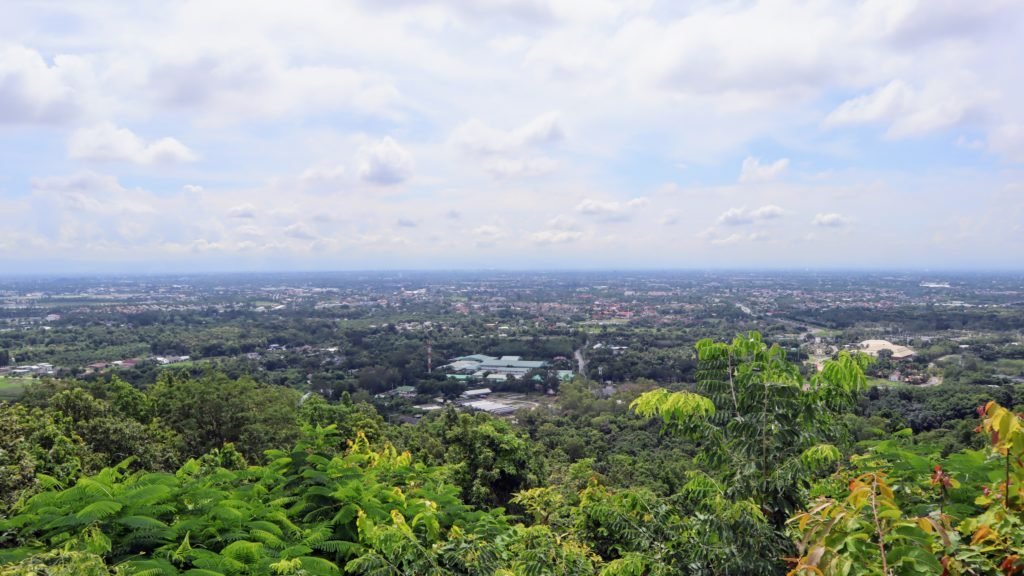 The senior monk's birthday
Just like in highschool, temples have senior / junior monk and all the freshmen if they're new there.. That's just my way of saying it but yes, they do have something like that. The most respected one gotta be that one leader..
That day we went was his birthday! So many perks !! Not just free shuttle two rows pick-up truck up and down the temple but hey, free food! Yes!!! How fun that day went. The popsicle was so delicious.. I got a better flavour so check out the Pooh Bear Kid's face!
Also, the event where you gotta sit there and wrap your head around with this white holy threads.. That was a long session of sitting and listening to something I didn't quite understand..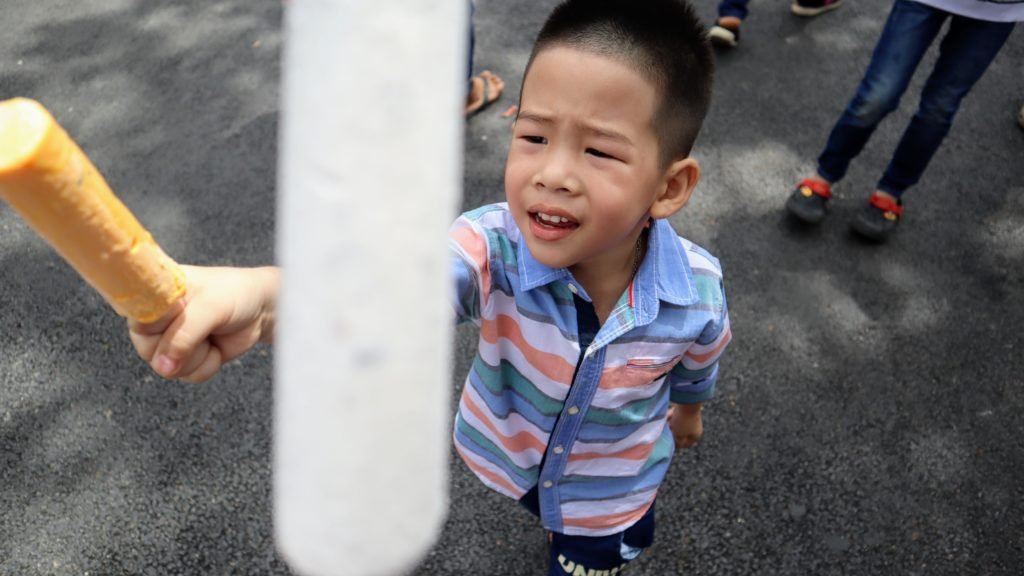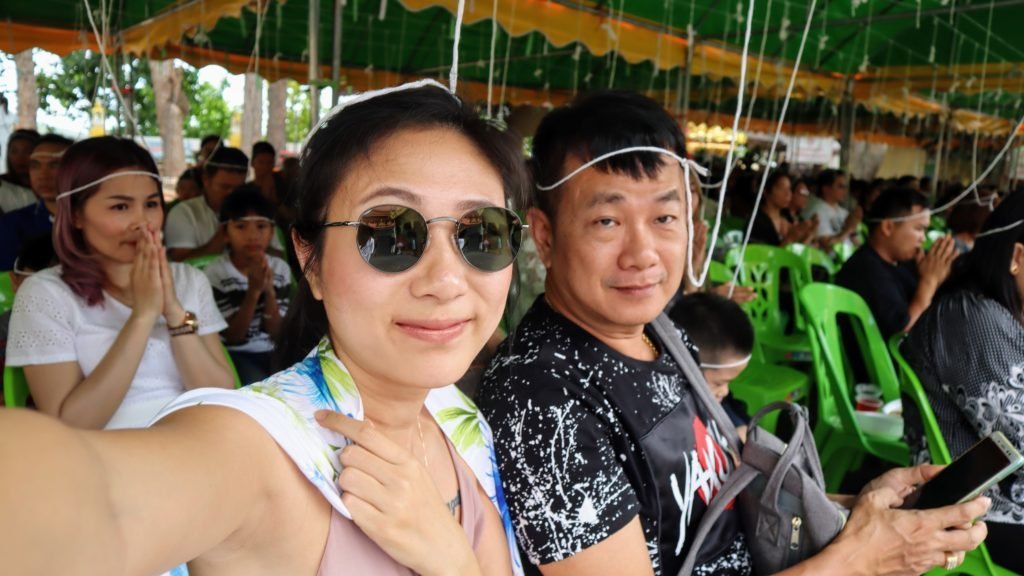 Pretty! Wat Phra That Doi Kham (วัดพระธาตุดอยคำ) is real pretty! All the statues, arts, views, natural and manmade stuffs. Huge gorgeous sitting Buddha sat against that blue sky, what beautiful pictures you could take! If you love art and curious about Buddhism, why not give this place a try when you pass by Chiang Mai next time! :)
Wat Phra That Doi Kham
Address : Mae Hia, Mueang Chiang Mai District, Chiang Mai 50100
Hours : Everyday 6AM-6PM
Not on Steem yet?? Let the ninja gets you a Steem account and start earning crypto!
㋡ Get $55 off your first adventure on Airbnb
㋡ BEST Boba Tea in town [Bangkok].
---
All copy and photos are original content by me.




TO SUPPORT WITH LOVE 💙 PLEASE SUBSCRIBE!!! TO MY SUPER DUPER AWESOME YOUTUBE CHANNEL :)