I do love veggies and if it's organic, that sounds even more awesome! I have heard of this organic healthy shop called 'Oh Ka Jhu' a lot from my family and friend but not really following the trend till my Steem friend @travelling-two led us there to the place when we went hang out at Siam area the other day.
---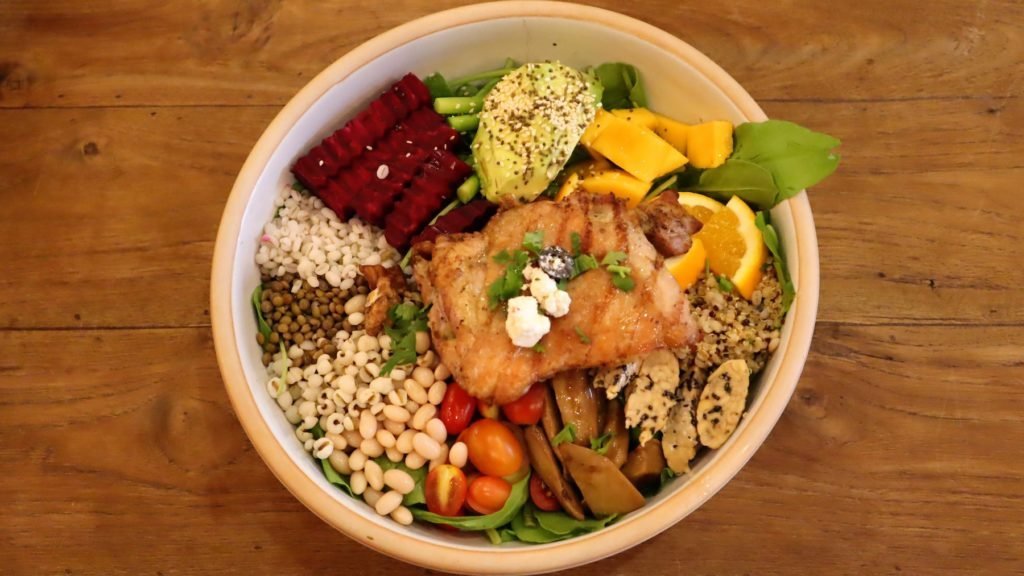 ---
Oh Ka Jhu Organic (โอ้กะจู๋ ออแกนิค)
We sure can't deny that all this healthy stuff has become such a trend. Even a country like Thailand, where we eat lots of greasy curries and stir fries, we're also all in once it comes to healthy food. This shop that we just went became so popular and even have a lot of branches around the city, Bangkok.
If you're not Thai, you wouldn't find the name 'Oh Ka Jhu' cute.. but as a Thai person like myself, I do. Let me explain why..
Oh just like Oh!
Ka jhu in Thai basically means small penis and mostly use for the boys' ones.
** Only the word 'ka' itself could means 'and'
I was wondering at first why? Then I found out that they turn back the words of 2 names of the owners' names 'Ooh' and 'Joe'
'Ooh ka Joe' to 'Oh ka Jhu'
That somehow simply blew my mind a bit lol Too creative! and it just sounds cute with that little penis in there so that's why it gets so popular, I believe :D
---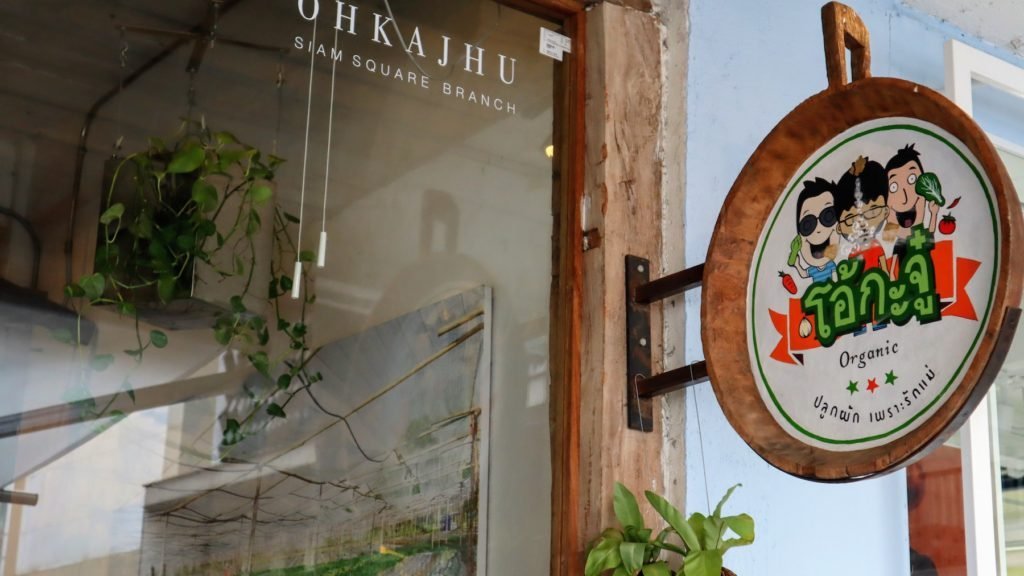 ---
They have a few brances in Bangkok but the one we went to is at Siam Square Branch. Not too big, not too small. They have this minimalist decoration and the cozy home kinda vibes.
Oh Ka Jhu's Concept
Grow veggies because we love mom. (ปลูกผักเพราะรักแม่)
Well, I mean, in Thai it rhymes cutely but not too sure how it relates. There are also 5 words they feature since the entrance door to having them on the wall :
Ground (ผืนดิน)
Produce (ผลิตผล)
Ecology (ระบบนิเวศน์)
Family (ครอบครัว)
Community (ชุมชน)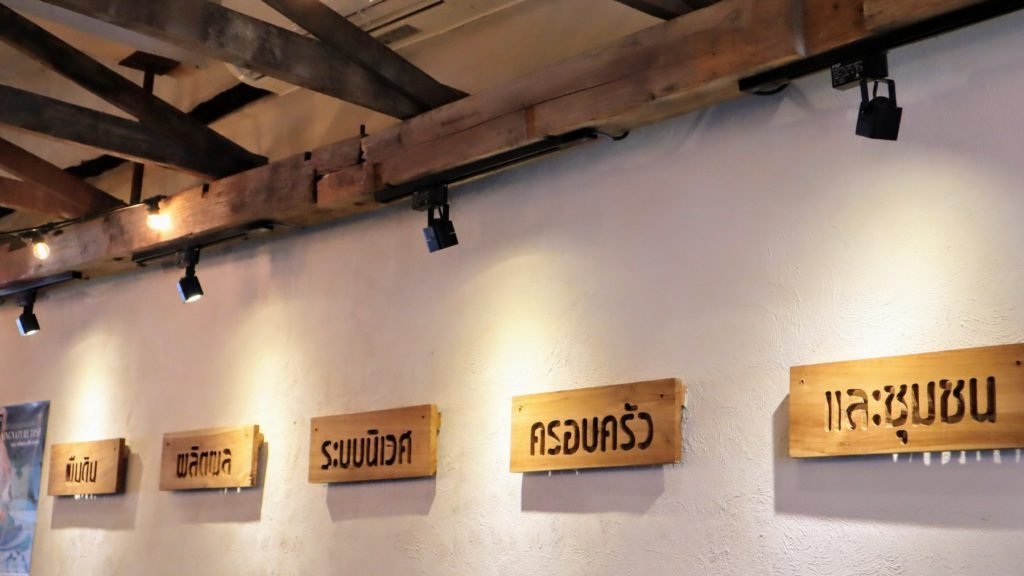 All the veggies claimed to be so fresh as they grow it all themselves in Chiang Mai then ship it to Bangkok in less than 28 hours freshly everyday. How awesome that is!!
Just to get an idea of how fresh/organic and earth/community loving they are but let's just dive into something we actually went for! Organic food!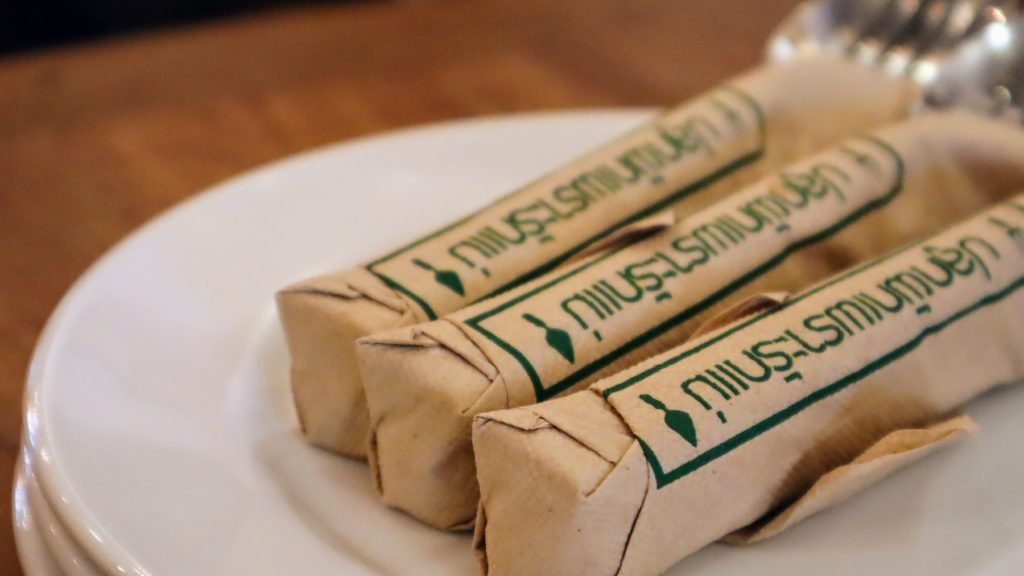 Oh Ka Jhu's menu is so colourful with all the veggies and more than 20 kinds of homemade dressings they offer. They also have other meat menu like, ribs, sausage and steak. Perfect that 3 of us went and ordered 3 different kinds of food. They are all fresh and delicious!
Avocado spinach salad with chicken with Aged balsamic vinegar dressing (265THB)
Mushrooms, spinach, quinoa, job tears, barleys, soy, tomatoes, beets, feta cheese, cilantros and herbal marinated white chicken meat, mango.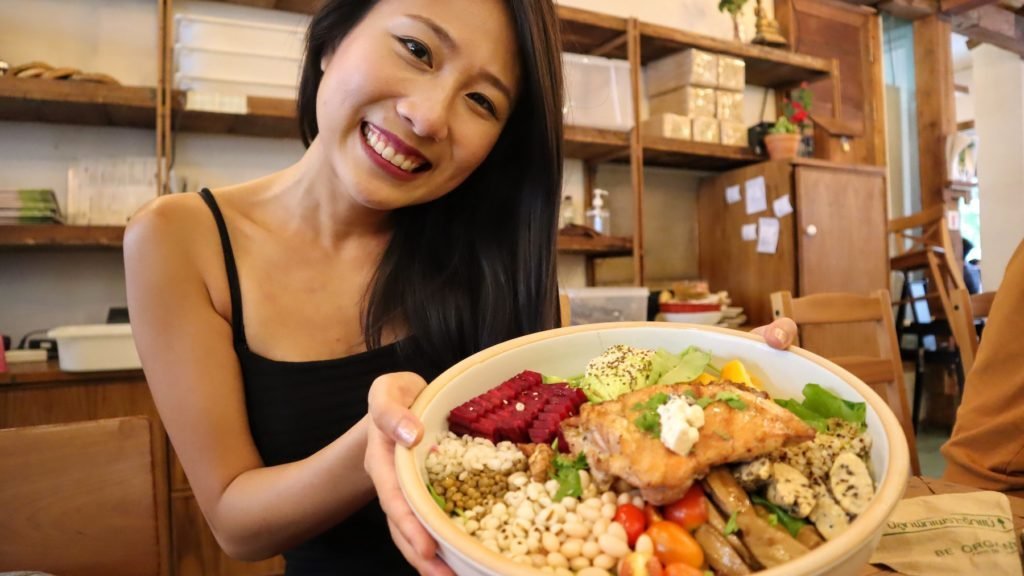 I got this healthy and refreshing huge bowl of salad. Like, really huge! I was a bit shocked when saw it first second. Look how big it is compared to my face!
---
Love it a lot as I got everything in the bowl. There're even pieces of ripe mangos in it! Super duper refreshing and of course, I couldn't finish the whole thing at once. Have it wrapped for the next morning!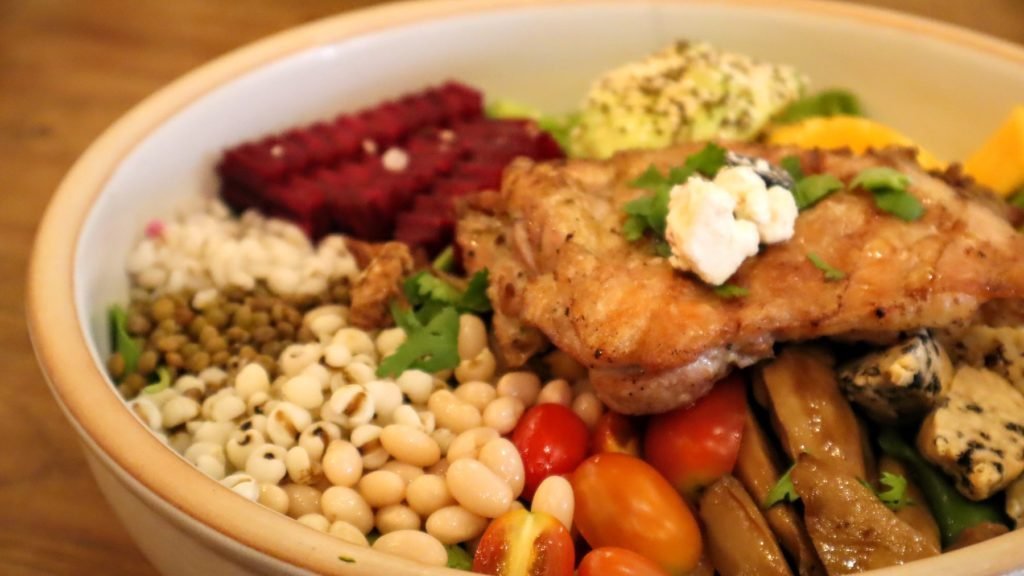 Chicken Bacon Ranch club salad wrap (175THB)
Organic mixed salad, grilled chicken, bacon, egg, cherry tomatoes, beet roots, avocado, mango, corn, cheddar cheese, almond, capsicum sauce
The Chicken and Bacon Salad Ranch Wholewheat wrap was healthy and wholesome. Very delicious and, although, it was smaller than the other dishes, it was very filling. The only issue was that the wrap wasn't closed at the back and thus being a filled wrap, everything came out at the back upon the first few bites! (Explained by Sam @travelling-two)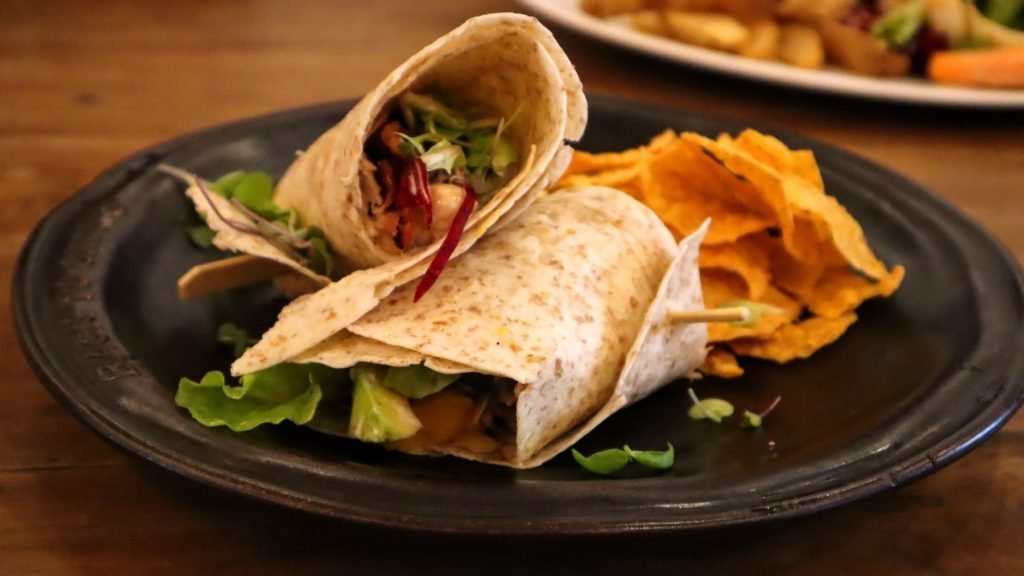 Fish and chips with tartar sauce (195THB)
Sea fish, chips, tomato, cherry tomatoes, onion, carrot
Like, seriously, I feel like you can't find healthier fish and chip elsewhere than what they have here. It's served with the big pile of beautiful salad (Bigger than the fish and chips itself lol) and how cute they decorate it with the butterfly pea on top of that big pile of veggies. Oh my! that finger sized carrot too! Colorful!!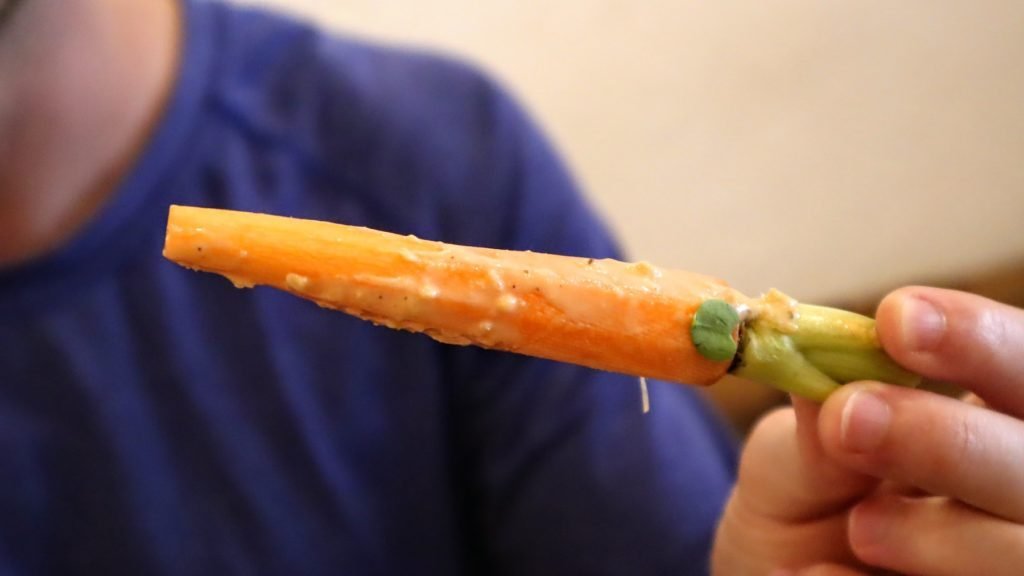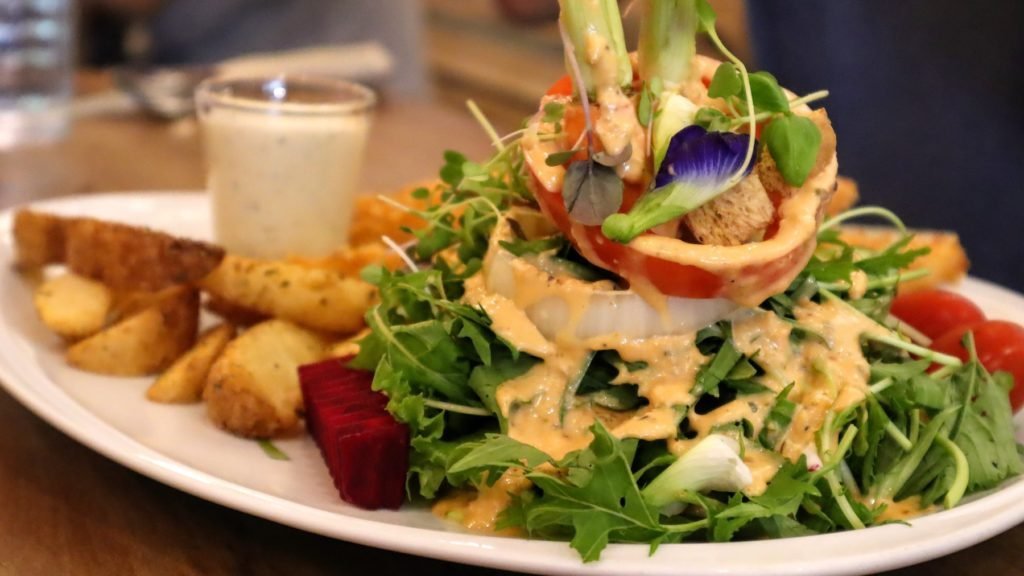 Woohoo! Totally beat it with all the freshness and the high quality food they offer! I love the place a lot and seriously wouldn't mind paying a bit extra for the organic healthy food. You are what you eat, indeed!
If you're in Bangkok and looking for some very good food to eat. Oh Ka Jhu is so awesome!
Official site : http://www.ohkajhuorganic.com
Facebook Page : https://www.facebook.com/ohkajhu/
Hours : Open Daily
: Original Branch 09.30 am - 09.30 pm
: Airport Branch 09.30 am - 09.30 pm
: Siam Square Branch 10.00 am - 10.30 pm
: Siam Square One Branch 10.00 am - 10.30 pm
: The Circle Ratchapruk Branch 10.00 am - 10.00 pm
㋛ Get paid in crypto to Google search with PRESEARCH
㋛ Browse with BRAVE 8x faster, no ads, no trackers
㋛ Post on instagram and earn extra STEEM with Share2Steem
---
All copy and photos are original content by me.




TO SUPPORT WITH LOVE 💙 PLEASE SUBSCRIBE!!! TO MY SUPER DUPER AWESOME YOUTUBE CHANNEL :)