---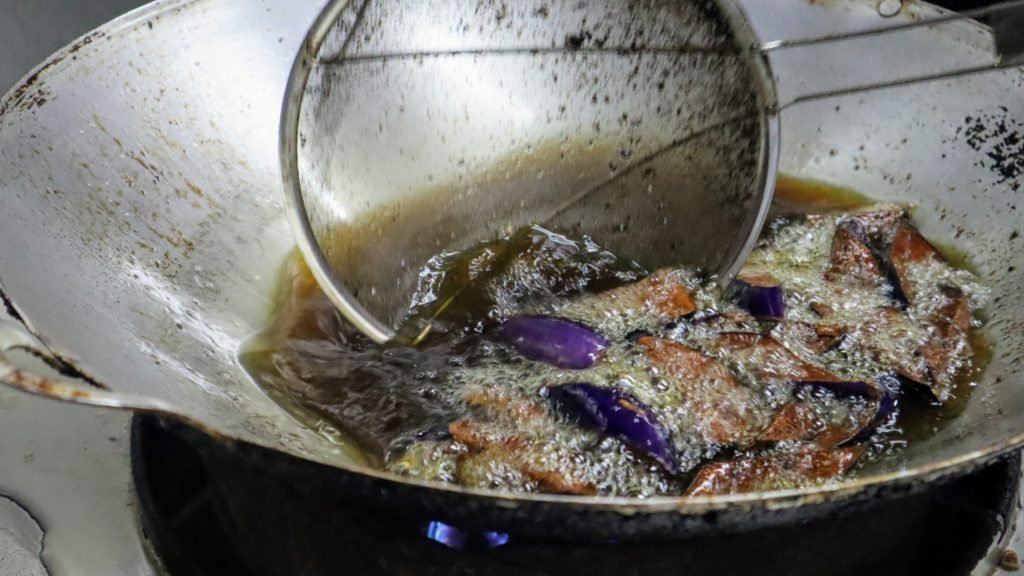 ---
'Urg. Bored of all the tourist stuffs when in Malacca.' If that sounds like something you have in mind or you've already said it so.. Then, let me bring you out of the tourist traps for a bit. Now you're raising your eyebrow, 'All the places you have been showing us are tourist traps?' Well, not completely..? It's just this one is way far out from the most famous street in town, Jonker Walk. It's recommended by a local and the place seems to have just locals dining there. Portuguese Seafood dishes at Portuguese Settlement, Malacca (Melaka)
Portuguese dishes in Malaysia??!
I was not good at all the history but Kevin told me about it. Malacca used to be conquered by Portugal. I'm like, whoa! Now, it makes sense to eat Portuguese food in Malaysia!
The Portuguese Settlement is an area of Ujong Pasir in, Malacca, Malaysia, which serves as a home for the Kristang people, a Malaysian ethnic group with mixed Portuguese and Malay heritage, originating from the time of the Portuguese rule in Malacca
A hostel owner, SydneysBackpackers, told us about the place and recommended us so much we needed to go there so there we went. 15-20 mins drive from Jonker Walk and we can already saw a beautiful ocean.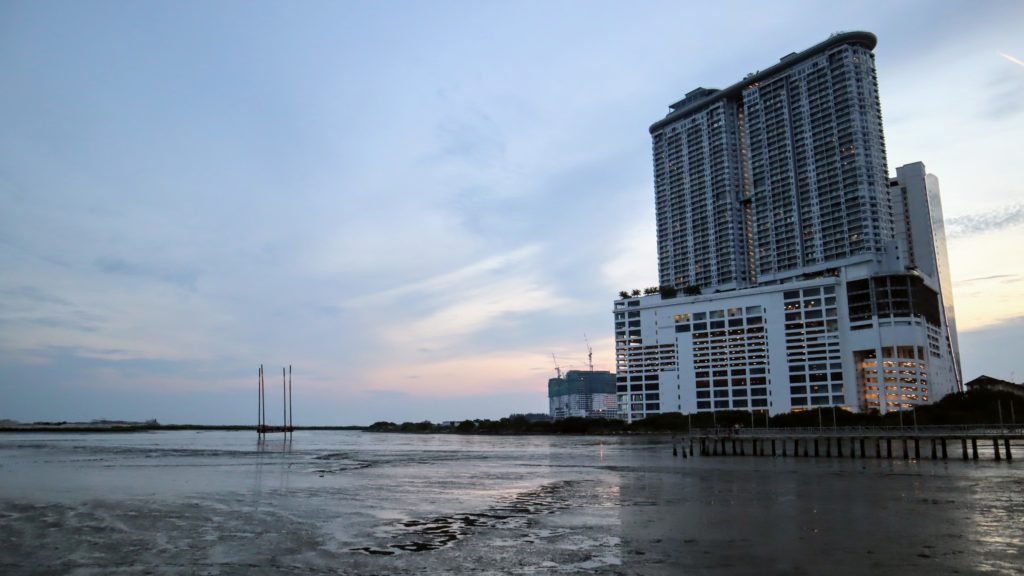 The Portuguese Settlement is located right by the sea. The place is more or less an outdoor food centre with quite a few food shops. As we had been warned, the waiters and staffs will come straight at you and try to drag you to the place they work for. The suggestion from the hostel owner is that, 'Don't go with some of those but instead, walk straight inside the settlement and eat at one of the restaurants there..'
I was pretty confused at first and was like, 'Where should we go? Where do we eat?' with the pressure from all the food store staffs surrounding 'Eat at my shop. My mom cooks really good', 'We're real Portuguese. Really good Portuguese food.'. Seriously didn't know what's true and what's not. Then, we saw a building just next to it.. Seems like it's the one.
The building where a few Portuguese restaurants located. There're probably 4-5 of them. They all look pretty much like home cooked restaurants so really, it just couldn't go wrong. We went with the one called Restoran De Lisbon and was its one and only customers there at the time.
Restoran De Lisbon at The Portuguese Settlement, Malacca
If you don't call this home-cook, I don't know what would you call it. Once I walk into the place, it's the whole kitchen with only one lady cooking. She's a wife of a person welcome us into the restaurant. The kitchen is as messy as it could get and all the ingredients and equipments were placed pretty casually like, 'We don't care. It's our own home' kind of kitchen.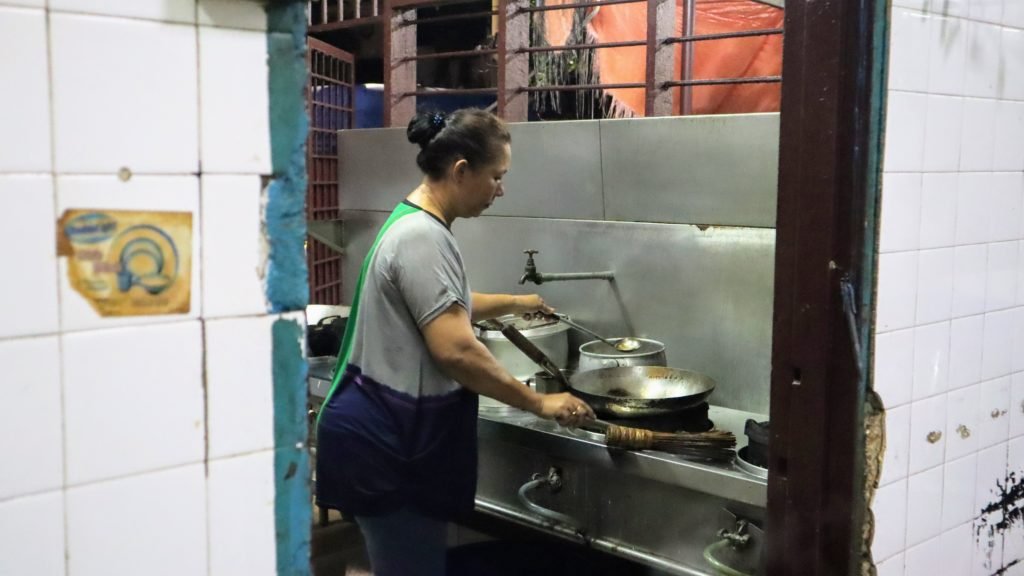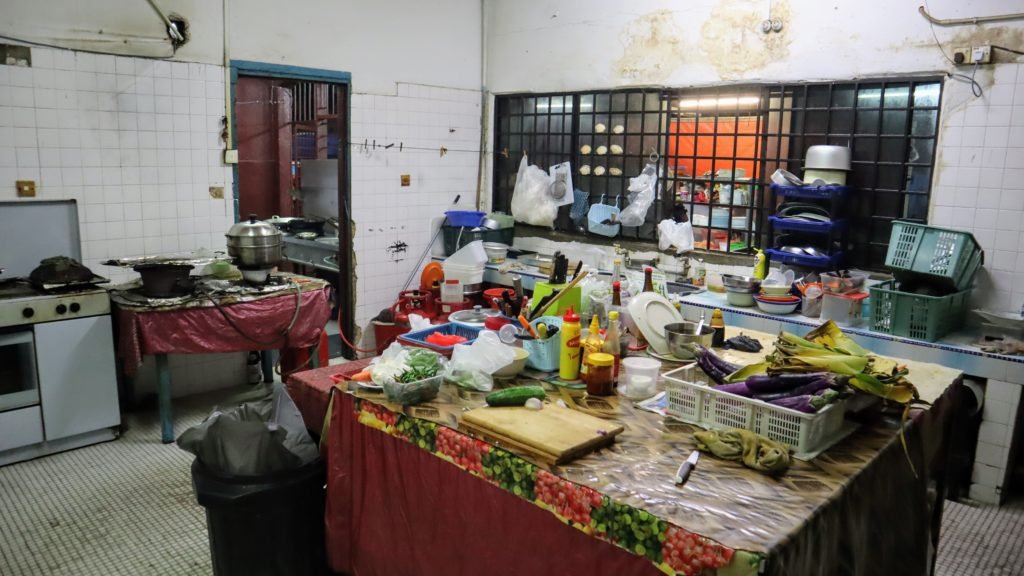 I asked for permission to have a look and walk around while the food is being cooked. I have never had Portuguese food before in life but first time seeing and eating it here at The Portuguese Settlement, Malacca, I could tell they love it deliciously greasy. Almost all the food on the menu were deep fried / stir fry and we actually didn't mind ordering them..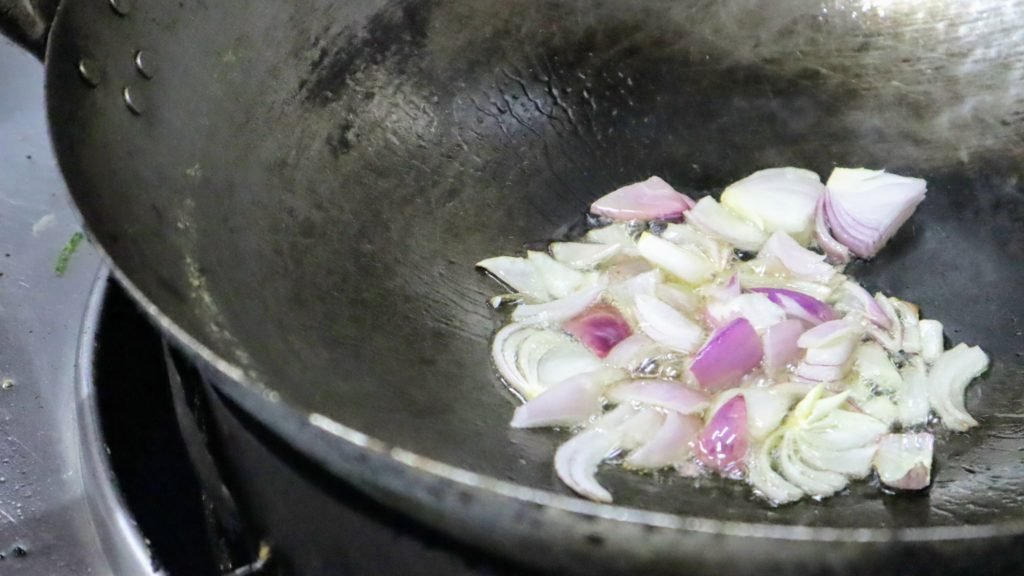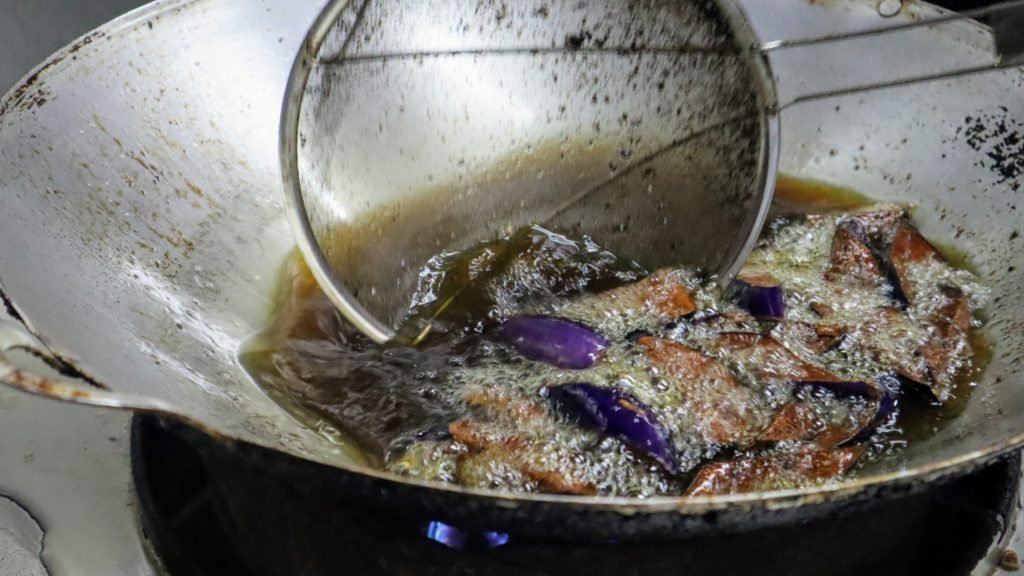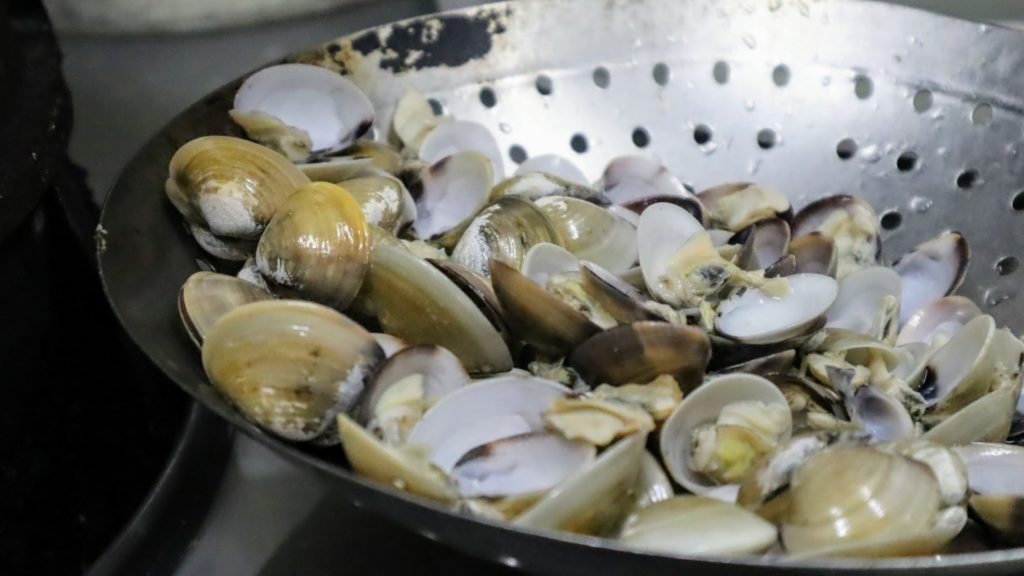 Deep fried fish topped with tamarind sauce
I'm actually surprised Portugueses use tamarind in their cuisine. I don't see many kinds of food in this world use this type of fruit in the dishes. The crispy deep fried whole fish topped with the tamarind sauce with its seeds as well!. Other ingredients like, chilli and red onions.
Deep fried Aubergine
I love aubergine and love it in almost everything. Omelette, Moussaka, stir fry and all. This is the simplest dish on the table that we ordered. It's seriously just deep fried aubergine sprinkled with a bit of black pepper and maybe a bit of salt. Believe it or not, so good! It's greasy yet delicious!
Stir fry clam with ginger
When I asked the lady for some spicy dishes, she pointed out this one. This is the first time I had stir fry clam that goes along with ginger. Gotta say it's surprisingly delicious. It's not like, right away spicy but it creeps in a bit by bit just like the way ginger does thing.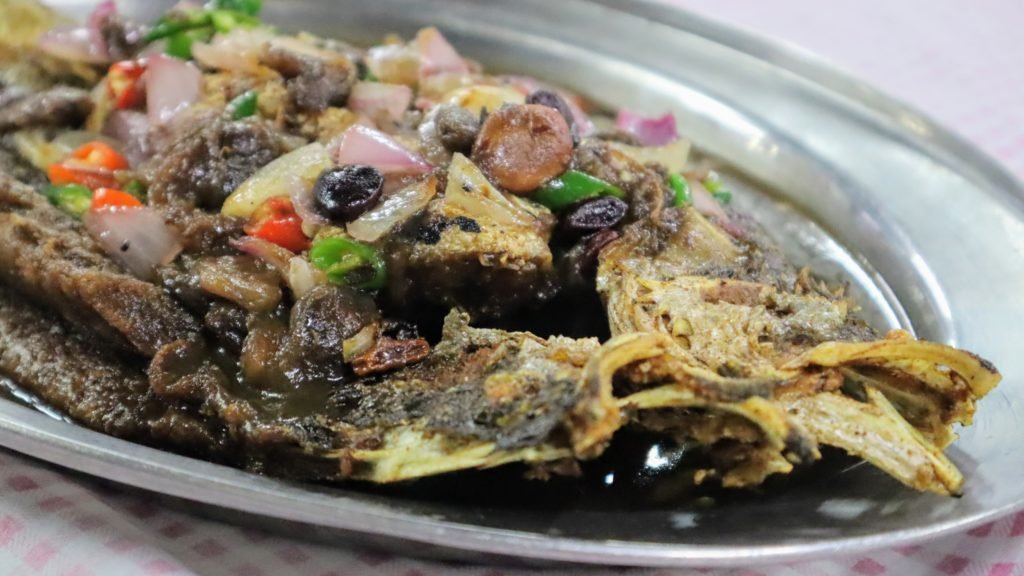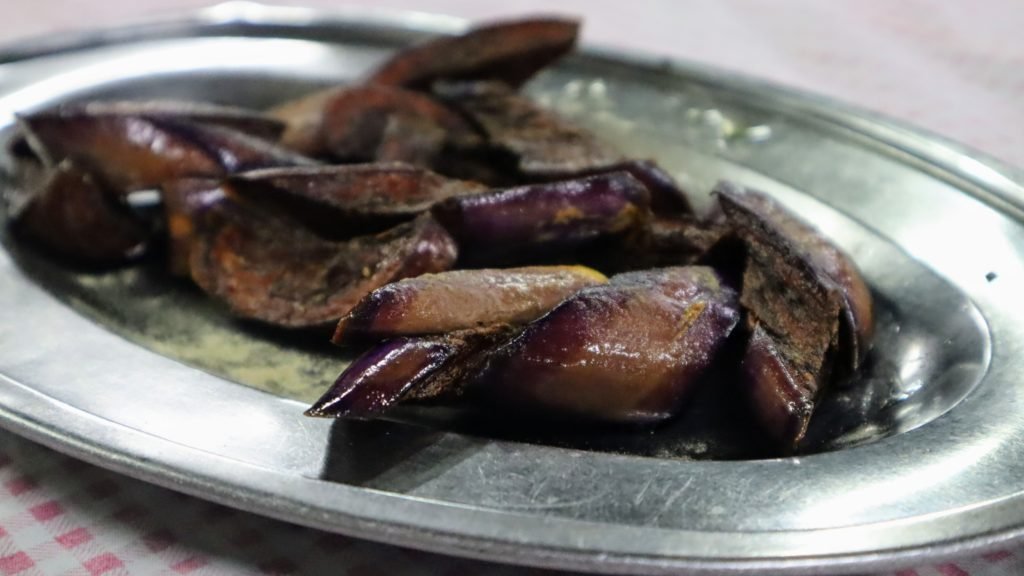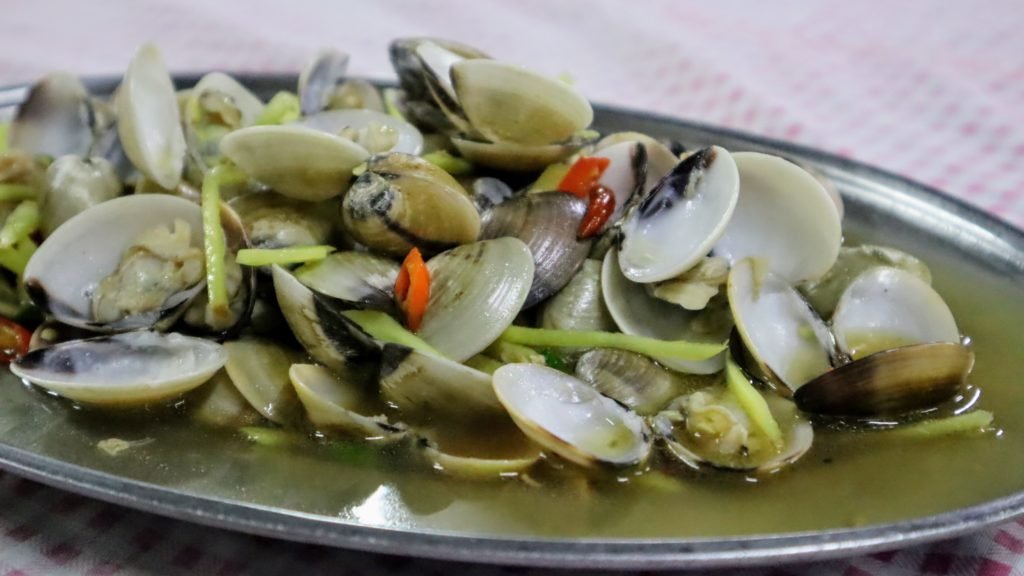 Would I return to the Portuguese Settlement?
I somehow found the Portuguese food pretty similar to Asian food. Not sure if that's because it's the mixture between the real Portuguese and Malaysian..? I liked the food. Kevin loves seafood in general so he's just so into it this time.
All the food we had was delicious and well-cooked. One of the nice decent meals we had in Malaysia but not gonna lie here, I don't think I would come again here just for its food. It's delicious but nothing special.
Though, if you're not a Thai / Asian person who are used to these types of food, I would still recommend this place a lot to all of you. It's a real nice switch from all the Chinese/Malaysian food in Malacca. Oh, talking about that, the epic Nyonya Cuisine we had the other day was so dang good!
[Restoran De Lisbon)(https://goo.gl/maps/Hi9xQXeQrKMyitij6)
Portuguese Settlement, Melaka, 75050 Malacca, Malaysia
Tel : +60 12-319 6286
Hours : 1PM–12AM
Not on Steem yet?? Let the ninja gets you a Steem account and start earning crypto!
㋡ Earn free crypto : https://www.waybeyondpadthai.com/free-crypto
㋡ Get $55 off your first adventure! on Airbnb
---
All copy and photos are original content by me.




TO SUPPORT WITH LOVE 💙 PLEASE SUBSCRIBE!!! TO MY SUPER DUPER AWESOME YOUTUBE CHANNEL :)