---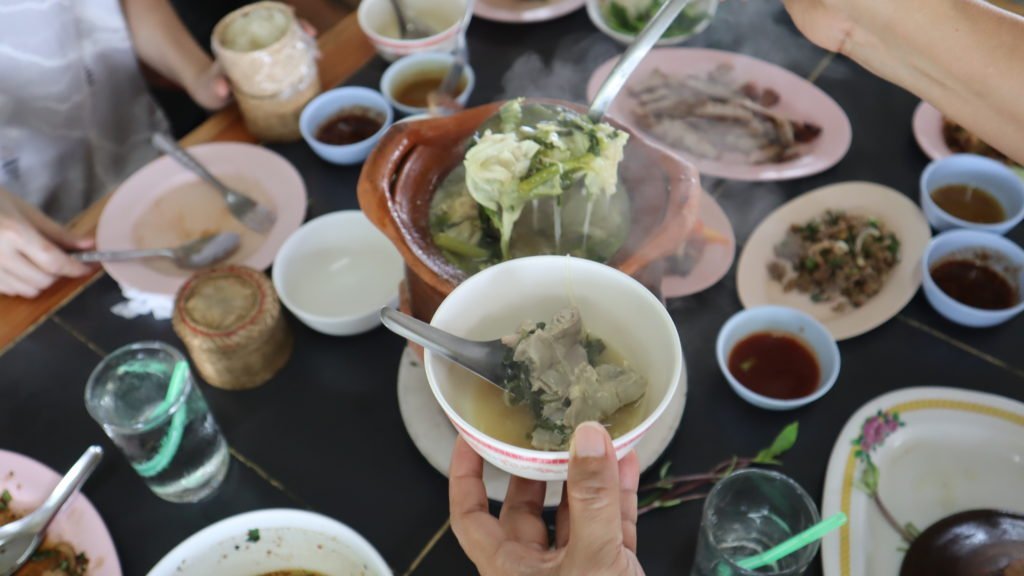 ---
Isan is a regian - North Eastern Part of Thailand and they have their own kinds of food. #intense! That's one big word to explain it. The taste, the smell, the look and its heat. Love it, I so love it. Isan food is one of my favourite food as I love spicy and tasteful dishes. They got them all. Here'e one good place to try Isan place in my hometown, Nakhon Pahom with the real Isan taste without going to Isan.. Tee Jaew Hon (ตี๋แจ่วฮ้อน) !
Tee Jaew Hon (ตี๋แจ่วฮ้อน)
I found out about Tee Jaew Hon (ตี๋แจ่วฮ้อน) place because my aunt's friend took her there, then she took us all the family there a few times as she also loves it. Now, I'm taking you all there!
This place is epic. Not just because their Isan food is hard to beat but it's actually located in the middle of nowhere, literally. More like, this cafe in the rice field but even more middle of nowhere.. Relax atmosphere.. Now let's eat!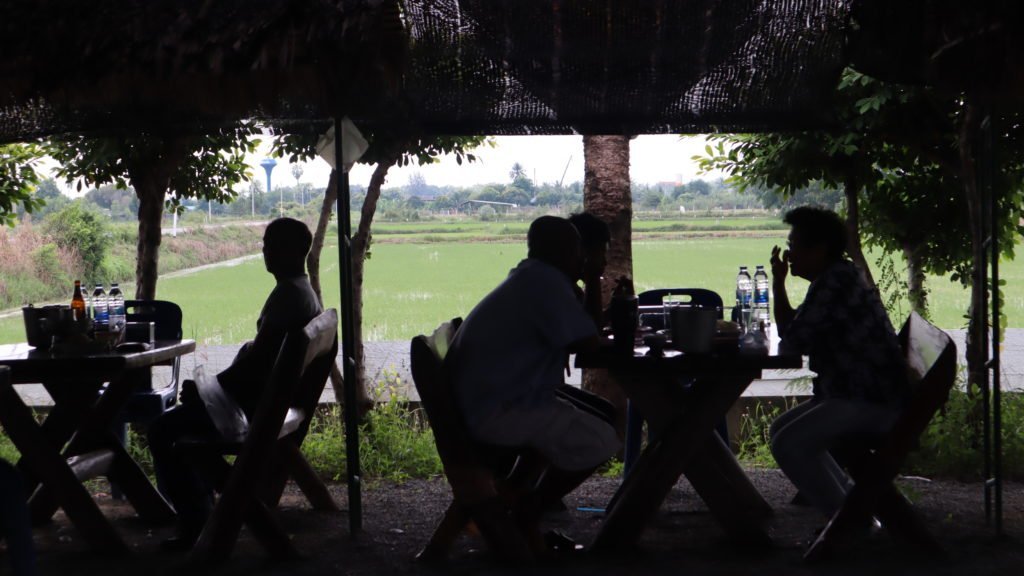 Isan food is all about the its flavourful taste.
Most of the food are quite spicy and they don't care about 'it's so salty or so sour', they put it all in and that's why Thai people just love Isan food so much.
Jaew Hon by Tee Jaew Hon (ตี๋แจ่วฮ้อน)
Just looking at the place's name, there's no way we don't order this menu item when we go there, Jaew Hon!
Jaew Hon is Isan Hot Pot with choices of meat and veggies.. or just again, put them all in It's like Japanese Suki Yaki but with herbs like, basil and some spicy stuffs.
It's the dish almost all the customers order but for me, honestly, this is not the best I have tried. Good, it's still so good. Their soup is not like elsewhere. I think they put some pineapple for that umami sweetness that brings out such deliciousness.
There are just a few steps here, The hot pot with the soup provided. Raw meat and vegetables like, so much of them. A few types of spicy sauces : Isaan sauce (tamarind, fish sauce, roasted rice, lime juice, chilli), seafood sauce (garlic, lime juice, chilli), suki sauce. Depends on the place you go and depends on what you prefer. Dump all the meat and veggies in, wait till it's completely cooked. Dip it in your favourite sauce then put it in your mouth. Easy peasy as that.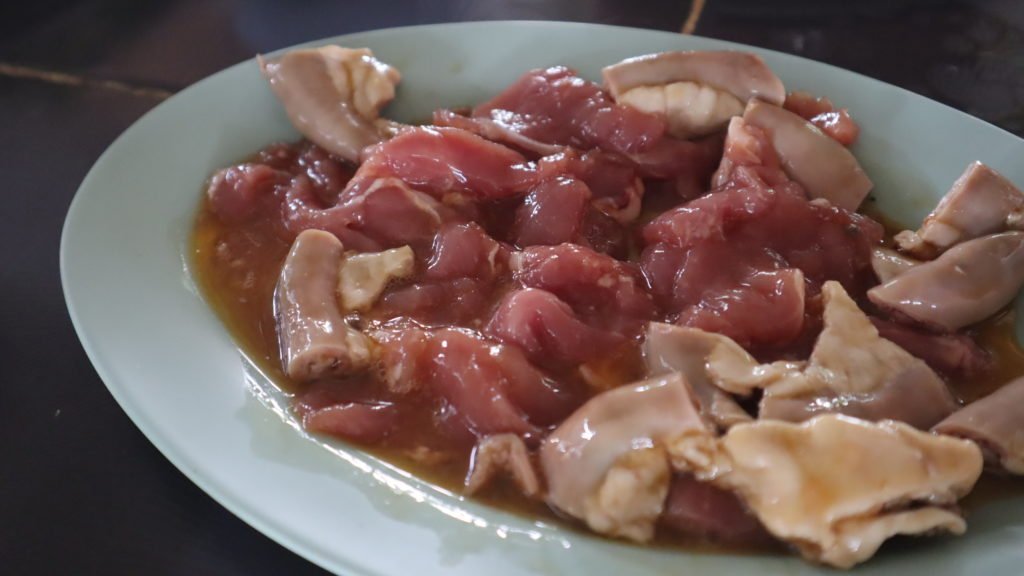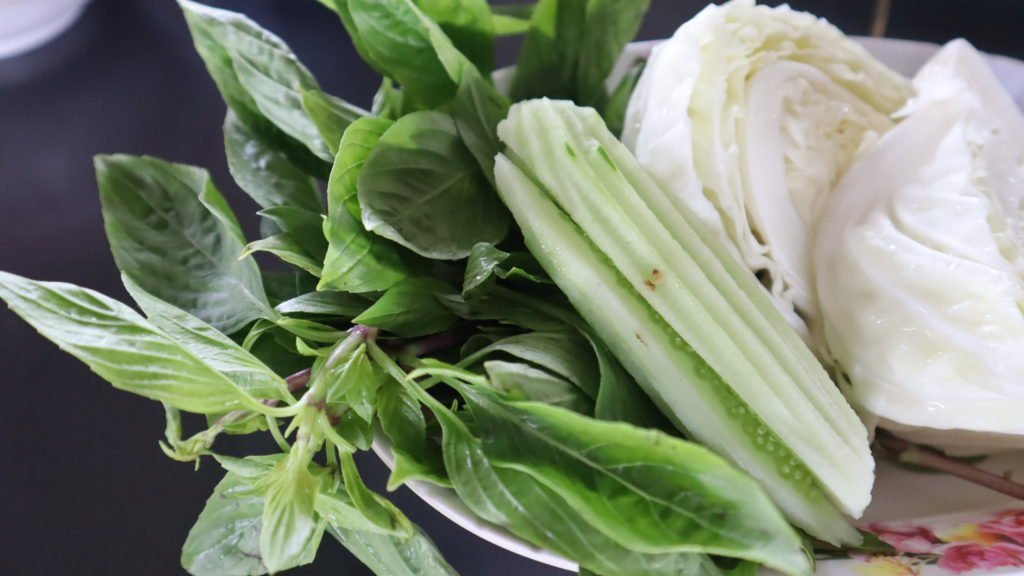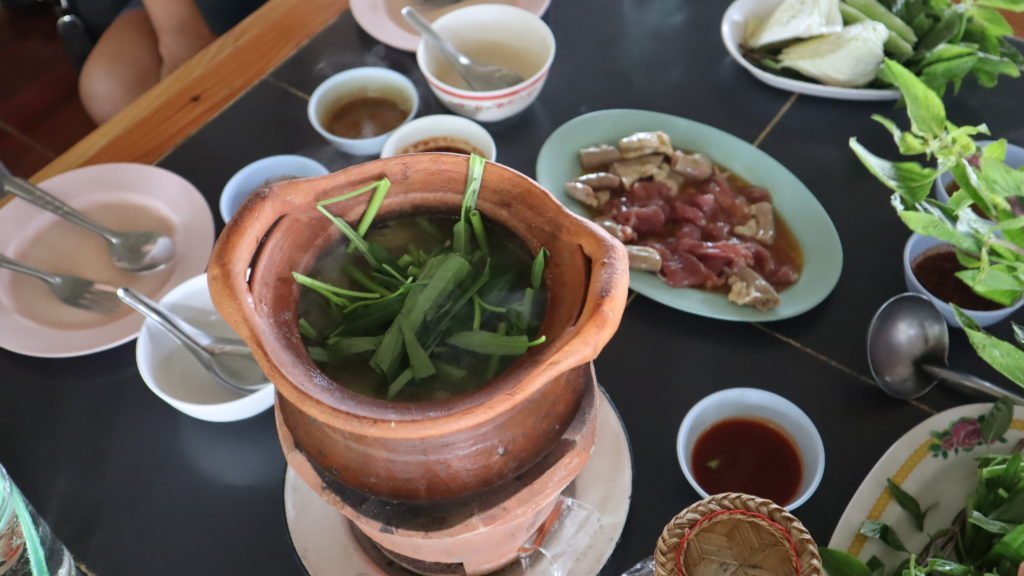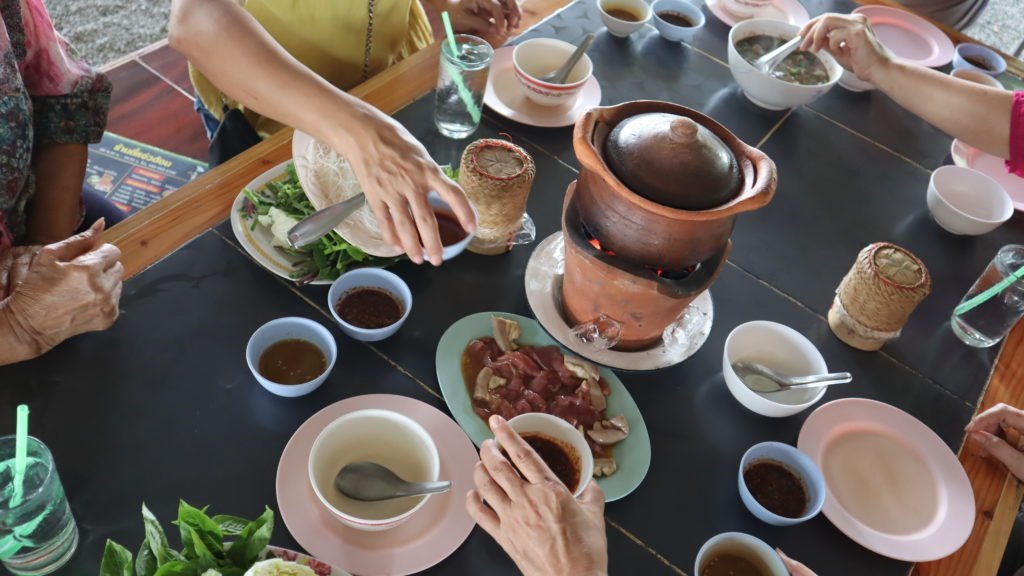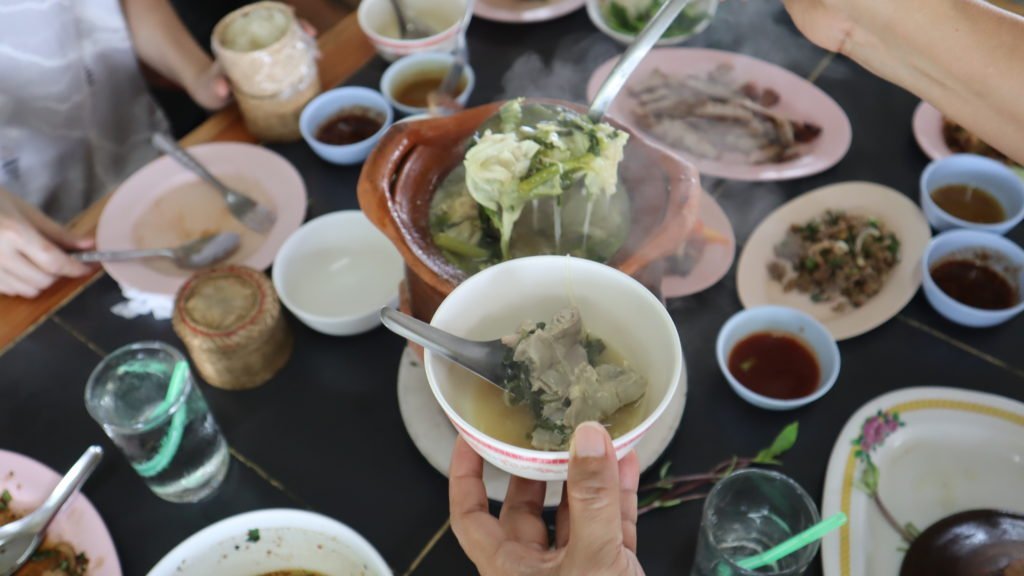 ... Love how colourful it looks ...
It's more to Isaan food than just Jaew Hon, a lot more and Jaew Hon by Tee Jaew Hon (ตี๋แจ่วฮ้อน) got it all handled.
Deep fry and Grill
We ordered grilled pork jaw / pork neck. Not sure if you do eat this same part where you are. We love it here for the fact that it got soooo much fat on it and makes that part of the pig so juicy, greasy and melting soft..kind of? I normally like it a bit sweet and salty. If it's straight salty then meh. This with some well-cooked sticky rice and a spoon of spicy papaya salad is a total perfect combination.
Deep Fried Pork intestines and garlics are so good here! They don't make it so chewy that you can't really bite it apart. It's crispy out and fun texture inside. Just the way we all love it!
** 2 of these mostly best with the Isaan style spicy sauce. (Tamarind, fish sauce, roasted rice, lime juice, chilli)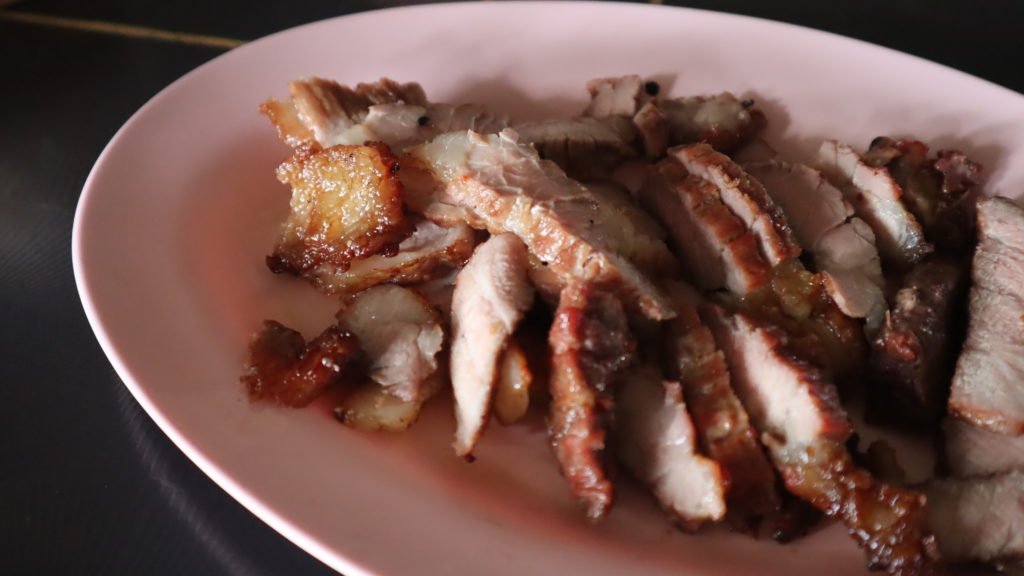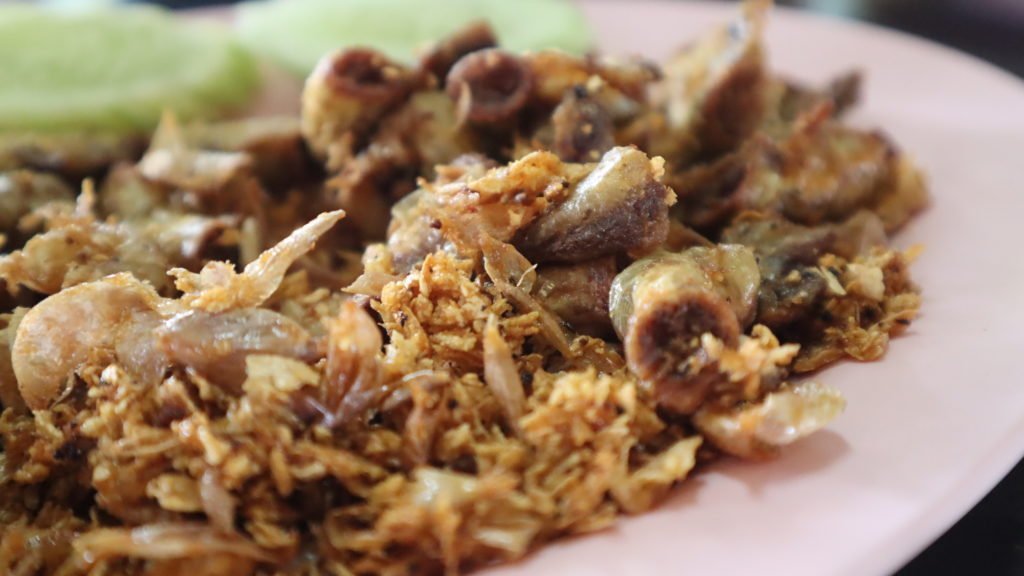 Spicy salad
Isaan food may change your whole attitude about 'Salad'. It's not always vegetables and ranch. It's not just caesar salad or Greek salad you used to. It's more to Salad that you know, Spicy salad! Meat, veggies, fruits, garlics and load tons of chilli, fish sauce and fresh lime juice..
Oh! Even lotus stem!
Yes, one of my favourite spicy salad is this 'you-might-say-whoa' kind of salad. Lotus Stem !! How crispy a vegetable could do, this might answer. One of a very crispy and enjoyable to chew. It's watery sort of celery-like oh yes, now that I think about it, it's pretty much something like that! It just doesn't really smell or taste nothing.
Great when combined with the intense all flavours salad sauce. How intense are we talking about here? Imagine a very strong smell/taste of fermented clam and fish.. Oooh.. Then fish sauce, lime juice, garlic and tons of chilli.. Oooh.. Lotus stem makes a great balance to the dish! and yes, Tee Jaew Hon (ตี๋แจ่วฮ้อน) makes it just delicious!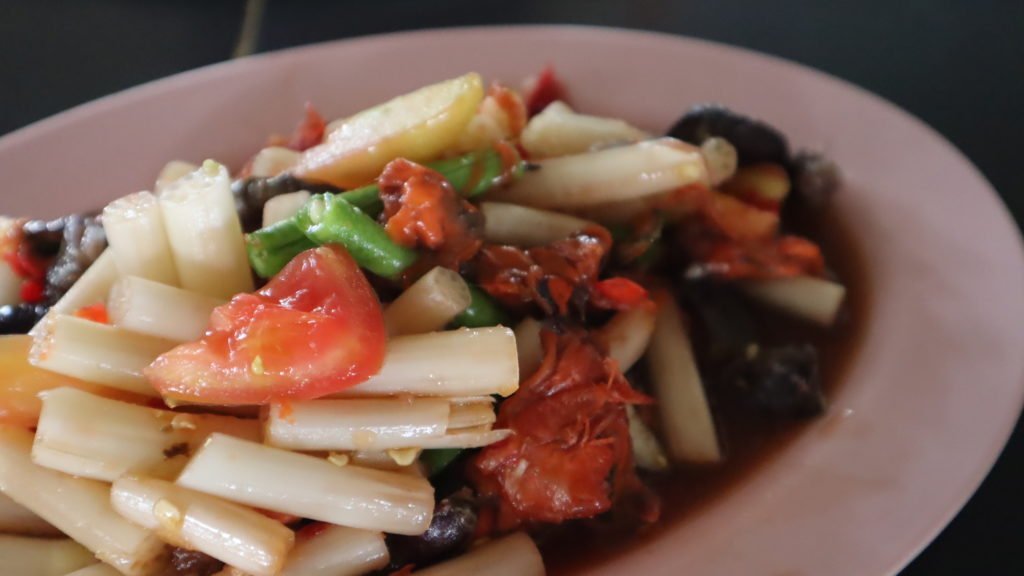 We do spicy meat salad too!
Wait..? Do other countries do this too? I kinda think so.. just not too or spicy at all huh? Well, we love it spiced up and put a little bit of roasted rice in it too! What a weird ingredient to put in a salad you think. It's so yum and makes the salad smells so great! Huele bien!
1 types of this spicy meat salad : Made with Pieces of meat called 'Nam Tok (น้ำตก)' or made with ground meat called 'Laab (ลาบ)'
This time here at Tee Jaew Hon (ตี๋แจ่วฮ้อน), we have Nam Tok (น้ำตก) The spicy salads that come with pieces of meat. The meat we love to put in these spicy salad are all kinds, like, literally. Fish, pork, chicken, beef, you name it. I love it with beef and pork jaw so there we go!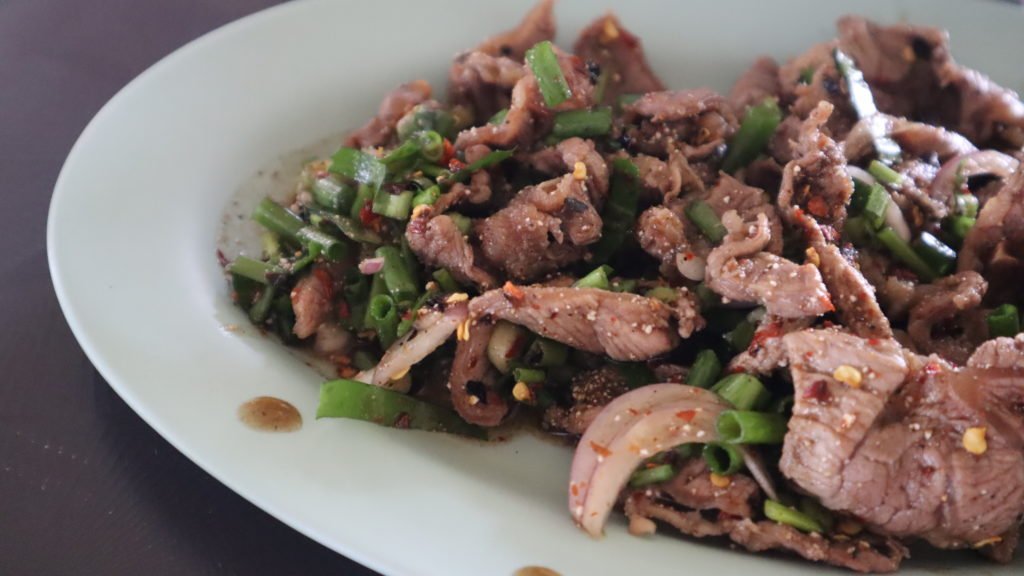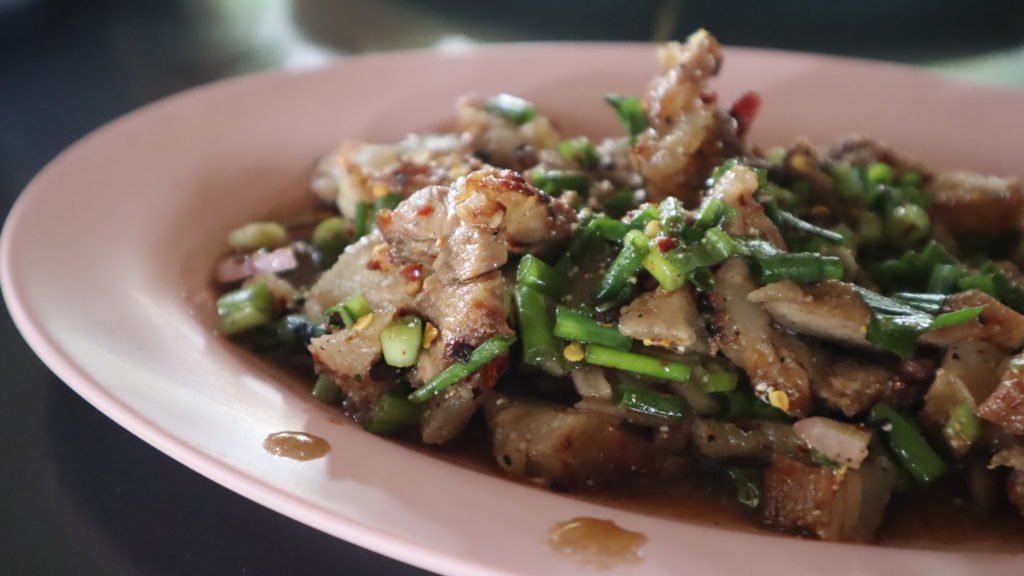 Sour and spicy soup we call 'Tom Zaab (ต้มแซ่บ)'
A great pork broth with fresh lime juice, lots of chilli and a bit of some other herbs.. Tee Jaew Hon (ตี๋แจ่วฮ้อน) is best best best (one of the best), at least. Love how it really sour and spicy. Love how hot the soup was, it was just great with the hot hot weather in Thailand. Yeah, right. Then, one best part of this dish, as every part of the pig is in it including the joints.. whoa, melt in your mouth sour spicy joint. I would die for, I would!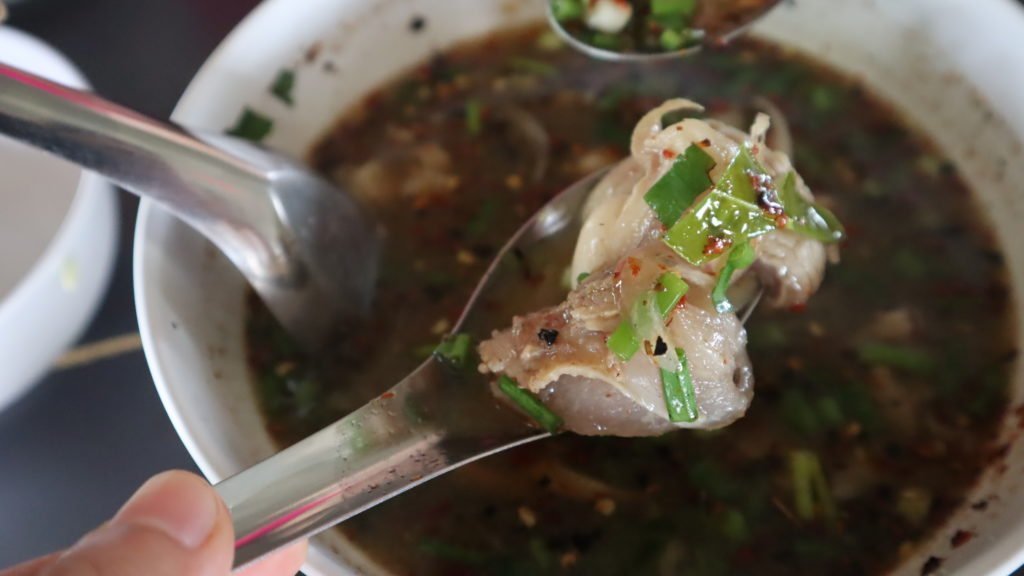 Tee Jaew Hon (ตี๋แจ่วฮ้อน) is totally a great place to go for some Isaan food if you ever pass by or in Nakhon Pathom. Very chill place to eat with no rush and hang out with family and friends. We have been there for so many times and sure will re-visit again and again..
ร้านตี๋แจ่วฮ้อน วัดทัพยายท้าว
Address : Nong Pak Long, Mueang Nakhon Pathom District, Nakhon Pathom 73000
Hours : Everyday 10AM-7PM
Tel : 089 043 0156
Not on Steem yet?? Let the ninja gets you a Steem account and start earning crypto!
㋡ Get $55 off your first adventure on Airbnb
㋡ BEST Boba Tea in town [Bangkok].
---
All copy and photos are original content by me.




TO SUPPORT WITH LOVE 💙 PLEASE SUBSCRIBE!!! TO MY SUPER DUPER AWESOME YOUTUBE CHANNEL :)