---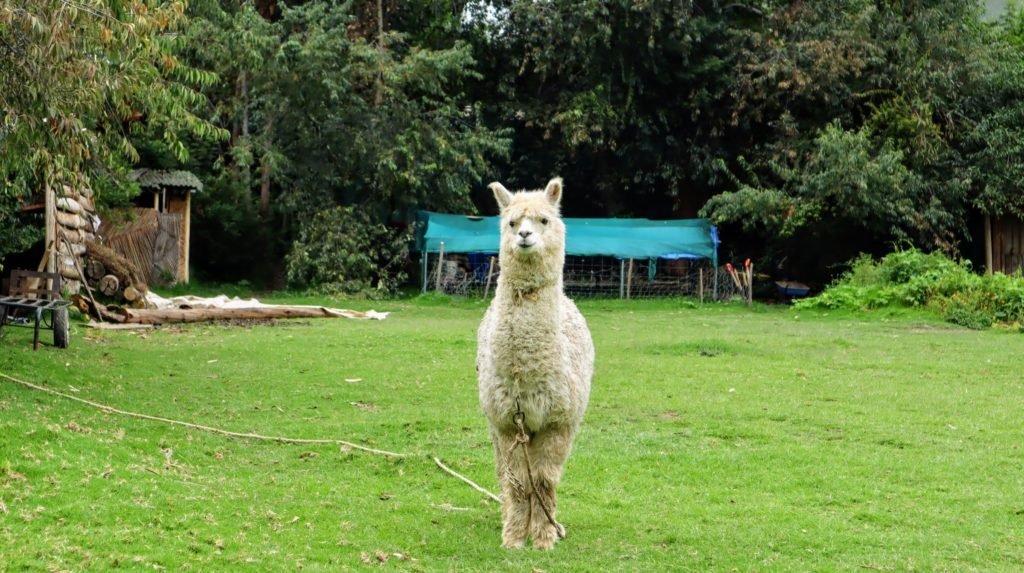 ---
Lovely animals, pretty flowers, a coffee roaster, and a distillery! All in one spot, what a great found! Let's check out El Albergue Farm in Ollantaytambo, Cusco, Peru!
Ollantaytambo, Cusco
Ollantaytambo, Cusco is lovely! It is in the Sacred Valley and seriously, it's one of the loveliest ones I have visited. Ollantaytambo is surrounded by the mountains and got a river cut through. The closest train station to the world-famous ruins, Machu Picchu is located here and that's the top reason why it became one of those touristy towns in Cusco, Peru.
There are delicious street food and restaurants all around. We enjoyed that a lot. Here's another thing we came across and it's become our most favorite and hidden spot in Ollantaytambo, El Albergue Farm!
Would you stop at the last souvenir shop or wander further?
Here's a little back story of how we found the place. Most of the tourists/travelers pass through this town because of it's on the way to Machu Picchu. Most of them come just for a day or two and think there is just the Ollantaytambo main square, the ruins, and the train station. No, there's a bit more than that..
I mean, Ollantaytambo is pretty though some parts are not as pretty as the other. We wander around there a bit and walked through all the small little alleys around the village...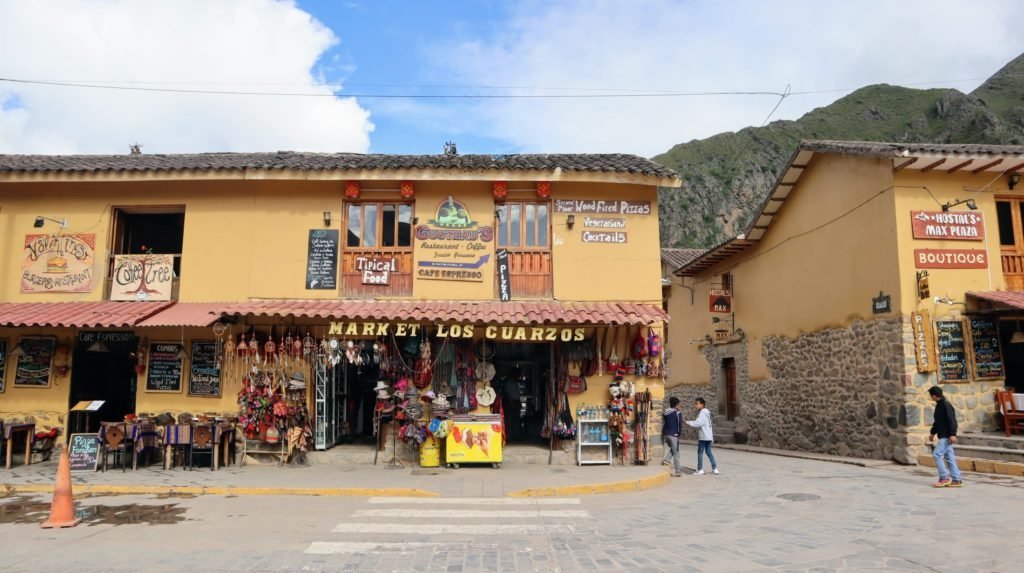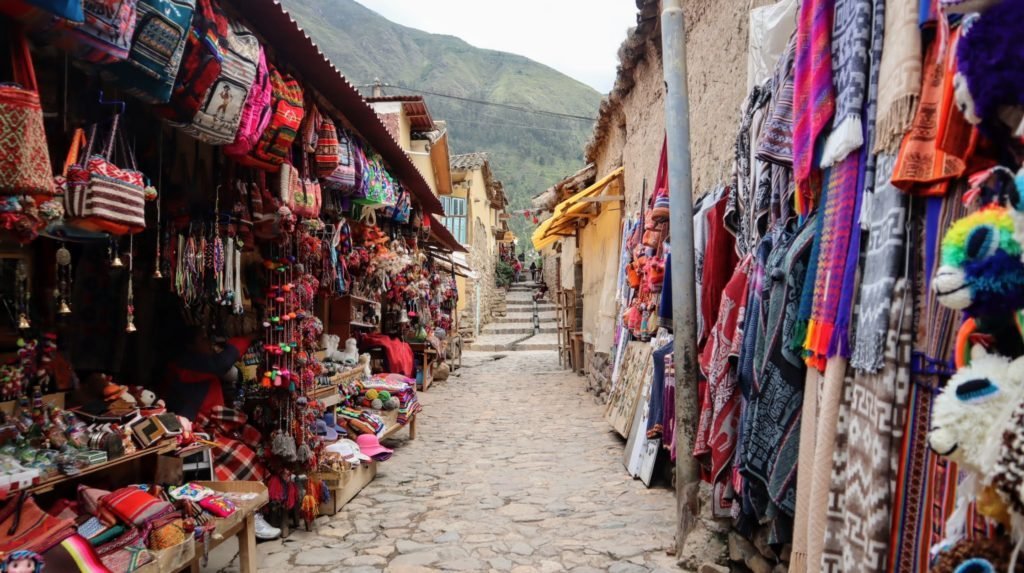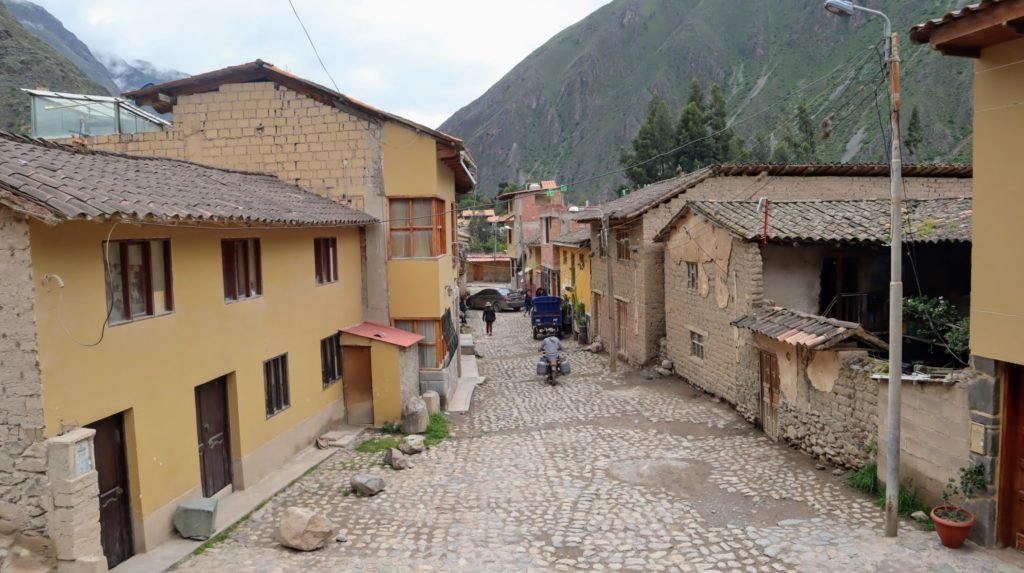 With the beautiful stone wall and a very small trail alongside it, it seems like a long way but We decided to go on this mysterious walk anyways. This trail is actually on Google Maps but you really need zoom in to be able to see that it's there.
How fun! There are strawberry fields along the way too. I think the farmers were a bit surprised that we're there! It's quite a walk but it's such an enjoyable one.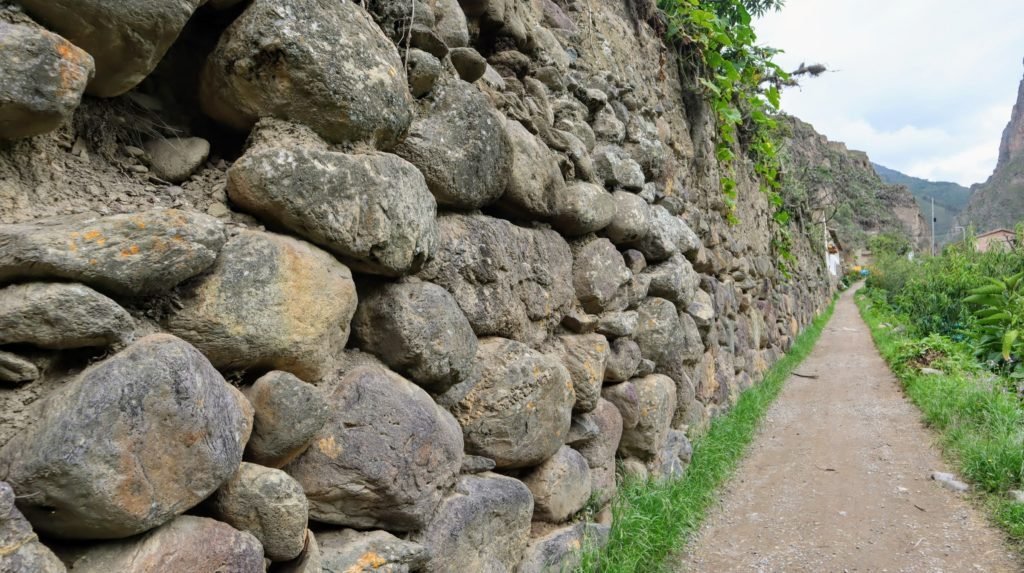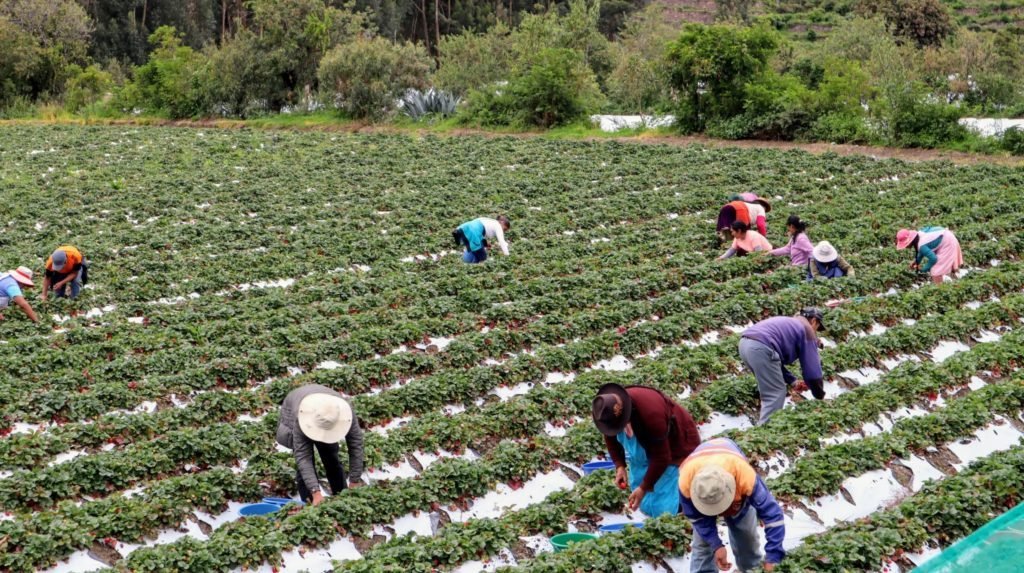 We're surprised to have come across El Albergue Farm
Lovely animals, pretty flowers, coffee roaster, and distillery! Like, are you cereal? All in one spot, what a great found in Ollantaytambo, Cusco!
By walking towards the end of the trail, I was expecting a small local coffee shop or some sort of that as we sneaked a peak on Google Maps and it seems like there is one. Instead, we found a handwritten sign which got our attention. Not just a coffee shop we found but a small farm, a coffee roaster, and a distillery! Ooooh! I think it all sounds very interesting and exciting!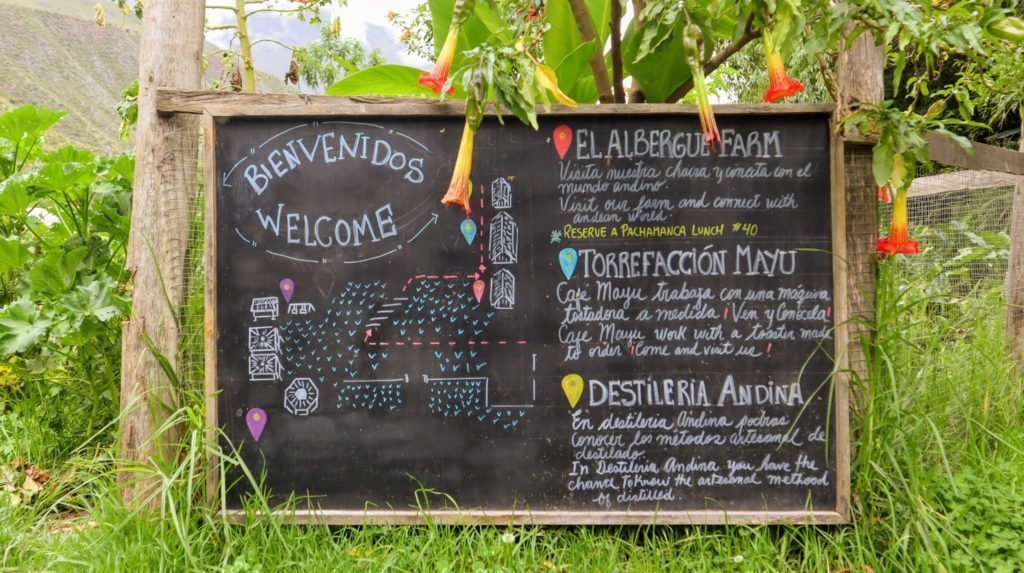 El Albergue Farm
Walking into this farm, I felt right away like I was in another world. It's just so green, so homey (country house kind of) and we walked through zone by zone. First, it was a small flower garden. That was pretty but I'm not too excited. My eyes were wide open as well as my smile just right when we actually saw these furry friends we had try their meat before in Cusco. Yes, we ate alpaca steak! and it's delicious!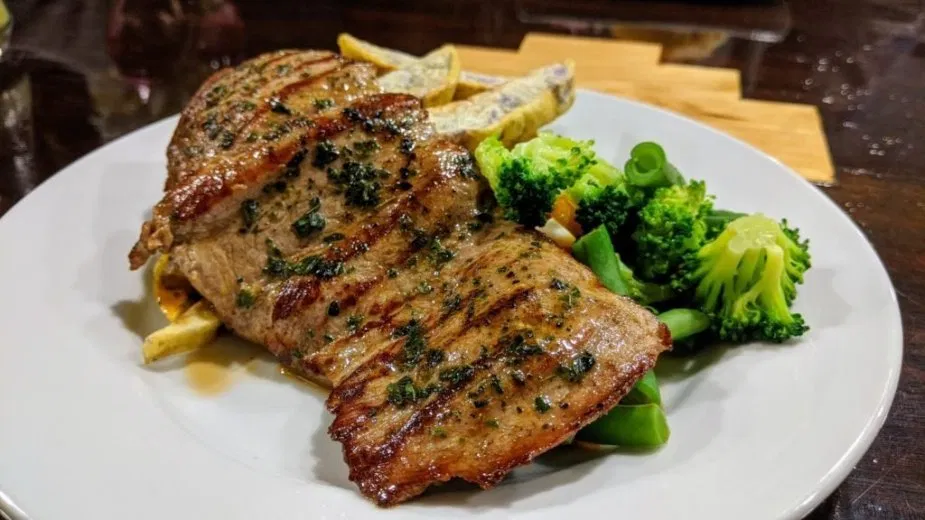 Alpaca, the animal of the Andeans
An amazing animal that is pet for its fur and meat since the Incan time. Nowadays, Peruvian people still pet them for the same reason. I have seen a few of these while traveling Peru before but never this many all in one spot!
Here at El Albergue Farm, not just those ones in cages but some are just leashed outside as they are a bit more friendly and not as scared of people as other ones. One of them even came up to me and groom me a bit on my hoodie!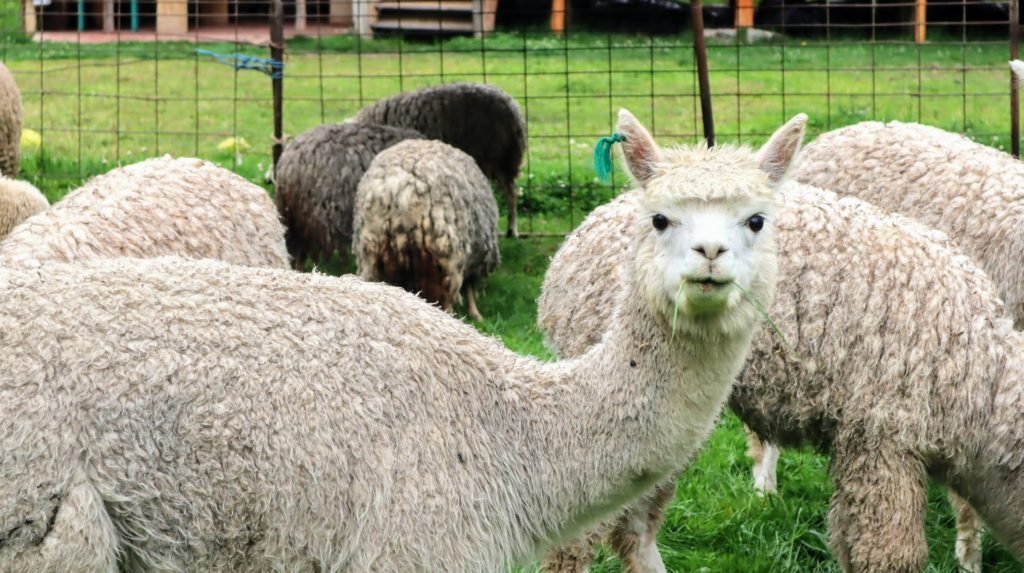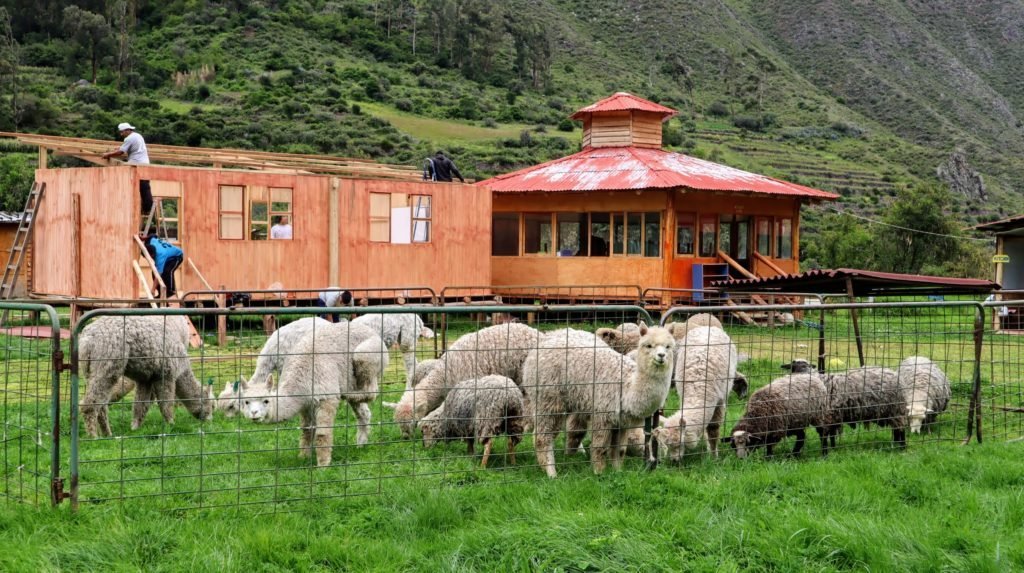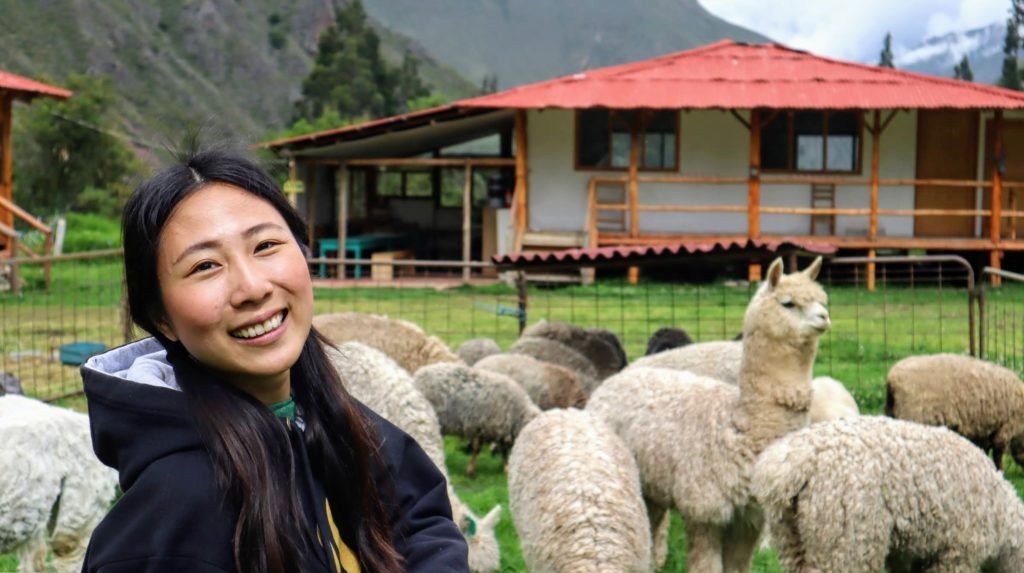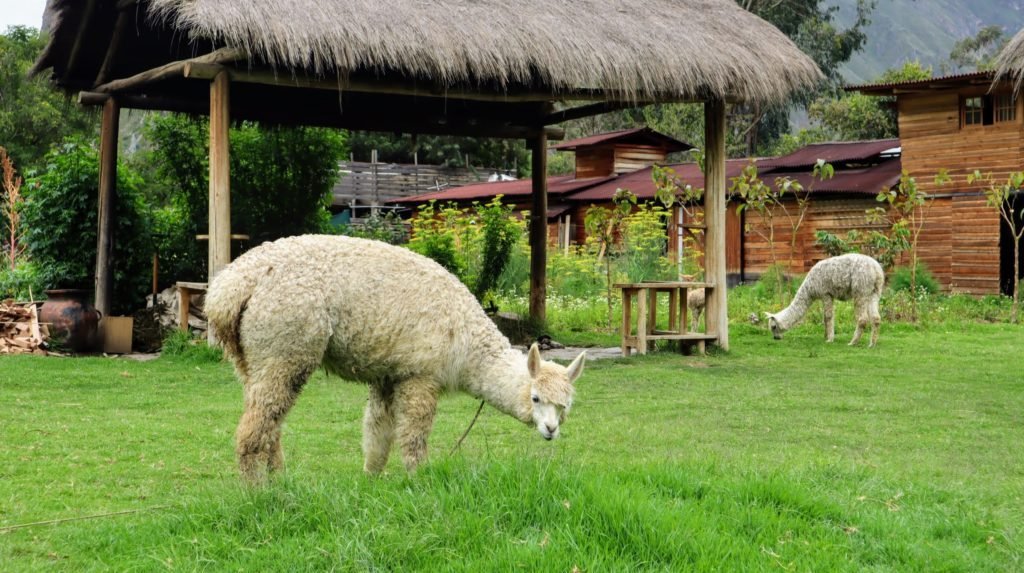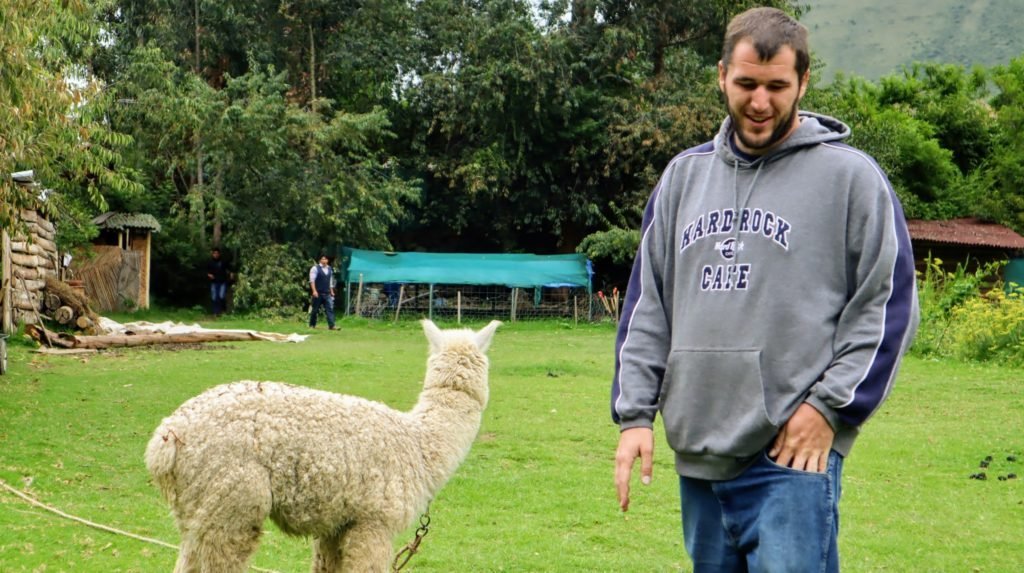 The cute little guinea pigs (CUY)
Another cute yet delicious animal of the Andeans, a guinea pig or cuy. They looked roughly like hamsters and tastes like a rabbit! Wait, they look like rabbits too! We also tried a deep-fried cuy at a picanteria in Arequipa. Plus+ Guinea pigs have high-quality meat, similar to chicken, with high protein. The fat is also high in healthy poly-unsaturated fatty acids. Yum!
Guinea pigs at El Albergue Farm are one of those most healthy-looking ones we have come across. We could also go to see it really closely. Super duper cute!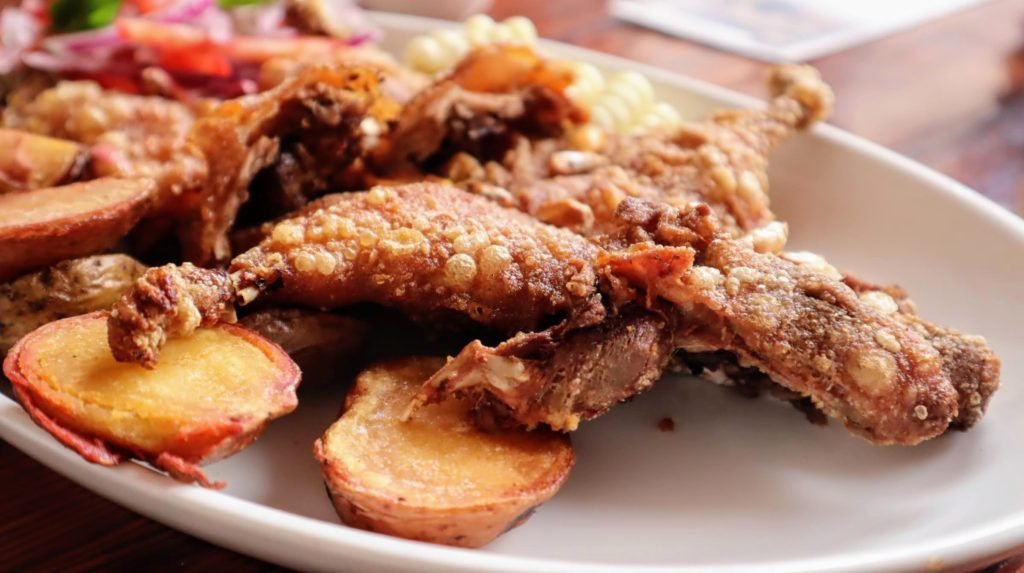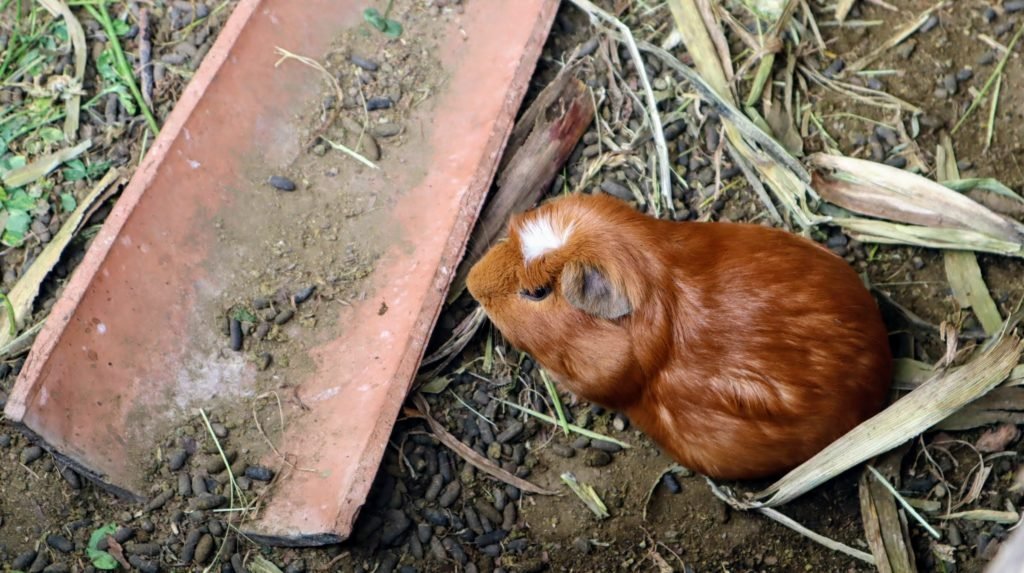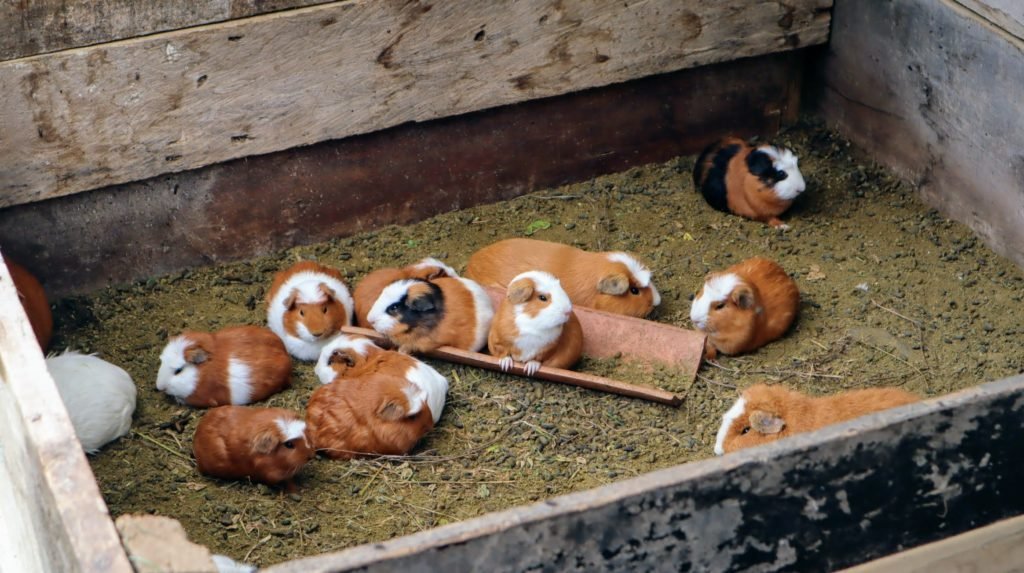 Other animals at El Albergue Farm
There are not just cute Andean animals like alpacas and guinea pigs at El Albergue farm but also, some rabbits, ducks, and chickens along with other parts of the farms where there are flower gardens, vegetable gardens and the area they process the food.
It's so green, beautiful nature and surrounded by the mountains. Most of the areas are open for all visitors though, except for the tour group and people who stay at a hotel attached to the farm, I don't think people know much about it. I consider we were really lucky to have found the El Albergue Farm.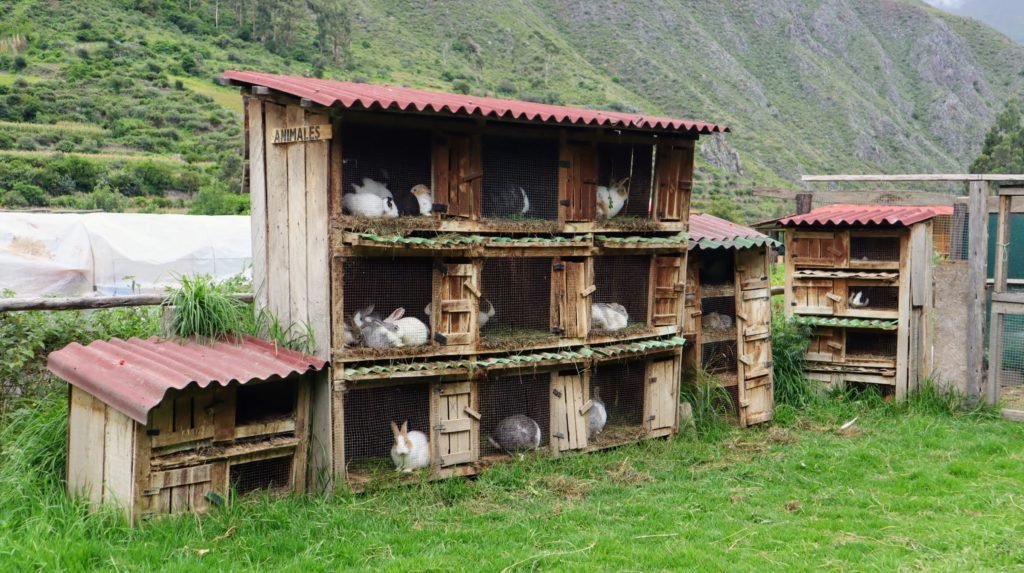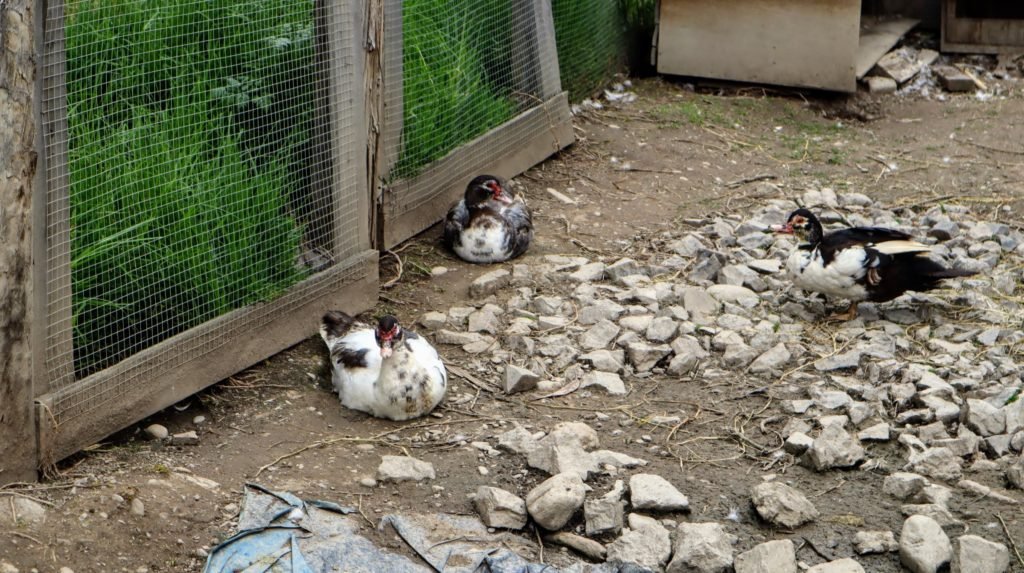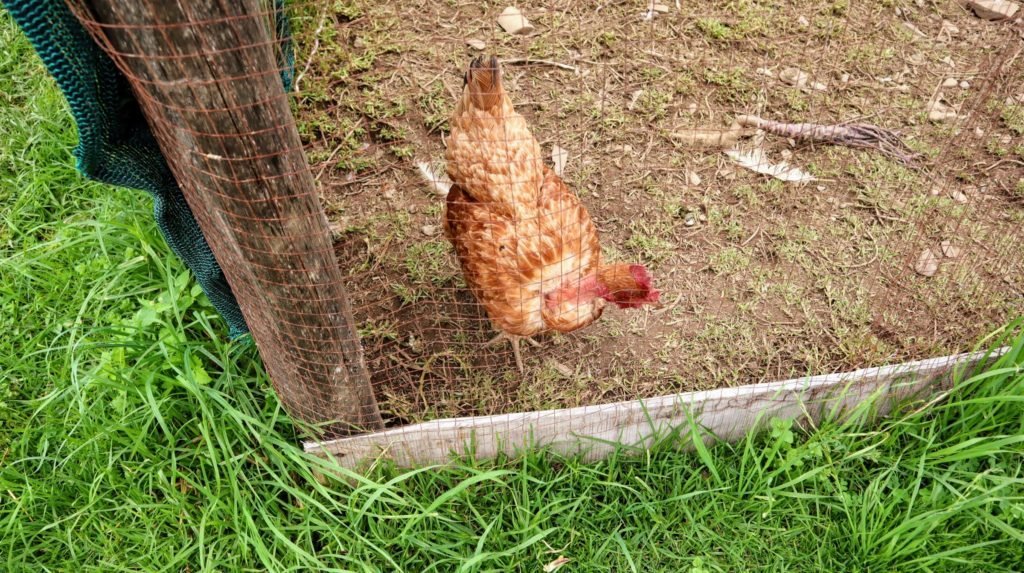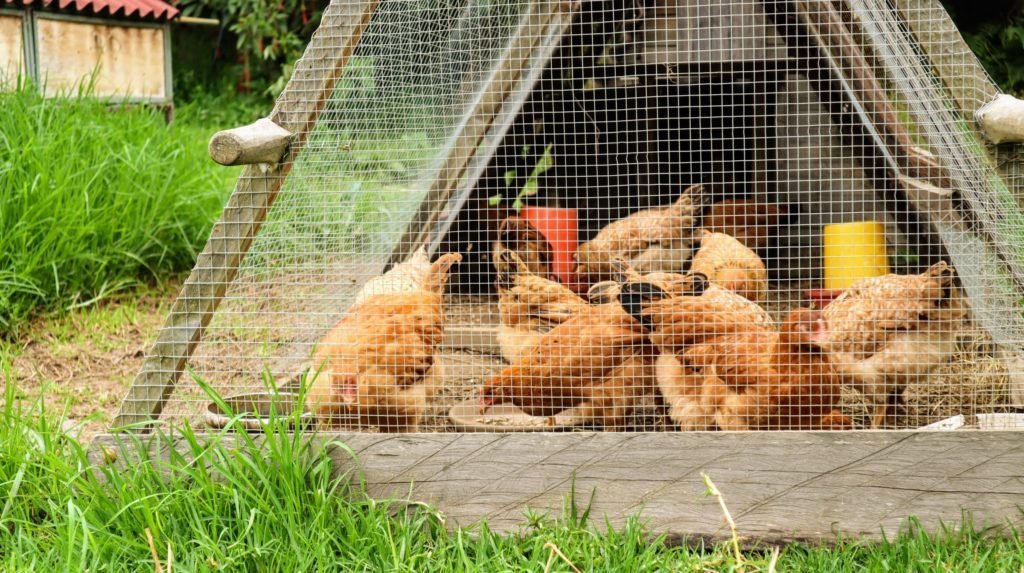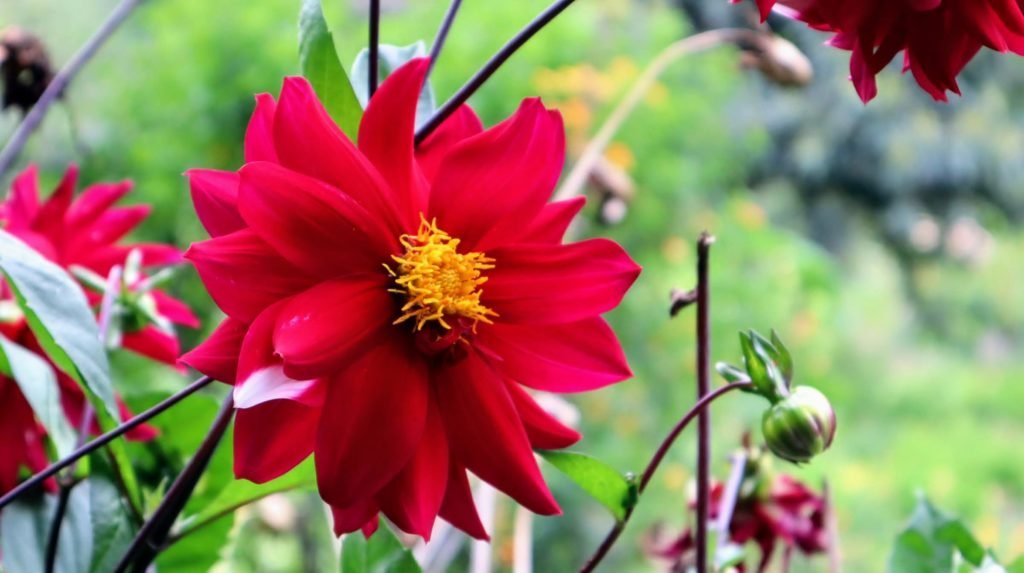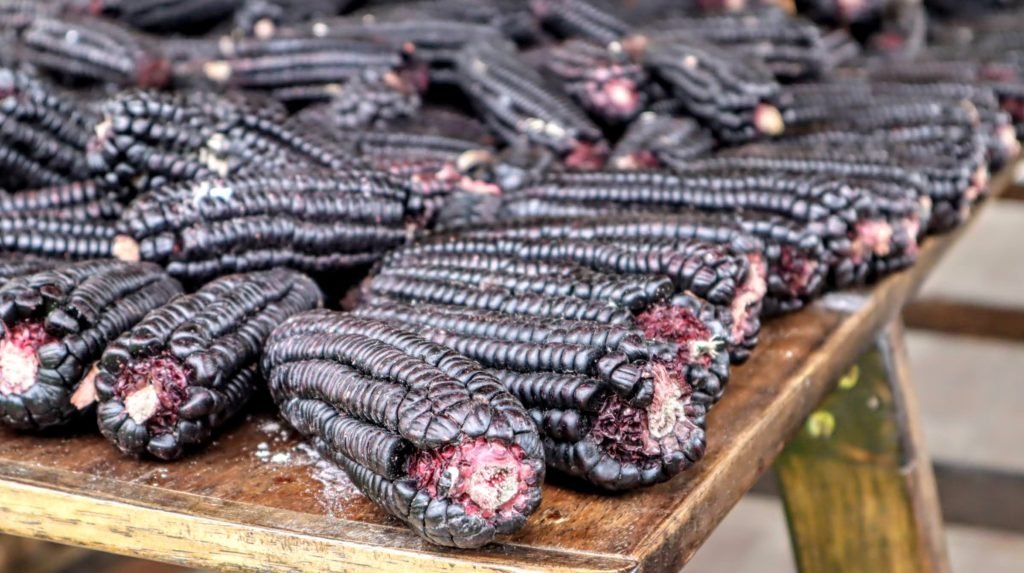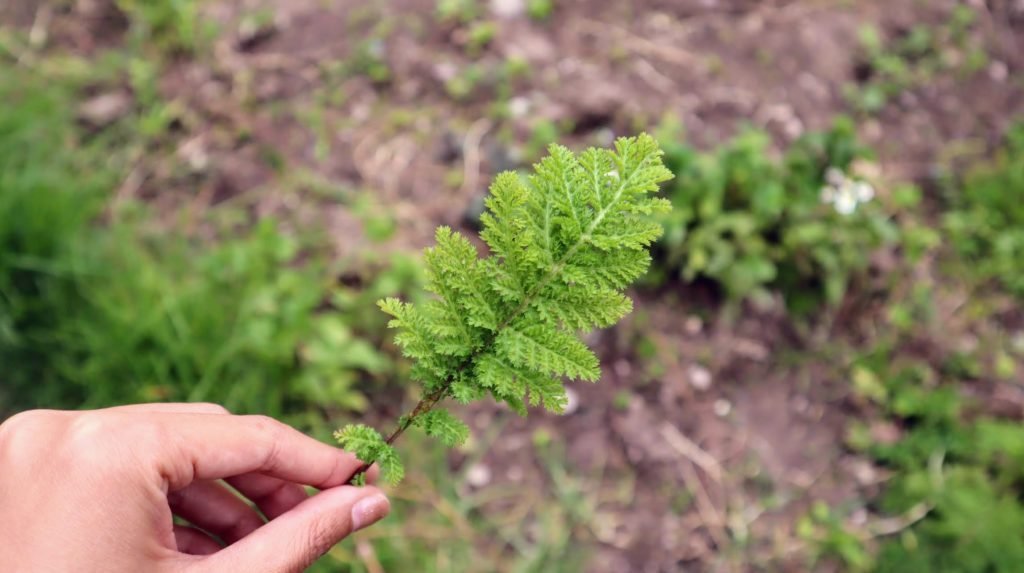 There's not just a lovely farm but as mentioned, there are also a coffee roastery and a distillery that we were invited to learn about the process of making both coffee and the alcohol spirit. This is a spot you can't miss when in Ollantaytambo, Cusco!
♡ Get $55 TRAVEL CREDIT
♡ EARN CRYPTO while browsing
🎥 Check out all MY GEAR
---
All copy and photos are original content by me.
TO SUPPORT WITH LOVE ♡ PLEASE SUBSCRIBE!!! TO MY SUPER DUPER FOOD CHANNEL