Read "This cafe you will love | Barranco, Peru 🇵🇪
" on TravelFeed.io for the best experience
---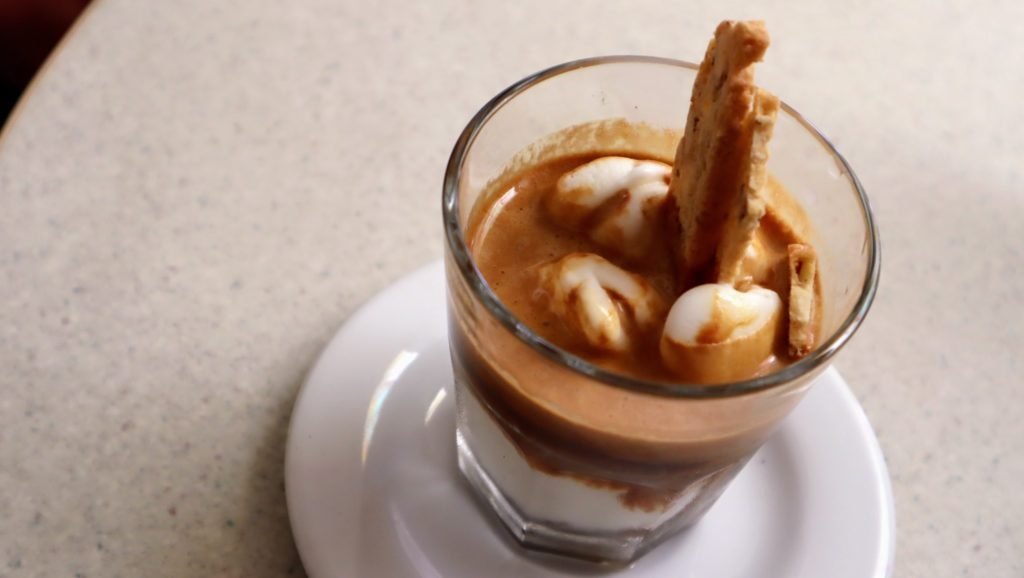 The first day visiting Barranco, Tostaduría Bisetti was the first place we hit up as we have heard about its goodness along the way. The coffee, the classiness, the services and the cozy environment in general. Totally sounds like a place I would enjoy and I know you will too.
Barranco, Lima
We were staying in Miraflores, Lima for a little bit. Now it's time for some nice changes. Barranco is a beach town a bit south of Miraflores and seems like it's pretty chill and has a lot to offer so 'Why not?'... Barranco here we go! Our AirBnB is located in one of the nicest neighborhoods. Affordable ($20 a night Private room), safe, quiet and just 10 mins walk to the main square, Barranco.
I did my research a bit as we didn't have so much time. Kev got just 3 weeks and before the time comes, we have a long way to go! Lima, Paracas, Huacachina, Nazca, Arequipa, Cusco, sacred valleys and of course, the world-famous Machu Picchu. Watch it in 4K 360° HERE!.
Anyways, what we got is that Barranco has so much to offer and it might actually be even a better spot to stay when visiting Lima, Peru. It has the beautiful beaches, a lovely town with street arts and lots of museums, coffee shops, and super duper delicious cevicherias around, it's beach town duh... Oh! The most expensive restaurant in Peru, Central Restaurante is also located here in Barranco!
'Ahem, no, I don't think we visited Central Restaurante'
Besides that, I always look for a nice coffee shop or cafe as I work online most of the time. Tostaduría Bisetti seems to be one of those I see people talk about it again and again...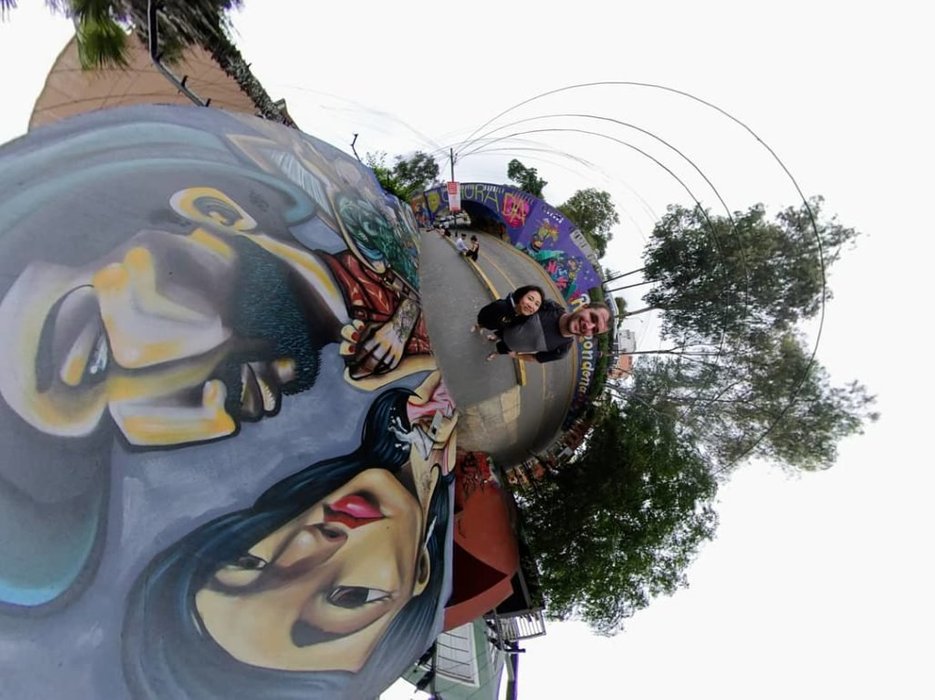 Street art on a wall at Bridge of Sighs , Barranco - Shot with this 360 camera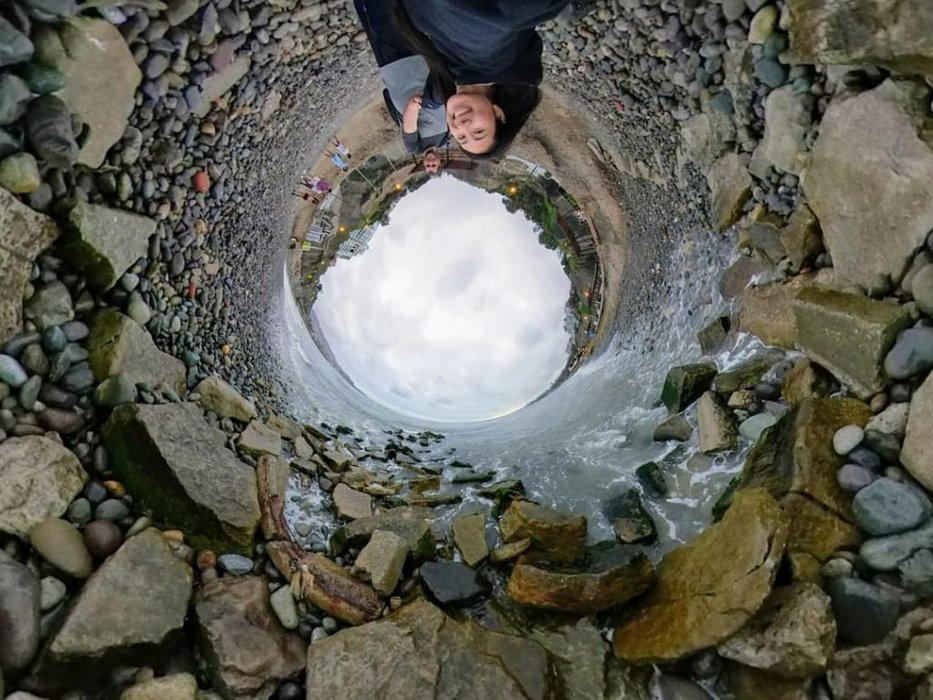 A rocky Playa Barranco - Shot with this 360 camera
Tostaduría Bisetti, Barranco
Tostaduría Bisetti is one of the oldest coffee places in Barranco
Well, there are not that many coffee shops in Barranco not surprisingly, it's a small little town. We found out about this place because it's been mentioned on a few resources on the internet I trust.
A first minute walking into the place, I could already tell it's been around for quite sometimes. It's spacious, cozy, homely and its classiness was the thing that insists.
I love the collection of the different old-school coffee grinders hung on the classic red wall. I love a huge sofa from the first few steps in and continue to end at the coffee bar. Also, I love how they have a garden behind the coffee shop and the open-air area with a few tables and seats so that we can chill out here if we ever want to.
There are also a few corners in Tostaduría Bisetti to get some more privacy and fewer people around... The decoration is classic and makes us feel at home.
We met one old British man was working on his laptop sitting just right beside us. We ended up talking with him for quite a while. He lived here in Barranco and here at Tostaduría Bisetti, is the coffee shop he's always at.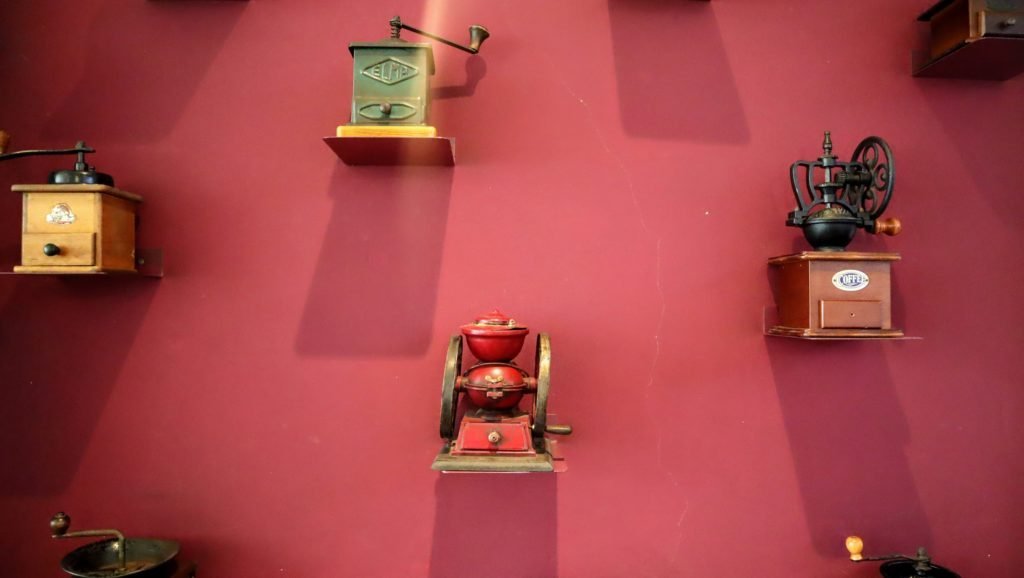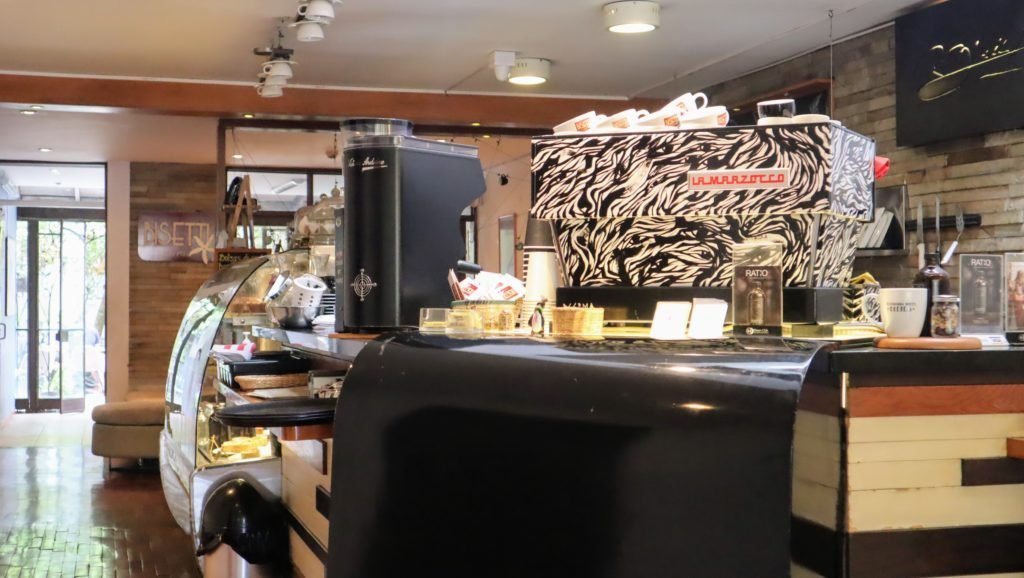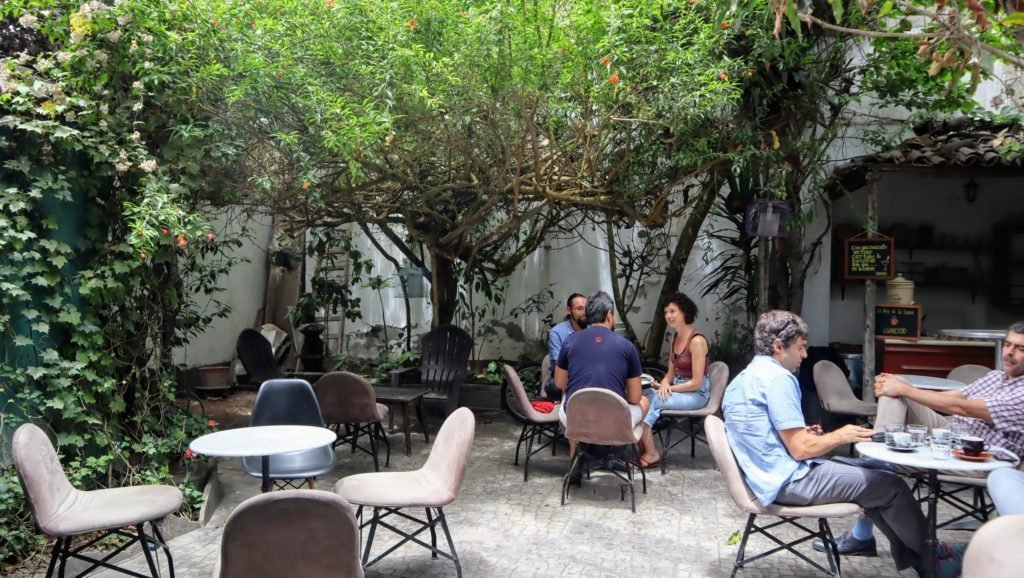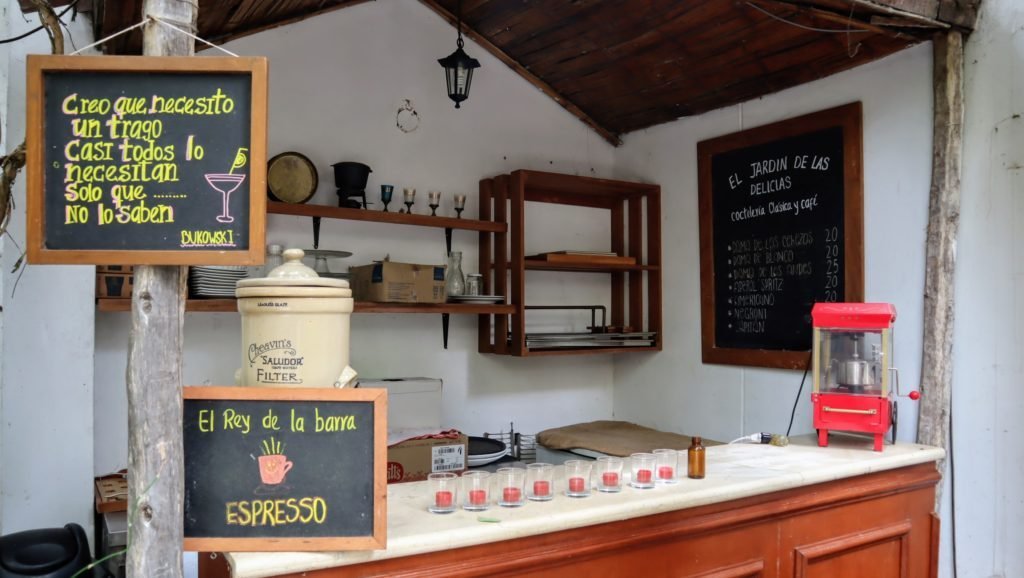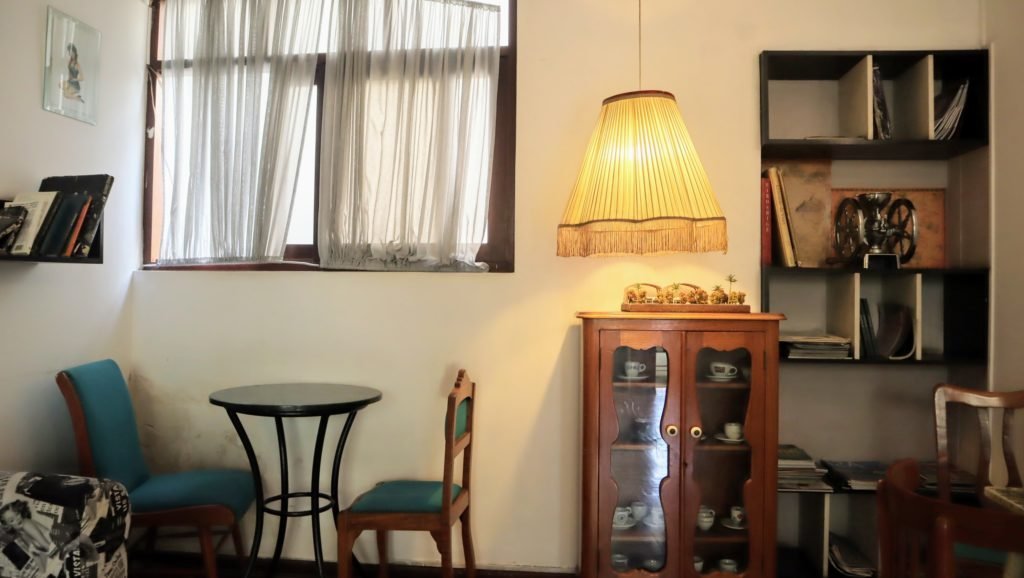 Great Coffee at Tostaduría Bisetti
Affogato (S/ 11)
Affogato is an Italian coffee-based dessert. It usually takes the form of a scoop of vanilla gelato or ice cream topped or "drowned" with a shot of hot espresso
Kev doesn't like straight white coffee but more of sweeten coffee or sometimes almost makes me feel like he's eating dessert instead of drinking coffee so... After he told me 'Surprise me', I know right away what to get.
Beautifully prepared. The intensive espresso shot gets together with the vanilla ice-cream so well. The sweet biscuit gives it a nice texture as well.
Classic Americano (S/ 8)
I started to drink black coffee a while back and I'm stuck with it forever, I guess. It's nice pure caffeine no-nonsense sugar and cream. Well, sometimes if I feel like some dessert, caramel macchiato or Mochaccino got me too XD
Anyways, the coffee here is great! I'm more like, light and acidic coffee taste but this dark-roasted intensive black coffee woke me up real good!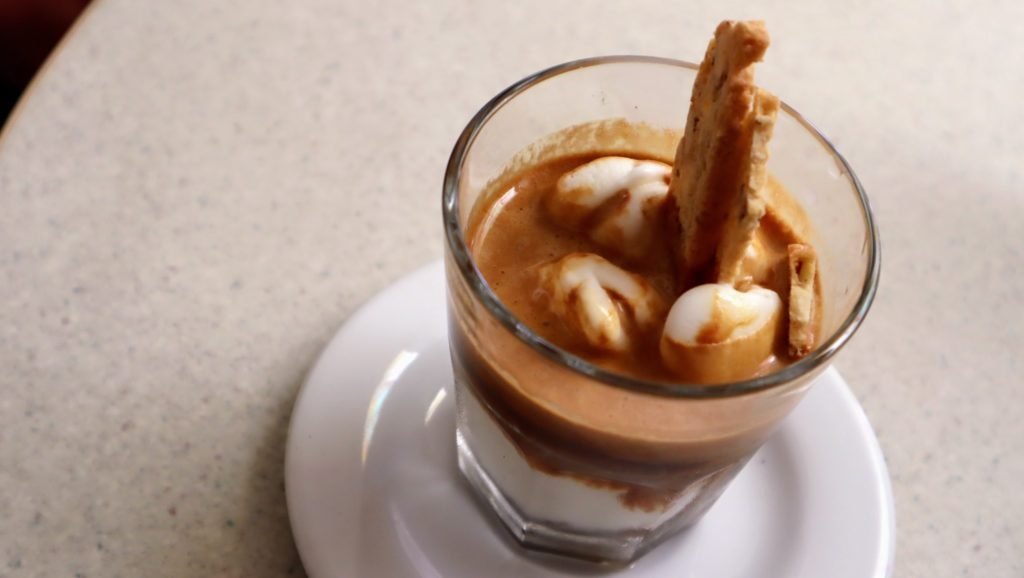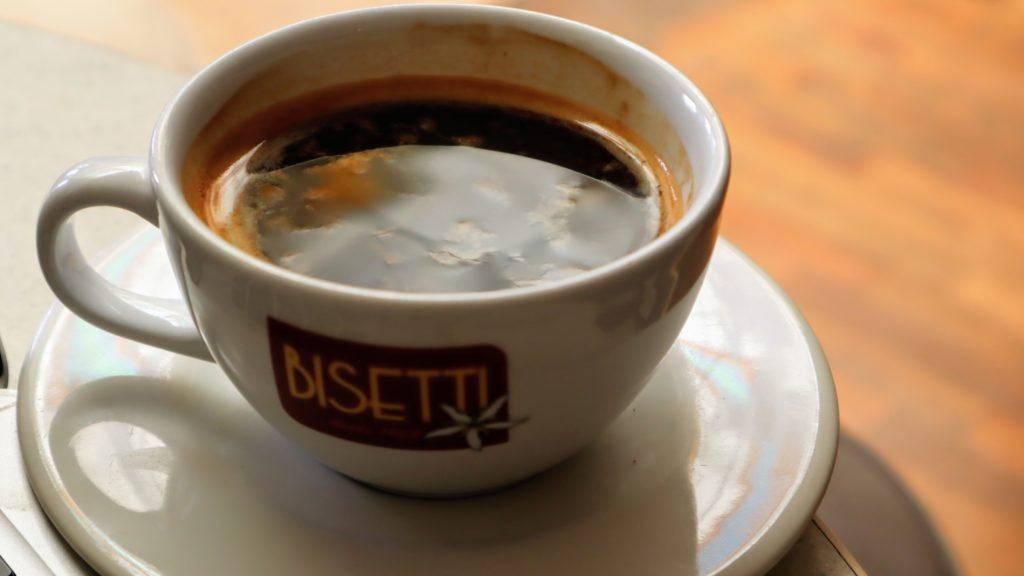 Love it here,Tostaduría Bisetti, Barranco. Great cups of coffee with comfy atmosphere. The service is good and the staffs seem to know what they're doing. Stop by for a cup if you're in Barranco.
This might sound a little odd to jump from the classic house-made coffee like Tostaduría Bisetti to a worldwide franchise you're able to find elsewhere like Starbucks. Hey, it's not just like any other Starbucks you have come across. It's Peruvian Starbucks in Peru! A few different gimmicks you can't find in other countries. It's a few doors next to Tostaduría Bisetti so I would suggest you check out their special Peruvian Starbucks Coffee creation as well ;)
Tostaduría Bisetti
Address: Pedro de Osma 116, Barranco 15063
Official site: cafebisetti.com
Tel: 987 951 870
㋡ Get $55 TRAVEL CREDIT
㋡ GET PAID to Google Search
㋡ EARN CRYPTO while browsing
🎥 Check out all MY GEAR
---
All copy and photos are original content by me.

TO SUPPORT WITH LOVE 💙 PLEASE SUBSCRIBE!!! TO MY SUPER DUPER AWESOME FOOD VLOG CHANNEL AND THE BRAND NEW 360° VR TRAVEL CHANNEL. SUPER FUN! COME JOIN! :)