Erawan Waterfalls
I had heard of this place many times and most of the times from foreign friends. They say it's beautiful and gigantic. Erawan Waterfalls(น้ำตกเอราวัณ) in Kanchanaburi. One of the top destinations in Thailand for those who love nature, hiking and of course, waterfalls :) Also considered one of the most beautiful waterfalls in Thailand.
*Erawan Waterfalls (น้ำตกเอราวัณ) is located in the Erawan National Park.
Last time when we're in Kanchanaburi, we enjoyed the city for a night with all street food, Giant tree and raft house before heading up to the area closest to the falls, 'Tha Kradan District (อำเภอท่ากระดาน)'. Second night, we also stayed at one of the raft houses in town. Such a beautiful stay and literally took us less than 10 mins on motorbike to get to our final destination..
We finally had a chance to go visit this beautiful Erawan waterfalls and let me tell you something.. No surprise why people love it here so much.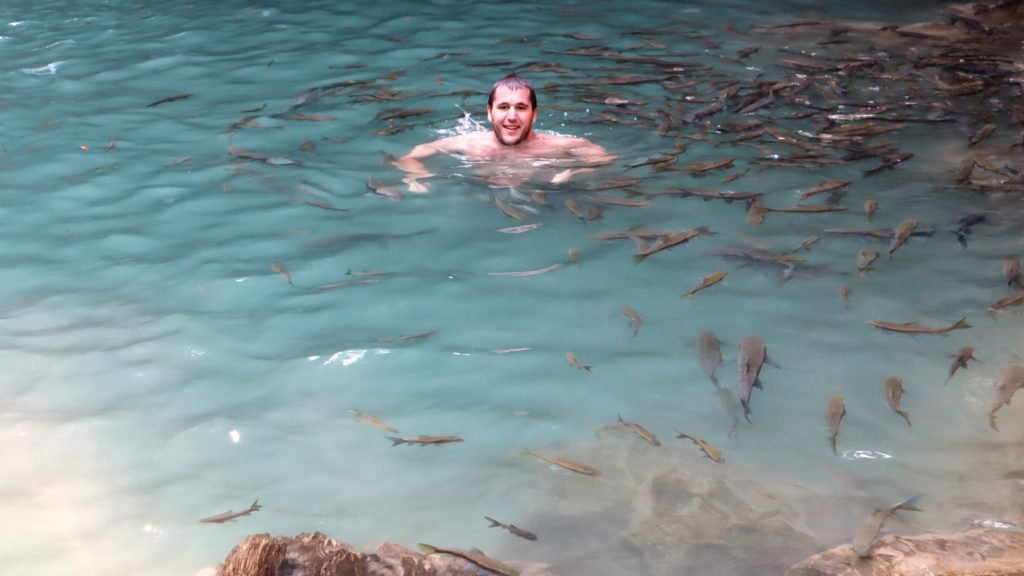 There are 7 different levels of waterfalls. Each level has its creative and beautifully named in Thai. All the name could describe its uniqueness of each level. I also love that it rhymes!
Level 1 - ไหลคืนรัง Hlai Khuen Rung
Level 2 - วังมัจฉา Wang Macha
Level 3 - ผาน้ำตก Pha NamTok
Level 4 - อกผีเสื้อ Oke Nang Peesua
Level 5 - เบื่อไม่ลง Bue Mai Long
Level 6 - ดงพฤกษา Dong PruekSa
Level 7 - ภูผาเอราวัณ Phu Pha Erawan
Each level takes 10-20 mins for you to hike up. Not really a hard hike at all. I think even a 5 years old kid could also make it to the top.. (?) It kinda sucked up my energy though. Good thing is, you can stop every once in a while to enjoy this clear and clean blue water or even keep monkeys company.. Just don't feed them!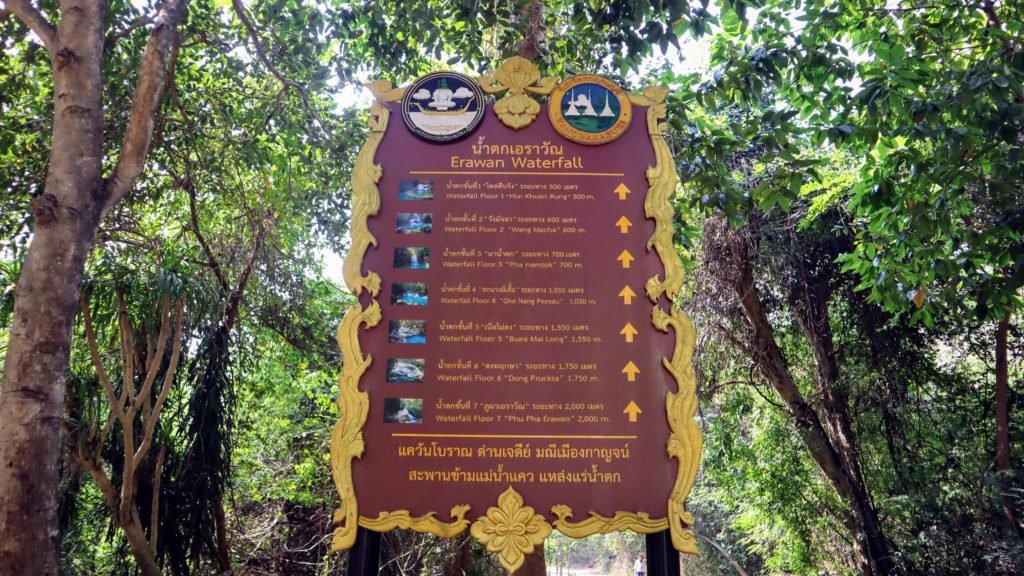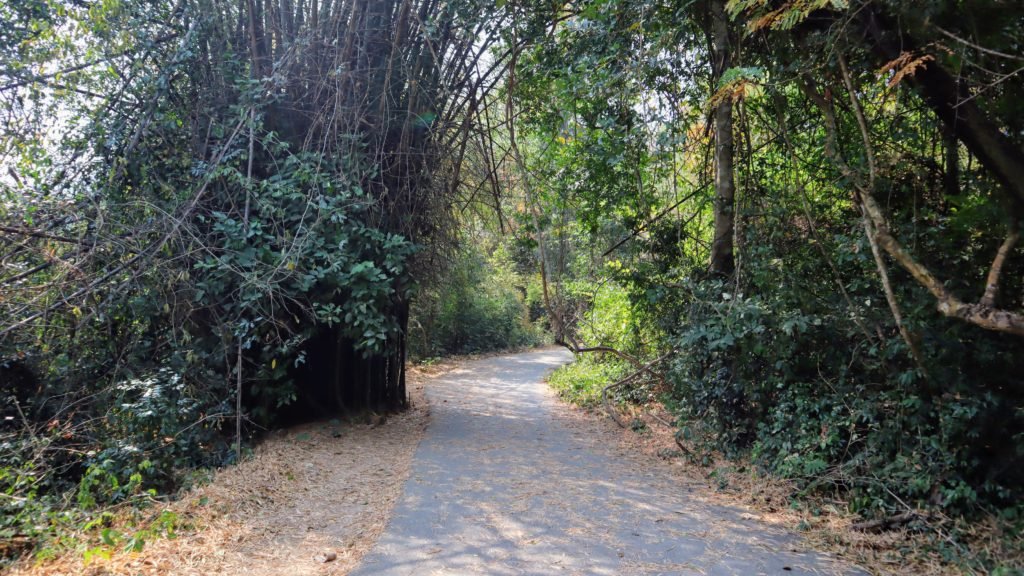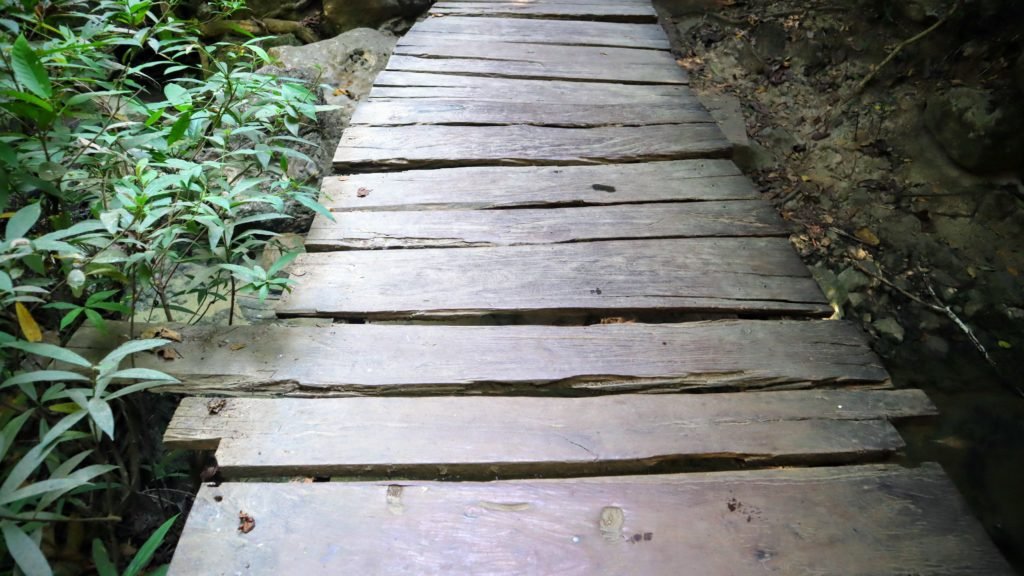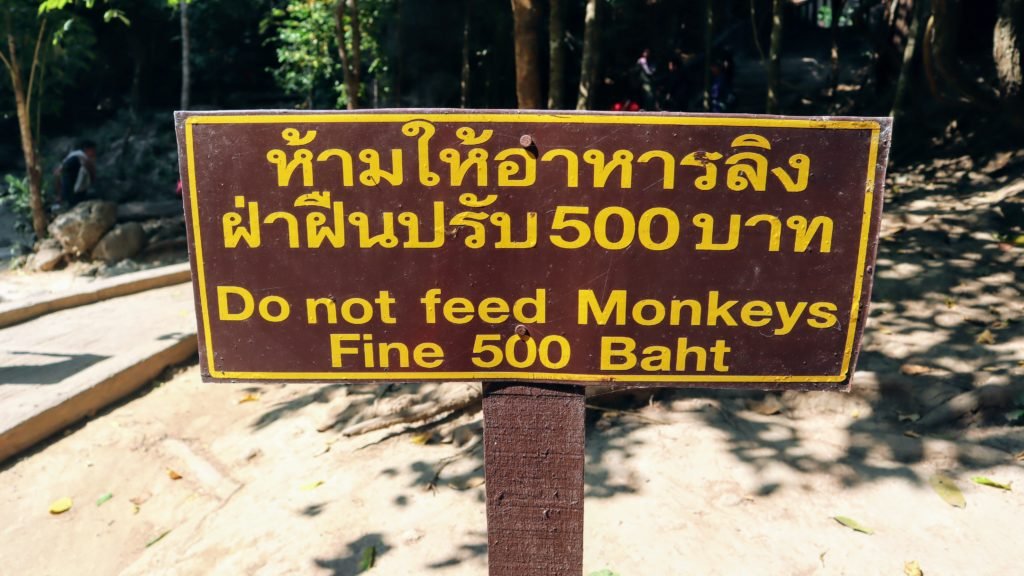 Have you heard of fish spa?
We already wowed like, big WOWed! since the first one we got too. The water is just so blue and in the water you can see soooo many fish hanging around waiting to clean dead skin out of your body for you. Same thing like those fish spa that used to be so popular a few years back but more like, cleaner and more natural way of doing it.. The water is cool and perfect for such extreme heat in Thailand.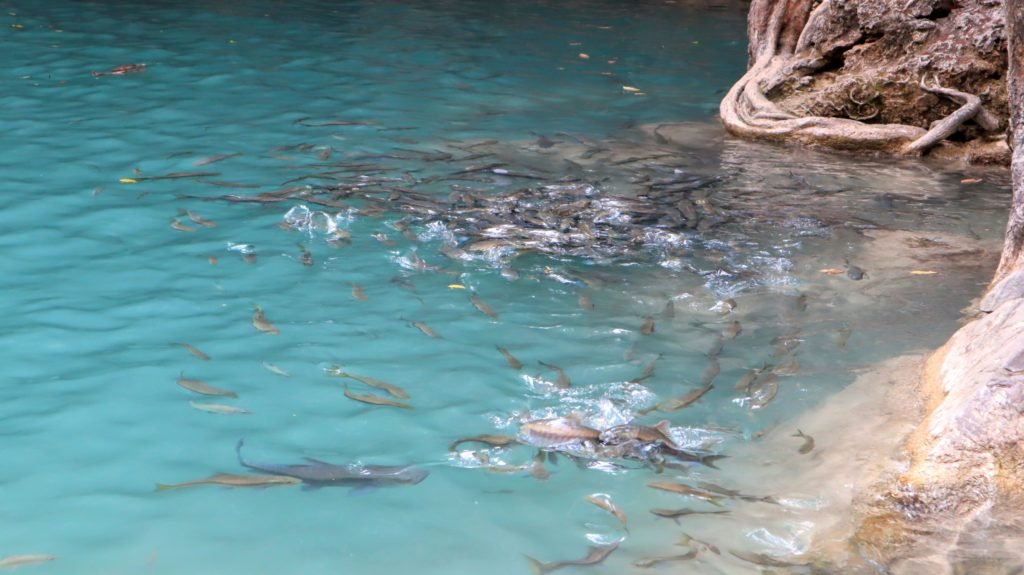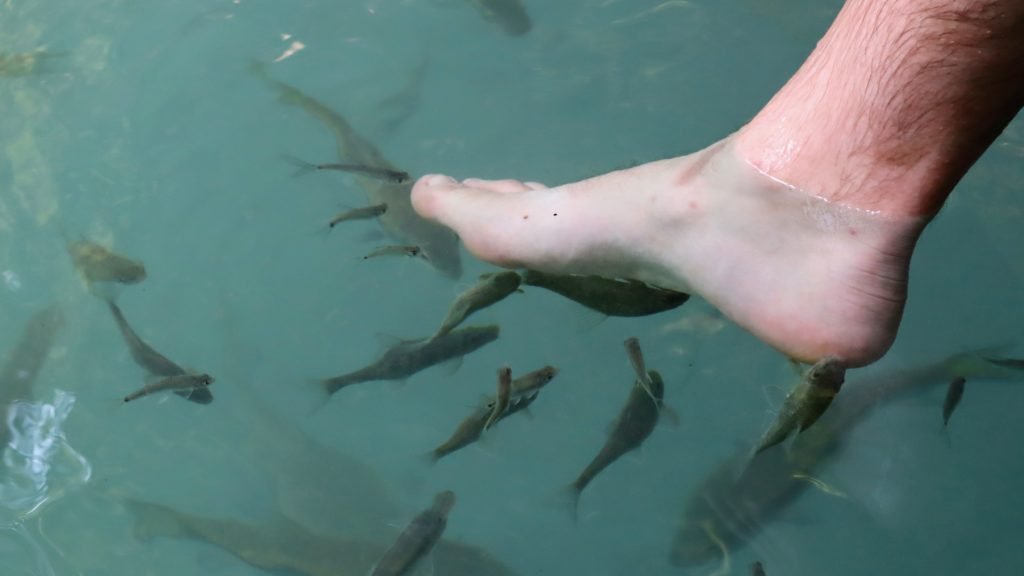 Rules at Erawan Waterfalls
At some certain level.. I believe it's at level 2. Food's not allowed and you will be asked to deposit money for each bottle you plan to bring along with you on a hike. Once you're back and show them you take all the trash back, then your deposit shall be returned. I love the idea!
That's probably how they still can maintain the natural beauty at its finest as it's supposed to be..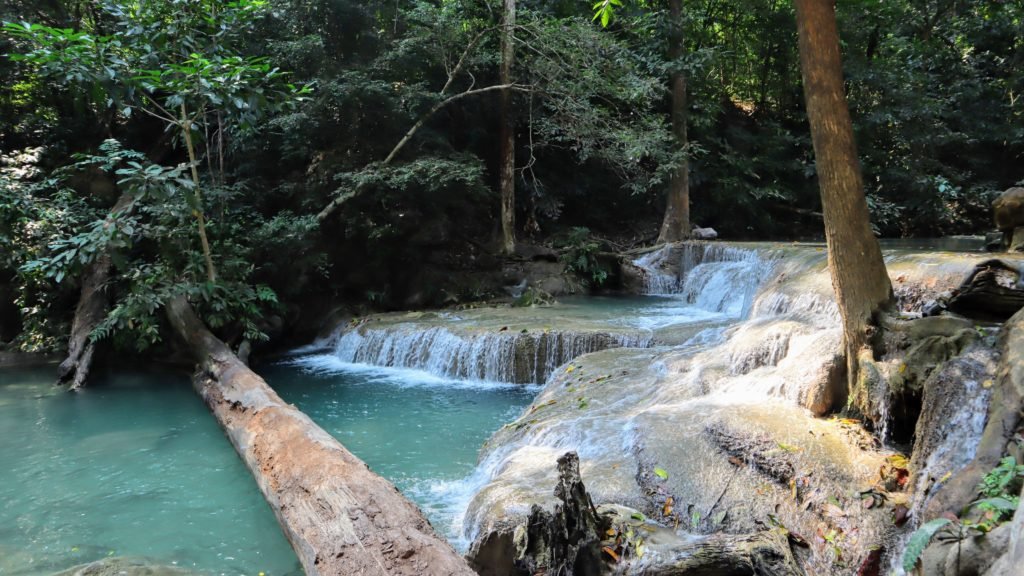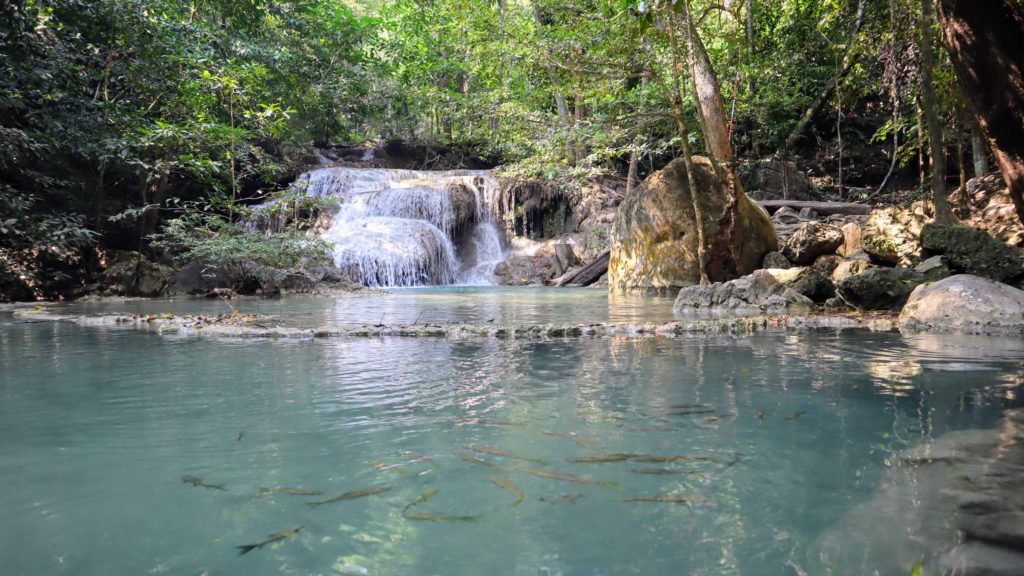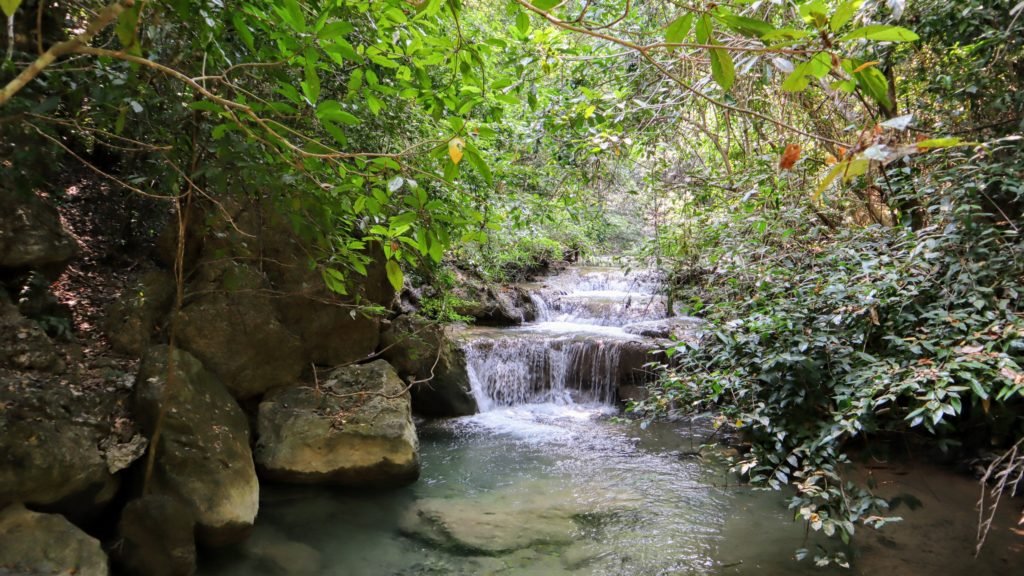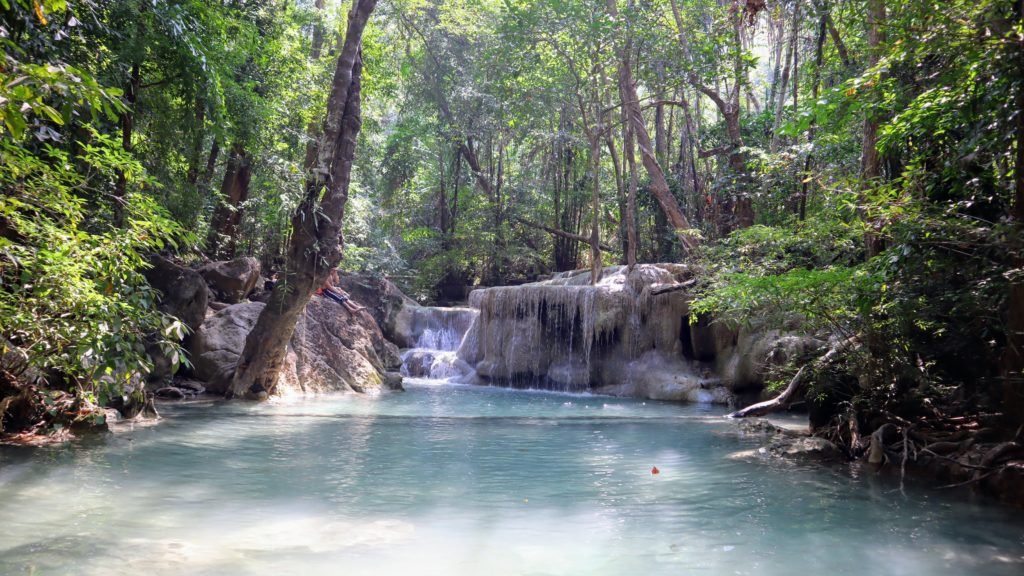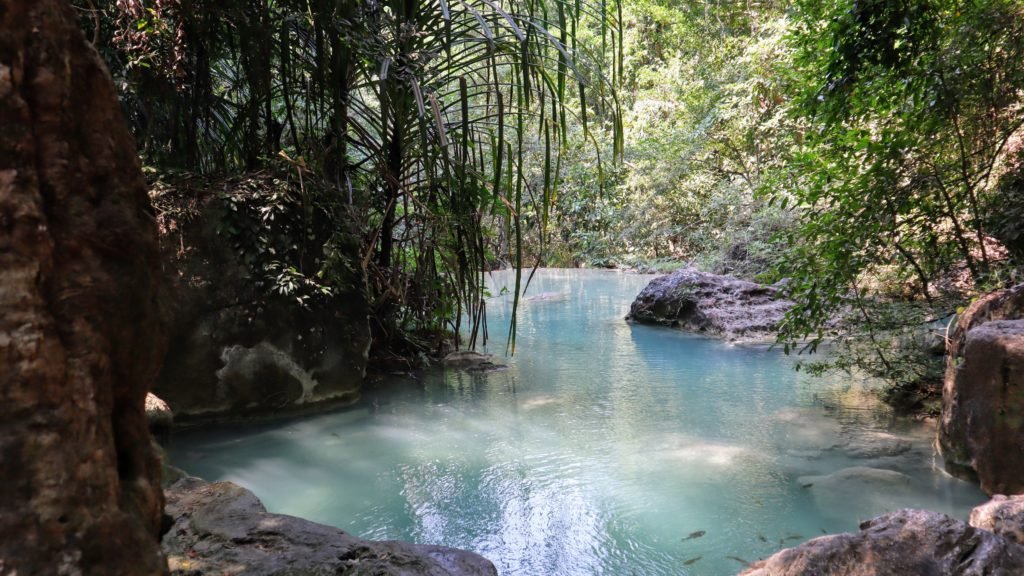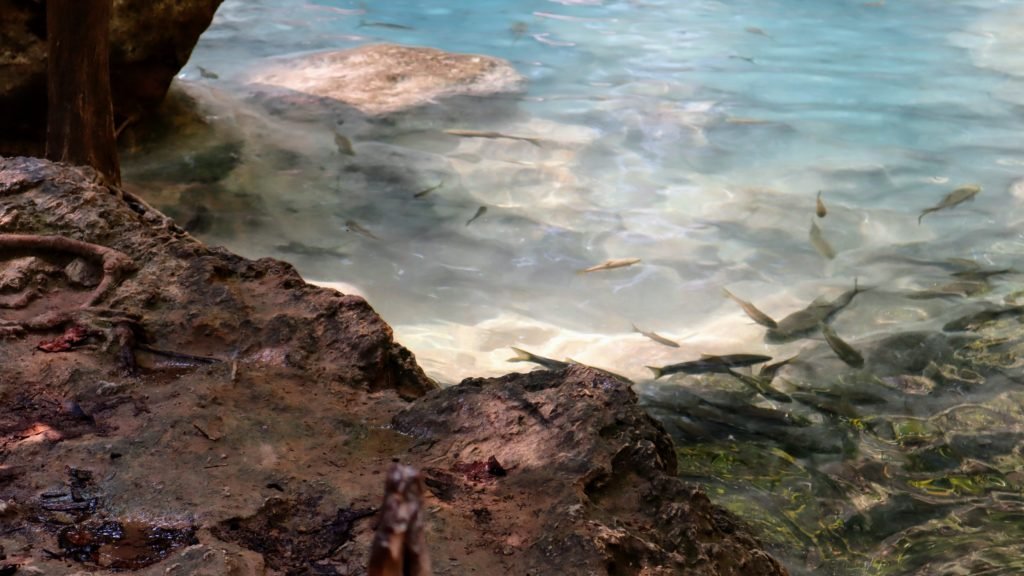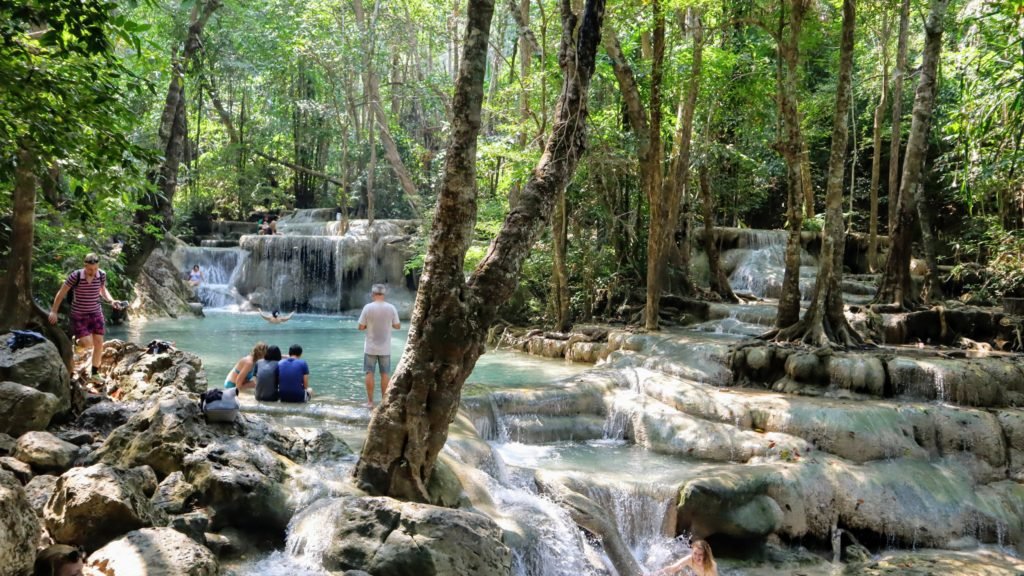 Both hiking and chilling in the falls on each level of Erawan Waterfalls, we took less than 3 hours to get to the top.. There are just only some spots you would need to climb up a bit. I also got hurt from the rock but overall, it's just so worth it.
Like its level name, 'Phu Pha Erawan'.. The top level has this very high cliff along with the clean and clear waterfalls. Erawan Waterfall is sure very beautiful and now I know why you all love it here so much!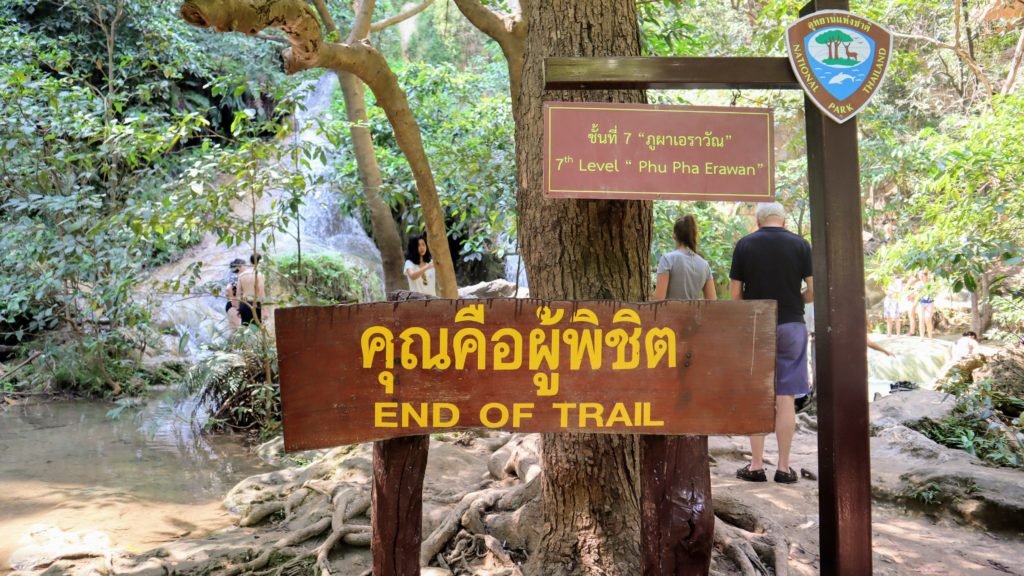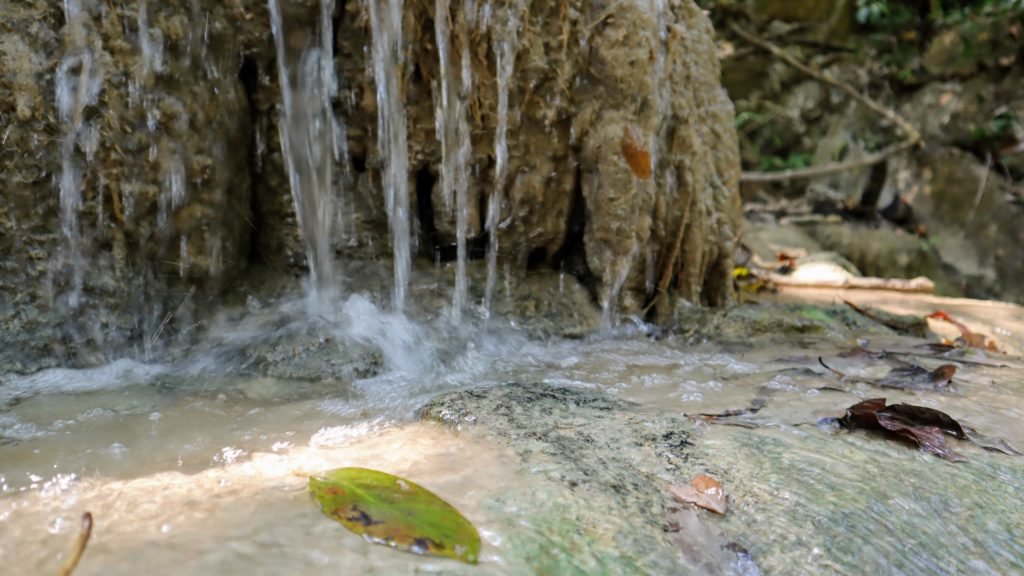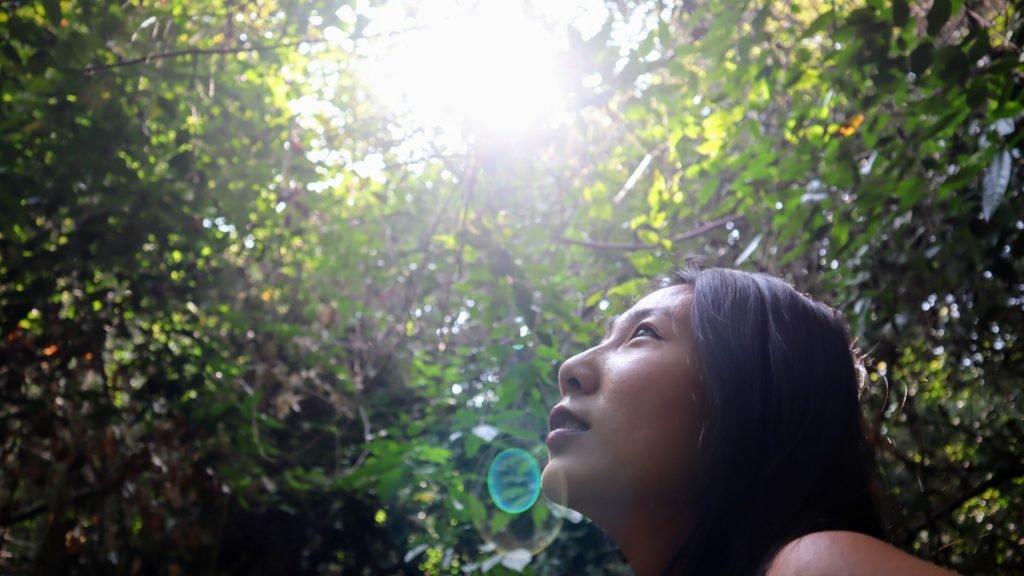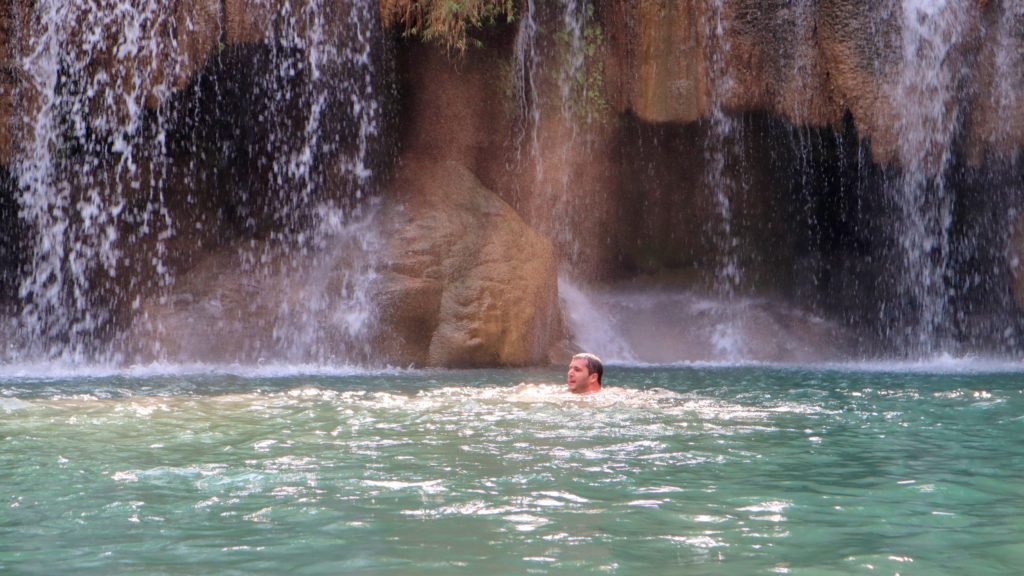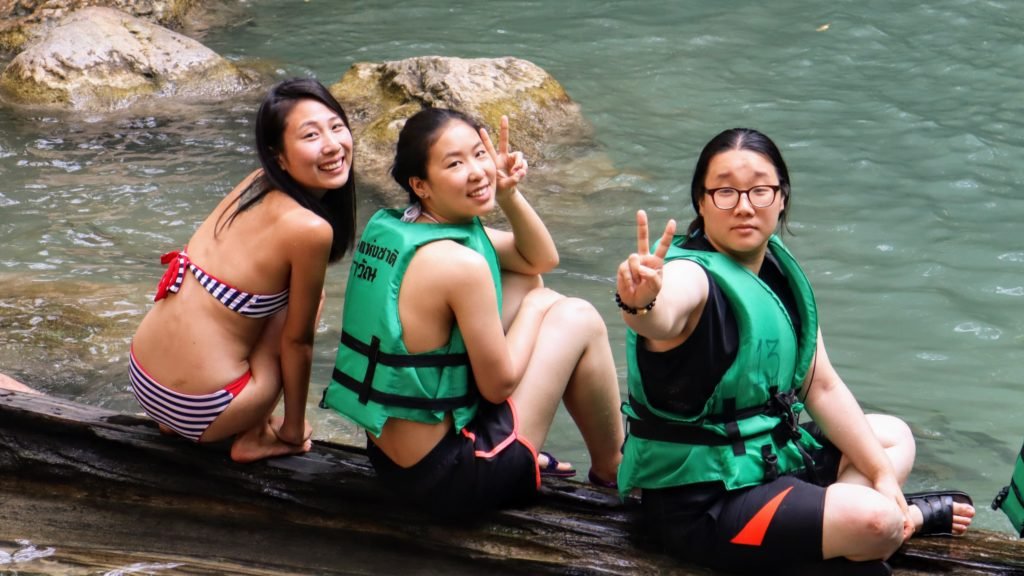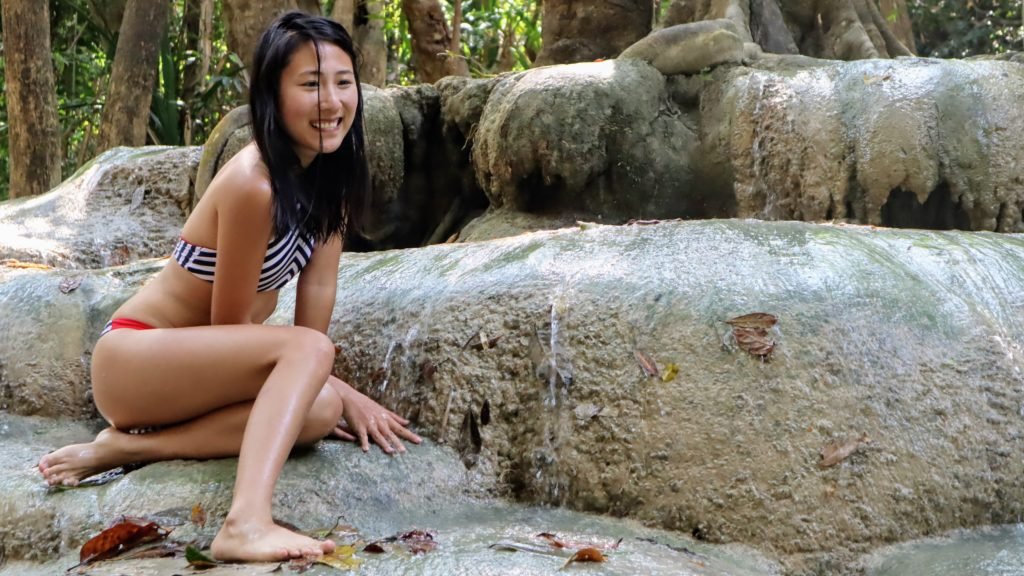 Not sure if I would be back to the highest level next time. My most favourite is the second level with all the fish and the deep water it has to offer. I for sure would be back someday and you sure should too! Check out the natural beauty yourself :)
Erawan Waterfalls (น้ำตกเอราวัณ)
Address : Tha Kradan, Si Sawat District, Kanchanaburi 71250




Not on Steem yet?? Let the ninja gets you a Steem account and start earning crypto!
㋡ Earn free crypto : https://www.waybeyondpadthai.com/free-crypto
㋡ Get $27 credit on Airbnb
---
All copy and photos are original content by me.




TO SUPPORT WITH LOVE 💙 PLEASE SUBSCRIBE!!! TO MY SUPER DUPER AWESOME YOUTUBE CHANNEL :)