---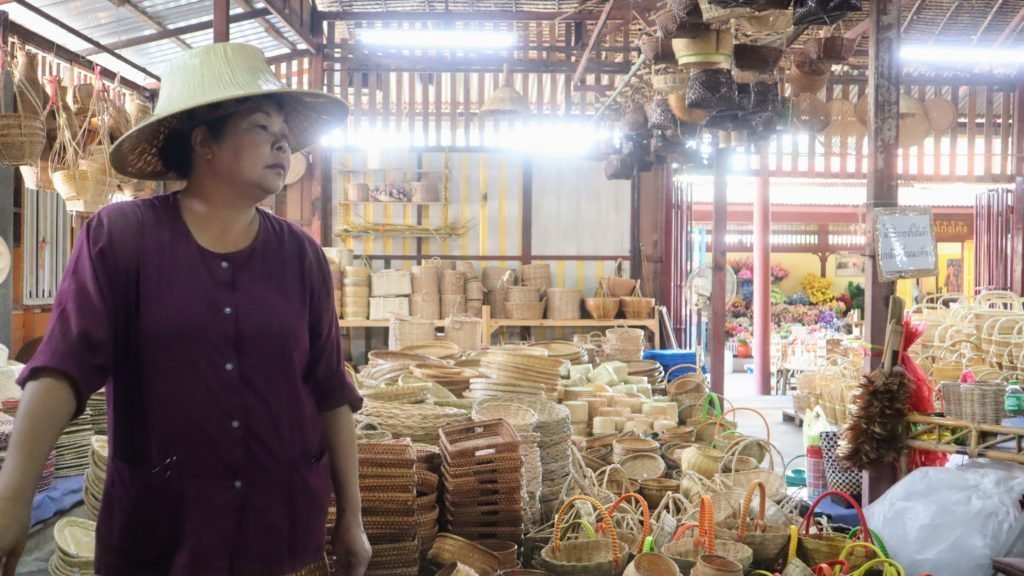 ---
It's a place that make you feel like you walk into the past.. Kong Khong Market (ตลาดโก้งโค้ง), Ayutthaya, Thailand
Ayutthaya or Phra Nakhon Si Ayutthaya (พระนครศรีอยุธยา). In the past: the Ayutthaya Kingdom was a Siamese kingdom that existed from 1350 to 1767. That's why there are a lot of ruins, old temples and historic sites in the city.
No, I don't really go to Ayutthaya that often even though it's like 1-2 hours from Bangkok depends where you're going from and to. This time, 2 American friends Carlos, @hotboxtheplanet and Briana - I signed them up on Steem a while back (long while) and just like any others, they're not too active no more :/
Anyways, I went together with these 2 on one scooter. Yes! 3 people on one scooter and yes, we got stopped by a police and got a ticket! :)
Kong Khong Market (ตลาดโก้งโค้ง)
About 2 hours more or less to get from where we were in Bangkok. Butt hurt but it was a fun ride. Not my first time here in Ayutthaya but it's my first time here at Kong Khong Market (ตลาดโก้งโค้ง). I had heard of it many times but never really looked into what it was exactly. This time, without any research or anything, I just followed Carlos and Bri there just to check it out.
It's pretty much all wooden / and built with natural materials. The first few stalls sell colourful fruits, vegetables and the local agricultural products. Those already gives the feeling it's going to be'Thai Authentic and Antique style'kind of market.
Not to mention the clothes that all the people there wear. It's old-school Ayutthaya style. Some even wear the hand woven hat to give it even more interesting look.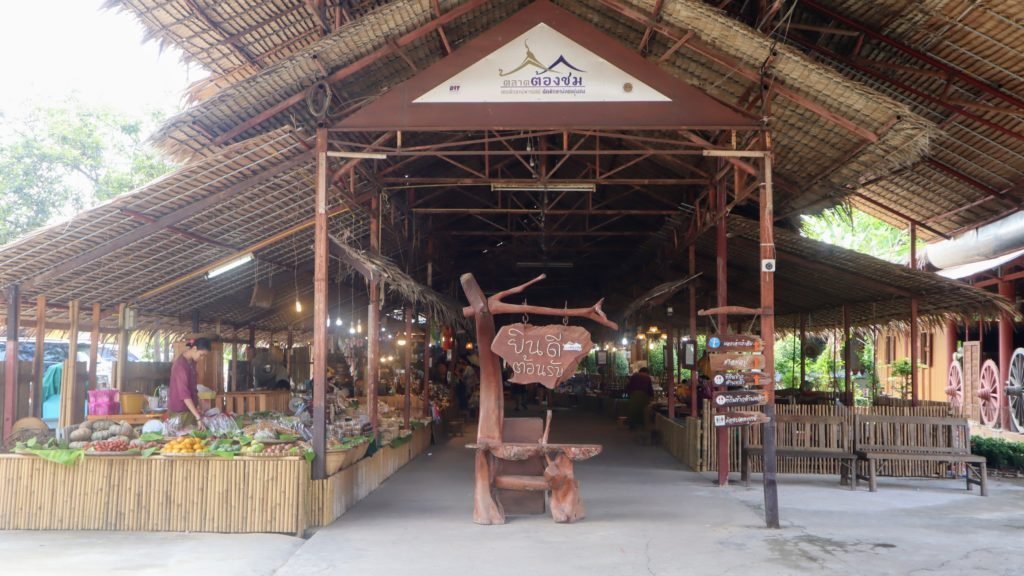 Unique / weird Asian produces
Talking about weird Asian fruit, this should totally be on those lists. I believe not a lot of you have seen or tried this?
Custard Apple or Sugar Apple (น้อยหน่า) - Weirdly hearted shape. Pretty green and annoying hundred seeds all in one. The taste is uniquely sweet and a hint of sour. Sometimes you feel that sandy kinda texture.
You don't find this in all the markets in Thailand but it's not that rare.I love it for its taste. I hate it for its seeds.
There is something you might have heard of or even tried before. They served it at a Thai restaurant I used to work at in Vancouver, Canada so I'm generalise things over here and assume a lot of Thai / Asian restaurants abroad serve it as well (?)
Roselle (กระเจี๊ยบเปรี้ยว) is a species of Hibiscus. It's basically a flower. The dried roselle widely boil and serve as a sweeten tea. It tastes a bit sour from the flower and combined nicely with the sweetness either from the sugar or honey..
Talking about sugar..
Coconut Sugar (น้ำตาลโตนด หรือ น้ำตาลมะพร้าว) in forms ot the hard-huge cookie shape or the thick paste ready to be scooped and put in all drinks and dishes. It's so delicious even just to eat by itself.
You A big piles to offer. If you have never tried this type of sugar. Pleaseeee.. Por favor! I'm begging ya!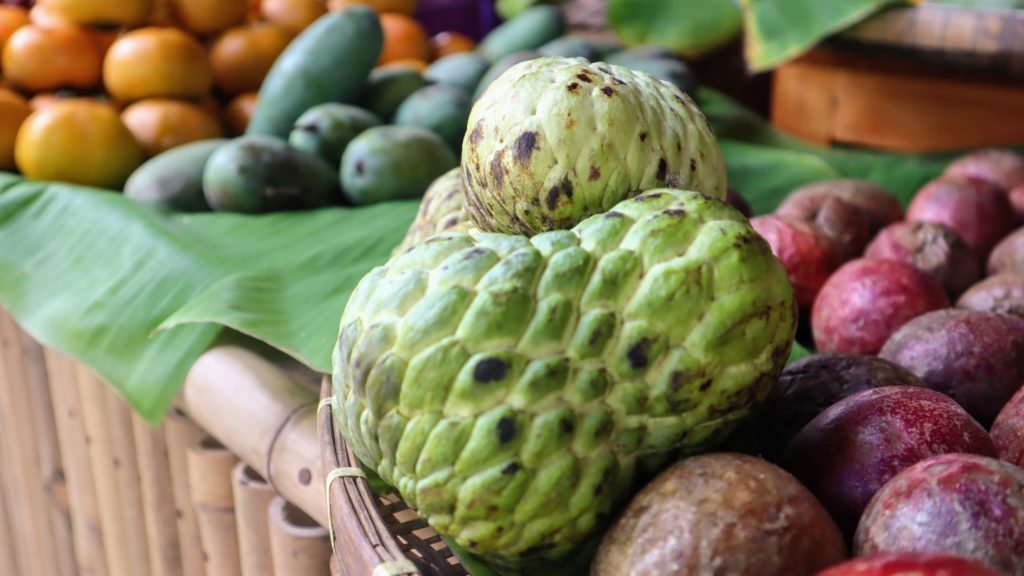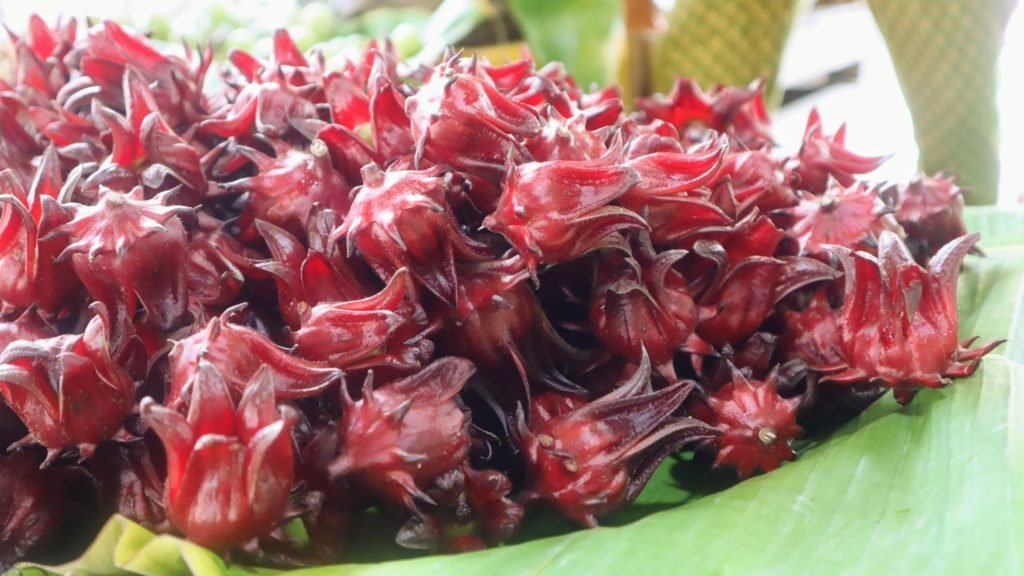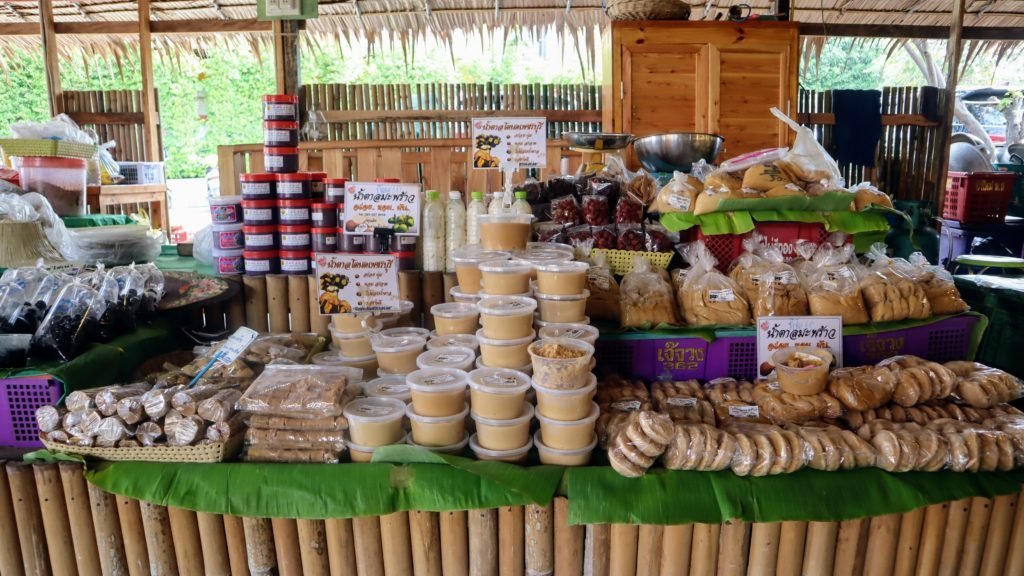 Thai Style Handmade Products
Another fun part of the market is all the handmade stuffs you don't really see in regular markets in Thailand. You would not miss this, they have such a big variety basketry laying in a big pile! One of the biggest I have ever seen in Thailand.
Basketry, art and craft of making interwoven objects, usually containers, from flexible vegetable fibres, such as twigs, grasses, osiers, bamboo, and rushes
** Not to disappoint you but the lady was not for sale :P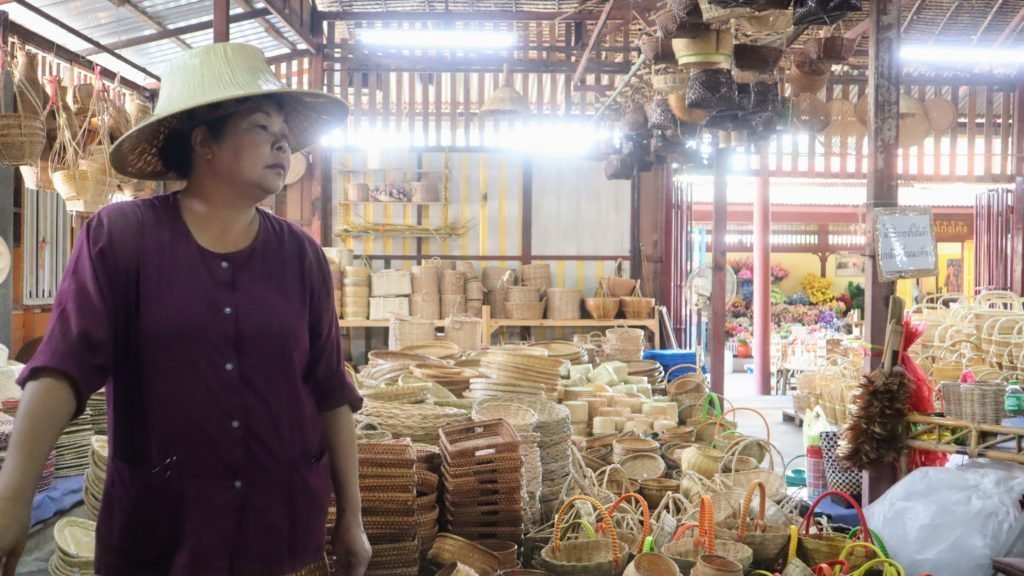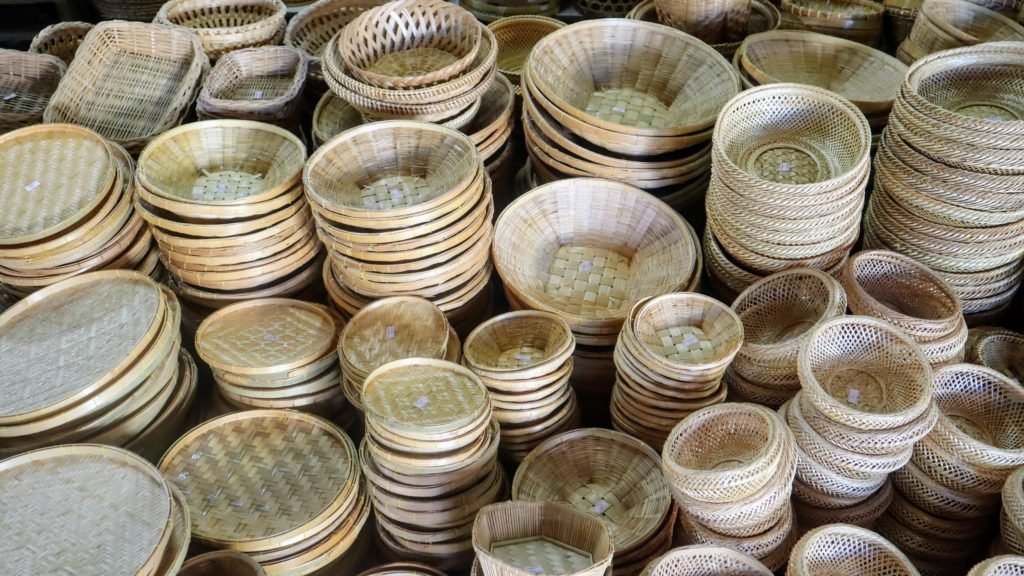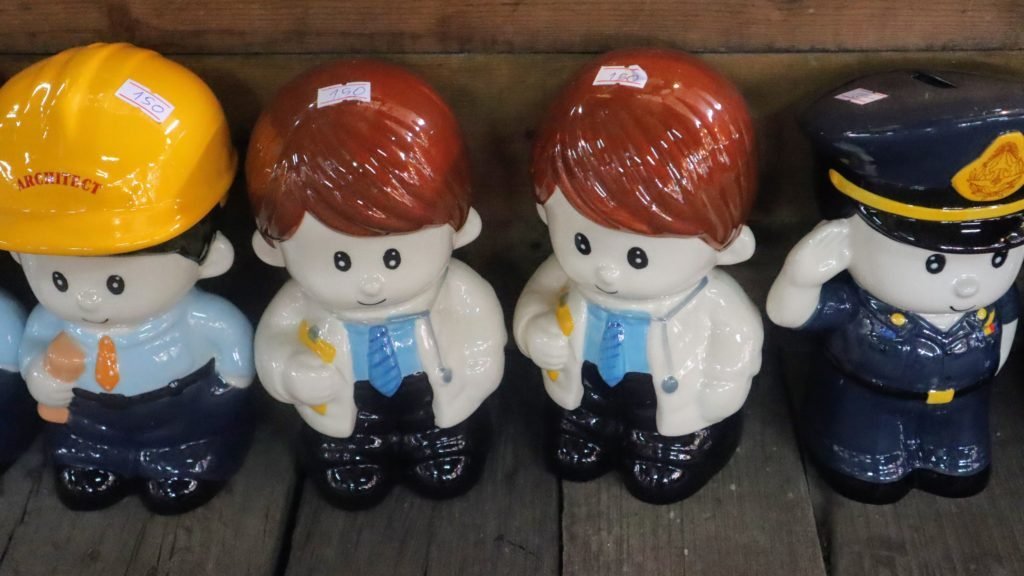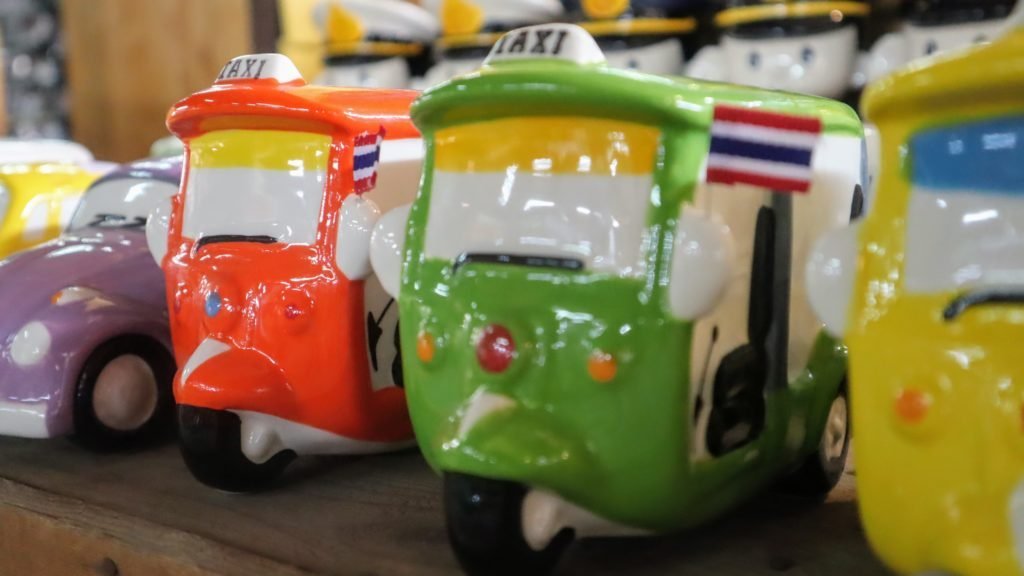 Glassblowing Art
Glassblowing is a glassforming technique that involves inflating molten glass into a bubble with the aid of a blowpipe
One of the friends I went with, Carlos is a glassblower or glassmith. He is passionate and one of the travel purposes was to meet as many as other glassblowers as possible. We tried calling / contacting a lot of the artists around. Turned out, not many at all doing it. We found only one who's willing to meet and exchange some glassblowing techniques, Chai The Glassblower (ชัย เป่าแก้ว).
Did I also tell you, this is the main reason we visited the market..
They both blow quite different types of glasses and that's why it's fun to watch. I'm sure it was so much fun for them as well to learn something way different from what they're good at.
Carlos shown him how to make mushroom and flower pendants. Then, Chai shown Carlos how to make a perfect horse and serpent(พญานาค) *imagination Thai/Lao animal looks like a mixture of gigantic snake, fish and dragon..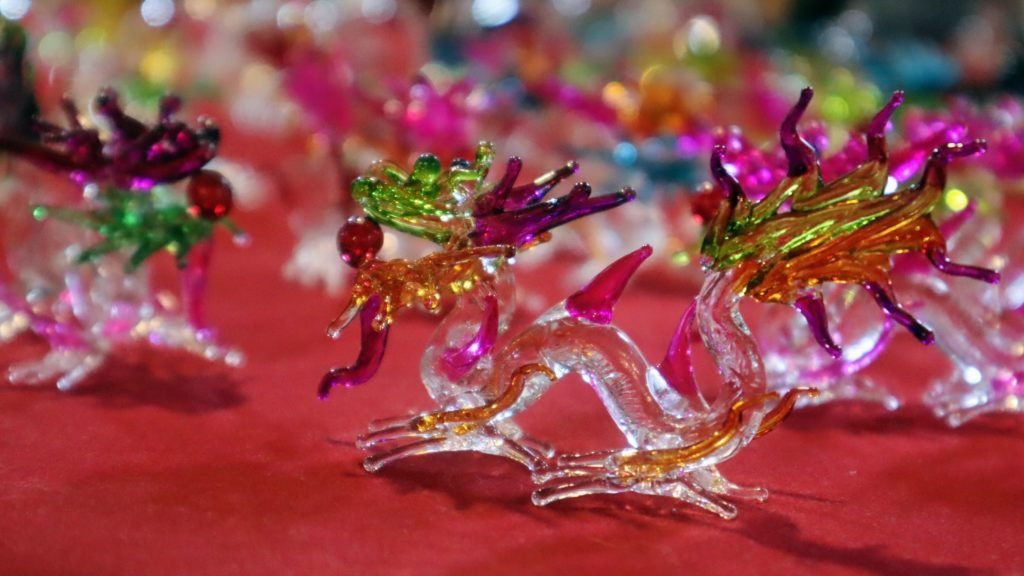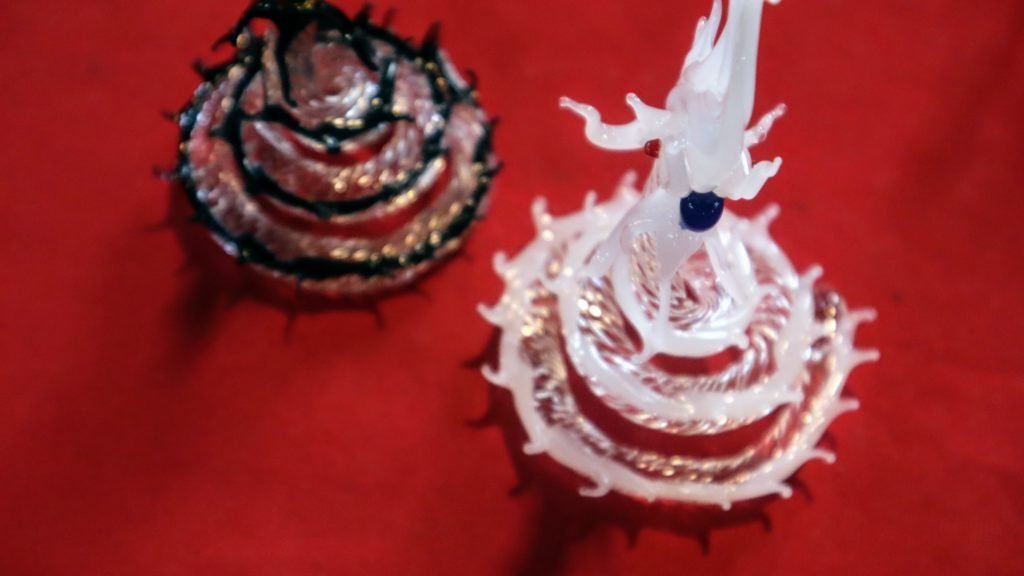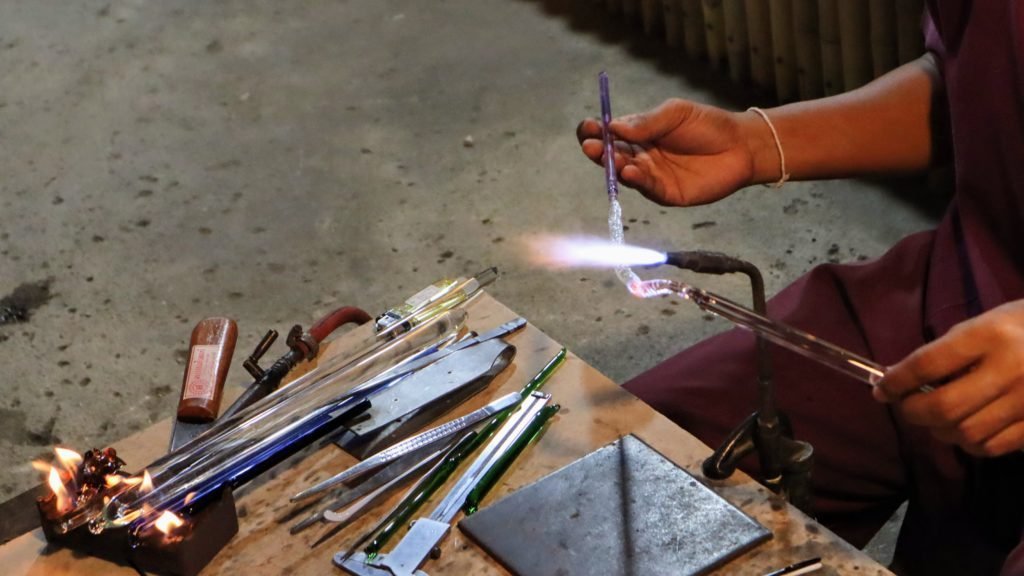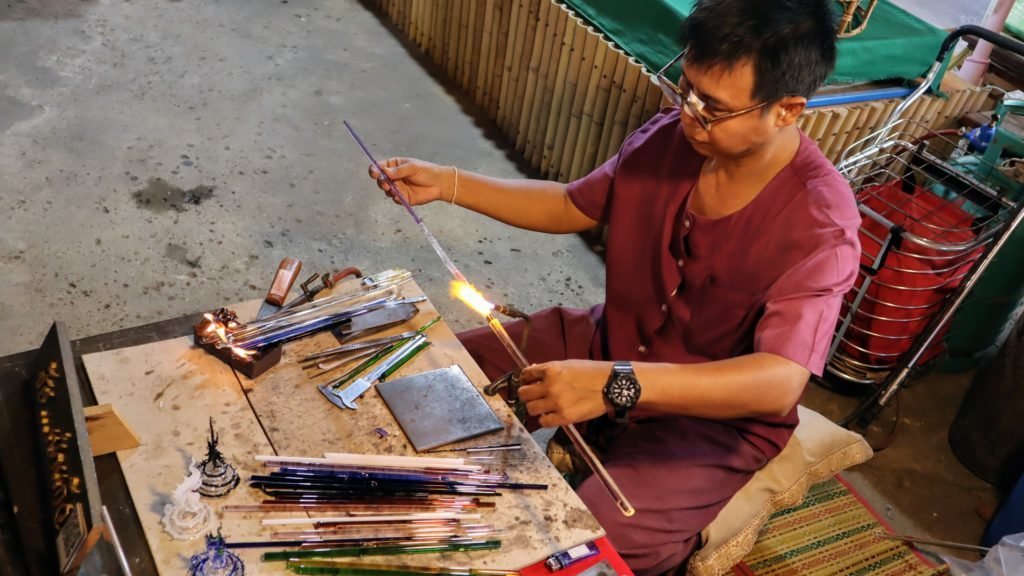 Surprisingly, this authentic Thai market I found interesting, doesn't have many foreign tourists. Seemed like Carlos and Bri were the only ones that day. While Carlos was blowing the glass, more and more people circled up and enjoyed watching him and his mushroom.. I was like 'Who would want a mushroom pendant?'. Again, surprisingly, they said, the US where they from, people love it!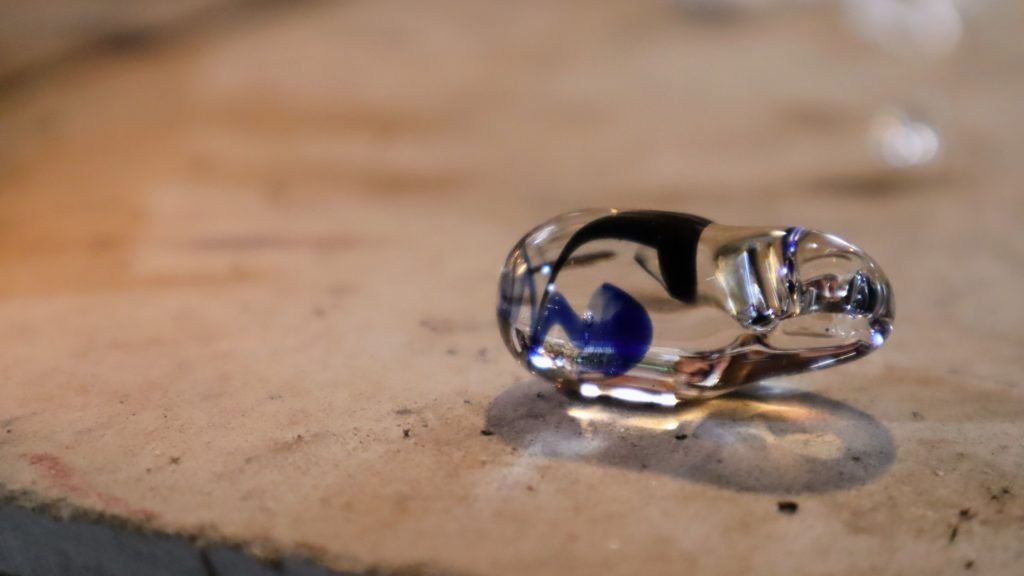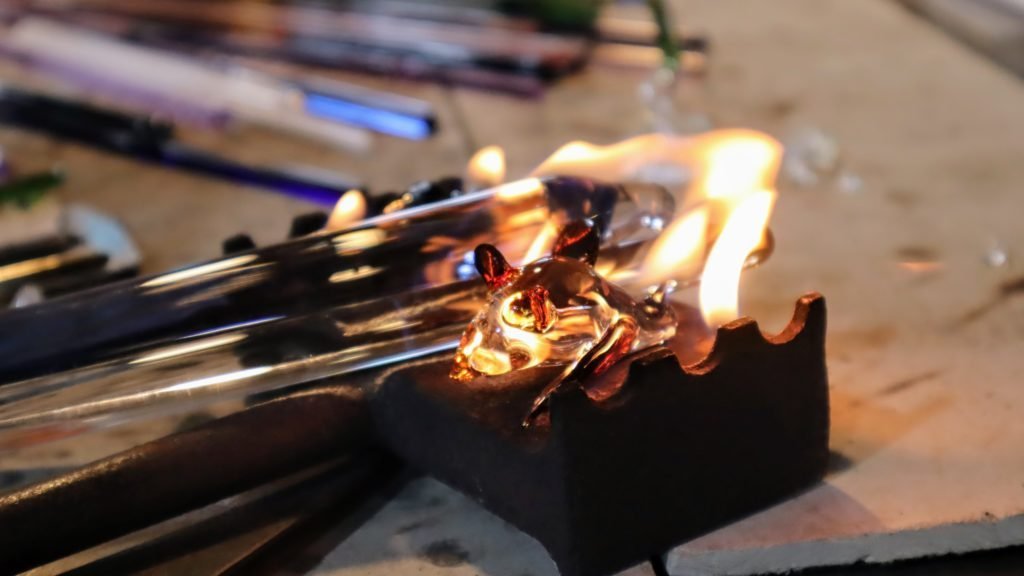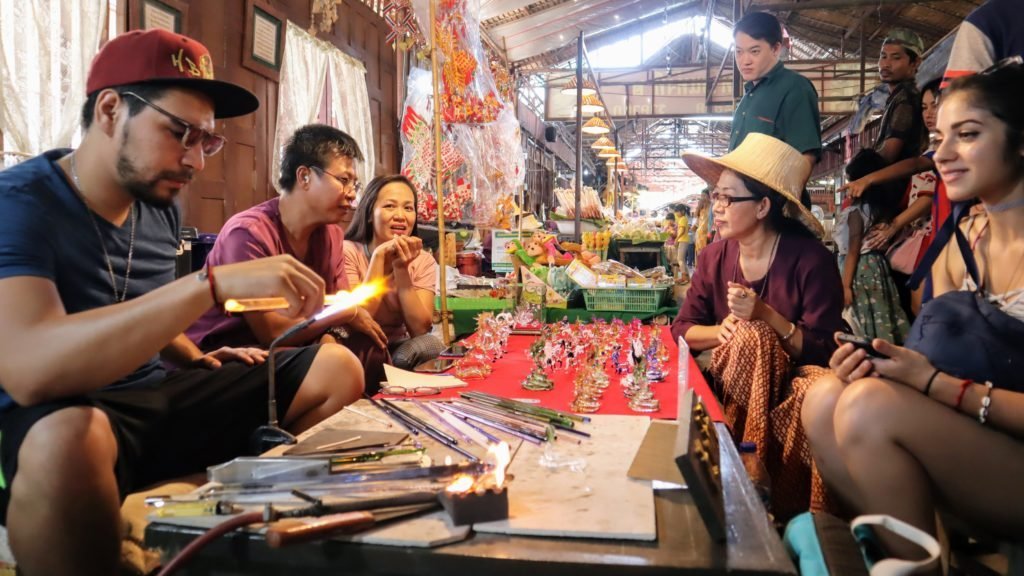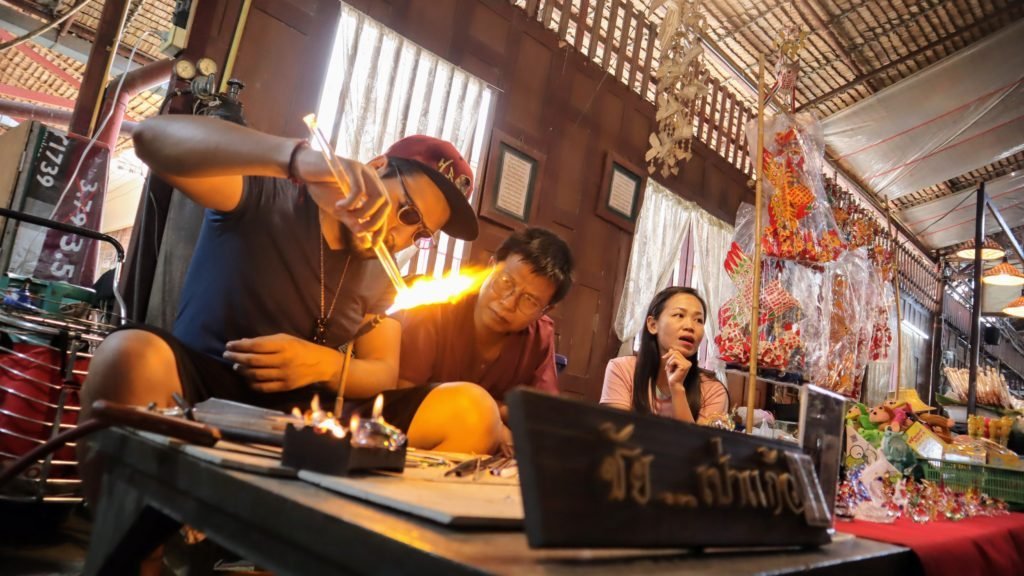 Here, Carlos and P'Chai, the glassblowers of Kong Khong Market! I love how random 2 artists cross paths. This wouldn't have happened if Carlos hadn't randomly called strangers on the internet.. This wouldn't have happened if they're both were not open and passionate in what they do enough..
Carlos even told me to 'Always take any opportunity that comes your way'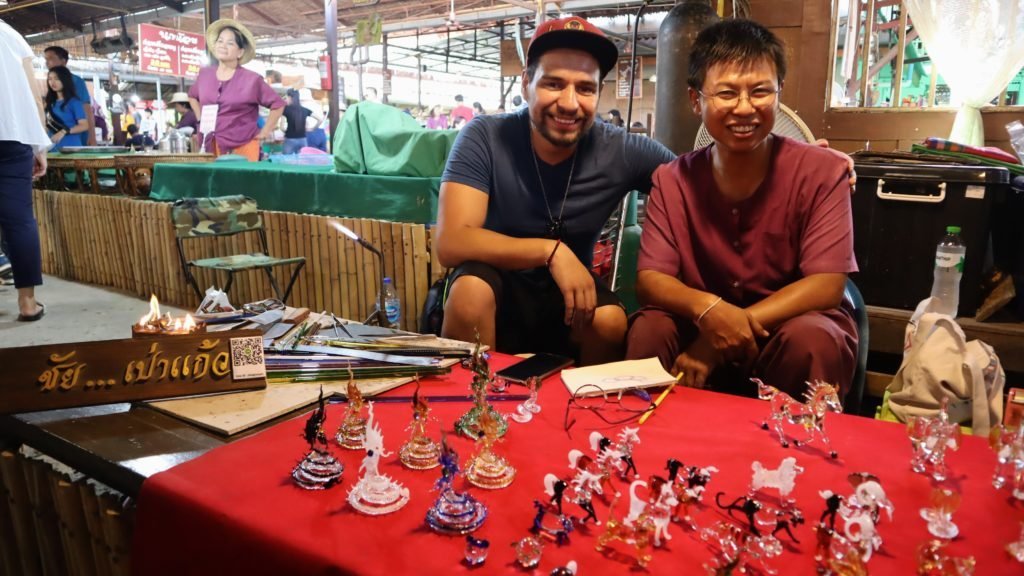 Kong Khong Market
Address: Ban Pho, Bang Pa-in District, Phra Nakhon Si Ayutthaya 13160, Thailand
Hours: Thur-Sun 9AM–4PM
Phone: +66 35 703 700
Not on Steem yet?? Let the ninja gets you a Steem account and start earning crypto!
㋡ Get $55 off your first adventure on Airbnb
㋡ BEST Boba Tea in town [Bangkok].
---
All copy and photos are original content by me.




TO SUPPORT WITH LOVE 💙 PLEASE SUBSCRIBE!!! TO MY SUPER DUPER AWESOME YOUTUBE CHANNEL :)