Travel Cheap: Salkantay Trek
Trying to get to Macchu Picchu like a boss? Or maybe you just want to do an immersive Peruvian nature-hike. Either way, go ahead and skip the Inca Trail. While this tourist trap of boredom does offer great views and minimal exertion (a donkey carries all your gear!), it does so for the cost of hundreds of your hard-earned dollars—plus, you'll have to traverse this wild terrain with a couple dozen picture-snapping strangers.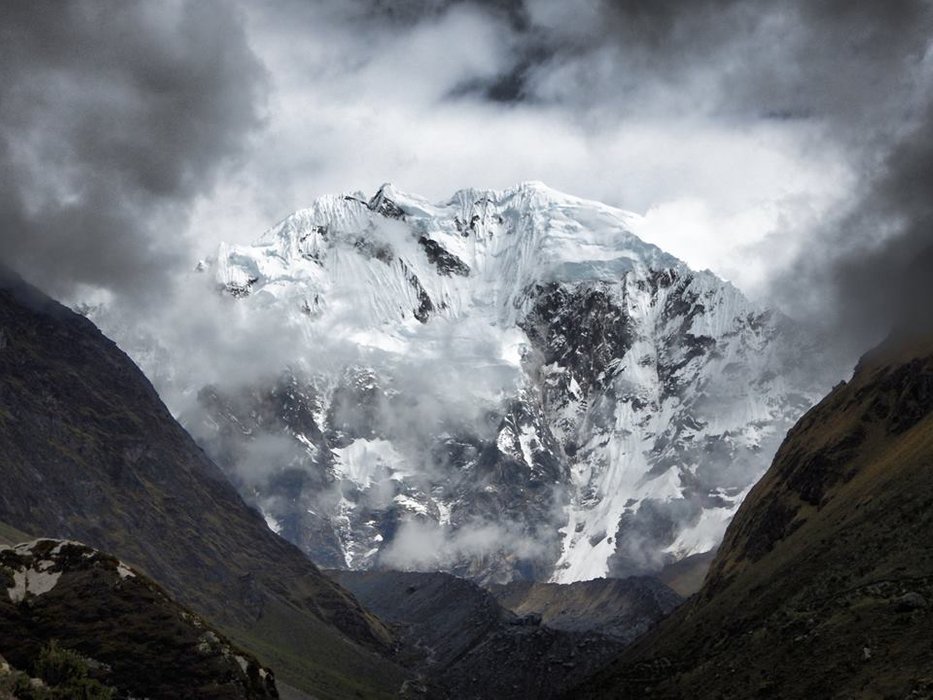 Probably the best picture of the mountain we took. You don't want to miss this, do you? Well, you'll be staring at it for a week when you hike the Salkantay Trail. Make sure to bring pants.
It's impersonal. Rushed. Confined. All that pre-booking ahead (sometimes 6 months in advance?) and pre-set itinerary makes my skin crawl. Hiking and trekking are meant to promote freedom and introspection, aren't they? And having to explore nature someone else's way isn't exactly the pathway to enlightenment the tour companies say it is. On top of that, let's face it: $650 dollars American for four days of trekking isn't something any budget traveler can afford.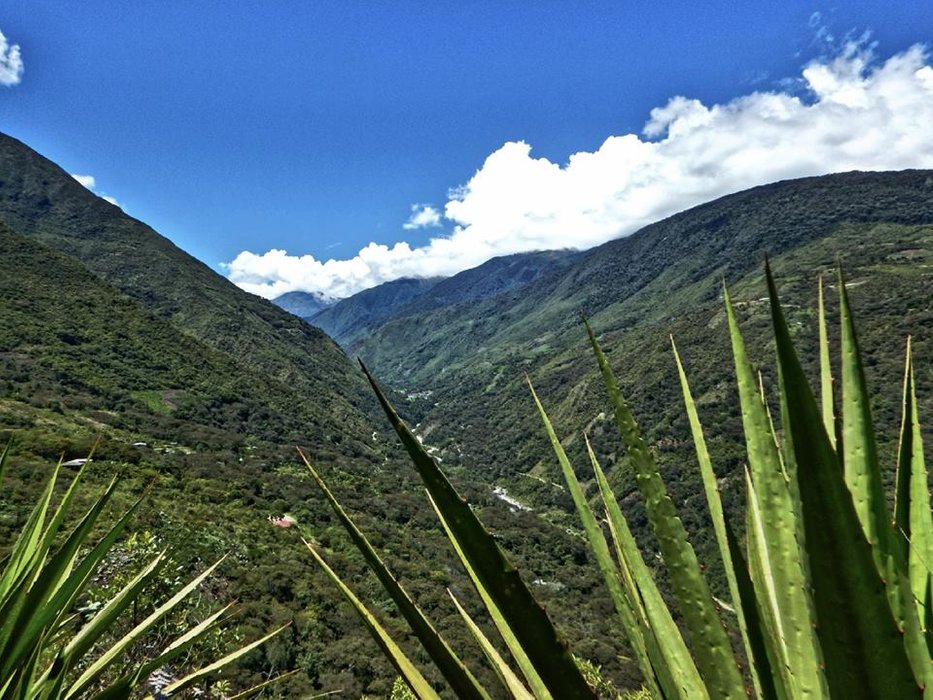 Awesome view along the trail.
What about hiking the trail without a guide? Strictly forbidden. It's a major no-no. So what are you left with? The truth is that the Inca Trail isn't the only way to get to Aguas Calientes and, by extension, Machu Picchu. There's another, more beautiful, wilder, and way more budget friendly way to get there—the Salkantay Trek.
This 5-7-day trek through the mountains is crazy, savage, beautiful, and offers up a freedom which travelers rarely find in any trek, much less one leading to a destination as popular as the Picchu. So how can you get there? Read on to discover everything about this climb, including how you can do it yourself—for just $20.
Preparing for the Trek
First, you'll need to get to Cusco. This is generally easy and quite cheap to do via bus. No matter where you are in the country, chances are you'll be able to catch a bus for less than $30 American—from Lima you can get one as cheap as $16.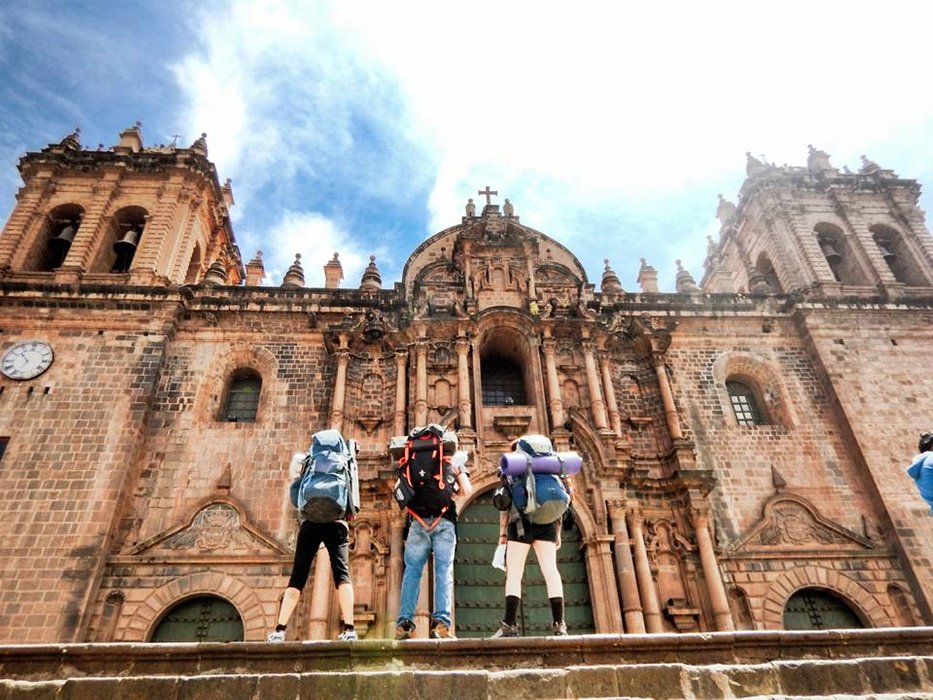 There's tons to see and do in Cusco before you hit the trail, but that's a post for another day.
Cusco is basically the hub for all things Machu Picchu-related. Here you'll find tons of badassery, including transportation to Mollepata, which is where you'll find the trailhead. But before you set off on your grand adventure, you'll definitely want to stock up on supplies like food.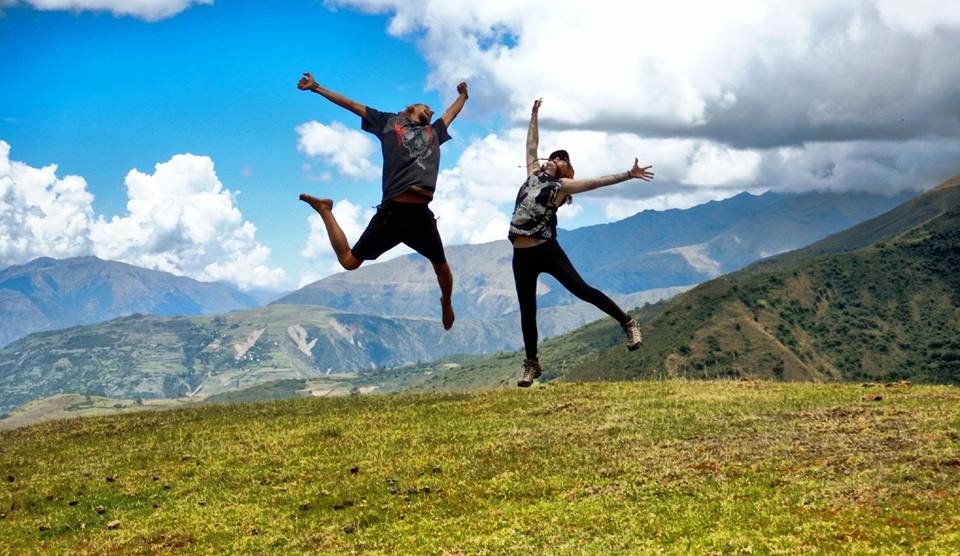 These mountains definitely made us jump for joy.
Do this in Cusco rather than anywhere else. Their marketplace is huge, welcoming, and cheap as all get out. Stock up on easy, snackable items like jerky, cheese, and nuts. You'll be hiking all day every day for the next week or so, and you'll want to be well-prepared with quick and easy bites. Make sure to buy some coca leaves as well. Chewing on these will give you energy and help you acclimate to the thin mountain air. If you buy cheap foodstuffs like rice and pasta for your dinners, the whole cost of food for the week shouldn't exceed $5-$10. Buying food for Salkantay is cheaper when you're with a group, as is transportation. The more the merrier!
You can buy cooking gas at the more touristic camping stores around here as well, if need be. You can even go whole hog and buy your tent and pack, though that will get pretty expensive. As far as water goes, there is plenty along the way in the form of crisp, cool mountain streams. It's very advisable to bring a LifeStraw or other filtration device along with you.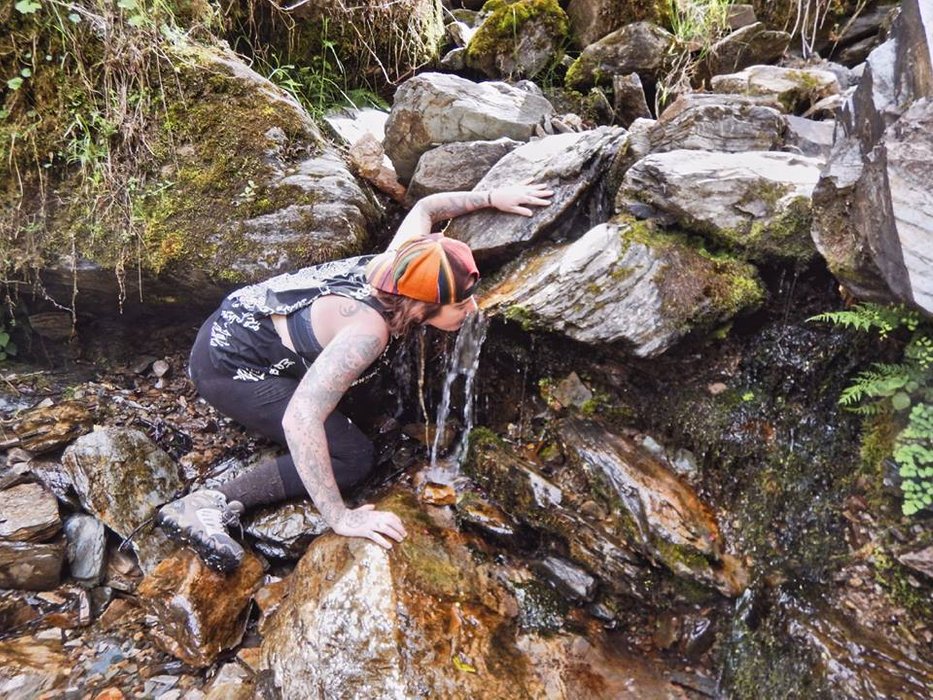 There are plenty of mountain streams to drink from along the trail.
Getting to the Trailhead
From Cusco you can grab transport to Mollepata from Avenida Arcopata. Here you'll find public transportation in the form of shared minibuses, the cost of which vary depending on the day, driver, and how he feels. I've heard of people paying 7 soles per person (that's around $2.50), up to 15 and even 20 soles per person.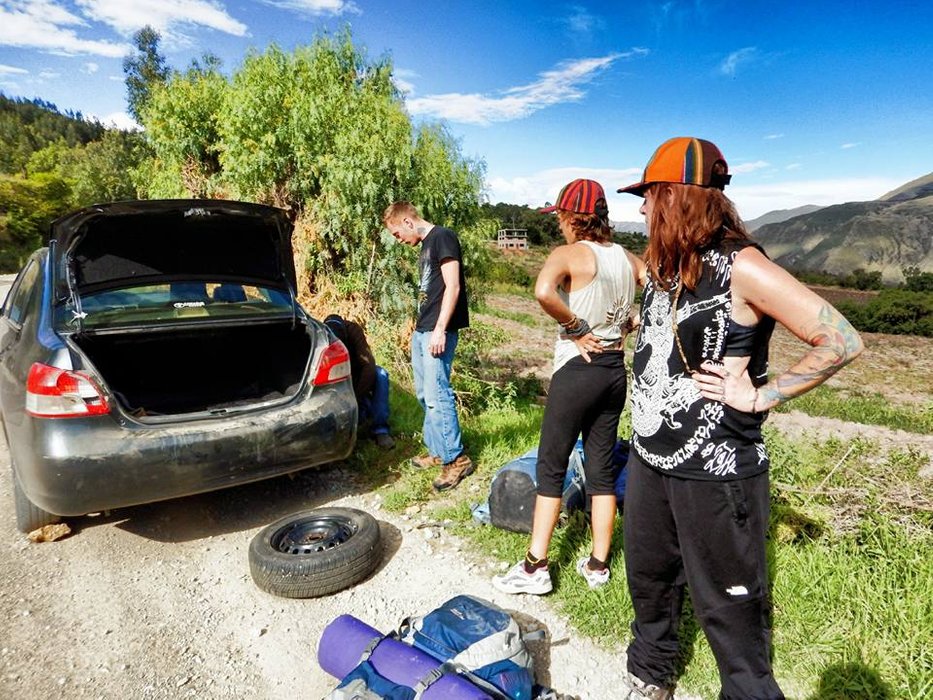 Keep in mind that on these roads, anything can happen. Even a flat tire.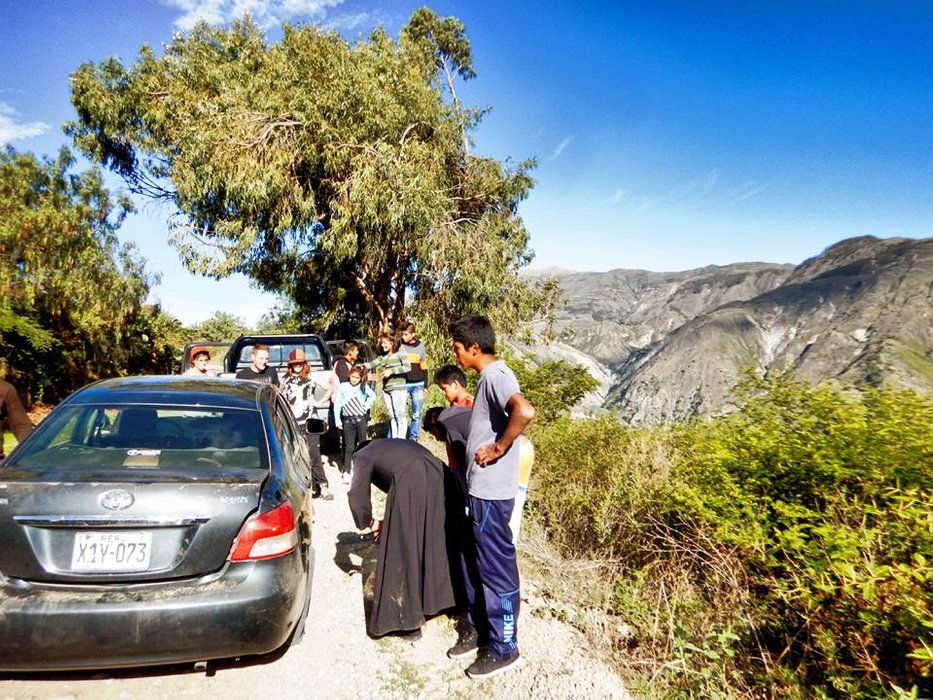 Despite the priest helping out, an act of god failed to save us. Those lugnuts were not coming off.
However, you can also hire a private taxi. These hang around the bus station waiting for tourists like yourself to come along. If you are traveling with more than two people or with a group, a private taxi could be even cheaper for you than taking the minibus.
The ride to Mollepata will take over an hour, so try and get comfortable. It's full of gorgeous scenery, and if you make nice with the driver he'll stop and let you take some pictures. Eventually you'll turn off the main highway and onto a winding dirt road which seems to just go straight up and up and up, and you'll know you're almost there.
Navigating the Trail
The driver will generally drop you off wherever you ask him too, so ask him to drop you as close to the trail head as possible. It's likely he knows where it is and if he doesn't, the locals do. Don't be afraid to ask. They'll point you in the right direction, though they will try to sell you their goods and services—politely decline, unless of course you need something.
You'll see signs pointing to the trail as well, so be on your merry way! This trek will take you through 74 kilometers (around 46 miles) of sweet and isolated mountain terrain. The guided tours take four or five days to get through all of this, but it will take you longer.
That's because you'll be carrying all your own stuff. Don't underestimate how taxing this will be for you. Camping gear, food, and some water will all have to strapped to your back, so get ready for some major exercise. Besides carrying all your own gear, you'll also have the freedom to stop and smell the roses along the way.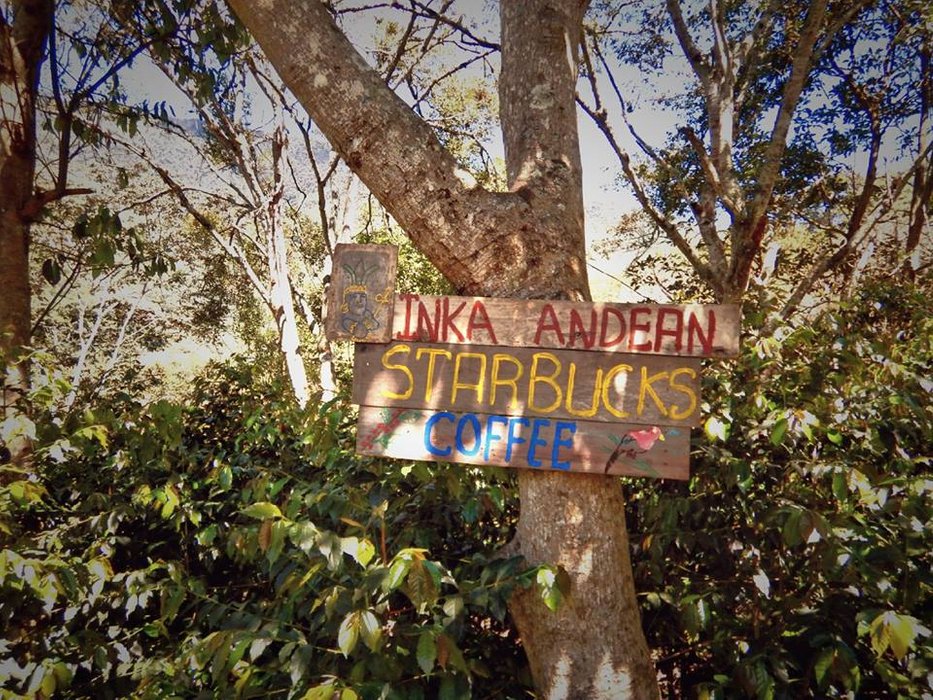 Actual sign we saw at the end of the trail, where humor and coffee plantations are plentiful.
There are several smaller pathways to explore along the trail. Some are just little off-roads leading to lone houses or mini-villages, and others provide an alternative route for those looking to avoid the mule-trail. These paths can be a bit treacherous, but incredibly diverse and interesting.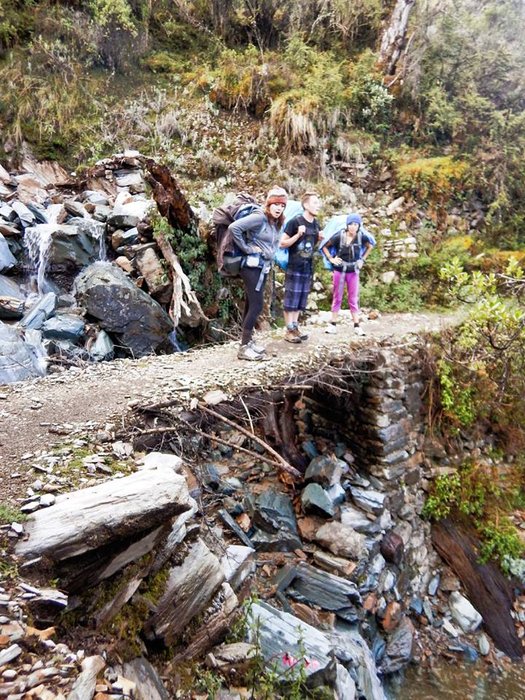 Be careful on the thin parts of the trail if you choose to go an alternative route.
It's these offshoots which really allow you to learn about the reason for the Salkantay in general. After all, the path wasn't created to cater to hike-happy tourists. It was the original Andean superhighway, connecting village to village and people to people. By going off the beaten track a little bit, you'll get to learn just how far people had to go to get anywhere back in the day. And it's more than worth it.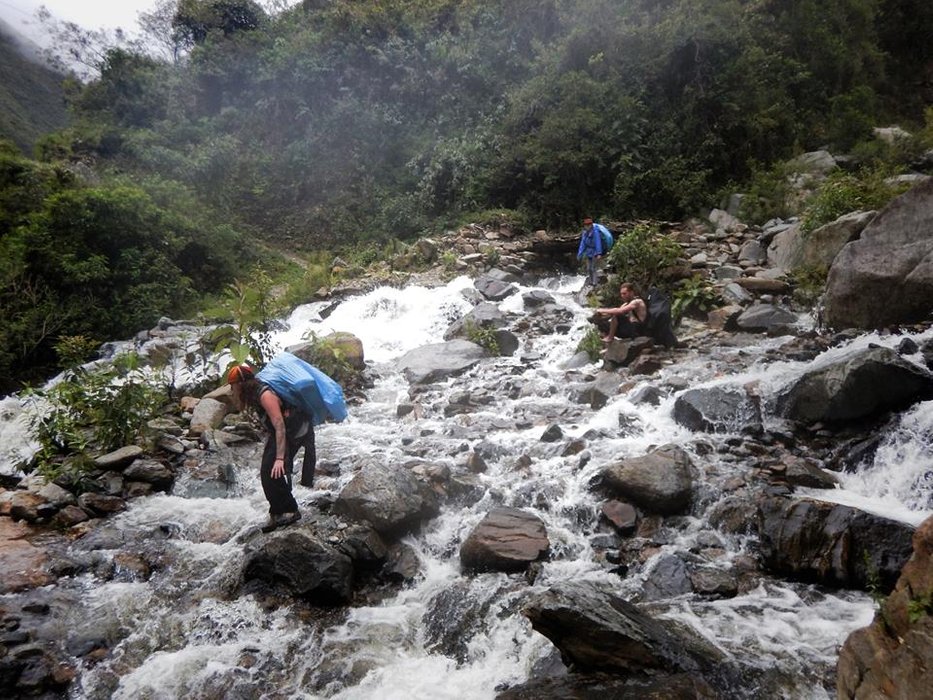 It's a good idea to bring a pair of sandals with you to cross streams and waterfalls like this one.
At the end of the trek you'll cross one monster of a bridge. Then you'll find yourself on the train tracks leading right to Aguas Calientes. You can hop on the train for that final stretch of the journey ($40), or you can choose to walk along the tracks an additional 2 hours (free) to reach the city.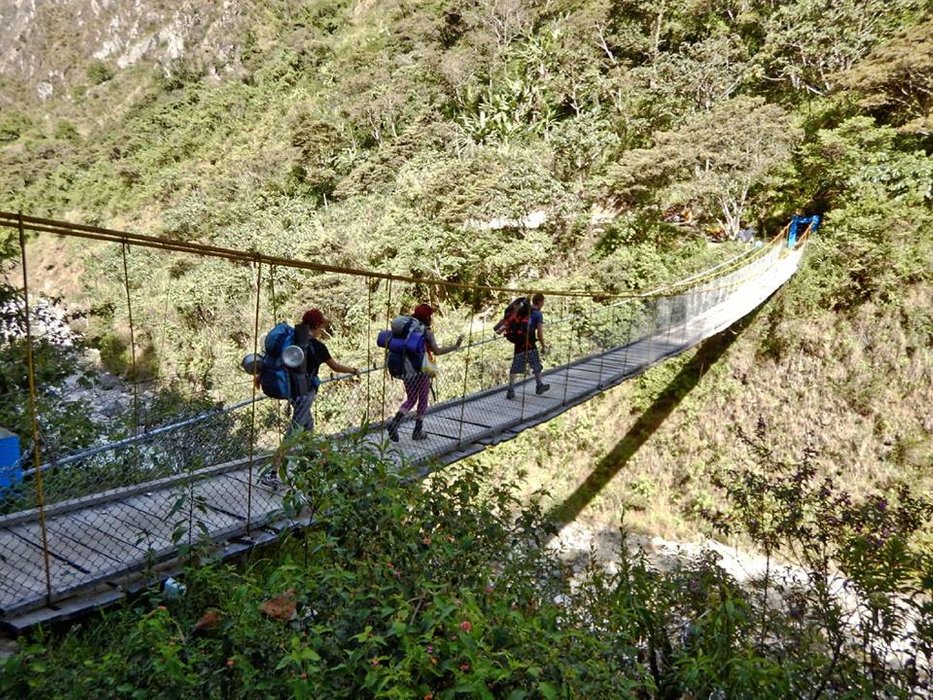 This is one badass bridge, but don't be afraid. It's well-traversed and very sturdy.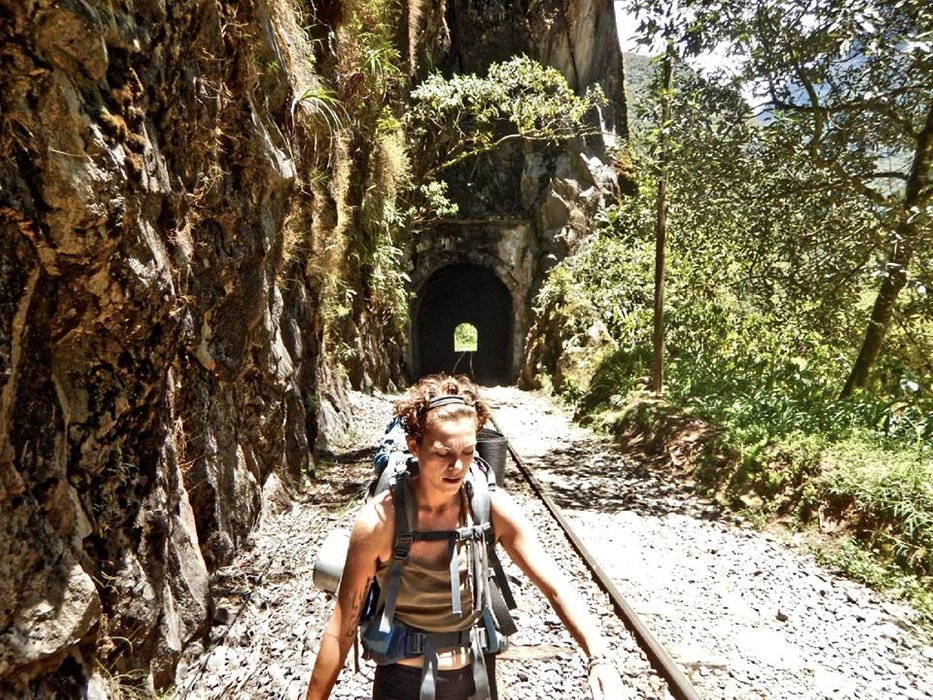 The train tracks will lead you right to Aguas Calientes, and the view is absolutely incredible.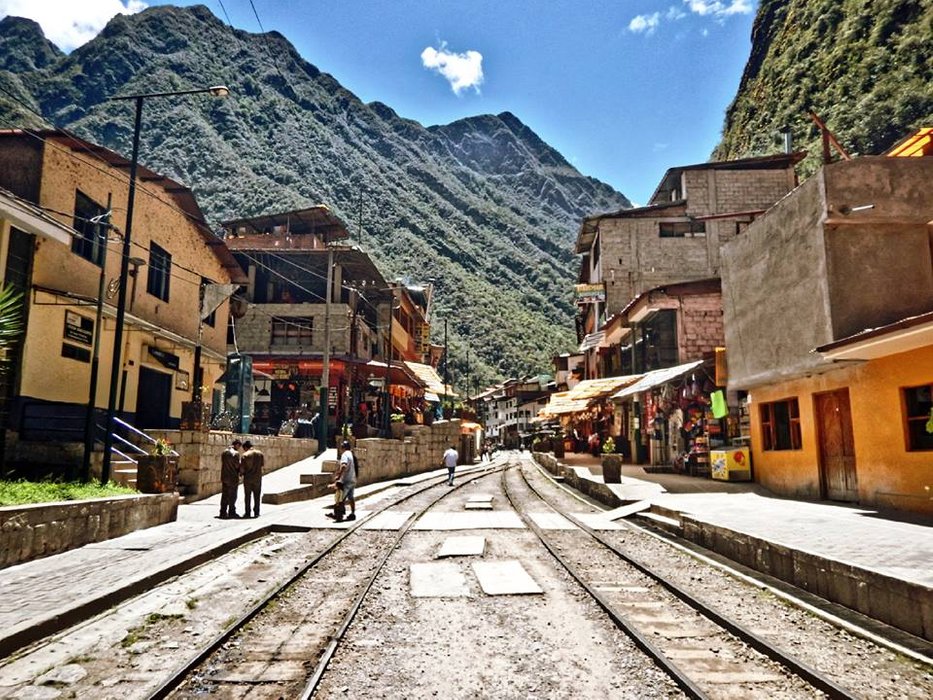 The view coming into Aguas.
Camping Out
There are several small villages to explore, as well as numerous micro-climates to bask in—at one point the scenery seems as if you're passing through a rainforest, at another you'll be ascending snowy peaks. You can choose to pay to camp in designated areas controlled by locals, or you can camp for free along the trail as you please.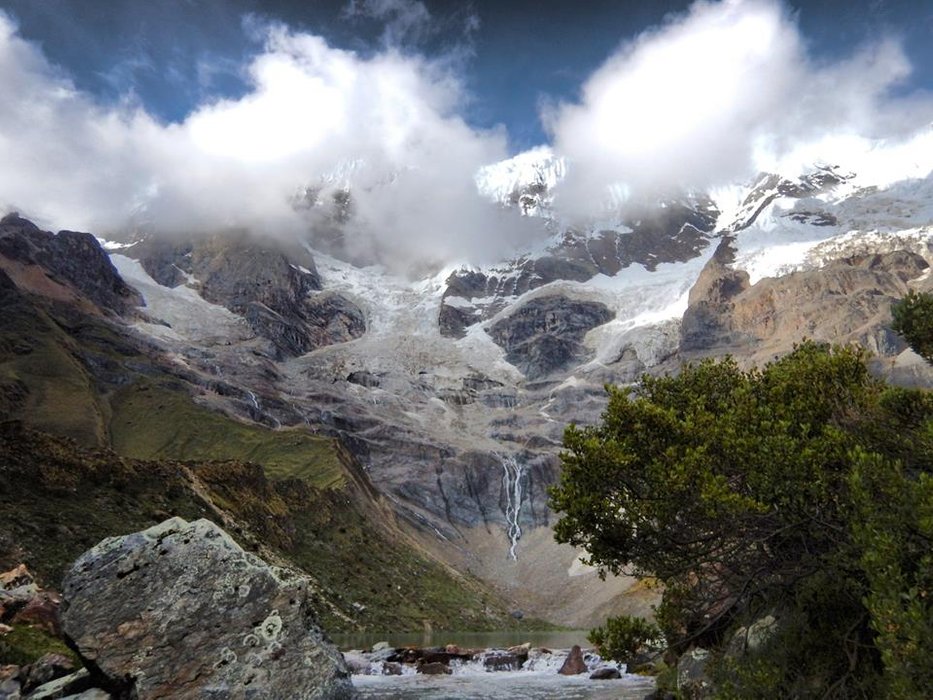 Awesome view of Lake Humantay. You don't want to miss this!
There is one campsite you may want to pay to stay in, and it's the first one you'll come to. It's called Soraypampa, and the cost varies depending on who's working the gate. We paid 5 soles per person, but you could pay more or less depending on the season. You'll definitely want to take a day's break here to make a mini-trek up to Lake Humantay. This clear and icy glacial lake will leave you breathless, both from its beauty and from the thin mountain air.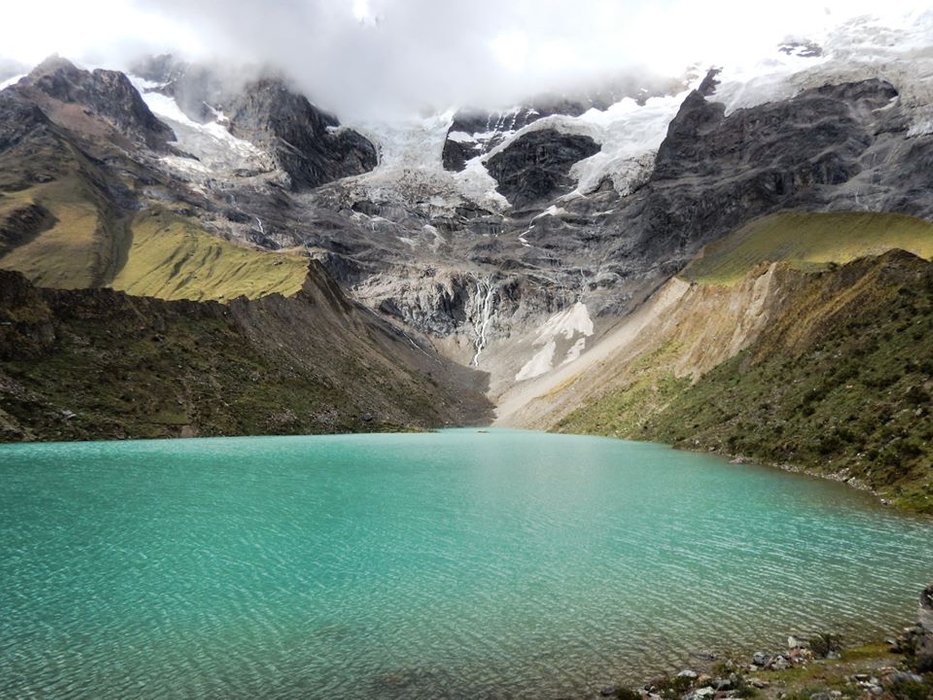 Lake Humantay's clear blue water is one sight you'll never forget.
Try and avoid camping out on the actual summit, as it can get really cold up here. It could even snow on you. Other than that, the trail is pretty much yours. There are places where it's difficult to find a good spot, and there are flatter areas—be careful and avoid hiking at night. There are no emergency services up here.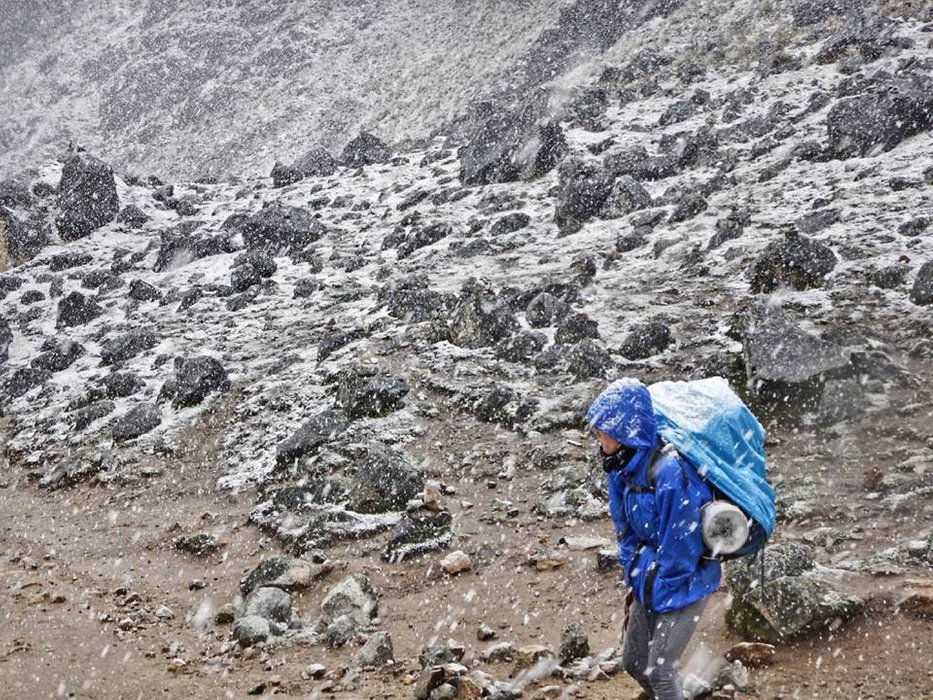 It snowed on me, it could snow on you as well. Bring pants.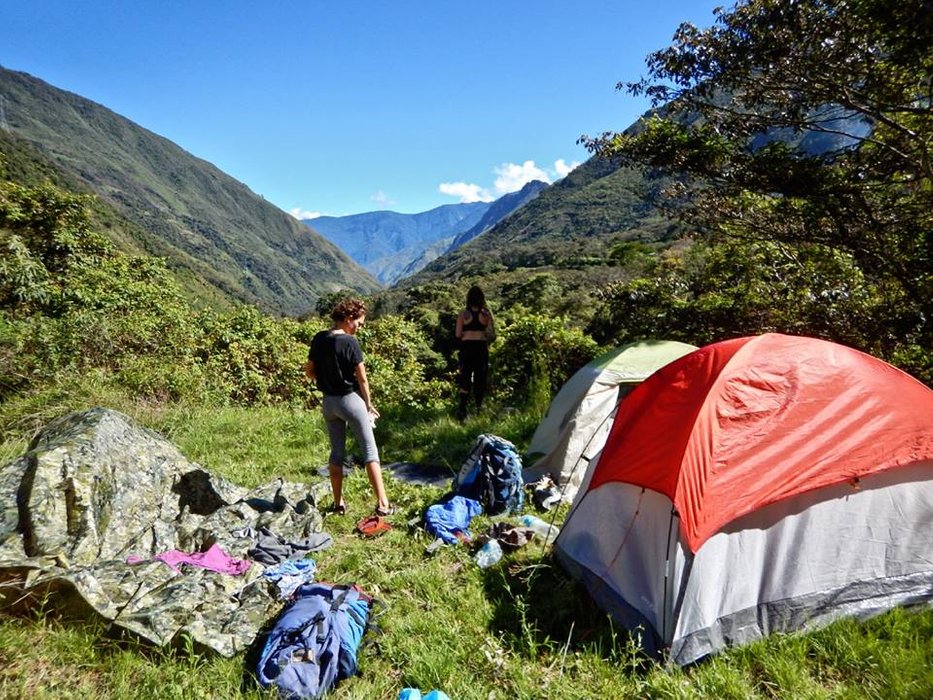 Search around to find a nice, flat campsite along the trail. There are plenty!
When to Start Your Trek
In fact, you'll find that there are places where you won't see much of anything or anyone at all—especially if you choose your time of the year wisely. The peak season for trekking is from May through September, when the trail tends to be drier and warmer. However, you might find the trail to be a bit crowded during this time. Especially if you're planning this trip as a sort of "getaway from society", you'll want to skip the crowds.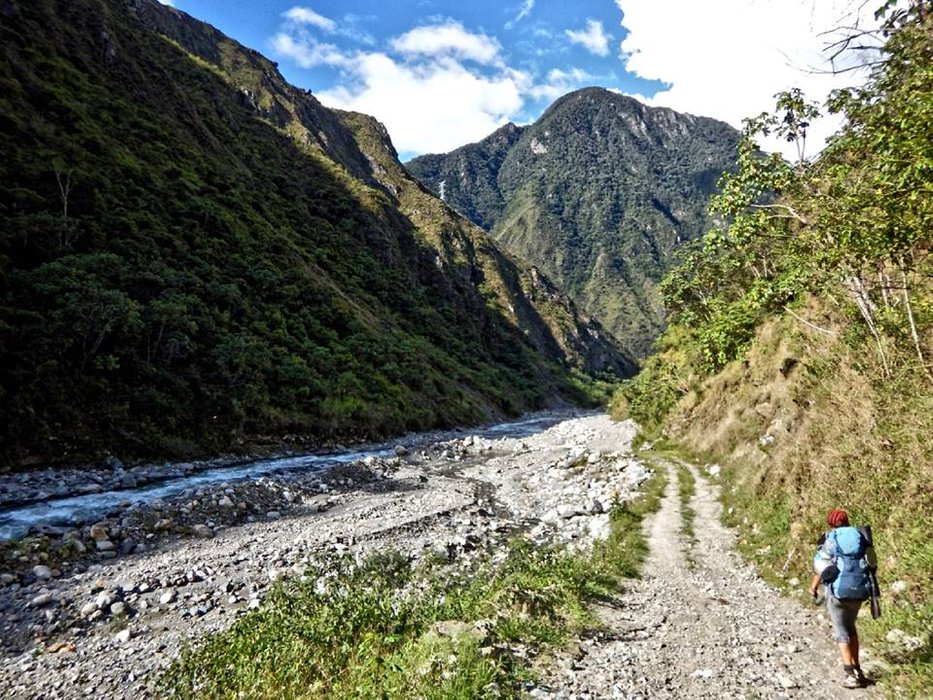 If you plan your trip wisely, you can avoid the crowds and have the trail to yourself.
Try to visit in March, April, October, or November to stay dry and avoid the massive influx of people that the summer months tend to draw in. You'll find that these months are optimal not only weather and people-wise but because prices on food and transport go down in the off-season.
A Word About Machu Picchu
The Salkantay Trek is one of the most beautiful hikes around. In fact, National Geographic recognizes it as one of the world's top 25 treks. That's really saying something. And it leads directly to Aguas Calientes, snaking up through the mountain pass and down through some other very interesting ruins.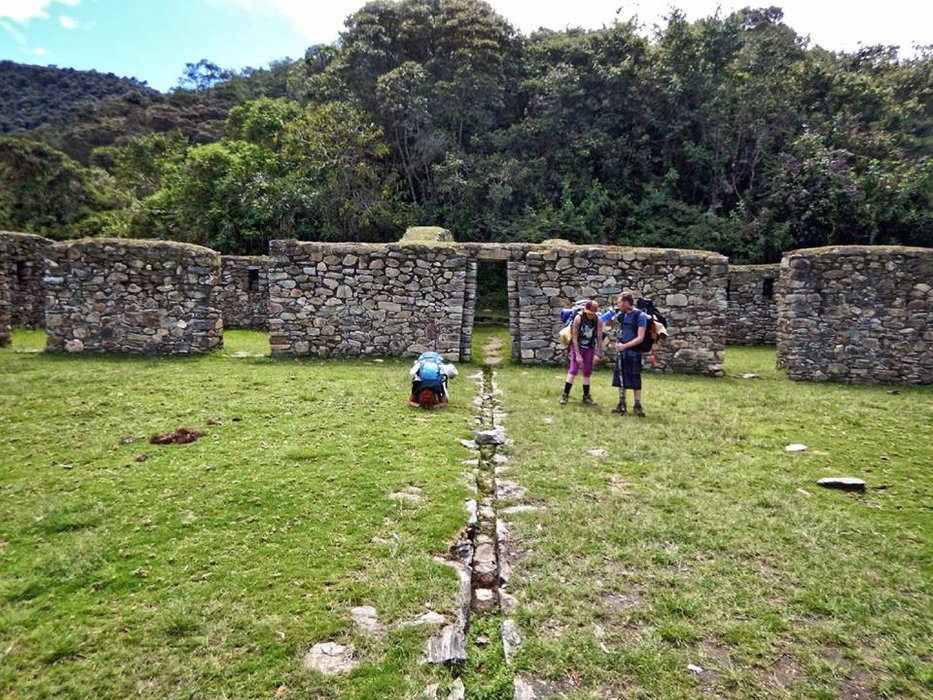 Check out these ruins along the Salkantay Trail.
But the whole goal is getting to Machu Picchu, right? Not exactly. Here's a great little secret for budget travelers hoping to experience the best of Peru: you don't actually have to visit Machu Picchu. That's right, you can skip it entirely, or be content with the badass view of it you get directly from the Salkantay Trail.
It isn't exactly a budget traveler's dream. It's crowded, expensive (at least $50), super touristic, and it can be kind of a bitch to make arrangements to get there. The Salkantay Trek doesn't have to be about getting yourself to Machu Picchu. It can be (as it was for me) a learning experience and a chance to put yourself in somebody else's shoes for a while, plus a chance to just get out there and hike a great trek in a gorgeous place. That being said, Machu Picchu is awesome. If you can, you should go for it.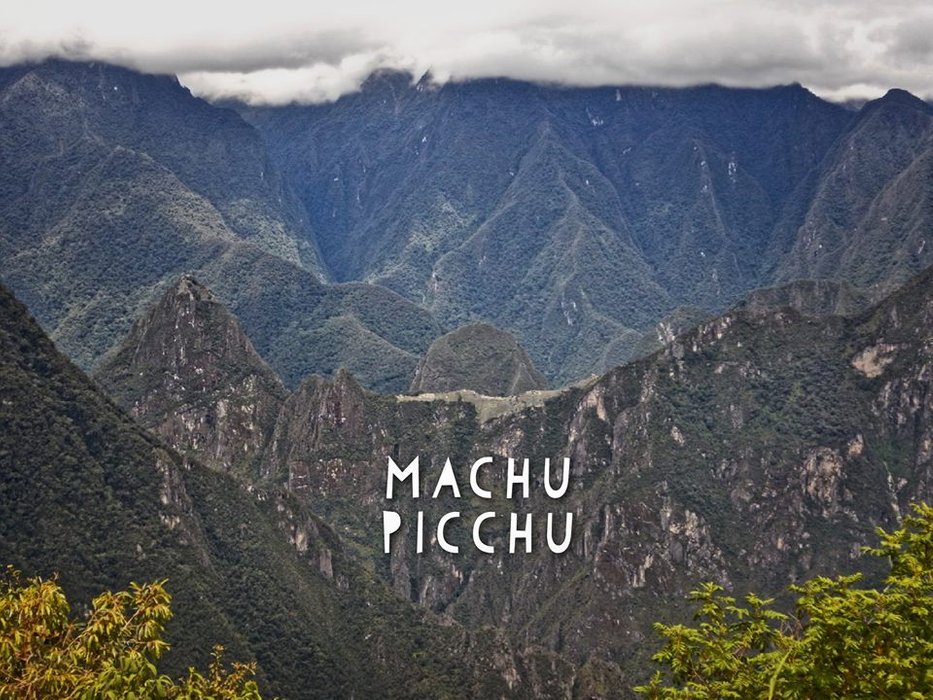 See that white line? That's Machu Picchu. That was as close as we could afford to get, but you may have a better bit of luck!
Trip Highlights and Things to Know Before You Go
Keep in mind that the Salkantay Trek is not a beginner-level hike. You need to have a pretty good level of physical fitness to complete this trek, and doing it without a guide will take a lot out of you. Be prepared to be exhausted, dirty, and ravenous when you arrive in Aguas Calientes. Once you do arrive there, you'll be able to find a room for as little as $8 per person—just ask the locals where to go (hint: you will not see this price advertised anywhere on the internet).
Take Away
What: Hiking, Camping, Ruins, Mountains, Gorgeous Scenery
Where: Near Cusco, Peru
Budget Cost: $20 (Food, Transport)
Bougie Cost: $80 (High-Quality Food, Transport, Lodging)
Bring: Food, Tent, Good Shoes, Extra Sandals, ALL-WEATHER CLOTHES!
Trip Length: 6-7 Nights (Depends How Fast You Are)
Travel Rating: 5 Stars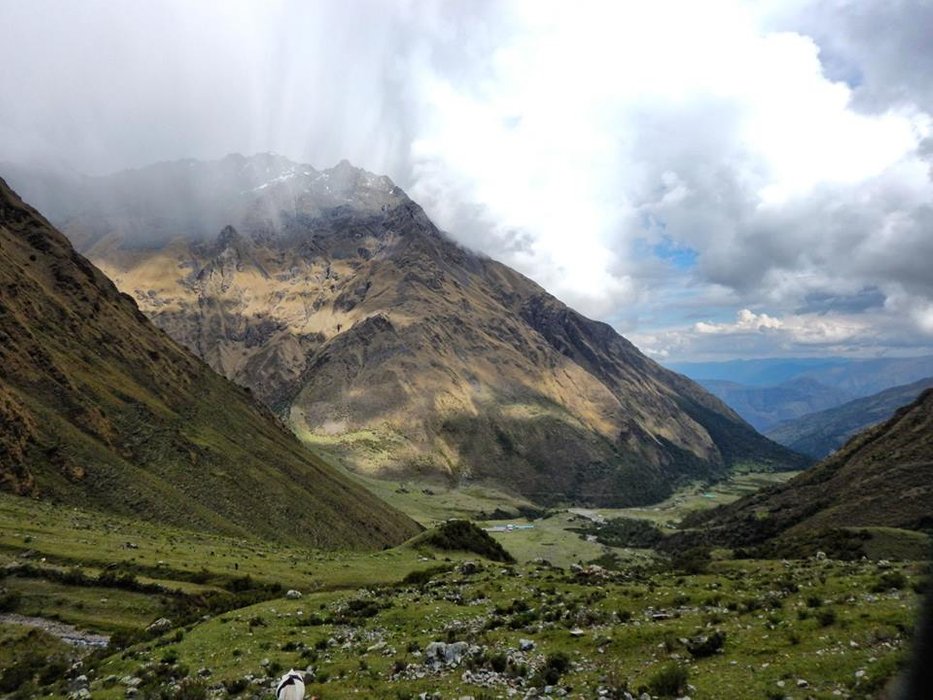 You definitely won't regret this awesome trip.
Thanks for reading my post, guys. As always, all these pictures were taken by myself or my partner.