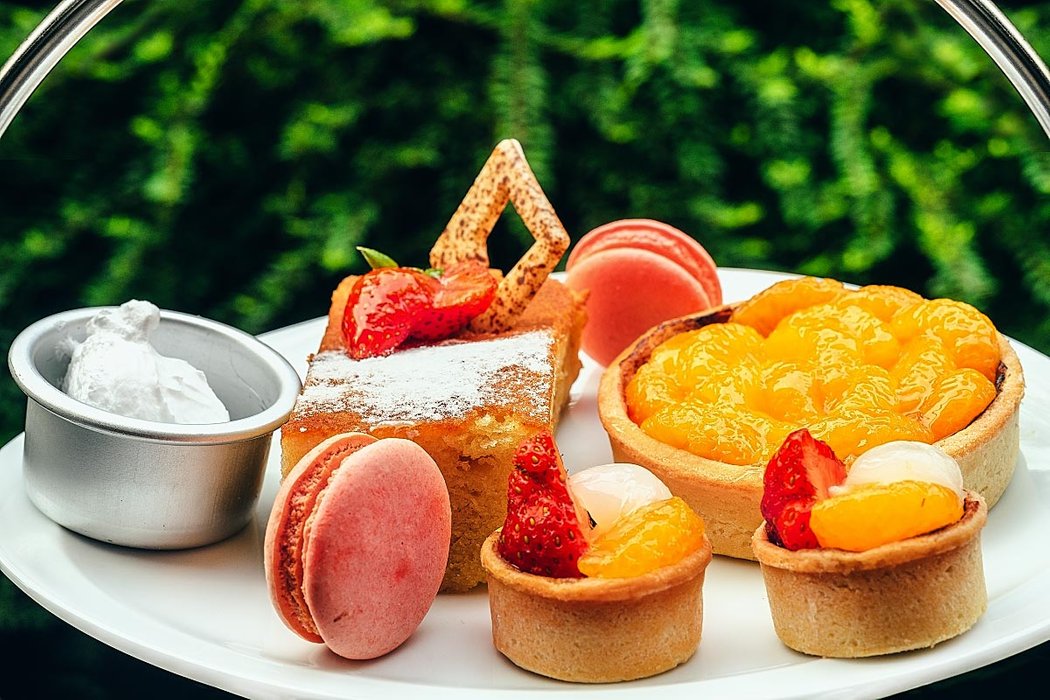 George Town is getting active and is expanding in all directions. Its convenient geographical location allowed the business to flourish many years ago and the trend continues today. However, the city is changing as it grows in an attempt to please the demanding modern society. That is why the small Peranakan houses now have big skyscrapers as neighbors. One of these skyscrapers is the G Hotel Kelawai, where you can indulge in their 2PM Lounge afternoon tea. 2PM Lounge afternoon tea might be a new high tea player here in Penang, but believe me, here they offer a damn good afternoon tea, it is trendy, international and delicious.
[toc]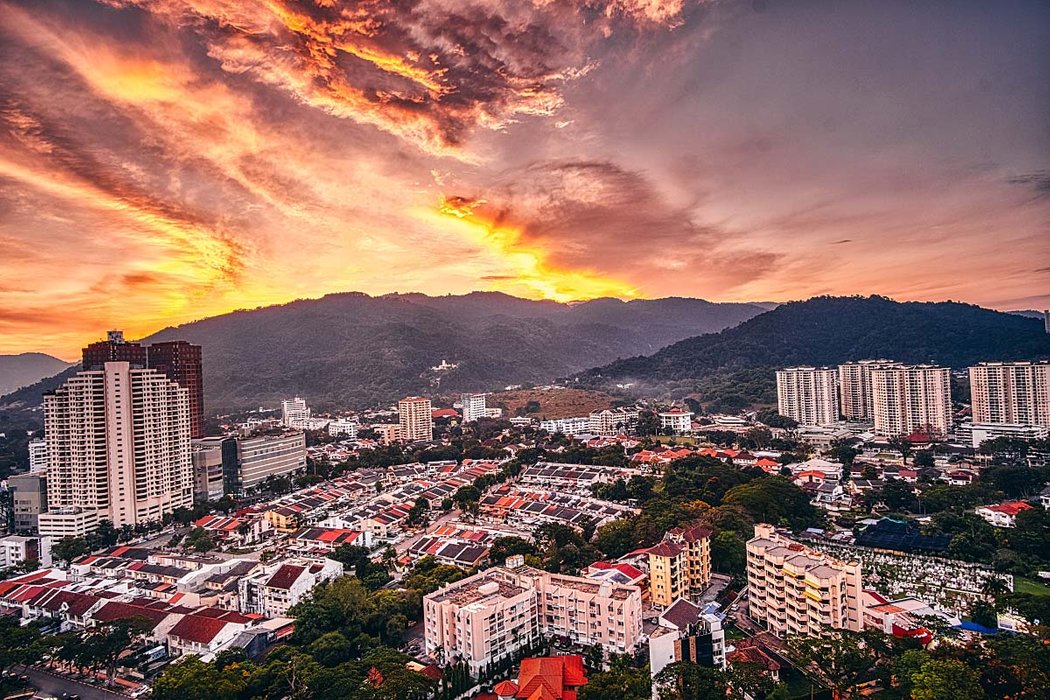 George Town is getting bigger and bigger. With its extension also a new offer is coming. 2PM Lounge afternoon tea is one for example.
Ambiance
The modern design of the G Hotel Kelawai combines elegance with minimalism at every step. Quickly after entering the 2PM Kelawai, we noticed the double-story windows, which deliver enough sunlight for the dark interior appeal. The open space design supplies enough privacy to each table to keep the conversation going while sipping on tea. If your topic is sensitive, there is also the option of a private room. No matter where you choose to be, a comfortable seat is a sure thing, even if you decide to indulge in an outdoor afternoon tea time on the terrace. We would have liked to enjoy our afternoon outside, but Mother Nature didn't allow us to that day.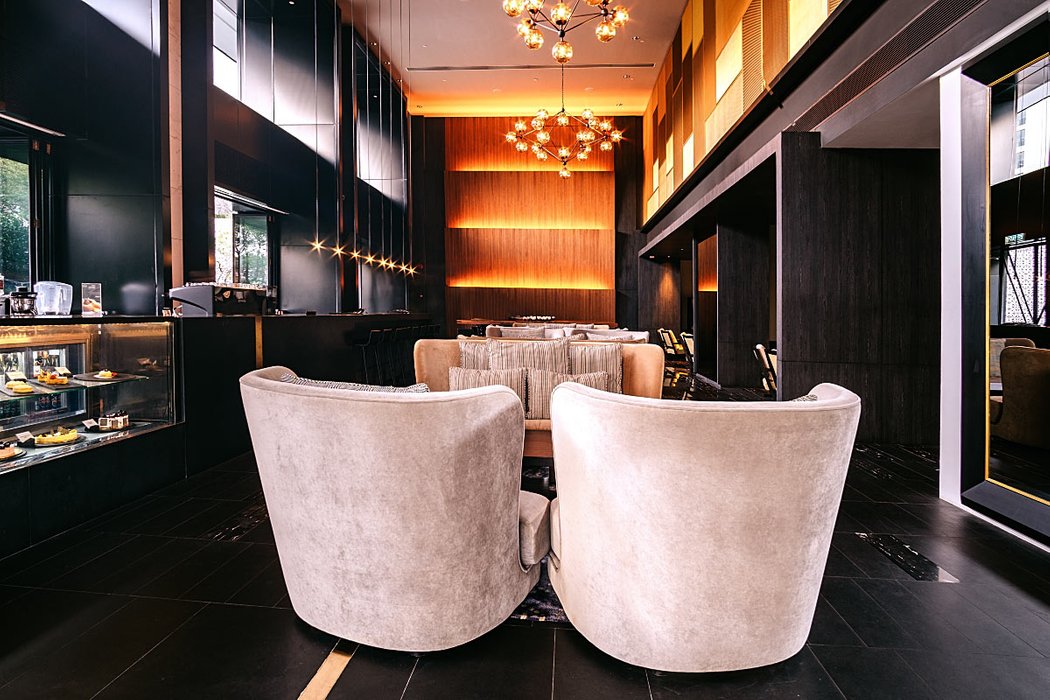 2PM Lounge afternoon tea is served here in a nice modern lounge, where black and gold are the main colors.
Tea Selection at 2PM Lounge
Perhaps the shortlist of tea choices has something to do with the minimalistic theme of this lounge and what businessmen favor the most - efficiency. The list of Ronnefeldt teas is brief, but high quality is guaranteed, as these teas are all made from hand-picked tea leaves. This tea producer also follows environmental guidelines. Both these standards are equally important as the final product itself: the tea, being the world's most popular drink. As a matter of fact, green principles affect sustainable production and also involve the people working in tea production. All of it goes hand in hand with securing the future of this company which was founded all the way back in 1823.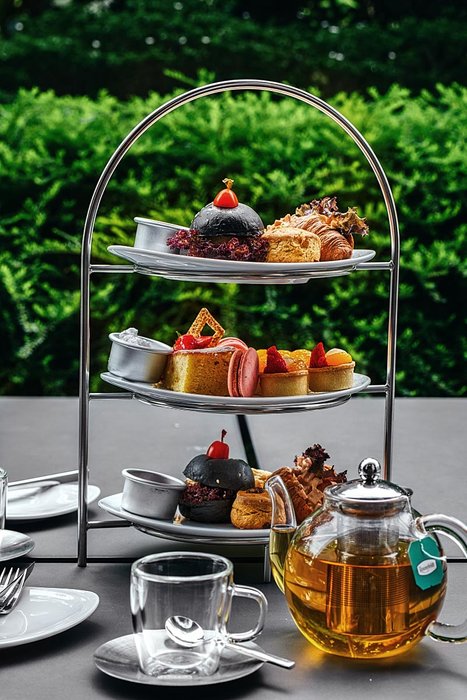 2PM lounge afternoon tea set has a modern and clean look.
Rooibos is a Healthy Option
Nowadays, people like to have plenty of choice and Ronnefeldt's loose tea collection is more extensive than the pre-portioned one. Much to my disappointment, the tea bags are being used for service at the G Hotel Kelawai, but it doesn't mean that I didn't enjoy my cup of Ronnefeldt Rooibos Vanilla tea. It tasted earthy and slightly sweet, with a taste of real bourbon vanilla, making for a full-bodied tea and a fine aroma. As a result, it left me feeling satisfied by many renowned health benefits of rooibos tea. Some of its antioxidants are unique to this herbal tea and on top of that, it contains 50% more antioxidants than the green tea. No wonder it is South Africa's national drink!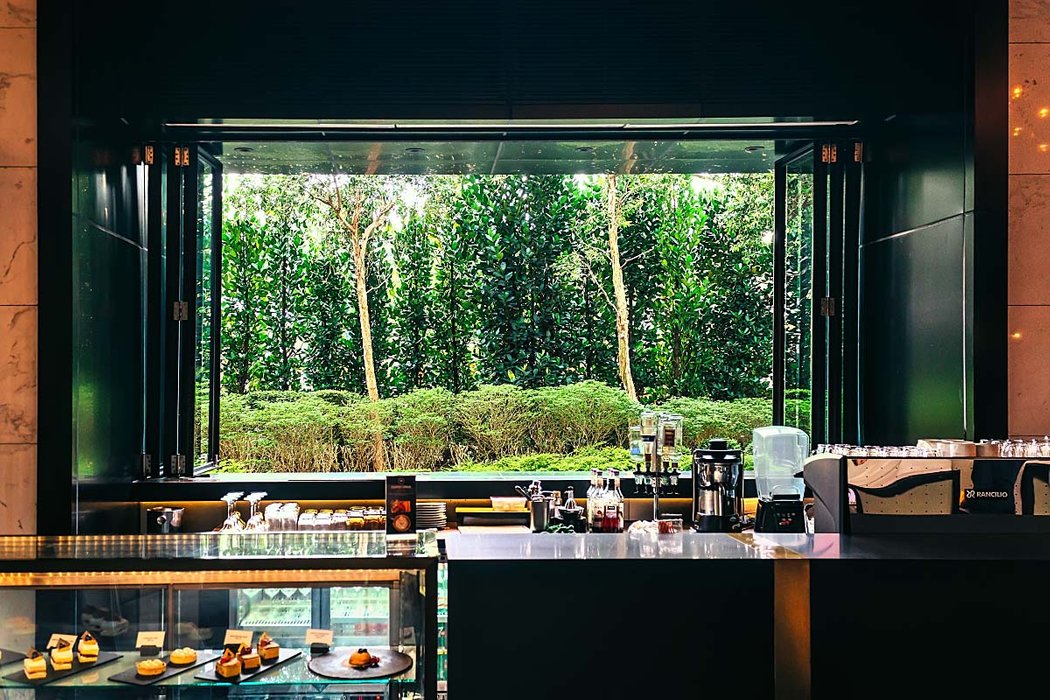 You can choose also sitting outside. If the weather allows, of course.
This time around, both of us went for a herbal brew, but they couldn't have been more different. Mine was more soothing with a caramel aroma while Ian's was peppermint tea, refreshing and invigorating. It is made of natural menthol, which gives it a pungent and cooling taste.
The 2PM Lounge Afternoon Tea
At the 2PM Lounge, we were honored to meet our host, who provided us with an extended version of their afternoon tea. That way we could review more of their food, which we were very grateful for.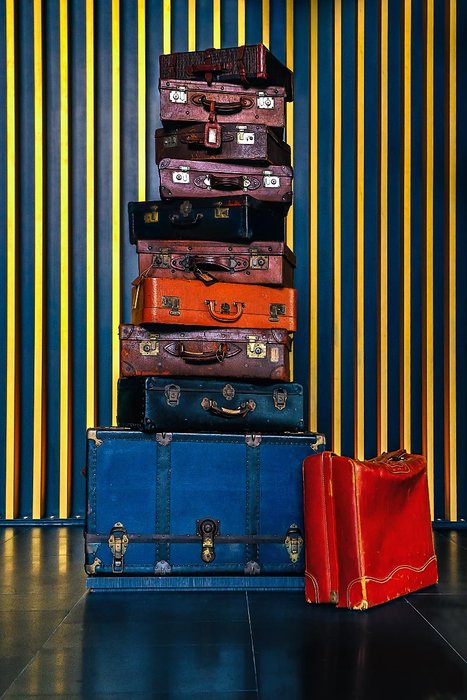 Old suitcases as a nice decoration here at G Hotel Kelawai
G hotel's afternoon tea menu combines neatly displayed savory pieces, scones, and sweets on a three-tier sandwich stand, as well as two cakes per person from their daily selection.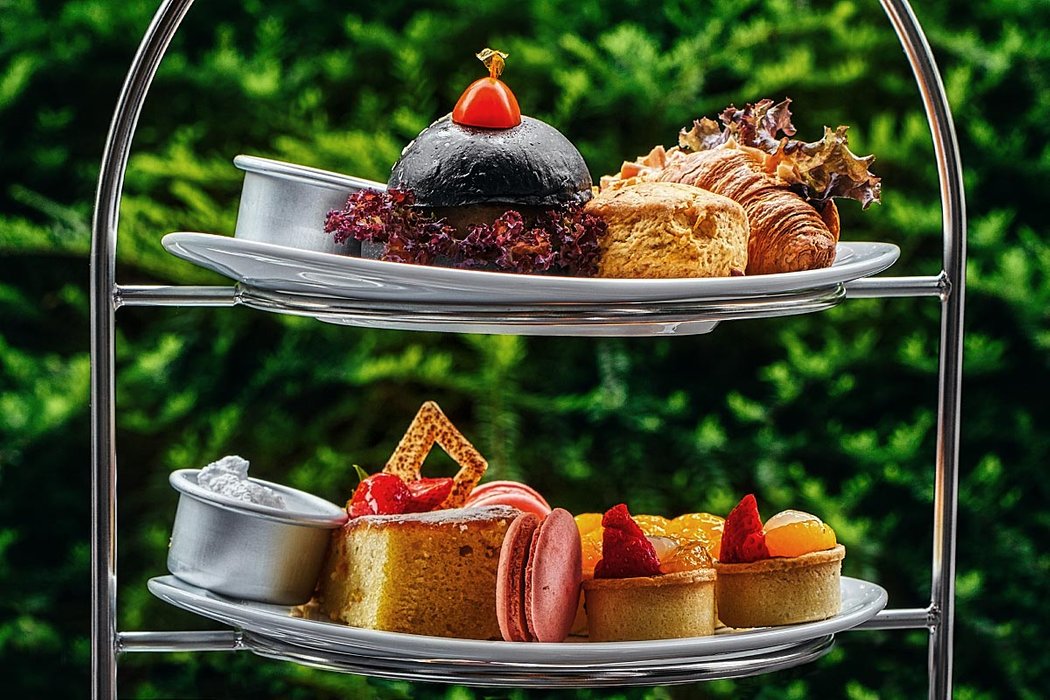 Our high tea set. Psst, one more savory plate is under the picture.
The pastry chef here makes different cakes every single day. Making your choice will be challenging, there are just so many delicious looking desserts. Luckily this time we had a complimentary cake tasting, but next time we go there, the choice won't be easy at all.
Savory Bites @ 2PM Lounge Afternoon Tea
We started off with the black slider, filled with juicy chicken and crunchy lettuce, complemented by a soft bun, which was really fresh. To point out, the chefs make pastries from scratch every single day, including crispy croissants. They use them to make a sandwich for the afternoon tea, adding ham, lettuce, and mayonnaise for a simple but tasty touch.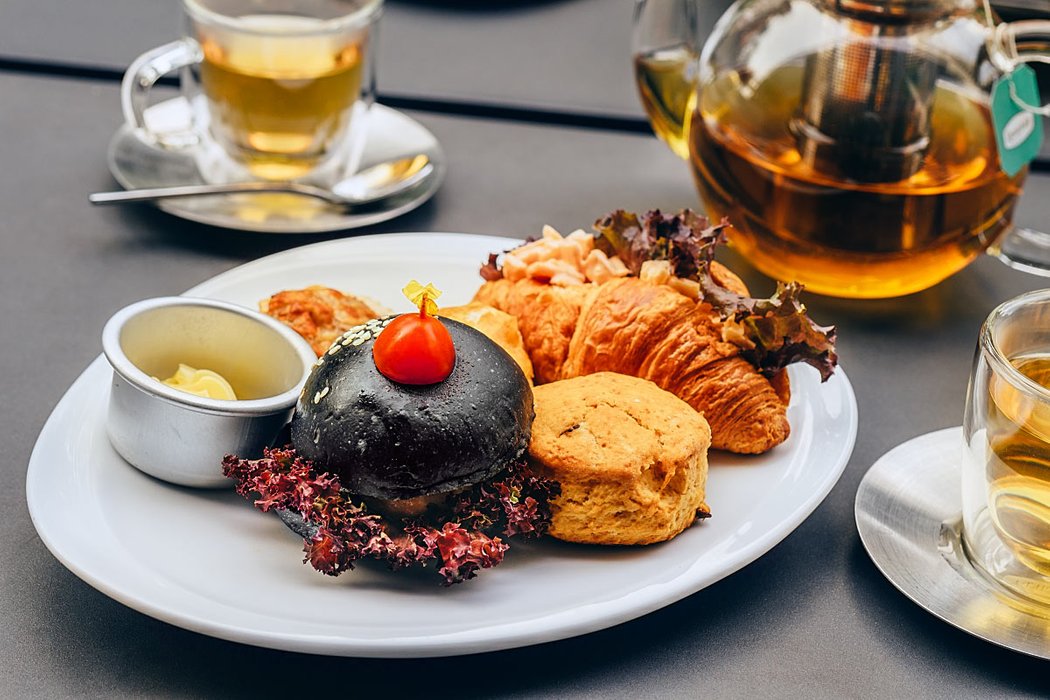 2PM lounge afternoon tea - Savory was delicious. Crispy croissant with ham, lettuce, and mayonnaise is my favorite.
A similarly nice bite was the tuna canapé, seasoned with a slightly sweet mayonnaise.  The next bite was a puff pastry with sausage in the middle. Pleasant strong meaty flavors were quickly washed away by a sip of the Ronnefeldt rooibos tea.
Scones
These rustic looking delicacies are my favorite part of the afternoon tea time bites. Fortunately, the scones at the 2PM Kelawai were very tasty, with a perfect crust. As a matter of fact, I would even say they are nothing short of perfect: they are crunchy and they don't have a floury aftertaste. And of course, when you couple with jam and butter, they are even better. The only downsides here are the jam and butter, which need some improvement – just changing the butter to clotted cream would make a huge difference!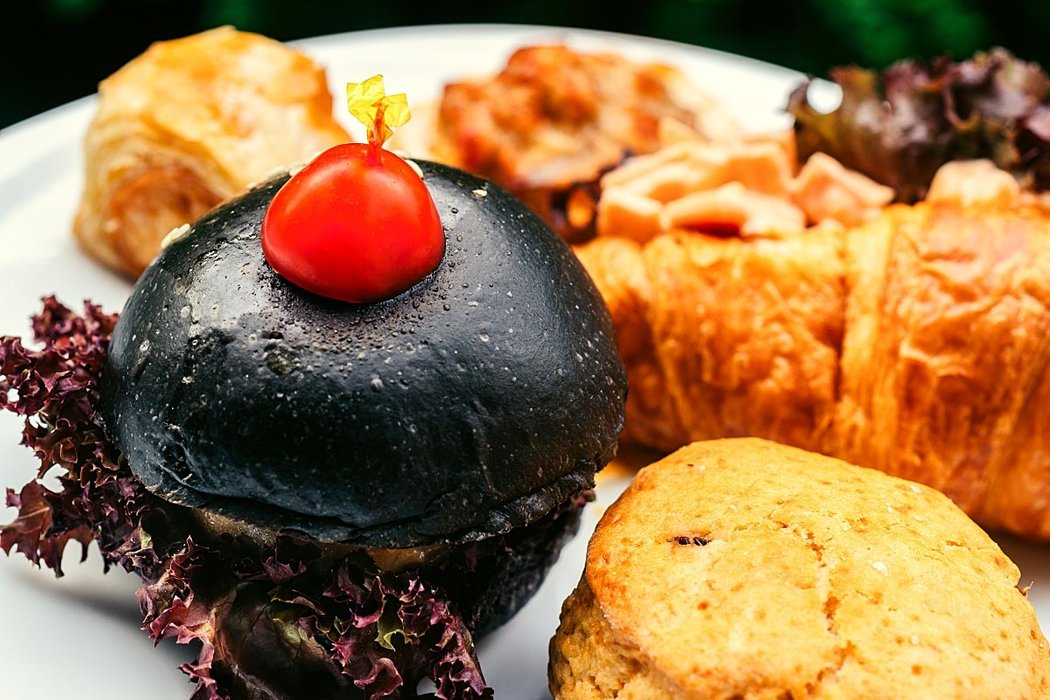 The black sandwich is one photogenic bite. Scones on his left ;)
Sweets
The sweets on the most afternoon tea menus that we have seen are usually are just the chefs' choice, but at the 2PM Kelawai, you make your own choices. Each guest can pick two cakes based on their own preferences. Personally, I highly recommend the carrot or banana cake – or both! Assuming they will be available that day, of course. They only use the best ingredients they can get here, and we were happy that the ingredients for those two cakes came on the day of our tasting.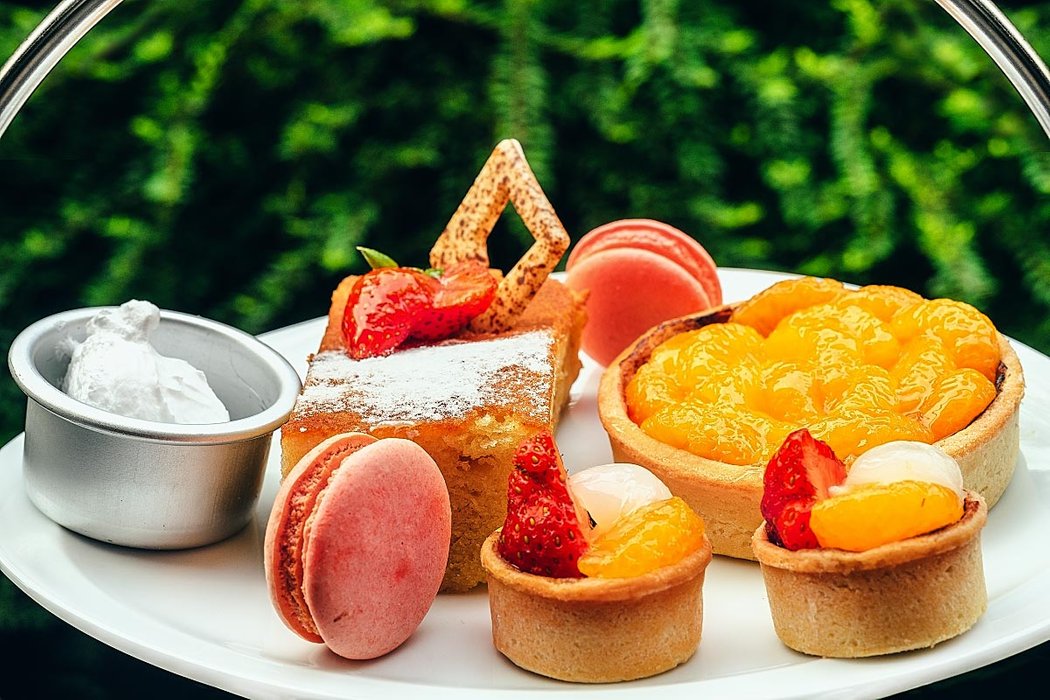 Sweets look nice and also taste amazing. Don't just look at pictures, read the review. Your mouth will be full of salvia, guarantee.
You Might Also Like
Carrot Cake is One of The Best We Have Ever Had
The carrot cake is fluffy yet moist, and the texture has a nice balance with a few crunchy nuts. On the other hand, the banana cake wasn't too sweet, to my great surprise. Here at 2PM lounge afternoon tea, the chef knows how to select the perfectly ripe fruit, with its natural flavor developed to the maximum. It was also a joy that this banana cake didn't stick to my teeth, as it has been the case so many times in the past!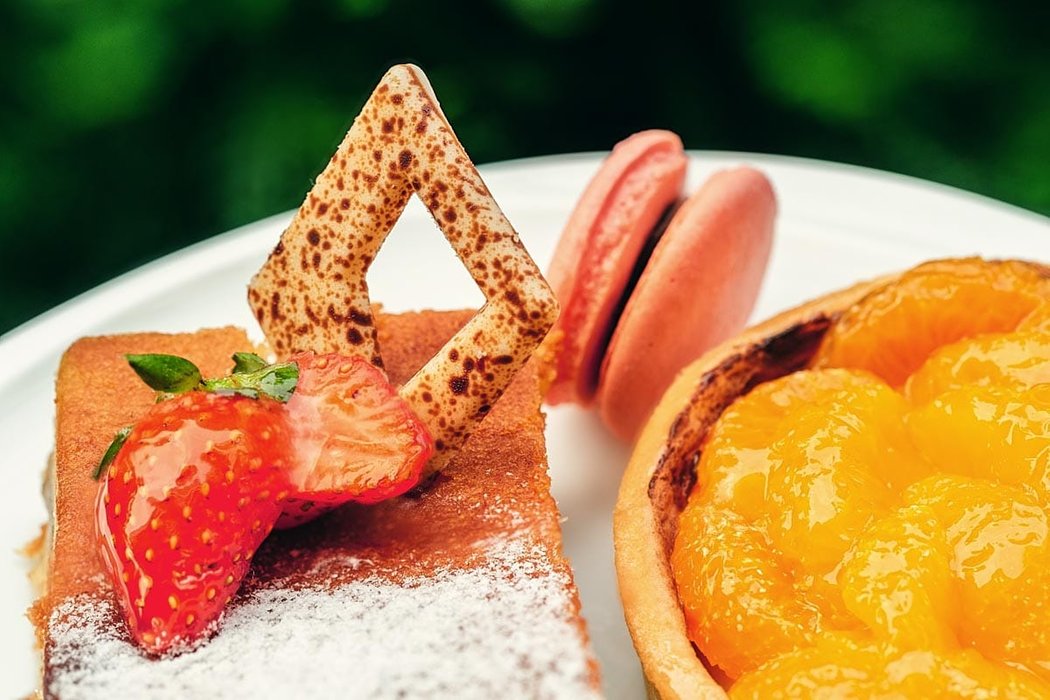 Macaroon is a very delicate dessert. Here at 2PM Lounge afternoon tea, it was flawless!
The chef selected a cheesecake for us, as this is 2PM's best seller – and with good reason! The filling is airy and creamy, light yet cheesy and not overpoweringly sweet. Besides the cheesecake, the macarons were also an utterly delicious treat that begs for a comeback.
You Must Try White Chocolate Lava Cake
Next on the sweet plate was the afternoon tea tart, which had a very toothsome crust and charmingly folded skinless mandarin segments on top. We also tried the white chocolate lava cake: this is a temporary specialty that is not included in the afternoon tea set. It was the cherry on top! Or should we say, the strawberry on the side, to be correct?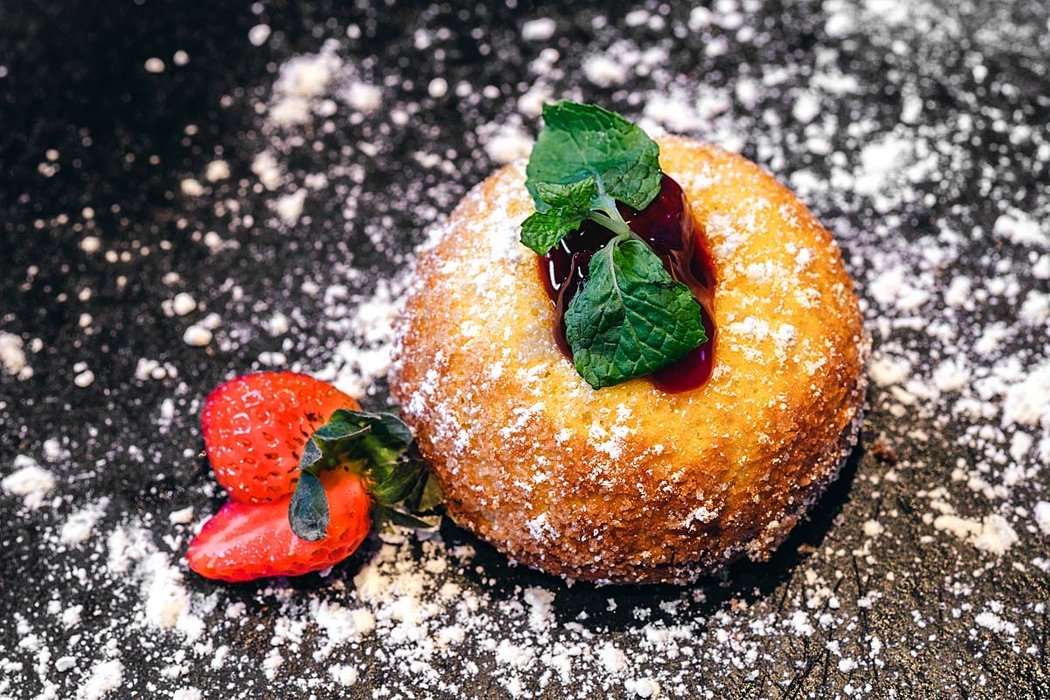 White chocolate lava cake is a must-try here at 2PM Lounge G Hotel. Recommended!
This cake has hot Swiss chocolate filling oozing out of it after the first cut. In fact, I really don't know what I liked more: the dough or the white chocolate filling. Certainly, there was no need for an extra dessert with afternoon tea set this extensive, but I wasn't one to refuse it either!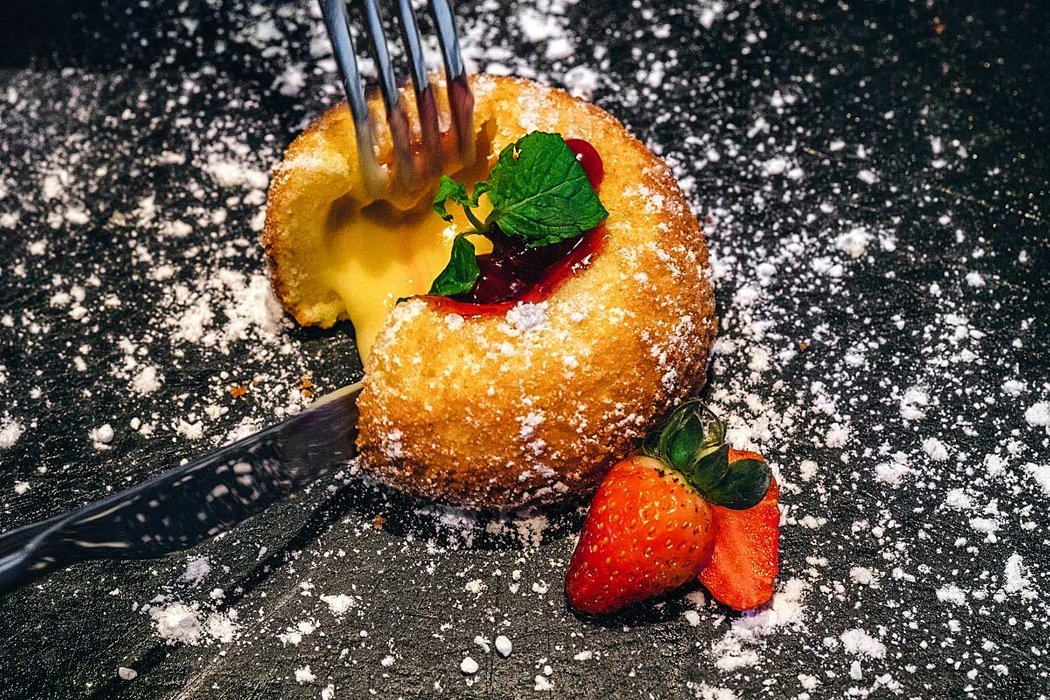 Here you can see why! White chocolate is delicious and high quality.
Conclusion
The English tea trend coupled with international influences reflects an open mind here at the G Hotel Kelawai. This is a place where the vision is pointed toward their guests' wellbeing: a little bit goes a long way and small things make a difference, like the very elegant cutlery. In addition, quality materials and ingredients seem to be important to the management team. We think what switching from tea bags to loose leaf tea would be a logical next step to take in the close future. However, they could also get away with increasing their prices, because right now this luscious high tea is a real bargain, so come here while you still can!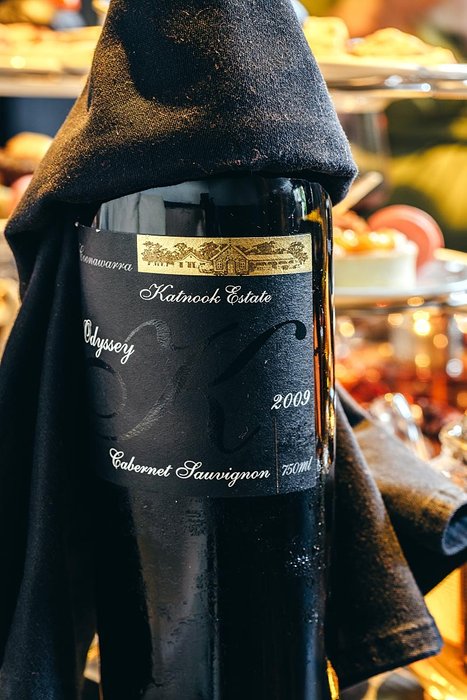 We were honored with amazing Katnook Estate, Odyssey - Cabernet Sauvignon 2009. Oak aging goes great with firm tannins, full body with a lot of plum and black currant, tobacco and earthy notes. The aftertaste is long and pleasant. Thank you very much for this nice introduction.
The 2PM Lounge might be a new player on Penang's afternoon teas field, but they sure know how to play. Our compliments to the whole team – we'll be back!
2PM Lounge Afternoon Tea Review Card
ATMOSPHERE – 8.7/10
SERVICE – 9.1/10
TEA SELECTION – 8.1/10
PRESENTATION – 9.1/10
BITES – 9/10
VALUE – 10/10
9/10
Price and Location
2PM Lounge afternoon tea for two persons is on the menu daily from 2:00 pm to 5:00 pm and comes at a cost of 12 USD. Temporary offer White Chocolate Lava Cake will set you back for 4 USD and after 6:00 pm you get two for the same price. Here is a link of location in a case you will give a try to this great high tea in Penang.
---
Posted from my blog with SteemPress : https://wnfdiary.com/2pm-lounge-afternoon-tea-g-hotel/
---