If I would make a detailed post, it would take the whole month for food tasting and probably five-part blog post, to barely scratch the surface. Well, food in Singapore is not just delicious but also very diverse. Singaporeans are obsessed with food, that is obvious throughout the city. In the shopping malls, the food places outnumber all other shops combined. The offer of food is huge, you can have a meal for as cheap as $5 or one up to $300. From Balkan "chevapcis" to French pastries. There is everything you can wish for. Well, some are really good, even better than the original piece, while others don't get near original one. We were in Singapore two weeks and visited some places with help of the locals. So, I think we can give you some advice or idea for your next meal. But before I begin sharing our experiences, you should know that this guide is based on our taste.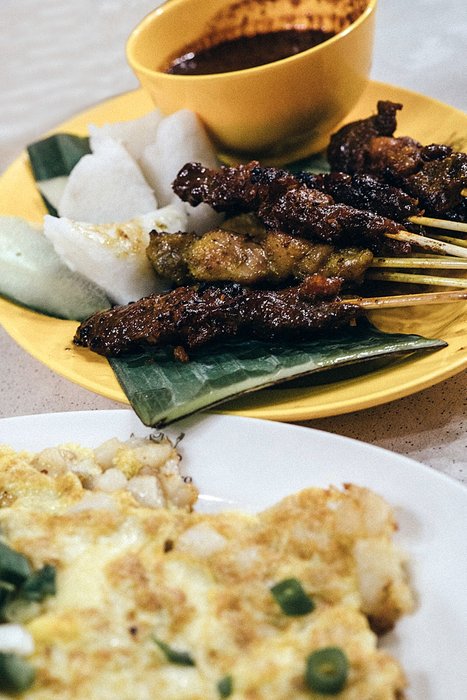 Satays are dealicious in Singapore

There is no simple answer to the question of what authentic Singaporean food is like. Here is a big mix of Chinese, Malay, Indian and even western influence. The international dish is Kaya toast and Kopi O for sure. That is probably the best way to start the new day in Singapore. Kaya is a jam made with sugar, coconut milk, eggs, pandan leaves and is sometimes served with butter. They spread it on toast and serve with two soft-boiled eggs. I love those eggs because they are boiled very slightly, and the flavor is rich. Kopi is their version of black coffee, filtered through the sock. This one you will find only in Singapore and Malaysia. If you want to have it without sugar, just say Kopi O kosong. Well yeah, in Asia is a huge sugar problem. They consume it in big amount. However, the coffee beans are roasted with sugar & butter to enhance the rich aroma and flavor. This all-day breakfast was great everywhere we tried it. Our favorite is maybe Ya Kun Kaya. They have around 40 outlets all over the city, and their original place is still operating. There you can try their toast made in an old-fashioned way – charcoal grilled.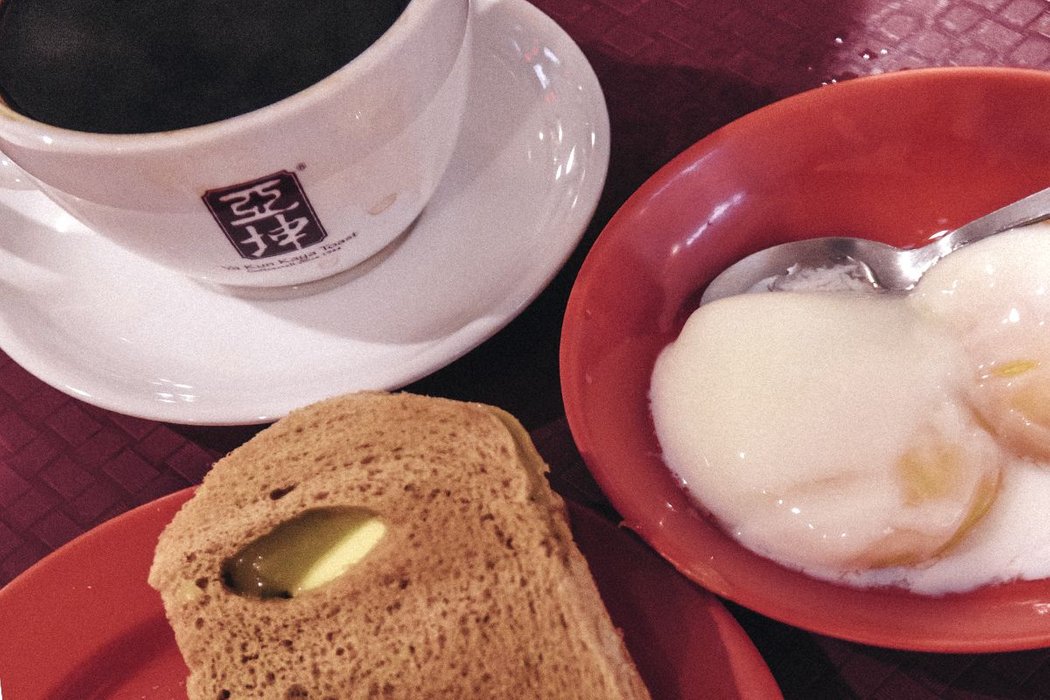 Kaya toast is traditional breakfast

For lunch, you can choose what would you like to eat. Chinese, Indian, Japan or Arab food. If it's Chinese, just go to China Town, if Indian go to Little India district or Arab district for some good falafels. However, you can find all cuisines under one roof at food courts or shopping malls. Good Japan food you find in Bugis+ shopping mall. The huge offer of ramen, sushi, and sashimi. Some stalls have amazing food, while others so-so. On our previous post, you can read our best recommendations on where to eat. In the afternoon you can join in the tradition of having some high tea. This English tradition can be found everywhere, where their colonies were established. The tea is usually served with a variety of savory, biscuits and of course scones. This English tradition can be found everywhere, where their colonies were established. To be honest it's a great break with your loved ones and an opportunity for nice chit chat. In Singapore, it's easy to find good afternoon tea. You can choose from more affordable and simple options or the proper culinary experience in high-end restaurants.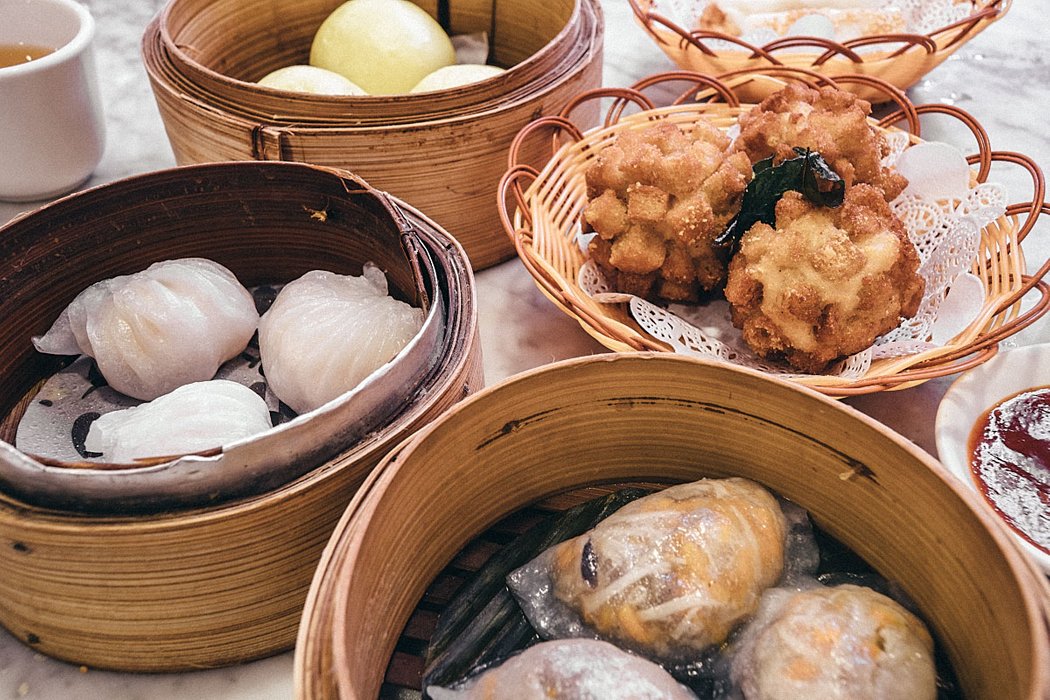 Chinese cuisine: Dim sums, dumplings, and meaty treats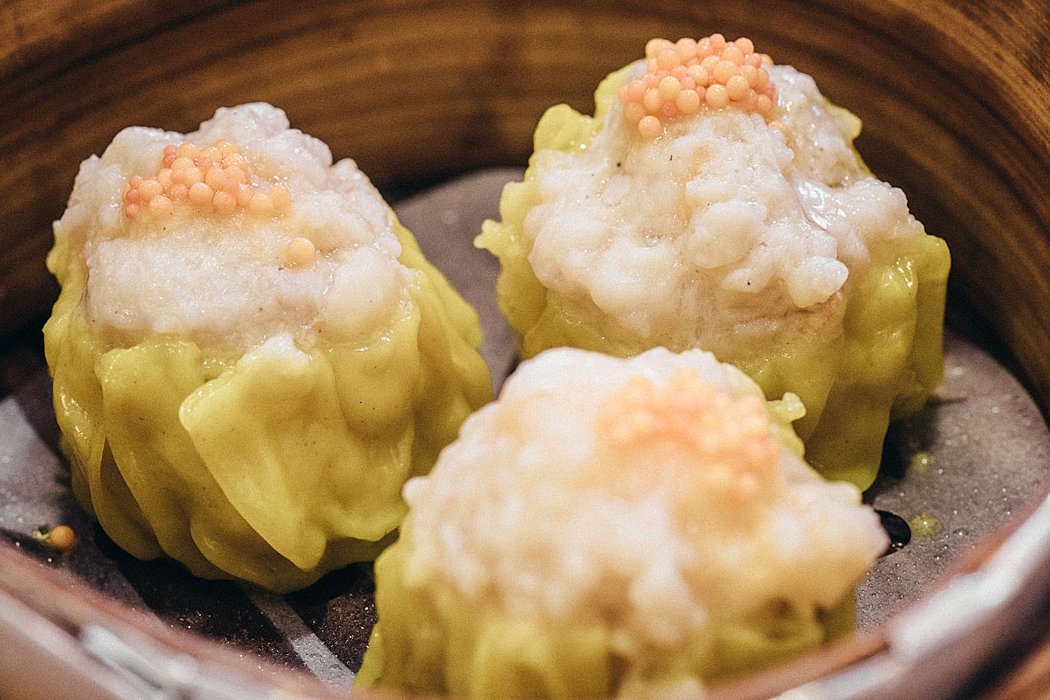 Chinese cuisine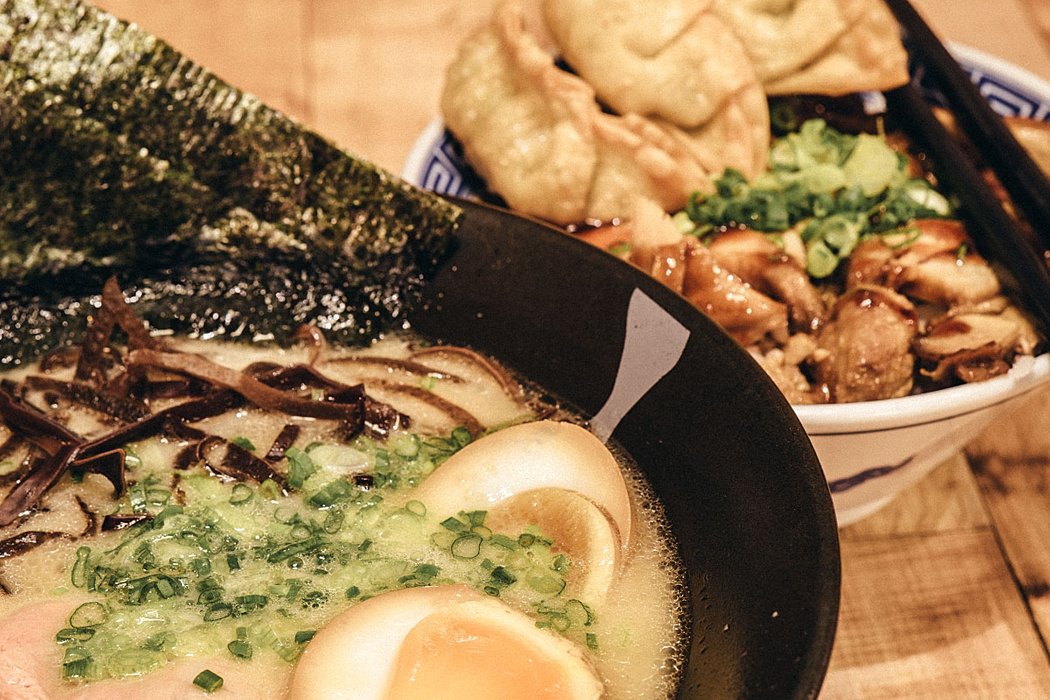 Ramen is a traditional Japanese soup - I found it very delicious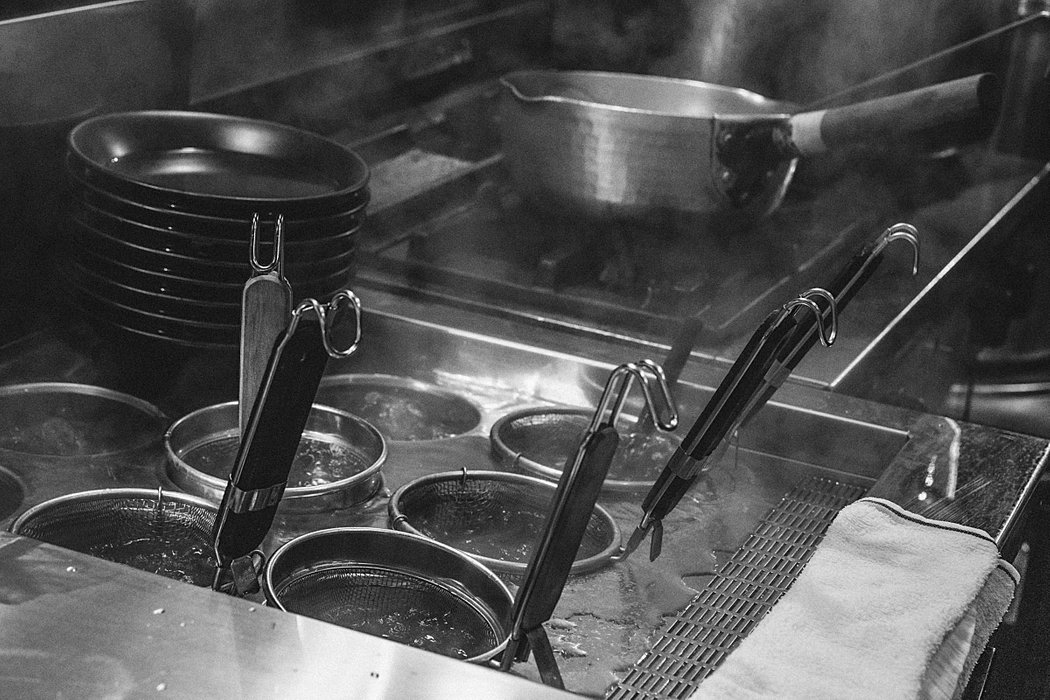 Noodles are boiling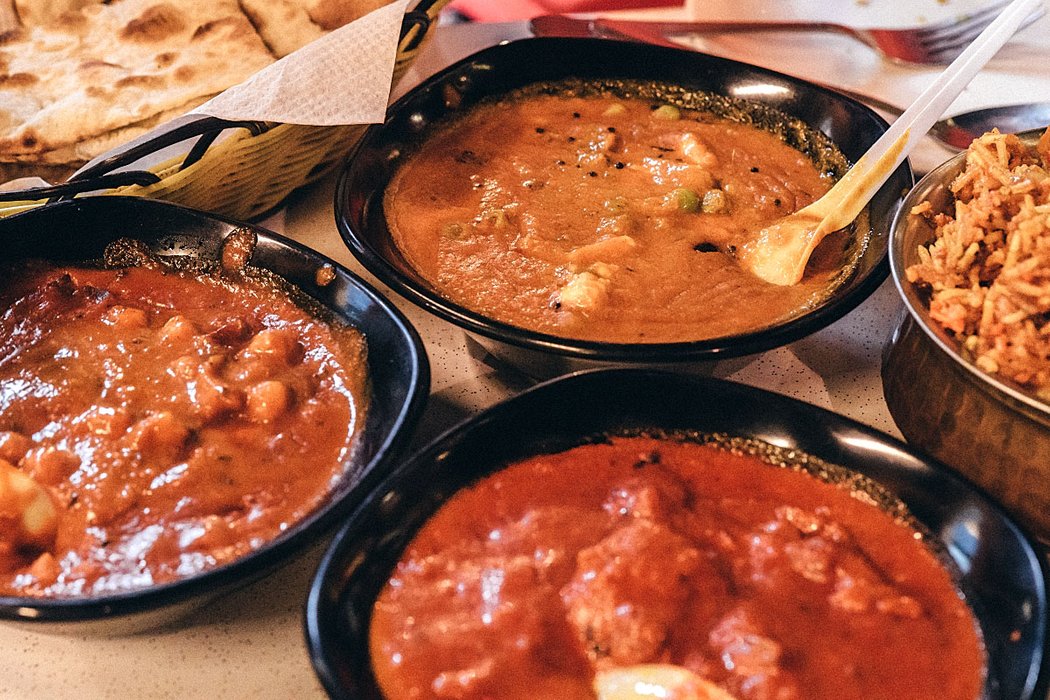 Indian cuisine: Spicy, colorful and extremly delicious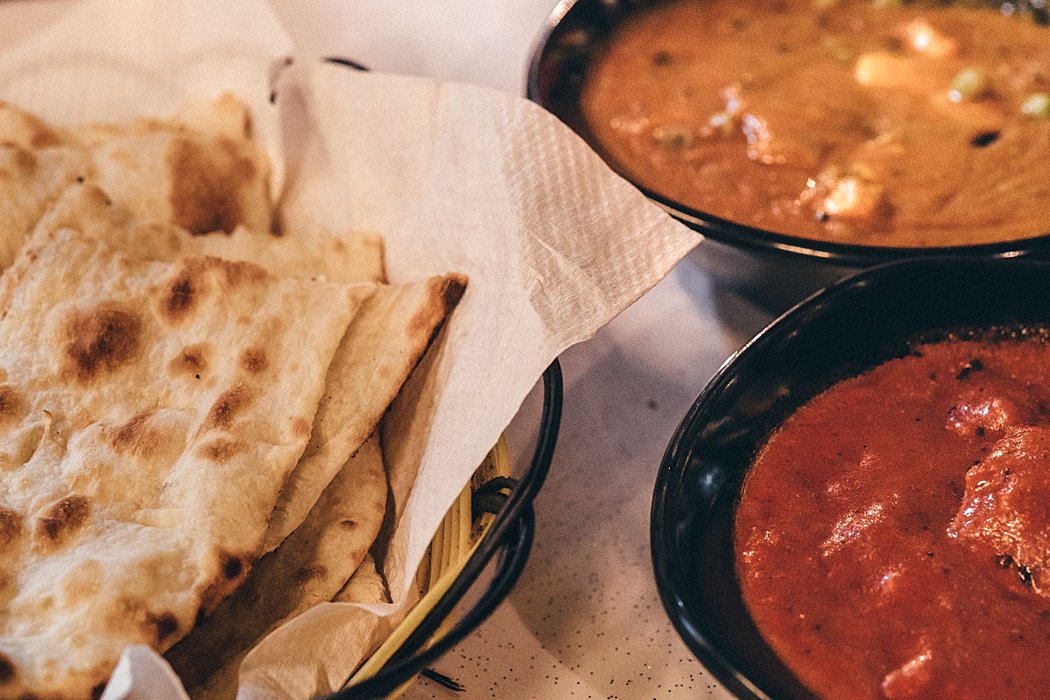 Indian cuisine

When it comes to dinner, we recommend some good Hawker. Hawker is actually food court — many food stalls under one roof. You can choose food from stalls and mix all these cultural differences in your preferred way. What is better than eat your favorite Indian sauce with your best Chinese noodles? In one Hawker we even found a Michelin star restaurant. By the way, it disappointed us. It's overhyped! Ou, there is another thing we were missing often in hawker centers. Desserts! Every hawker should have one good French — Italy style dessert stall. You know just to close the deal. Well, there are some deserts, but if you call Ice Kacang (red beans with ice and syrup and god knows what else) or Tau Huay (beancurd tofu that is sweetened with sugar syrup) a dessert, then we can't be friends.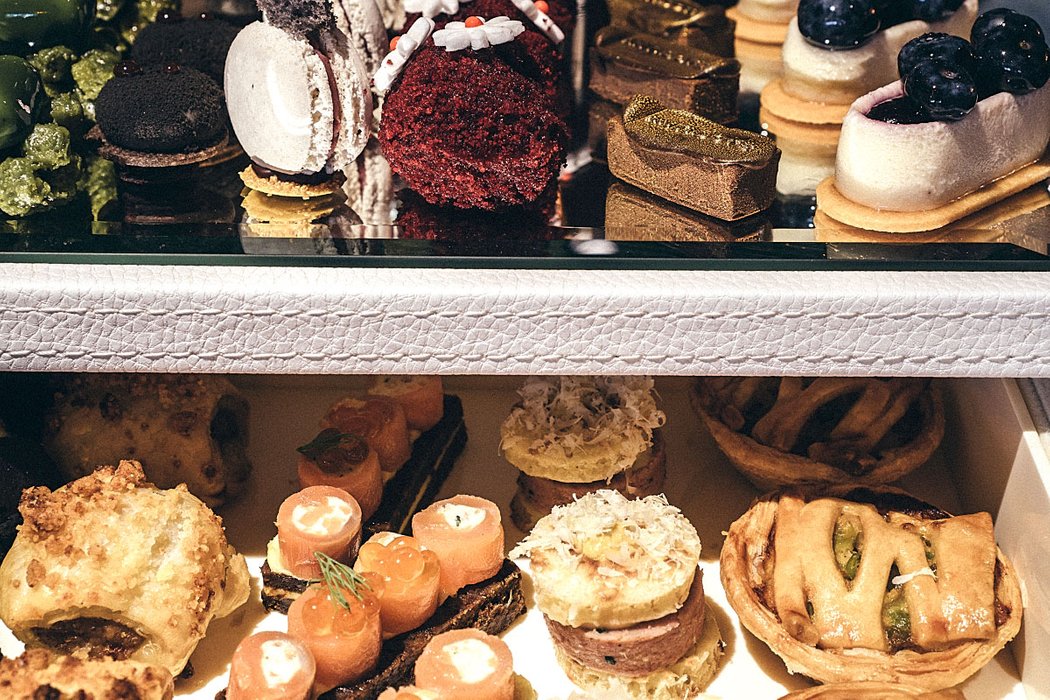 High tea is the time when you get relaxed and chat with your friends in a company of good food and tea of course

High tea

So, hawker centers are literally everywhere. Here are some famous and the more authentic ones, where you won't find a lot of tourists:

– Chinatown Complex Food Centre

– Old Airport Road Food Centre

– Maxwell Road Hawker Centre

– Tiong Bahru Market Hawker Centre

– Chomp Chomp Food Centre (this one is for late snacking, from 6 PM)

– Bukit Timah Food Centre (this one is above wet market, so if your stomach can't handle the fish smell, then pass it)

– Lau Pa Sat, formerly Telok Ayer Market

– Every mall has some food court

Here are some great dishes, you will find at hawkers:

– Laksa: Is a dish merged with Chinese and Malay elements. There is a lot of variations of this noodle soup. For Singapore is predominant Curry Laksa, which is made of vermicelli, coconut milk, tau pork (beancurd puffs), fish slices, shrimp and cockles (hum).

– Bak Kut Teh: In translation is this bones tea and the appearance confirms that. Yup, that is right and it's delicious soup! Bones cooked with star anise, cinnamon, and herbs.

– Chicken Rice: The whole chicken is steeped in sub-boiling pork and chicken bone stock to absorb the flavors and cook till perfection. The rice served beside is cooked also in broth with some ginger and garlic. Just add some soya sauce and red chili and you are good to eat.

– Hokkien Mee: Probably the most famous fried noodles in Singapore. Originally has its roots in China (Fujian province, where Hokkien people are from. A mixture of egg noodles and white rice noodles that are fried in a wok with egg and pieces of seafood.

– Wanton Mee: All sorts of noodles, but mostly yellow egg ones with vegetables and dumplings. It's usually a mixture of minced pork, but sometimes it can be with a shrimp.

– Dim Sum: a style of Chinese cuisine prepared as small bite-sized portions of food served in small steamer baskets or on small plates. Dumplings filled with a variety of fillings. Use to be steamed or fried, savory or even sweet. Usually, are served with tea and it is great to have a companion and share a lot of those great bites.

– Satay: Meat or fish baked on charcoal with super delicious peanuts sauce.

– Curry Fish head: This dish is probably from India. It's delicious, rich and unforgettable. The rice soaked with this broth is something, what will make your day. It's stewed red snapper in curry with assorted vegetables like Lady's Finger and brinjal. You'll find also a Chinese version of this dish, which is a little bit lighter on spices.

Thank you for reading. I hope you got a feeling how the food in Singapore looks like. Please check our last 5 blog posts on Steemit

WHY YOU SHOULD VISIT CLOUD FOREST, FLOWER DOME AND THE OCBC SKYWAY IN SINGAPORE

THE WORLD IS DYING AND THIS IS NOT MY PROBLEM!

BAR STORIES - HIDDEN BAR: REVIEW OF THIS HIDDEN GEM!

NIGHT SHOW AT GARDENS BY THE BAY