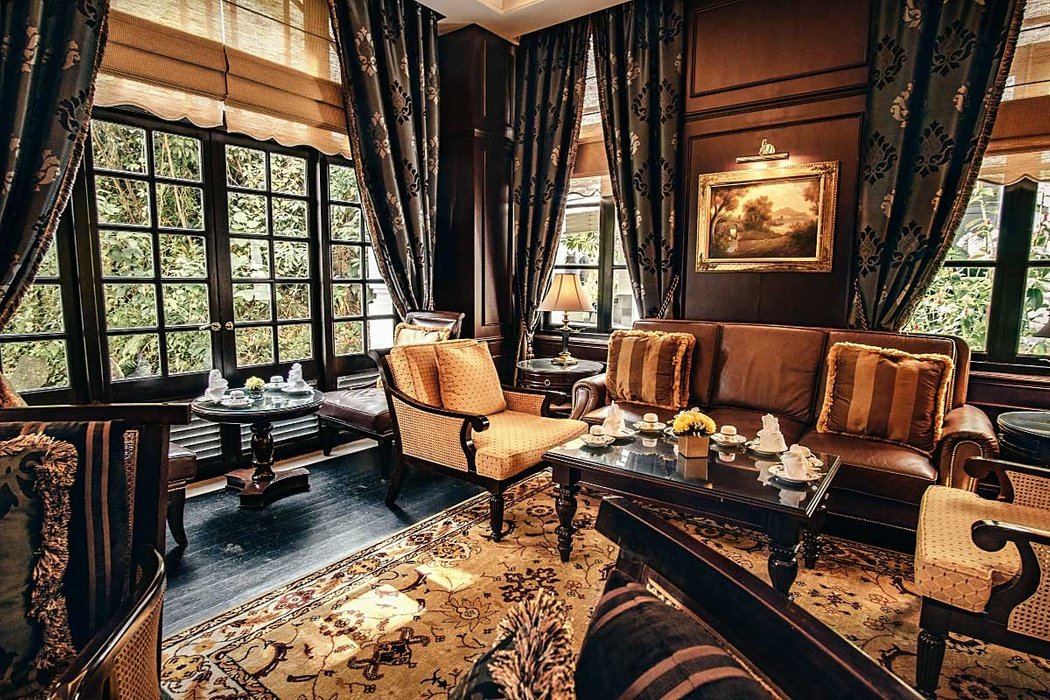 To be perfectly honest, we were really hyped up about The Majestic Hotel Kuala Lumpur. The Majestic Hotel Kuala Lumpur is actually under Autograph Collection. Hotels in the Autograph Collection are independently owned and are operated under the Autograph Collection name. We passed in front of it a few times before and every single time we did, our eyes stopped at the entrance. There is something magical about that place, perhaps it's snow white colored colonial style building.
The porters here even wear the colonial style clothing, and one of them was nice enough to welcome us and help with our luggage when we arrived at the hotel. The lobby is very spacious, which gives a wow effect right when you come into this great building. Right in the middle of the lobby is a massive table with a beautiful floral arrangement, plenty of seating areas and a long and neat reception desk. Check in was quick and another porter took us to our room with all our belongings. Our room was in the original part of the hotel called the Majestic Wing. With this room, we also got 24-hour butler service and Majestic Club Privileges - what else can you ask for? The Majestic Club was our little slice of heaven, as we got fresh cocktails and snacks every day.


Majestic Club in The Majestic Hotel Kuala Lumpur is simply amazing!
Our suite
The Majestic Wing truly is majestic: everything is decorated to perfection and the colonial spirit is very much alive here. Our suite was tidy and I swear, for a minute, we were standing and staring in awe at the antique cabinets and decor. Later on, we found that one of the water glasses was missing and about a minute after we made the call, our butler brought us a new one. If there is a universal rating for hotel service, The Majestic Hotel Kuala Lumpur deserves 10/10. We would also apply the same rating to the bed: this is one of the most comfortable we've ever slept in. After these many months on the road, that is truly saying something. Despite how comfortable and inviting that it was, we didn't find it all too difficult to get out of bed. Morning breakfast buffet is something you can't miss.


Suite at The Majestic Hotel Kuala Lumpur
The suite is very spacious with a separate living room, bedroom and bathroom. The butterscotch art deco wallpapers work amazingly well with wooden floors in the suite. My only change would be to go for a more natural look of wooden floors instead of heavy painted ones. The bathroom was luxurious with the colonial black and white tiles, bathtub and walk-in shower. The living room was great and a perfect place to enjoy a second cup of coffee. The writing table with its comfortable chair can be used for working, while the spacious sofa serves for relaxation. Everything in the room is spot on.


Bedroom at The Majestic Hotel Kuala Lumpur
Food and beverage
It takes much more than a nice looking room and perfect service to make the hotel experience a great one. I believe that the food and beverage amenities share the same importance as the appearance and service that are offered. For breakfast, we headed to the Contango restaurant, where every guest is well attended to and where coffee or tea are served in under a minute. The buffet breakfast selection is extremely lavish: they have Indian, Japanese, Malay, Thai and English stations. There is also a fresh fruit juice station where everyone can choose their own fruit to make fresh juice. Of course, there is also an extensive selection of sweets. The only thing I missed on this buffet was some better cold cuts and variety of cheeses. However, this is the problem I got used to here in Asia, where these items aren't traditional.
All in all, breakfast was quite alright and the snacks with drinks we got in the Majestic Club were nice. There was one day where the desserts were not the best, they were just a little bit too dry for our taste, but that did not tarnish our overall experience.


Breakfast in The Majestic Hotel Kuala Lumpur
For special cocktails, we headed to the Smoke house, where we spend our late hours with our new friend Robert. We met this gentleman in the Majestic Wing and his traveling stories are still living with us. The Smoke house is a nice bar in colonial style and their drink menu is more than extensive. Next time we will write about our experience here and also about how I lost a pool game to an ex-professional player: just to give you an idea, this guy was playing with only one hand.
Majestic KL High tea
The next thing you can read about is our outstanding afternoon tea experience. We booked it in their orchid observatory, which makes it one of the greatest locations we have enjoyed afternoon tea in to date. The food was delicious and the Easter theme was just the cherry on the top of everything. Here is a link to Majestic Hotel High tea review. To point out this probably is the best high tea in KL. We didn't have the chance to dine at the Contango restaurant, but with the enormous breakfast and snacks, we weren't surprised that we simply weren't hungry enough. Next time we visit KL, we absolutely must try the Sunday brunch there - we've heard it's the best one in town, and we can compare it with the amazing buffet we had at the Mandarin Oriental, Kuala Lumpur.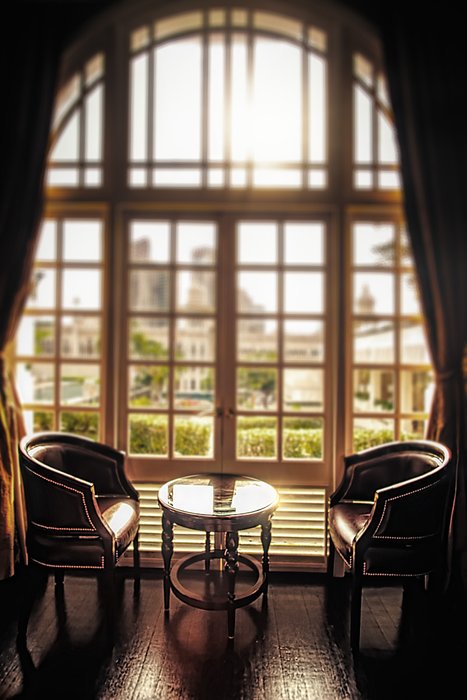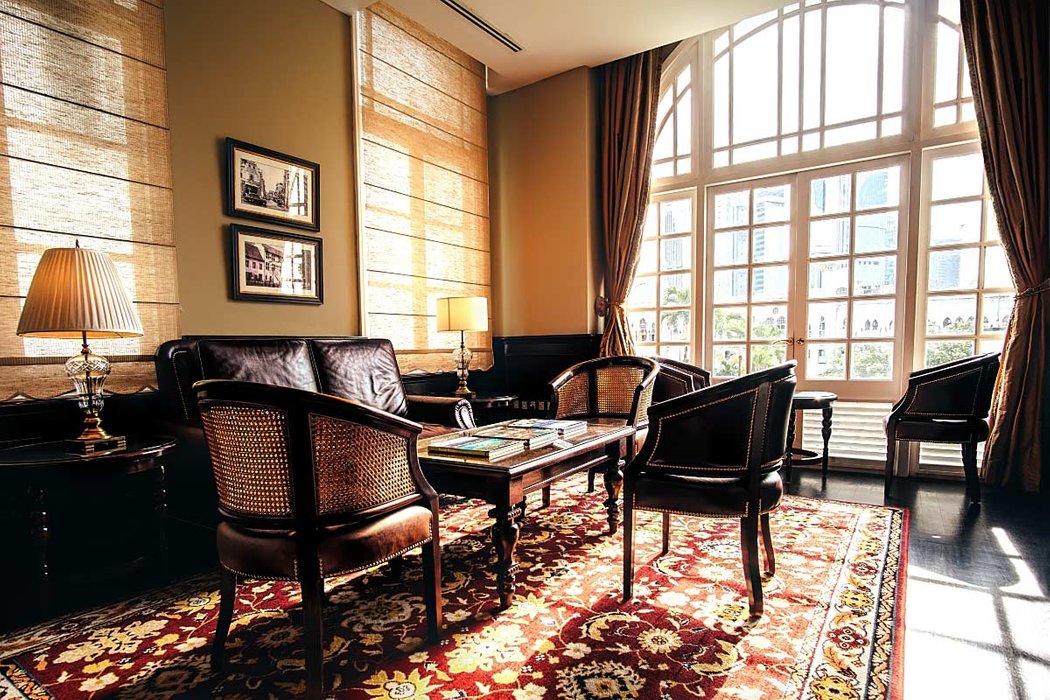 Facilities and amenities
The Majestic wing deserves the name it has been given. The colonial style is present everywhere and the facilities are majestic. There is a reading room which you can access only with Majestic Club privilege. This place is perfect for reading your favorite book, working on your laptop or just relaxing away from the crowd. They even provide snacks, so basically you can stay and enjoy all day long, but I don't see a point in doing that since you would be missing out on exploring the rest of this outstanding hotel.


Pool in The Majestic Hotel Kuala Lumpur
In the Drawing Room and the Orchid Observatory, you can have your afternoon tea or enjoy piano music at the Colonial Café. For more of an active stay, you will find a gymnasium in a new Tower Wing. On the rooftop are a pool and a terrace with trees and a pond as well. If you are afraid of heights, you'll be happy to know there is another pool in front of the Majestic Wing, where the Spa is located. There is also The Smoke House, where you can enjoy cigars and exclusive spirits. We saw a tailor and a barbershop here, which are amazing outlets, not often found in hotels these days. Our experience in The Majestic Hotel Kuala Lumpur was truly remarkable. There are so many nice amenities and you can choose to be active, productive or lazy, there is something for every mood.
Amenities are decent, we had everything we needed. The toiletries smelled nice and the feeling they left on the skin was great as well. The mini-bar was well equipped and all soft drinks were complimentary. Five stars!


Toiletries in The Majestic Hotel Kuala Lumpur
Service
The service in The Majestic Hotel Kuala Lumpur was very professional. All the staff spoke flawless English and we got everything we wanted. Check-in and check-out were fast, we got all the information we needed and we felt welcome all the time. The wait staff was well trained and polite to us in all the restaurants and bars. A special mention goes to the Smoke house staff, where they kept a professional attitude, despite the late hour. With this in mind, The billiard balls were always set up and the drinks were perfectly prepared.
We even called our personal butler for a shoe cleaning, and he did his job perfectly. Hotels with butlers have a special charm, and they truly are professionally trained. One day I will dedicate a post only to this noble profession. Anyway, all staff in Majestic is well trained and professional. We like also their uniforms which provide the great whole picture of the hotel.


Security at The Majestic Hotel Kuala Lumpur
Conclusion
This hotel will remain in our hearts forever as our stay there was more than just a pleasant experience. We stayed long enough to see a change of the main bouquet at the lobby. Both bouquets can be seen in our gallery, so you can choose your favorite one. Hotel amazingly good renovated. In addition, The Tower wing looks nice and their effort to show their heritage is acknowledged. We could easily forget in what era we are in, due to the colonial spirit which was all around us. YTL's hotel management department knows how to keep this old hotel in good shape and we recommend the experience to everyone. However, if you would like to know more about The Majestic Hotel Kuala Lumpur than you can check our History article about this gem.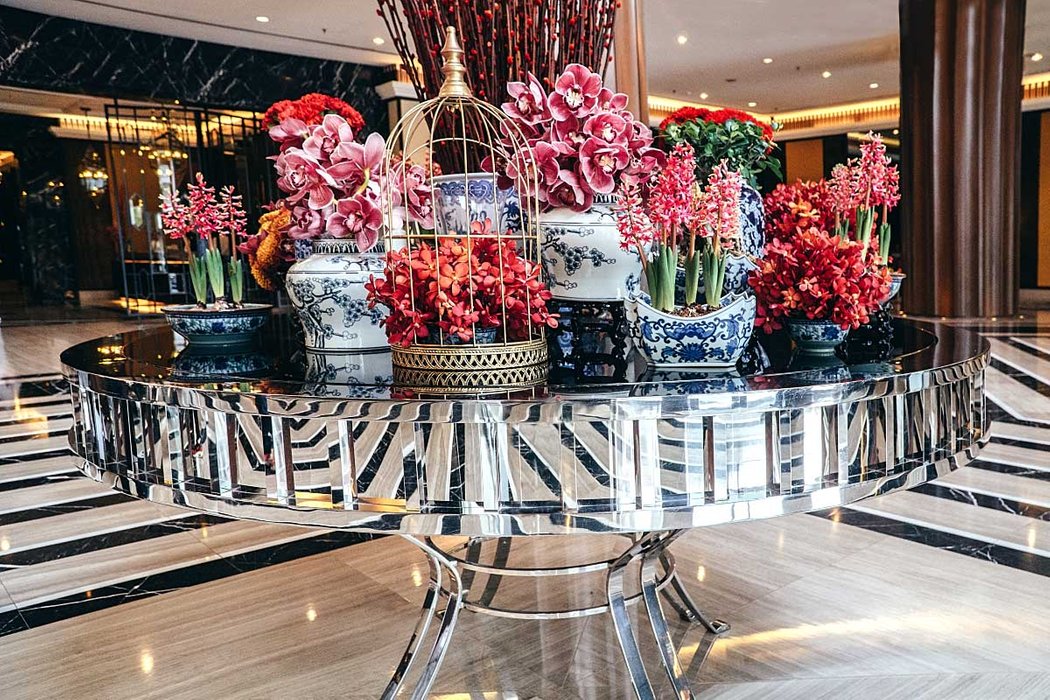 PROS: the rooms are outstanding, clean and well equipped. The service was flawless everywhere and the feeling in the hotel is warm. If you are a lover of heritage, this is the right place for you. Food and drinks were great and the happy hours in their bar was only a bonus.
CONS: plastic spoons at afternoon tea, it could be a bit cleaner.
Price, location and reservation
A night here at one of the best hotels in Kuala Lumpur will start at 90 USD. Our suite was about 130 USD per night, which came with a Club access as well. Location to The Majestic Hotel Kuala Lumpur is here. However, if you consider staying in this amazing hotel, here is our affiliate link. It won't cost you anything, only we will earn a small commission if you decide to book a hotel through it. Thank you.
The Majestic Hotel Kuala Lumpur review card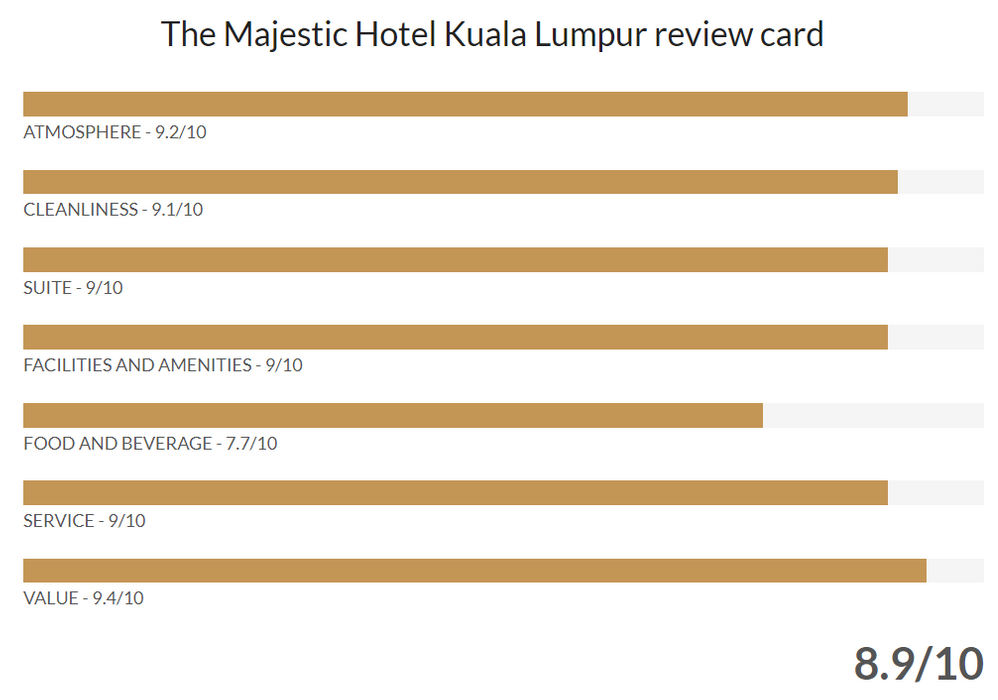 If you like our work, please support us
BTC 3ANoNhSW5m2toMNr4bina2uNEgC1ehinYg
ETH 0x18D454A20e06Dcd78637608170dc0161a35211aF
or on the decentralized social network:


---
Posted from my blog with SteemPress : https://wnfdiary.com/the-majestic-hotel-kuala-lumpur-review/
---