Hey there my Steemit friends! Welcome back to part two of our adventure "Hiking the Southern Coast of San Cristobal Island, Galapagos!" In part one we walked a half hour from our hotel to the beginning of the trail on the coast. On our may we saw a large mining operation, a school, and signed in to access the national park area. We walked down the path, reached Playa Loberia, and met some very friendly sea lions.
In this part we continue where we left off. At Playa Loberia, or Sea Lion Beach in English. We continue on the very rocky path along the coast. I practice speaking on camera for the first time. You can see that I'm not very smooth, but I certainly get better and more comfortable speaking on camera as the week continues.
On this part of the hike we find ourselves in the habitat of the famous Galapagos Iguana. The only Iguana in the world that takes to the sea, like a fish! They feed on algae, kelp, and other sea vegetation. They are pretty tough looking creatures. Some of them are big too. At first it's almost startling seeing these lizards all around; but they are harmless and simply move out of the way if they happen to be lying right on the trail. For some reason that seems to be their favorite spot to hang out.
The Galapagos is one of the most beautiful natural environments I've ever seen. I did my best with photos and videos to show you what it's like, and bring this travel experience to you, wherever you are! Now come along and let's hit the trail!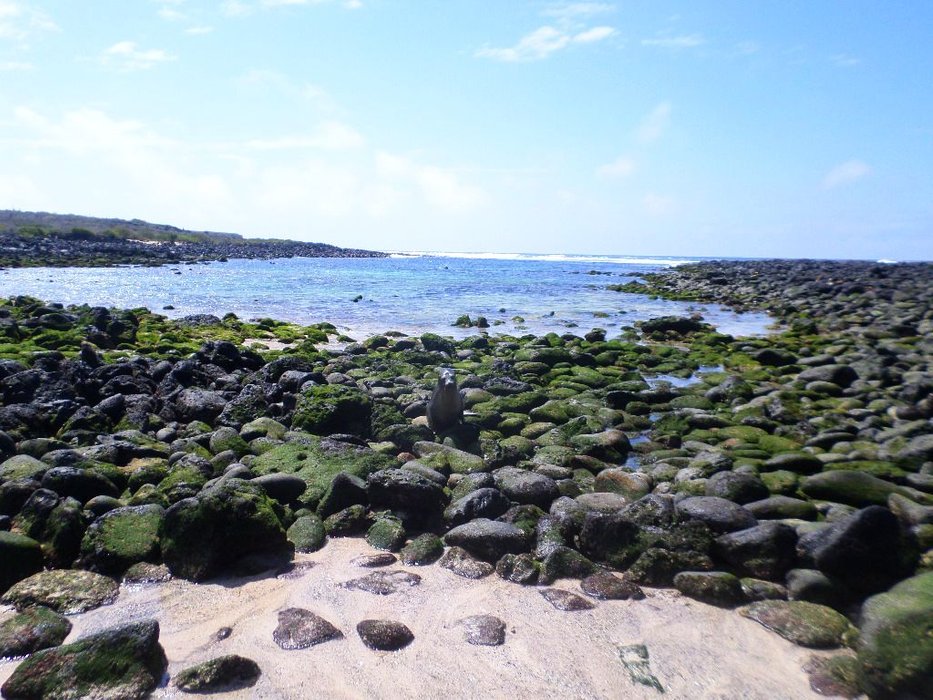 This is Playa Loberia; and there is a "lobo" or sea lion in English posing for the camera. It's almost hard to see him as they camouflage in well with these volcanic rocks.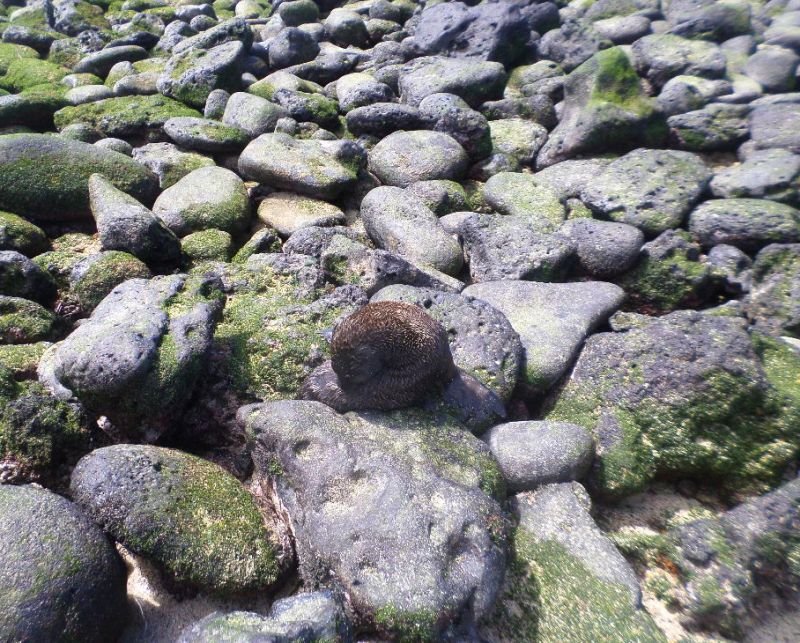 Here is a sea lion pup. It's mother most likely is out fishing as this little guy was all alone.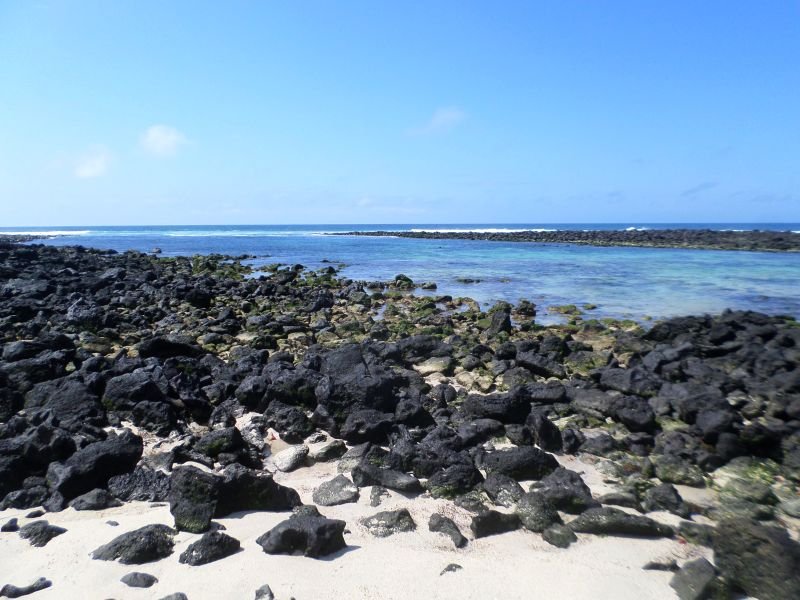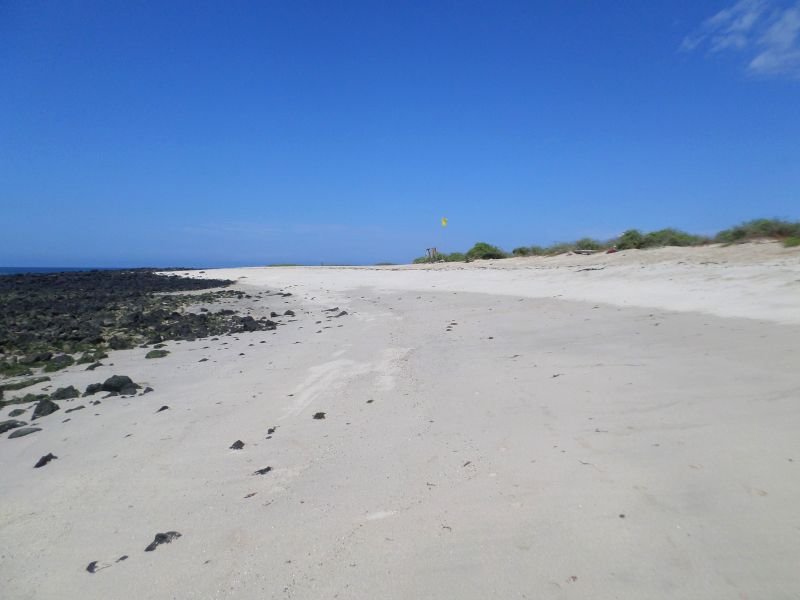 This beach is just how you see it; not the smoothest entry in and out of the water if you'd like to have swim. Besides avoiding the sea lions you have to be careful not to twist an ankle walking over these rocks to access the water. I did not go in, but I hear there is good snorkeling in this cove like beach. The water is very calm and shallow here.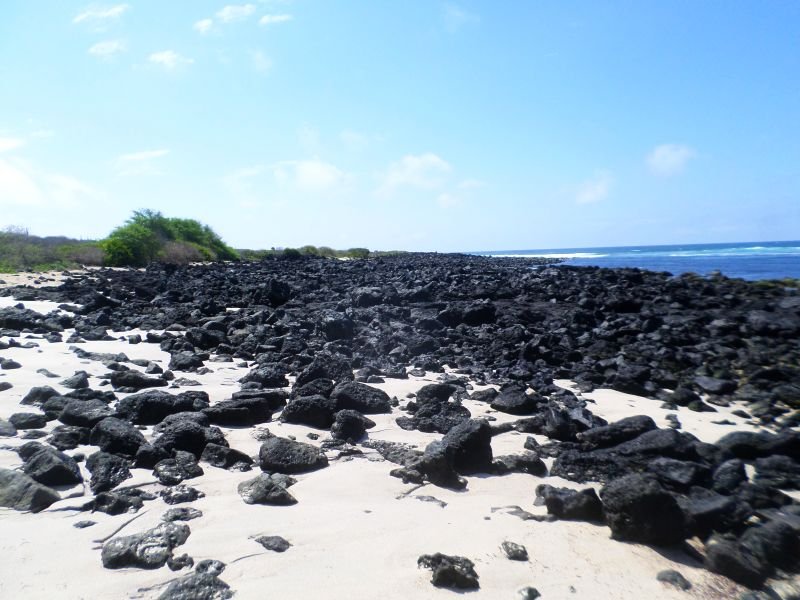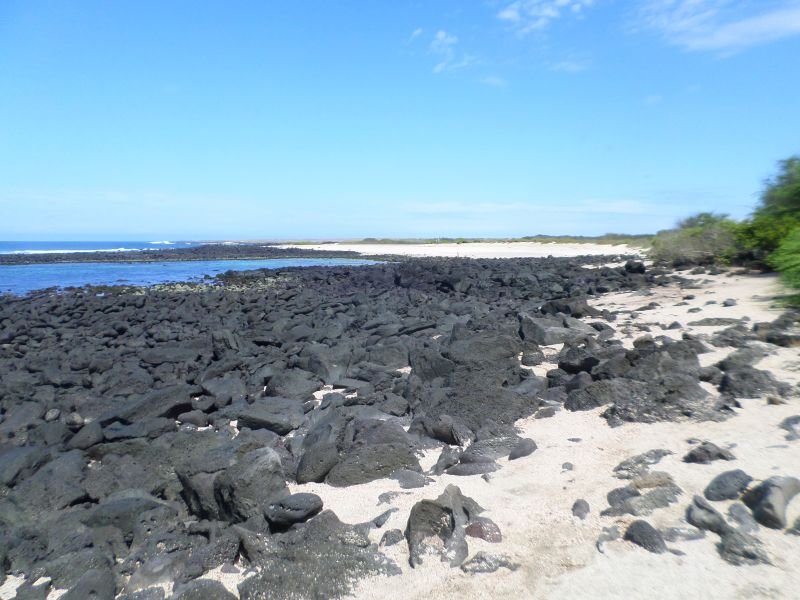 We continue our walk around the side of the beach "Playa Loberia". We look back and take this photo and continue on.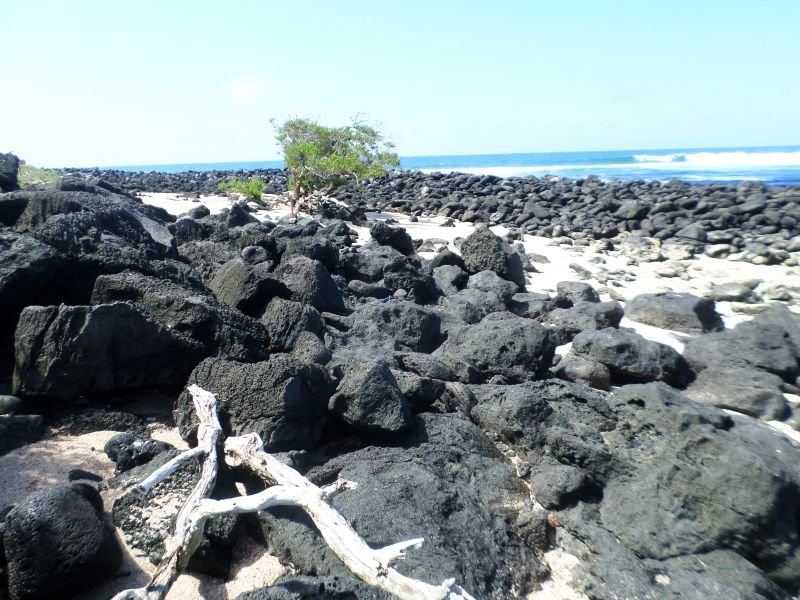 We have to be very careful walking around here. This is certainly no soft white sand or paved board walk!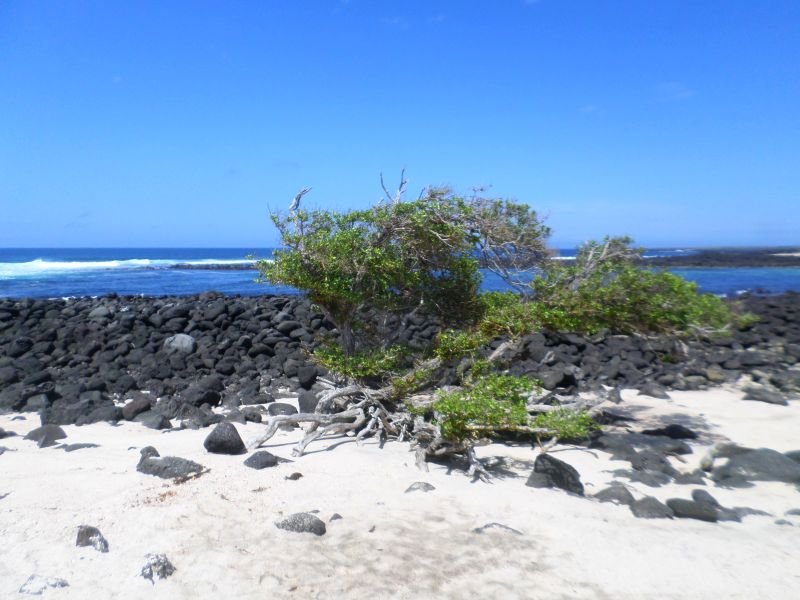 I was impressed with this tree's ability to survive. It has adapted so well to it's environment. It comes right up out of the sand with a trunk and main branches that look like dead, dried out drift wood! Yet it's loaded with healthy green leaves and is obviously alive and doing well.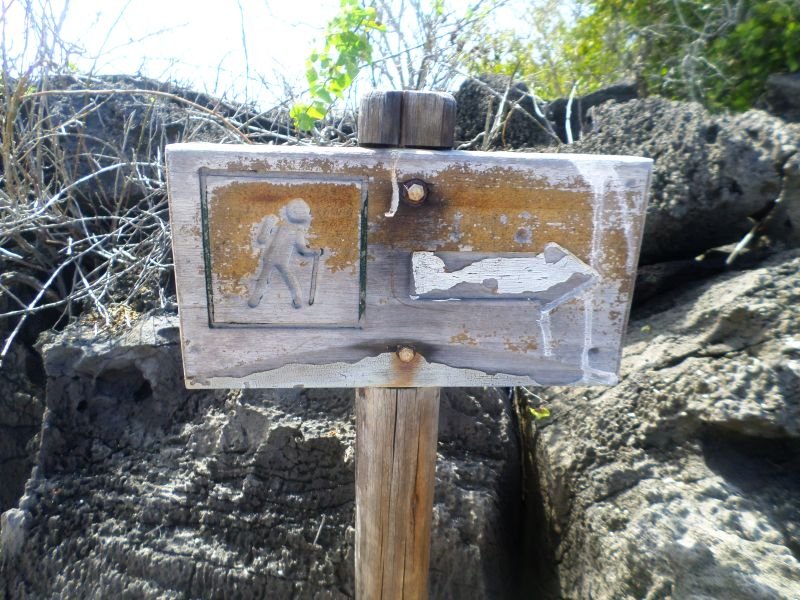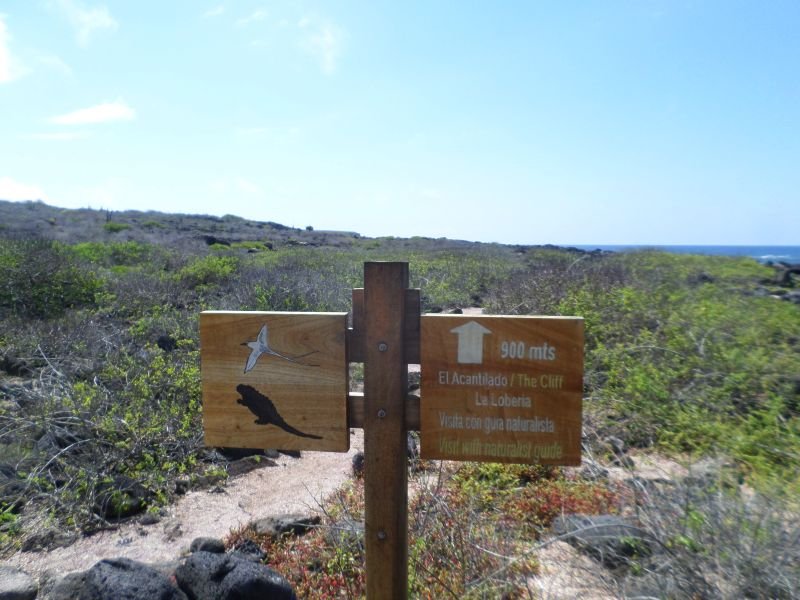 We soon come up on these two signs. Looks like we'll be seeing some birds and iguanas as we hike almost a kilometer to the cliffs! Let's go!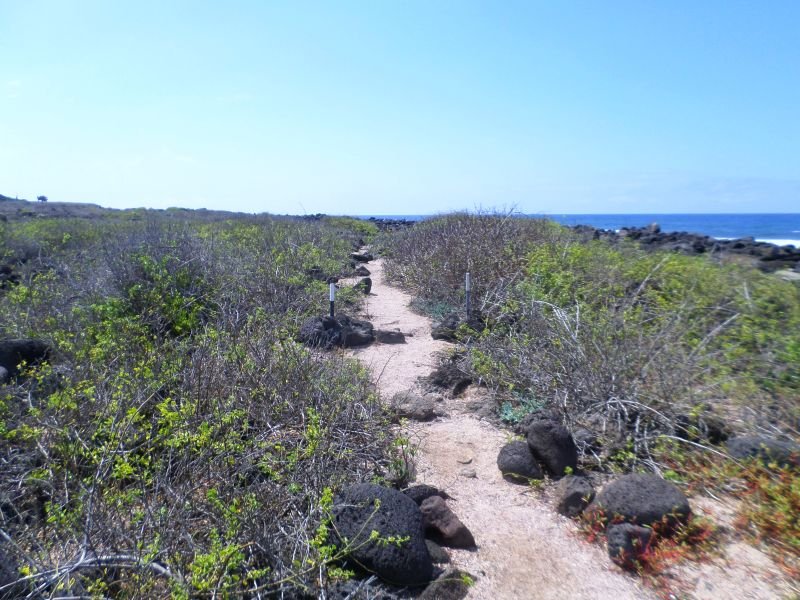 This is the trail, and has these markers all the way to keep us on course. Soon you'll see that the path kind of disappears into a rock field and the markers suddenly become quite useful.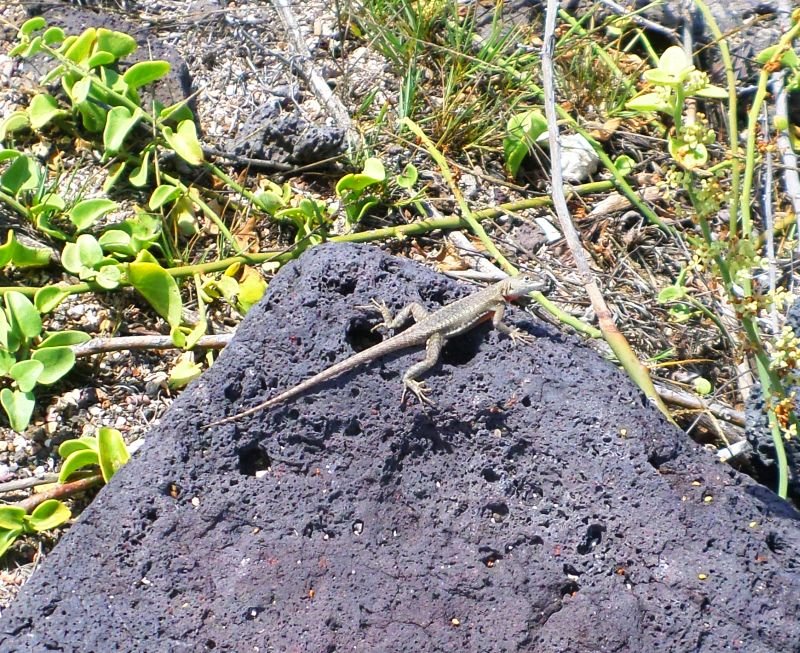 We see this tiny lizard first. I'm sure we'll see some bigger ones soon.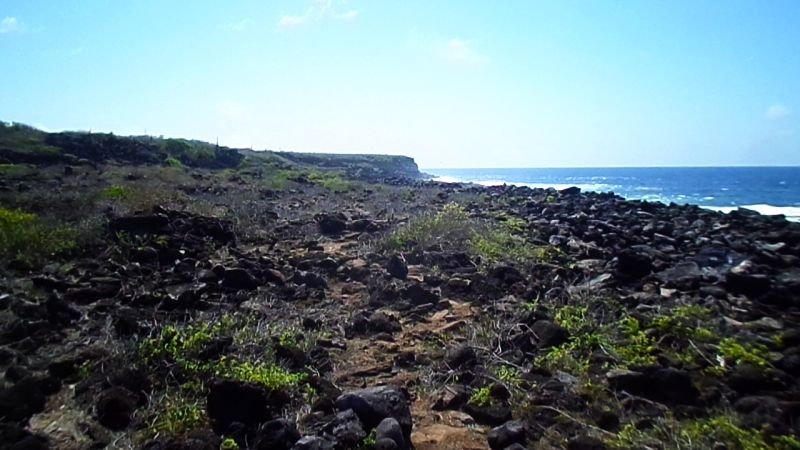 The trail is already starting to slip away into a field of black volcanic rock!

Here is panoramic shot. The Galapagos is such a beautiful place and it's a lovely day to be outside!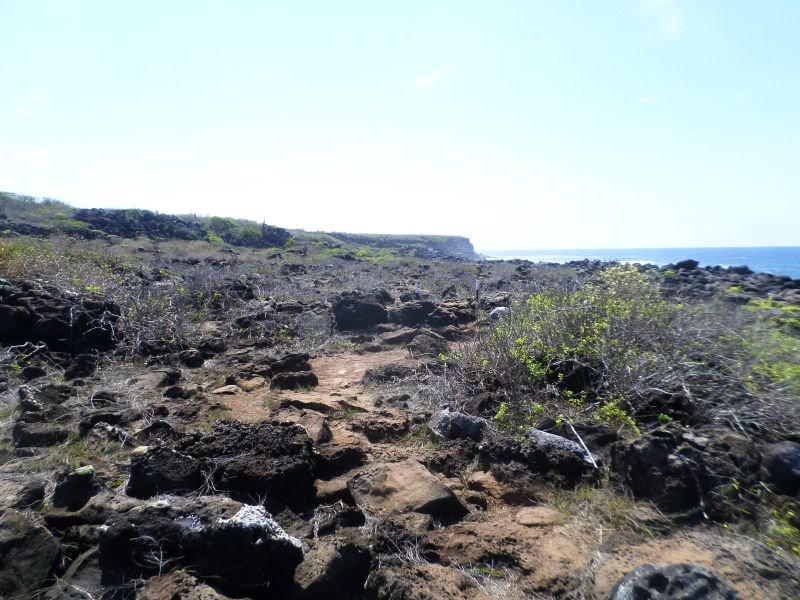 We continue down the path towards the markers you can see just up ahead. The white painted tips stick out well against the black background of the rocks.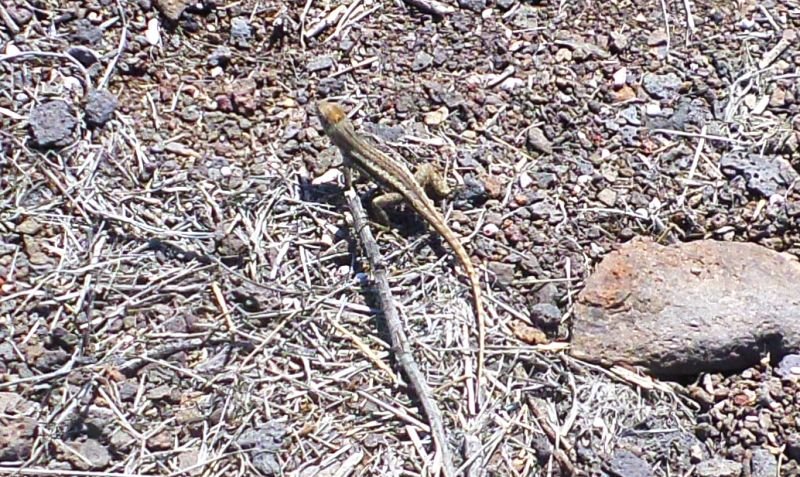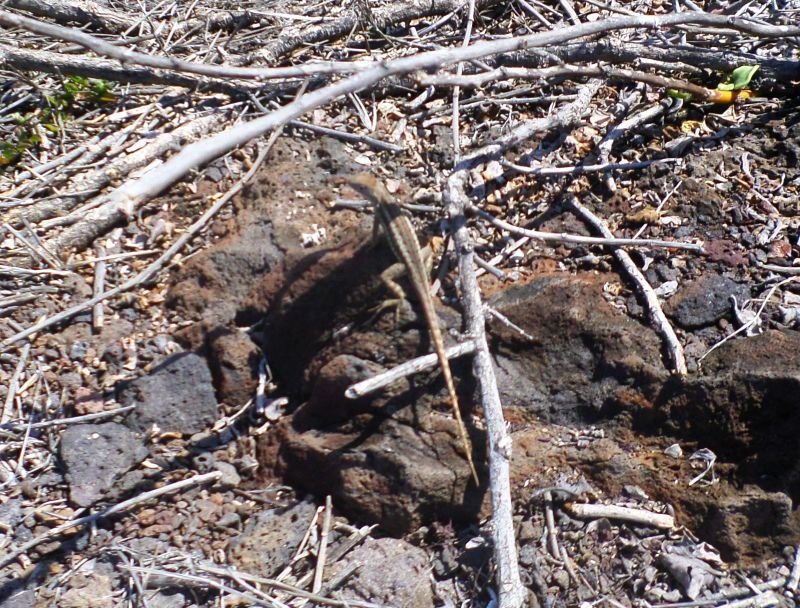 More small lizards!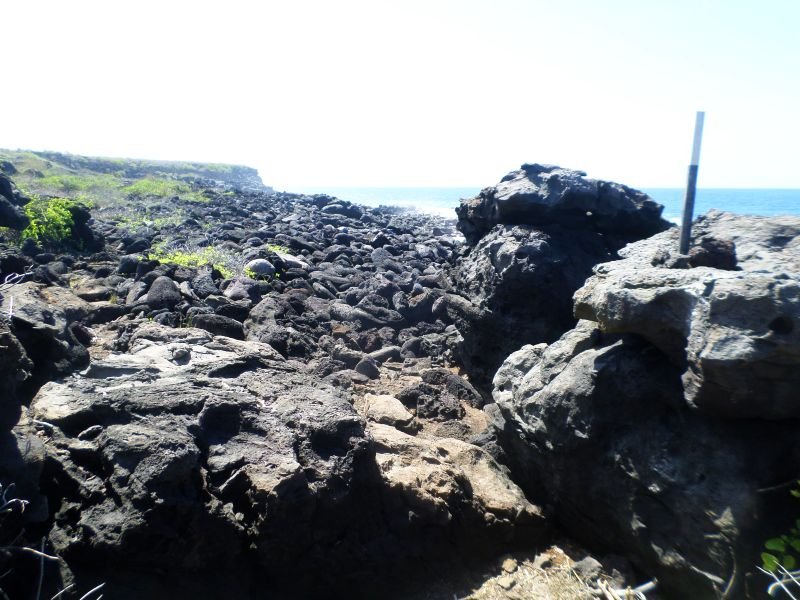 The terrain is starting to get a little more serious know. I like it! It's now starting to feel like were are on a bit of an adventure. Maybe we'll get lost and this will become a survival documentary!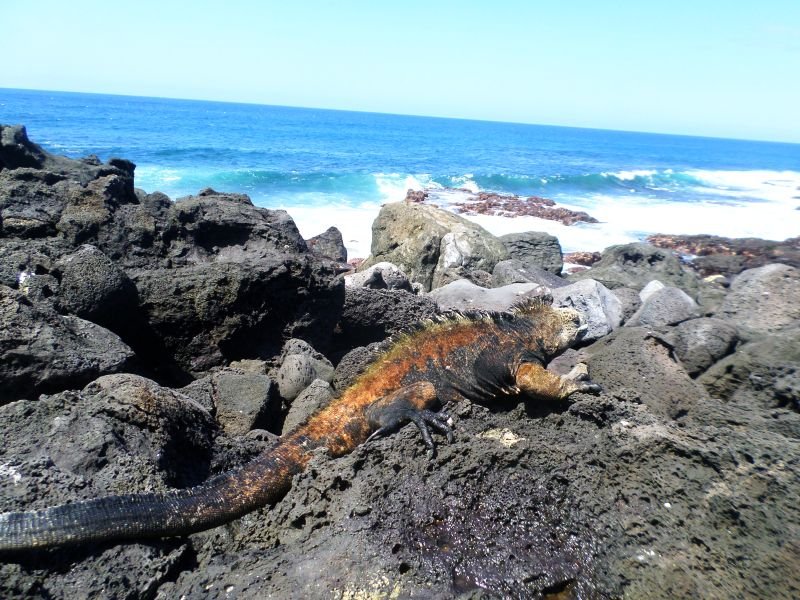 Then we see this big guy just sitting there along side the trail catching some rays. He didn't seem to mind my presence at all. I was just a few feet away. This is the famous Galapagos Iguana that swims in the ocean. What a beautiful animal with the orangish colors along it's back. You can see how these things are camouflaged into their environment. The black of it's body almost matches perfectly with the black volcanic rock.
Here is another one that was a little more active that I got on camera. Suddenly these iguanas were all over the place. Beside this iguana I was filming we could see another one running around in the background. Then a small bird lands next to him. This is the Galapagos; animals everywhere! What's most impressive is that none of them really seem to be afraid of humans.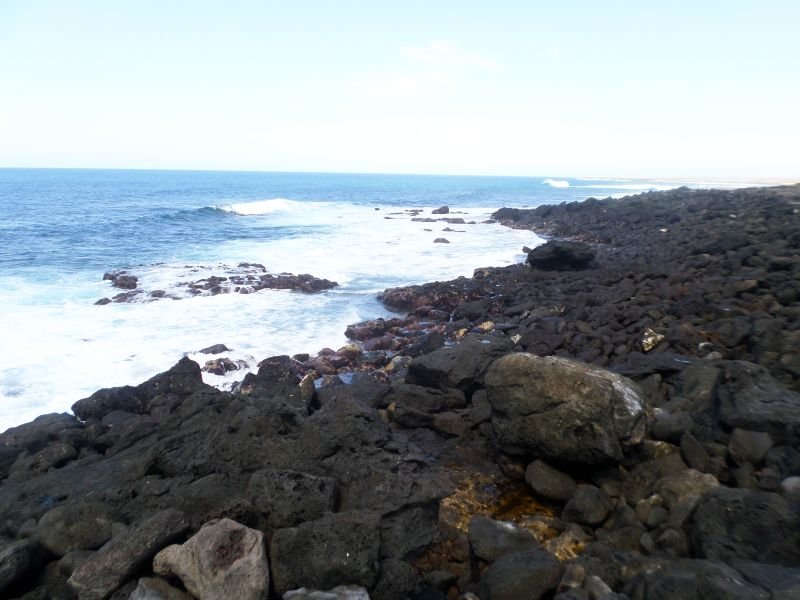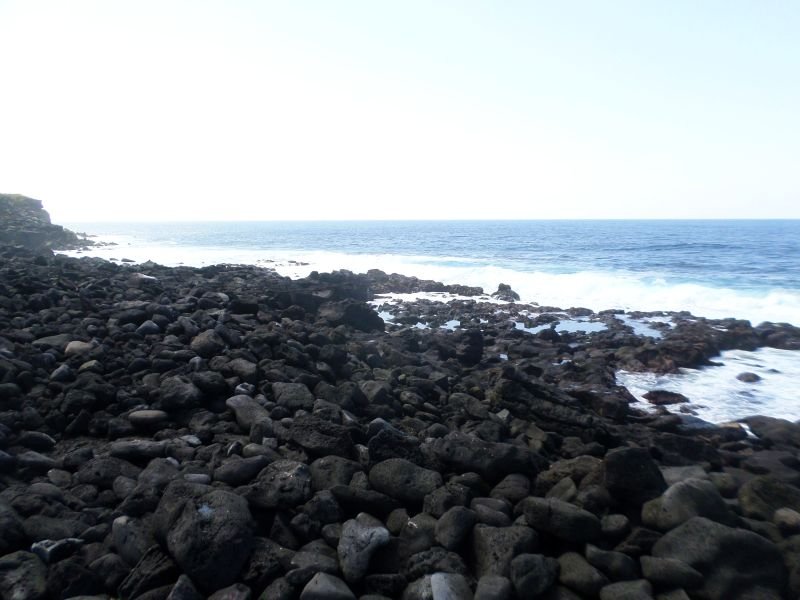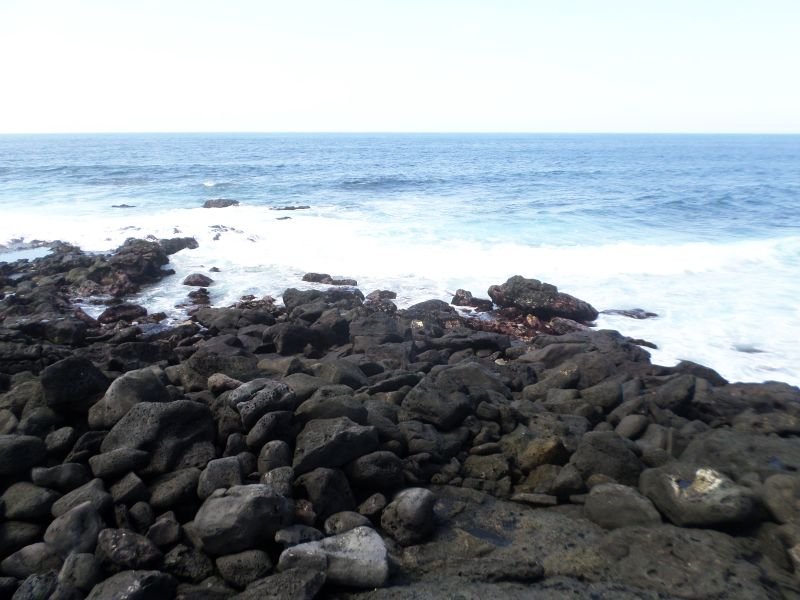 I found the coastline stunningly beautiful. However not very inviting at all for a swim.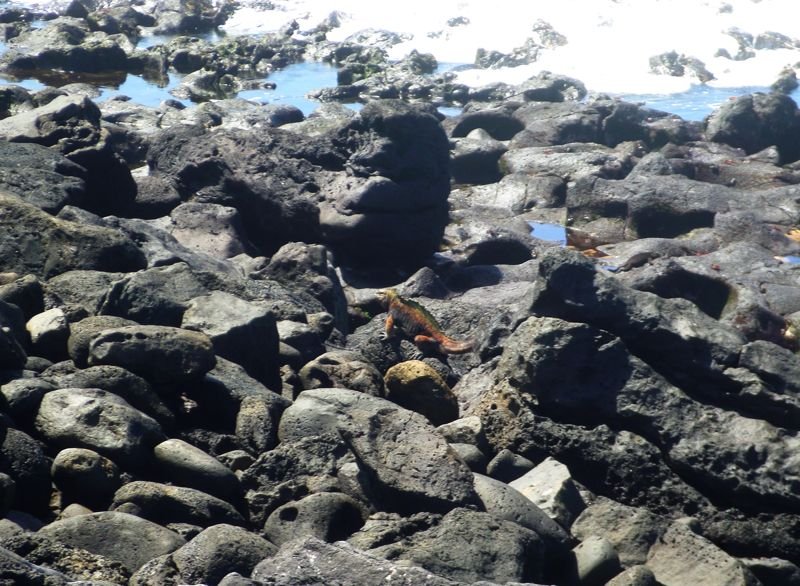 The landscape at this point is just rocks and iguanas. There really is no set trail anymore. I was just trying to look ahead for the markers, however the water makes for a good barrier not to get lost!
I'm quite a self conscientious perfectionist and was very hesitant to upload this video. I'm clearly a little bit confused about what to say on camera, but I got a lot smoother with practice through out the week. So I'll be adding some video narration to these adventure posts from now on.
Thank you so much for exploring the Southern Coast of San Cristobal Island in the Galapagos with me. In part three we make it to the cliffs, see more incredible wildlife, and find ourselves on the cliff's edge enjoying some breath taking views! Until Next Time -Dan "World Travel Pro!"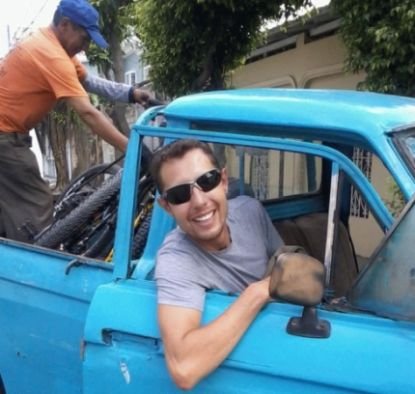 Not To be Missed!
Travel Pro Up-Date From the Galapagos and Issues with Time Management! (15 photos)
Travel Pro Eats #11: Poo Hot Pot Buffet in Krabi Thailand and Some Travel Budget Tips! (14 food photos)
Travel Pro On the Move #1: Island of Koh Pha Ngan to Krabi Town Thailand! (10 photos)
Travel Pro Gear #7: Three Travel Pro Items You Need to be Travel Pro!
Travel Pro Places of Interest #7: Playa Mann on the Island of San Cristobal Galapagos (7 photos, one video)
Real Life Captured #69: Carnival in Guayaquil Ecuador! Part One
With over 11 years of travel experience I answer travel and international lifestyle questions. Leave a question in the comments and I may make a Steemit post just for you!