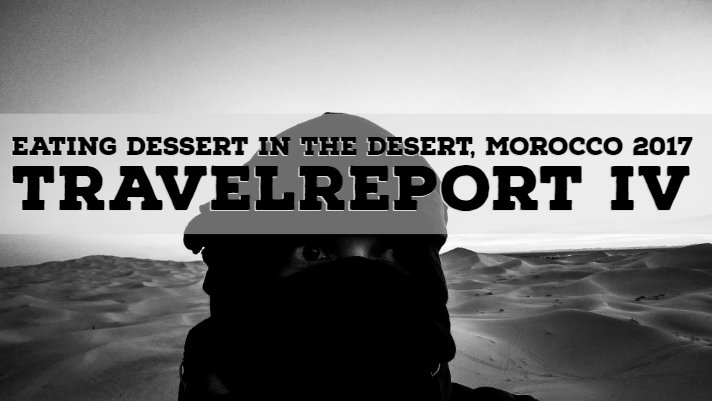 It was around November 2016 when my friends back home started talking about New Years Eve plans. Just like every year, meet somewhere, eat & drink. But i'm honestly bored of having big hangovers after crazy New Years Eve party's so i decided for myself to go on my own Journey and go traveling somewhere.
It took me about 1 day after my first thoughts of going traveling over New Year and I booked my flight. The destination this time was Morocco, not far away from my location in Germany at that time (4h flight) and higher temperatures than back home (I'm really not a fan of cold weather ;) ).
 
Marrakech
 
Shortly after Christmas i took my flight to Marrakech, the probably most famous City in Morocco. My flight went smooth and I arrived in the afternoon, found a bus which goes for a cheap price into the city and checked in into my Hostel.
My first impression when I left the bus was "wow, that place is wild" . It lasted around 2 minutes until the first boys came to me and asked if I wanted to buy some Hashish "Not now, I just arrived.. Let me checkin first, ha!"
As I was a bit tired I didnt have to many plans for my first day in Marocco, just heading into the city and finding some good food (which is really easy in Morocco) on the famous "Djemaa el Fna" - square.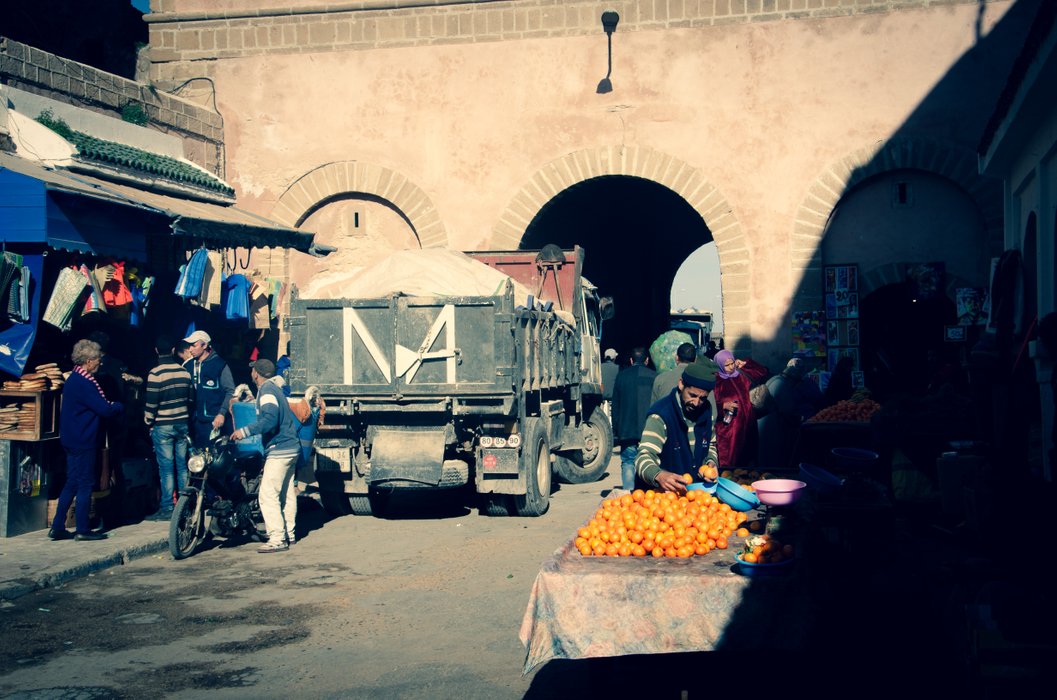 On my way back home I got asked about 1.000.000 times more if I wanted to buy some Hashish (Morocco is the Nr.1 place worldwide for Hashish production) so I ended up buying a little piece for about 5$ from an old wise looking men. It wasnt my attention to come here and get stoned all the time - But i'm also a person who likes to try things which are kinda connected to the country. Just to feel the real vipes and get into the culture more.
 
One thing I need to mention is, be aware of the scammers in Marrakech, there are a lot! And if you are not really experienced in traveling, they can get you pretty easy with their tricks.
For example: If you walk around and stop to see some monuments, mosques or other popular places and someone comes by, starts talking about the object - Walk away! - They will charge you money for it, even you were not asking for their adivises. Just always keep your eyes open.
 
... The following 5 days I spend in Marrakech, vistited the market and some intresting places around the City, like a leather factory where they clean and color the skin of sheeps and goats and make them ready for sale.
Also the Bazaar was an exciting place to be. All those tiny alleys filled with shops and small street kitchens.. The different smells and the yelling farmers and salesman.. I really like this kind of hectic but still pretty good working chaos.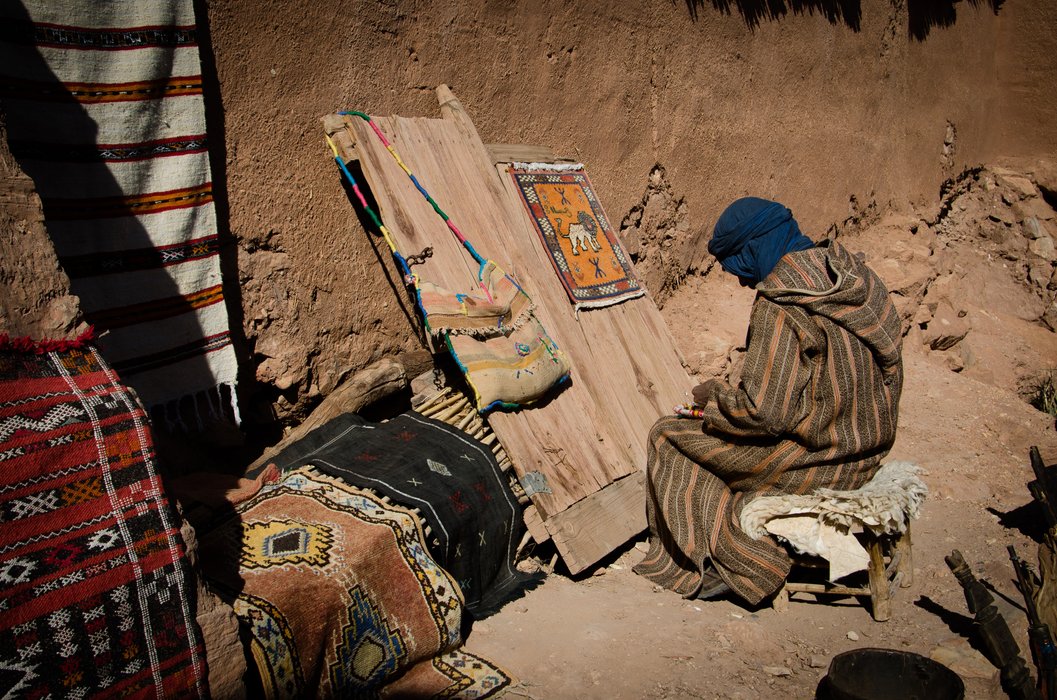 After 5 intense days in Marrakech, it was time to move on, going through the Atlas Mountains near the Algerian boarder to Merzouga, with one stop in the Quarzazate valley and one night in Tinghir.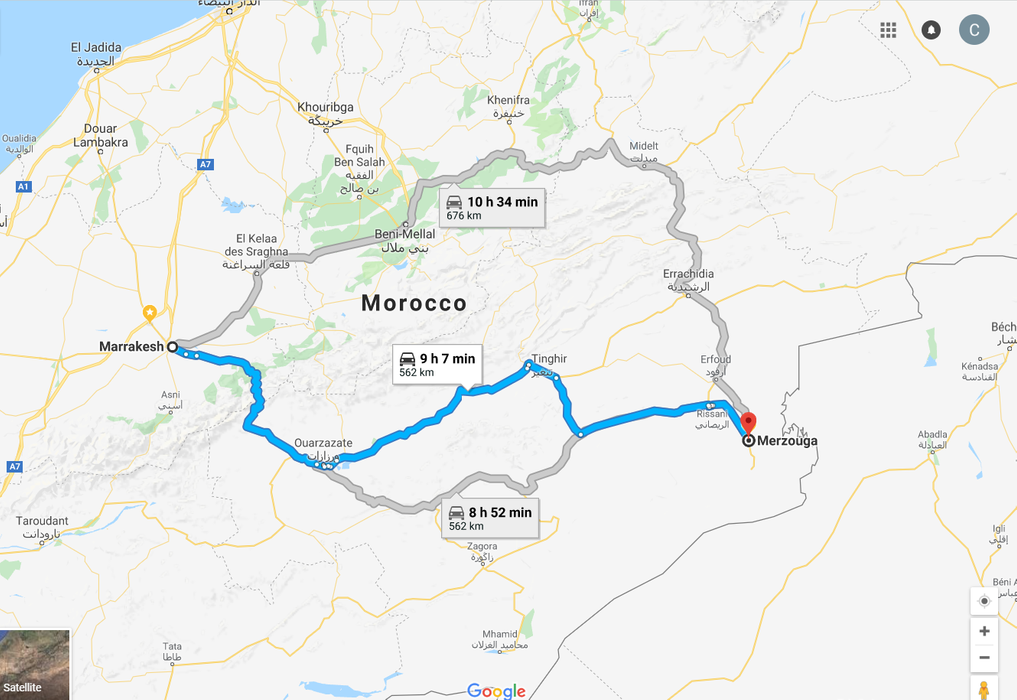 Quarzazate, Tinghir, Atlas Mountains, Merzouga
 
My Hostel in Marrakech offered me quite a good price for the drive to Merzouga in an small shuttle bus with 5 other guys.
After around 3 hours driving we arrived in Ouarzazate Province in Drâa-Tafilalet region of south-central Morocco, an old trading village on the south of the atlas mountains. We stopped there for around 2h, had some time to take some pictures and eating some delicious BBQ for lunch.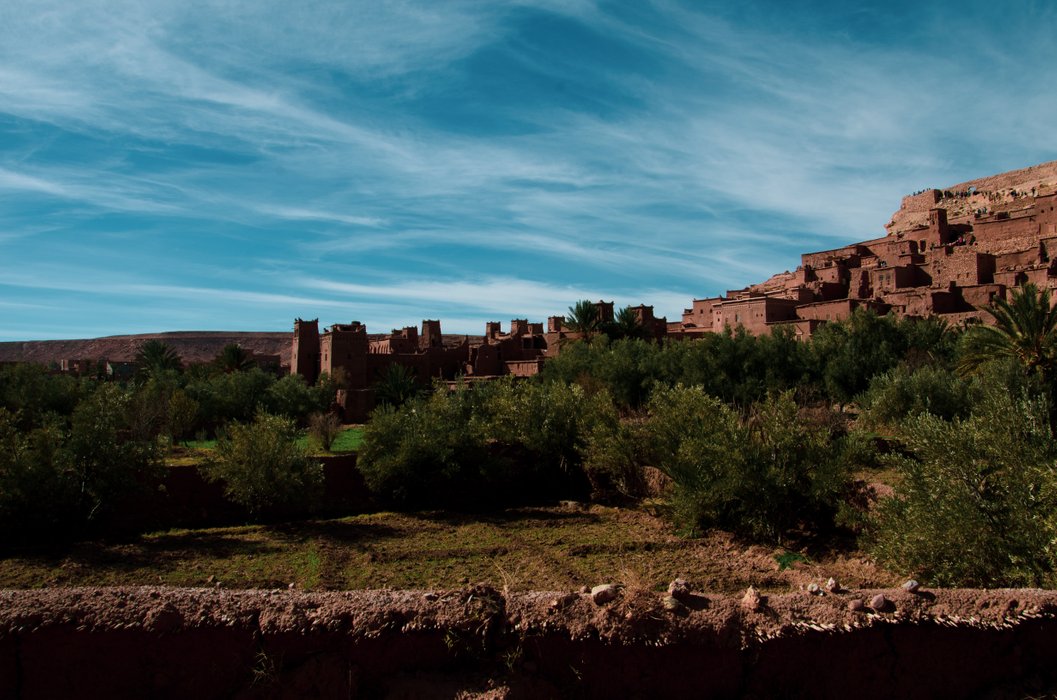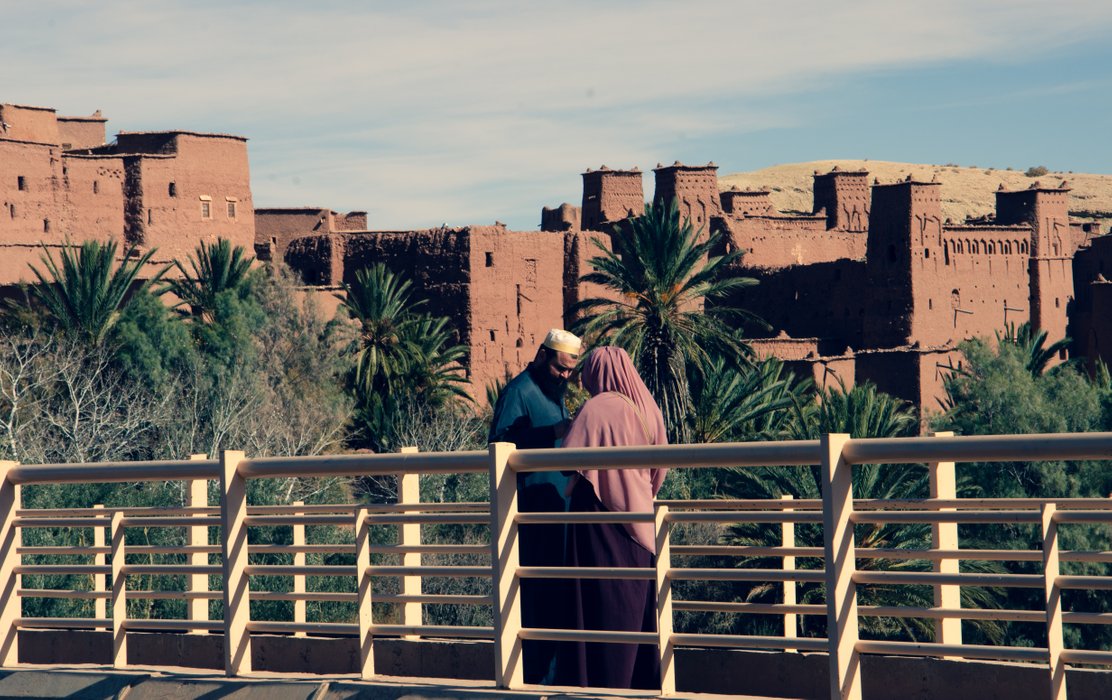 Ouarzazate is an really quiet and nice place to have a look at. I've you are looking for daytrips from marrakech on your journey, its definititely worth a visit.
So after our 2 hour stay we kept moving east and our next destination was Tinghir, where we planed to stay for one night. The drive through the Atlas Mountains was super beautiful, but DAMN! there was snow on the top! I guess i should have informed myself a bit better as i was not really prepared for snow, ha! But that's just a thing what always happens when you are traveling, something unpredictable is always coming.. and that just makes your adventures more exciting i guess.. :) well in my case it made it just more cold Haha..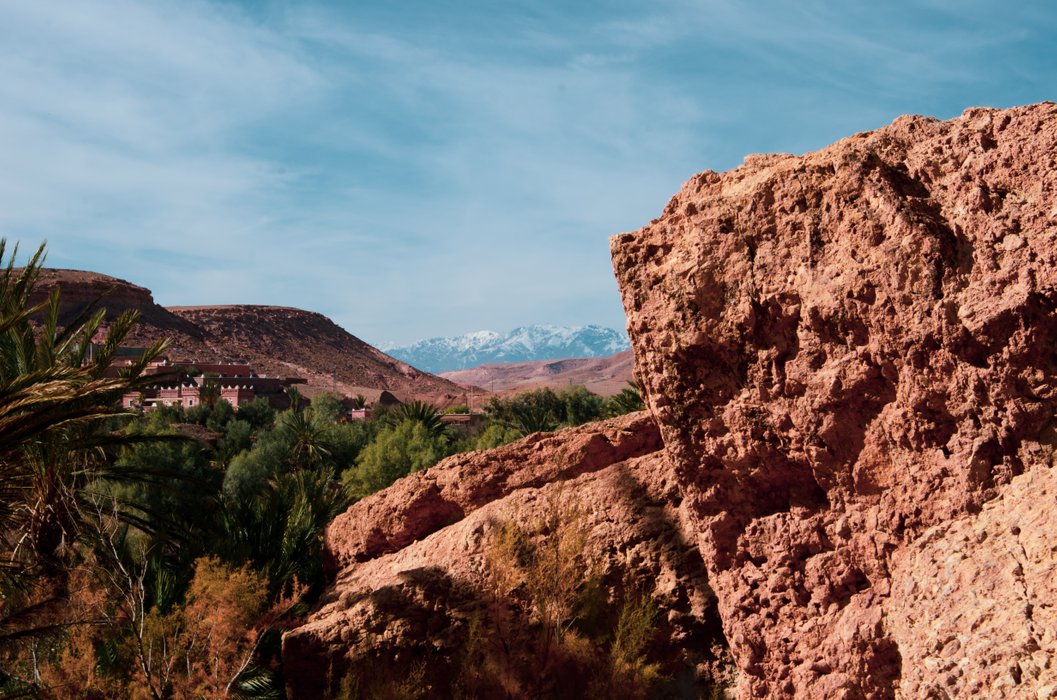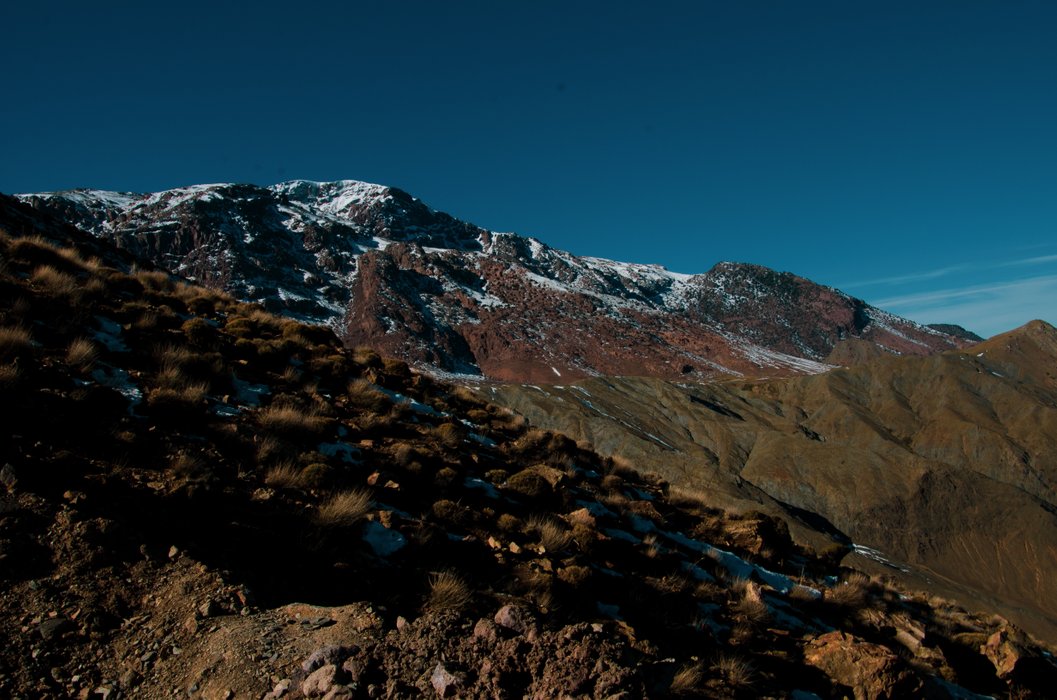 Tinghir was a small village in the middle of the Atlas Mountains. The Guest house was nice, but cold.. really really cold.. Ha!
... On the next day we woke up pretty early, got breakfast and loaded the Van with our stuff. It was on the time to go to Merzouga, a village in the Sahara Desert.
"As closer we got to the Saharan Desert and as soon as i spotted the desert through the window of the Van, I got goosebumps on my skin, I got excited, really excited. Finally my dream came true and i can see and feel the sand of the Saharan desert.
And when we just were a few mins away from it I really got mind blown by the beauty.. just an unbelivable view."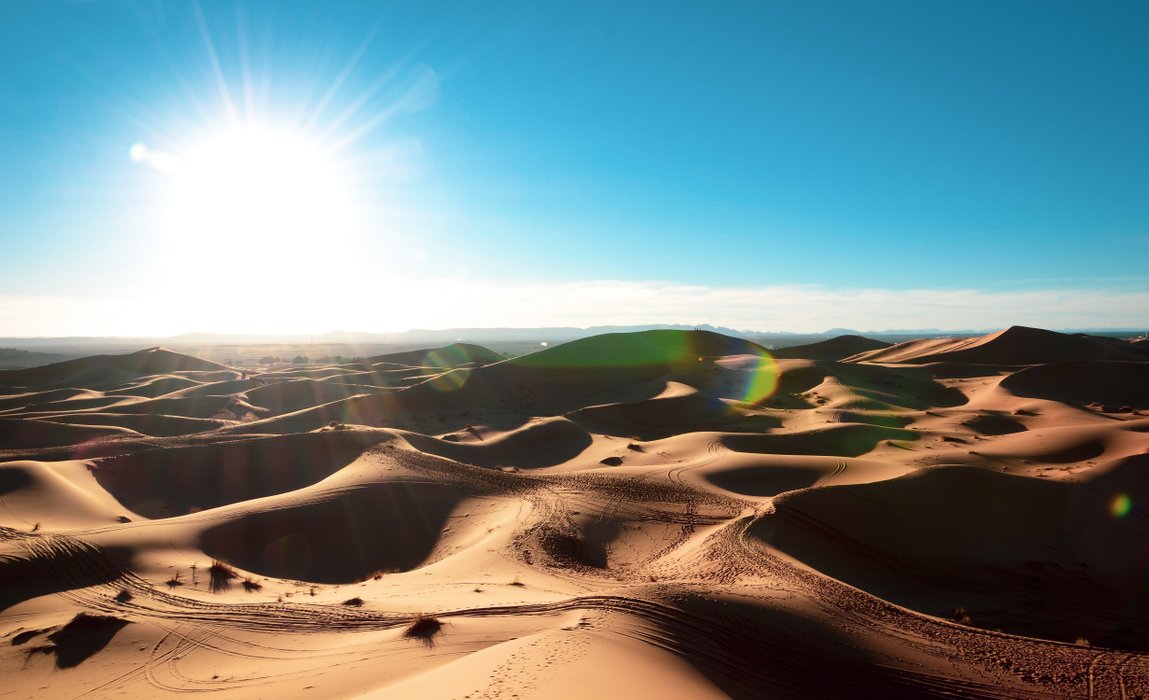 When we arrived and unloaded our Van, some guys already waited with camels (
Which i did not know before, ha!
) for us to bring us inside the desert to our camp where we planed to stay overnight. And the camel ride was tough! I can tell you that.. Thats something i probably wont do again ;))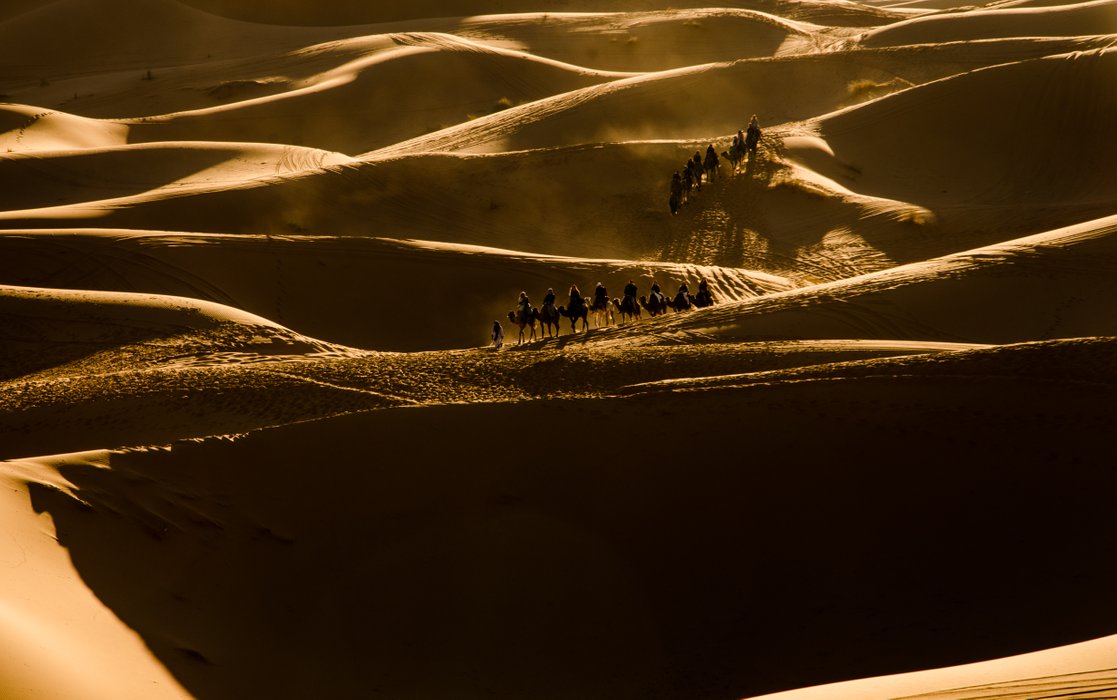 "As soon as the sun started to go down, I walked up on one of the dunes, lighted a joint with some of the good tasting moroccian hashish and watched the stunning sunset.. And as it was dark, I lyed down on my back and watched the sky which seemed to be endless filled by stars.. I forgot everything around me, it was just me and the universe.. There are just no words to descripe this moment of total satisfaction.."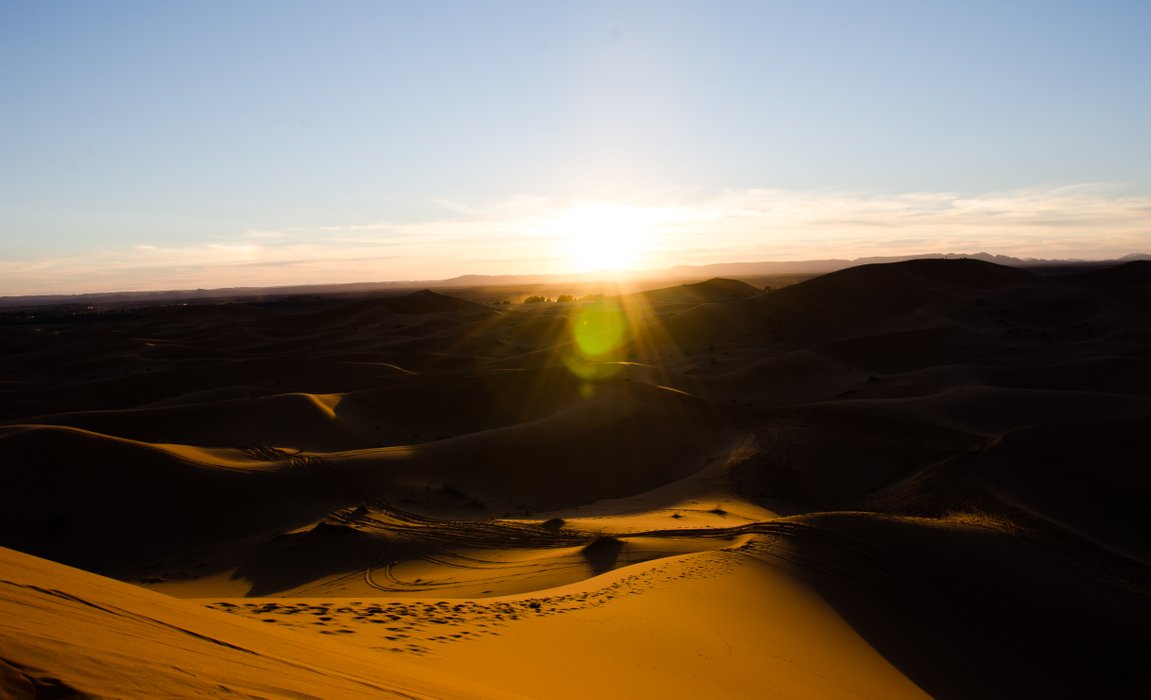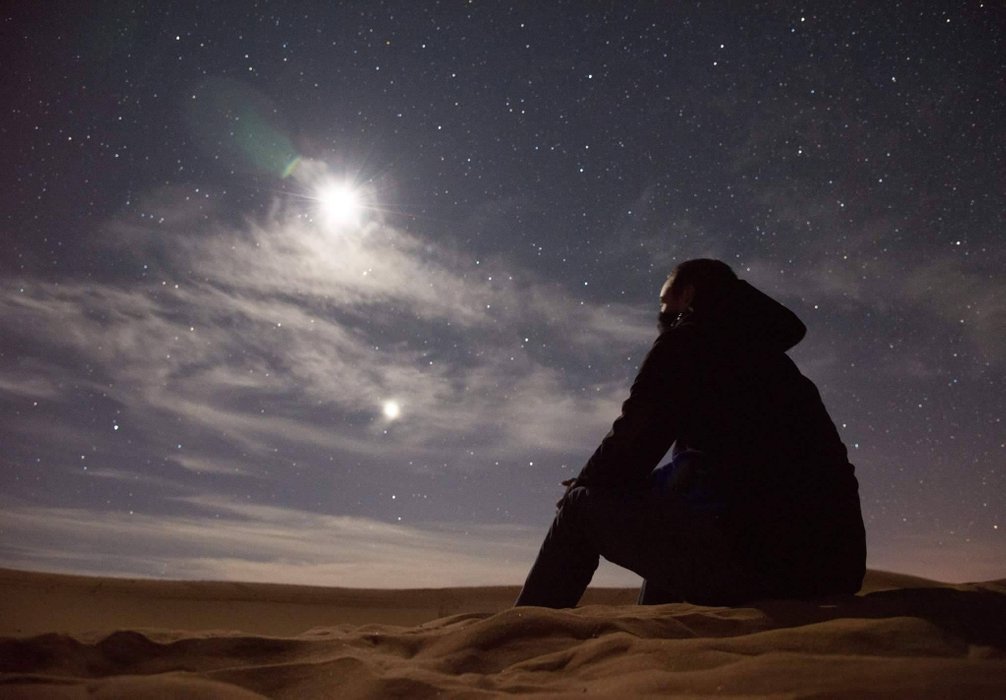 The morning after this magical night we got some delicious local breakfast prepared by some of the
Berbers
who were with us. I also had a few hours left to enjoy the Sahara a bit more before my bus left to my last destination (Essaouira) on this journey.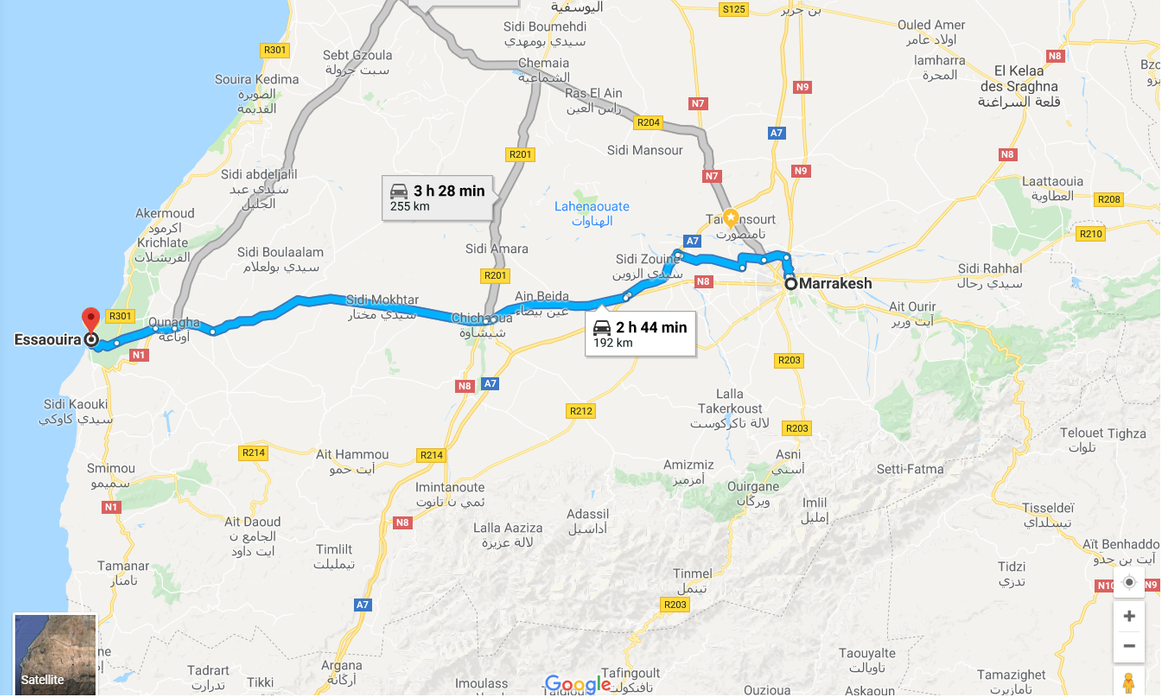 Essaouira
I had 2 days left before I had to catch my flight back to Munich. Basically I was just walking around and enjoying some of the great seafood restaurants and had some nice coffee/tea in some of the shops around this peaceful village. If you have some time on your travel through Morocco, u definitley should have a look around Essaouira. It's worth it.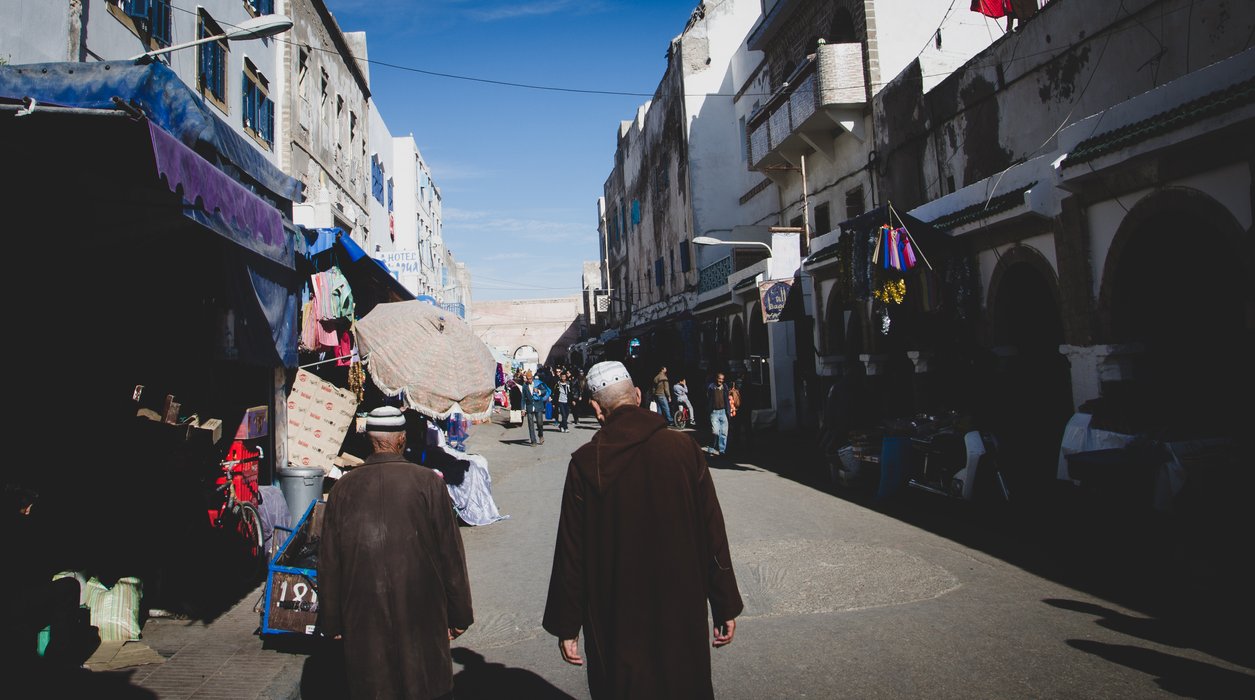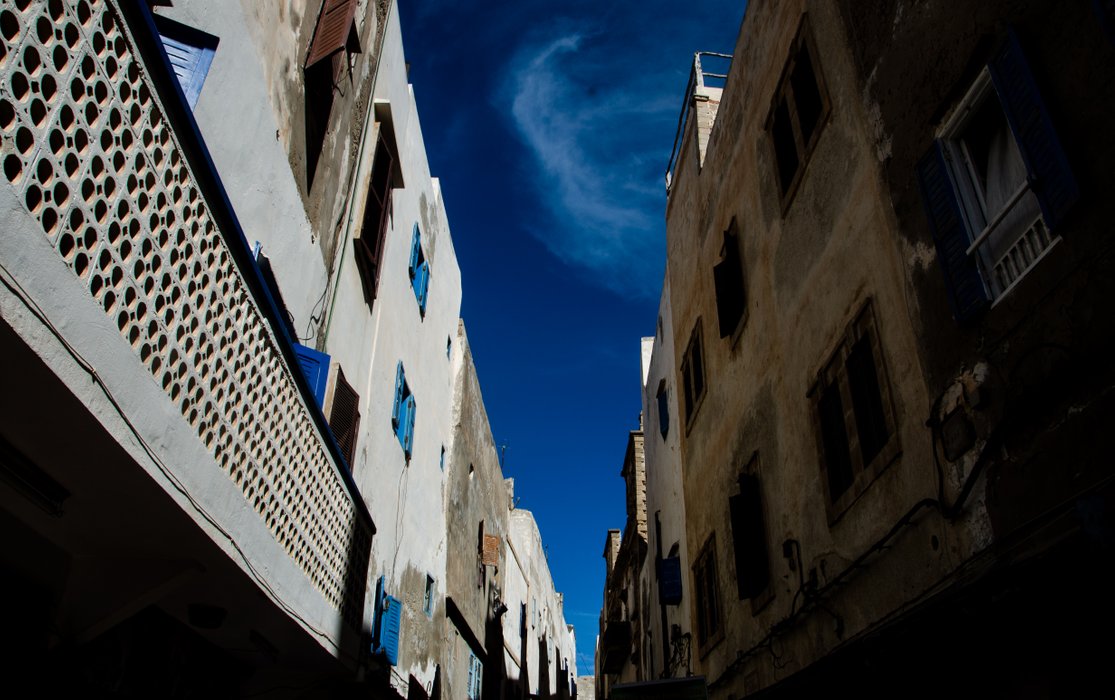 Archaeological research shows that Essaouira has been occupied since prehistoric times. The bay at Essaouira is partially sheltered by the island of Mogador, making it a peaceful harbor protected against strong marine winds - "Wiki".
 
Morocco was one of the countries which really got me and which I really want to discover more in the future.
Food, People, Landscape and just the well working hectic chaos in the citys have a great charme.
 
Thanks for reading :))
Best,
Chris
 
 
As always, feel free to have a chat with me in the comments :)
Travelreports
#1 - Having tea in Jordan
#2 - 192 intense hours in Vietnam
#3 - Bubble Tea Country, Formosa