Often, when we travel, we do not stop very long in one place because we are trying to collect as many counties as possible and this means a lot of distance has to be covered in a short amount of time. This means that often all we see of a town is the courthouse and the travel center, gas station or restaurant. But is this really enough for those long 400-1,000 mile trips?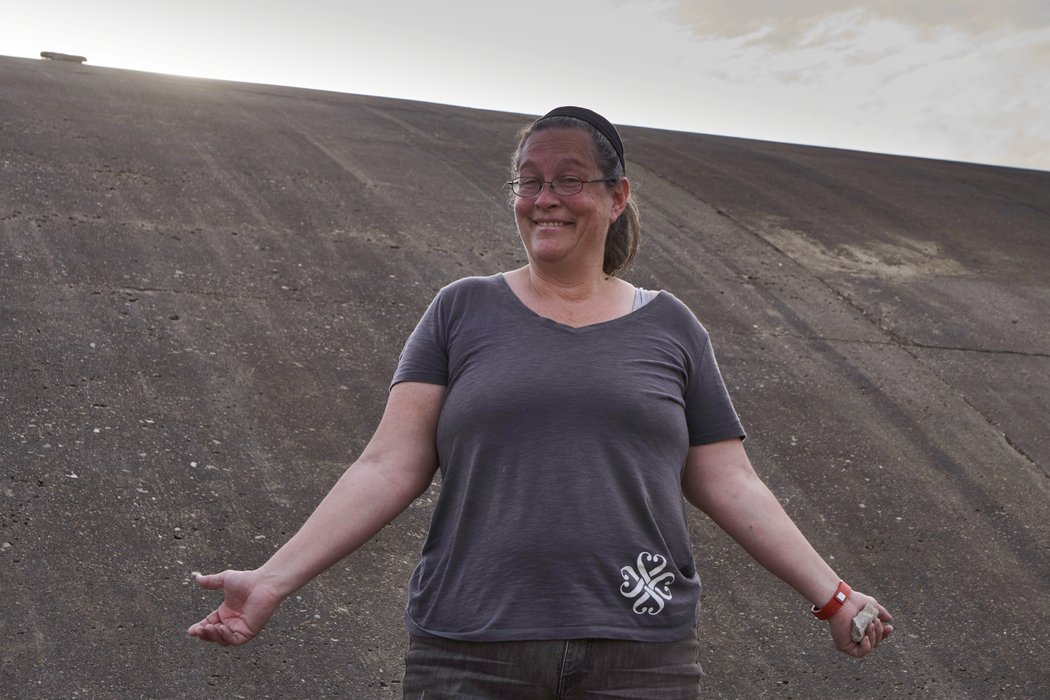 Ren below the Benbrook Lake Spillway.
We decided a couple of months ago, we were going to do more than just a quick stop at a gas station and call it good. There needed to be more movement and less spending of money; it would help our health days after a trip and save our wallet. But how were we going to do this without looking like those strange people who pile out of their vehicles and do yoga at every rest stop they come to? A plan needed to be made; even if it wasn't a planned plan.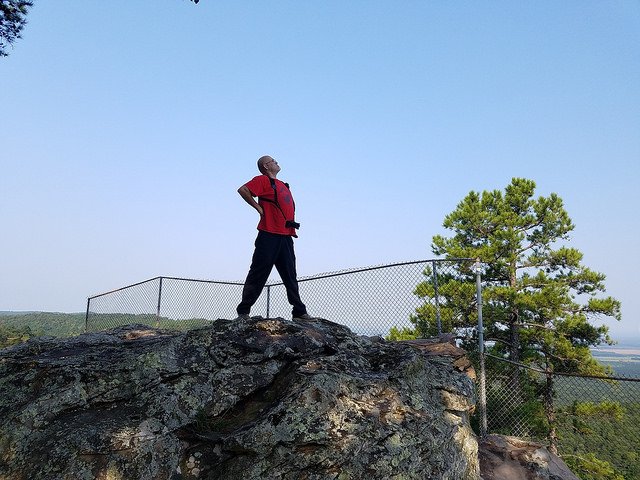 Scott doing the Pirate Rum Stretch at Petit Jean State Park
Because we are driving across counties to learn about them, their people, and cultures, we felt we needed to start spending just a bit more time seeing what made each county special. This has caused us to find some pretty unique things in the places we visit. We do not really plan more than a destination and a basic route there. There really is not a plan as to where to stop for a driving break, we just allow Serendipity to do what she wants. Since we started doing this, we have found some of the most amazing places and events.
Standing in awe of a true national treasure.
We had taken a planned trip to the Black Mesa State Park in the panhandle of Oklahoma, the most western park in the state. Since Scott could not get dark sky photos due to clouds, he wanted to go see the mountains in nearby New Mexico. Thinking this would be a day trip, we headed to Cimarron, New Mexico. To our surprise, there was a National Scenic Drive, a National Monument, a National Forest, and two State Parks just west in the mountains. We went and ended up taking the Enchanted Circle Drive finding a rather wonderful place to stop and stretch our legs. About three miles west of Taos was the Rio Grande del Norte National Monument and we were going to drive across the bridge over the gorge. This is the second highest bridge in the United States and we just happened to need a break and it was the perfect spot to do so. We ended up staying overnight in Eagle Nest, which was a wonderful opportunity to rest in itself.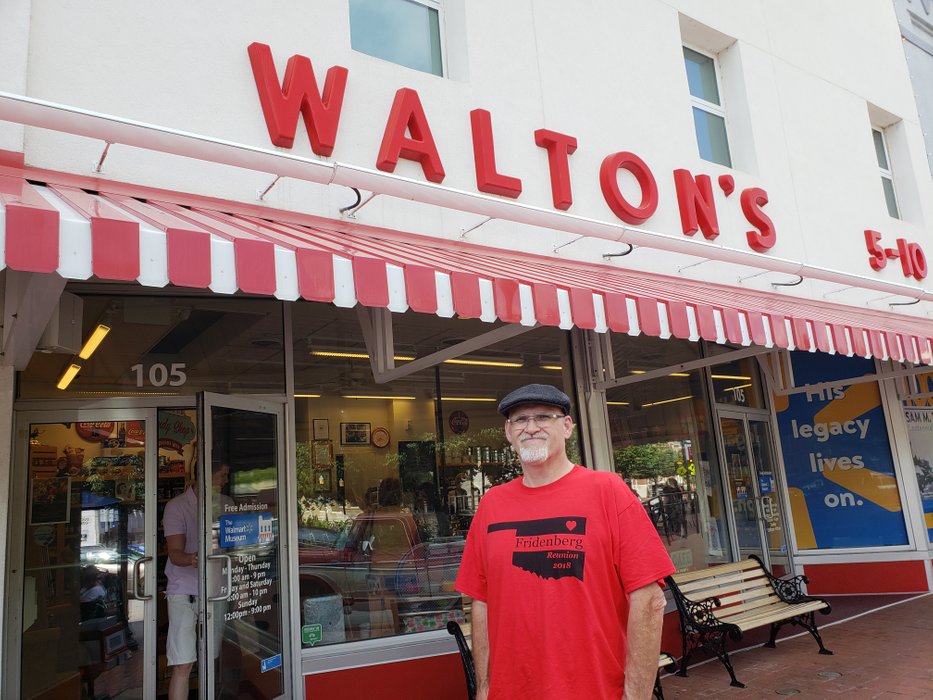 What a surprise to find a museum about the beginning of Wal-Mart in the Bentonville, Arkansas, town square.
We visited Bentonville, Arkansas, recently to attend a viewing of photos for the Bedford Photography Contest entries and capture the Benton County Courthouse (by capture, I mean we took a photo). While we were there, after spending two hours in the SUV, we needed a break. Since the gallery for the photos was closed, we were not happy about the idea of spending two more hours headed home so we wandered about the quaint Bentonville downtown square. As we walked through the area, we found The Wal-Mart Museum! What a surprise! This place was free to the public, had all types of historical memorabilia, and a refreshing soda fountain type restaurant. We, of course, didn't partake in the ice cream and such since we are on a budget and a diet, but it was there and we were so stunned to find this little gem to help us relax a bit before we headed back home.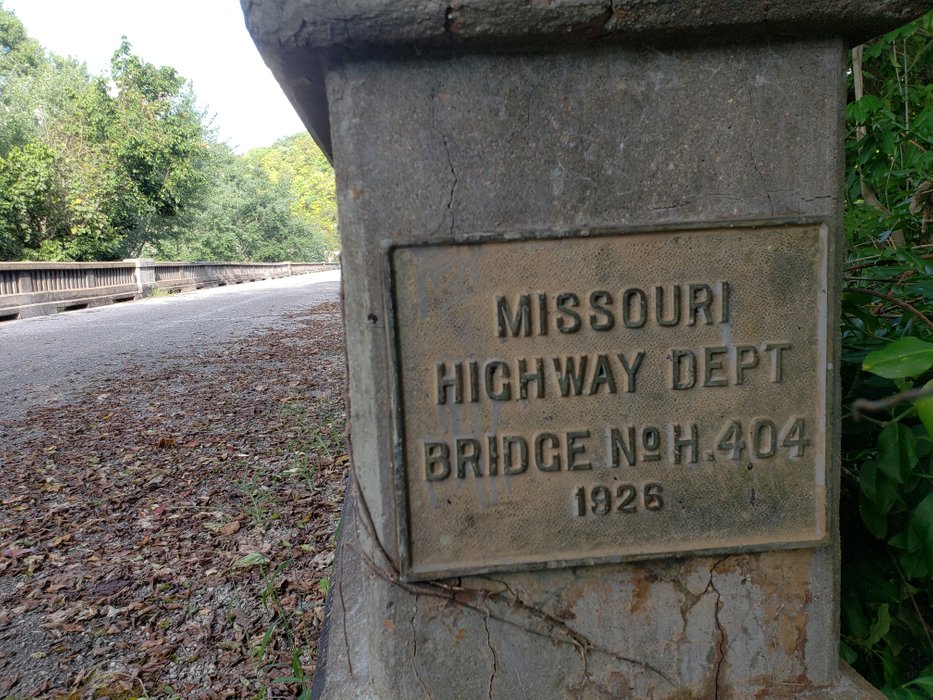 A bit of history to help refresh us.
Sunday as we sped along Missouri Highway 176, we were capturing another county courthouse when Scott noticed something about a Y Bridge Park. It intrigued us and, realizing we probably needed a short break from hours driving, we decided to see what it was all about. There, over the James River, was an old 1926 built bridge. Often, when a new highway is made, the old highway dies. Fortunately for this county seat Galena, Missouri, they took their Y-shaped bridge and turned it into a tourist stop. We took advantage and spent a good thirty minutes wandering along in, filming. I was even able to get a great close up of the cutest little caterpillar. It was one of my favorite stops so far.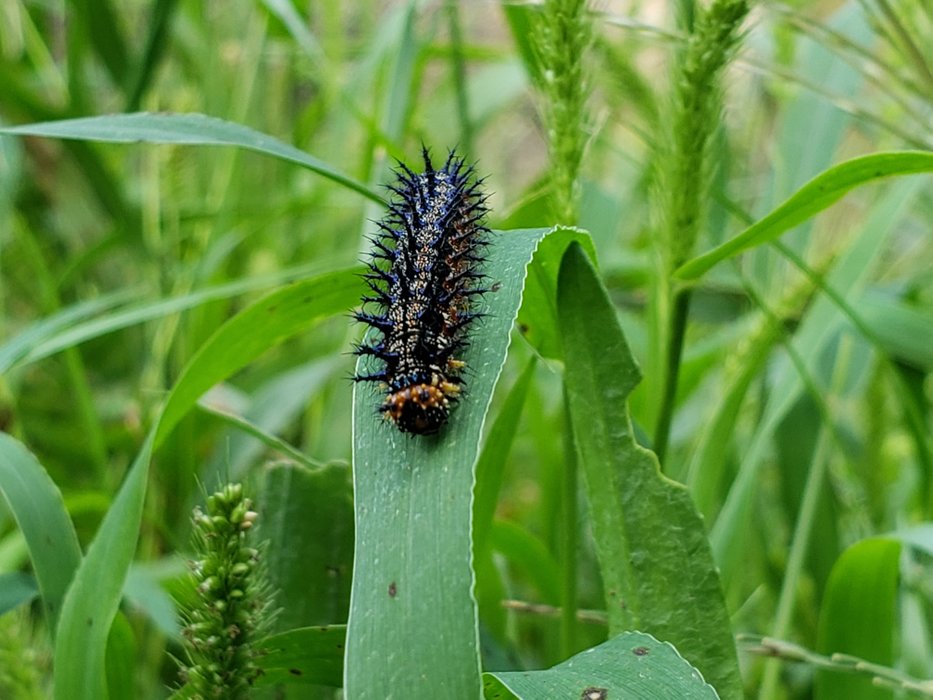 I think this is a Common Buckeye Butterfly Caterpillars.
We love traveling and finding interesting things. Since we have decided to stop more often, we hope not only to help our bodies be less stressed after a trip but feed our minds as well. This will enable us to enjoy the long drives more and help us have more to share at the end of the adventure.
Thanks for traveling with us,
Ren and Scott