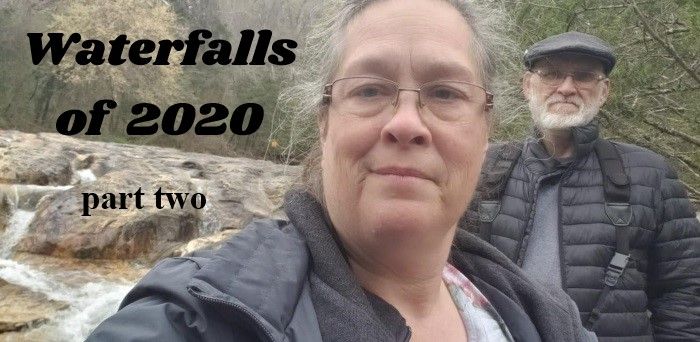 Selfie by Ren at Cherokee Bathtub Rocks, Tahlequah OK, April 2020.
This year we are taking on a lot of little projects, twenty of them to be exact. One of those projects is collecting twenty waterfalls. We make sure to get a selfie with the waterfall, picture, and video. It has been a lot of fun and we thought we would share the experiences with you.
Yesterday we stopped at number 2, Arkansas at Twin Falls in Devil's Den State Park. Let's continue on with the last two waterfalls for January 2020.


Natural Dam on January 18, 2020, photo taken by Ren.

Screenshot of the area showing the creeks and location along ARK Hwy 59. Taken from Google Maps.
The Mountain Fork Creek has a 200 feet natural ledge that once provided a foundation and power to the Larrimore Grist Mill during the early 1800s. A town formed near this water source by 1838. Though the mill is no longer at this site, the town and natural dam are still there.
Scott taking photos of Natural Dam in 2018. This photo shows the dam clearly.
The nice thing about this waterfall is that it is only a minute or two from Arkansas Highway 59. The area around it is a picnic area for the Ozark-St. Francis National Forestry, Boston Mountain Ranger District. It is a great place for stopping to stretch your legs and enjoy a little exploration. There are information placards to tell you about the area's history and geology as well.
You cannot see it here, but when the creek is in full streaming the bridge is often underwater.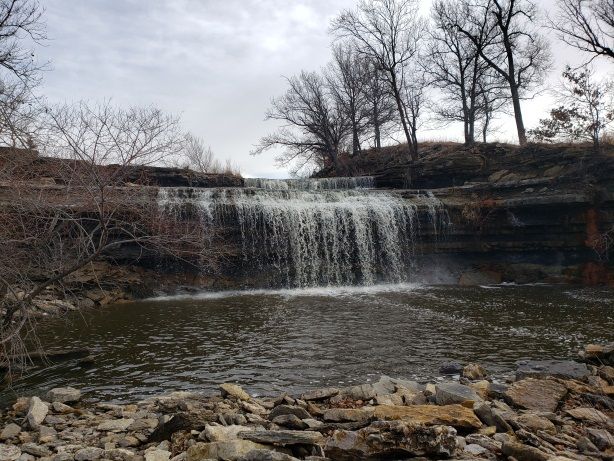 Image of the Charlotte Lake Spillway Falls by Ren in January 2020.

Screenshot from Google Maps showing the location of the waterfall near Shidler
One of the things you do not expect in Oklahoma are waterfalls. You do not think of the prairie having enough of an elevation change to have this sort of natural beauty. However, because many of the lakes are man-made, they are dammed up with a spillway somewhere nearby. These spillways often cause the dammed-up water to make something beautiful. Yes, the lake and spillway were man-made, but the effects of water erosion are completely normal and natural. This is the case with the falls on Charlotte Lake just outside of Shidler, Oklahoma, in Osage County.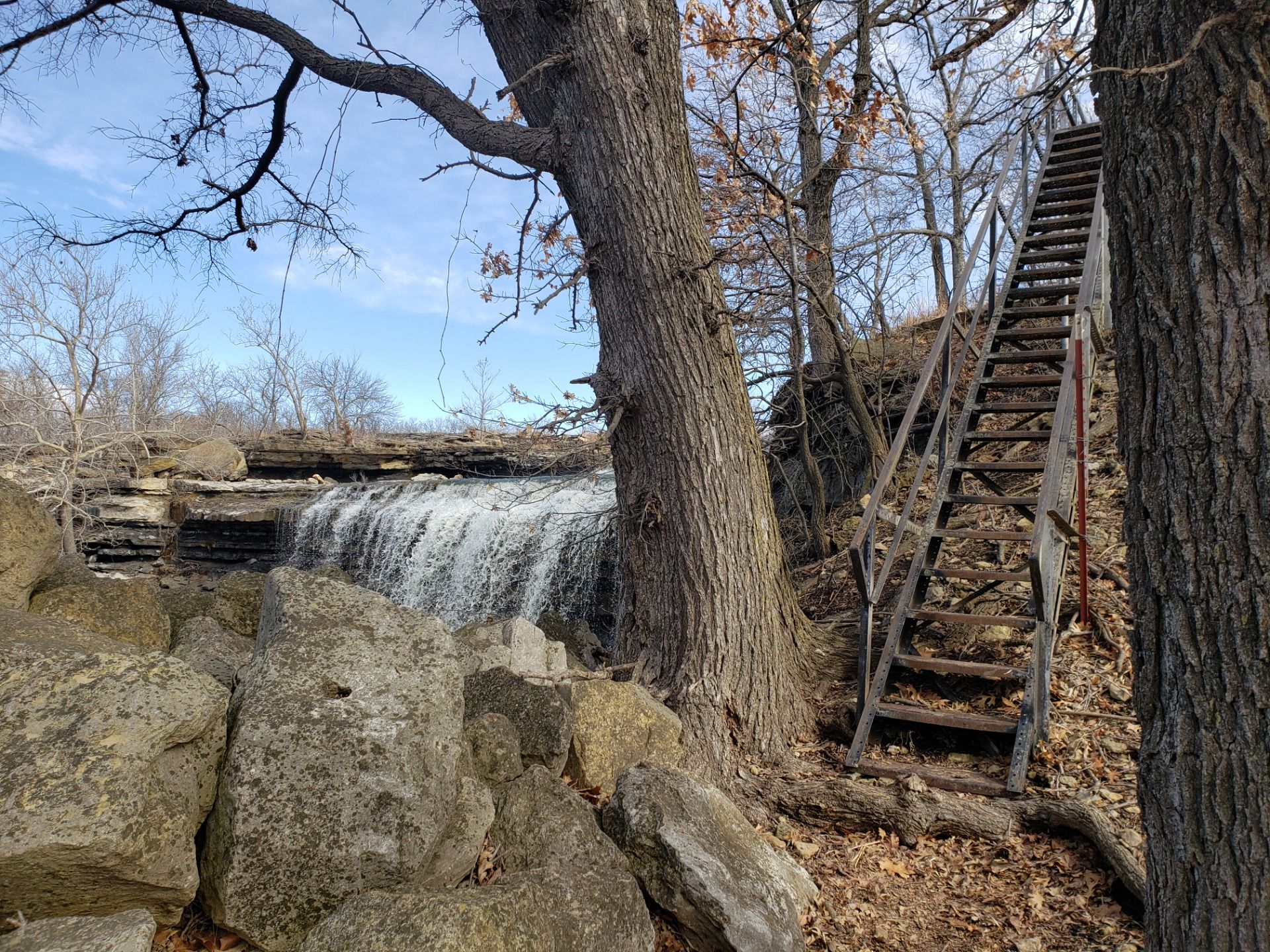 Here you see the "upper" falls alongside a metal staircase. It begged us to climb; climbed we did!
This spillway area has created an opportunity for us to go back billions of years when Oklahoma was underwater. This area is a prime spot to find a specific fossil called the Crinoids. These are from a flower looking creature. The
body are little segments with a hole in the middle
. This is where the nervous system and intestines were. Many garments from Native Americans have these segments being used as beads. They usually range in size from a pinhead to a dime here in Oklahoma. The first image below shows a limestone rock holding all of the crinoid segments and one of the flowery tops. The second image shows a small segment and the inside. This is one of my favorite fossil finds so far this year.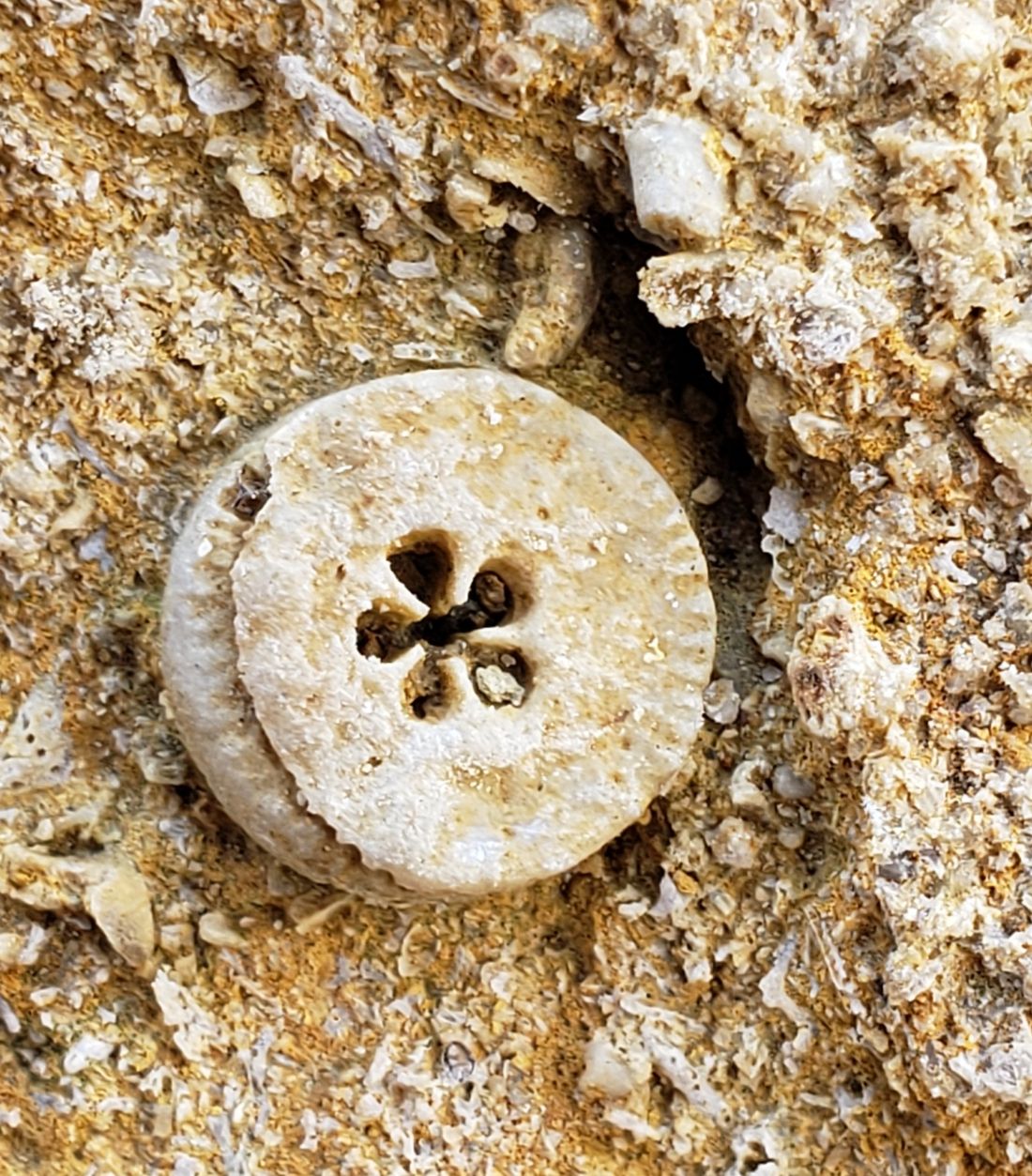 We were able to walk along the wall of the dirt dam to where the lake water and spillway meet. It was amazing to see how the waterfall was hidden from those who were fishing in Charolette Lake. This is also considered a water hazard for the Lakeview Golf Course so I am sure they would have no clue this bit of beauty was there unless they listened to the sounds of falling water. We loved being able to see another man-made spillway turned waterfall in Oklahoma. It has helped us enjoy our adventure countdown 20 Waterfalls in 2020 project.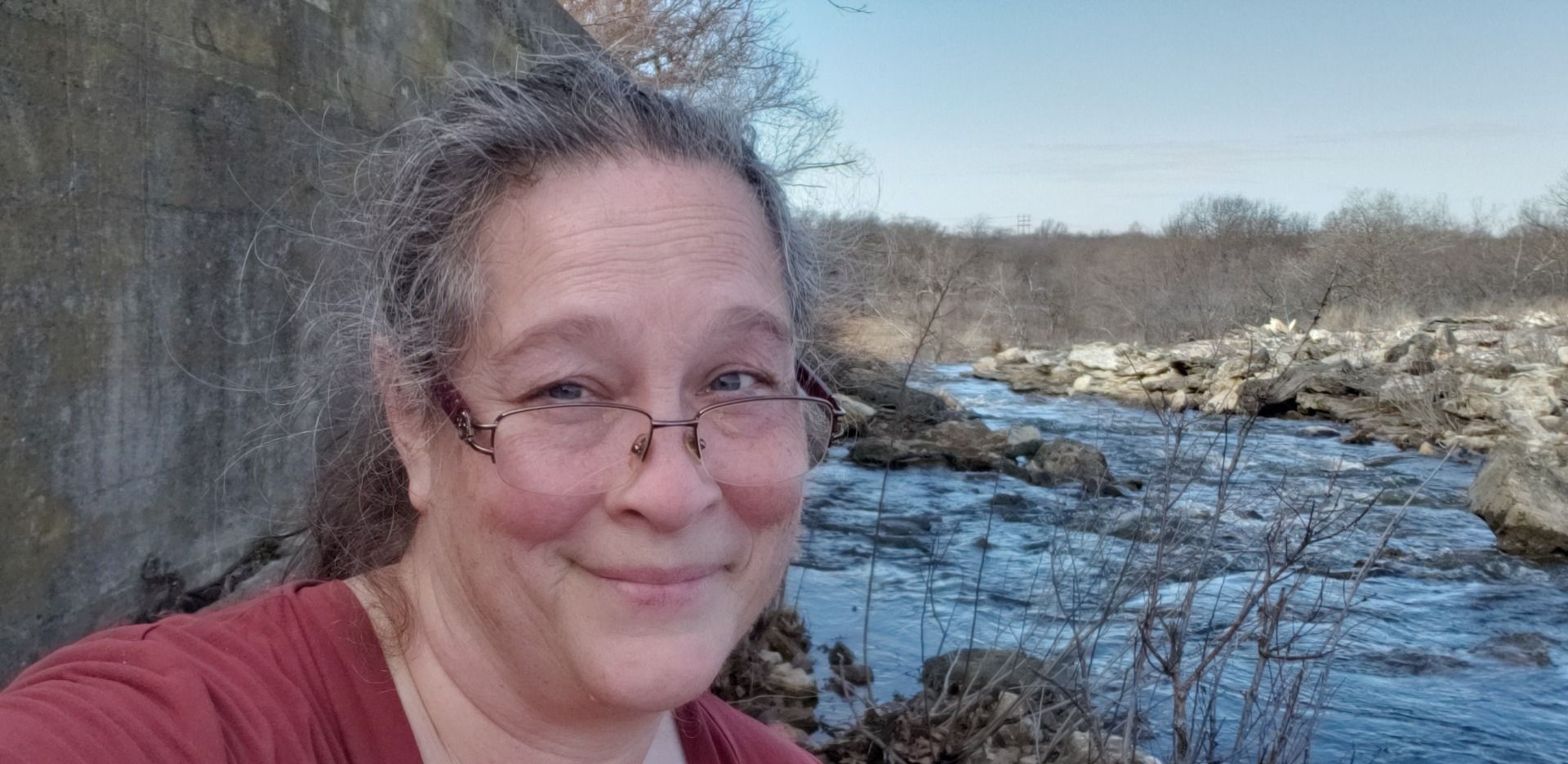 January is still not over! We had another waterfall and it was it one of the most unexpected places! Stay tuned and we will continue our waterfall counter 20 Waterfalls in 2020 - part three.