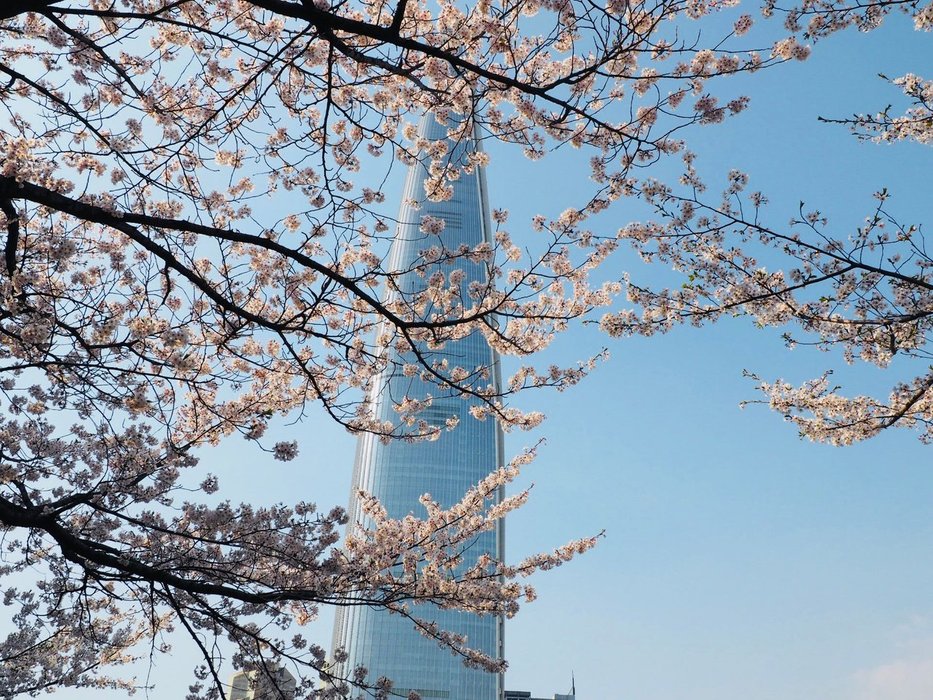 Just returned from Seoul yesterday :)
It was a great timing for me to go for a trip suddenly....why say so?!
Actually I just booked my flight and hotel 2days before departure lol
I am quite lucky as I choose a right time to go to Seoul :D
Seoul looks so great when the cherry blossoms are in full bloom!
I am going to introduce 2 nice spots to enjoy cherry blossoms view.
---
Seokchon Lake, Jamsil
We went to Seokchon Lake at our 1st day trip, here is one of the best spot to watch cherry blossoms every year!
The photo below is one of the decoration outside Lotte mall.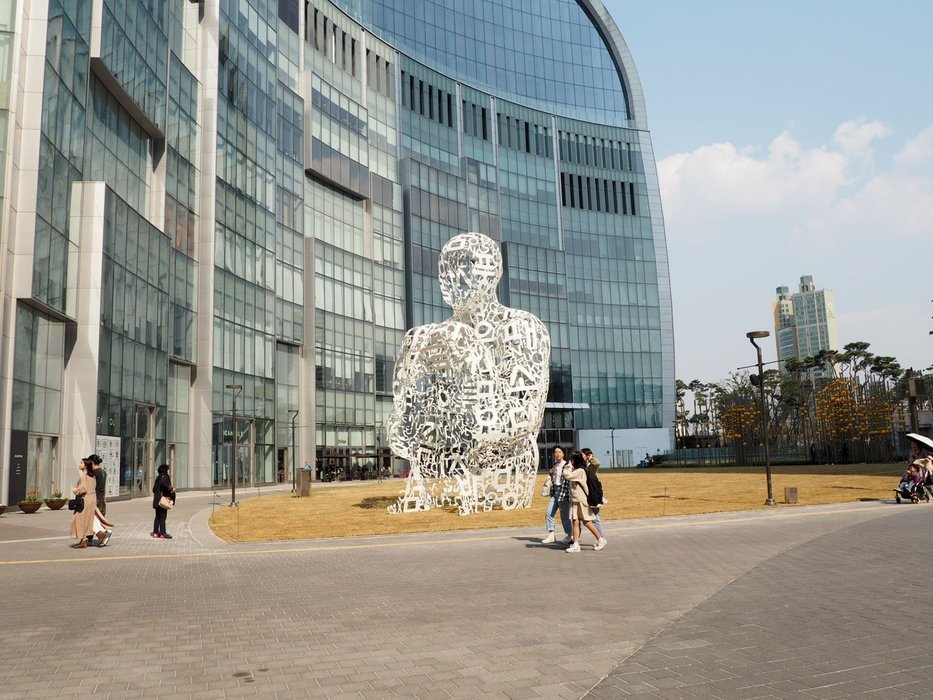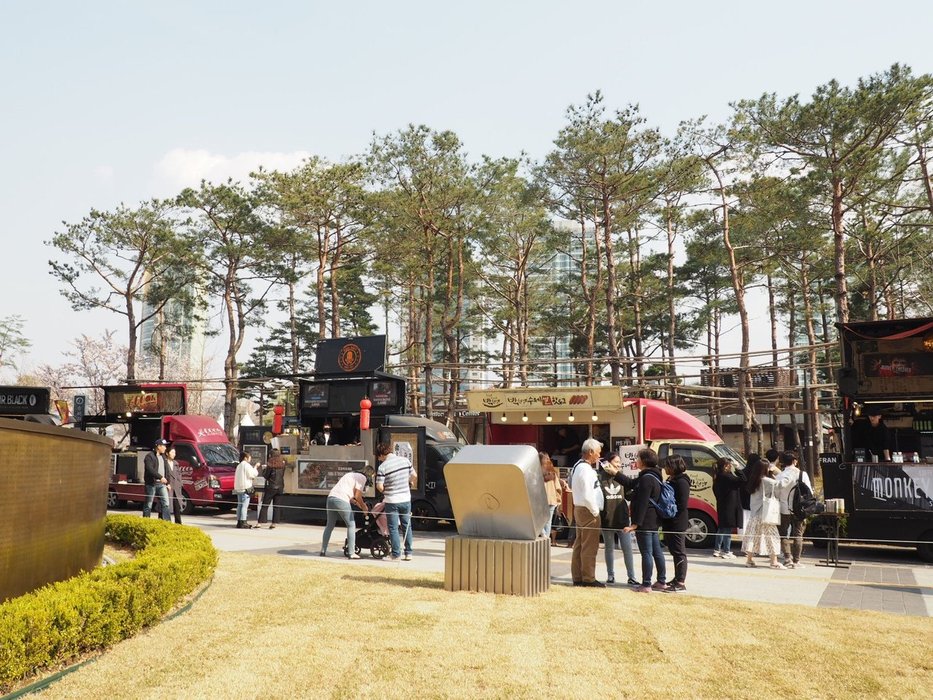 A lot of food truck at outdoor area, those are attractive and looks so delicious!!!
After 3mins walk from the food truck....you will just shocked by the view in front of you!!!!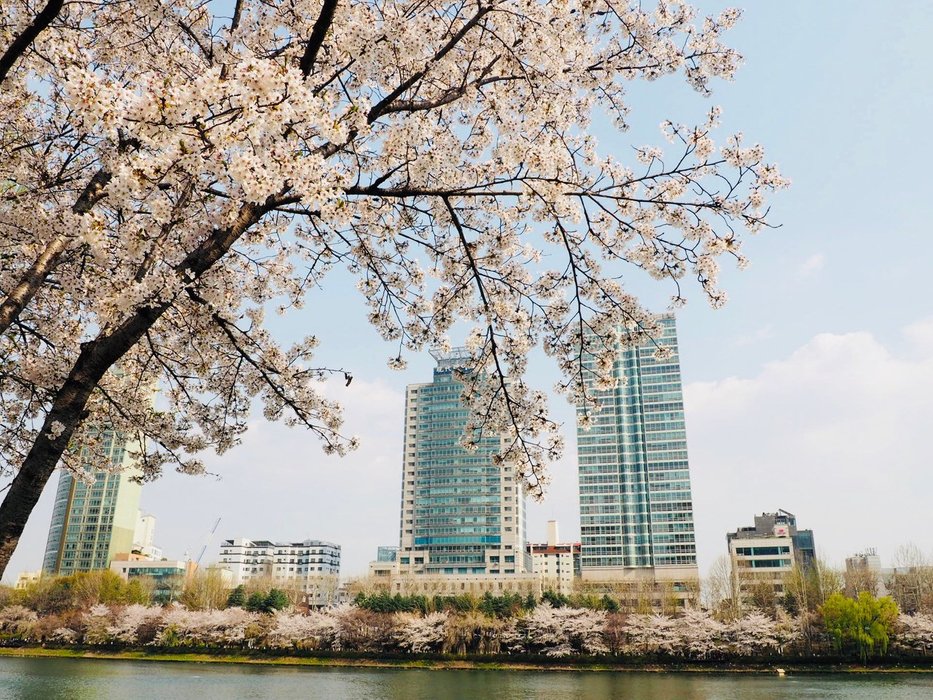 Cherry blossoms in full bloom...and whole lake was surrounded by cherry blossoms!!!!!!!!!
There are so many visitors at the walking path, everyone look so enjoy and happy since all of them keep wearing a big smile while photo taking!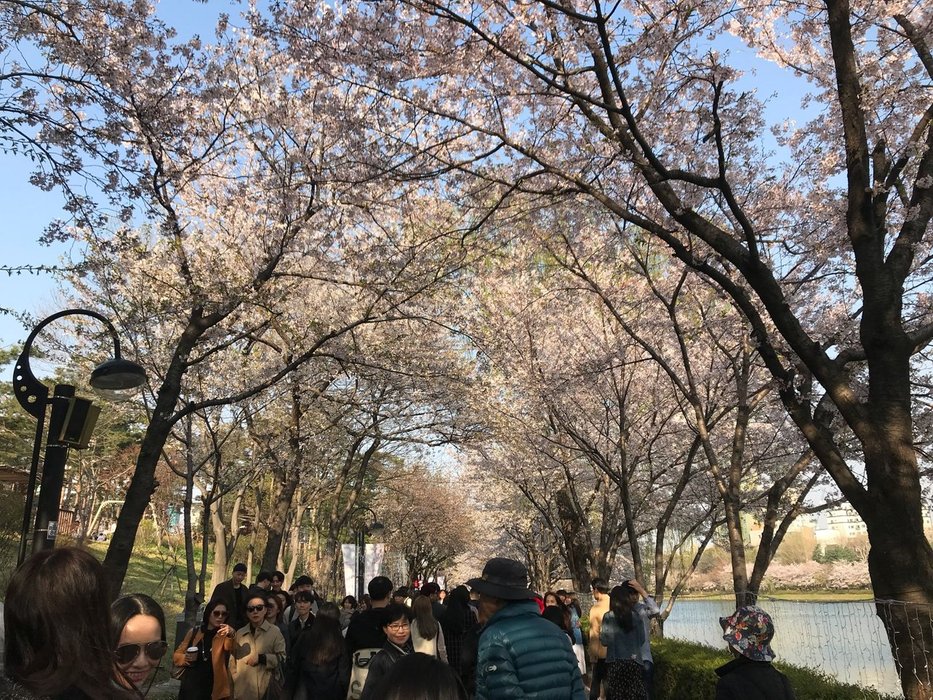 Few Korean sentences could be found when you are walking along the lakeside.
It is a good location to take some sweet photos with your beloved one!
Look! Korean Couples are taking photo in front of the quote :)
"좋은 때다 . 우리" (It's our good time)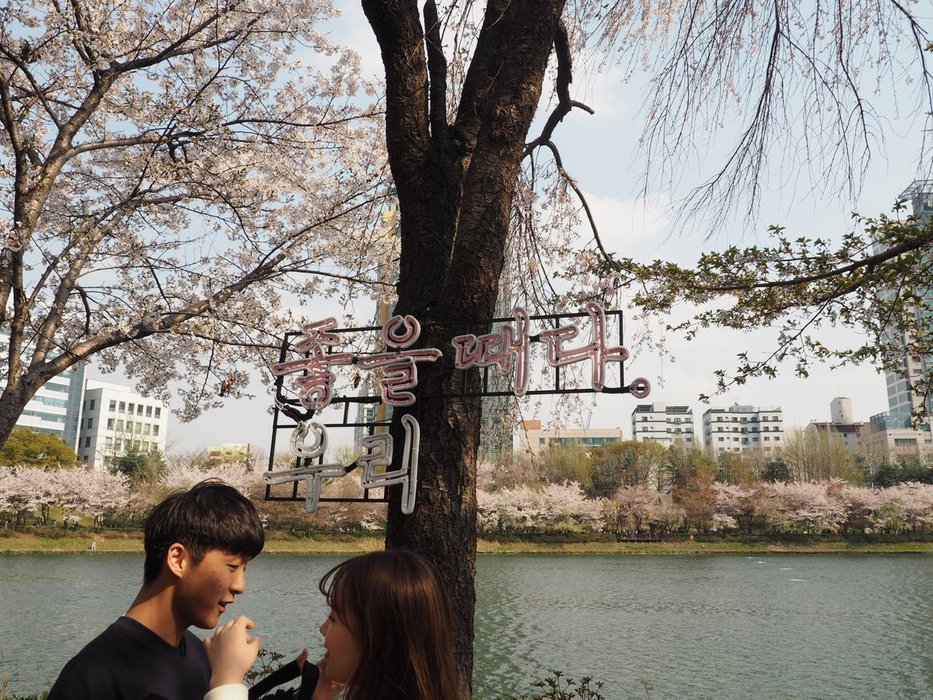 "넌 오늘도 예쁘구나"(You look so pretty today!)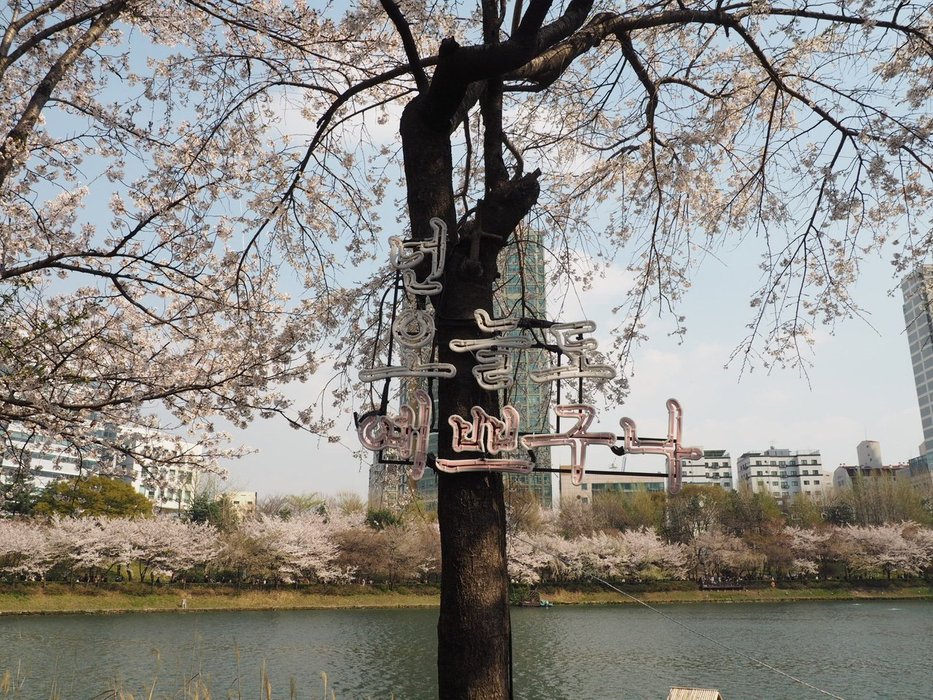 Also, there are different style of cherry blossoms! This is pink, drooping and the only one at Seokchon Lakeside.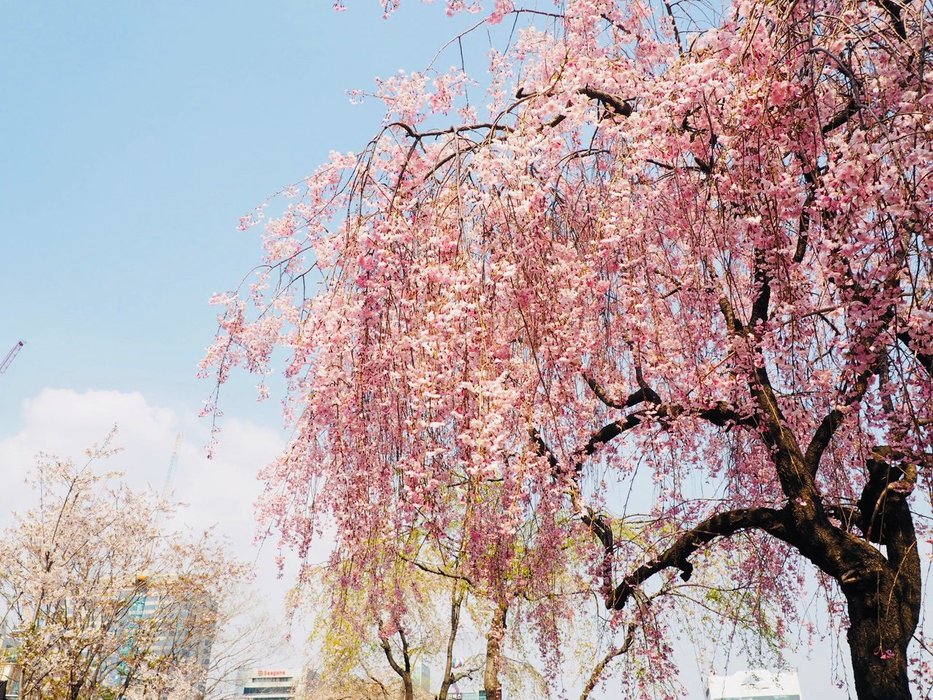 This is white and fill with pink at the core part!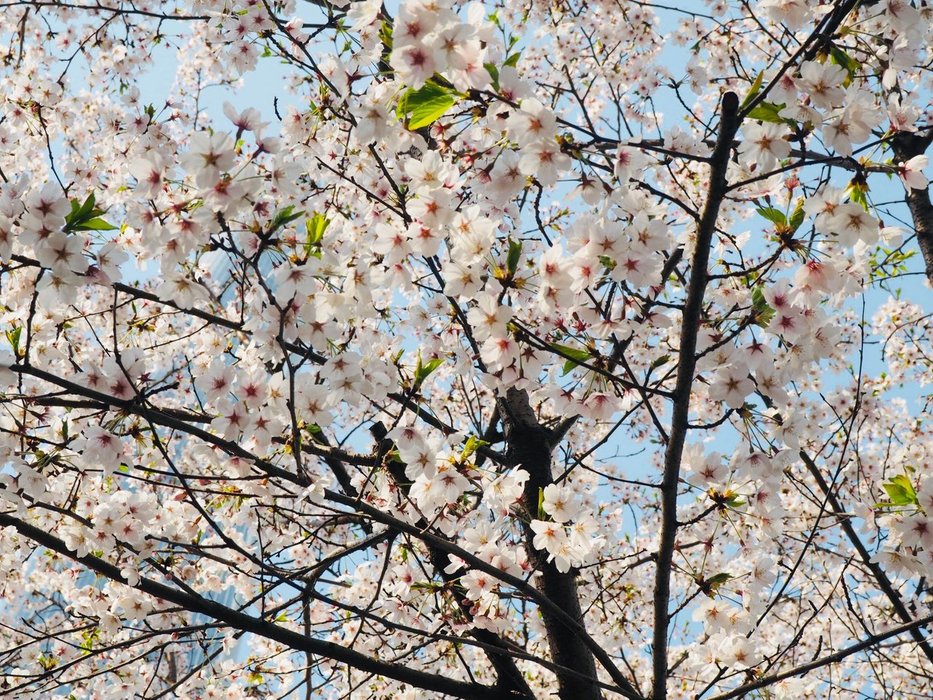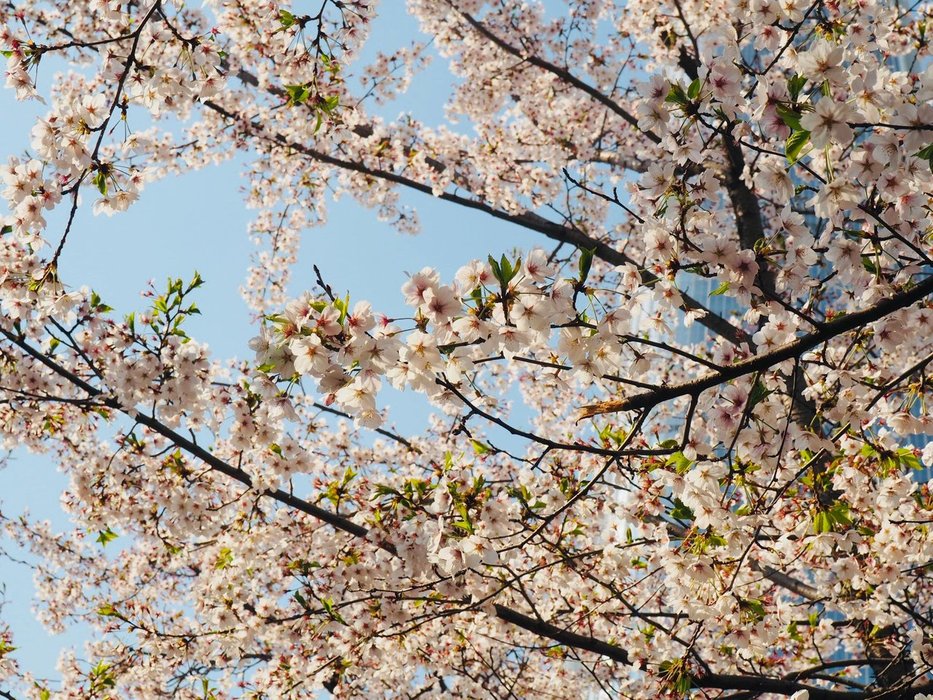 Such a great time to spend with @minloulou walking under those cherry blossoms!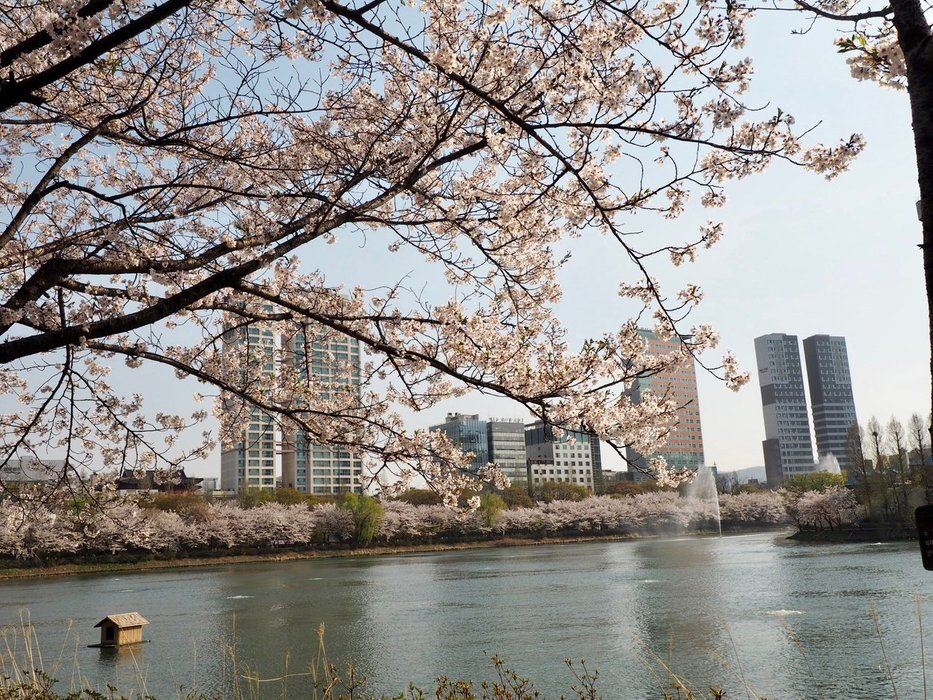 A colourful tunnel area at the middle of the lake.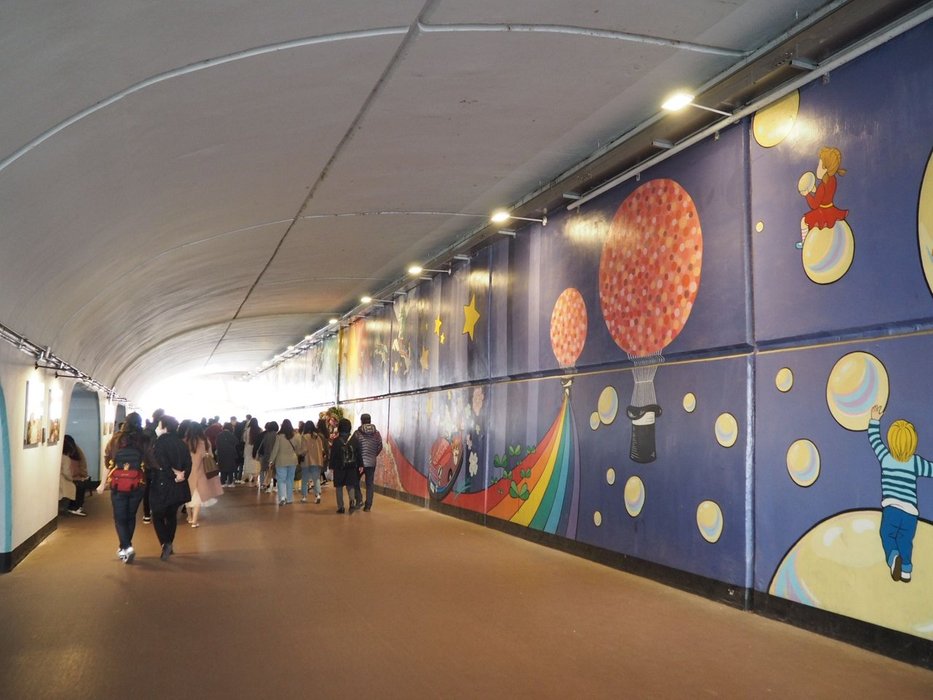 Those art students were sketching under the cherry blossoms.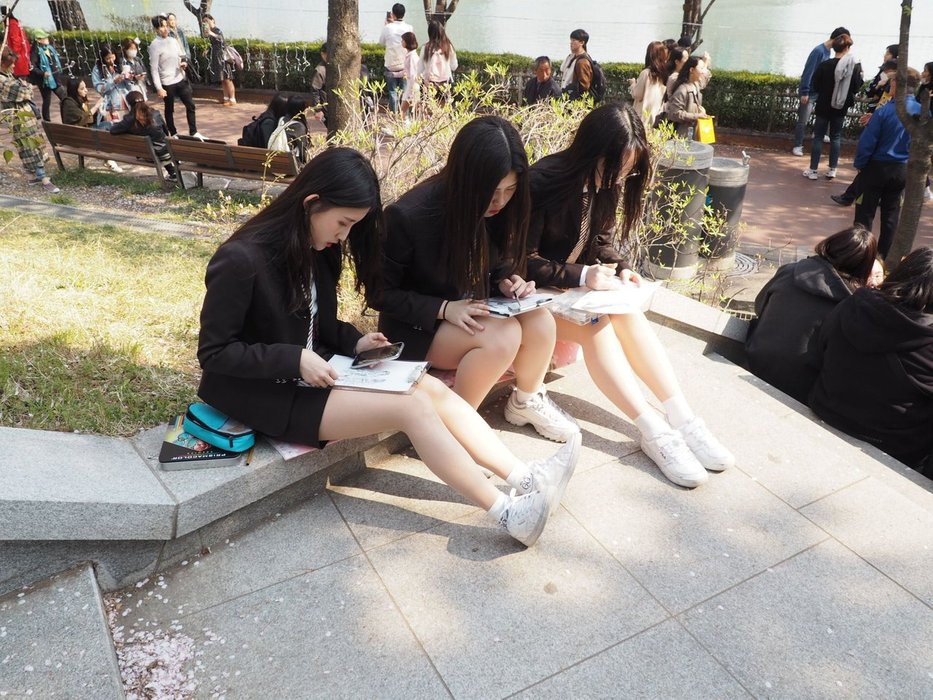 ---
How to get there?!
Take subway line 2 or line 8 to Jamsil station, you can find Seokchon Lake at exit 1 or 2 :D
---
Bukchon Hanok Village, Anguk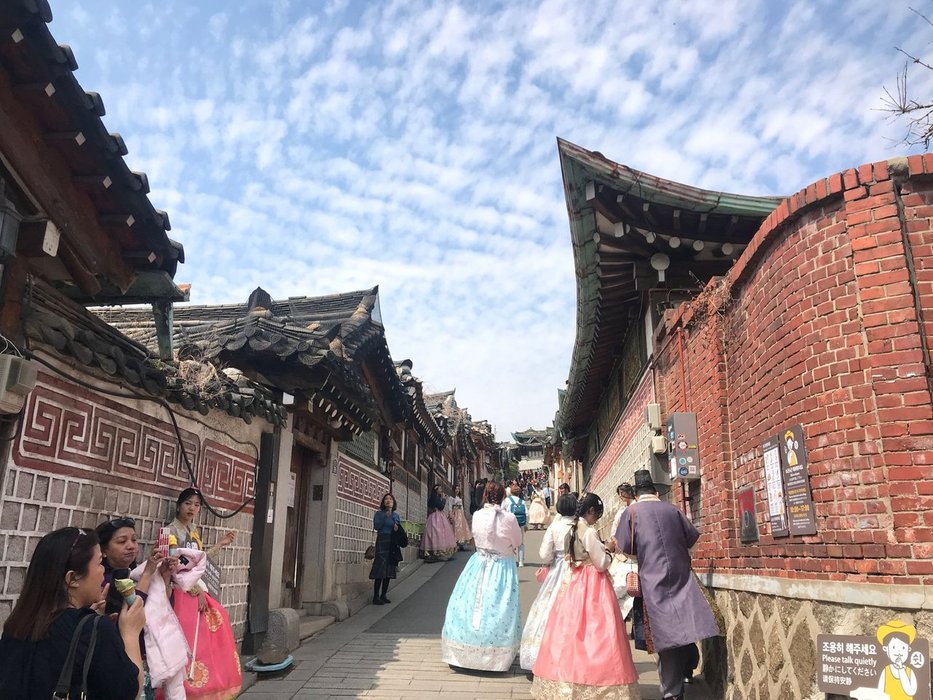 Went to Bukchon Hanok Village with a nice weather, blue sky and sunny!
There are a lot of traditional house(Hanok), you can see a lot of tourists or locals wearing Hanbok and take photos :D
you need to keep quiet as there is residential area!!
The cherry blossom spot located at an alley near Hanok Village!
The alley is next to Duksung Girls High School, cherry blossom in full bloom again <3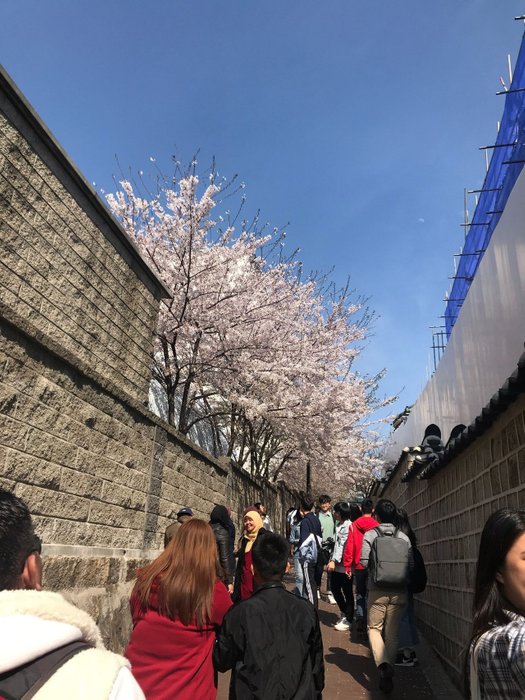 I do love those photos took under blue sky :)
All photos look like postcard....and I hope I am in Seoul now! haha...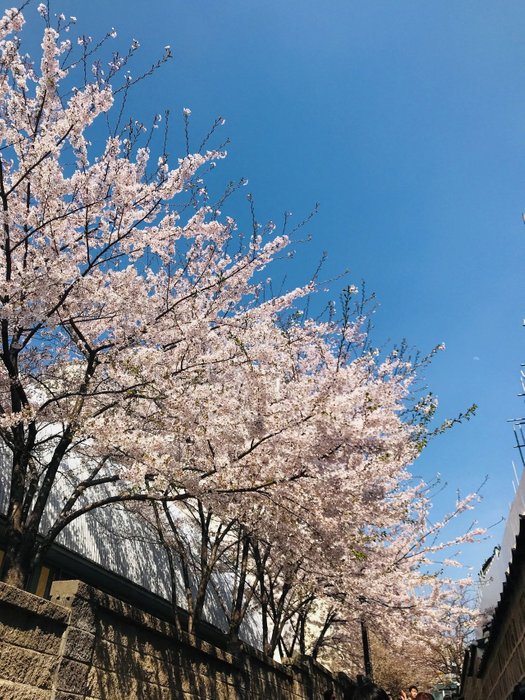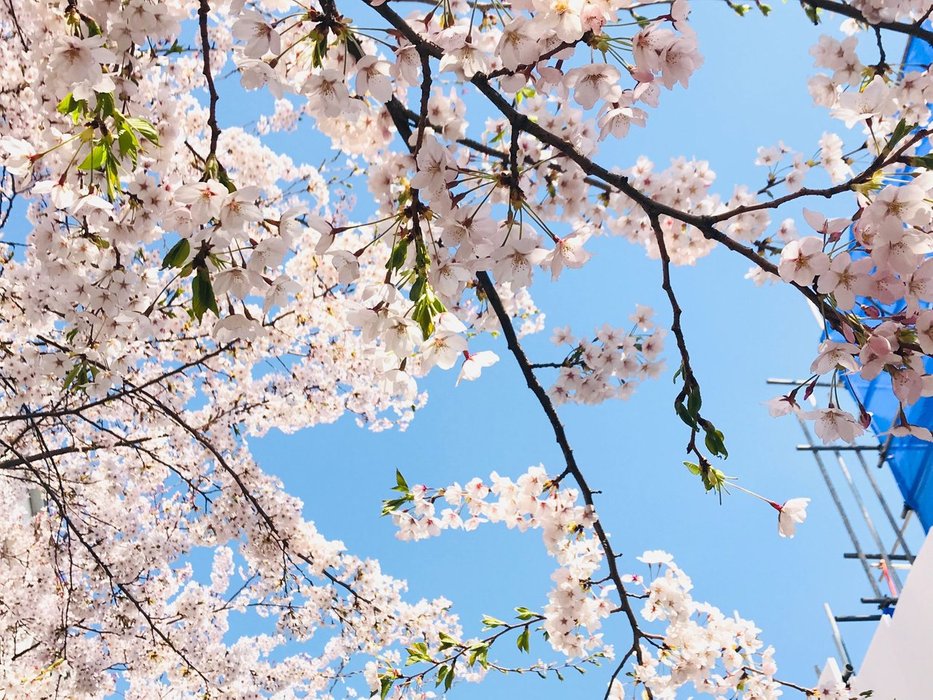 Highly recommend you to visit Gyeongbokgung and see the Gwanhwamun! It is really awesome and can understand more Korean culture :)
Not just watch in the K-drama but watch the actual view directly!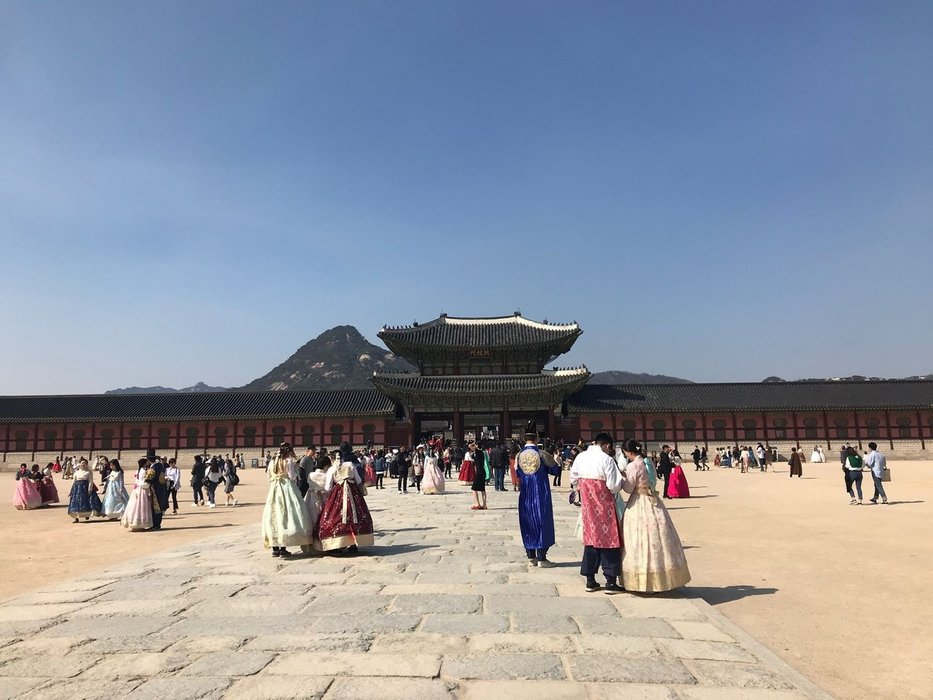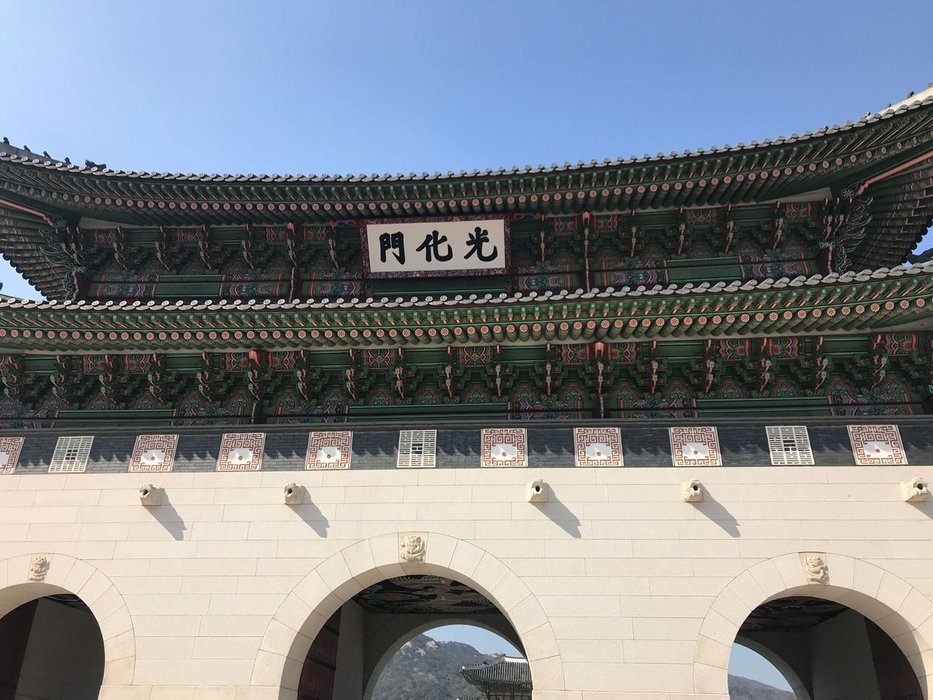 ---
How to get there?!
1.Take subway line 3 to Anguk station, exit 1 for cherry blossoms, exit 2 for Hanok Village!
2.Walk around 10mins to Gyeongbokgung from Hanok Village Or
3.Take subway line 3 to Gyeongbokgung station, exit 5!
---
ENJOY!!!!
---
Location information
● Bukchon Hanok Village, 계동길 嘉会洞鐘路區首爾南韓
● Seokchonhosu-ro, 松坡區首爾南韓
● Gyeongbokgung Palace, Sajik-ro, Sejongno, 鐘路區首爾南韓
---
This is posted on trips.teem