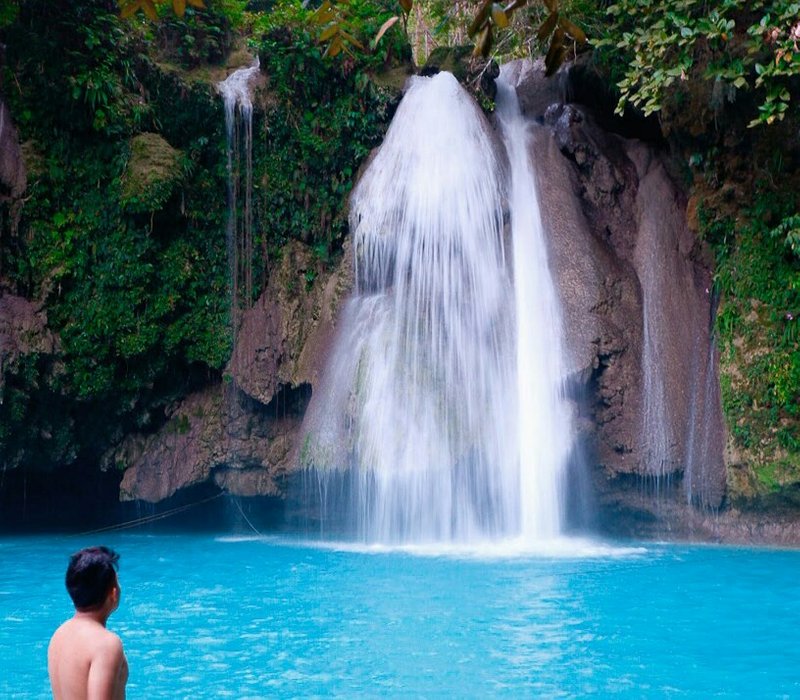 I've been to Kawasan Falls three times and I don't mind if I'll go back for the fourth time. I can still remember when I went there for the second time, my friend told me to take the money shot. I didn't know what that meant so I asked her. She explained that we should take a photo of that majestic falls as remembrance. She further articulated that money shots are those photos that can be seen in travel blogs, magazines, flyers, and pamphlets. Those photos would draw tourists from all over the world.
Now that I've explained why I had a title for Kawasan as such, you don't need to read further; but if you want to know why Kawasan Falls is The Money Shot of Cebu, please don't leave.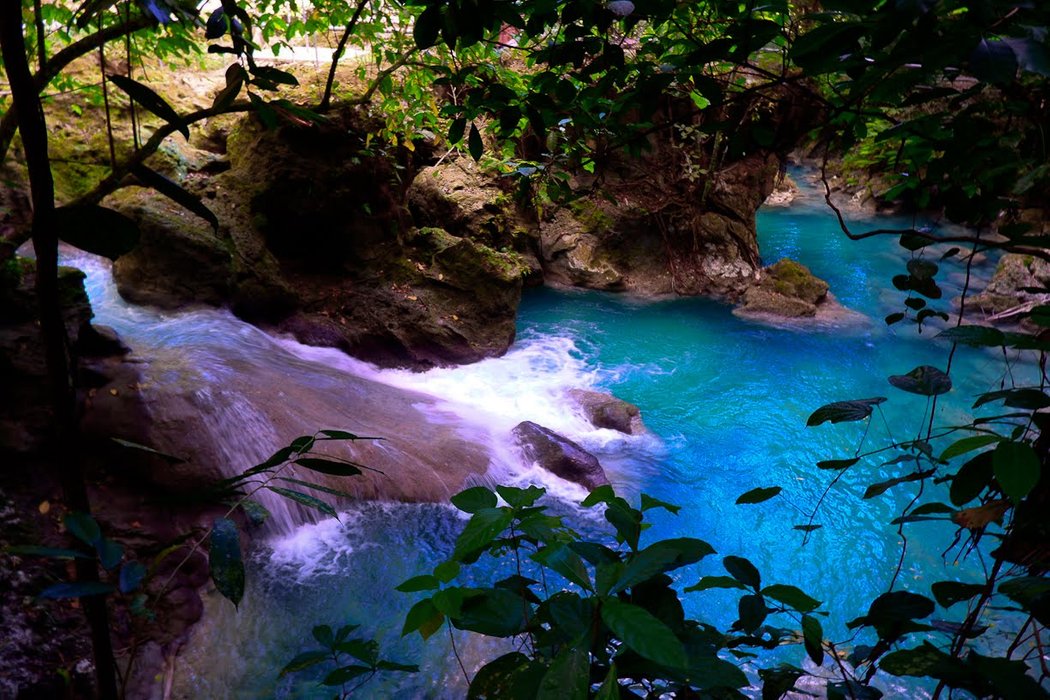 Kawasan Falls is known all over the world. Foreigners, mostly Caucasians and Koreans, would flock the area and enjoy that freshwater experience. For those foreigners, having to spend a night at the famous beaches of Moalboal or at Lambug Beach, going to Kawasan in the morning is a must. After all, who would miss those picturesque waterfalls?
There's this common expectation that you haven't been to Cebu if you haven't been to Kawasan, even if you're in Cebu. I guess you could tell by now why I called Kawasan as The Money Shot of Cebu. Cebu has a lot of tourist spots to be proud of and Kawasan Falls is definitely in the lead. To have a grasp of what I mean, just google Kawasan Falls and everything will be clear to you.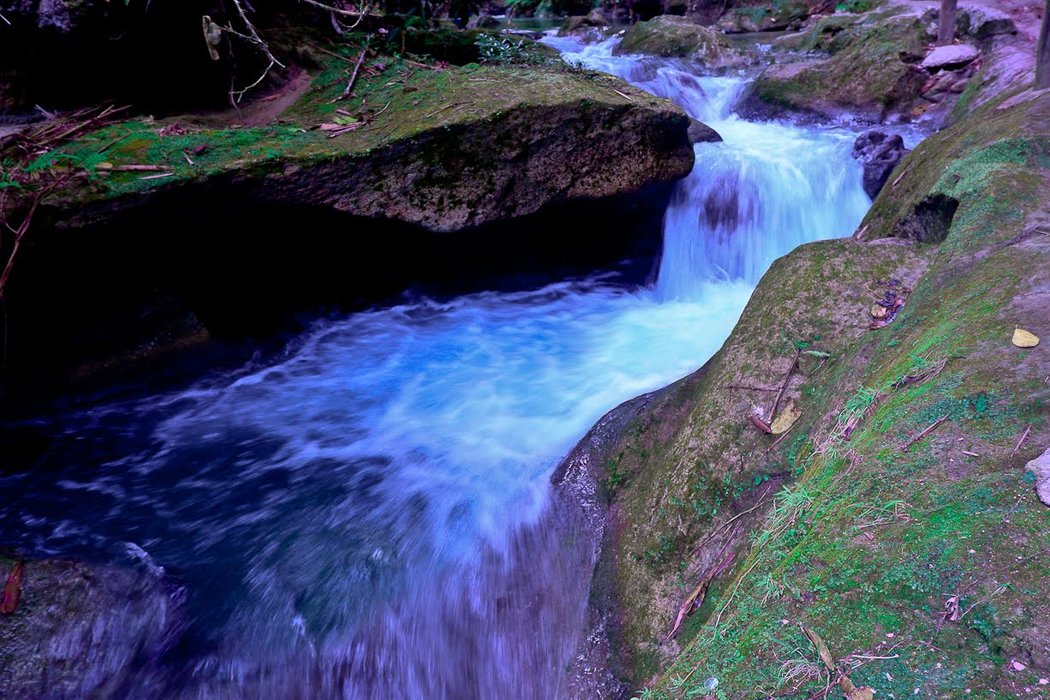 Now this might seem odd because my quests mainly showcase underrated destinations, but I think there's something more to this particular tourist spot. I decided to make an exception. I will not limit myself to places that deserved more recognition. I will also include places that are already known. Everything will still be my own take, perspective, and experience.
Kawasan Falls is just the front line of the many falls in Cebu. There are others that are as majestic as this one and they also deserve a spot in my quests. For now, let's settle on this one.
---
KAWASAN FALLS
The Money Shot of Cebu
---
Location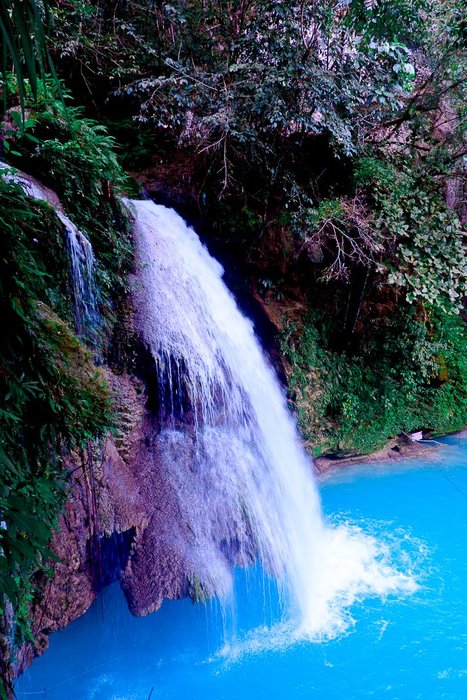 Kawasan Falls is located in Barangay Matutinao, Badian, Cebu, Philippines. It's just 15 to 30 minutes walk from the national highway, so it will not be that difficult to access. For more details about the place, here is an information probably made by the local government of Badian.
How to Get There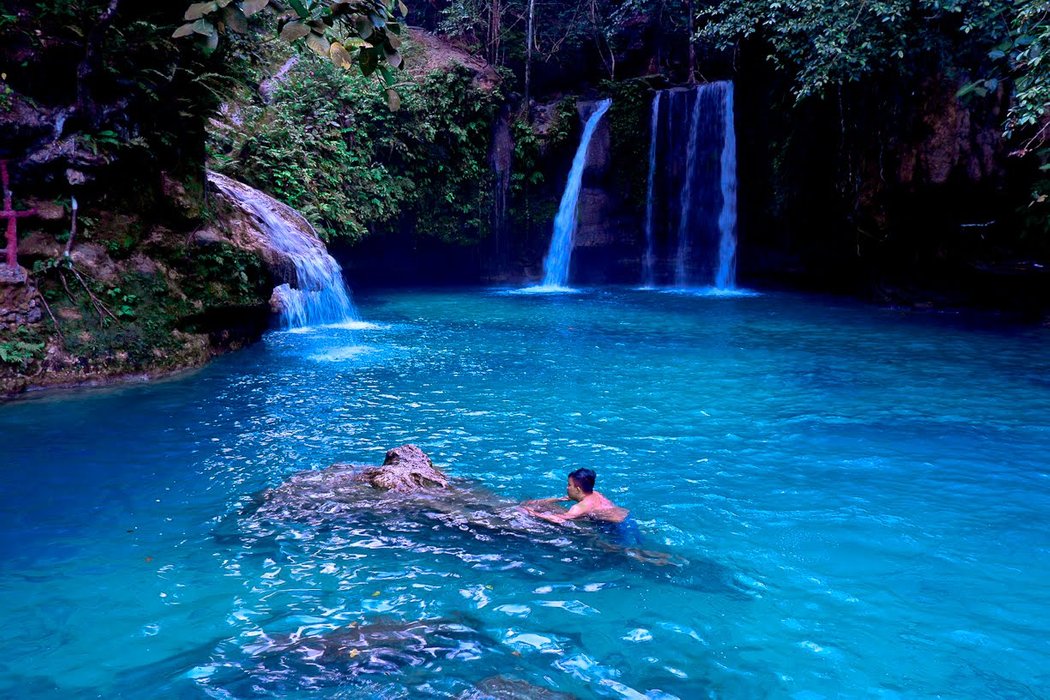 A detailed guide from Swedish Nomad can be accessed here. Every detail is available depending on your choice of starting point. For those who choose to start at the city proper, you can have Cebu City South Bus Terminal as a meeting point. From there, it's pretty straightforward. You can ride a bus to Bato via Barili. Now you have take note that you should ask the driver or anyone there if your bus is going to Bato via Barili.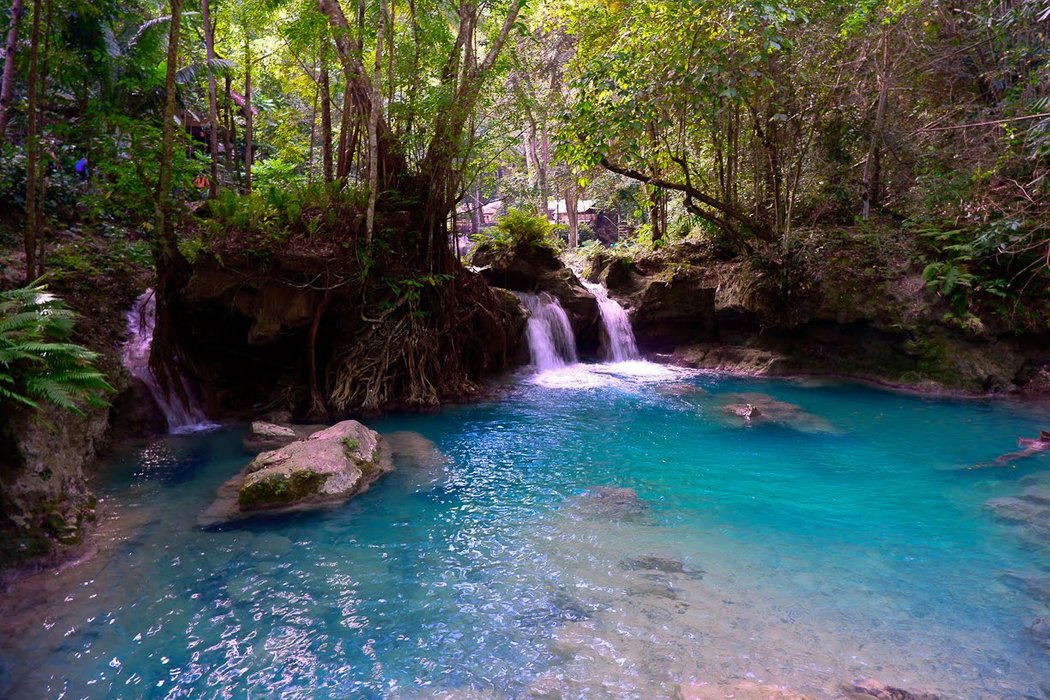 Badian is in the west side of Cebu and its a common mistake to ride a bus en route to Bato via Oslob. That's at the east side of Cebu and it will diverge at Carcar Rotonda in Carcar City.
If it happens that you got it all mixed up, you can just ride another bus from Bato to Badian, so you don't have to worry. It will just take a lot longer than the first option.
All About Kawasan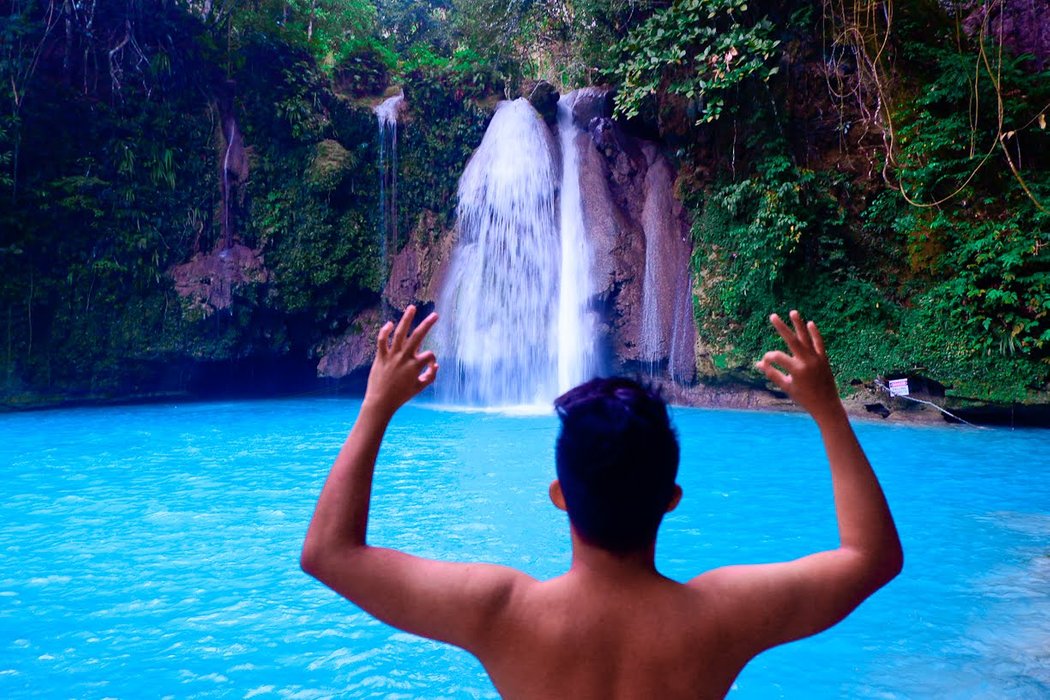 Kawasan Falls is a three-tiered waterfall that's famous for its turquoise blue water. Some people would call it Gatorade blue as its color resemble a lot like that Gatorade blue drink.
What you see in the photos online are actually the color as is. My photos are a little bit enhanced, but I can say that its mesmerizing hue is all real. It might be due to calcium and magnesium ions since limestone deposits are abundant in the area. While the water is refreshing, it might hard because of those ions that are present in it.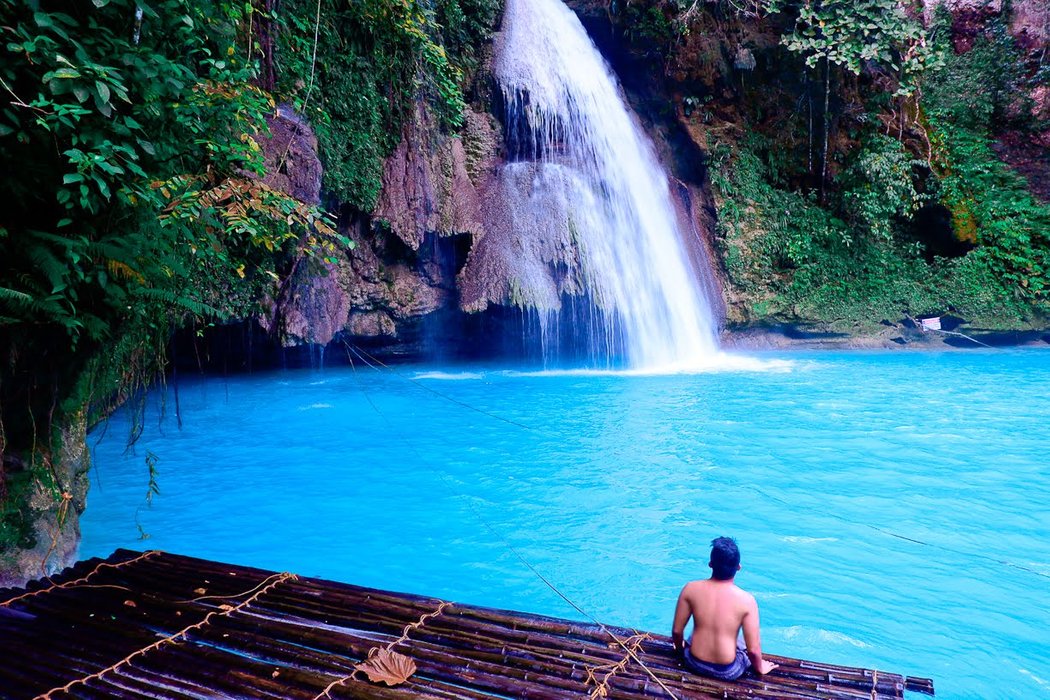 First level of Kawasan Falls. The money shot of Cebu.
The first layer is the one that's famous and the most majestic of the three. It's where most tourists would settle down. Little did they know that there are second and third levels which are also interesting to explore. The second layer is composed of two smaller falls, but a lot less crowded than the first layer.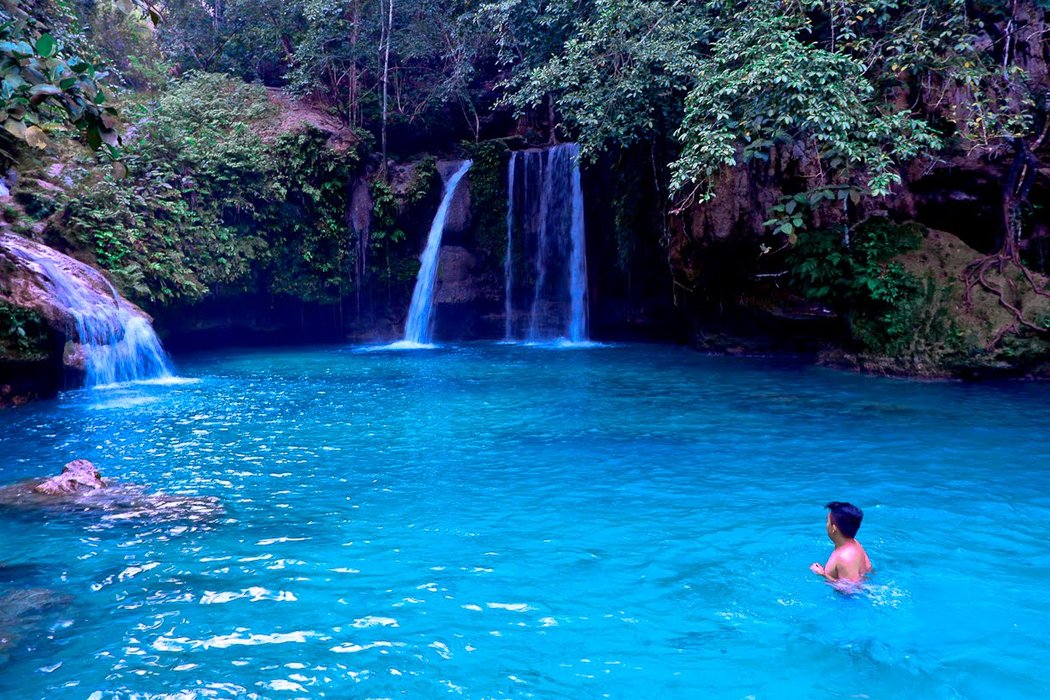 Second level of Kawasan Falls; composed of two smaller waterfalls.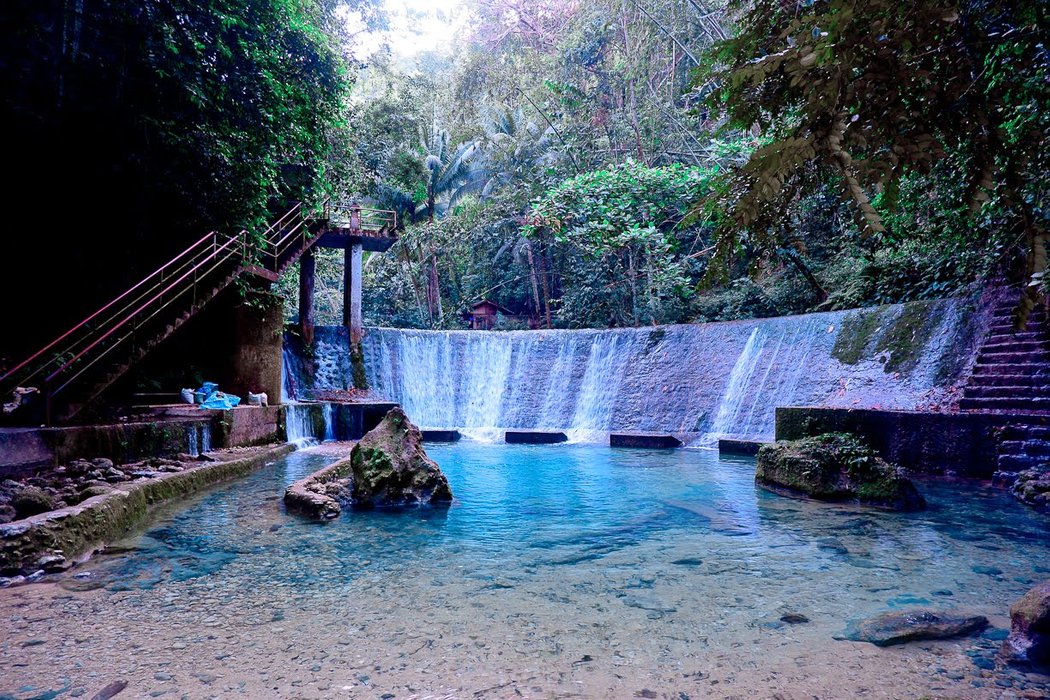 The dam that controls the water flow to Kawasan Falls.
Before you get to the third layer, there's a dam that's also famous in instagram. Up in the third level is the source of the falls. They call it Kabukalan Spring that gushes out from a small cave. The cave might be a network coming from the central mountain range in Cebu.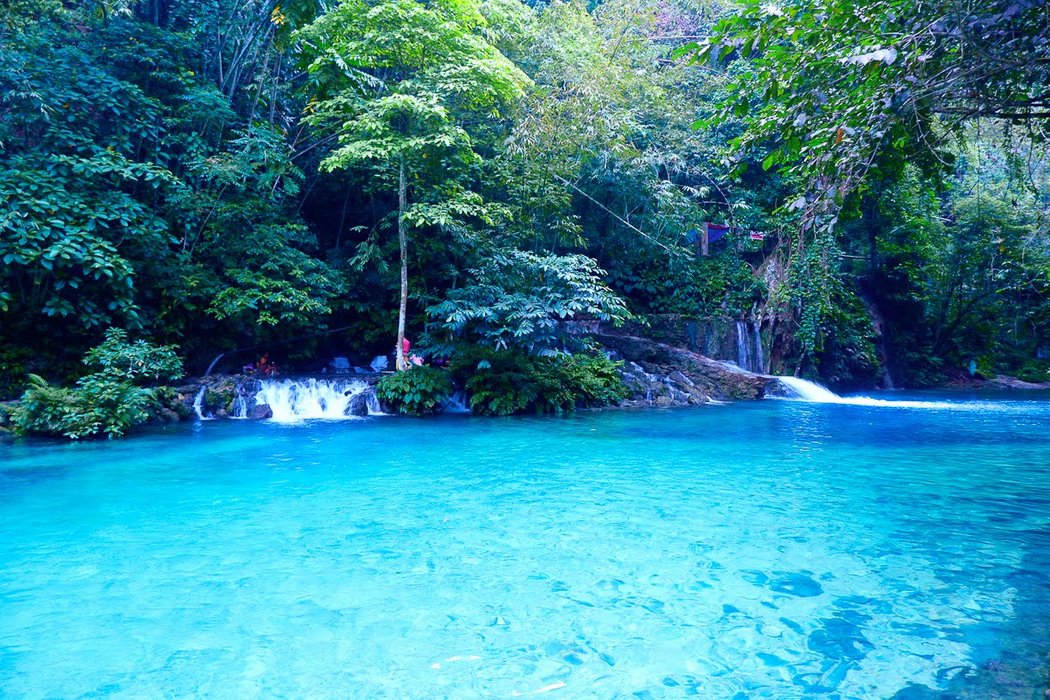 Kabukalan Spring. The source of the majority of the water in Kawasan Falls. Behind those lush vegetation is a small cave where the water gushes out.
Due to its cleanliness, Matutinao River System, in which Kawasan Falls is part of, has been awarded multiple times as the cleanest inland body of water in the Philippines.
Tips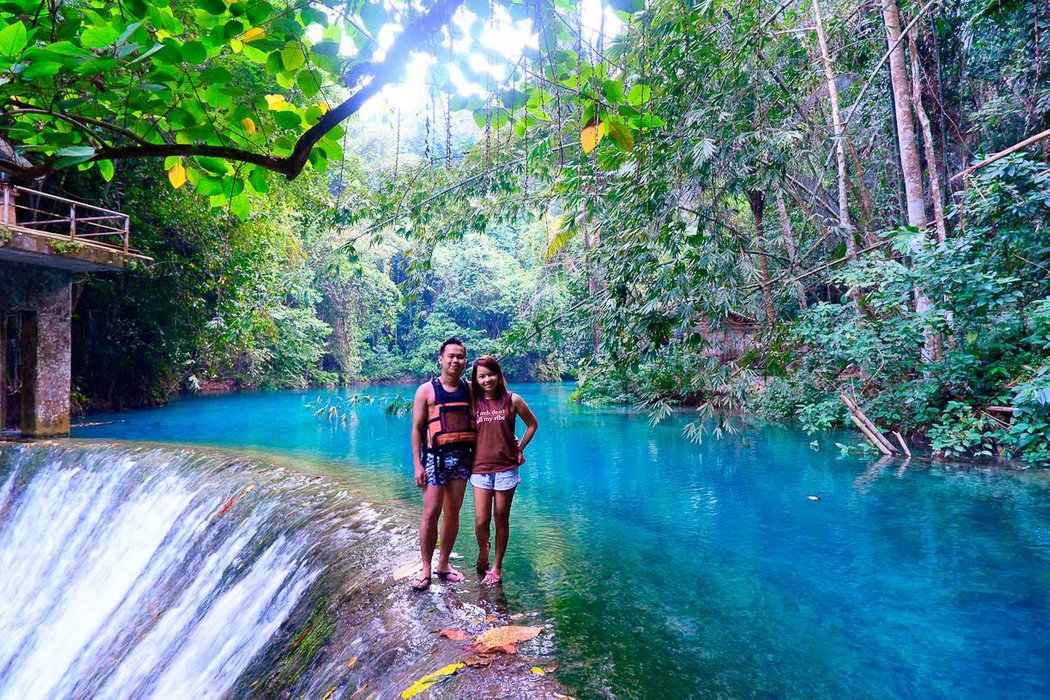 The color of the water might be mesmerizing and maybe you can think that going to Kawasan Falls will make you relax and be with nature, but it's far from being quiet. Due to its popularity, a lot of local and international tourists flock the area even on weekdays.
Now, as I've said, I have been to Kawasan three times and I have been relaxed there. The tip is to go there as early as possible. If it's still dark, that's the best time to be in the area. Most tourists would start to flock at around 8:00 AM so at 9:00 AM, the whole area would be so full of people that it will be hard to take a descent photo without photobombers.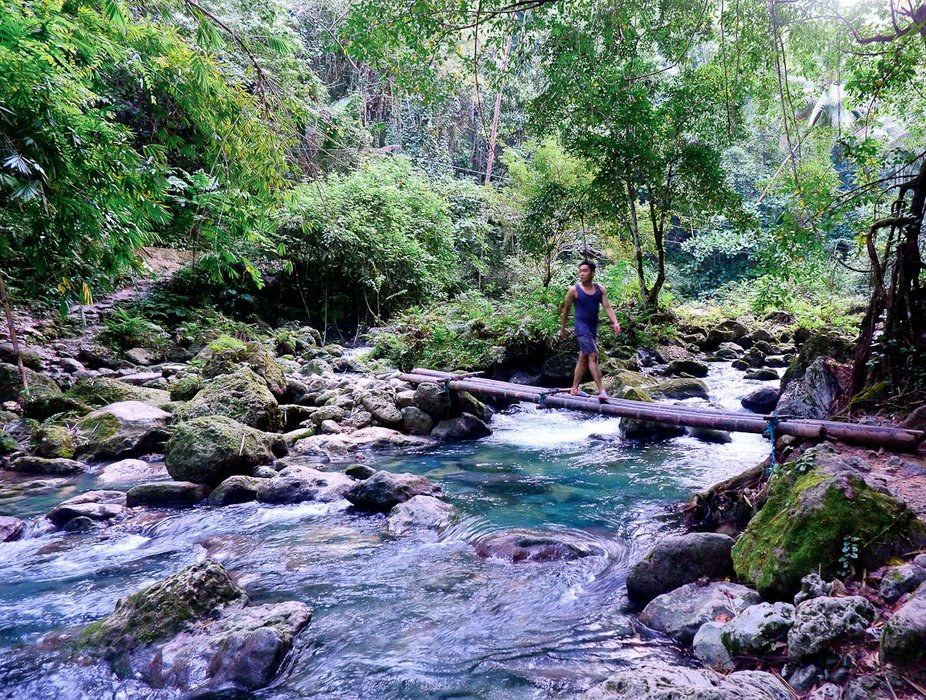 In those three times that I've been there, we were already in the third level at 5:30 AM. There are a few tourists with us, but it's not as crowded if you come later. The cold water will surely wake you up, so you don't have to worry if you're not a morning person.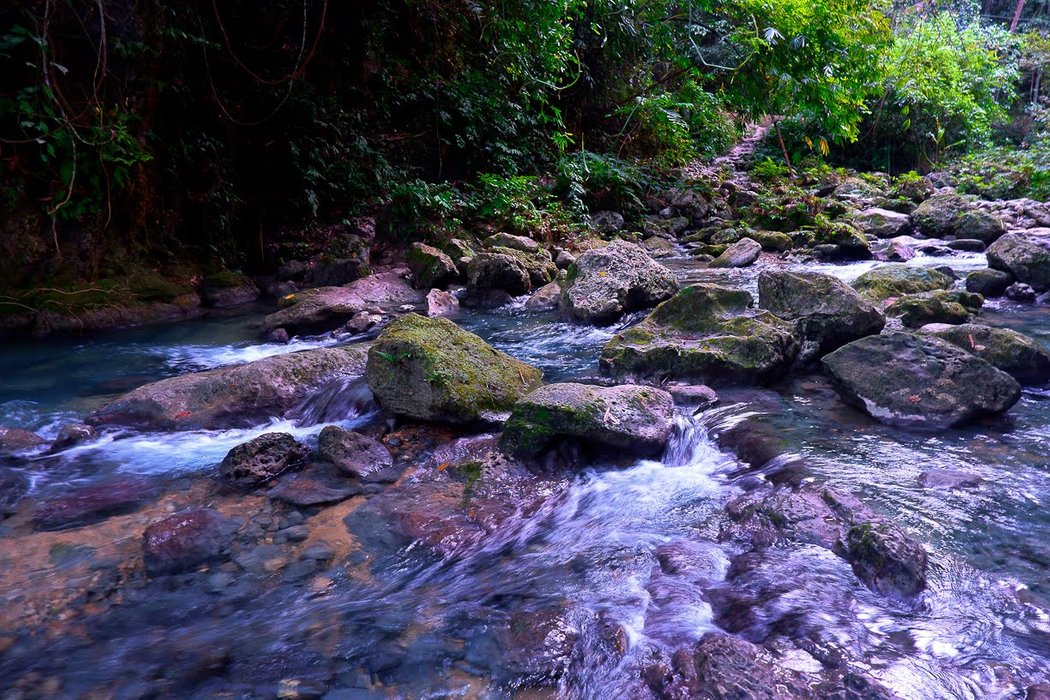 Another tip is to start at the first level, but don't stay much longer in there. Try to go to the second and third level. Every level has something to offer, so it will be your loss if you will not try to explore those different levels.
As for my last tip, bring water and snacks when you go to Kawasan Falls. While snacks are available at the first and second level, they're a little marked up so you might be paying a little extra for the same food outside the area.
Final Words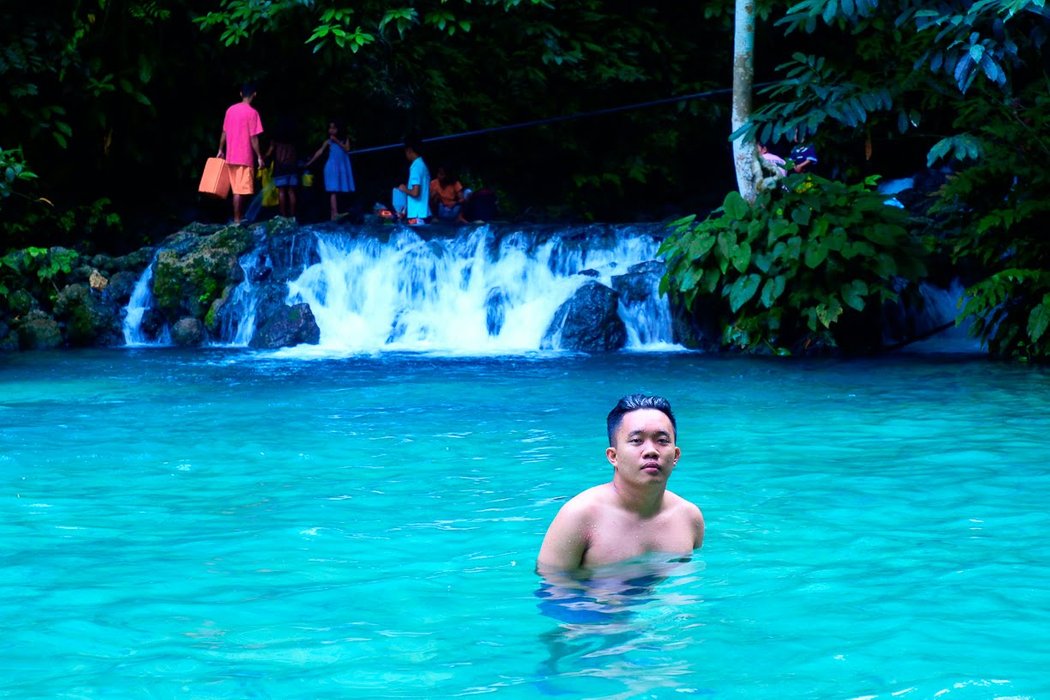 Those people behind Zaniel (my friend and model 😂) are the locals doing their chores early in the morning. Some are taking a bath, while others are washing their clothes near Kabukalan Spring.
As I always say in my previous quests, don't act like a conqueror. Respect the place and the locals. Remember that the locals are also using the river system as part of their daily lives like washing their clothes, so it's best not to throw your garbage there. Bring your thrash with you.
Since the river system is one of the cleanest inland body of water, let's help to keep it that way.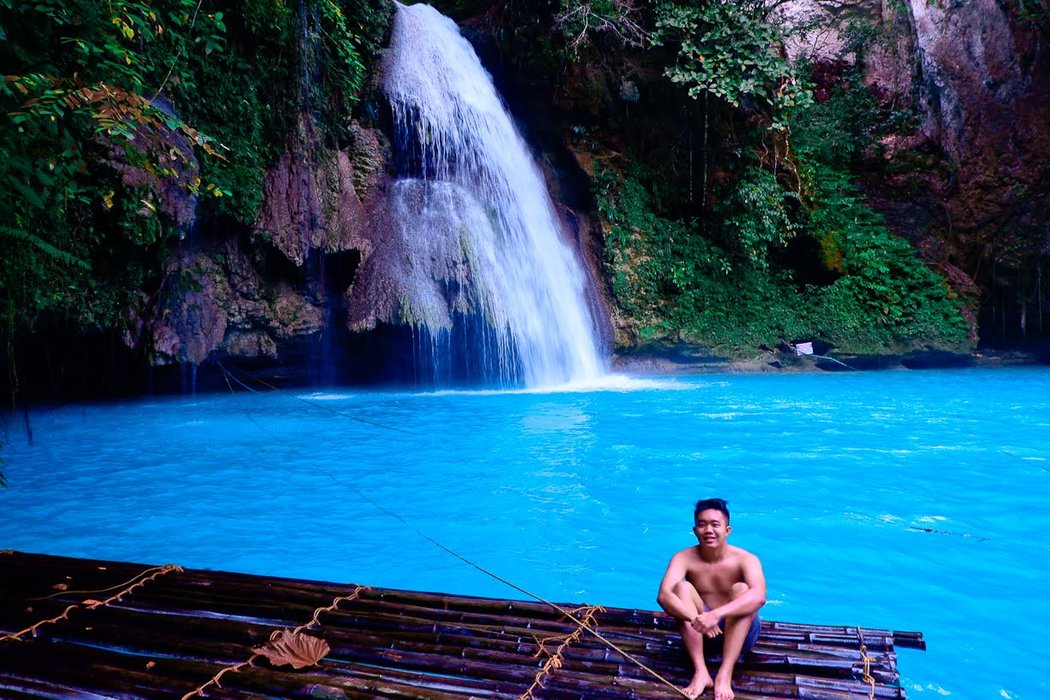 Don't forget to relax and enjoy the place. The lush forest beside and above the river system is another sight to experience. Also, don't forget to take a dip even if the water is so cold. That's another refreshing experience that's worth all the hassle.
Note: All photos are mine. Taken from my Fujifilm XT100.
See you in my next adventure!
Best Regards,
Kim