I knew the Solomon R. Guggenheim Museum from the art class in elementary school. Several years later, I finally stood in front of the building.
You may have heard couple of museums with the name Guggenheim. Yes, Mr. Solomon R. Guggenheim, a successful American businessman, founded the Solomon R. Guggenheim Foundation in 1937 to promote the understanding and appreciation of art, primarily modern art.
The Solomon R. Guggenheim Museum New York is located in the Upper East Side neighborhood of Manhattan, just opposite of the Central Park. The building was designed by the outstanding American architect Frank Lloyd Wright. He also designed the Fallingwater House near Pittsburgh, PA. Somehow I think the two masterpieces look like sisters or brothers.
这也是一次小学美术课本溯源之旅。

古根海姆美术馆位于纽约上东区,中央公园对面。你也许听说过好几个古根海姆博物馆。对,这些你知道的古根海姆博物馆都属于古根海姆基金。这个基金由美国商人所罗门古根海姆于1937年建立,致力于推广现代艺术。

纽约的古根海姆美术馆由美国著名建筑师赖特设计。赖特的另一个代表作是宾州匹兹堡附近的流水别墅。我觉得这两者有异曲同工之妙。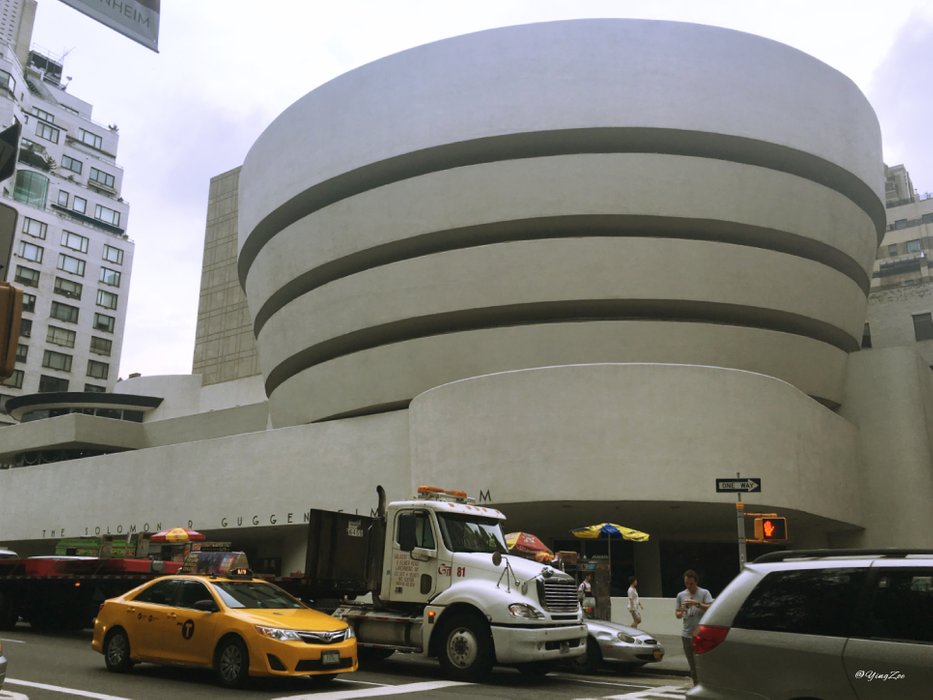 The interior design aligns with the exterior of the building. It's kind of like a nautilus shell. Actually the museum is really small. However, the flow of spaces are just so smooth that makes the museum looks larger than it is.
To be honest, I was so fascinated by the building itself that I cannot recall the artworks displayed in the museum.
美术馆的内部构造跟外部设计一脉相承。楼层缓慢盘旋而上,有点像鹦鹉螺。虽然美术馆说真的挺小的,但空间延伸感非常强也非常自然,巧妙地弥补了面积的缺憾。

因为建筑本身的设计太吸睛,以至于我都忘了美术馆里面具体有些什么展品。。。

Overlook the atrium. 俯瞰中庭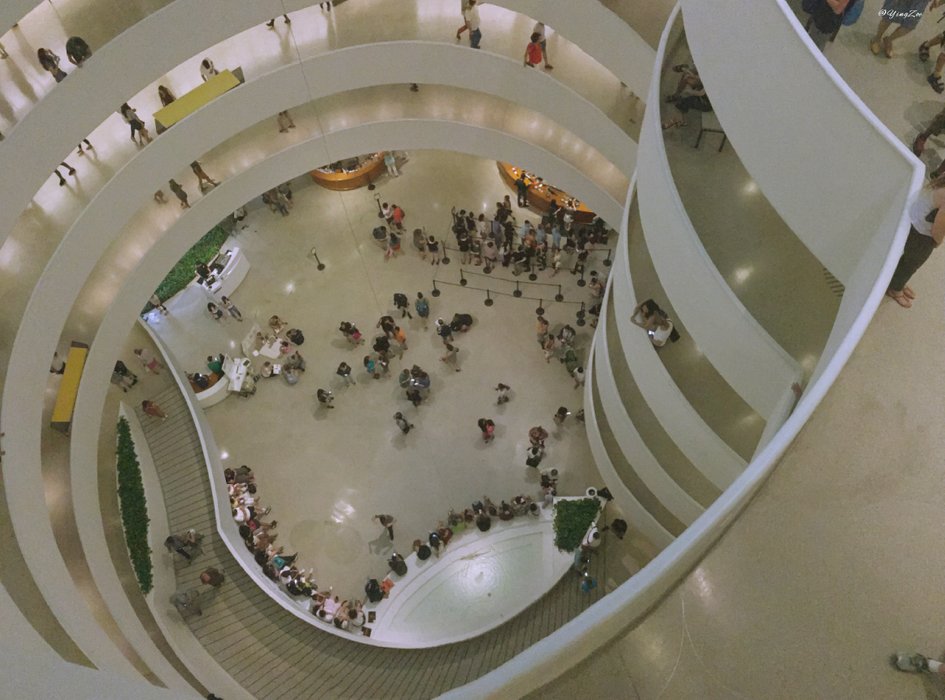 The glass dome is the only window of the museum. Thanks to the glass dome to takes into the sunshine and natural light to the closed space.
美术馆的玻璃穹顶为相对封闭的空间引入了阳光和自然天光,不然真的会很逼仄。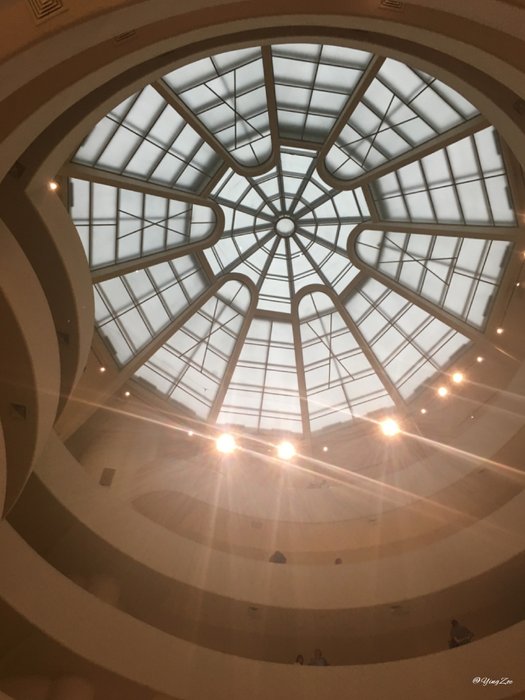 If you are a fan of architecture, I recommend you take some time to visit the museum when you are near Central Park. The Upper East Side is a very decent neighbourhood as many people know.
Hours
The museum closes on Thursday. On other days, it opens from 10am to 5:45pm. On Saturday it opens until 7:45pm.
Price
$25 for adults
$18 for students and seniors
Free for children
如果你也爱好建筑,那么我觉得可以在访问中央公园的时候抽空去古根海姆美术馆逛逛,顺便在纽约最好的上东区走走。

开放时间:周四闭馆。其他日子早10点至下午5点三刻,周六多开两小时到7点三刻。

门票:成人25刀,学生和65岁以上老人18刀,儿童免费。