I can't believe the positive twist ever since we arrived in Cambodia! :)
Von Koh Rong gehen wir da hin, wo der Pfeffer wächst: Kampot. ;)
Ich kann's kaum glauben, wie gut ich mich mit Kambodscha nach dem schlechten Start noch anfreunden konnte!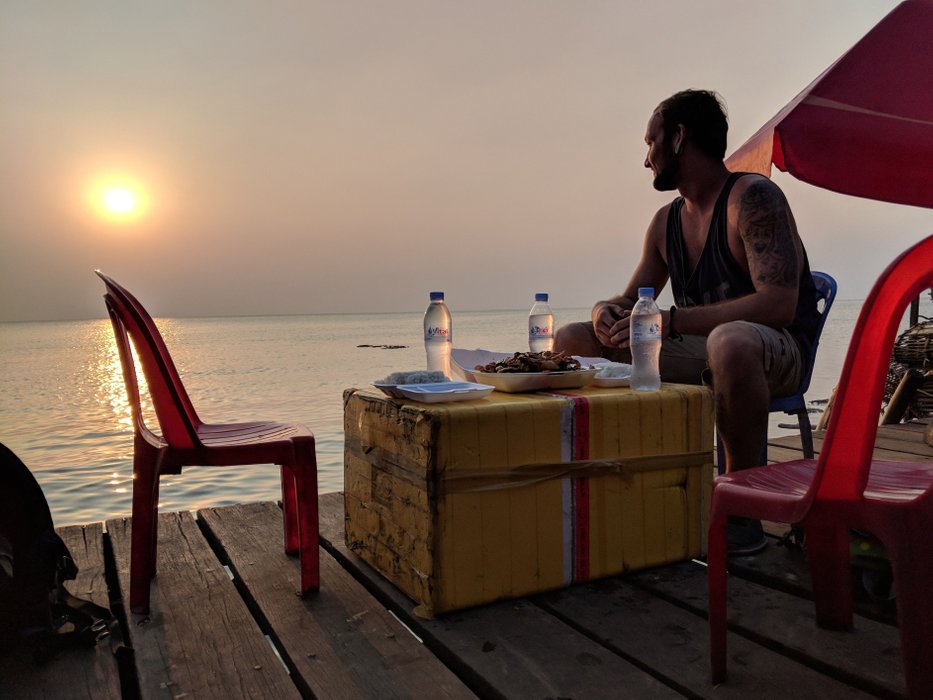 Bromance dinner with baby chairs at Kep crab market.
Story time! A friend of us used to work in a bar on Koh Rong a few years ago. The bar no longer exists and we learn that the previous owner and his girlfriend (Mathilda) are to be found in Kampot at "Karma Traders".
Flo and me come up with a quest: drive to Kampot and get to know them.
Zeit für ne Anekdote! Ein Freund von uns arbeitete vor Jahren auf Koh Rong, in einer Bar, die jetzt nicht mehr existiert. Auf Nachfrage erfahren wird, dass der ehemalige Inhaber mit seiner Freundin (Mathilda) jetzt in Kampot bei "Karma Traders" zu finden sind. Die Freundin habe ein Tattoo Studio dort.
Flo und ich basteln uns eine Mission: fahren wir nach Kampot und lernen die beiden kennen.
Karma Traders and Kampot Pepper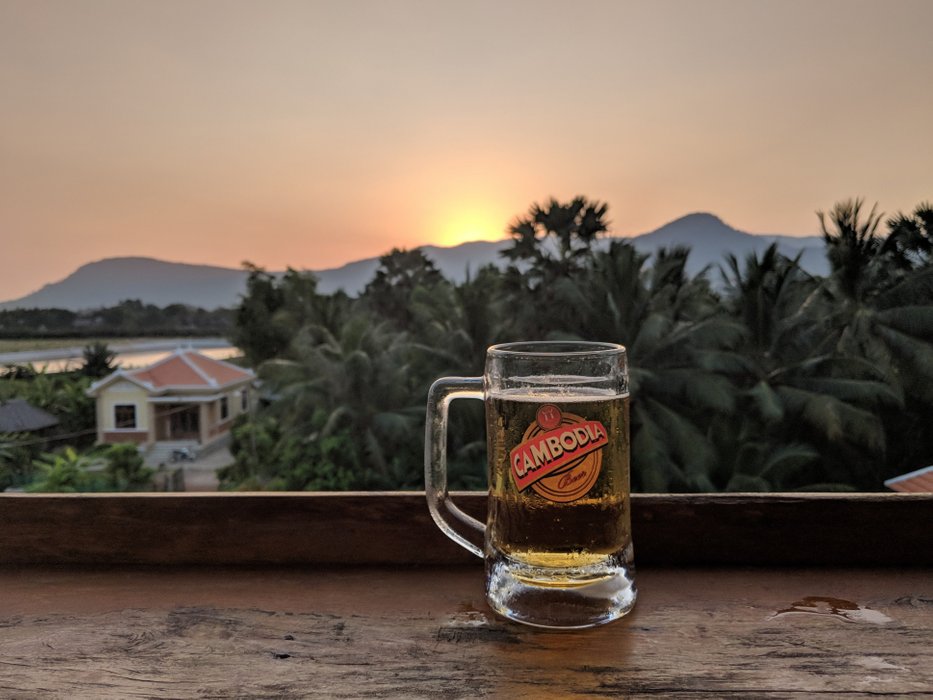 Superb sunsets at the rooftop bar.
As we walk in we could kiss the floor.
It's half the price of the shabby accommodations we had on Koh Rong and offers way more!
Hot water, working sanitary facilities, great staff, good beds, a swimming pool, great WiFi, great food, a quite lively bar and an unbelievably good vibe!
Als wir eintreten, würden wir am liebsten den Boden küssen.
Es kostet halb so viel wie die schäbigen Unterkünfte auf Koh Rong und bietet ein vielfaches!
Warmes Wasser, funktionierende Sanitäranlagen, super Personal, gute Betten, Swimmingpool, super Internet, großartiges Essen, eine stets belebte Bar und einen unfassbar guten Vibe!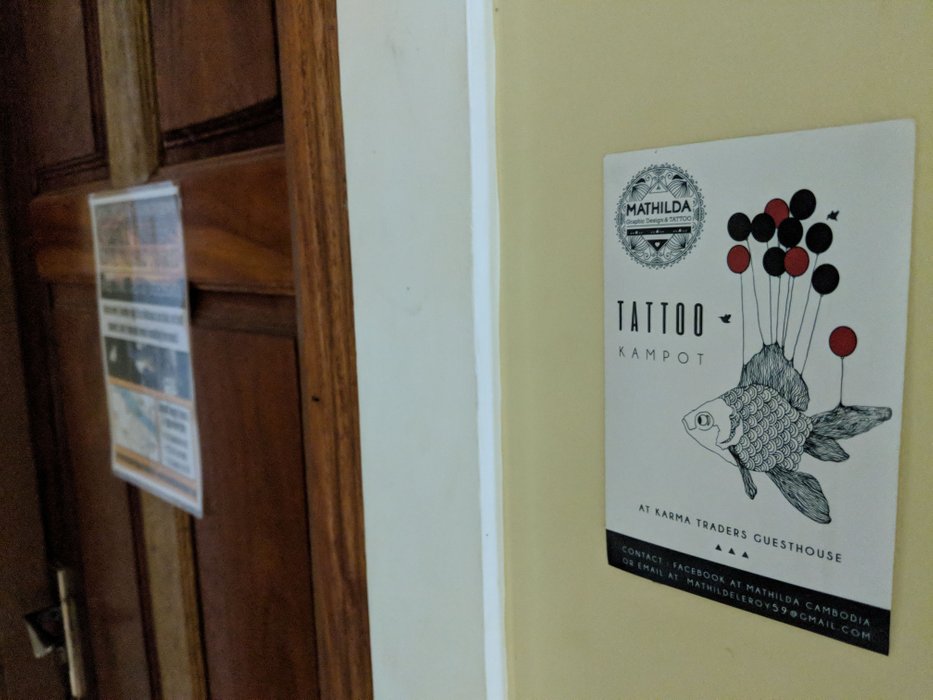 Said tattoo studio is easy to spot but we don't see the people we'd be looking for.
The quest has little priority so we check out the national park Bokor mountain.
Das besagte Tattoo Studio erblicken wir gleich am ersten Abend; die gesuchten Leute aber nicht.
Wir geben der Mission Zeit und fahren erstmal in den Nationalpark auf den Bokor Berg.

Renting two 125 ccm scooters we get a brief instruction on Cambodian traffic laws.
The roads up the mountain are perfect! An enjoyable ride in beautiful nature - the higher the altitude, the colder the air though. And we only wear singlets and shorts. :D
Die Straßen auf den Berg rauf sind perfekt! Eine Stunde voller Fahrspaß in schöner Natur - nur wird's mit jedem Höhenmeter kälter und wir tragen Tank Tops und kurze Hosen. :D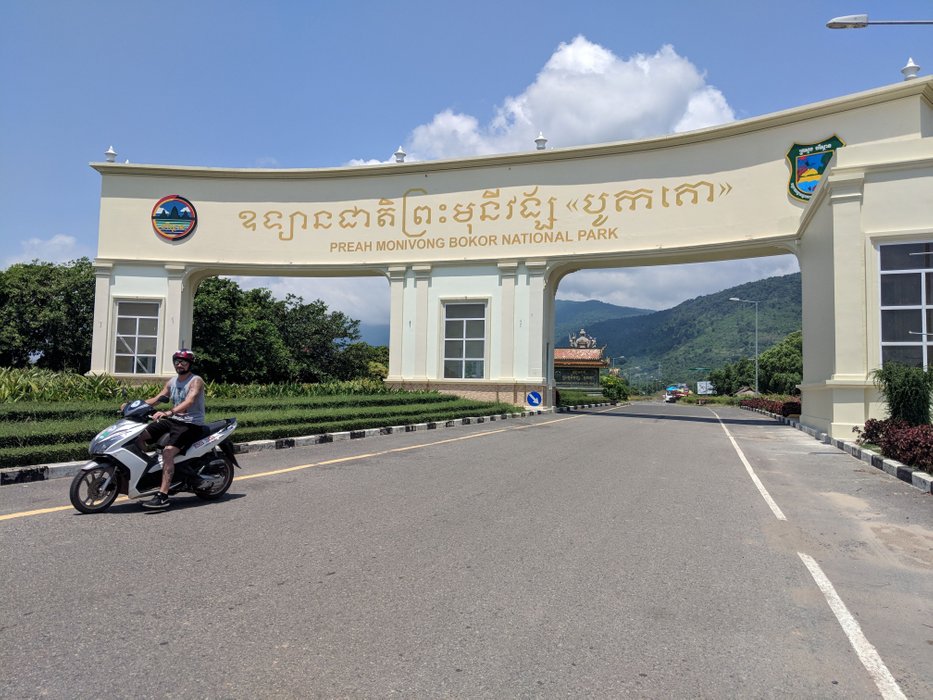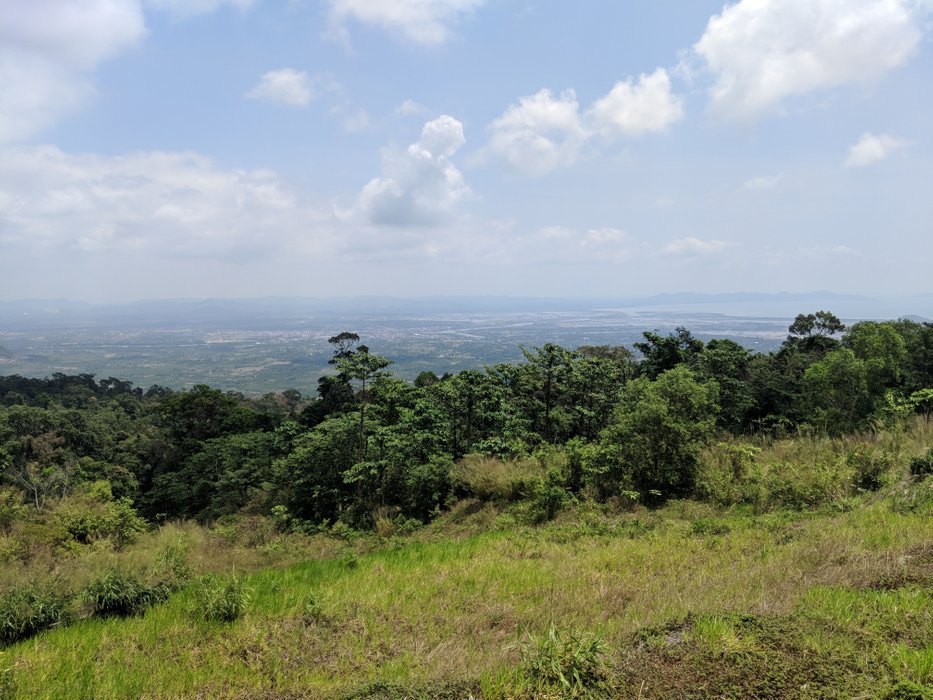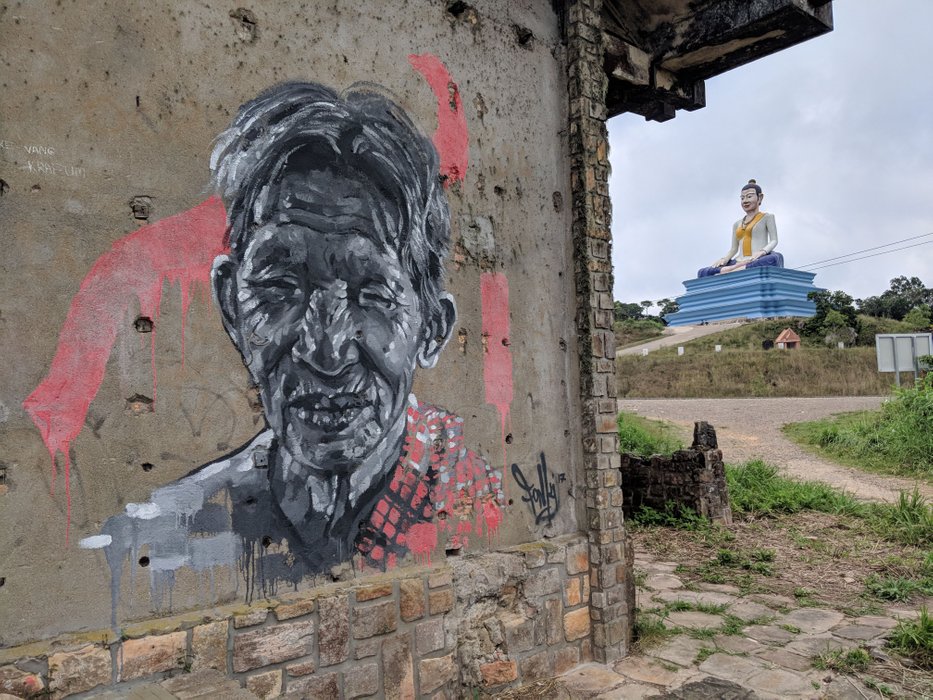 Half way up the hill we stop at King Sihanouk's old residence; now decorated with contemporary art.
The higher we drive up there, the stranger it gets. The entire mountain is surrounded by clouds - still there is no fog on the mountain.
Zebu cows and flocks of sheep on the street. Ruins in different locations and it's hardly populated. Well, it's a national park.
Je höher wir rauffahren, desto schräger wird es. Der ganze Berg ist von Wolken umschlossen - die Sicht am Berg selbst ist allerdings klar.
Zebu Kühe und Schafherden auf der Straße. An verschiedenen Orten stehen Ruinen und es ist kaum besiedelt; ist ja auch ein Nationalpark.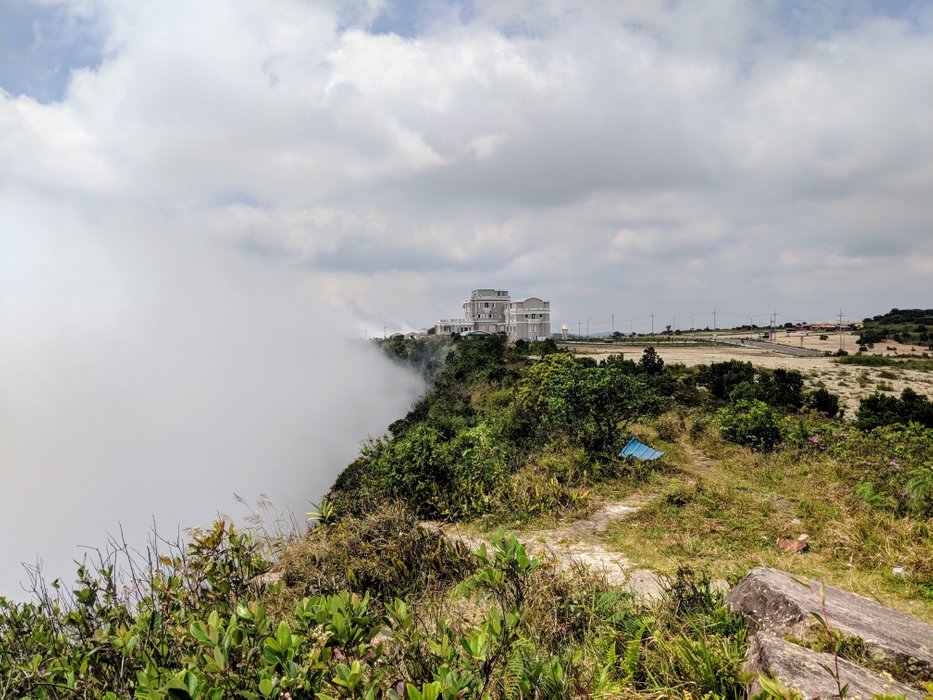 All of a sudden we stand in front of an oversized hotel. Shortly after we learn that Chinese investors are pretty much buying the entire mountain and prepare it for the tourism of their fellow countrymen. I spare you the details.
Let's check out what the mountain's got instead; especially the abandoned French casino!
Plötzlich stehen wir vor einem völlig überdimensionierten Hotelkomplex. Kurz darauf erfahren wir, dass chinesische Investoren gerade den ganzen Hügel aufkaufen und alles für den chinesischen Tourismus vorbereiten. Ich erspare euch die Details.
Sehen wir uns anstatt dessen an, was der Berg zu bieten hat; vor allem das verlassene französische Casino!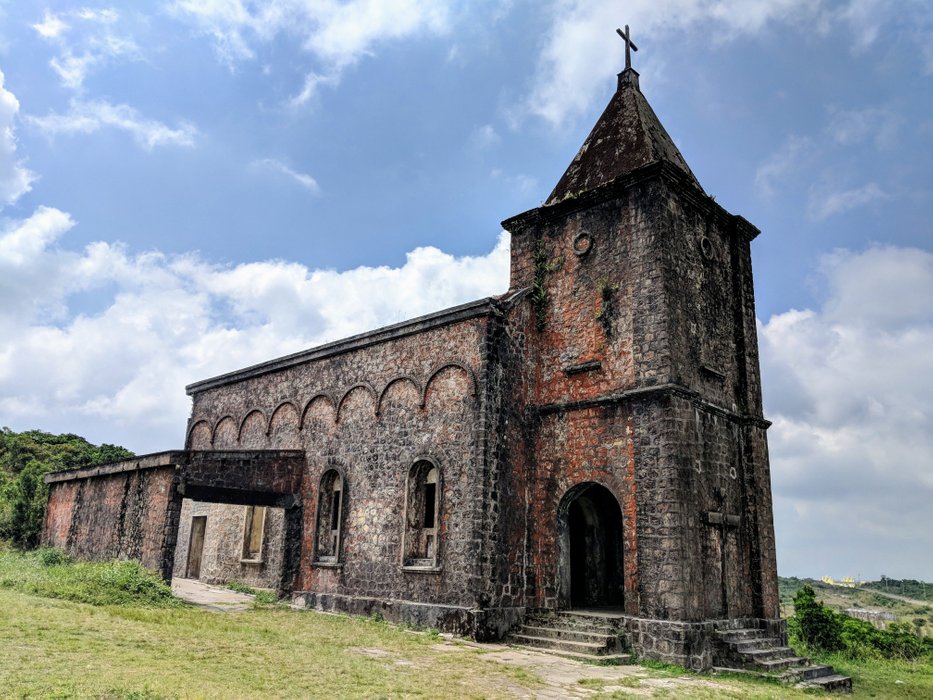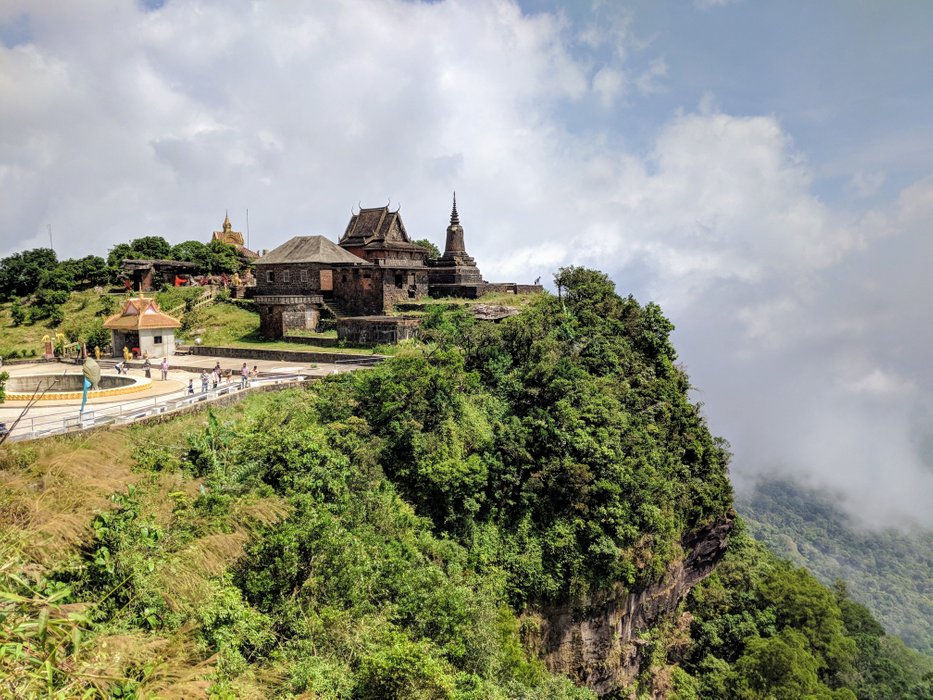 Where did the abandoned casino go?! It should be right here. Oh, a Chinese investor bought it and built a hotel in the same style. What the heck.
Wo ist das verlassene Casino hin?! Laut Karte ist es genau hier. Oh, das hat also auch eine Chinese aufgekauft und ein Hotel im selben Stil gebaut. Was zum Geier.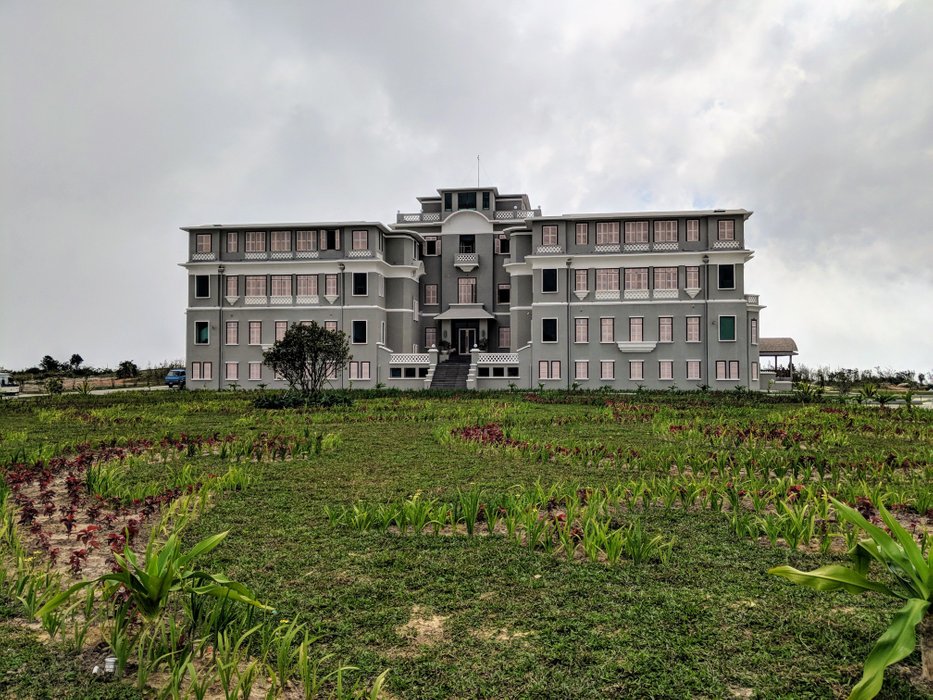 Following the signs to the waterfall we get to a hike track, which should lead us to the waterfall, but it doesn't. We walk a circle of 5 km and sweat like crazy, just to stand in front of our bikes in the end. :D
Der Beschilderung zum Wasserfall folgend kommen wir zu einem Wanderweg, der uns zum Wasserfall führen sollte. Aber das tut er nicht. Wir laufen 5 km im Kreis, schwitzen wie verrückt und stehen am Ende wieder vor unseren Rollern. :D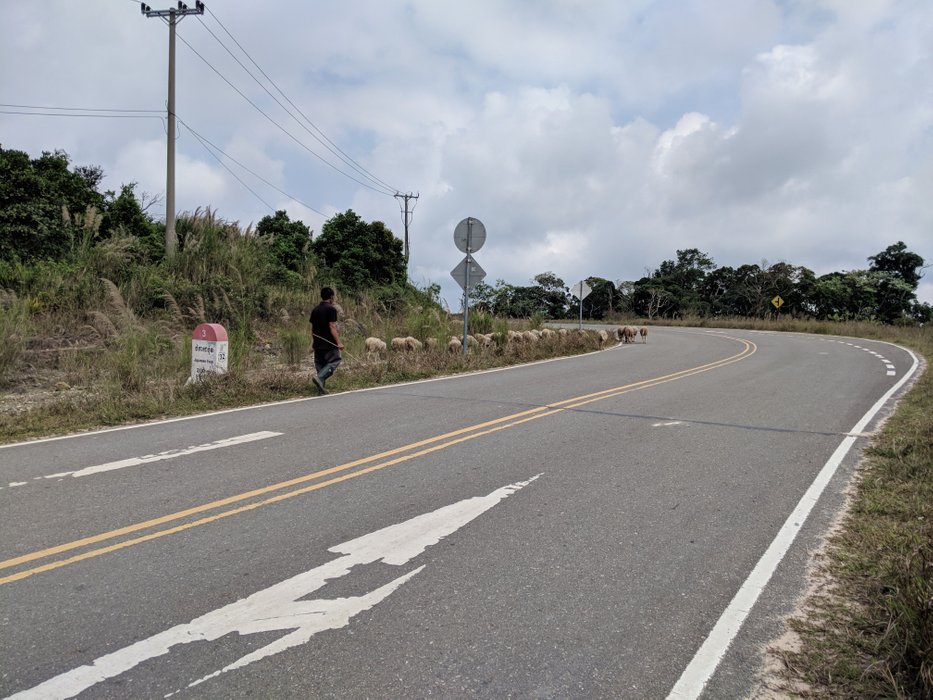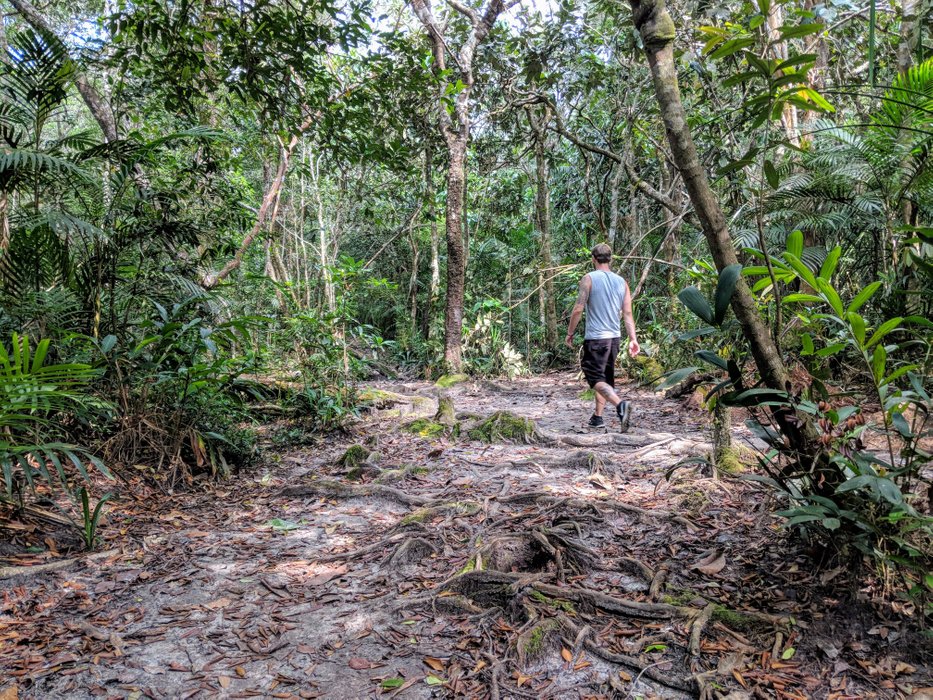 On our way back we find it and climb some boulders towards the waterfall.
Am Rückweg finden wir ihn natürlich und klettern über ein paar Felsen hin.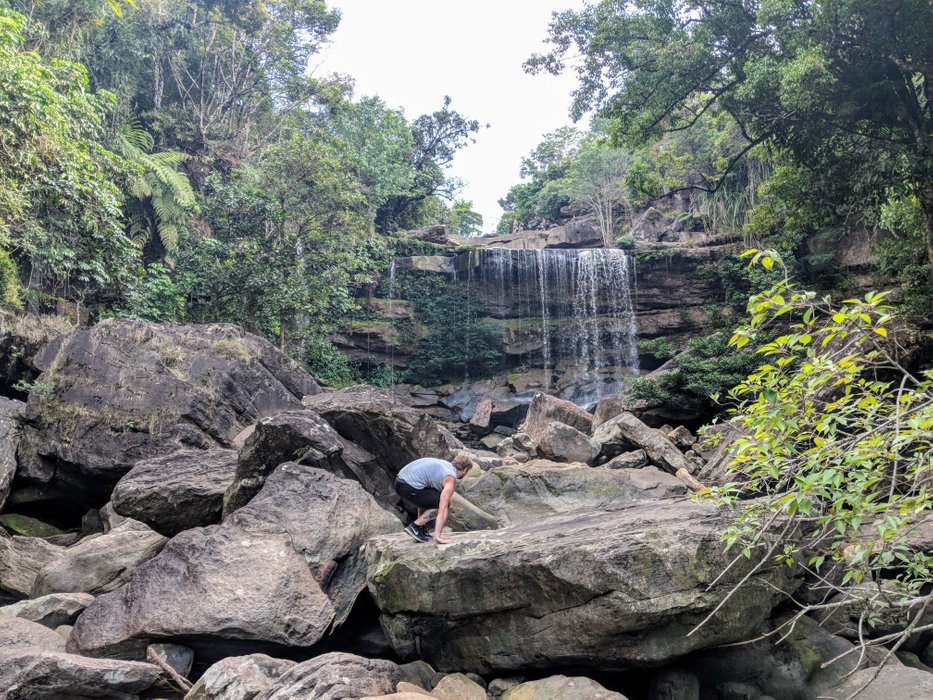 ---
In an article I read about an organic pepper farm nearby. Sounds neat!
After a seemingly eternal drive on soily roads full of potholes we eventually arrive at "La Plantation".
In einem Artikel lese ich von einer biologischen Pfefferfarm in der Nähe. Nichts wie hin!
Nach scheinbar ewiger Fahrt auf einer Erdstraße voller Schlaglöcher erreichen wir schließlich "La Plantation".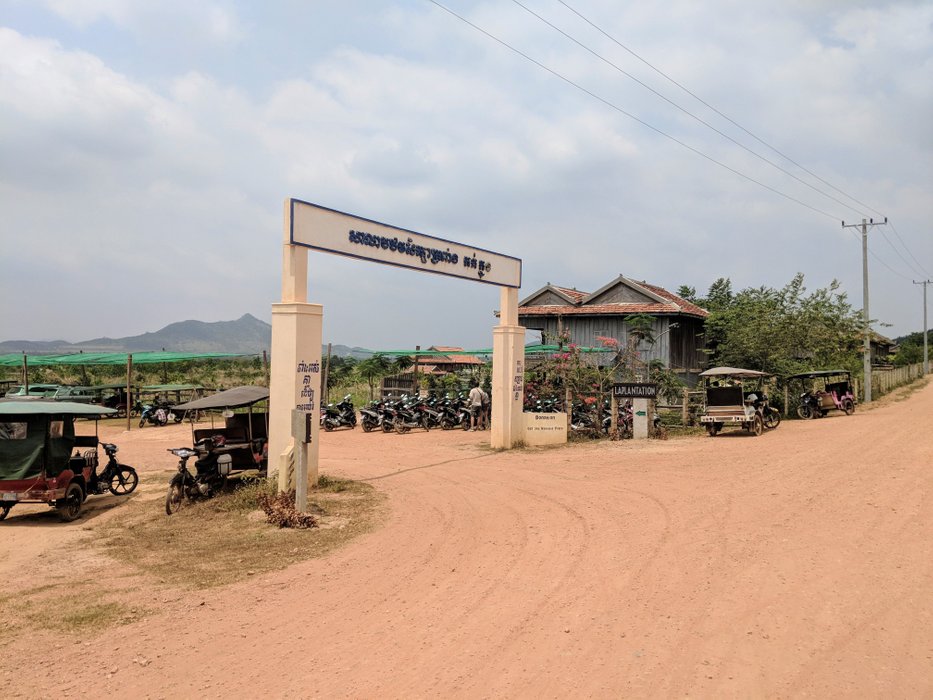 We learn some basics about growing pepper, partake in a tasting of their products and get a free tour!
Wir erfahren dort die Grundlagen des Pfefferanbaus, bekommen eine Verkostung ihrer Produkte und eine kostenlose Führung!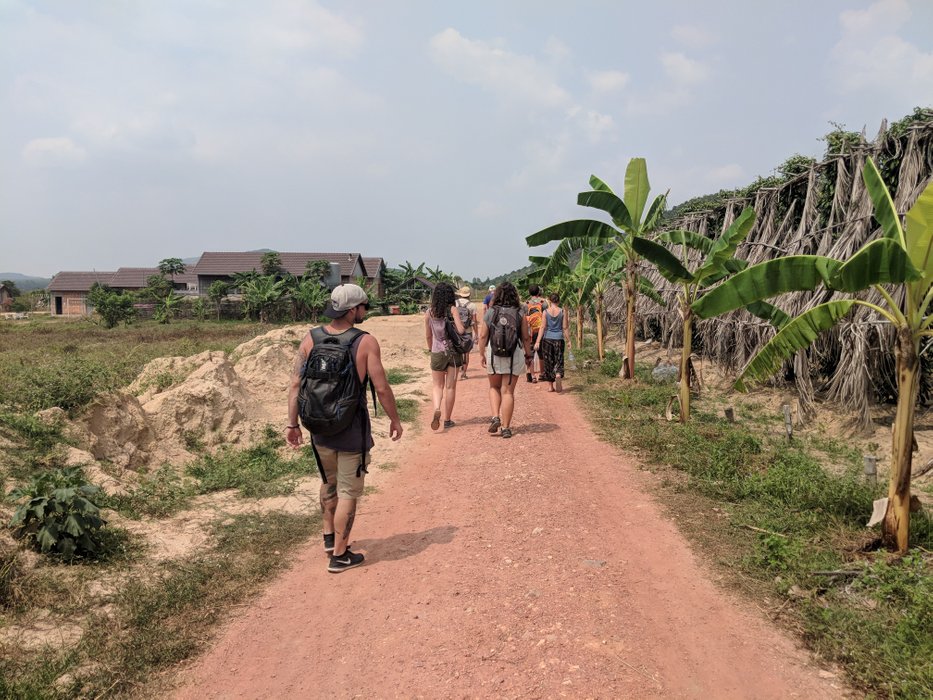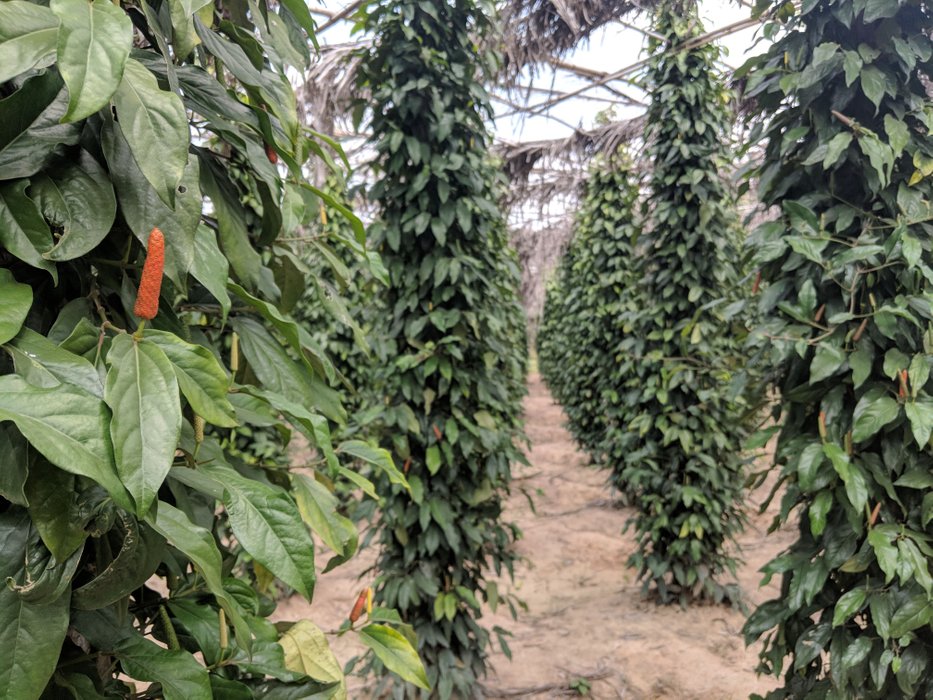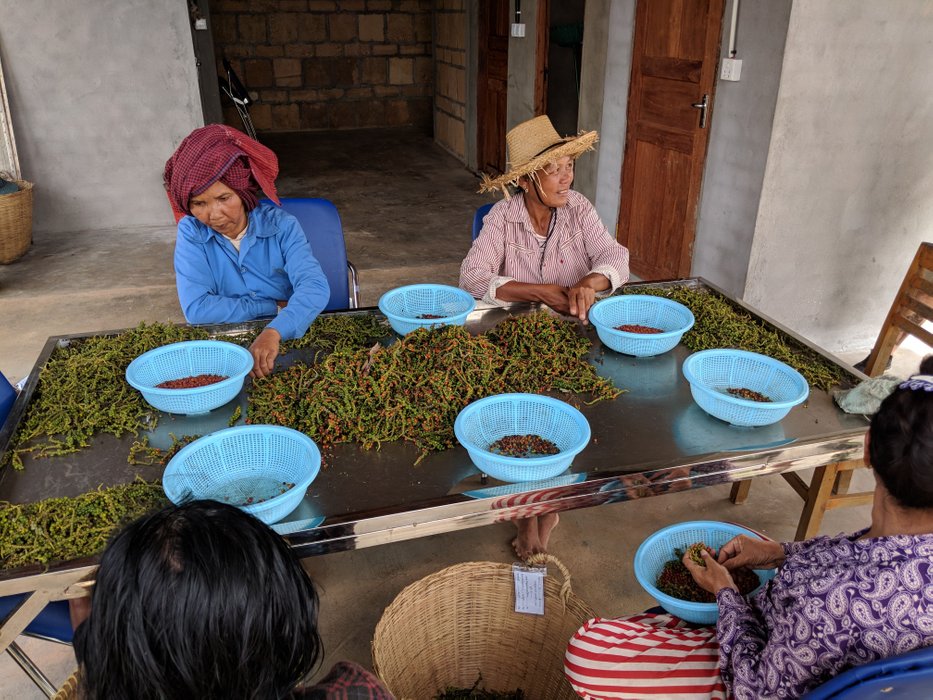 The workers can live on the farm, get food and a salary above minimum wage.
Everything's organic and they even prepare their own herbal insecticide. Same goes for the fertilizer. The heaps of soil on this picture are built around cow manure which is being dug into the ground once a year:
Die Mitarbeiter können auf der Farm wohnen, bekommen Essen und ein Gehalt über dem Mindestlohn.
Alles ist bio und sie rühren sogar ihr eigenes pflanzliches Insektizid an. Selbiges gilt für den Dünger. Die Erdhaufen auf dem Bild umschließen den Kuhdung, der einmal jährlich in den Boden eingearbeitet wird: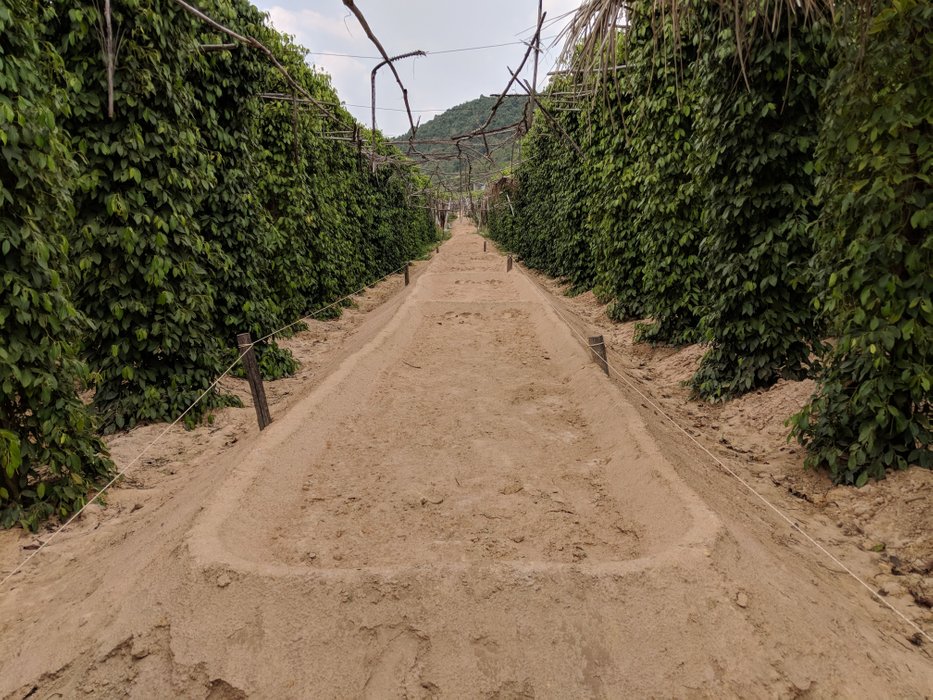 Aside pepper they also grow fruits (papayas, pineapples, passion fruits & bananas) and tumeric.
At the end of the tour one may buy products or eat at a restaurant within the farm, which also uses the locally grown fruits. There's no pressure to do so though, what I liked a lot.
Neben Pfeffer werden auch Obstsorten (Papaya, Ananas, Passionsfrüchte & Bananen) und Kurkuma angebaut.
Am Ende der Tour kann man Produkte erwerben bzw. in einem der örtlichen Restaurants der Farm essen, die die angebauten Früchte verwerten. Ganz ohne Zwang, was mir gut gefiel.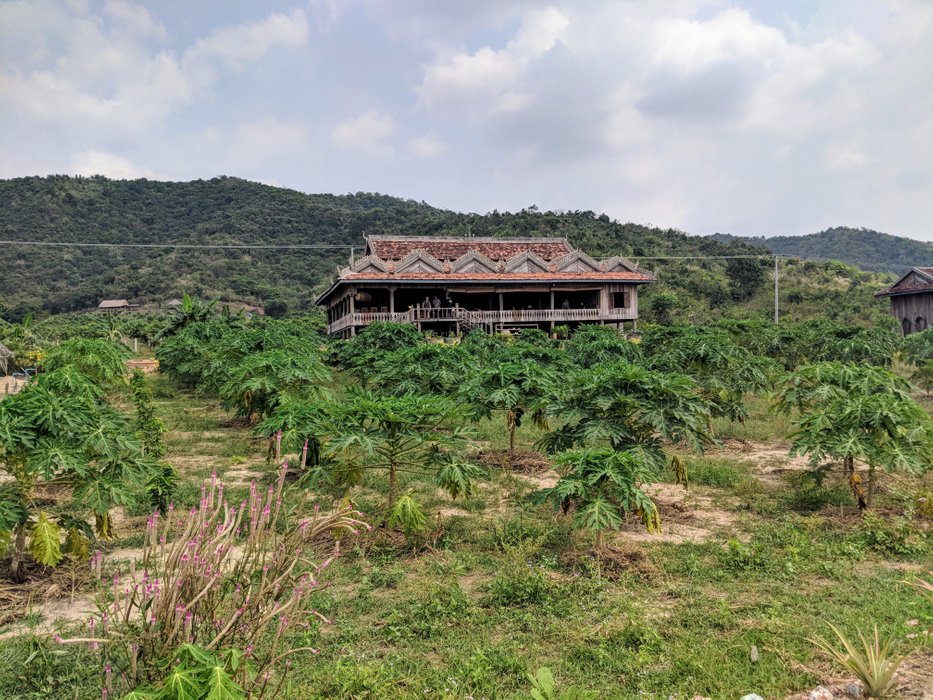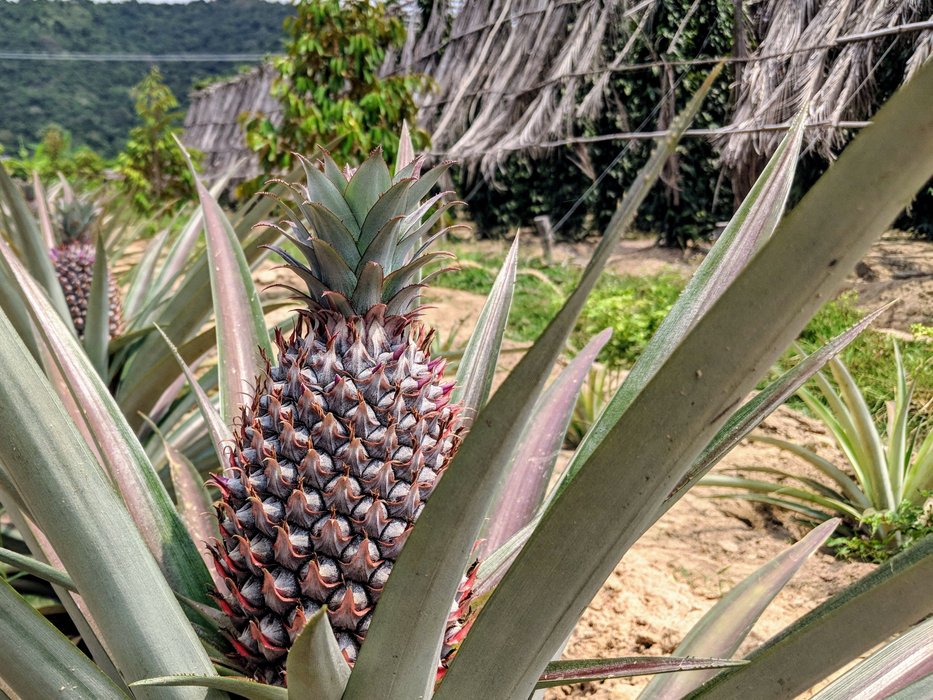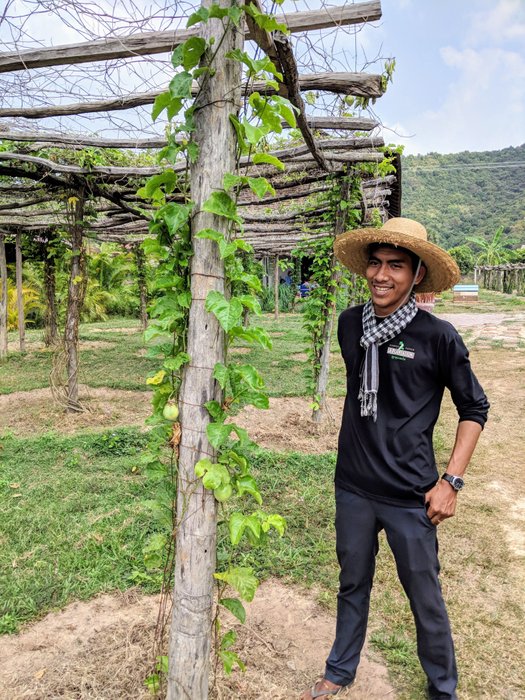 Overall it was pretty informative and done well!
We buy some pepper and treated ourselves at an authentic Khmer kitchen nearby at Secret Lake: Khmer Roots Café.
Insgesamt war es sehr informativ und gut gemacht!
Wir kaufen etwas Pfeffer und gönnen uns authentische Khmer Küche ganz in der Nähe beim Secret Lake: Khmer Roots Café.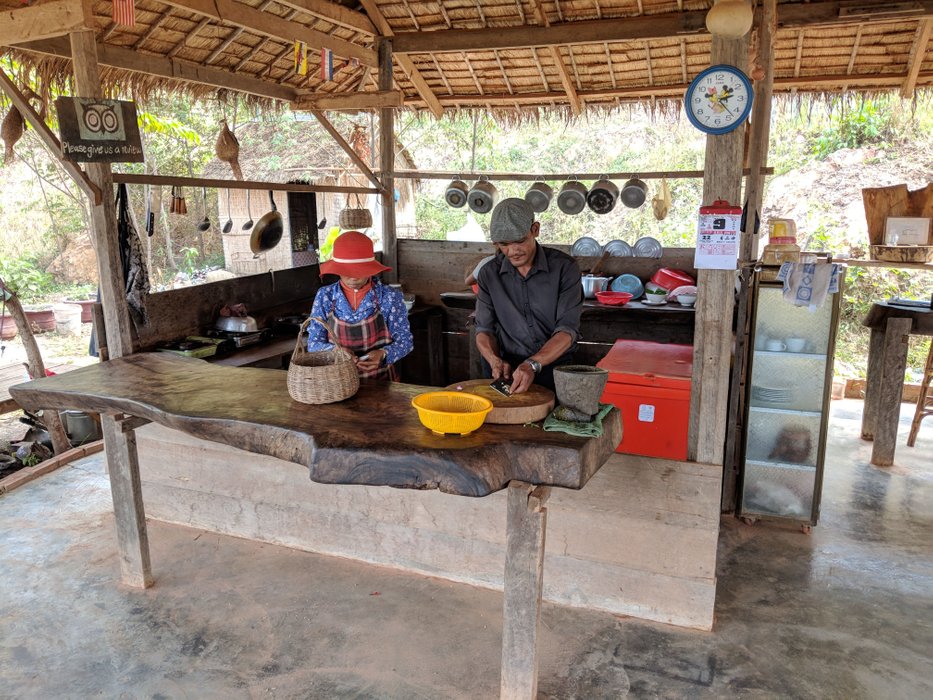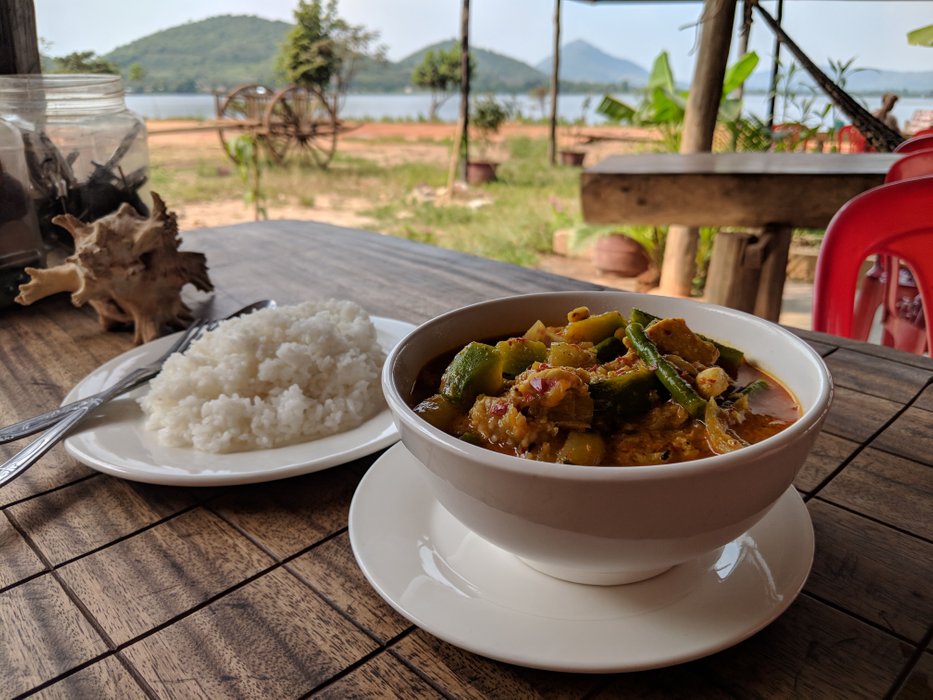 ---
Everytime we walk back into the hostel we skim through the book of tattoos by Mathilda. She's got great styles and decorated some walls of the hostel. We decide to get one each.
Jedes mal, wenn wir ins Hostel zurückkehren, blättern wir durch das Tattoobuch von Mathilda. Sie hat echt einen guten Stil und hat hier auch Wände im Hostel bebildert. Wir wollen beide eines habe.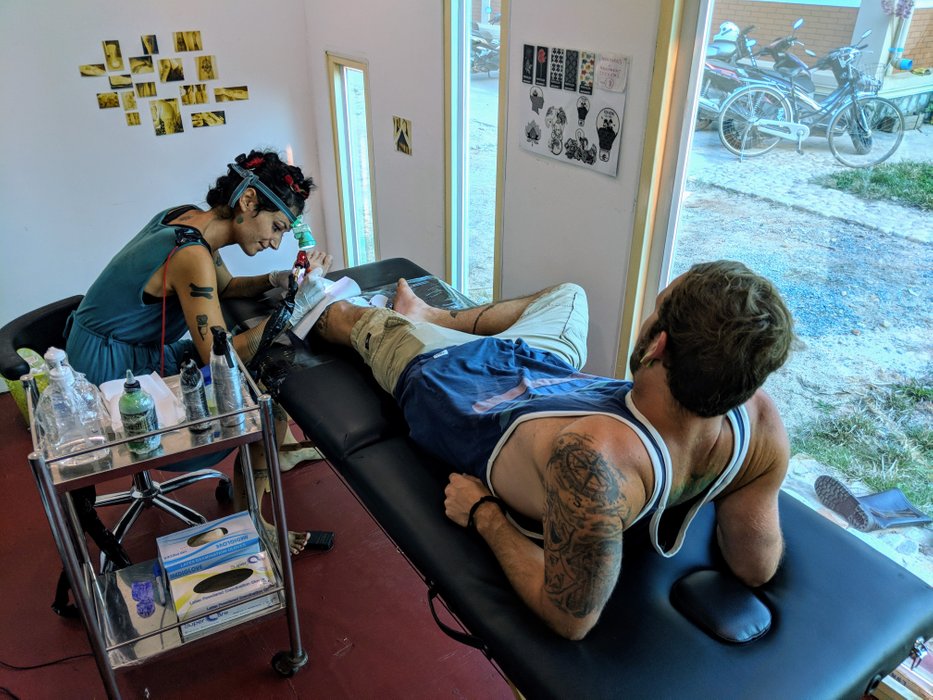 On the day we get the tattoos we also get to meet the previous owner of said bar on Koh Rong! He still works on Koh Rong half of the time and I even remember talking to him in a bar right there, haha!
Quest completed. :D
An dem Tag, an dem wir tätowiert werden, lernen wir auch den ehemaligen Inhaber der besagten Bar auf Koh Rong kennen! Er arbeitet die halbe Zeit noch auf Koh Rong und ich erinnere mich, dass ich dort in einer Bar sogar mit ihm geredet habe, haha!
Mission erfüllt. :D
The Inside Travels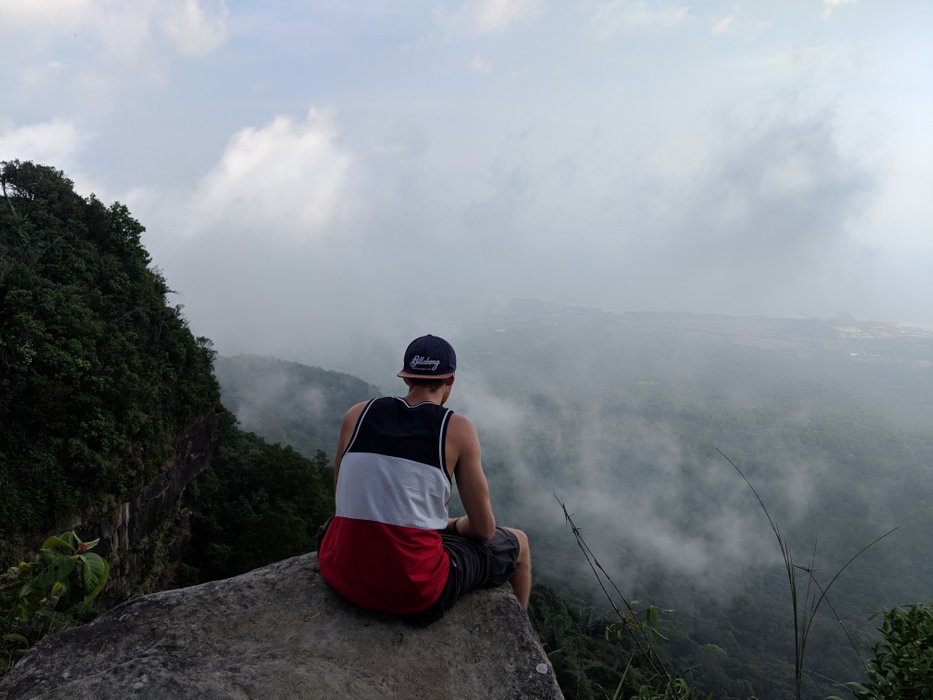 In a previous post I wrote that you get to know yourself better. Today I share an excerpt of this with you:
In our society it's a common practice to look for the one guilty. Whatever the case is. Bad finances? The economy! Homework not done? Stupid computer/printer! You get what I mean.
This way excuses just become a habit over time.
Traveling you're suddenly ripped out of your accustomed circumstances and the products of your actions are served without side dishes.
Although this is something I was aware of before, I feel like this helps me a lot with being true and honest to myself.
In einem früheren Blogpost schrieb ich, dass man auf der Reise vor allem sich selbst kennenlernt. Heute teile ich einen Auszug davon mit euch:
In unserer Gesellschaft ist es Usus, für alles den Schuldigen zu finden. Egal worum es geht. Finanzen stehen schlecht? Die Wirtschaft! Hausübung nicht gemacht? Der blöde Computer/Drucker! Du verstehst, was ich meine.
Dadurch werden Ausreden mit der Zeit zur Gewohnheit.
Unterwegs ist man plötzlich von allen gewohnten Umständen getrennt und die Produkte des eigenen Verhaltens werden einem ohne Beilagen serviert.
Obwohl mir das schon vor der Reise bewusst war, hilft mir das ungeheuerlich dabei, ehrlich zu mir selbst zu sein.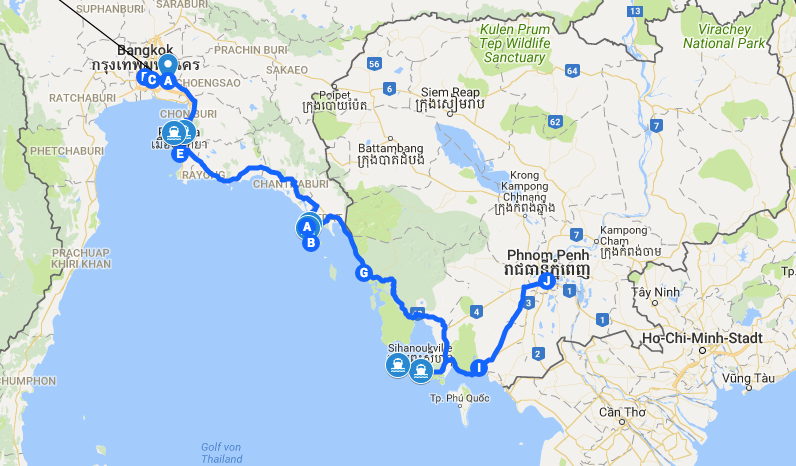 Now to what I do besides traveling! As I told you in another post, everyday I work on personal progress.
Currently I learn Spanish everyday using the app Duolingo to be fit for southern america, train my upper body to properly hold together my skeleton, learn about trading on investopedia.com (for now TA) everyday if possible to make a living and work on my blog on occasion.
Pretty soon I have to admit I made a mistake regarding the entire execution: I do/did too much at a time.
Nun zu dem, was ich unterwegs mache! Wie schon in einem anderen Post erwähnt, wird jeden Tag am persönlichen Fortschritt gearbeitet.
Aktuell lerne ich jeden Tag Spanisch mit der App Duolingo, um für Südamerika fit zu sein, trainiere meinen Oberkörper, damit mein Skelett ordentlich zusammengehalten wird, lerne möglichst jeden Tag etwas über Trading auf investopedia.com (vorerst TA) und bei Gelegenheit beschäftige ich mich mit meinem Blog.
Ziemlich bald muss ich mir selbst einen Fehler bei der gesamten Ausführung eingestehen: Ich mach(t)e zu viel auf einmal.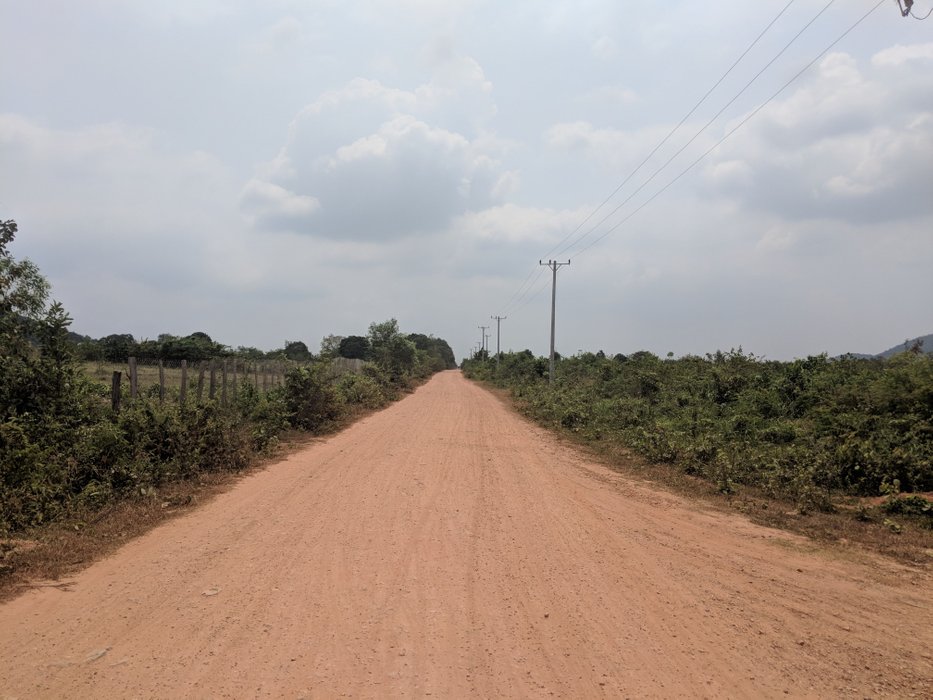 I created an overview of all my activities and interests.
The realization may be summed up in one word: fuck.
I definitely need to do less, but better. What you read above is already to what I cut it down.
This also kicks me forward quite a bit since I can change it, now that I realized it. :)
Ich erstellte mir eine Übersicht über alle Tätigkeiten und Interessen.
Die Erkenntnis möchte ich in folgendem englischen Wort zusammenfassen: Fuck.
Ich muss definitiv weniger machen, das dafür aber besser. Was du oben gesehen hast, ist bereits die reduzierte Variante.
Das treibt mich auch gut nach vorne, da ich es nun weiß und es ändern kann. :)
---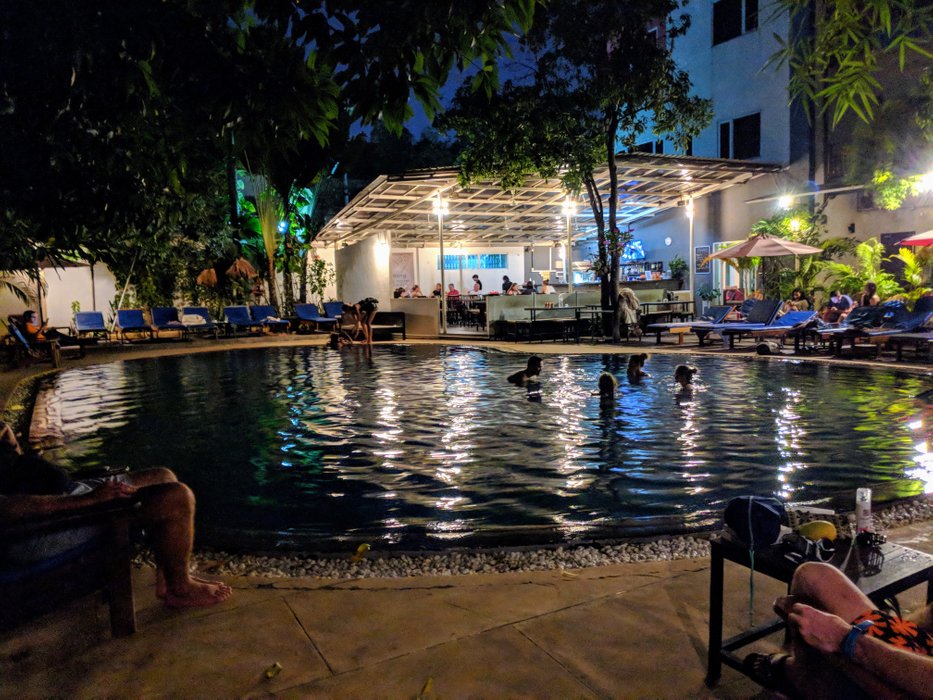 The last night in Phnom Penh.
Pleasant news also from another side: My dad booked a journey to southeast asia some time ago and I'm going to meet him in Ho-Chi-Minh, Vietnam, the day after tomorrow!
I'll tell you about it in the next post!
Erfreulichere Nachrichten gibt es auch von einer anderen Seite: Mein Vater hat ja zufällig auch eine Reise nach Südostasien gebucht und den treffe ich übermorgen in Ho-Chi-Minh, Vietnam!
Ich werd euch im nächsten Post davon berichten!
---
Hope you had a good read! Always happy about feedback.
More pictures on instagram: https://www.instagram.com/yourmateyo ☺
You find every other steemit blog post in chronological order right here: http://yourmates.world
All the best,
yourmate :)