Hello folks!
---
Yesteray I started my series about the most recent trip to the country of Georgia.
Please don't mix with U.S. state of Georgia. By the way, just to compare for myself, U.S. GA has population of 10.52 million (Wiki, 2018). And Georgia (country) has now 3,723,500 inhabitants (estimated, Wiki). But More than eight million international, non-resident travellers came to Georgia in 2018, the Georgian National Statistics Office (Geostat) reported today. (source). Including 3075 thousand of those who came for vacations and leisure, it is almost equal to the total population number!
Increadible! But despite the impressive figure, I felt very comfortable there as a tourist.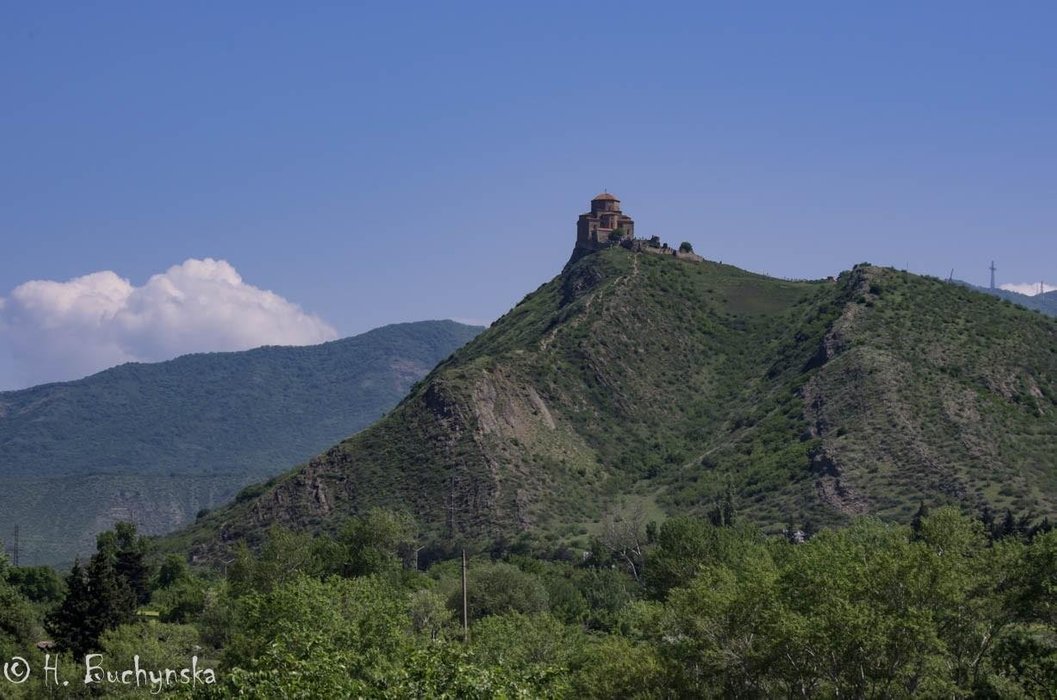 But back to the story.


---
Morning coffee and the first wish
We started our morning in a small cozy cafe with the best coffee I tasted in Georgia, so I put the link to it here: (or Google link)
The first amazing thing that happened, when I was about to finish my breakfast. My husband went to a mini shop o the other side of street to buy some water, and when he was crossing the street I noticed black SUV that made a dangerous turn. How was I surprised when I saw that driver stopped the car and rushed to my husband to greet him. He turned out to be his colleague, on of few persons he know in the country. And he lives on the same street where we stayed. And he was the only person who commented Nick's yesterday's post about coming to Georgia saying "We should meet".


---
On the way
We made check out and got on the road to the first sight - Mtskheta and Jvari Monastery. Another advantage of having local guide is that he is familiar with the territory and roads, as well as with road law. Thus, we were at the place when the parking was yet empty and before it became too hot.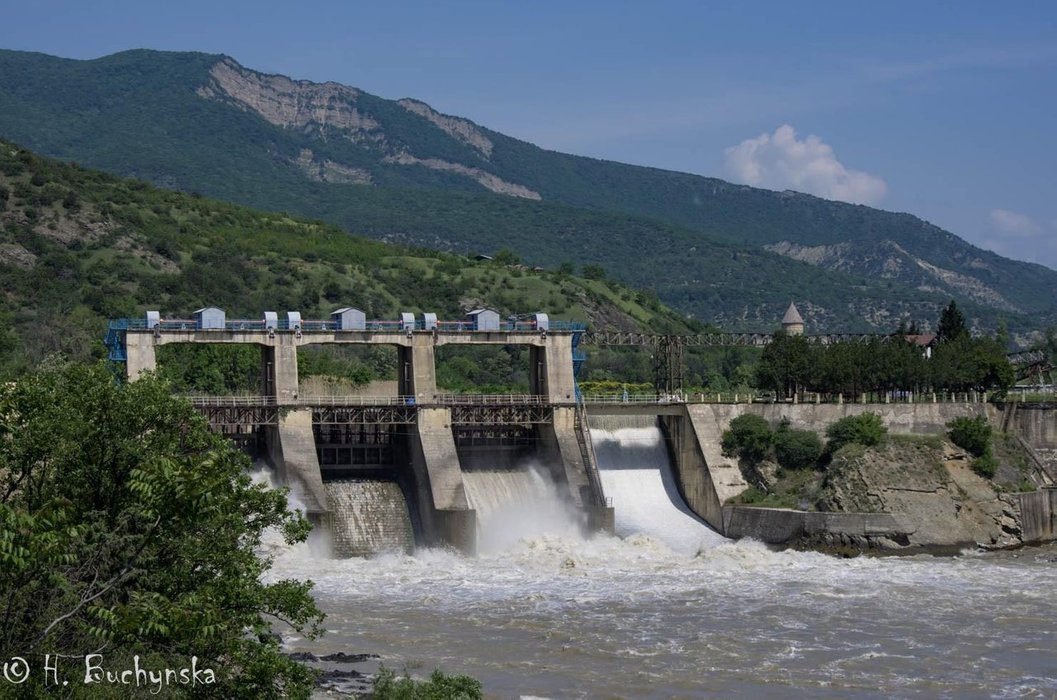 ---
Mtskheta
It is the first capital of Georgia, actually of the ancient Georgian Kingdom of Iberia, for more than 700 years. The area by the confluence of two rivers Aragvi and Mtkvari (or Kura) (I agree, their names are difficult) was settled in about 3000-2000 BC.
Mtskheta was the center of pagan worship in pre-Christian times.
Its main attraction is Svetitskhoveli Cathedral, and also the center of Christianity. In fact, if you are a big fan of sacral architecture, Georgia undoubtedly can exceed all your expectations.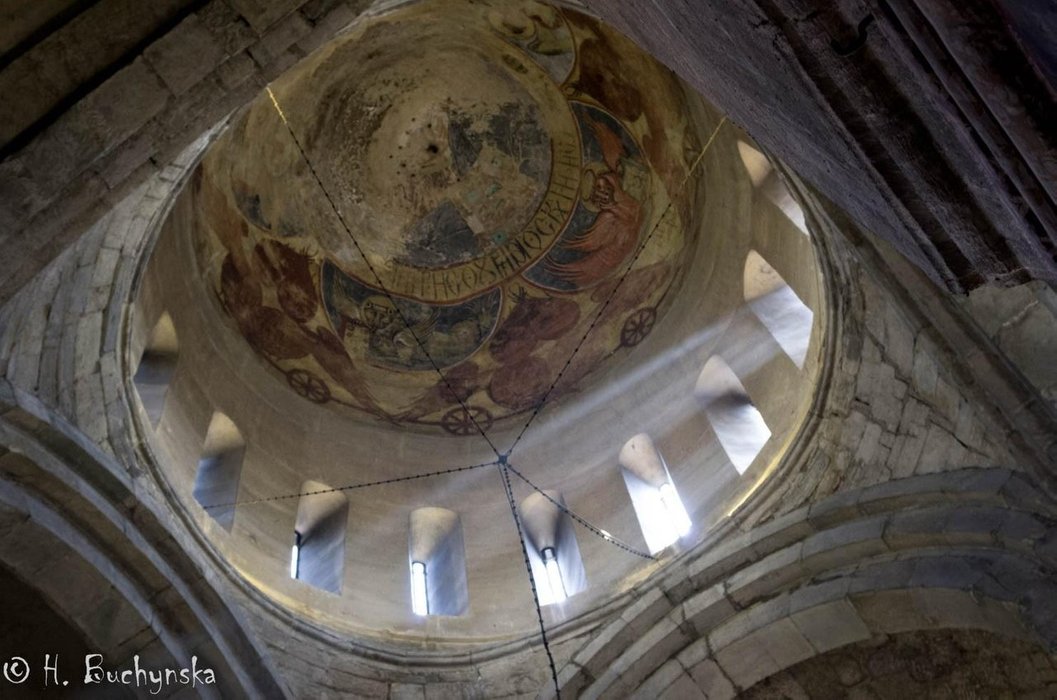 The interior of the Cathedral is really impressive. It was not possible to make good shots with my camera, so I used smartphone inside. Ancient Georgian style has no wooden elements. All is made of stone.
Our friends got the most famous and rather extravagant guide. This old lady looked like a Marry Poppins, wearing stylish hat, long skirt and shaped jacket. She was telling the story so passionately that all of us remembered the main point: Cathedral has 4 treasures, 2 visible and 2 invisible. By the way, her English is quite fluent, it even helped me sometimes to understand her Russian.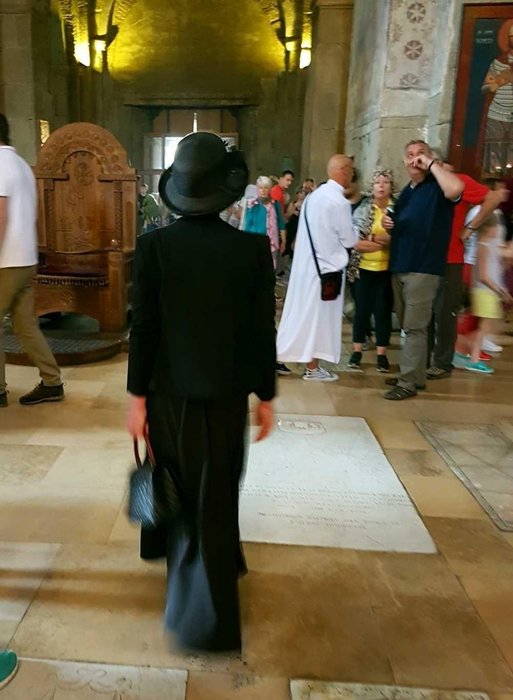 When we got outside, it was hot, and I realized that there is a big risk to get too sunburnt, especially for me after a winter. Keep it in mind if you have white skin. By the way, Tamar, the wife of Nick's work mate, also looks pale but she did not get burned at all. It was very unusual, along with the fact that local women (despite of mild winter and hot summer) wear black cloth and shoes. Although, look very stylish.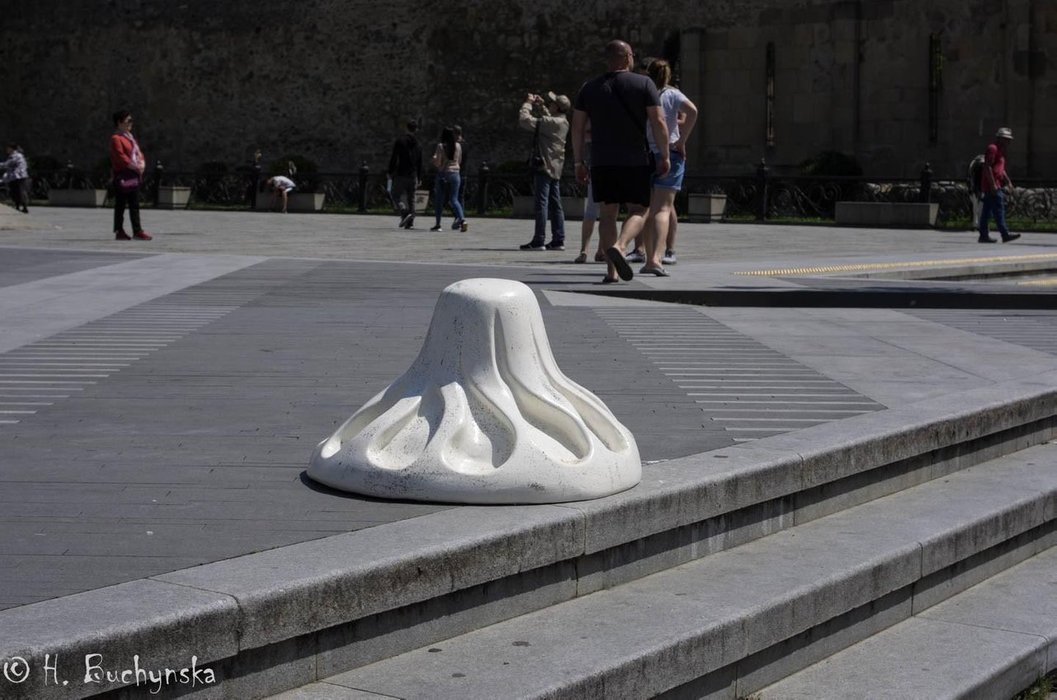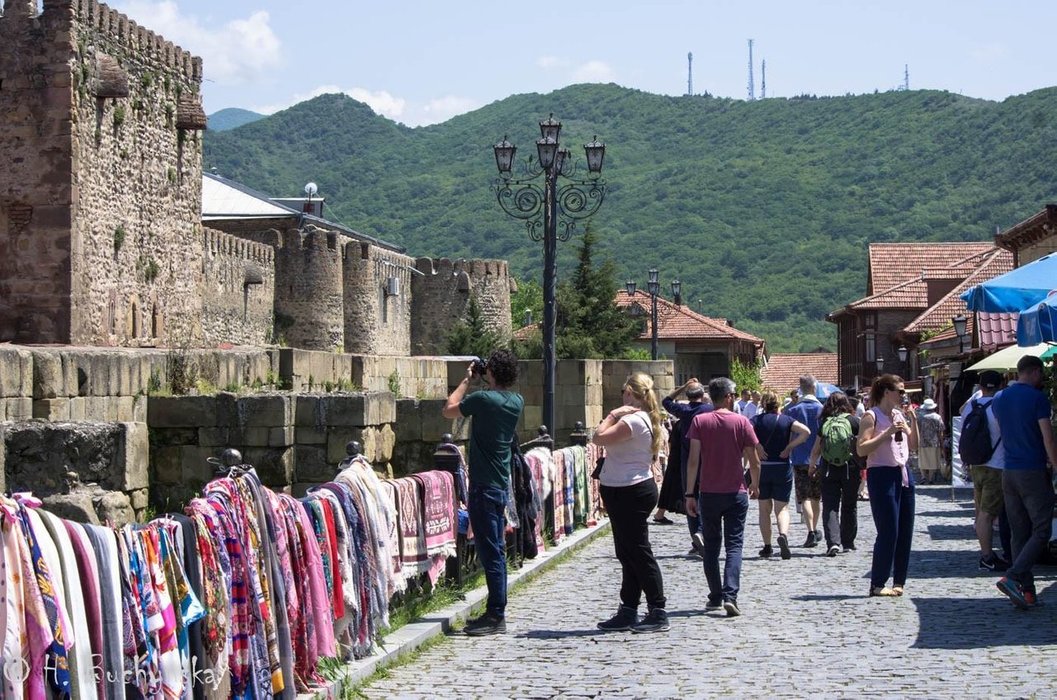 ---
Jvari Monastery and the second wish
Next to Mtsheta, on the edge of mountaintop above the Aragvi river and Mtskheta city is the Mtskhetis Jvari. It is it on the very first shot of this post. Jvari is cross in Georgian, so the name means Monastery of the Cross. It is one of the oldest Christian churches in Georgia, constructed in 585-604 AC.
The church was built such that it appears a part (and finishing) of the hill it stands on, and its height relation to the height of the hill is 1:7.
Legend says that on this place Saint Nino placed a cross that showed that Georgia became a Christian country.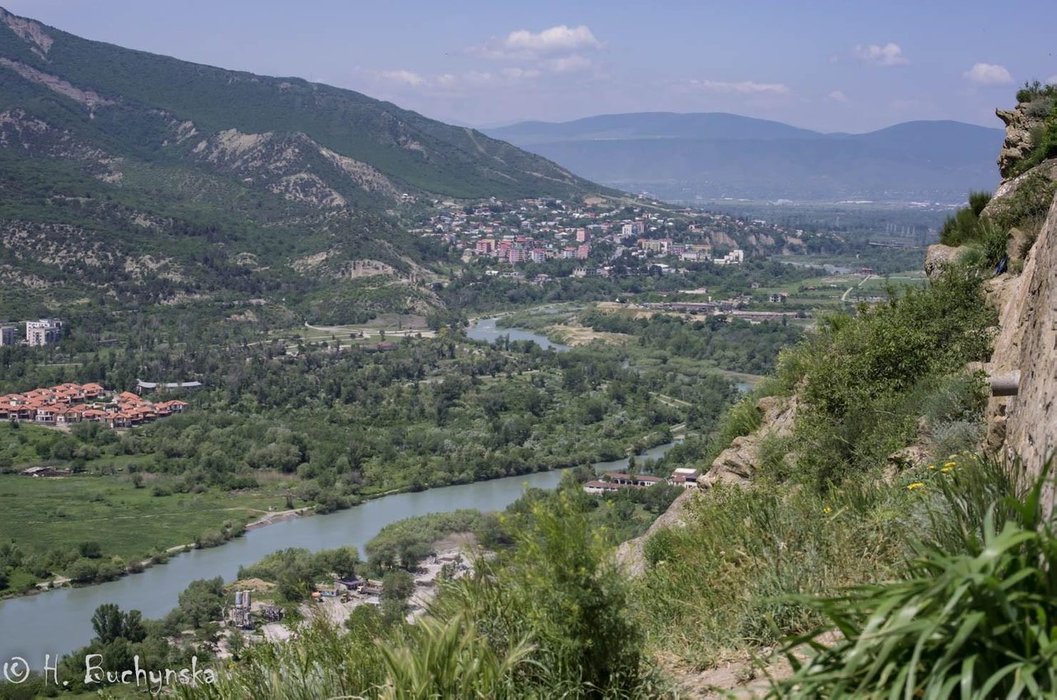 But what about the second wish? It was a new smartphone for Nick. He used his old one, it was slowly and didn't understand 4G standart. He was agre with me, but didn't have the heart to make a choice.
We were about to continue to the next destination from our plan. Levan (Nick's work mate) stood by the car smoking, I took shots of nice purple flowers (below), and Nick went to the toilet. When he came back, he told us he dropped his smartphone ... into the hole in the toilet. That's how the second wish has been fulfilled. Be careful with your wishes!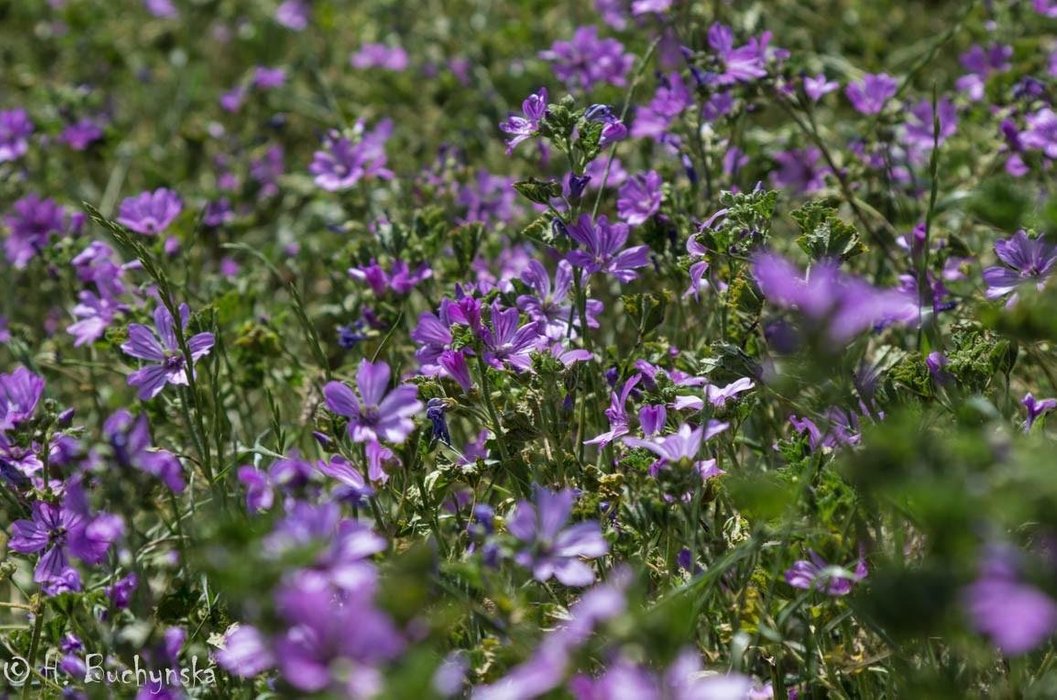 P.S. The phone is an important tool of his job. He never travel without his phone and laptop, as he is supposed to be reached no matter is he on vacations or not. But what upset us most of all (surprisingly) was loss of photos and video that he had never upload (or download) somewhere.
The good news was now he was on vacations indeed.

That is all for today :D I hope you enjoyed it!

Unless stated otherwise all photos used in my posts are taken and owned by myself, if you wish to use any of my images please contact me.

I greatly appreciate your time, and your comments and even upvotes :)
❤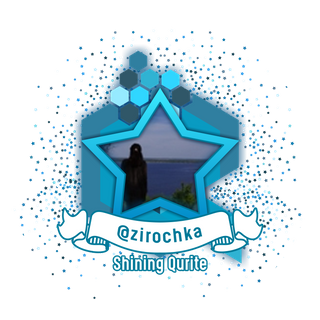 I am with @qurator, do you?


eSteem.app | GitHub | Telegram | Discord