Hello again, folks!
---
Greetings from Ukraine! Today I continue my series about marvelous country of Georgia that I have visited recently. Short vacation of 7 long days :D For your convenience, I put links to previous parts at the bottom of this post.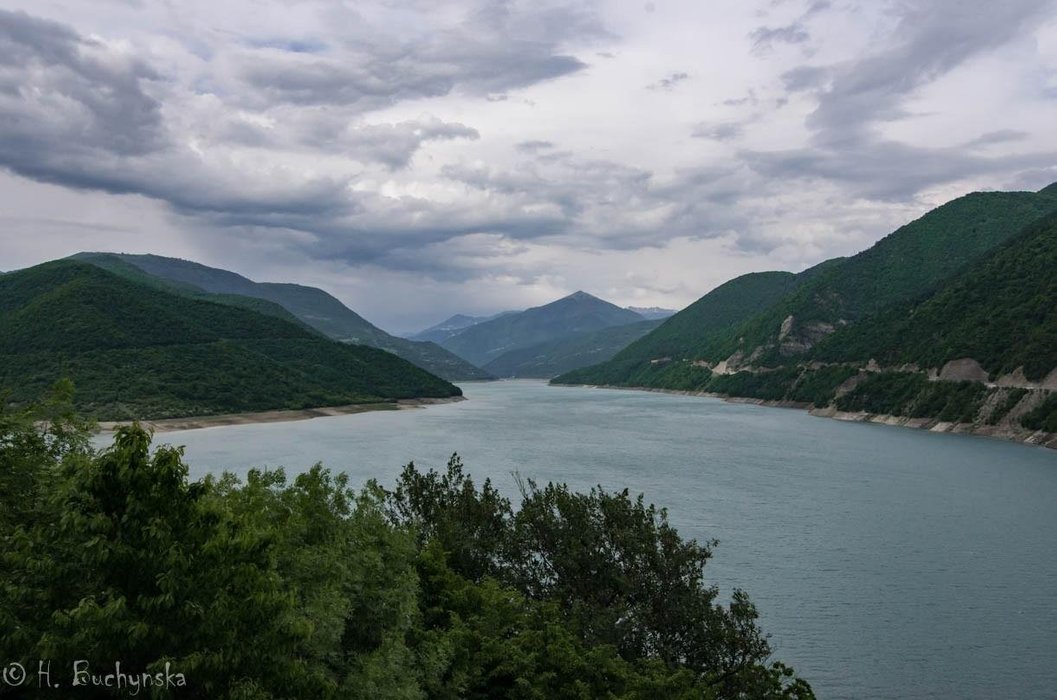 ---
It was a wonderful Monday morning. After previous sleepless night and lots of good emotions I slept like a child.
But have you ever had a breakfast by candlelight? :D :D I had once. When we just started out breakfast, the power went out. The hall of the hotel were the breakfast was served has no windows, so the hostess lit the candles, and it was really very unusual: I woke up just recently and now having a meal by candlelight. It was fun :)
Our friend Levan suddenly got an important event with some minister, so we did not start after breakfast. The weather was cloudy, not very good for taking photos, besides the forecast promised rain, but we have no choice but roaming around the city.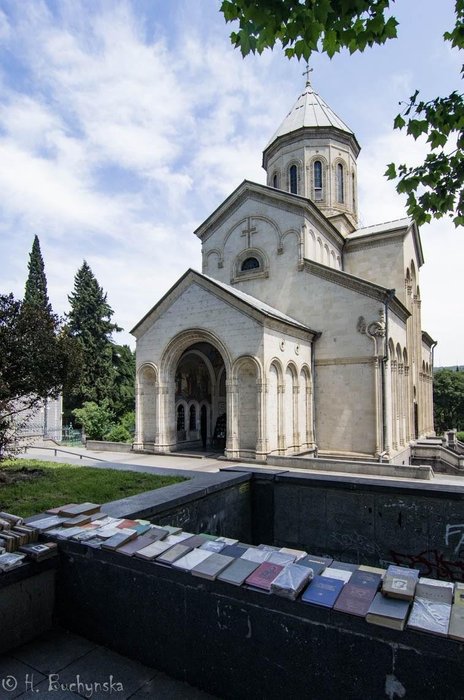 ---


The plan for the day was check out and head toward north. Our destination was Stepantsminda, a mountain town on north of Georgia. The path we took is called The Georgian Military Highway. We did not plan to do any hiking, but it is not far from Mount Kazbek (5047 m). It was the most exciting place to visit for me in the whole journey.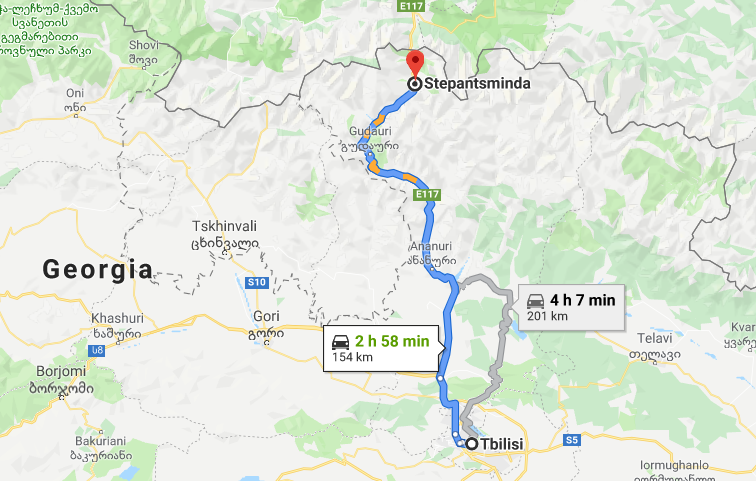 Ananuri
The first place where we stopped was Zhinvali Lake (or water reservoir, it is made by humans). It is itself a very picturesque place of 2 rivers confluence, besides there is one more landmark here - Ananuri Fortress. It is impossible to miss it as it is located right by the path, and also you see is a big market in front of it with souvenirs, traditional meal, beverages, cloth, and hundred of stuff made somewhere in China.
It was a half way. The weather was still cloudy, and I thought what a pity I cannot take a nice sunny photographs... But next day I thanked God for this weather :) You never know what is better for you at the moment.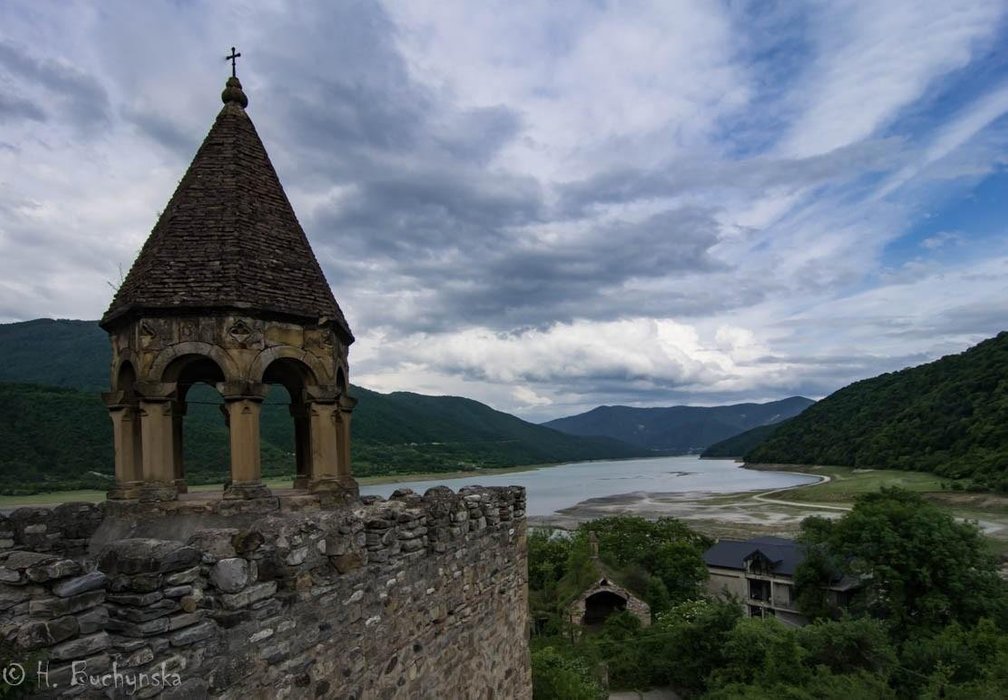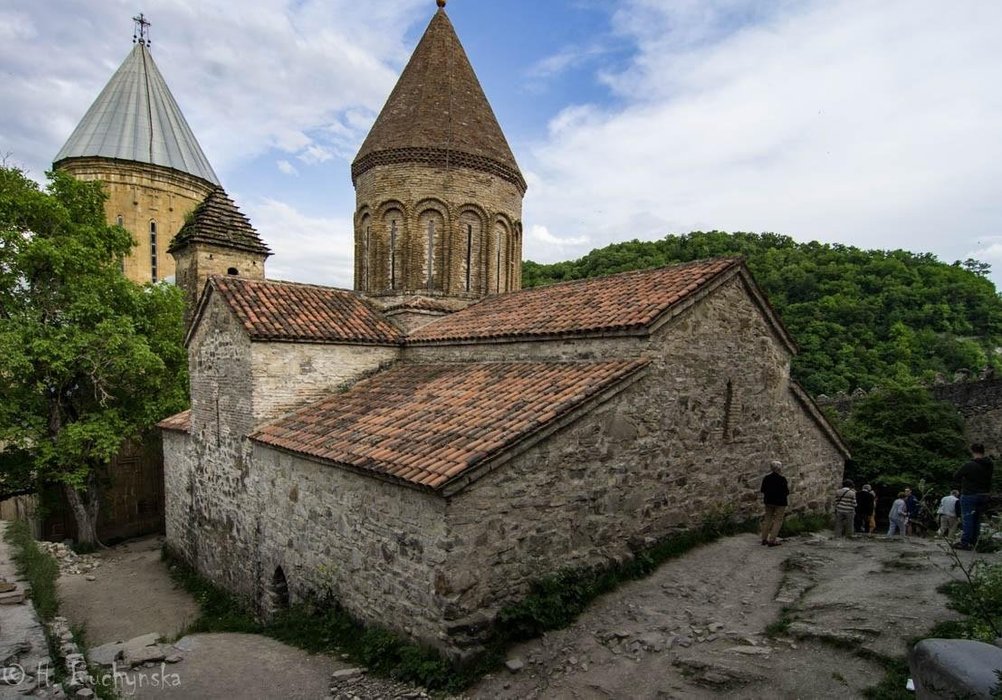 Probably, the castle was constructed in XIII century. It was residence of local feudal lords and their main outpost.
And we got back on the road toward north, through Gudauri mountain and ski resort and further over Jvari Pass , 2 379 meters (7,815 feet) (42.5042°N 44.4538°E).
Russia–Georgia Friendship Monument
It was getting more and more cold outside as we drove higher. We noticed Gudauri viewing point and parking, and stopped the car. It turned out to be large concrete construction named Russia–Georgia Friendship Monument. It is very symbolic, considering that it is very close to South Ossetia, a part of Georgia of 3,900 km2 now occupied by friendly Russia. So cloth that Georgian radio is jammed (sometimes .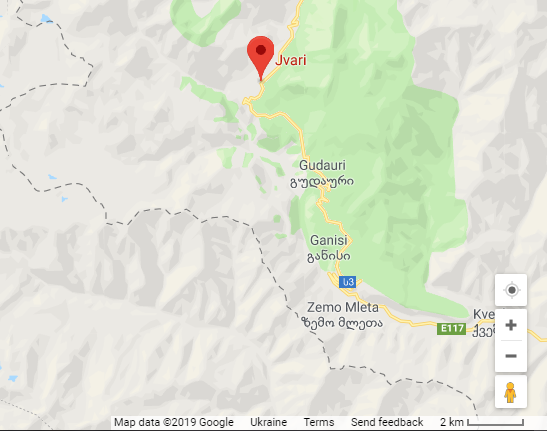 When I got out the car I almost lost my breath. Literally. Yes, the view was breathtaking, but I have never experienced such strong wind. I can hardly hear my own voice. I was very curious to explore everything and take shots, but I also was scared to be teared down by the wind. My husband Nick confessed lately that he was ready to rush to me at any moment.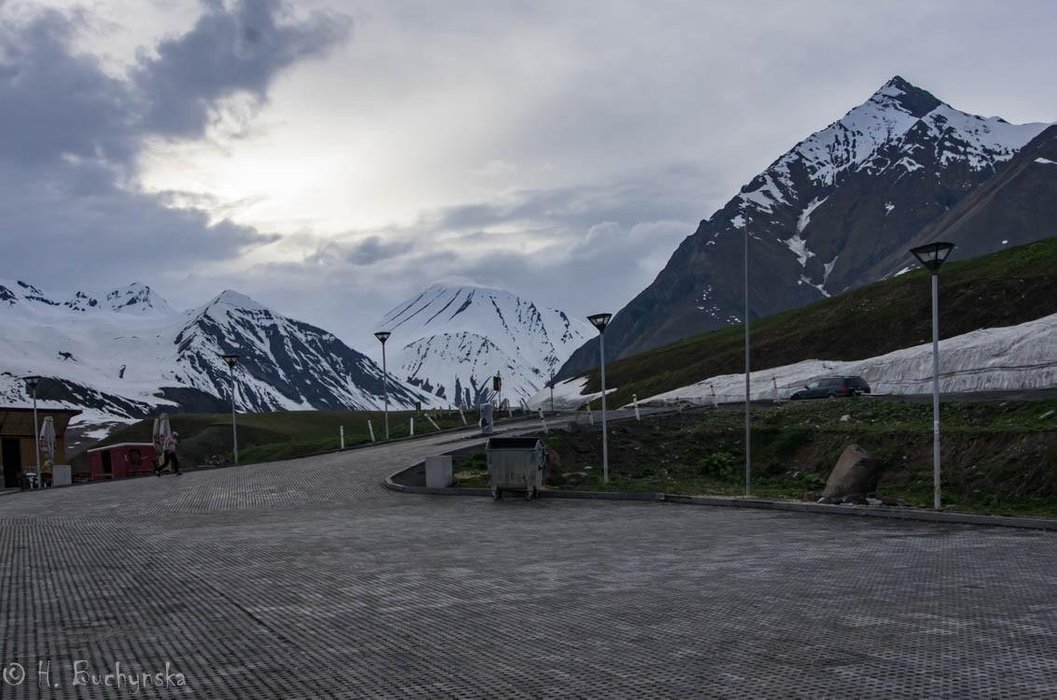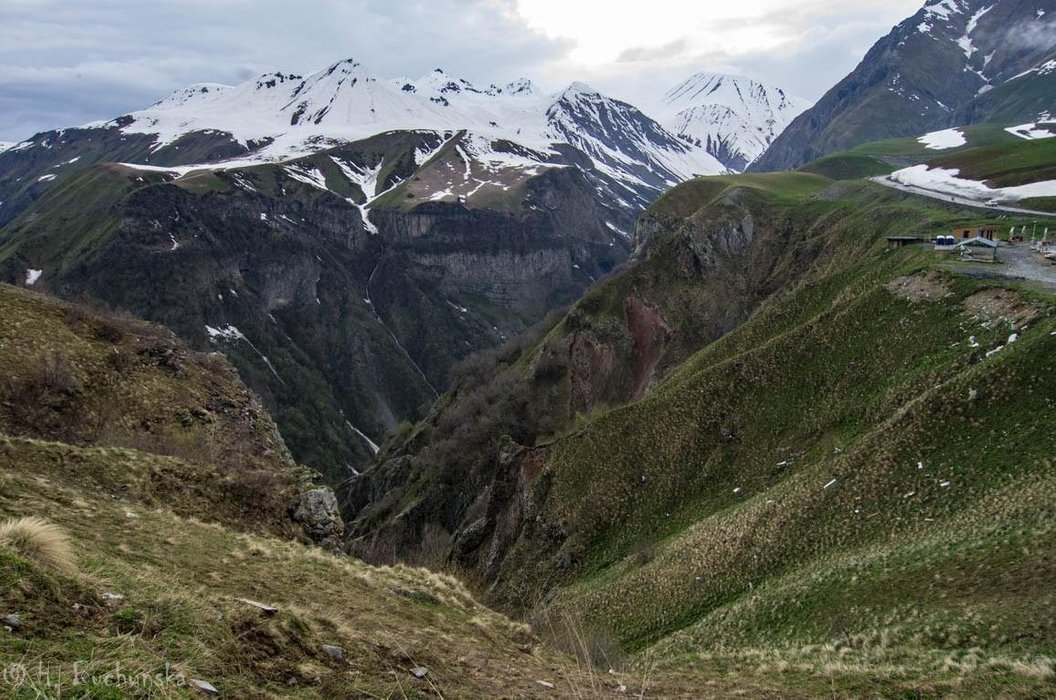 Nick and I wore anti-storm fleece, and it was the first time in my life it was so badly needed. Although jacket has a hood it was impossible to keep it wearing without help of hands.
Well, look at these photos, it looks calm, isn't it?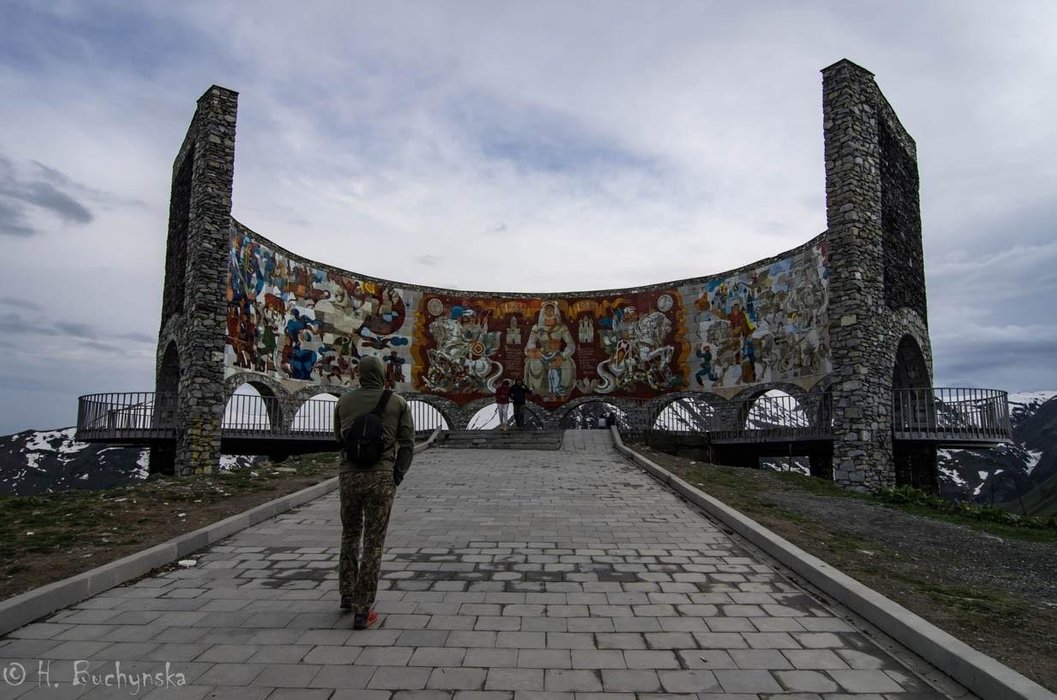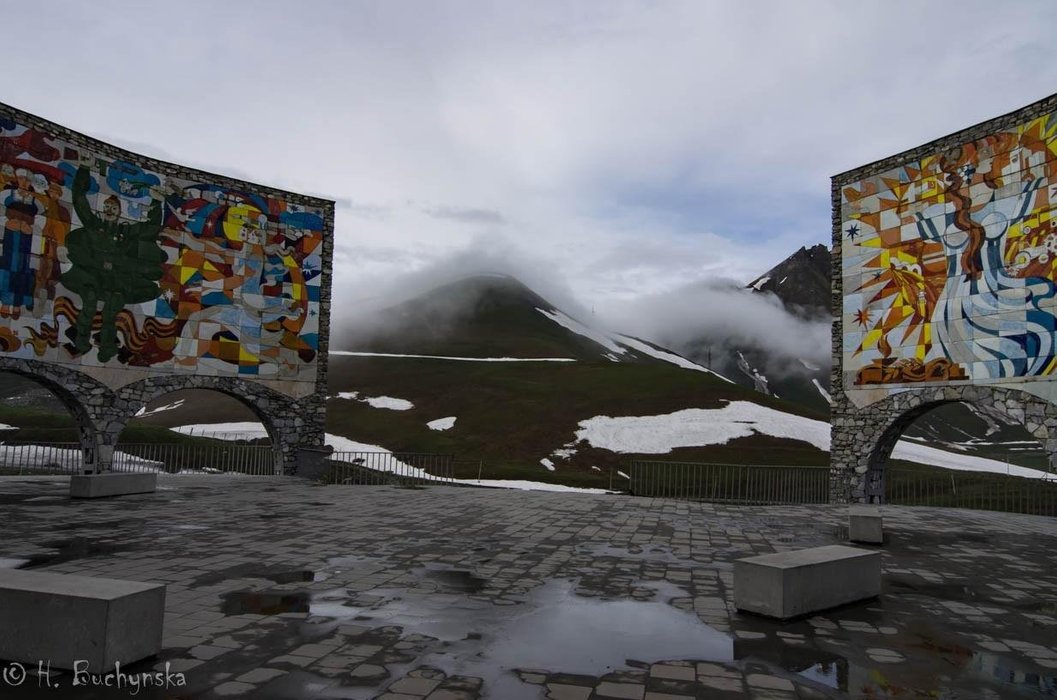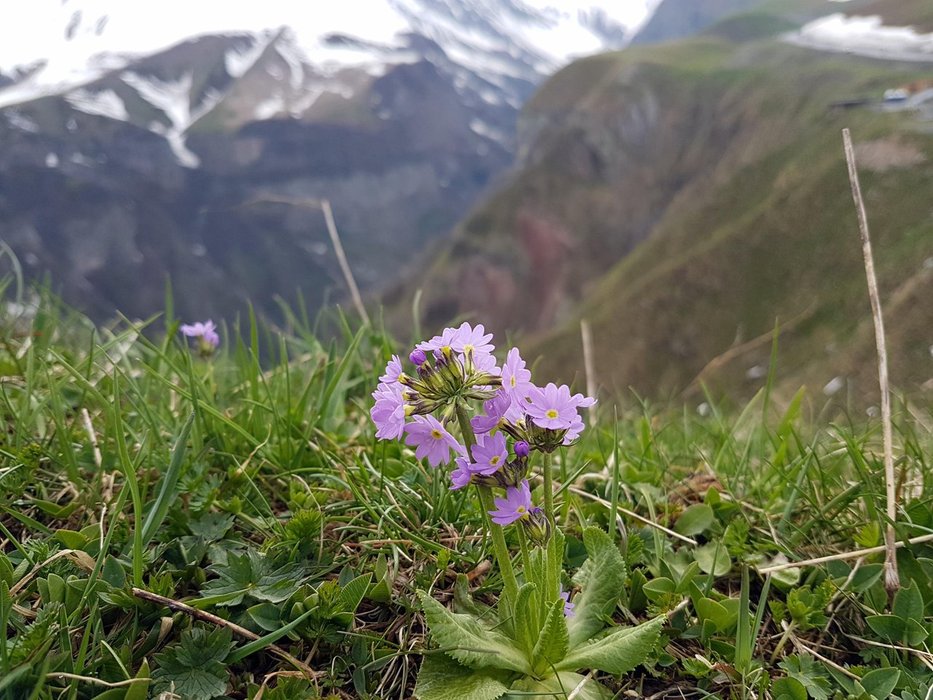 I swear I tried to upload video to DTube 3 or 4 times, but got Unknown error. Anybody knows what can be wrong? I never do that.
It was about +8 C outside, and everyone got cold very quickly. Levan and Tamara quickly jumped into the car, and Nick was waiting for me taking pictures. I was so exciting with the mountains, and the feeling of being so high first in my life (besides, reached it by car not hiking...). Caucasus is gorgeous...
Stepantsminda
Riding the mountain pass was slow and dangerous. The road was tortuous, narrow, in one of tunnels road surface was really bad and damaged.
Soon, pass start descending and we entered the awesome valley. I felt myself like in Alps (though never been there). Our destination was very close.
This time I made a good choice with the hotel Hotel Sunshine Kazbegi and didn't let anybody down. 2 rooms for 1 night cost GEL 266 or nearby € 87, breakfast costs GEL 15 for 1 person, and it was really delisious! Obviously, hotel is new, all equipment is good and working (haha),and it has fabulous views into all directions, also a lovely terrase with a view to the valley: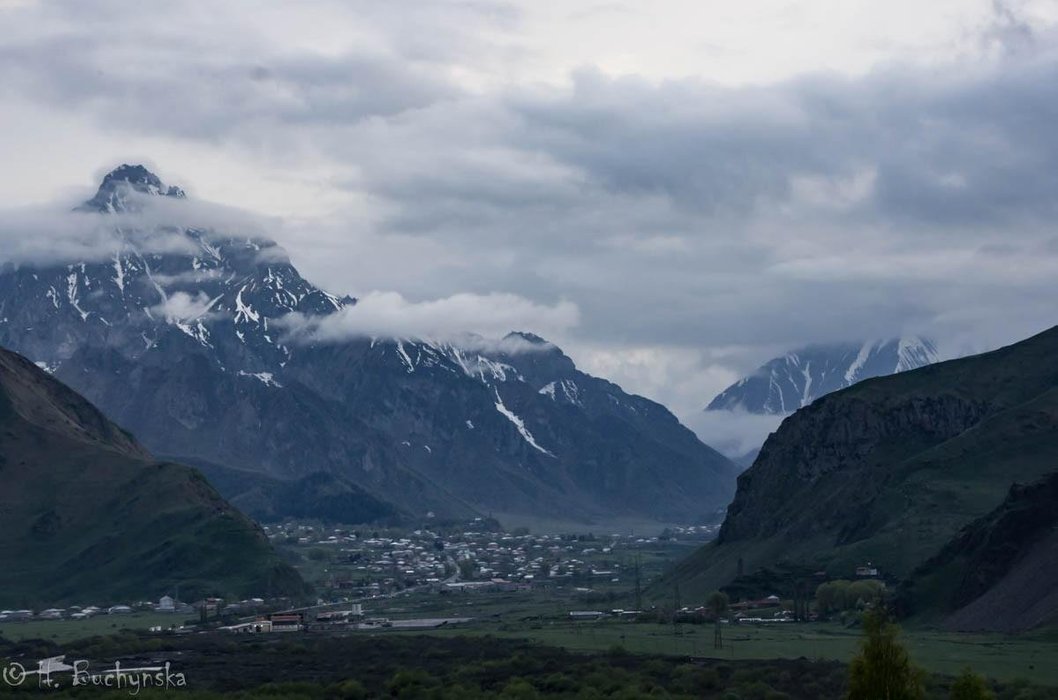 It was amazing day. I came from summer to winter and into spring again. I saw Caucasus as close as never before, and was quite happy. Next day we had to go upper, and I was hoing to see Mount Kaznek.

Links:
- My Georgian Diary. Day 1/7 - Tbilisi
- My Georgian Diary. Day 2/7. Part1 ~ Mtskheta and Jvari Monastery
- My Georgian Diary. Day 2/7. Part2 ~ Uplistsikhe сave settlement and Borjomi resort
- My Georgian Diary. Day 3/7 ~ Vardzia cave monastery and Khertvisi fortress
- My Georgian Diary. Day 4/7 ~ Roaming around Tbilisi and Birthday party

That's all for today. I hope you enjoyed it!
I greatly appreciate your time, and your comments and even upvotes :)

Unless stated otherwise all photos used in my posts are taken and owned by myself, if you wish to use any of my images please contact me.


Stay tuned,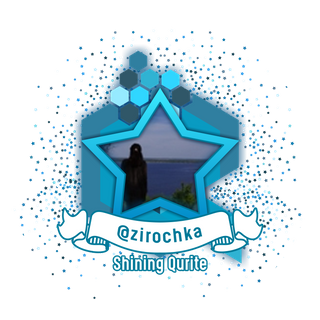 I am with @qurator, and you?


eSteem.app | GitHub | Telegram | Discord