This is my fifth entry for the "Artzone Photography Contest "
Also this post is take part in the @brumest's monomad photographic challenge.
Many already know that I love the reflections in photos. I also often publish black and white photographs. I like monochrome. I try to find my style in it. Perhaps it does not always work.
And I love the city of St. Petersburg. This city is famous for its dampness and poor climate. This not only makes it special, but also decorates it.
Recently, I again visited this city and took a walk with a camera in its very historical center.
Passing around the winter palace, I suddenly went to the Embankment of the winter groove. This is a small street with a canal in the middle that connects the Moika River with the Neva River.

Over the canal there is an arch with a passage from one building of the Winter Palace (or rather the Hermitage Museum) to another building (Winter Palace of Peter the First).

Passing in this place I saw a large puddle in which the arch and the sky reflected on the Neva River. And of course I decided to take a picture of this reflection.

When processing a photo, I tried to give it more contrast, because I like it very much in black and white photography.
---
---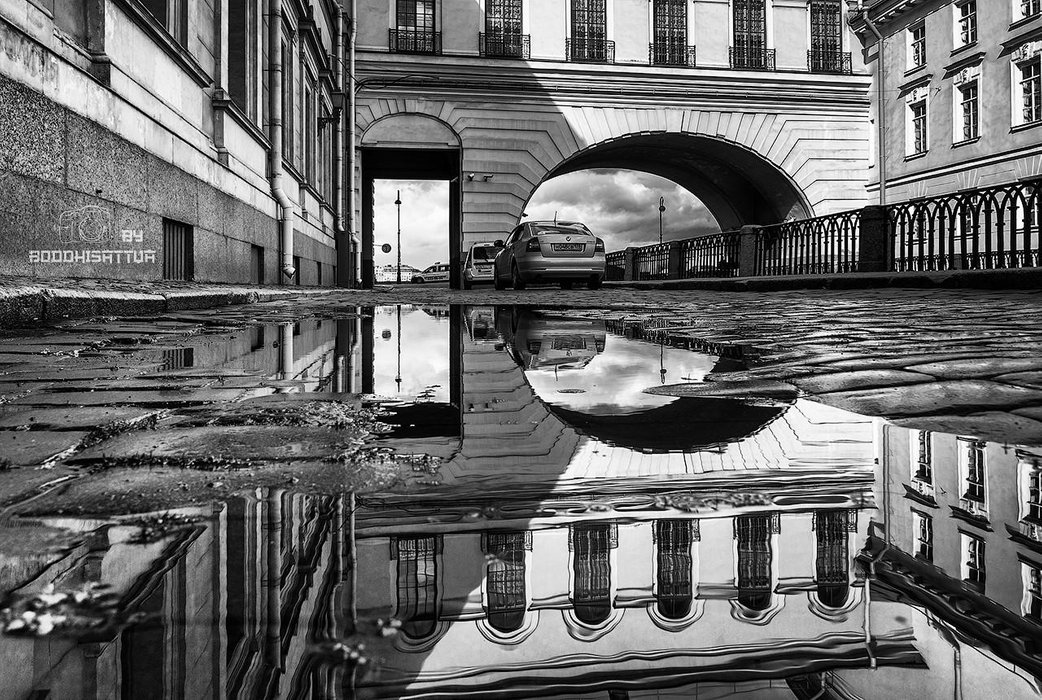 ---
---
Nikon D5000 + Sigma AF 17-50
---
I strongly recommend to open the photo in a separate tab to appreciate it.
---
Do you like this post? You can see more of my works in my blog @boddhisattva