When you're in Alsace you have to visit the Haut-Koenigsbourg castle or at least this is what people say.
And so we did, and we drove 45 minutes from Colmar to the castle. I have to admit that we were supposed to drive for about 30 minutes, but it took us longer at the end as GPS led us to the wrong place and we didn't pay too much attention to realize it on time. But it didn't matter as we were driving through picturesque Alsace villages.
When we arrived, we were surprised to see that we parked our car 1 km far from the castle. This would not be an issue at all as we don't mind walking. We were surprised because that 1 km was packed with cars. At that time, we knew that it's going to be packed inside of the castle too. It's not like we didn't expect anyone to be there, we just didn't expect that many people. And there were more buses coming every few minutes.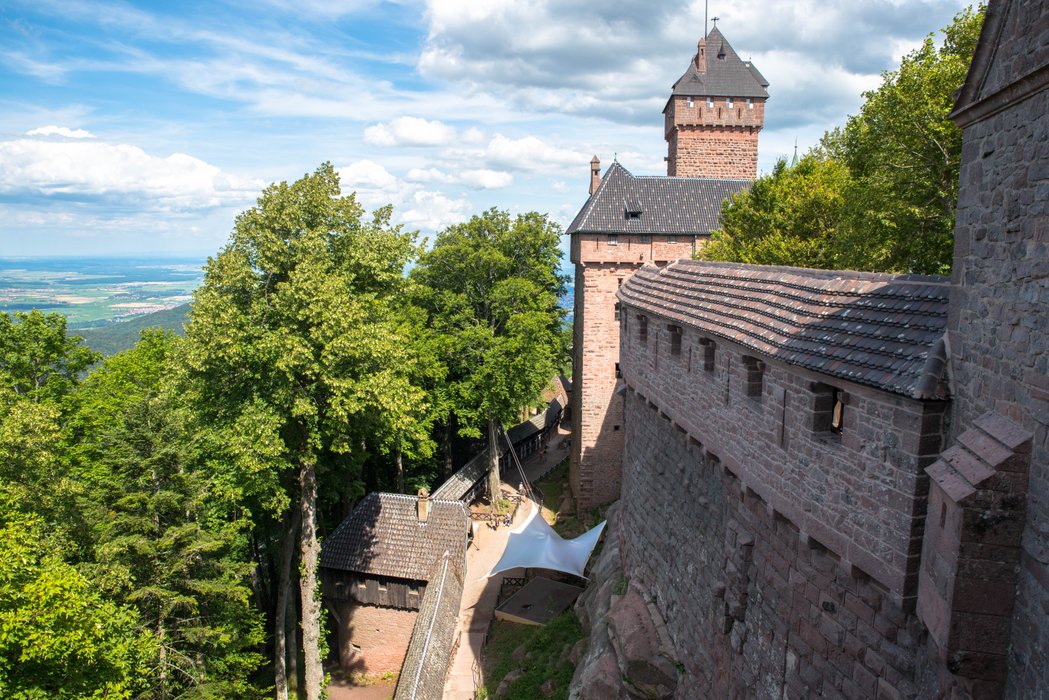 ISO 100 1/200 sec. f/8 24 mm
On the way up to the castle we tried to figure out how to avoid those masses. Of course, we didn't come up with any solution so we started to accept our situation.
And then we saw a sign leading towards a path in the forest. We checked it out and it said that there was a ruin close to the castle. We couldn't find a reason not to go there and we also knew that the later we come to the castle the better, so we headed in that direction.
There was no one in the forest but us. It was so different to what we saw a few minutes ago..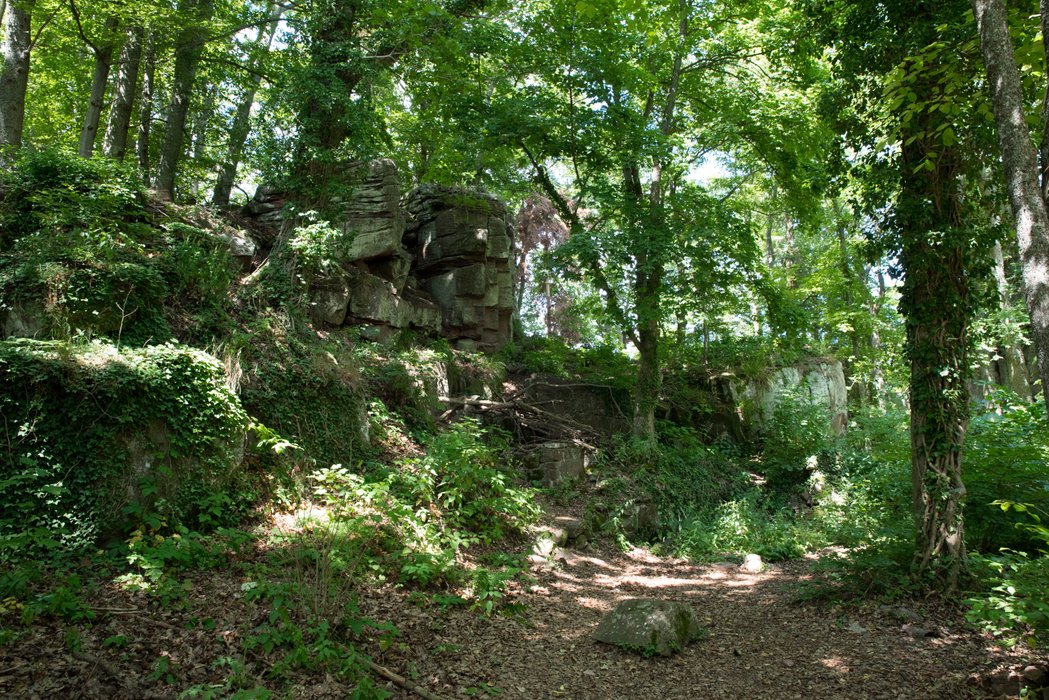 ISO 1000 1/160 sec. f/8 24 mm
After a short walk we arrived at the ruins of Oedenburg which means 'Abandoned castle'. It is also called Petit- Koenigsbourg. There is not much information available about this castle. I could only find some construction details and that it was built in the 12th century. There is a fence around the ruins so we were not able to go inside.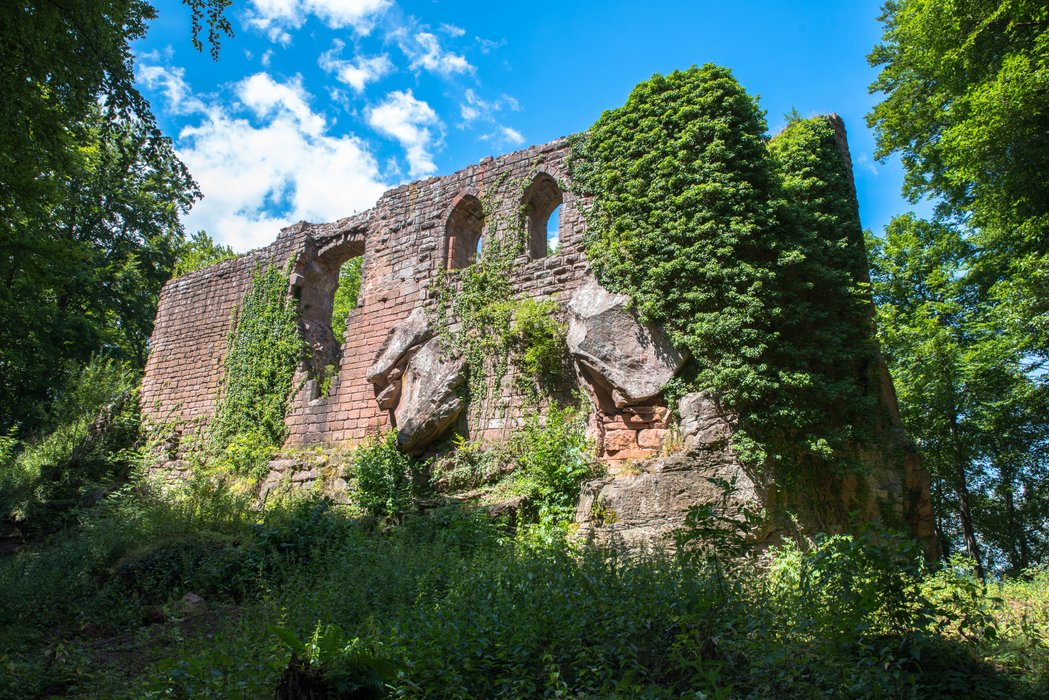 ISO 160 1/160 sec. f/8 24 mm
I usually take a book with me and while my husband was exploring the surroundings, I sat down and enjoyed reading a few pages. It was such a quiet place.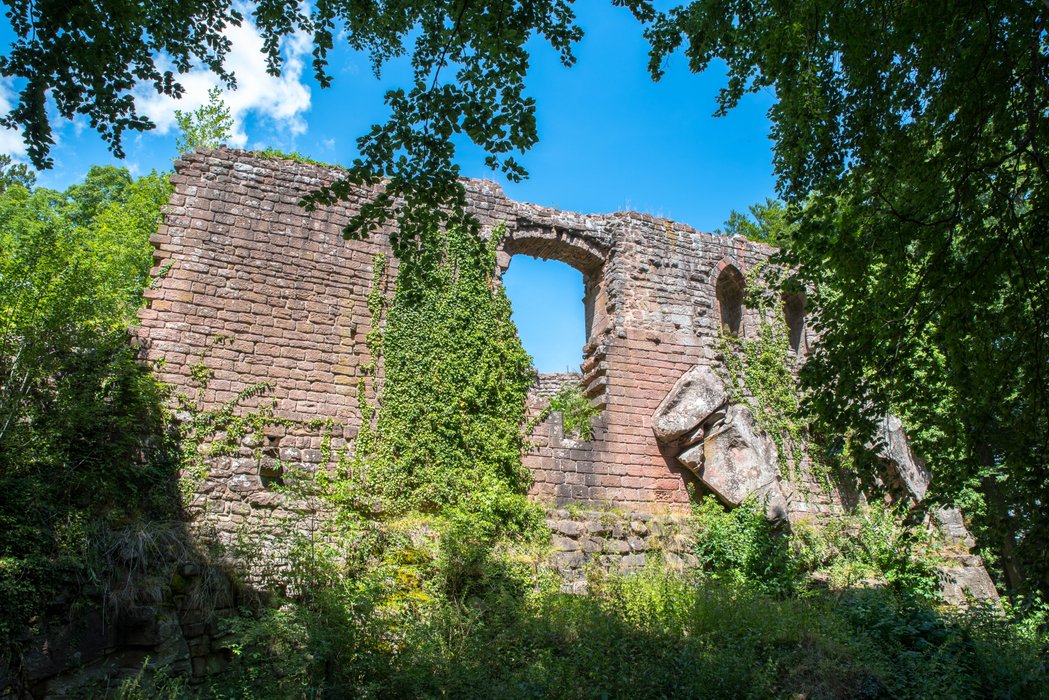 ISO 200 1/160 sec. f/8 24 mm
But at some point, we had to go back to the castle. It looked much less crowded than before. I am a big fan of Tour de France but I don't understand why they have to hang a gigantic yellow T-shirt on the tower 😊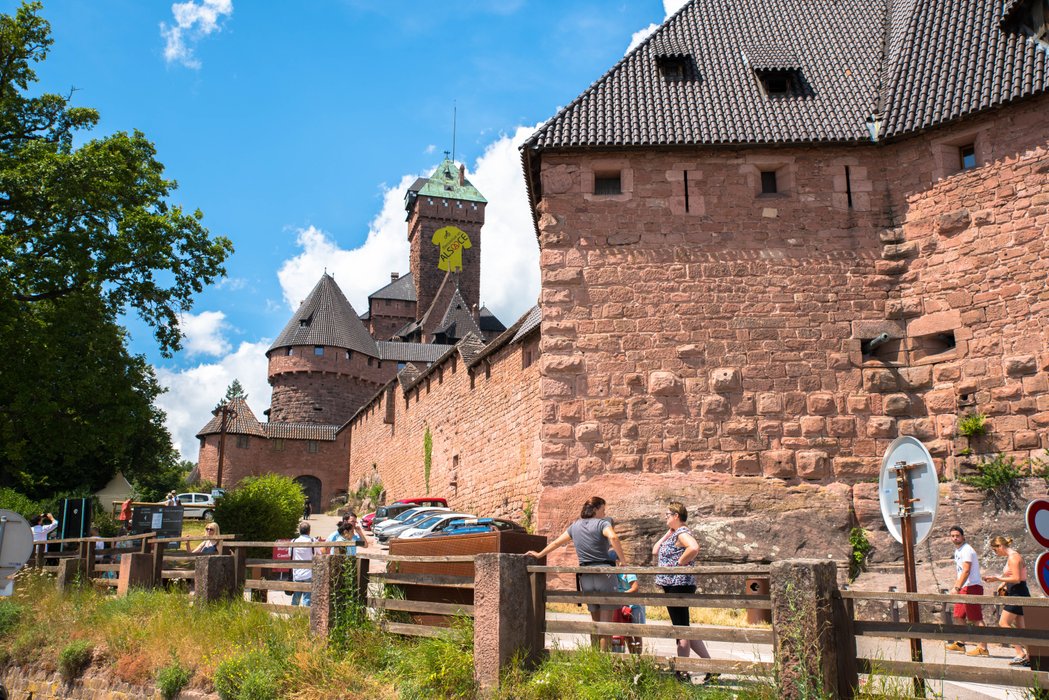 ISO 100 1/200 sec. f/8 35 mm
The Haut-Koenigsbourg Castle was built in the 12th century and its first mention dates back to 1147. At that time, it was called Castrum Estuphin but after 10 years its name was changed to Koenigsburg which means 'Royal castle'.
It was destroyed, rebuilt and enlarged in the 15th century. This was however not the only time when the castle was destroyed. It was burnt to the ground in 1633. It was left in ruins for more than 200 years. In the 19th century it was acquired by the nearby town of Sélestat which planned a large reconstruction however there were no funds for such a large project.
In 1899, the castle was offered to Kaiser Wilhelm II who decided to undertake a complete restoration. The restoration was finally done in 1908.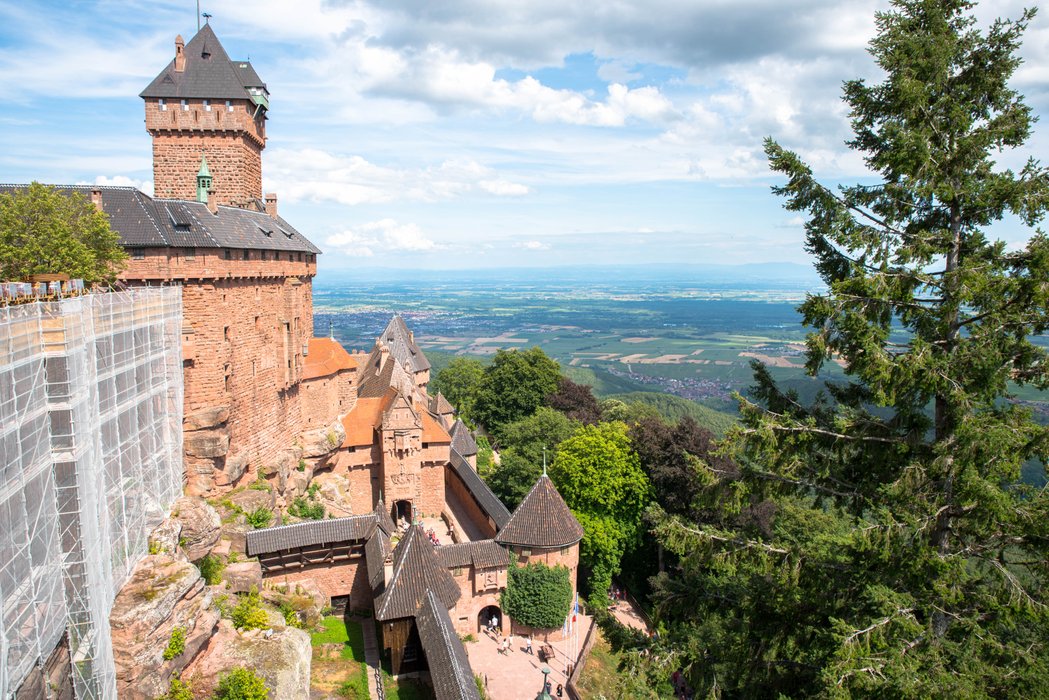 ISO 100 1/200 sec. f/8 24 mm
At the end of the 20th century the castle was classified as a historical monument. Nowadays, it is one of the most popular landmark of the Alsace.
---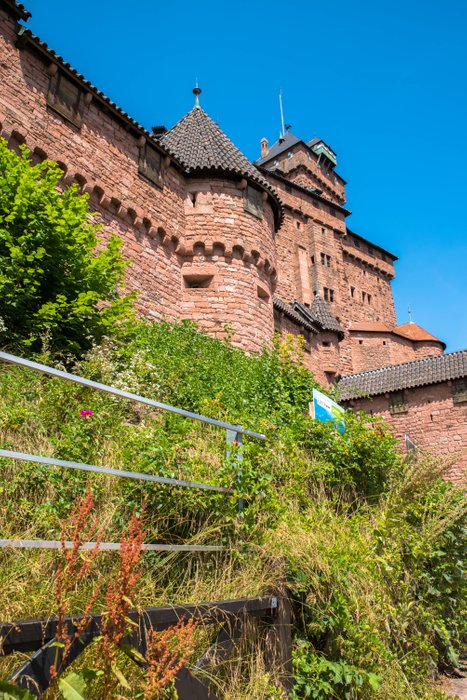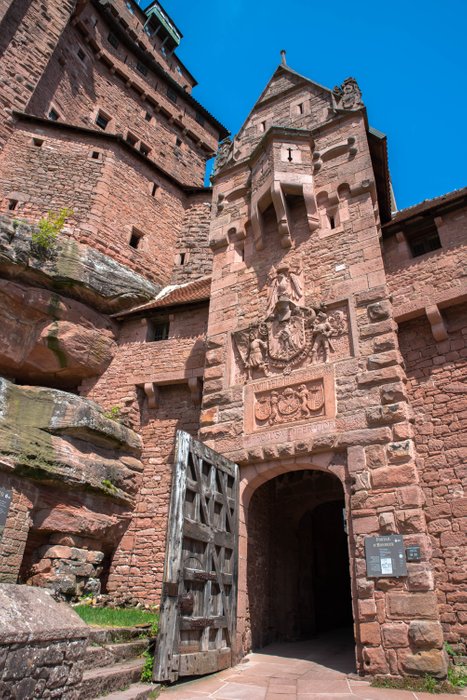 ---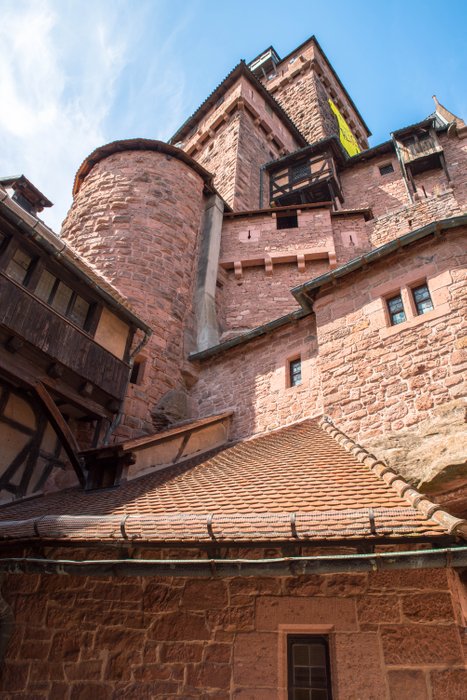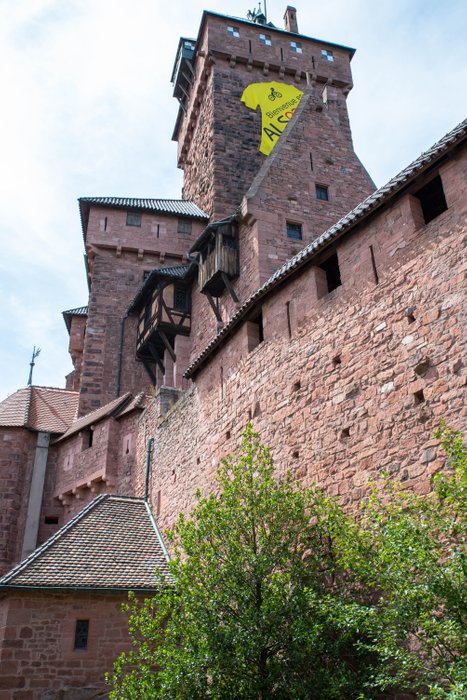 ---
You can admire a paper model of the castle in the castle restaurant. You can purchase it and as the instructions promise have fun building it at home 😊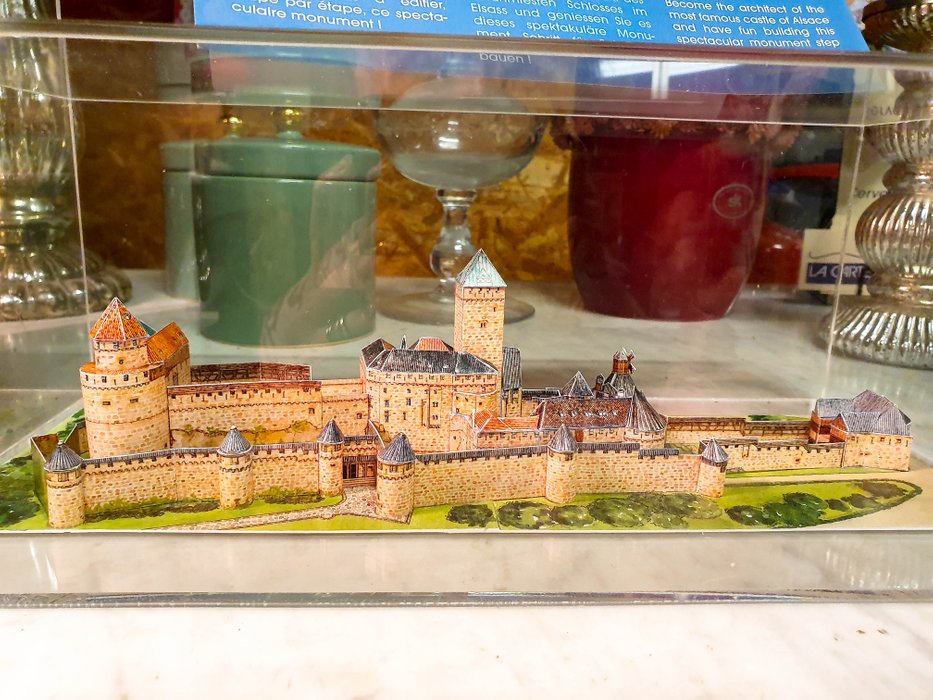 After we crossed the drawbridge we were brought to medieval times. It's a massive construction with thick walls and many pillars holding it all together. We saw medieval weapons, furnished rooms and historical artefacts. The tour is however shorter than I expected, and I have a feeling that a big part of the castle is not accessible.
When you enter the castle, you will see a lot of information about the reconstruction. Here you can see how it looked before the reconstruction.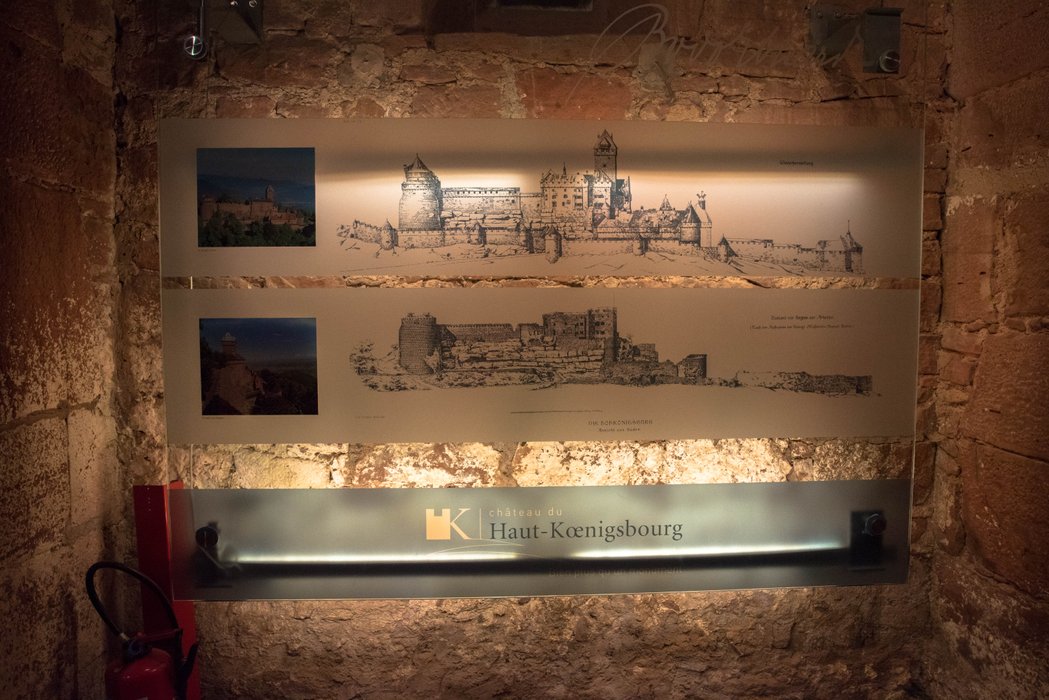 ISO 2000 1/200 sec. f/8 26 mm
After the excursion of the ground floor we walked up the first floor.
In the 15th century, the southern living quarters were reserved for the Tierstein residence. They are decorated with wooden furniture and lead to the trophy room and armoury.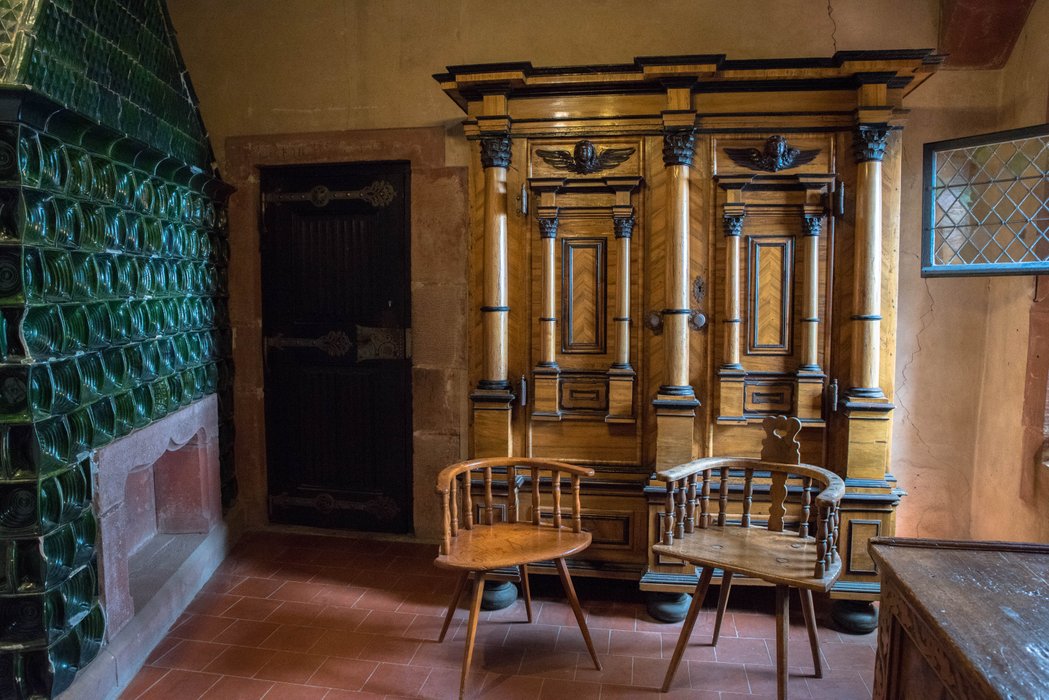 ISO 3200 1/125 sec. f/6.3 24 mm
On the way to the second floor we got to see the part of the castle that we couldn't enter. The second floor includes the Empresses chamber and the Kaiser's bedchamber. These rooms were impressive, but it was too dark and too many people to take photos. Sometimes it's better just to enjoy what you see without looking for the best angle to take your photos..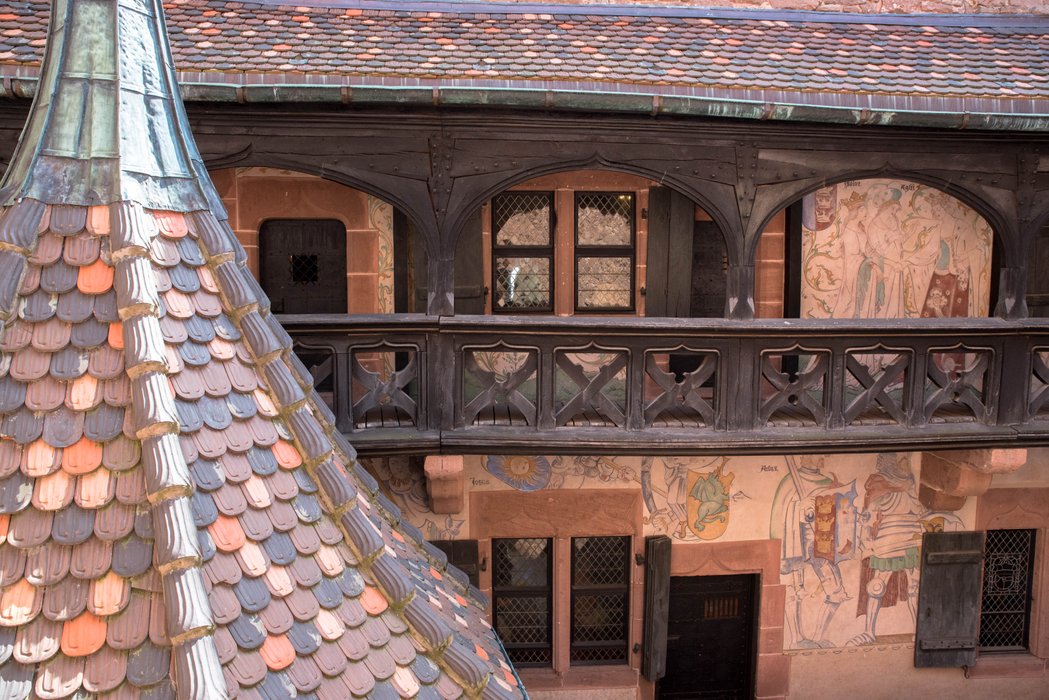 ISO 1000 1/200 sec. f/8 24 mm
Once we finished the excursion, we headed to the Grand Bastion. We crossed the upper garden to get there. There were a couple of benches, trees and the well.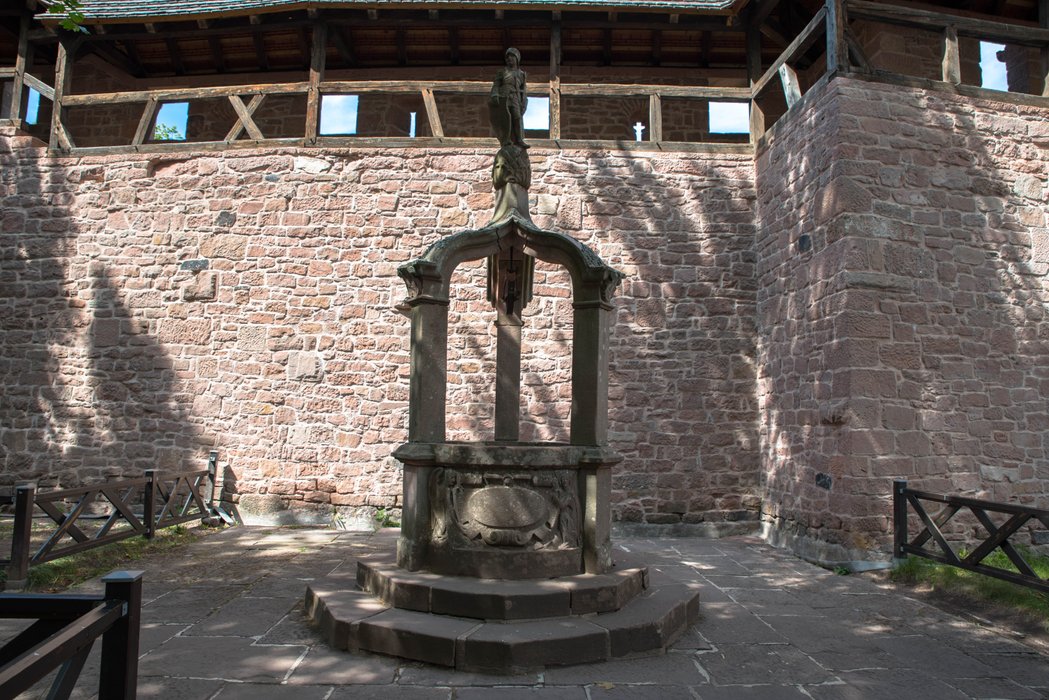 ISO 100 1/125 sec. f/6.3 24 mm
Then we climbed the staircase and enjoyed the exceptional view of the Alsace plain and the Vosque mountains before heading back home.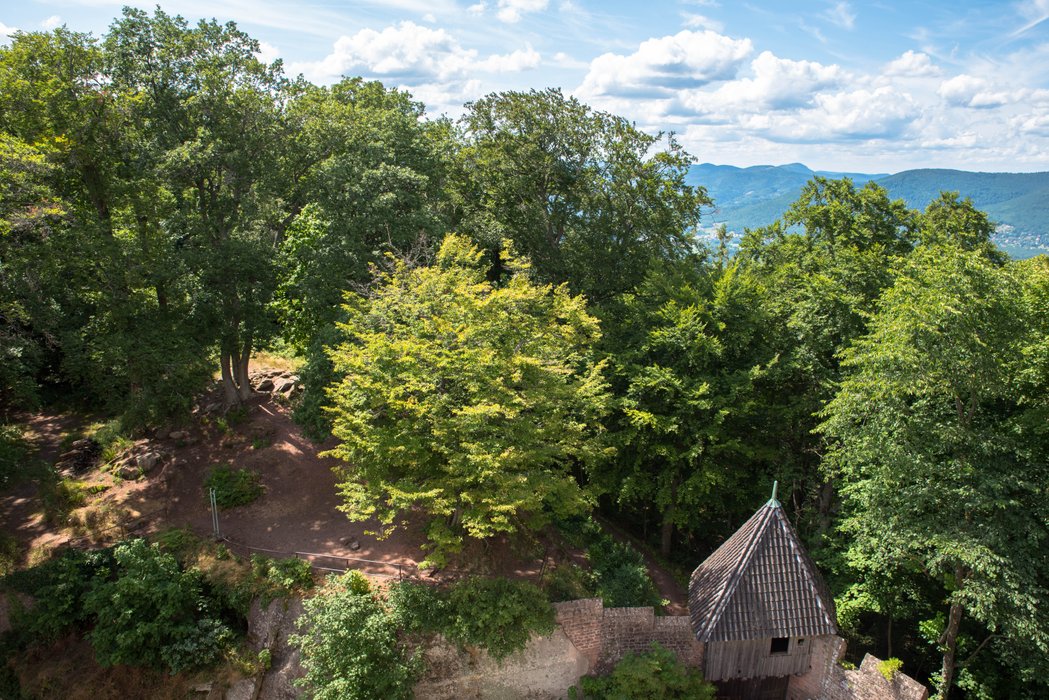 ISO 100 1/100 sec. f/8 24 mm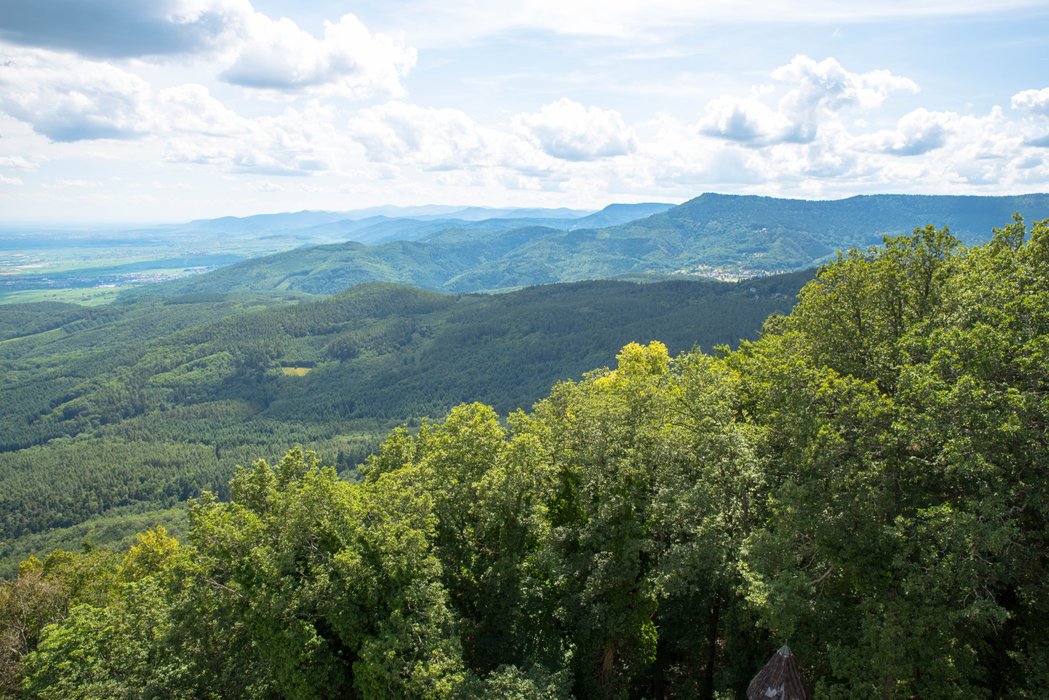 ISO 100 1/160 sec. f/8 24 mm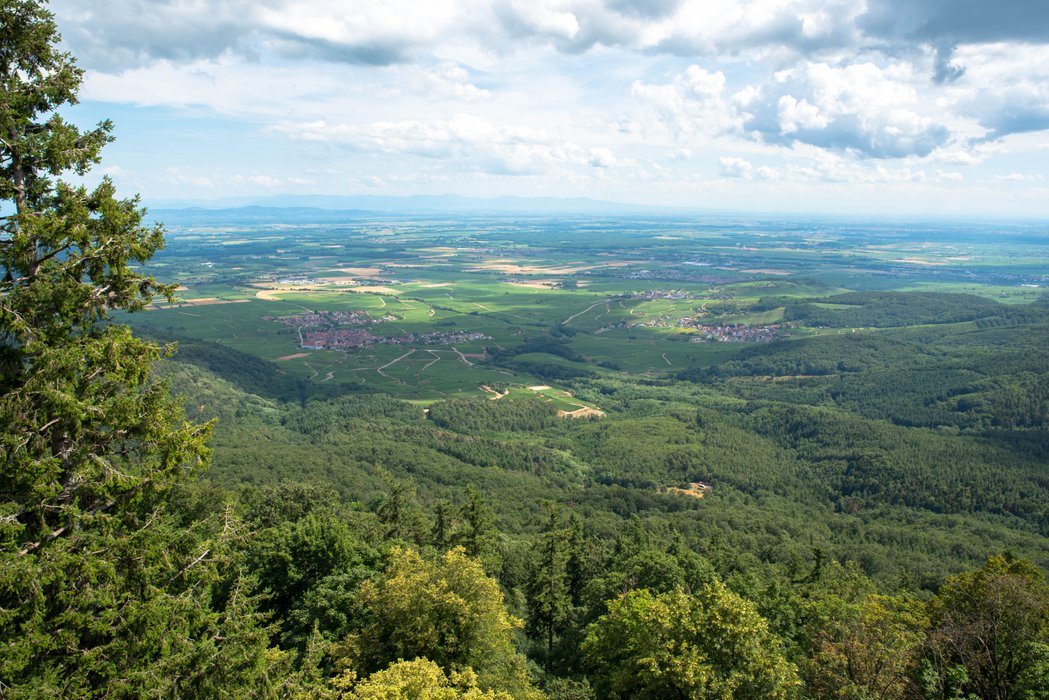 ISO 100 1/200 sec. f/8 24 mm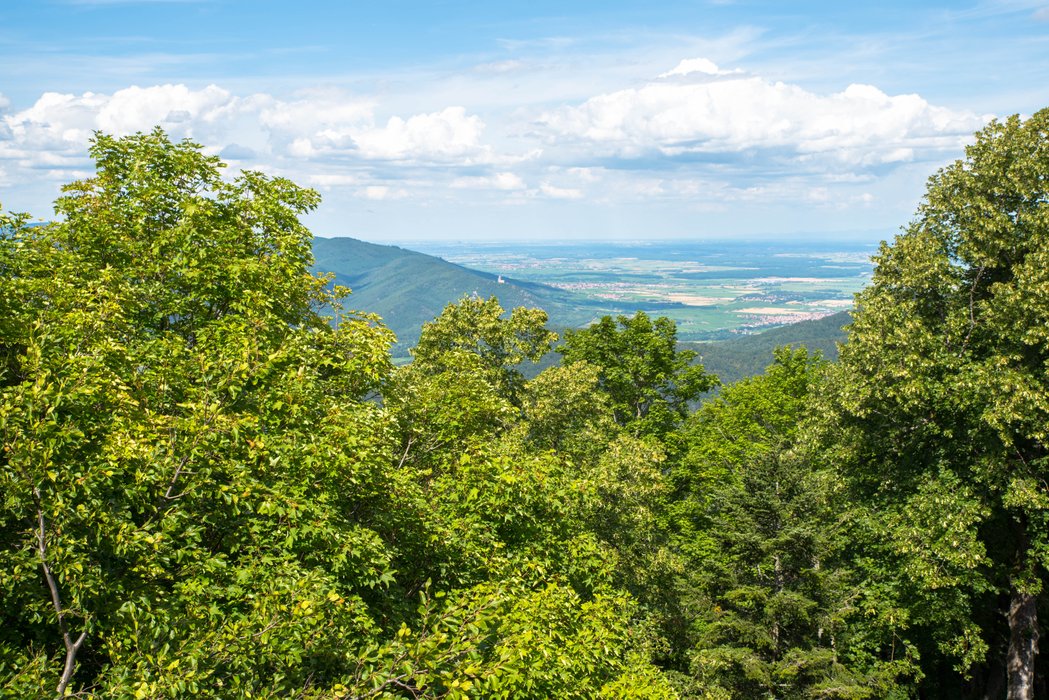 ISO 100 1/200 sec. f/8 40 mm
We had a great time in the beautiful Alsace region and we will definitely be coming back.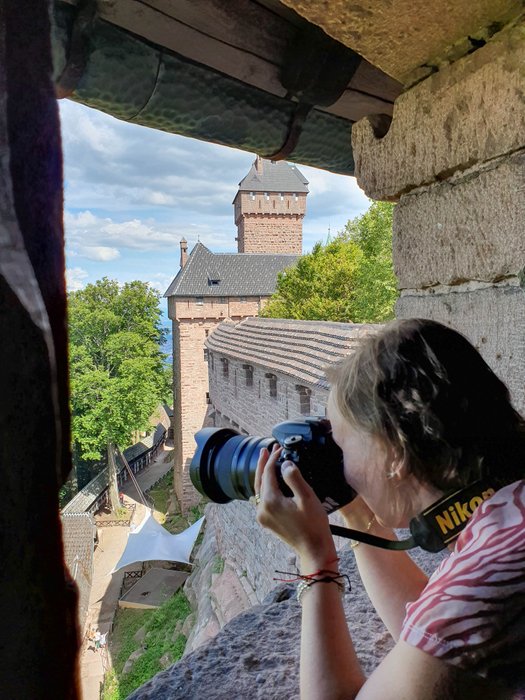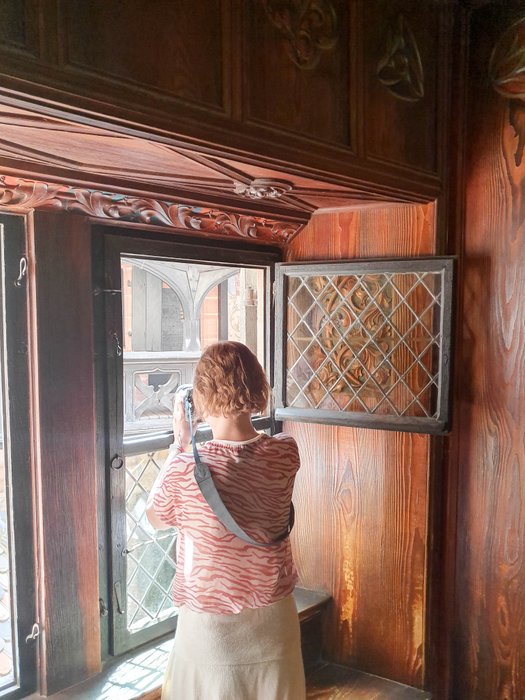 I hope you have enjoyed our tour!
Thank you for reading!
Cheers,
Martina