I have showed you the places that we visited in South Tyrol already and now it's time to show you what we ate there!
Firstly, let me tell you a little bit about the hotel where we stayed. Hotel La Vimea is the first vegan hotel in Italy. It's a place where you're meant to relax and enjoy yourself.
You can swim in a natural outdoor bathing pond or a saltwater indoor swimming pool, enjoy saunas or a hot stone room, join complimentary yoga or meditation classes, or you can simply enjoy sunshine in the garden with a delicious cocktail in your hand. There are 315 sunny days in Naturns. We spent there 3 days and 1 day it was raining - call it luck!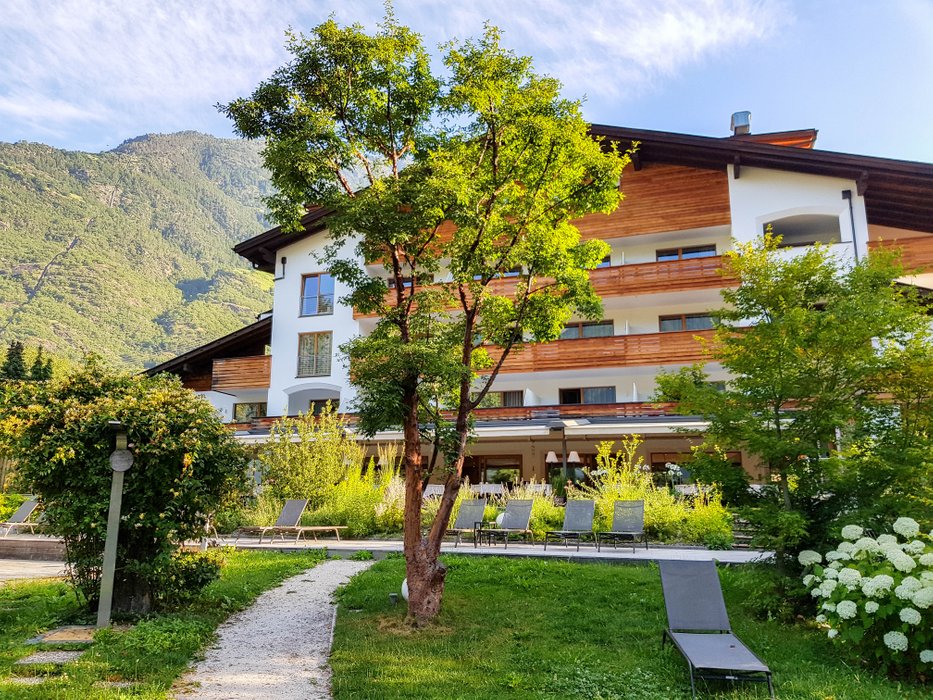 This is the cocktail that I was talking about 😊 And it's also how I spent most of the first day there - on a sunbed in front of the pond, with a cocktail and a book (and a piece of cake later)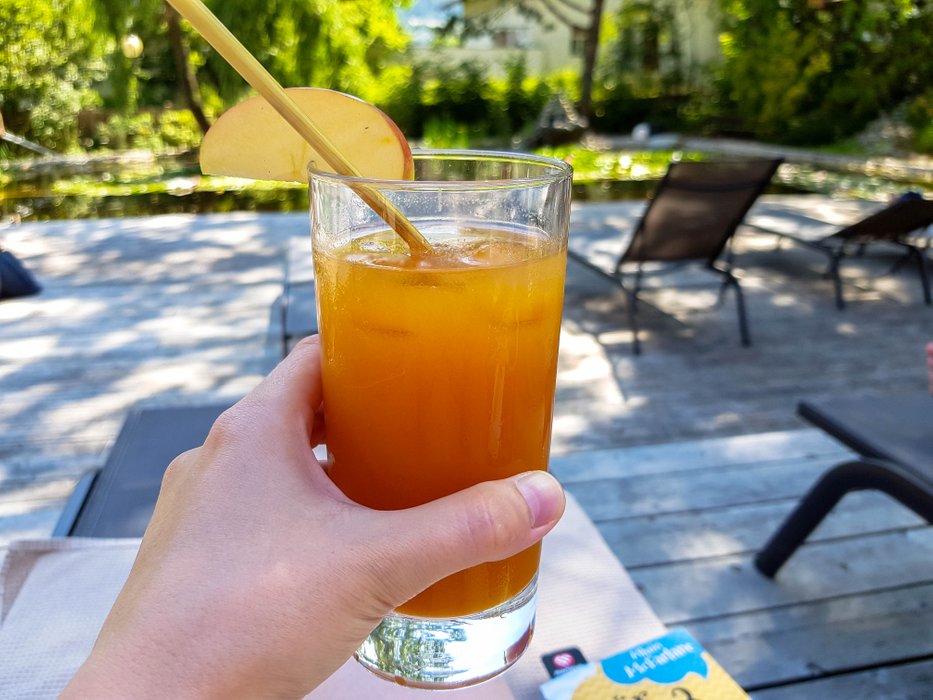 Let's talk food now...
Would you enjoy dining with such a view? I would and I did! Usually I prefer to eat inside but in this case I just couldn't 😊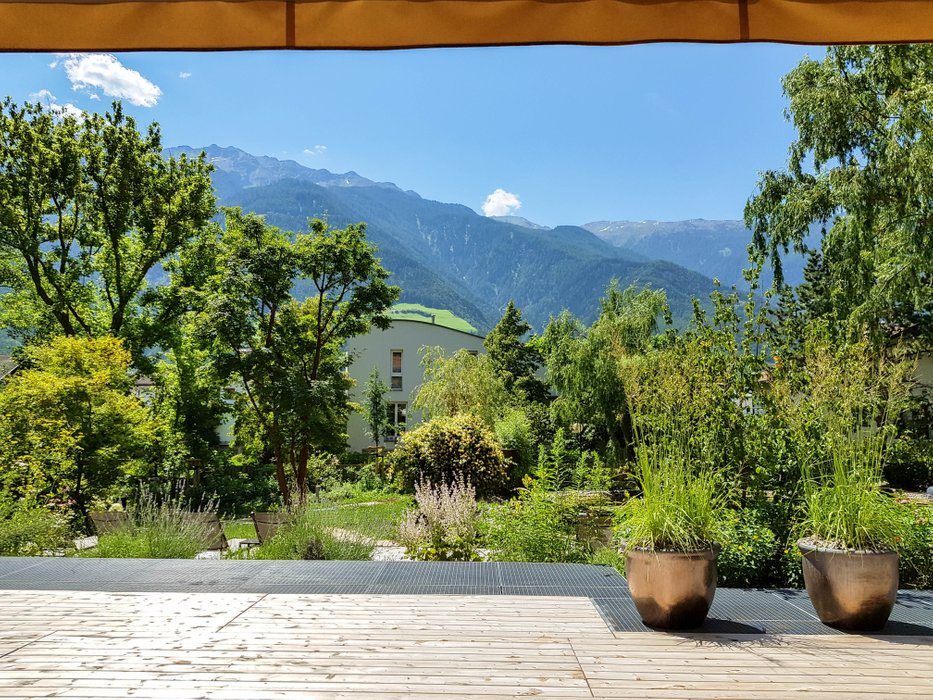 All meals prepared in the hotel are organic and the ingredients are mainly grown in South Tyrol or Tuscany. Their cuisine is different to what I'm used to, so I was excited to try it.
Each dinner consists of 5 courses that are pre-arranged by the chef, so you eat what the chef's choice of the day is.
The dinner on our first day was my favorite and therefore I would like to show it to you.
We started with an appetizer of peach and sunflower seeds with sun-dried zucchini blossom and bread. In fact, it was cold soup. Doesn't sound appetizing? I thought so too! But it was surprisingly good. I just couldn't get used to the idea of eating cold soup...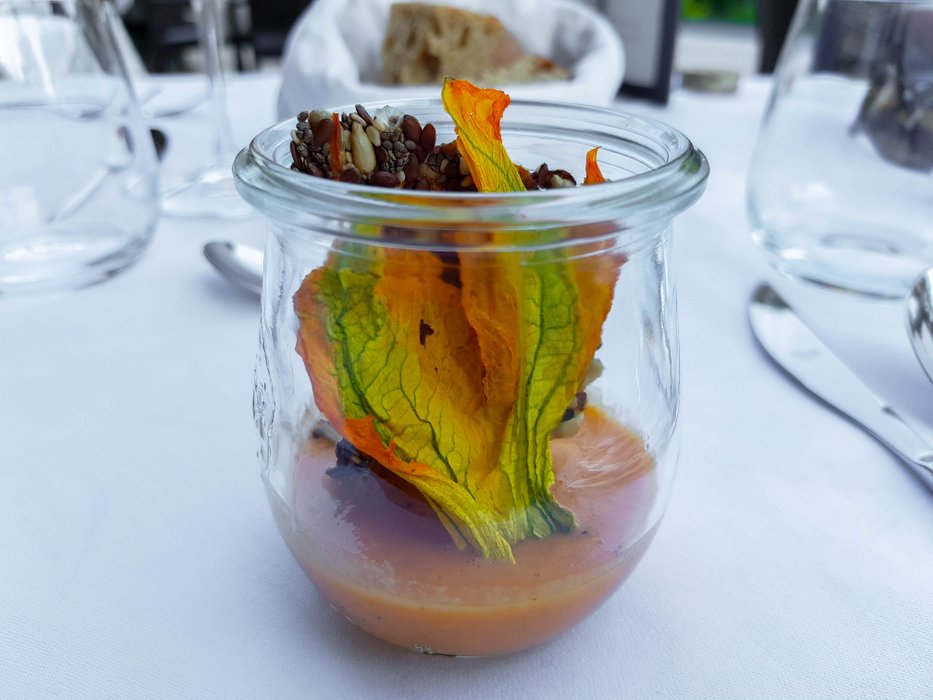 The next dish was grilled white cabbage with baked root celery chunks and Jerusalem artichoke/carrot puree. This was my absolute favorite. The cabbage was crunchy and had smoky flavor, the puree was not sweet at all and it matched perfectly with the baked root celery chunks. YUM!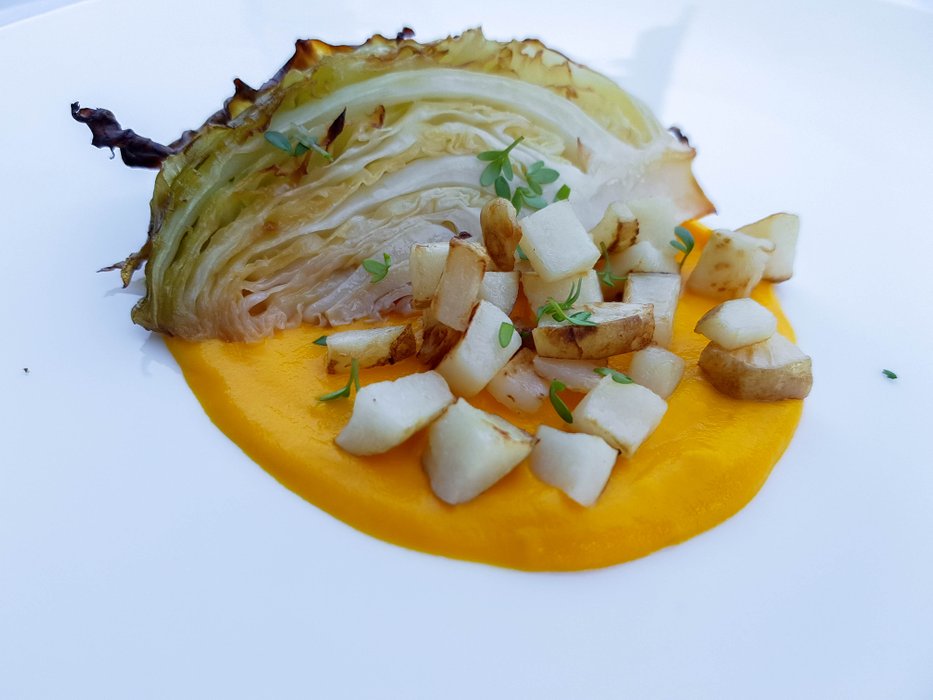 All meals were prepared based on Ayurveda principles and were either served cold or at the room temperature. I'm not that familiar with Ayurveda eating but I know that it isn't the right way for me 😊
And here is another cold soup coming... It tasted good but the fact that it was cold took all the pleasure of eating it away. It's kohlrabi soup with radish and lentil sprouts.
I would enjoy it much more if it would be warm. But at least it inspired me to prepare kohlrabi soup at home.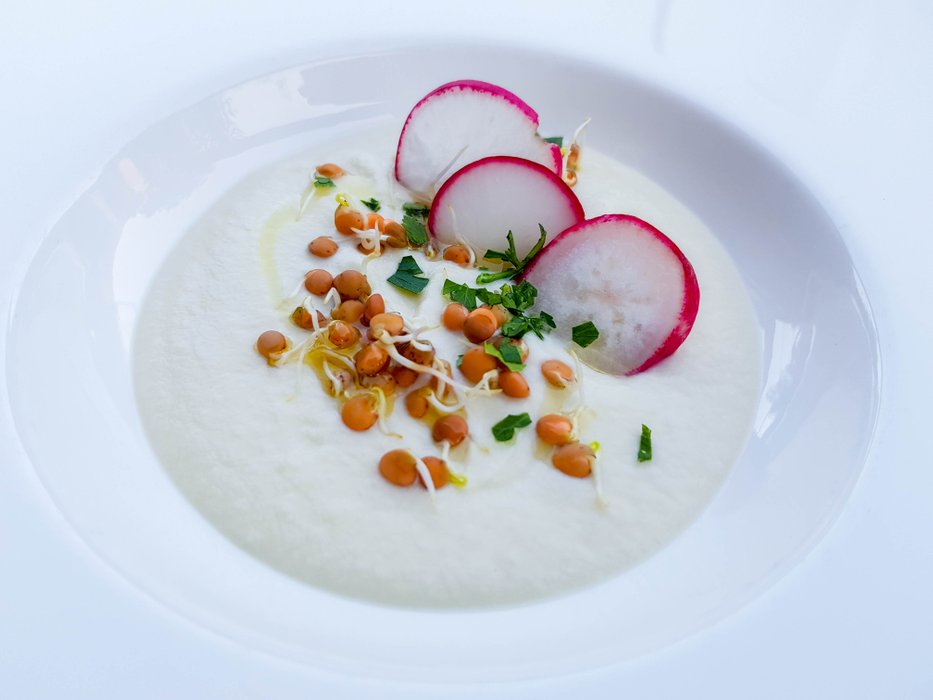 This dish of spelt rigatoni with chicory pesto, datterino tomatoes and mint was delicious. It was hearty and spicy, and the flavor combination was spot on.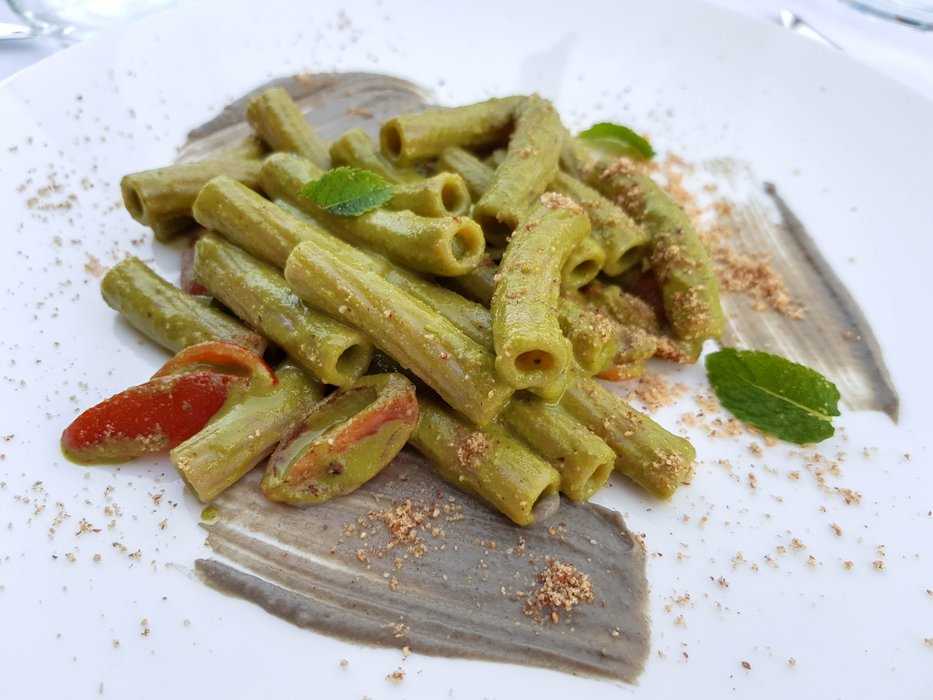 In my opinion, this is the only dish that was served at the right temperature. It was a cookie with cashew cream and apricot sorbet - lovely combination of flavors and delicious crunch...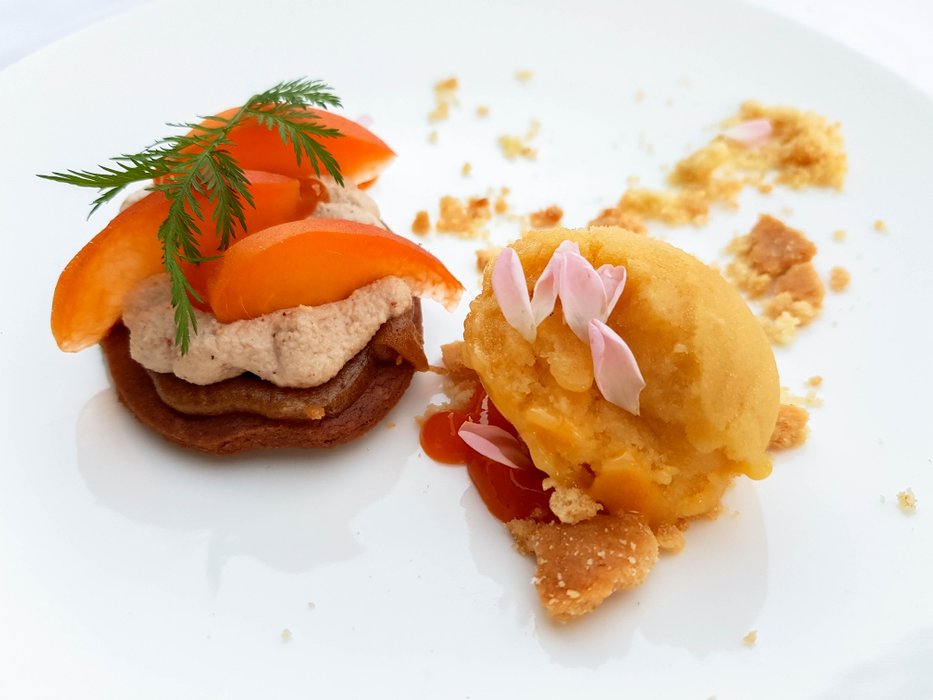 And here are some cakes that I enjoyed during the day. I usually don't crave sweets but when I do then I eat too much.
First piece of cake was with strawberries and chocolate and it was scrumptious! I even refused to share it with my husband so he had to order his own piece..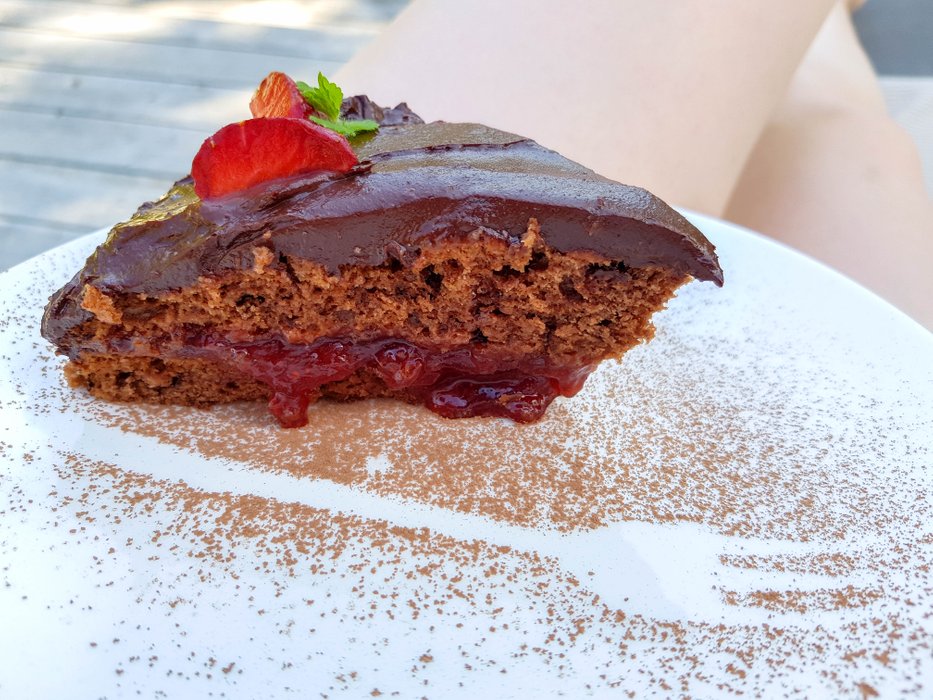 We shared this apple cake with hazelnuts which was a mistake as I should have eaten the whole thing because it was so good!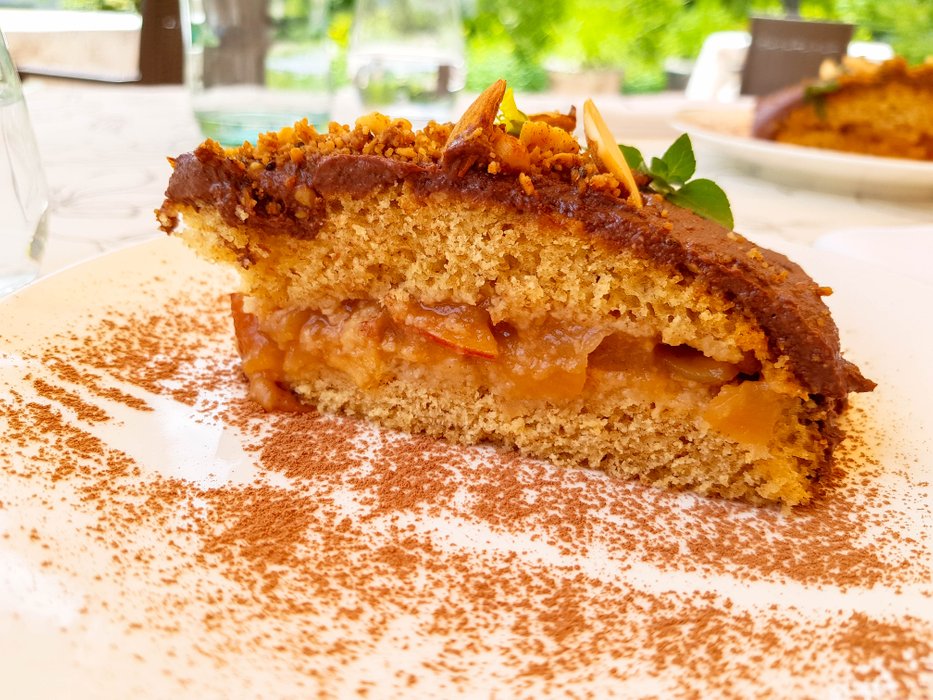 Overall, I must say that the food tasted good and it was all fresh. But to be honest I enjoyed the sweets more than the savory meals simply because I like my food warm.
PS: Yes, we had some pizza too - I just forgot to take a photo before I started eating 😊
Thank you for reading!
Cheers,
Martina