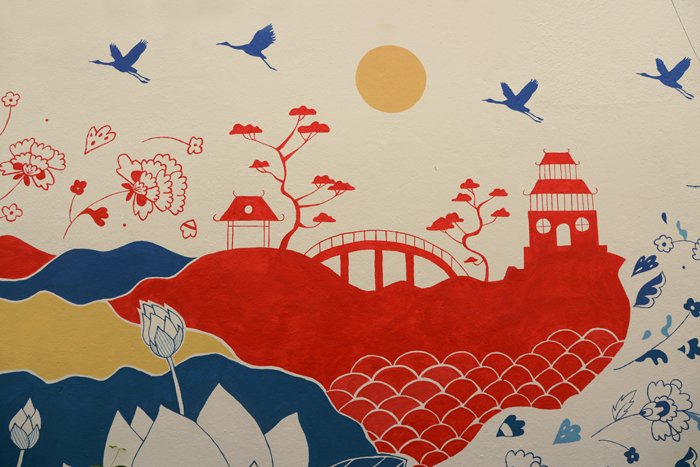 Port Louis, the capital of Maurtius, has in the last three to four years received quite an amount of street art worth checking out. The city is colorful and lively from before, but the street art helps to give the city a whole new dimension. The Porlwi festival (cultural festival) of the past few years has contributed to this by inviting both local and international artists to town.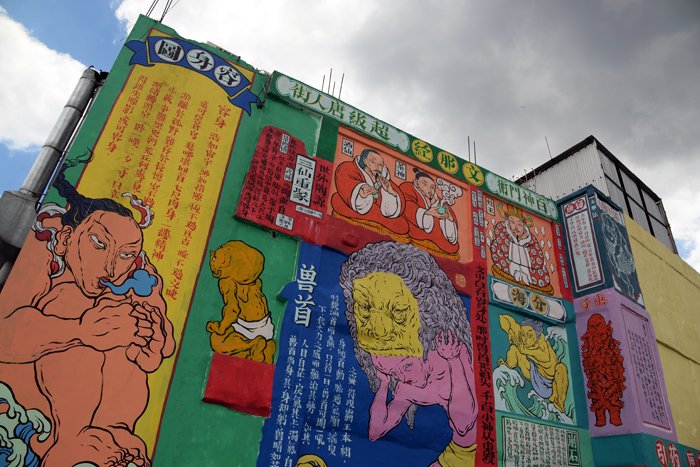 I was in Mauritius in May this year. One of the first things I did, was to go to Port Louis to explore and check if new artwork had arrived and to see if any of my favorites were still here. The visit to Chinatown was a surprise. A lot has happened here since last time (December 2017). Many houses have been renewed and decorated. There is not only one mural in one street. I found up to seven in just one street! In 2017 there were only one! Here is a small selection and almost all of them were painted in 2018.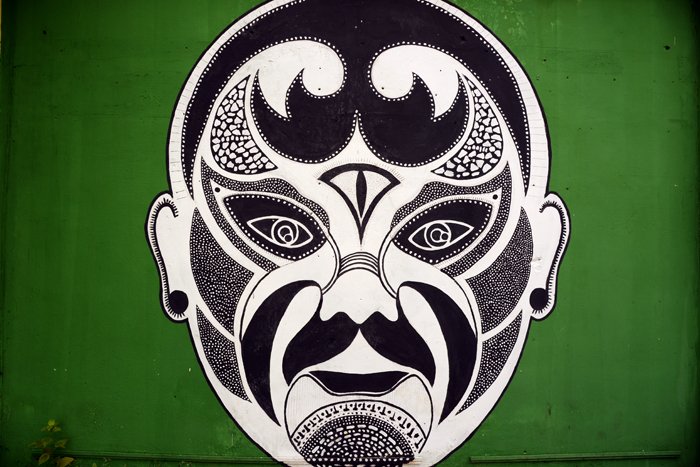 Chinatown is the center of commerce for the Chinese immigrants who came to Mauritius during the 1940s when the island was under British rule. Chinatown only covers a few blocks, but it became the heart of the Chinese community. A period of wealth gave the Chinese an important position in Port Louis, but over the years that changed because of neclect. Especially because the young generation is leaving, mostly to study abroad.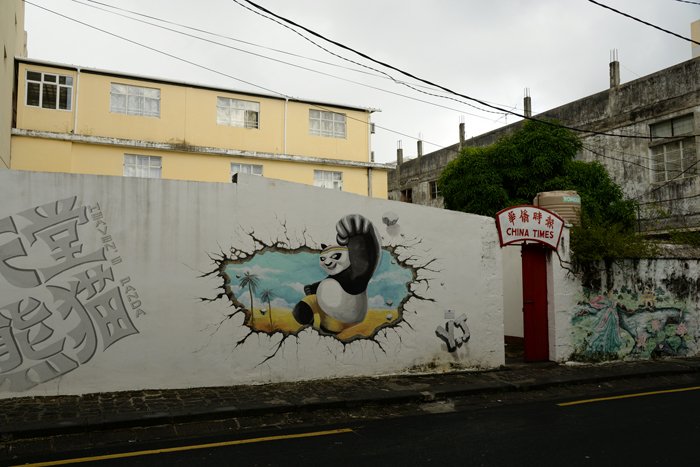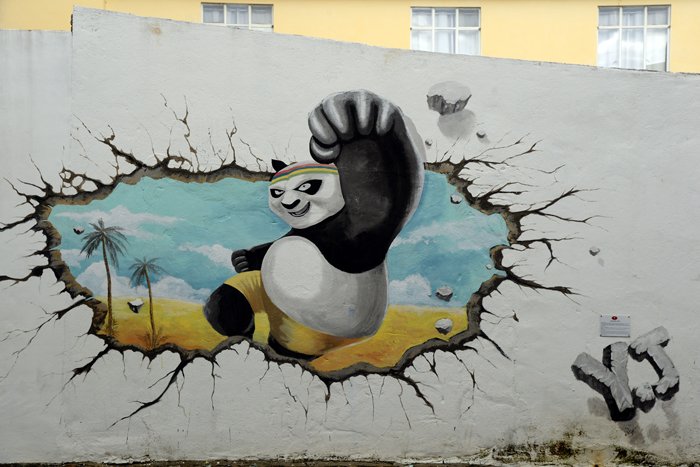 «China Times»
It does say «China Times» on the sign, but I don't know whether the newspaper is still here. I haven't managed to find out who the artist is either.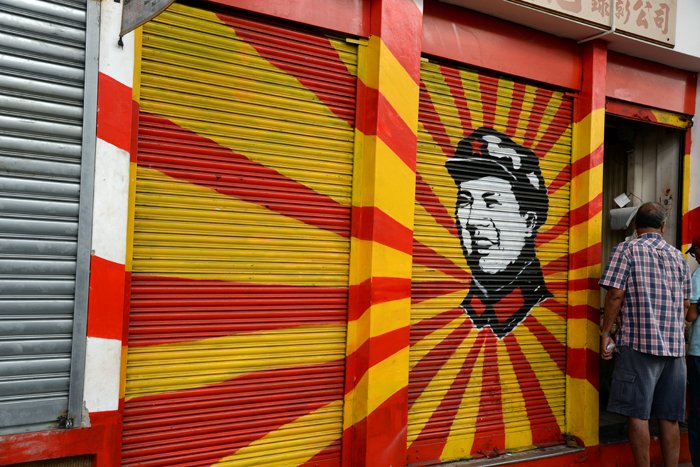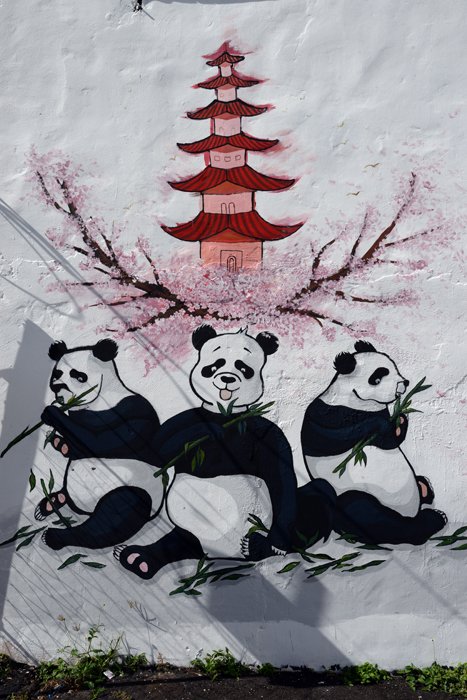 The new look is caused by a group of young people who has formed a foundation they call The New Chinatown Foundation. In order to renew Chinatown they have worked together with both local artists in Mauritius and artists from China. Together they have been responsible for all the decorations and murals in Chinatown. Most of them were painted in 2018 as part of their project.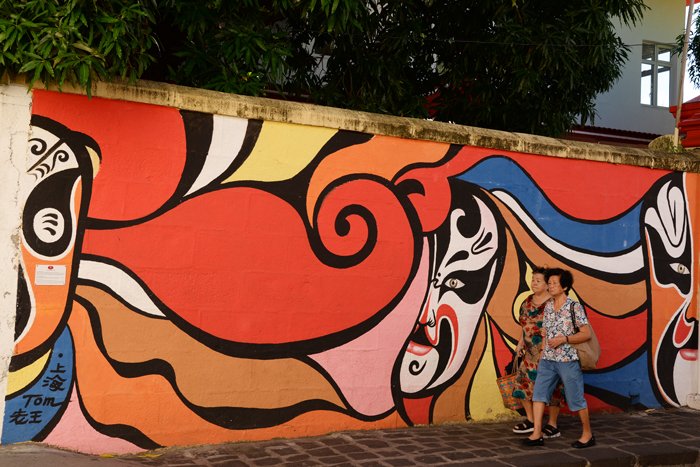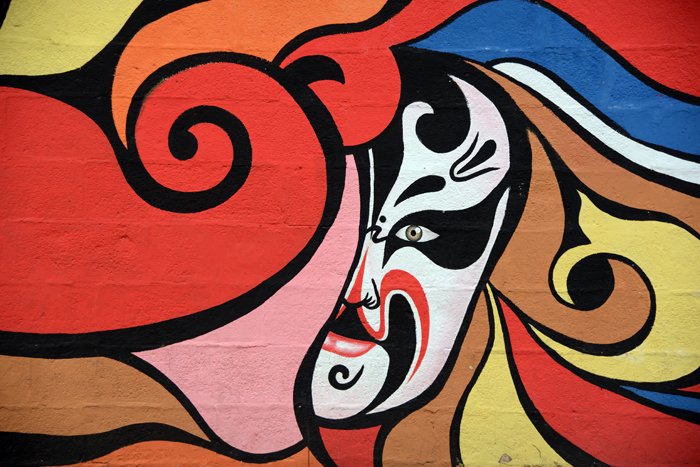 «Colourful Opera»
By New Chinatown Foundation – February 2018
The sign on the walls says:
«Artist: Wang Jian (Tom). Tom is a professional artist, graduated from the Academy of fine Arts in China. Peking Opera Mask is a special makeup method with Chinese cultural charactics. Peking Opera Mask art is an art that is very popular among the majority of opera lovers, and one of the symbols of Chinese traditional culture».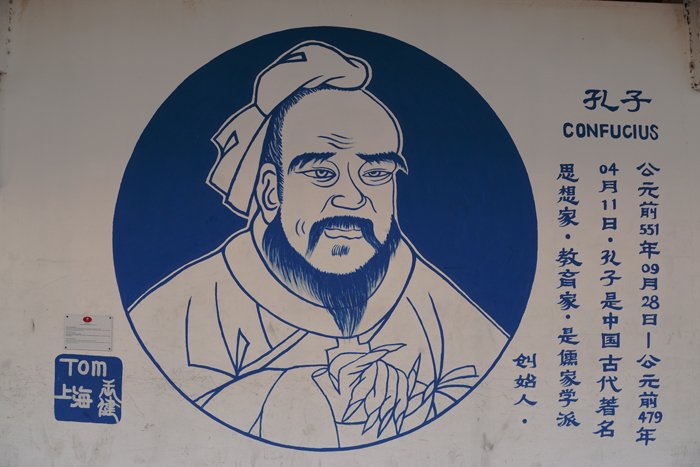 Confucius – the Chinese philosopher and politician (551 – 479 BC), also painted by Wang Jian.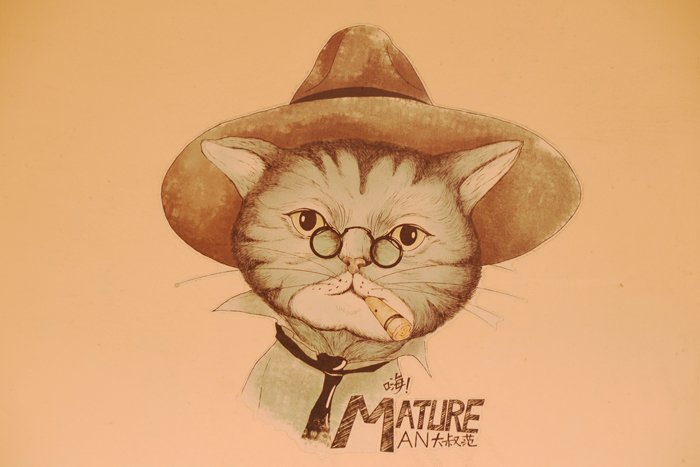 I don't know who did this one. Found by accident because I went into a narrow alley and a very small piece, easy to overlook.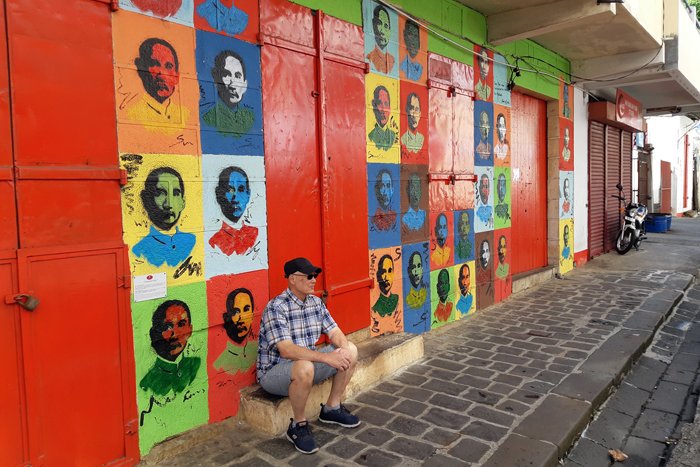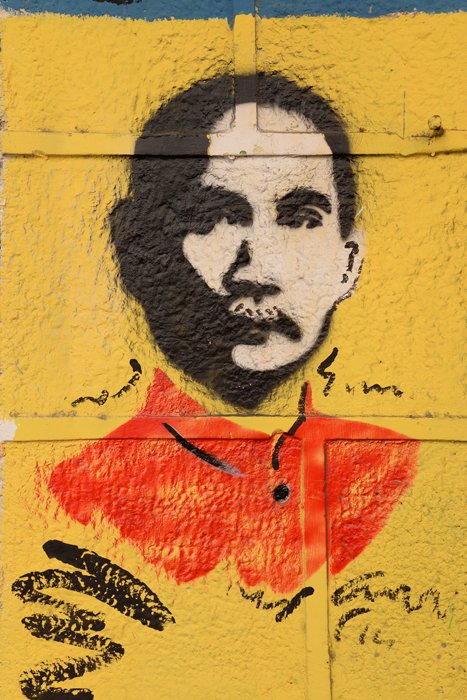 «Dr.Sun Yat Sen Pop Art»
By New Chinatown Foundation – February 2018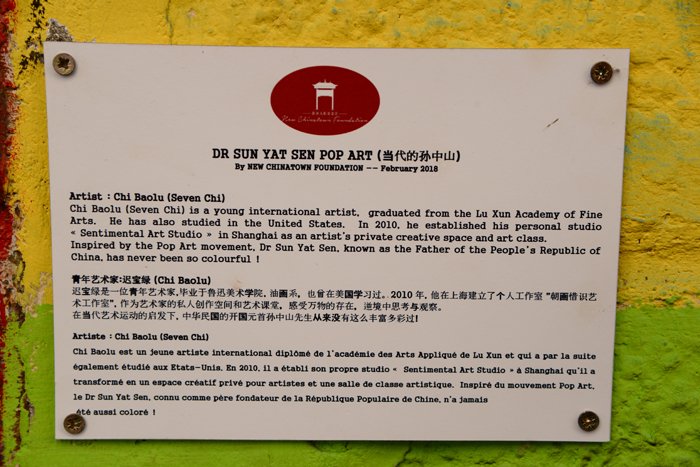 The sign on the wall says:
«Artist: Chi Baolu (Seven Chi), a young international artist, graduated from the Lu Xun Academy of Fine Arts. He has also studiet in the United States. In 2010 he established his personal studio – Sentimental Art Studio – in Shanghai as an artist's private creative space and art class. Inspired by the Pop Art Movement, Dr. Sun Yat Sen, known as the father of the Peoples Rep. of China has never been so colourfull»
Dr.Sun Yat Sen was a revolutionary and politician, one of the founders of the Kuomintang National Party and became the first provisional president when the Republic of China was founded in 1912.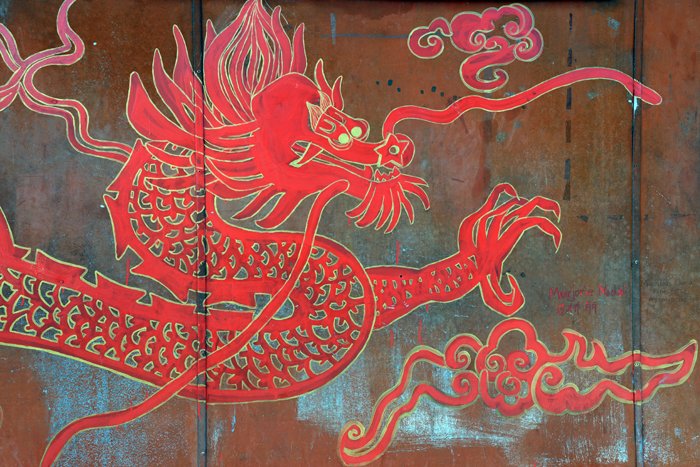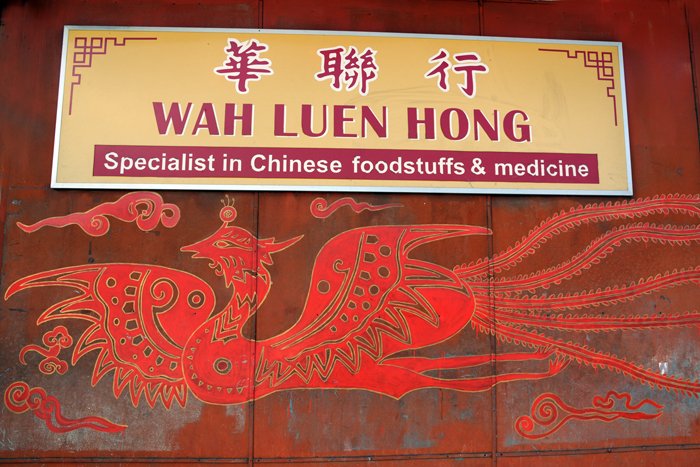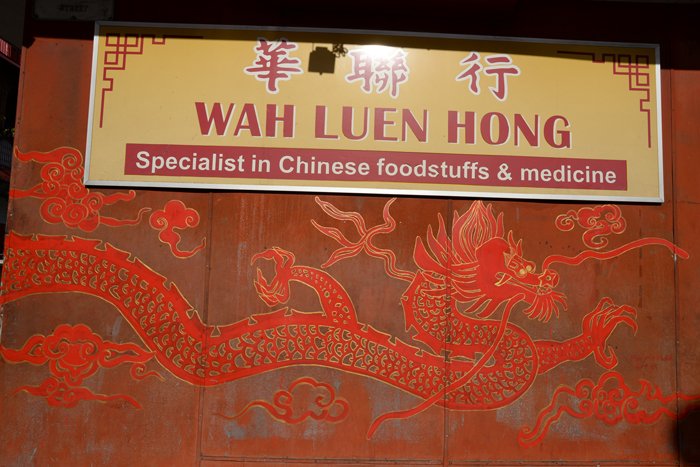 The dragons are found on a shop front. The fox on the photo below is made of ceramics and found in the same street as the shop above.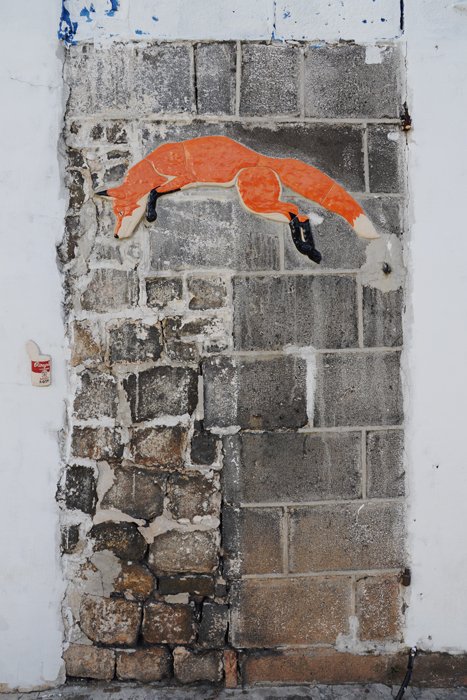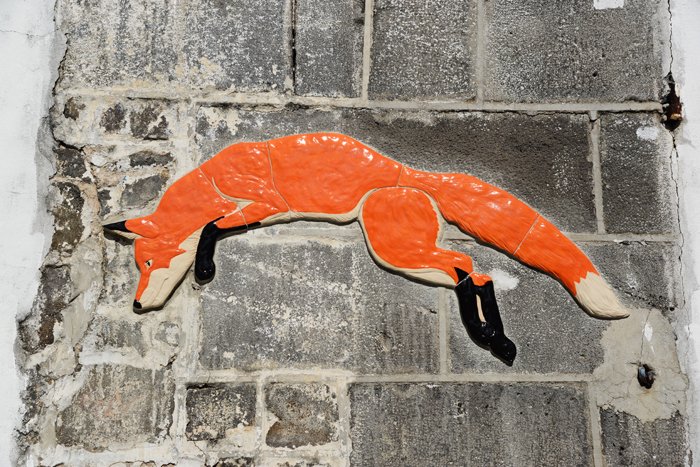 The New Chinatown Foundation is not only responsible for bringing artists to town. They wanted to make the streets safe and make Chinatown attractive again. In order to do that, they have organized maintenence of neclected buildings, street cleaning and a group of volunteers to patrol the streets at night to keep people safe.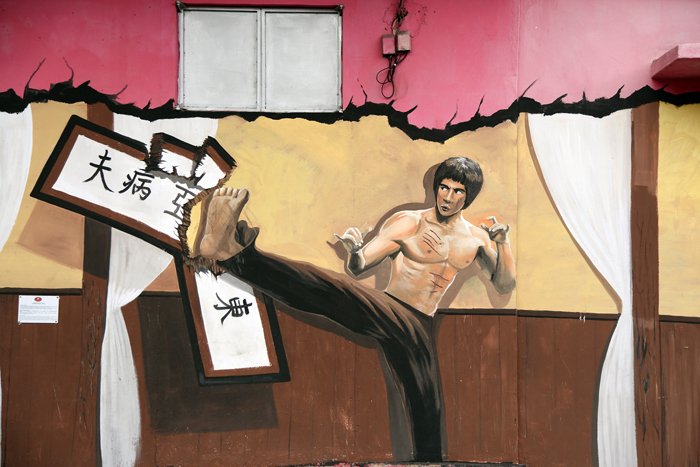 I was impressed with what they have achieved. This old historic quarter is not very modern. It looks  as it might have done since the 40s when the Chinese settled here. Street art is a new phenomenon in Port Louis. Amazing to see how fast it develops. In 2015 there were only four murals. Now there might be close to fifty. I am already looking forward to my next visit.
Please do follow if you want to keep up with my next street art. Any upvotes or resteems are hugely appreciated!
Latest street art post, check out :
STREET ART #52 – Mysterious graffiti on an island of mysteries (Easter Island)
U.J
Kristiansand, Norway
All the photoes are mine, Ulla Jensen (flickr, Instagram and facebook)
Read about us? // Main page!
Latest content: Travel, Art, Food, Article, Poetry