Hello, my Steemian friends,
It's Friday! Hope you're all doing well today!
Today I'll show you around the place, Konigssee, which is located in Germany. However, if you plan to take a visit here, it's better to start off from Salzburg, Austria because the distance would be much shorter!
愉快的週五又到啦,希望大家今天都過得愉快!
今天要帶大家一起遊玩的地方是德國的國王湖,雖說位於德國,但如果真要規劃來這兒旅行,還是建議經由奧地利的薩爾茲堡出發,會相對來得近許多喲!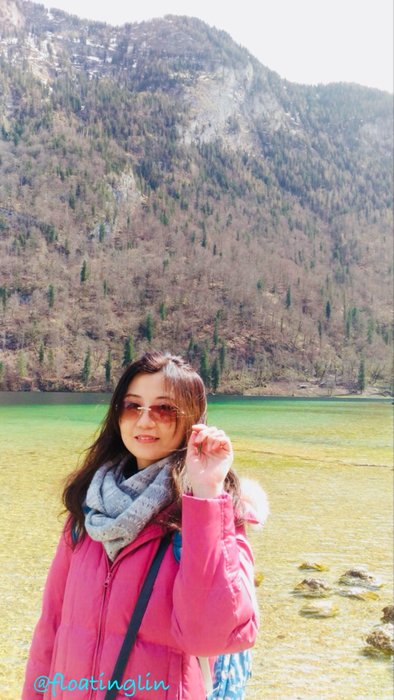 On our arrival, it's sunny yet still a little cool, so we still put on all the stuff to keep warm. Also, there are some messages released from the mountain top in the photos, which are still covered with snow!
It's quite easy to find the place selling tickets and the boarding deck, only if you follow the direction and the crowd! With tickets, now we just need to wait for our boat! Time to be on board!
從照片大家可以看到,雖然陽光晴朗,但山頭可還是覆著白雪,所以還是挺有涼意的!到達後,基本上沿著指示牌,加上觀測大家的移動方向,很容易就可找到賣船票的地方以及碼頭啦!
嘩!看到了嗎,這兒的湖水清澈見底,可以清楚看到裡頭的魚群,且映襯著周邊的群山,是一種由淺到深的翠綠湖色!停泊在岸邊的,就是待會要乘坐的船嘍!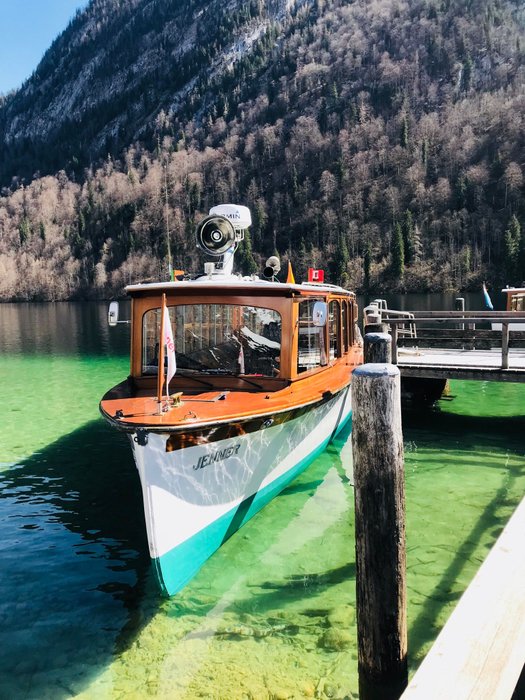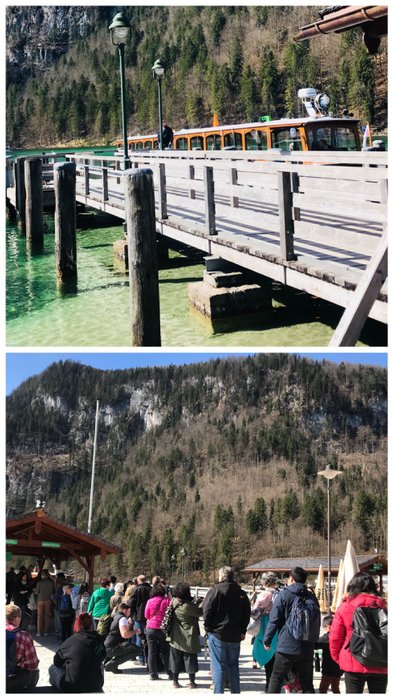 On the cruise, most visitors are busy with capturing the beautiful scenery no matter with devices as cellphone, cameras, or just with their own eyes! I mean, take a look of these shots, how couldn't we!
It's such a task to find a precise phrase for the totally pure lake, the serenity beauty! All I'm able to say is surrounded by the amazing pure lake, the beautiful sacred mountains, it's really a pleasant, peaceful and also amazing half hour cruise!
By the way, the boats here are all launched with green power, which is much quieter and cause much lower impact and pollution toward this place!
在行駛的航程中,大多遊客都忙著用鏡頭或著用眼睛捕捉這份純淨無瑕到不可思議的美!於是我也決定放多一些照片讓大家欣賞,因為對於此景,讓人讚嘆也詞窮啊!
另外補充,為了保護這裡的自然環境,不僅載客的船使用電能,捕魚的船隻也是並且都有限額管制,所以才能確保生態的永續,相關的措施與用心值得許多國家學習呀!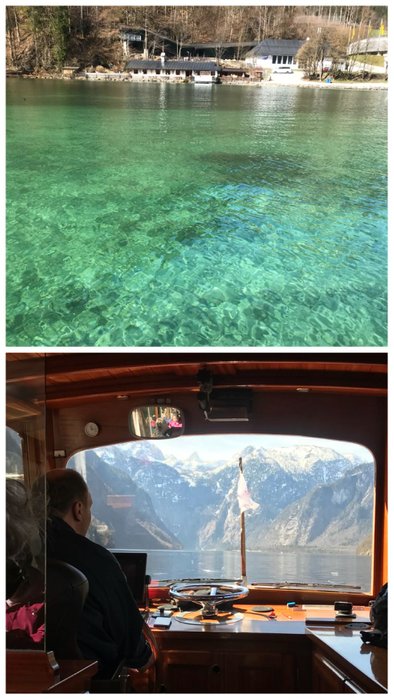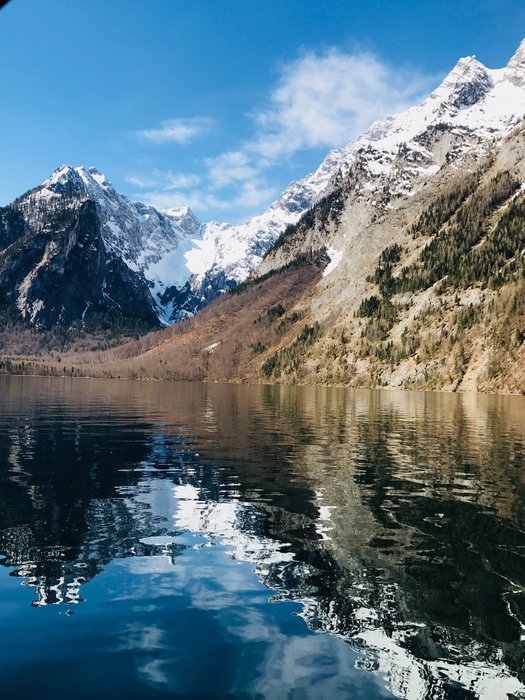 Still amazed by the absolutely beauty, we are almost approaching to today's destination, Pier St. Bartholoma!
Right, owing to the colour and exterior of rooftop, there's a lovely nickname for this church, which is also called "Red Onion Church" by lots of visitors here, isn't it really cute!
In contrast to the lake, which reflecting green color of the surrounding mountains, the red rooftop of Pier St. Bartholomä quite stands out in the picture. But that's why here is a reminder for you, my friends, situated in this place, you must be cautious that it's quite easy to have an illusion as if being in a dream!
The color, the architectural modeling and the place it is located, EVERYTHING is so incredible fairy tale!
還沈浸於這不可思議的純淨山水時,我們今天的目的地也出現在眼前了,聖巴多祿教堂!由於它討喜的紅屋頂形狀,也被許多遊人暱稱為紅蔥頭教堂,是不是很可愛又夢幻呢!來到這兒,除了自然景色美的不可思議,加上悉心的維護,像是身處與世隔絕的人間淨土,真的可以暫時讓人忘卻並遠離塵囂的喧嘩!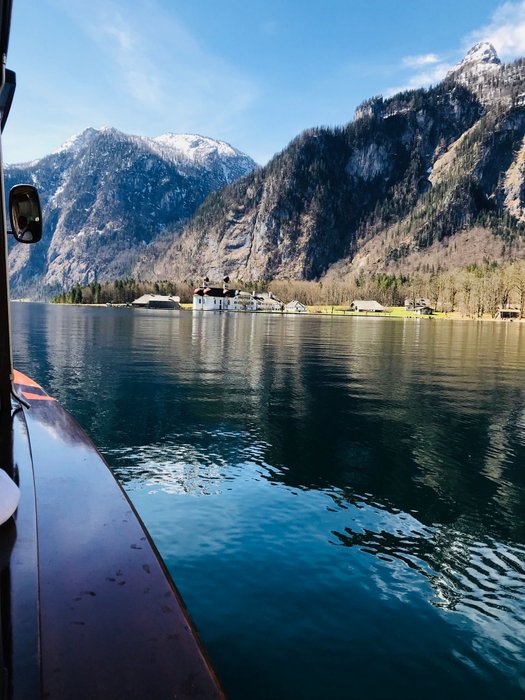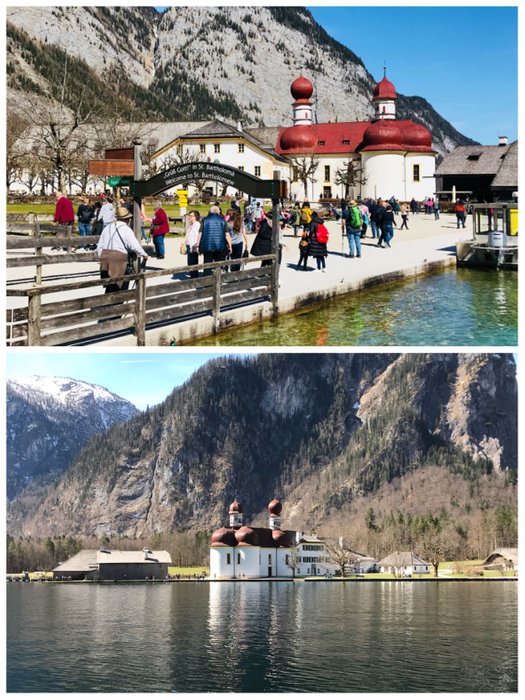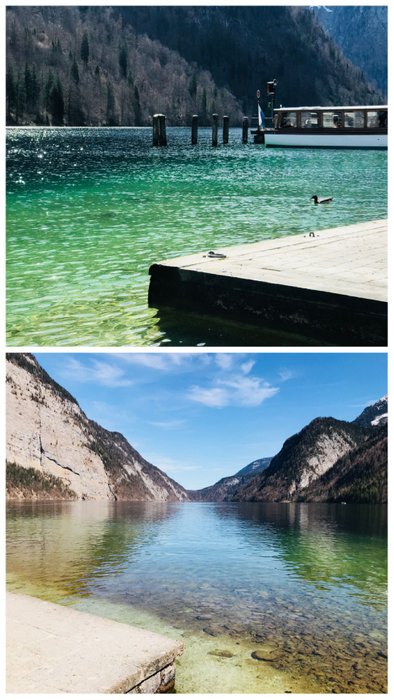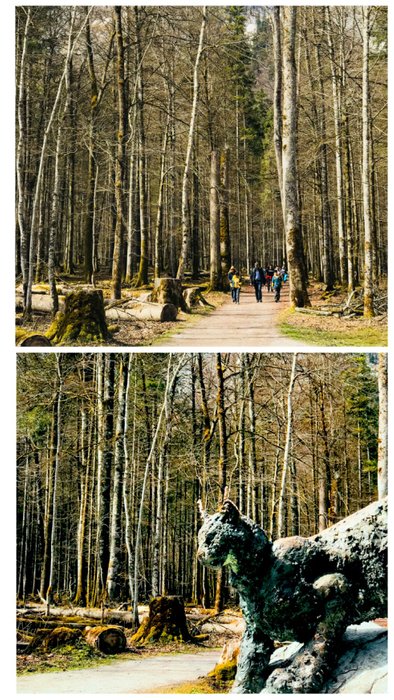 Wandering for a while, there's a must eat dish here, which is the smoke fish! Well, to be honest, you don't have many choices on this small wonderland!
But my friends, the smoke fish sandwich is quite good especially to go with some cool beer! Sitting on the bench, sipping some beer with the absolutely fresh fish meal and watching the fabulous lake, the mountains! What else should we ask for? Totally a BEAUTIFUL LIFE!
沿著湖邊不管是隨意的走,或著循著指示走健行步道,都可以在累了時坐下來享用一頓在地美食—各式燻魚料理,搭配一杯冰涼的啤酒,看著湖光山色,真是非常地愜意享受!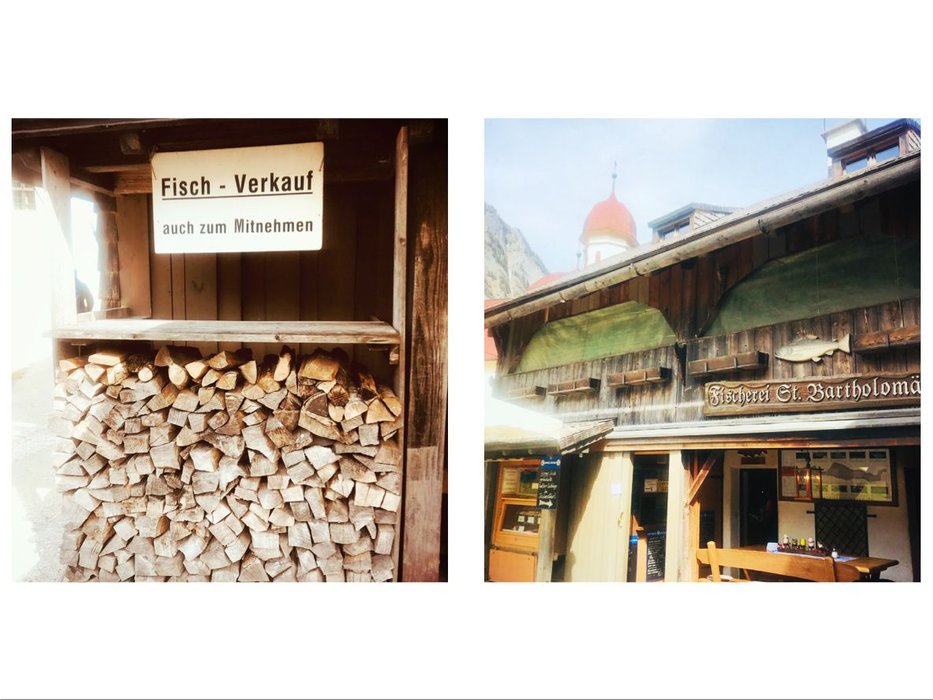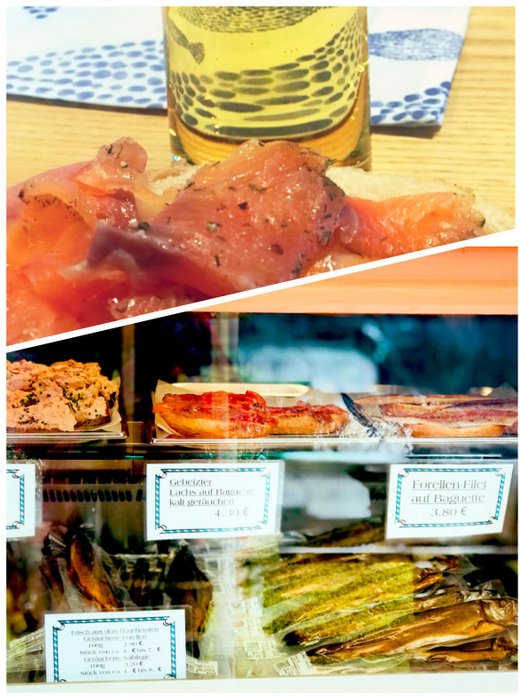 Believe me, during your stay here, all you may wish is slow down and have more leisure time bathing in the awesome nature!
CHEERS!!🍻
在這兒,真的只希望時間走慢一點,好好讓人多享受點這片美景,這個像童話一般的風景!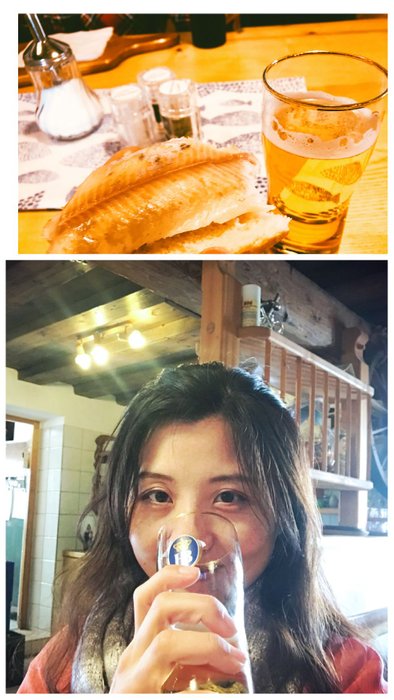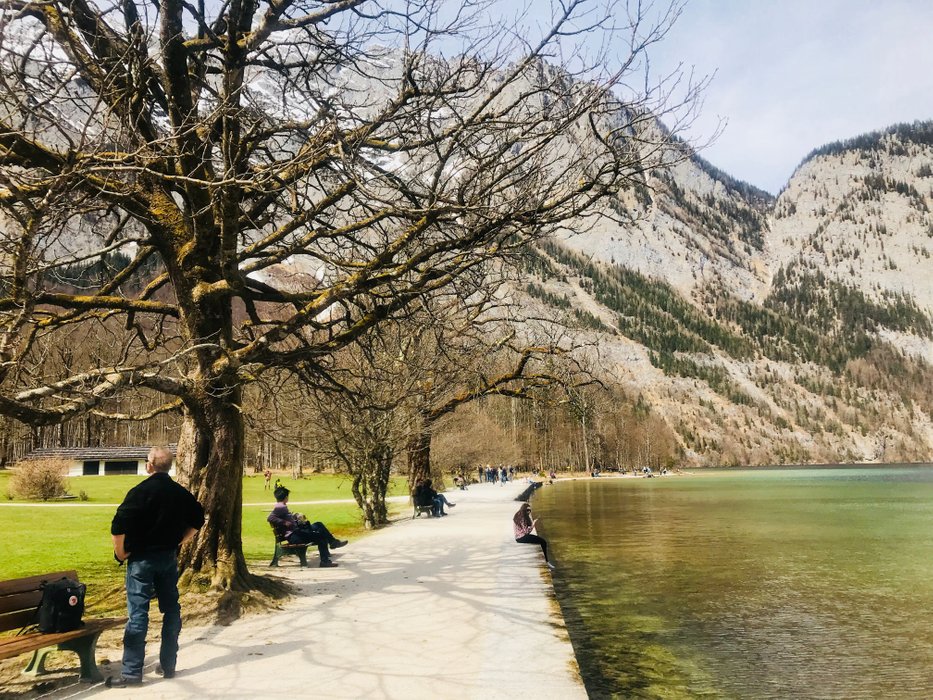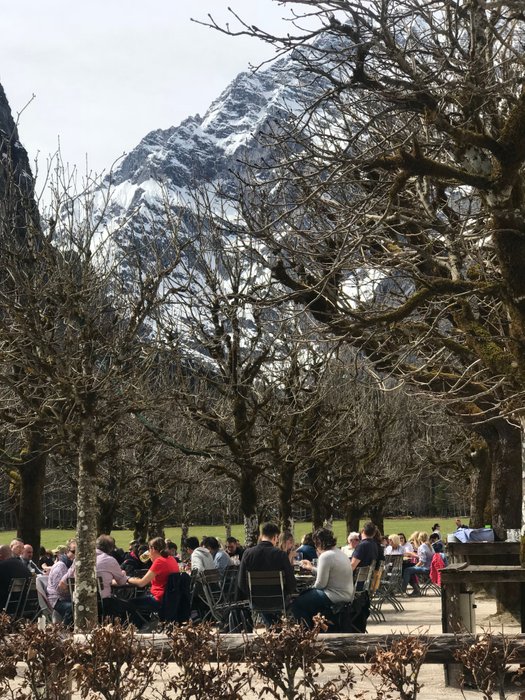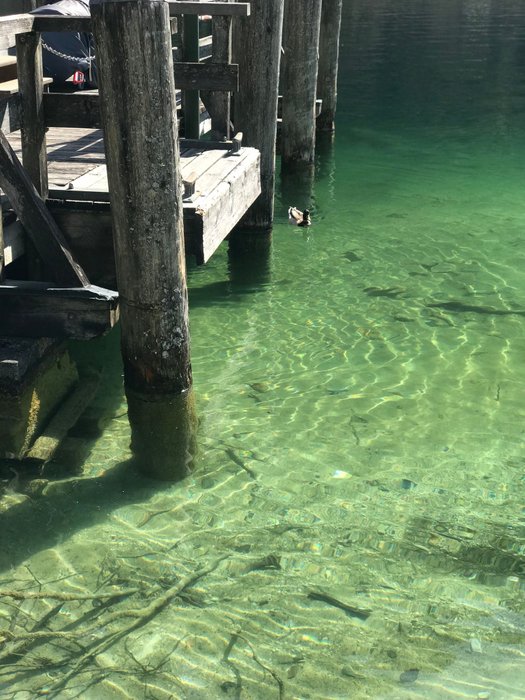 Thank you for reading!
If you like my sharing, feel free to follow, leave messages and upvote!
Much love!😘
如果你/妳喜歡我的分享,歡迎跟隨或留言點讚!謝謝!