The nomad life has many things. Adventure, enchantment, curiosity, and meaningful learning. After two years of living on this beautiful planet, it's still hard to put in words how this journey change me and my life and how grateful I am to experience it fully. However, despite the nomad life become my lifestyle, it also has its challenges and it's far from being perfect. The lack of consistency was one of the things I was struggling most. So, at the beginning of 2019, I decided to settle down in Thailand, since I needed this magical word "consistency" to take care of my freelancing projects (an online course), writing projects (my second book) and my spine (I have a disc herniation in my lower back, which make me know almost all the chiropractics around the world...).
Thailand seems to have the perfect conditions to settle down for a while: cheap cost of living, facilities to obtain a visa and a community of people who travel and work and stop here for the same reasons I did. It's also a super hospitable and safety country, which means a huge advantage when you're a solo woman traveling. Thailand for many people is known as the country of smiles since Thai people smile all the time. It was the perfect place to settle down and live with more consistency. So, I decided to lock my backpack on a wardrobe, decline some clients to have more time, work out seriously to have a healthy spine and started to work hard to make my projects come true.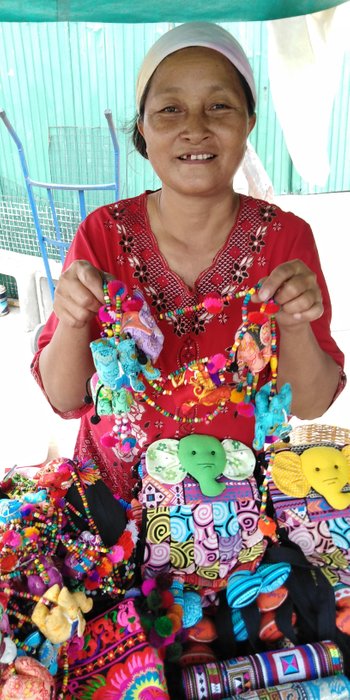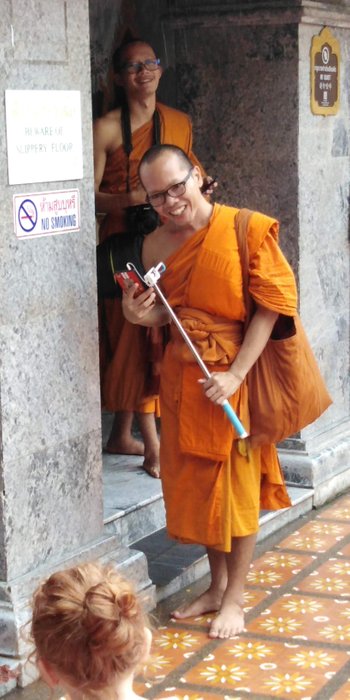 Smiles in Thailand... Always easy to find
And everything worked perfect, except for a detail… In order to minimize my lower back pain, I started to swim almost every day in the pool of my condo. I swim since I was 3 years old and when I was a teenager I used to compete in my hometown team. Swimming is an amazing exercise for the body and for the mind. So, it wasn't a problem for me to jump into the pool and stop only when the alarm clock said it was time to stop. Little by little, I become "famous" in the pool of my condo. I even gave some classes for free for some Chinese who said to me "Helga, you look like a dolphin on the pool". I want to give them all the pleasure I had when I was swimming. And so I did.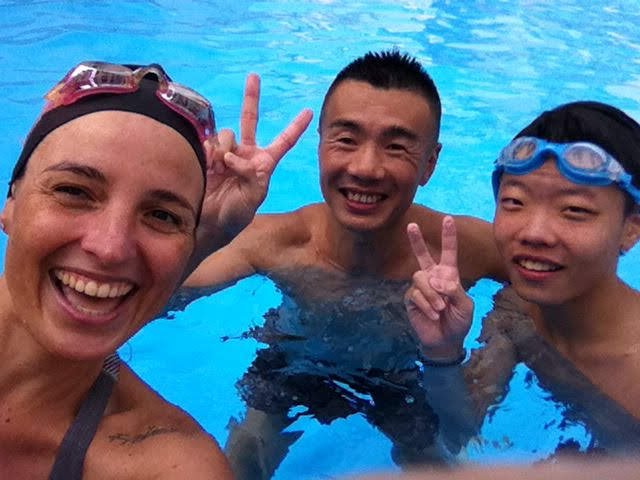 At the beginning of September, however, I started to feel a huge sensitivity on my teeth. It was weird. I never felt that before so I went to the dentist's to check it out. After the consultancy, he said that I had an enamel erosion and I needed to restore all my teeth, which would cost me 50.000 baht (US$ 1.650,00 approx.). The loss of enamel is irreversible, so all the teeth loss that it causes me wouldn't be restored naturally.
I had a picture of my smile that I took in January 2019 and I got shocked when I saw my teeth loss. I also got upset and pissed at the same time, keep asking me why that thing was happening. I just decided to be consistent, I was taking care of my spine and now I needed to deal with all of that… It didn't make any sense!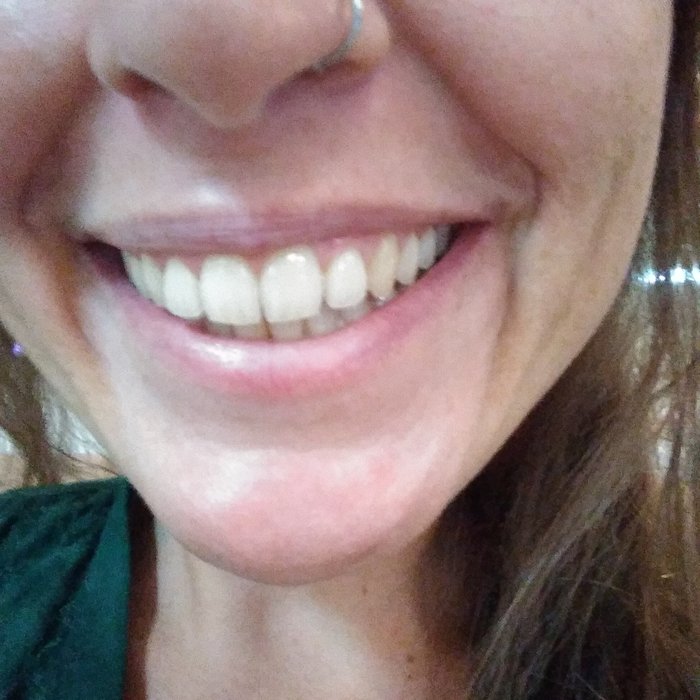 Before smile
After smile
It sounds a lot weird for me in the first moment. Why I was losing the enamel of my teeth?? I started to read on the internet and also called my dentist in Brazil to figure out the reason. The loss of the enamel is caused by an excess of acidity on your mouth, and its a common problem on people who has eating disorders (bulimia or anorexia) and gastroesophageal reflux. I didn't have any of these problems, so I kept researching. Suddenly I found an article who mentioned the severe enamel loss on swimmers where the pool wasn't being treated correctly. Sounds like I had a clue...
I talked with some neighbors and one of them had those pH stripes. We came to the pool and got shocked. The pool where I used to swim every day has a pH of 3 (same as vinegar) and finally, I had an explanation of my teeth loss. We talked with the condo administration in order to solve the solution, but in the country of smiles, they also know how to give you a wry smile, saying "so sorry for that" and solving nothing… We awarned people from the condo who used the swimming pool and also report the condo to Chiang Mai Chemistry University. All these measures, however, wouldn't bring my smile back.
I started to look for a second opinion since wearing my teeth and putting on restoration lenses didn't seem like the best solution. The second dentist suggests a resin restoration which would be cheaper and also solve the sensitivity and teeth loss problem. The treatment will cost me 8.000,00 baht (US$ 270,00 approx.), but unfortunately, I don't have this money now. I cut some costs, get in contact with old clients, accelerate my online course launching, still writing my second book, but all those things take time, and time is something which I don't have, now since I need to start the treatment as soon as possible.
So, I decided to come to the Steemit community and ask for some upvotes to help me, because I really need it now. I know that this kind of posture can cause many critics by some of you, but it's not easy for being in this position, I assure you. Asking for help and after having your teeth damage which wasn't caused by you intentionally, definitely wasn't something that I had on my plans. So, more than upvotes I'll ask you also a bit of compassion. Instead of critics, you can give suggestions to solve this situation or just give me your silence that helps a lot too.
For all those who helped me, I also ask for sending me an e-mail on [email protected] and I'll send you a copy of my book as soon as I finished it. My book is about all the learnings I had during these two years traveling and why I choose the nomad lifestyle for me. You can also read the first chapter here. https://steemit.com/travelfeed/@helgalubevi/nomadthe-bookchapter-1