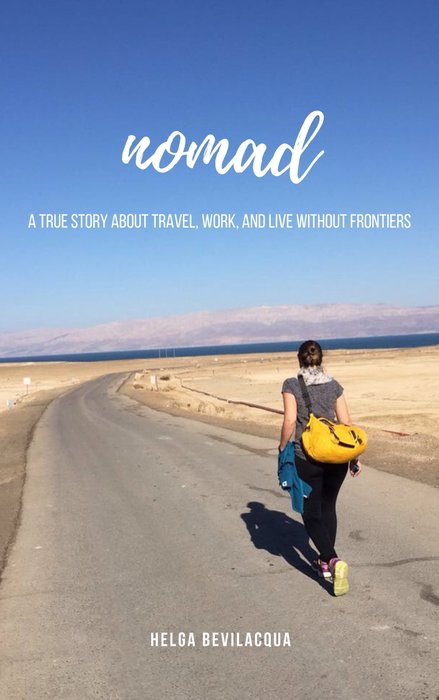 [If you're reading this, please read the why of this book here before]
Chapter 1: "A ticket to the unknown"
"Life is what we make of it. Travelers are the travels. What we see is not what we see, but what we are". (Fernando Pessoa, Portuguese poet)
In March 2016 I had just moved to a simple cottage in Ilhabela, an island in Brazil. I had with me exactly five small boxes with some clothes and a few utensils for the house, a washing machine, my desk, my chair and Evita, my beloved bicycle. Although a minimalist lifestyle was something I had wanted for a long time, it wasn't exactly in that context that I had planned to put it into practice.
Before moving into what would become my last home, I had been dismissed from a big law firm after working for seven years as a lawyer. From the corporate world, I flew straight into a life as a writer and artist, which was my big dream. I published my first book in 2013 and it also became a theater play. Although publishing a book and producing a play with a team of 11 more artists independently brought me a lot of learning (and a lot of work), realizing my big dream cost me more than half of all the money that I raised working as a lawyer.
In order to not achieve my own bankruptcy, I balanced myself into several jobs, as I had sworn never to return to a law firm again. I taught English, worked as a salesperson, delivered flowers on bicycles and wrote blog content to online platforms. In the middle of this juggling life, I met my ex-boyfriend who had been traveling by bicycle for over ten years. We fell in love, traveled around Brazil for a while and decided to live together in Ilhabela. If we were the perfect couple on the road, in life under the same roof we were a disaster. And both saw our relationship sink on the paradisiacal beaches of Ilhabela. He was gone to finish his bicycle trip and I stayed, with the exact five boxes and with a very bitter taste of someone who was feeling very frustrated.
During these years, where my life's game pawn flew away, I had already spent enough money on coaches, charts, fortune tellers and all kinds of self-knowledge workshops that exist on the face of the earth. Incredibly I searched in the outside world, the answers that we can only find inside. Until I arrived in that cottage, in Ilhabela. So, for the first time I decided to listen to my silence and let the tears fall until I got tired.
After feeling very unhappy, I finally had the courage to ask myself a question, which may be the only one we should try to answer while we have the privilege of participating in this journey called life: "what makes you happy?". At that moment, without much certainty, the only answer I could give myself was: travel. What I wanted most at that moment was to pack all I had and simply get on the road, with no destination or date to return. However, one detail was missing: money!
Bicycle trips showed me that I didn't want to travel to get to the end of a trip. I also did not want to spend all the difficulties that came with a bicycle trip, which I already knew all of them. So I had many questions before building plans for myself. "Was there a sustainable plan to live by traveling?" "Could travel not be just an end in itself?" "Could travel be my life and not just a part of it?" "Was there a way that I could live anywhere on this planet?" "Was it possible for me to become a kind of turtle, taking my home and my life in myself?"
I had heard about digital nomadism and had also read a lot about it. However, that story of laptop on the beach and Instagram filters seemed to me to be more of one good business for those who sell this lifestyle, than for those who actually want to live it. On many websites, everyone has a magic recipe to live traveling around the world. But in fact, no one explained how the account really become sustainable. In the foreign sites, the solution of this equation seemed to be living in a high-value currency (dollar or euro) in countries whose cost of living is low... But living earning on the Brazilian currency, around the world... It seemed like bigger insanity than leaving my life as a lawyer to become a writer.
However, to the tricky question "what makes you happy?" travel was my only and only answer at that time. Or, at least, making plans to travel someday was what made me feel less frustrated and unhappy at that moment in my life. I discovered that the only way I could turn my plan into something real was by being what they say "creative entrepreneur" and also "solo entrepreneur. The only thing I know how to do in life is to write, so I started studying ways to turn words into money.
That's how, in 2015, I founded my micro-company that sells online content and digital marketing to those who need it. I understood that to have the money that would allow me to live around the world, I needed to stop being a freelancer chasing for jobs, and started to be a freelancer with my own clients. I spent a lot of nights writing content, but I ended the fateful year of 2016 with 5 boxes, a table, a desk, a bicycle, (the washing machine I ended up selling) and 12 clients. After a year, a lot of work, a lot of learning, a lot of self-worth and a lot of anger I turned freelance life into a stable business that gave me enough money to live not in everywhere, but in many places around the world, according to the Nomad List.
But where to start, right? I started studying countries where it would be possible to start a life, but the fear was screaming inside me. That story that a woman doesn't travel alone? Yes, many tickets I had to buy shaking inside until I get free of it...
It was in the phone call from a great friend, however, that I bought an impulse ticket to Israel (round-trip, to make it clear that fear is fear!). He was living in Tel Aviv and told me that I could go and stay there for a while if I wanted.
I will never have words to thank him. On 23.01.2017 I took a flight to Tel Aviv. I remember seeing the desert from above the plane window and feeling a huge cold invading my spine. I never imagined I would start a nomadic life directly from the Middle East. I also had no idea that I was there starting a big journey that would change me forever.
Until the moment I wrote this book I lived in 8 countries, I visited another 10. Compared to the bucket list of many other travelers and digital nomads, that number is very small. But I really don't care. Traveling slowly is the only way that made me manage to balance my life and business, without bordering on insanity. Travelling for me is not crossing countries off the map, or collecting stamps in my passport. It's something much deeper than that. Years on the road made me see life as a journey. And the idea of getting to a place called "success", which so many people are (literally) killing themselves to get to, doesn't make any sense to me now.
To live in so many places, to know so many cultures, so many people and so many ways to live, I learned to put myself in the shoes of a learner. And it was in this place that I answered deeply the question I asked myself in Ilhabela: "What makes me happy?". More than traveling, the trip taught me the value of living outside the comfort zone, the value of understanding that there is no right or wrong, the value of leaving the ego aside to hear who you are and what really matters. Traveling I put my body and my soul in this place of not being sure of anything and I also enjoyed fully all the experiences that this world has given me, with no judgments and with kindness and love that I've learned with people. Living from anywhere, without any certainty or meeting this place called success, I found what I call happiness.
Even I don't believe that travel is the solution to anybody's problems, a traveler's gaze is something that made me deal better with my problems, my fears, and my traumas. He taught me that life is what we make of it, as the words of the poet and master Pessoa say... Therefore, for me, it doesn't matter where you are now. Life happens from anywhere. It is important, however, in every step just learn during the journey.
This book talks about living from anywhere. It talks about my learnings, which I consider was valuable on this journey called life, which we are invited to celebrate every day.