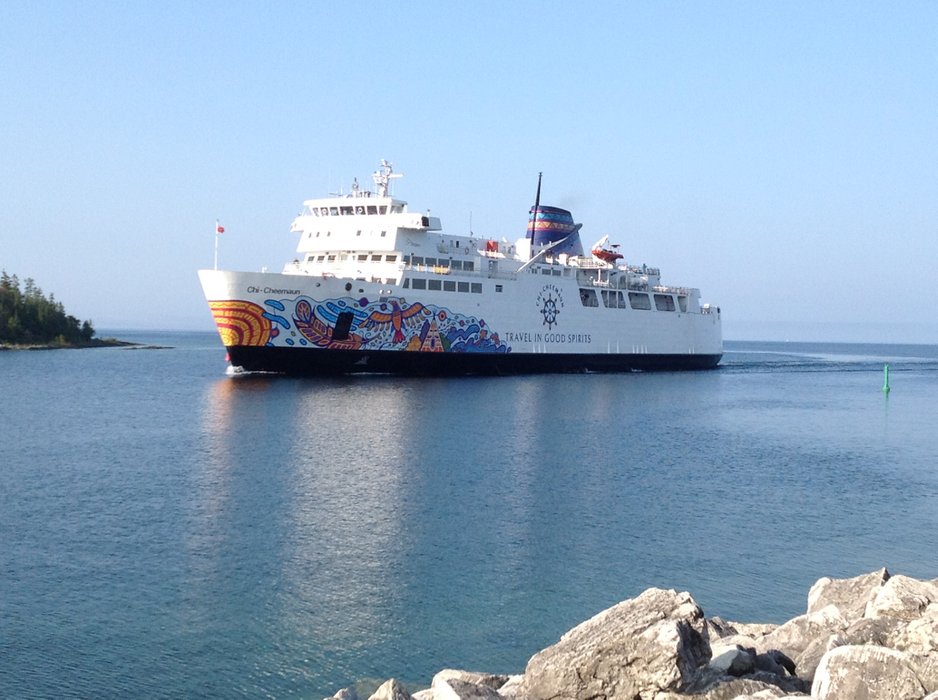 Throughout the week I had heard her in the distance, a few brief horn blasts announcing arrivals and departures. Nothing unusual; in peak season this occurs four times per day, but I hadn't
seen
her for awhile and, this time it
was
a big deal.
So Sunday morning, I sat on the guardrail in South Baymouth, Manitoulin Island, looking out into Lake Huron and waiting. I knew she would appear suddenly because the island blocks all but the last five minutes of her journey. Then, there she was! I watched as she swiftly cut a big curve around the reefs and slipped into the harbor.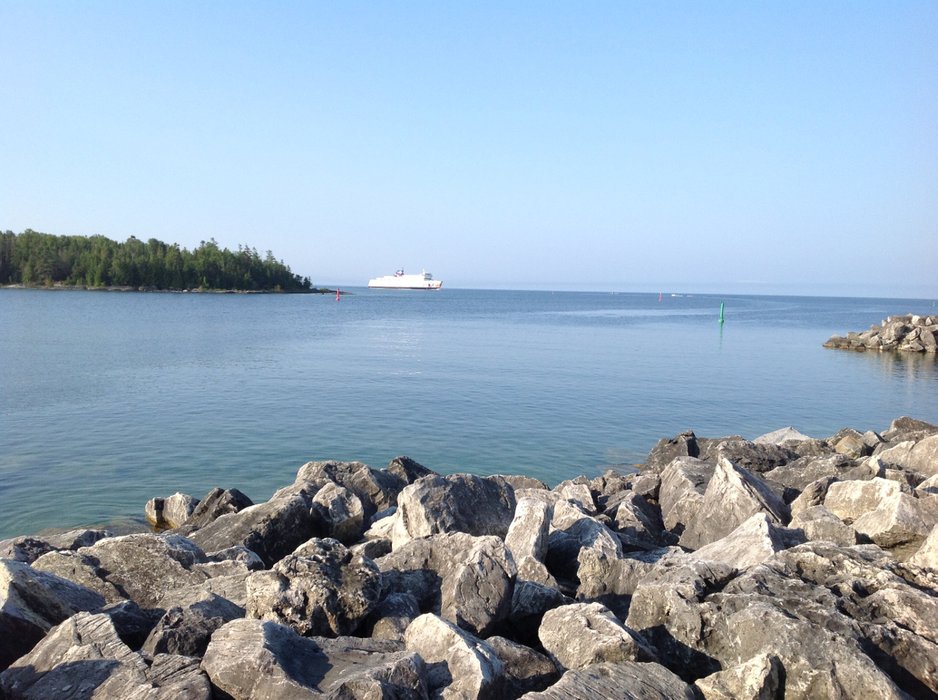 Look at those new colors! She's gorgeous! This majestic ship is the MS Chi-Cheemaun, the largest passenger/car vessel on the Great Lakes, and this it the first time I've seen her since her big makeover. A huge branding campaign resulted in the gutting and redesign of her interior while her outside was decorated in a woodland style Indigenous art theme. It ties in nicely with the local culture on Manitoulin Island. She was due for a makeover and for several reasons.
The MS Chi-Cheemaun which means 'Big Canoe' in Ojibway, made her maiden voyage in September of 1974 when she replaced the MS Norgoma and the SS Norisle on the route between Tobermory, on the Bruce Penninsula, and South Baymouth. She could carry more than both older ferries combined and a later upgrade increased her capacity to 638 passengers and 240 autos. The trip was also reduced to an astonishing 1 hour and 45 minutes with a speed of 16.25 knots (30.10 km/h, 18.70 mph). Since then, for three seasons each year, she was the quick connection between the south and the near-north in Ontario. However, in recent years, the highways that lead north have also been improved and her business was starting to suffer. Her owners took note. Interestingly enough, this remake means that not only is she a vital transportation link but she herself has become a destination.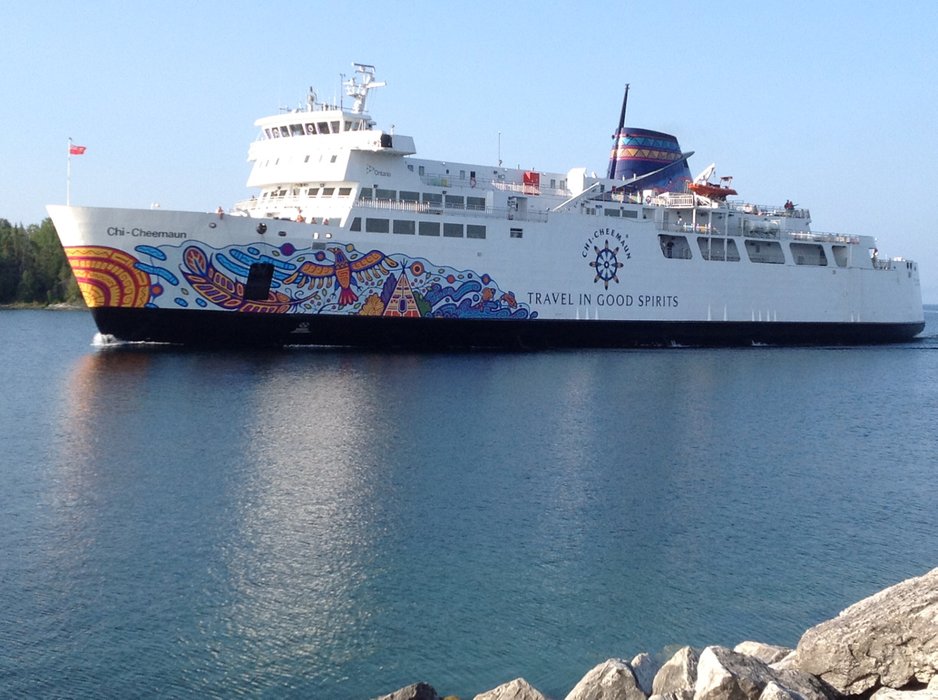 If you were wondering, she's 111 m (364 ft) long. If you're interested in her tonnage, beam, or draught, they're available on the Wikipedia page in the reference section. I have ridden her many times but I wanted to see the artwork. It's composed of decals that were applied over two winters. From this angle you can't quite see that the circular image on the very front is a turtle that very appropriately symbolizes rebirth. The company that created the design worked with a First Nations cultural representative from the Island and won an award for the design. You can view more about that in this next video which is also very useful for its map of the area if you haven't quite got your bearings.
I should also mention that the renovations also made her more energy efficient. They replaced mood killing fluorescent lights with potlights and other things like that.
Earlier, I had seen all of the event advertising as I walked around the ferry terminal; a Sunset dining cruise, a popular Stargazer's cruise, native drumming workshops, live entertainment, and a Boatique. What great ideas for a ship that links two popular Ontario holiday areas; the Bruce Peninsula and Manitoulin Island.
And maybe you would like an onboard tour and a condensed ferry ride. This video predates the latest bow decals but it's interesting to see the ferry at dock. In Tobermory, the bow raises so vehicles can enter. In South Baymouth, the ship pulls up with its stern at the dock so vehicles can drive off. Of course, the scenery is beautiful too. Enjoy!

References
MS Chi-Cheemaun - Wikipedia
New Look Chi-Cheemaun
Chi-Cheemaun website
Images
Photos from the iPad of @kansuze.


I hope you enjoyed the ferry ride!
@kansuze