Before embarking on this trip we felt it was necessary to step back into the closet. This was due to our travel plans for the Middle East, and to have a better chance of getting accepted by hosts on CouchSurfing . As a same sex couple we felt it was necessary to remove all our relationship content from Facebook, and contact CouchSurfing¹ and WarmShowers² to change reference messages made so it won't be obvious that we were a couple. So far we have travelled through 12 countries and we wouldn't call any of them "LGBT+ friendly" destinations. They were China, Central Asian "Stan" countries, Iran, Iraq Kurdistan and Turkey. Nonetheless, it has been a huge opportunity to get a sense of how the LGBT community are coping living in these countries with such limited rights.

Middle East was our most worried area
A Violent Past
In July 2019 we were in Plovdiv where they had an exhibition called
Balkan
Prides
³. It was here while reading about the violence past of earlier prides that we discovered the opportunity to be a part of history. Bosnia and Herzegovina (BiH) was the last Balkan country to have their pride after years of cancellation and struggle. It was to be held in September 2019 which gave us plenty of time to plan for.
A huge timeline hung on the wall highlighted a very violent past for the Balkan prides - even the exhibition itself faced opposition (homophobic messages were graffitied at the organiser's office). The timeline showed it was not so "sunshines and rainbows" for the first few pride in each Balkan country. Counter protests, violent attacks or death threats caused many cancellations, leading to BiH being the last country to have their "first Balkan Pride".
Are you ready? Born ready.
In the lead up to the Bosnian pride we followed news and learnt what we could about the security situation - we were worried about safety very much. The security arrangements had around 1200+ security forces for an expected 1500 participants. Closer to the event, the organisers were facing ridiculous demands to pay for more security (50,000 BAM, €25,000, US28,000). Just another obstacle the organisers had to overcome.
We managed to have a discussion about pride with two of our Bosnian hosts. We felt safe to tell them our intention to partake in the protest but they weren't supportive of "pride". They felt it was unnecessary and everyone should keep their private lives private. They couldn't understand or see the positive outcome it could bring to the LGBT community who are being discriminated against on the daily basis, who feared to be outed and live a lie, or who felt alone or "not normal". These pride events are held to protest against these equalities faced daily by the LGBT community.

Preparation & Security
There were two counter protests organised too, both days of the weekend of pride. The one on Saturday before drew a large crowd perhaps close to the number that attended pride. The Sunday counter protest was on the other side of the city, far far away.
The security for pride included many streets blocked off by standing police, concrete barricades, fences, buses blocking roads, anti sniper units set up on the top of buildings and just one entrance to the pride event. We were advised that we should come to the entrance without telling anyone where we were going or wearing anything that may make it obvious that we were going to attend pride. By 11am we got in, a handout pamphlet advised us after it has finished to leave the area and go home, not to go to the Old Town, malls, religious sites, and numerous other suburbs.

Red dots for every police checkpoint we saw on the day. There were likely more.

A bit excessive? or better safe than sorry?

Security checks at the entrance

Police welcoming in the attendees
And finally, we march
Initially there were about 1500 people expected, but they got about 2000. There was a jubilant mood as things got into swing, for many people this would have been the first time they could see they weren't alone. There were many attendees from the LGBT community obviously, but also the LGBT allies. These allies included the ambassadors from Germany, the US ambassador himself was walking with his husband!
People were blowing whistles, holding signs and waving flags. At one point during the march things went quiet as we walked past anti LGBT graffiti but the mood quickly improved when we spotted all the people waving from the cafe at the top of the mall from the distance.

Graffiti on a building on the protest route


Some of the many flags in the LGBT movement

Pretty excited for our first pride


We made it to the local newspaper! (English translation)
---
An unusual point to this pride was that there were practically no spectators. The streets were all blocked off so no one could get within 500m of the march. There was the occasional spectator blowing kisses and waving from their apartment window. At the end of the parade no politician came out to address the crowd which was disappointing but expected as most politicians had already voiced their opposition to the protest in advance. Luckily on the day there was no violence. This was thanks to the extraordinary (or excessive) display of security forces present at the event.

We walked with our host Jonas (bottom left) and his colleagues

Neighbours in the apartments waving in support

Speeches in front of parliament

▶️ Watch the protest from our point of view
---
We wish BiH the best in it's struggle for equal rights and thank the organisers for perservering and allowing us to partake in this historical moment. We don't feel safe to be openly gay yet in BiH despite being foreigners but look forward to going back to living a much more free existence once we arrive in Western Europe.
---
[1][2] CouchSurfing and WarmShowers are applications where the travel community connect by offering hospitality and/or welcoming people into their homes.
[3] Pride march or protest happens around the world (usually June and July) where protesters are demanding for equality for the LGBT+ community.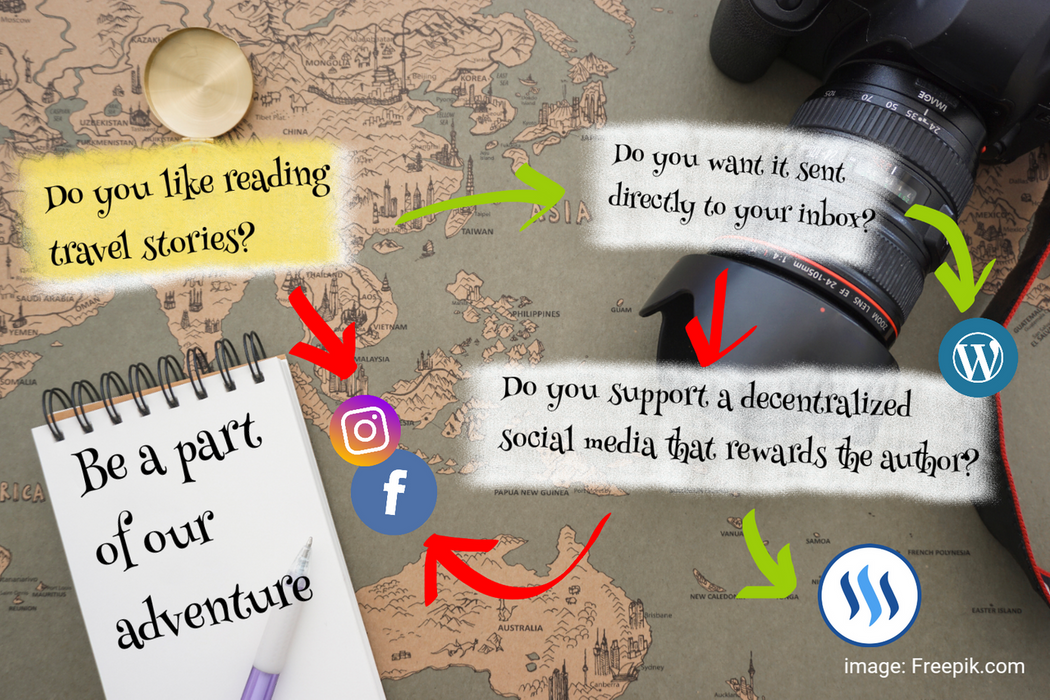 Be a part of our adventure:
WordPress
◈
Instagram
◈
Facebook
◈
Steem
◈
Support Us
---
View this post on TravelFeed for the best experience.