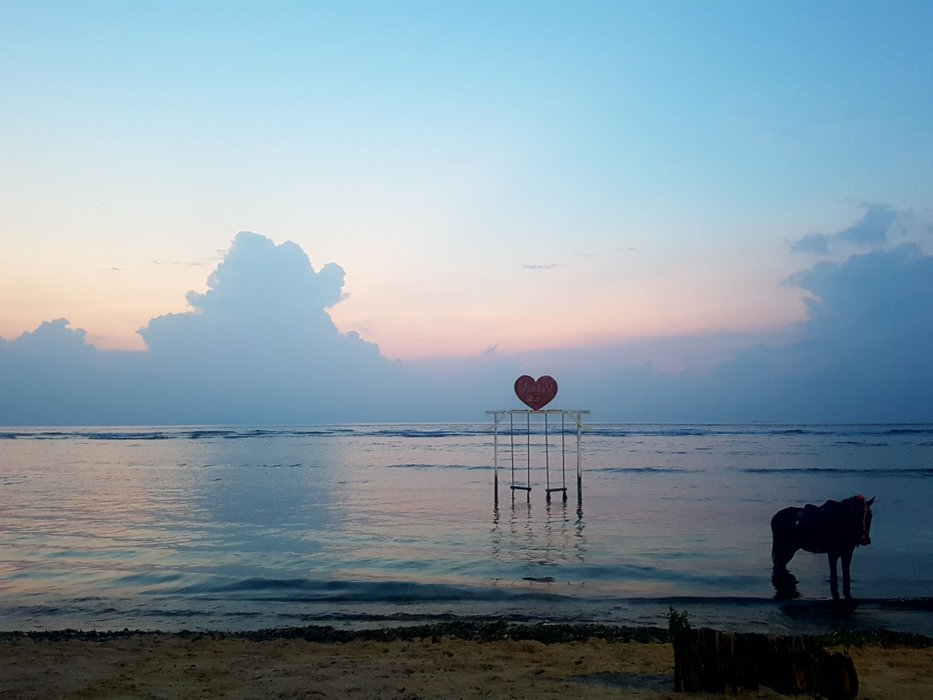 Hi Steemers!.. I just got back from a short but awesome trip to Bali, Indonesia :)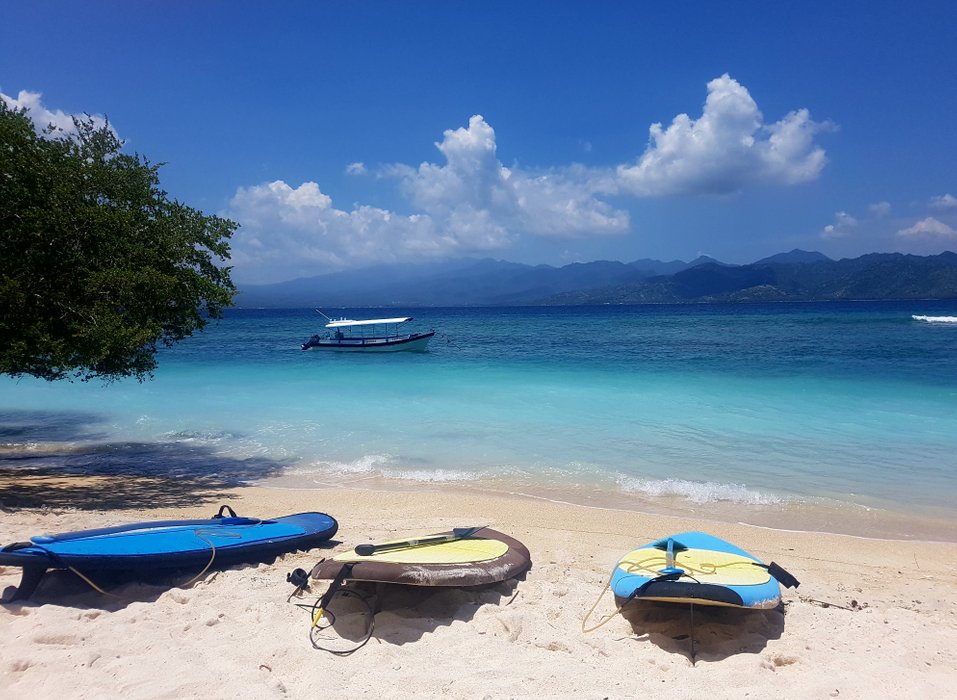 The highlight for me was defintely visiting Gili Trawangan!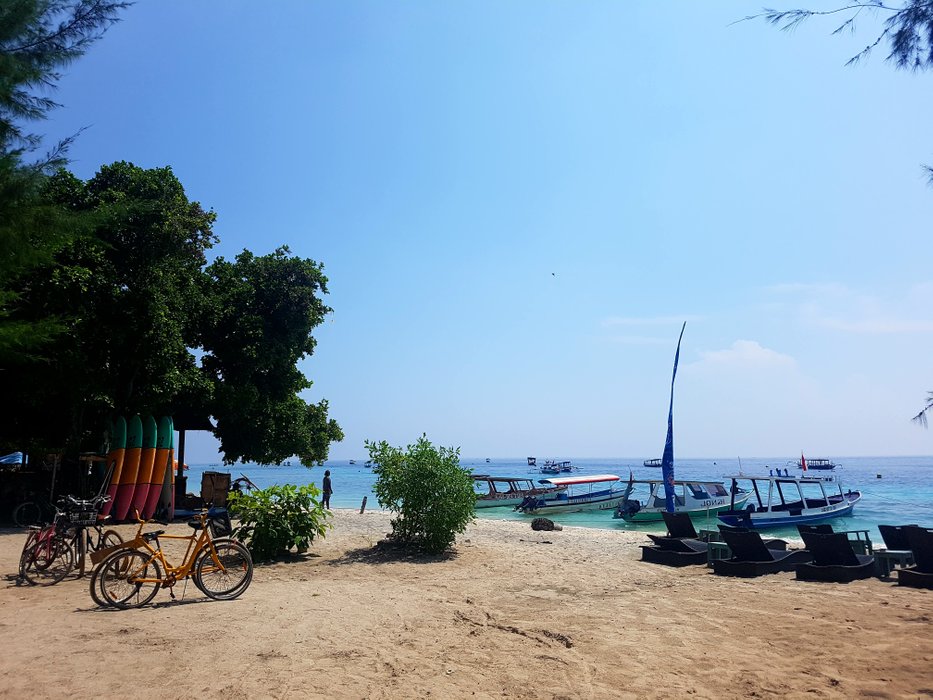 Gili T is a part of the Gili Islands, three small islands just off the coast from Lombok.
Gili T is the biggest and has lots of bars and restaurants. Accomodation ranges from backpacking to expensive luxurious villas, so this island caters to everyone... but it ain't called the party island for nothing 😉 🍻
Gili Meno is the smallest and most chill and is very popular for honeymooners or couples looking for a romantic getaway 😍 ❤
Gili Air is a good mix of the other two islands, has the chilled out vibe of Gili Meno but some of the same restaurants etc as Gili T 😊🏖
If you are travelling from Bali the easiest and quickest way to get there is by the Gili Getaway fast boat. The boats are small and they only have limited departure times so make sure you book ahead! An added bonus is hotel pickup and dropoff is included in the ticket price 👍
The trip will take about 2 and 1/2 hours to get there but as our friends who didn't book ahead found out, that is way better than the 3 and 1/2 nearly 4 hour trip on one of the other so called fast boats!
Once we arrive we walk to our accomodation - there are no cars or scooters which is a nice change, especially if you're coming from Bali! You can hire bicycles or catch one of the horse and carts but since the island is only 3km long and 2km wide, walking isn't a problem.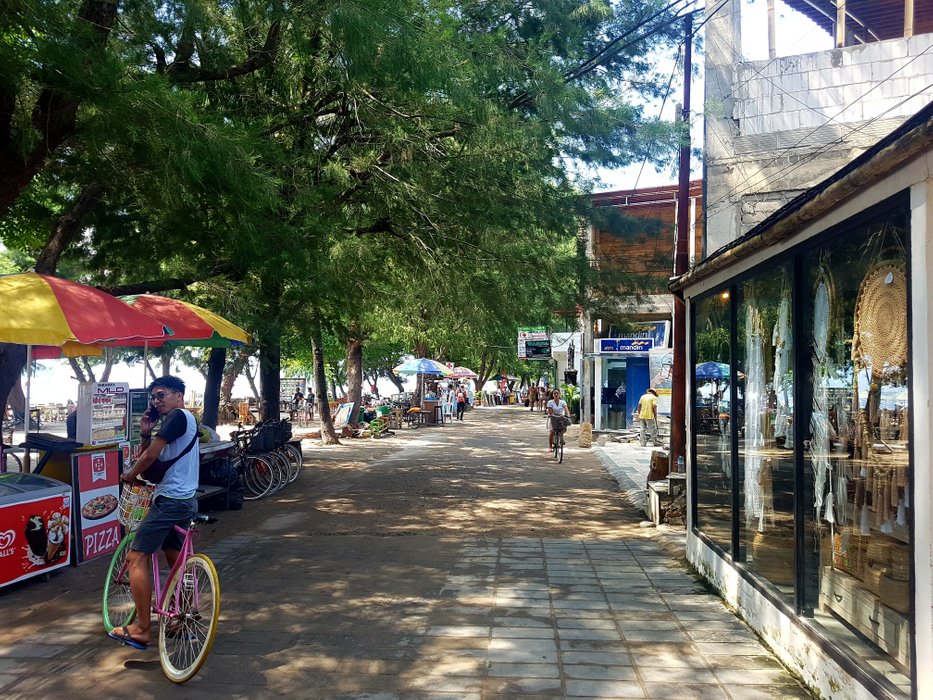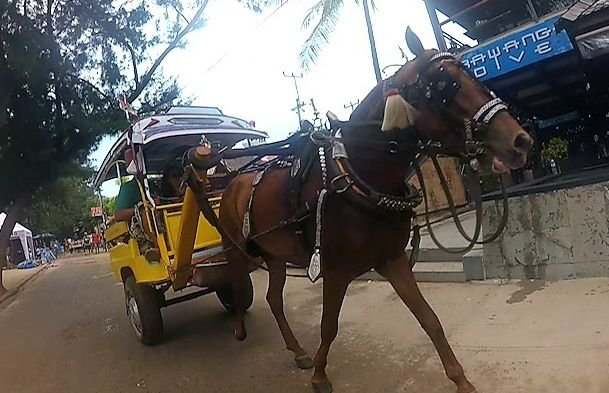 Once our bags are dropped off it's time to explore!... we grab a Bintang for the road.. well to be precise a Bintang Raddler in my case.. I'm not a beer drinker by choice so these lemon and orange versions are a welcome option! We get a massage and then have the $5 Saturday burger special at Chappies while we wait for our friends to arrive on the slow boat.
After we have regrouped we arrange our private snorkel trip for the next day as well as checking out the turtle hatchery. They have a fenced off area where the eggs are below the sand, once they have hatched they are moved to the nursery pools. Pool 1 is for zero - two month old turtles, Pool 2 for three - four months old and Pool 3 for five - six months old. When they reach the end of their sixth month they are released back into the wild 🐢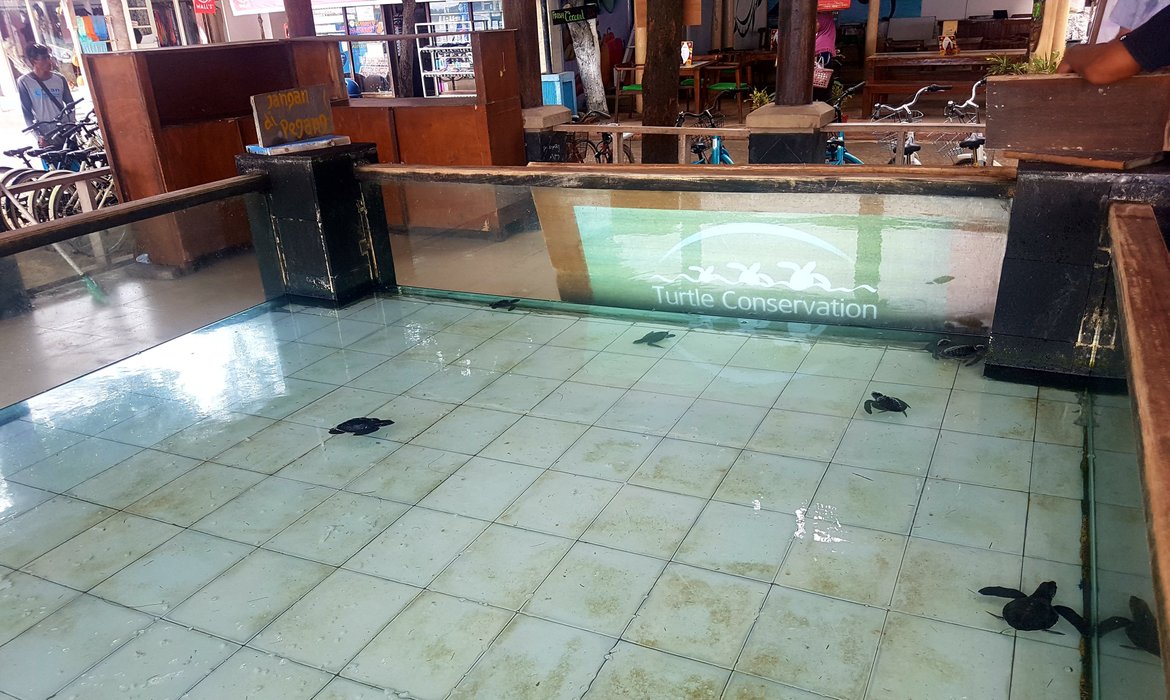 Pool 1
After we have seen the turtles and made a small donation to this wonderful program we set off across the island so we can see the sun set over the water. We make it just as the sun is slipping behind the clouds.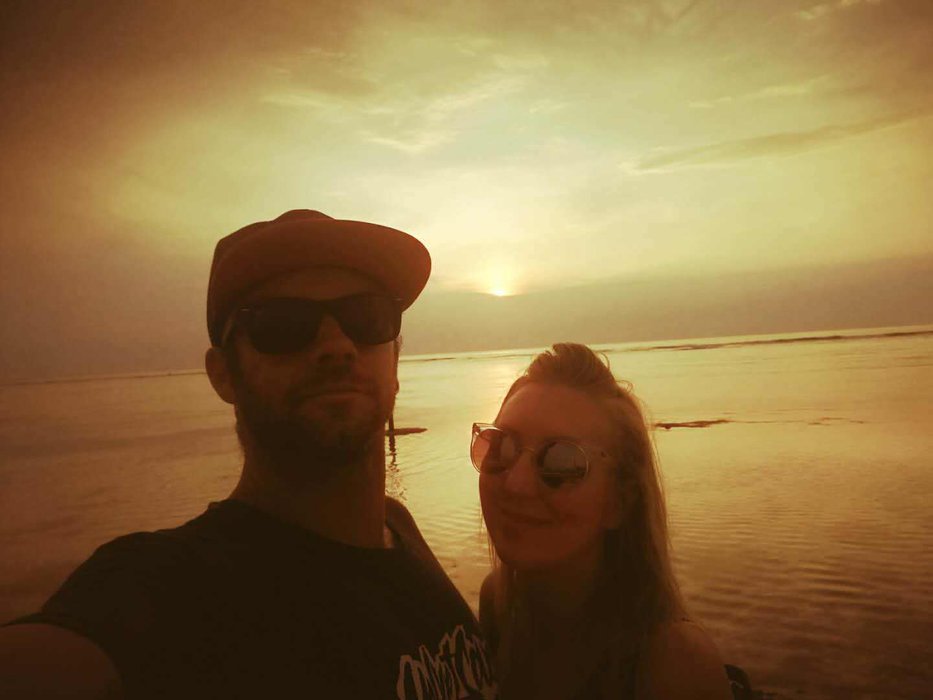 We take up some prime location beanbags on the beach to watch what is left of the sunset whilst enjoying 2 for 1 drinks.
After the sun has set we have more 2 for 1 drinks further down the beach and then eventually eat at another place after getting rained on. After dinner we get horse and carts around to the other side of the island. We go to Sama Sama reggae bar which is awesome fun with a band playing rock, hiphop and pop covers with the odd reggae anthem thrown in.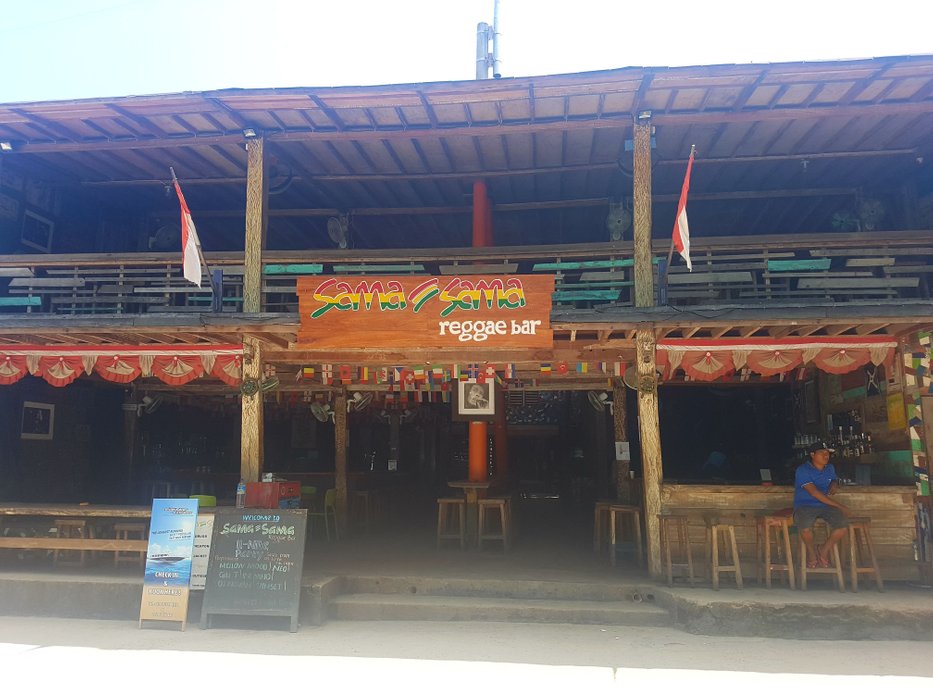 Sama Sama by day
After drinking and dancing most of the night away head back to our hotel but not before stopping for a corn on the cob from one of the street carts, and a surprisingly delicious kebab and fries from a 24 hr kebab shop.
Even though we booked our snorkel trip for 11am it is a bit of a struggle for all 8 of us to show up, let alone on time. Our 3 person boat crew don't mind that we are a bit late and once we have stocked the boats esky with Bintangs and water we set off... We aren't far from shore before they nearly lose the motor in the water, luckily they catch it but it gets flooded and our boat stalls. They try to get it started with not much luck, it isn't until one of our friends intervenes that the engine comes spluttering back to life!... as it turns out, our boat crew are probably as hungover as us... now the engine is revving up again we head to our first spot Turtle Point just off the coast of Gili Air.
On our way there we see a turtle swimming by and as we get closer we can see another one visible under the water. We don't take long to get our snorkel gear on and jump in alongside another turtle that has just surfaced.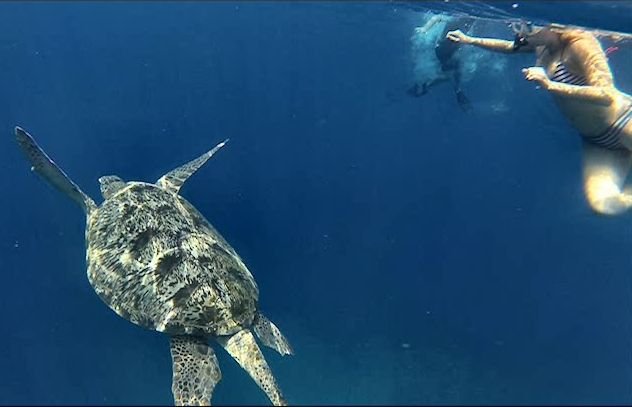 It is such an amazing experience to see these creatures up close and swim along side them in their natural habitat! Once the turtle dives too deep we go off and explore the rest of the reef and underwater landscape.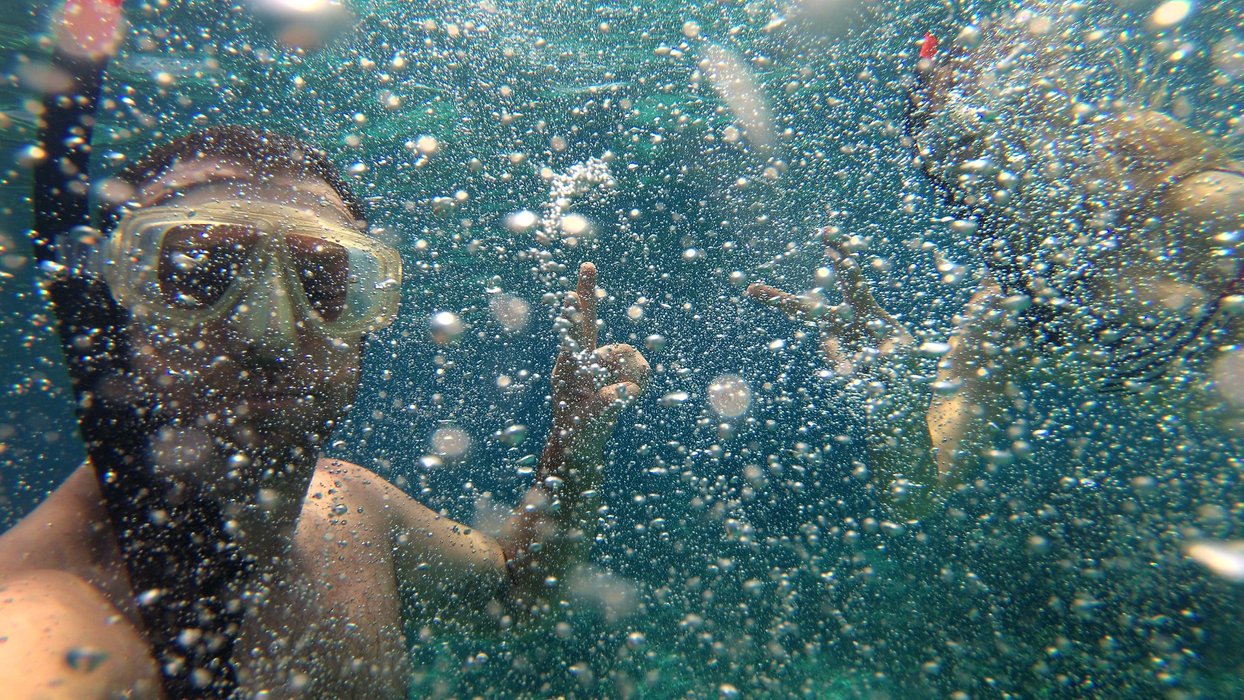 We are just about all on the boat when another turtle is spotted, those still in water follow the turtle for bout 5 minutes, watching it explore the underwater depths of the reef. The sun is shining above so visibility is great. It's only once the turtle dives that we all pop our heads up to realise how far away we got from the boat, so it's a bit of a swim back.
Once all on board it's a Bintang Raddler away to the next spot...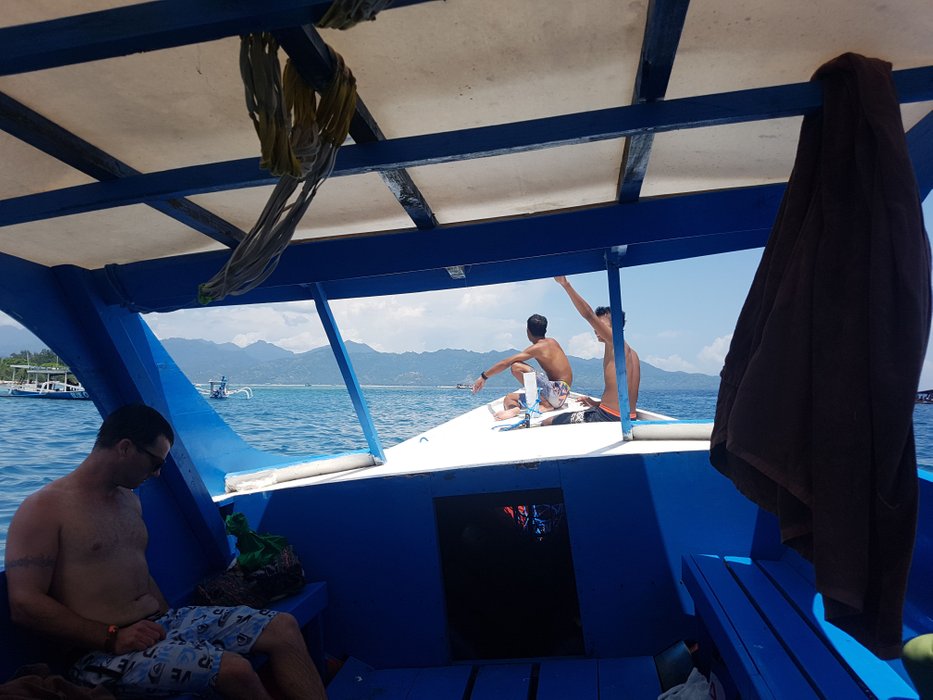 .... some underwater statues off the coast of Gili Meno await us. We are given some bread which starts a feeding frenzy amongst the tropical fish.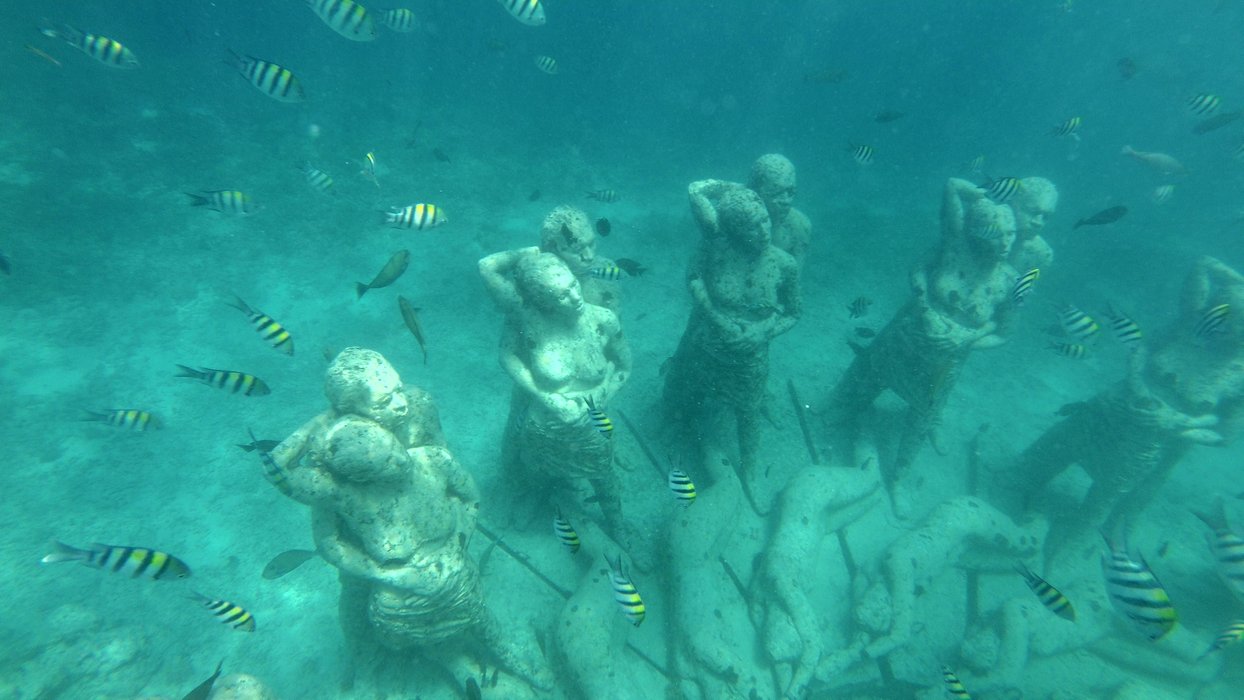 Sun is still shining so can see all the pretty colours on the fish, after all the bread is gone it's time to move onto the next spot... the Bounty ship wreck off the coast of Gili T is probably better suited to diving as the wreck is quite deep and since some clouds are now blocking the sun we can't really see much... so we head to the last spot also off the coast of Gili T, to see some sunken scooters and the rehabiltation of a reef.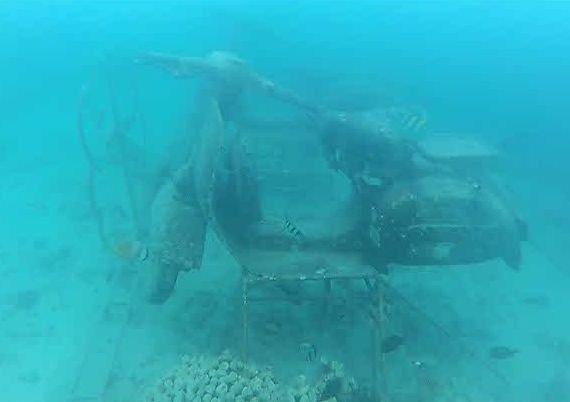 The clouds are still blocking some of the sun so visibility isn't as good as it could of been but we still manage to see another turtle hanging out amongst the coral! When we have looped back to the boat it's time to head back to shore, the boat crew said we were extremely lucky to see as many turtles as we did because it wasn't peak season. After 3 hours on/in the water on our own private boat we all felt like our not even $10AUD each was well spent :)
When we're back on land we go freshen up before having seafood platters and burgers at a seafood BBQ along the beach, once we are all full most of us head back across the island to watch the sunset. Go to a different bar than yesterday but luckily they have the same 2 for 1 drink specials!
Once the sun sets we start our barhop along the beach, it's alot quieter tonight and not as many places seem to be open so we decide to eat and drink at a place with "all you can eat BBQ"... this ends up being a rort and once we are fleeced, continue on to another bar. We share one mild magic mushy drink between 5, don't feel anything but the drink is intended as one per person. Then it's onto another bar before we end up back around on the main strip. Since it's already after midnight decide street corn on the cob, kebab and fries are in order again, before calling it a night.
Have a banana boat ride booked at 10am and the 5 of us still willing to partake in it are of course a little late. We sign our waivers and climb into the boat, put our life jackets on and then it's just a short ride to where the banana is waiting for us off shore.
Water is super calm and looks like glass, we hop on and as the boat starts to tow us out, we all fall off! Now climbing onto an inflated banana from the water is not an easy task but we all manage to get back on and work out a strategy for us to stay on... we are a bobsled team and have to work together to counteract the motion of the waves to avoid tipping over!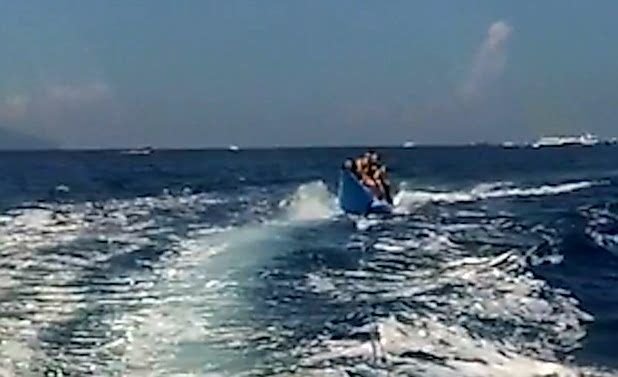 So we set off again, person at the front is yelling RIGHT! LEFT! and we have a good momentum going before we have our second fall into the water. When we hit the water, we had built up some speed and falling off onto the flat, calm water was like landing on concrete!
We scramble back onto the banana and are now more determined to stay on, as the falling part is not fun. Our bobsled team is going strong and we have a good run but as the speed boat builds even more speed and makes a sharp turn, the inevitable happens - we fall for a third time and hitting the water this time is intense! I break the water with my right shoulder, kind of skip along and then hit the water again with the same shoulder before ending up on my back, slightly winded. The rest of my friends are strewn all across the water, I know there is no way I will be able to pull myself onto the banana, let alone hold onto it so I get back onto the boat as we head back to shore. Once on stable land a little lie down and some nurofen help the corked feeling in my entire right arm.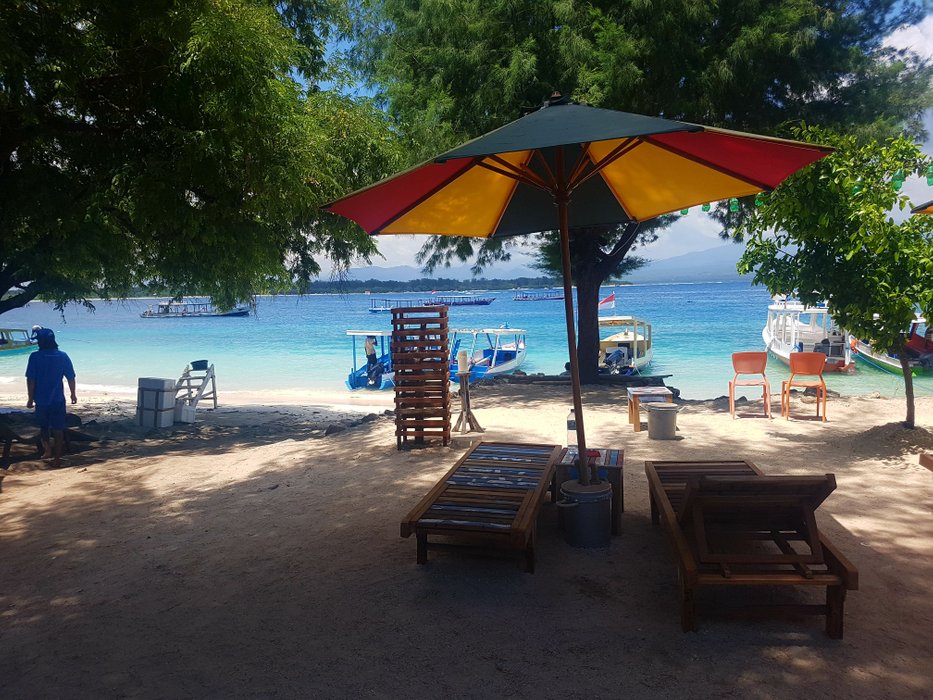 This view also helped distract me from the pain but with only a couple of hours until our fast boat back to Bali, I suck it up and enjoy the time we have left on this beautiful island. I relax under an umbrella, while my boyfriend hires a surfboard.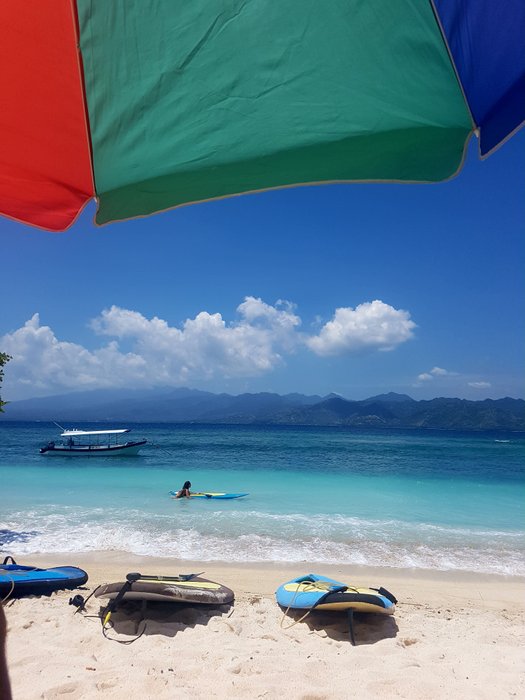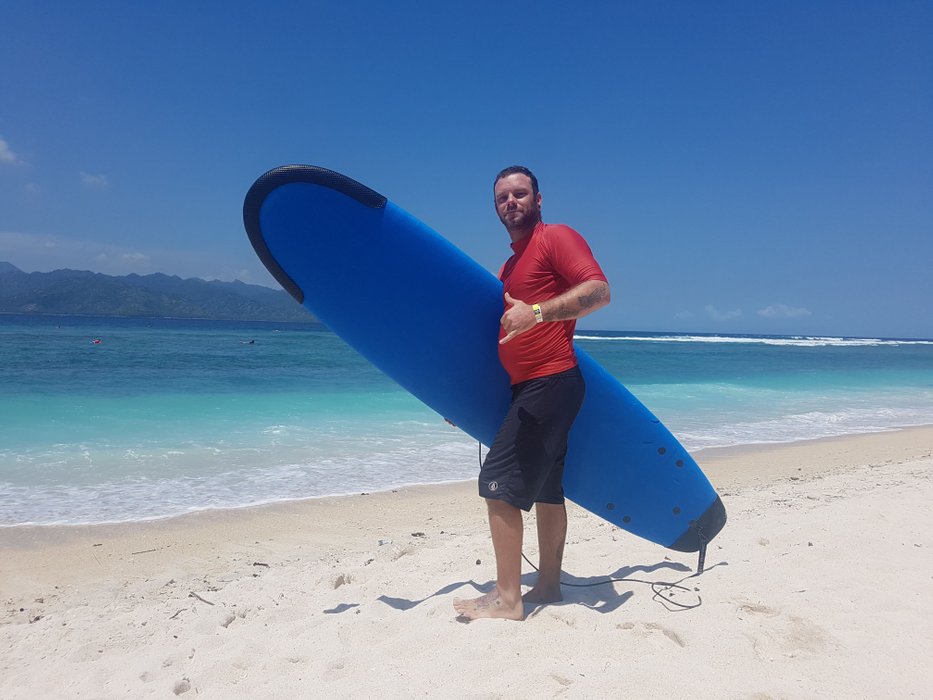 We saw and did so much in our 48 hrs here but unfortunately it is now time to leave...

Peace out Gili T, we will defintely be back and will be staying for alot longer next time ✌