Hello Steemian Friends,
We're back with another Travel post. It's been a long time coming as Sam (I) has been fixated with making 'DLive World Cup 2018' videos for the @dlive campaign. Sadly, the World Cup is over now. Yet, we're happy to get back to our travel stories and other types of writing.
Becca is currently in Portugal spending some time with her family, so it's pretty much just me (Sam) managing our Steemit profile. It's been a while since I been out of Thailand as I have been gearing up for the final few months of my MBA. Yet, I'll be taking a month's break (to Europe) in about a month's time. Can't wait for that! But, in the meantime, here's a Throwback Tuesday. Throwback to May 2016 when we went to Morocco!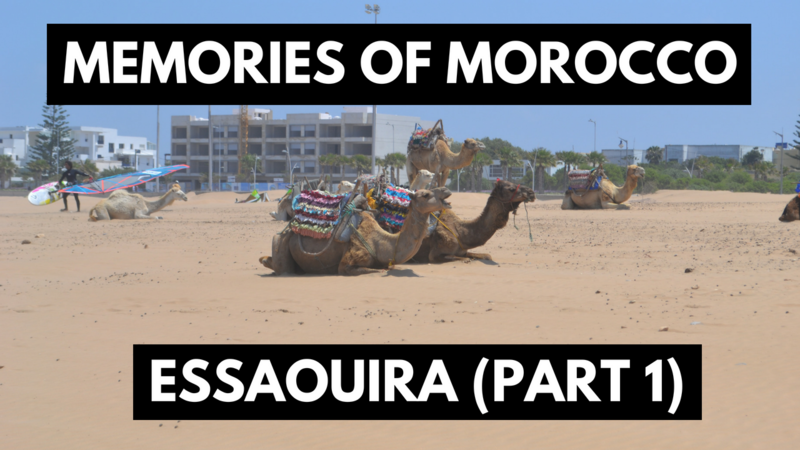 Chilled Camels: Rides on offer by the beach
Choosing Essaouira
---
Becca and I have always been fans of Moroccan food and had been fascinated about the sights 'the land of the setting sun' had to offer. We've visited a few African countries prior to Morocco, but they were all situated in the South or East of Africa. This was our first (and only so far) North African nation.
When choosing a travel destination with limited time, we always want to maximize our time or visit all the major tourist attractions. Yet, upon researching the logistics of such a journey in Morocco, we soon realised it would probably be best to pick a destination or two. Morocco's infrastructure is still developing thus a bus journey across the nation will end up eating a day into your holiday. We managed to successfully get a week off work for our much needed pre-summer de-stress. We needed the sun after facing the cold British winters and near nonexistent Spring (okay, being a bit harsh here). We both worked in customer facing roles and it sometimes seems that cold miserable weather is linked to the moods of some of the customers we had to deal with (in our separate jobs). When the summer comes due to the nature of our jobs, we cannot take time off to enjoy the rare sunshine on offer in England (however, not this year it seems). Therefore, we planned to visit Essaouira in Morocco as this was a seaside town with pictures of long stretches of sandy beaches. We had no idea about the town's history or what to expect there. All we knew was that there was a very cheap (£30 one-way back in 2016), but also very early morning flight from Luton airport and this would be our gateway to Morocco.
Airport to the Medina
---
Getting to Luton airport is a story in itself. However, this is the short version. There are hardly any transport from central London to Luton airport at 03:00. We needed to wake up that early in order to catch a flight at 05:45. There are some coaches from Victoria Coach Station, yet where we lived in central London we needed the Tube (underground/subway) to be fully functional at that time of night on a Tuesday. That was not going to happen. Our second option, was to go up to Luton airport the night before and sleep there, but we knew there were "airport improvements" thus the place would be like (and was) a construction site. We like to start the holiday right, in the end, it was what we were looking forward to for soooo long! So, the third option, we scheduled an Uber for 02:45 to pick us up and take us to the airport. Due to all the excitement and last minute packing, we only had about two to three hours of sleep. Yet, this was great as we slept throughout the whole 5 hour journey on a cramp and uncomfortable EasyJet flight. It would have been torturous, if I was wide awake as I had only downloaded one Spotify playlist prior to the flight. Five songs on repeat isn't a great playlist no matter what the five songs are!
Finally, we landed at an airport that was waiting for us, this one flight to come in or at least that is what it seemed like. Everyone from ground staff, immigration officers and other essential airport staff were ready to greet us and get us on our way or maybe they knew if they get this job done early they can all head home early? Who knows. The whole process was quite efficient and we were out of the airport as quicker as flying into a domestic airport (where there's no immigration queue). It just felt like that.
However, we weren't in Essaouira yet. There are two ways to get into Essaouira city centre (Medina) from the airport, which is 10 miles apart. The first and most popular one is to either pre-book or book on arrival for the airport shuttle bus (coach). This costs 6 dirhams (£0.50) per person, but it departs every hour, so if you miss one or one is full then please prepare to chill in Essaouira's basic airport or opt for the second choice, which we did. For 150 dirhams (£12.50), you can take an old style (like from the 70s/80s) taxi from the airport to your end destination. Some might hustle you for more dirhams, but according to our taxi driver the price is fixed. There should be no cheating from the taxi drivers and no bargaining from the passengers. Whether that plays out in reality is another matter.
Too Windy To Sunbathe In This Bohemian Town
---
After checking into our Airbnb (right in the centre), we headed straight for the beach. However, after walking pass all the vendors selling kites on the beach and the scores of windsurfers, we found a spot only to realise its too windy (we guess we should have seen the clues: kites and windsurfers...) to sunbathe as our bodies were quickly being covered in sand (the sticky sunscreen didn't help). So, we packed up after an unsuccessful tanning session and just enjoyed walking along the beach and appreciating what this place had to offer! We ventured back towards the port passing the stalls and stores selling anything from antiquities to Berber (local indigenous tribe) souvenirs and from rugs to spices. Those who have visited Essaouira will tell you it is super laid-back and it certainly is. Apparently, the town was a hippie hangout back in the 60's and you can tell that vibe still exists as you walk around the souks. There was not much to do in Essaouira in terms of activities (as we're not windsurfers, if you couldn't tell), but just to wander around, find hidden gems and taken in the beautiful views either from the beach or Skala de la Ville, which was under renovations when we were there, but we could tell you can get amazing sunset views from there. If you're looking for a place to completely relax and soak up some culture, chilled atmosphere and some sun (if you're there for the right season) then we would certainly recommend Essaouira.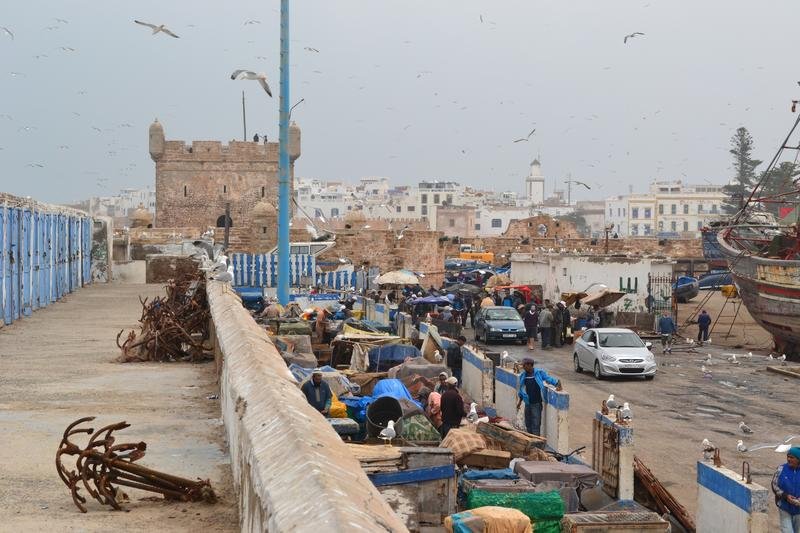 Port of Essaouira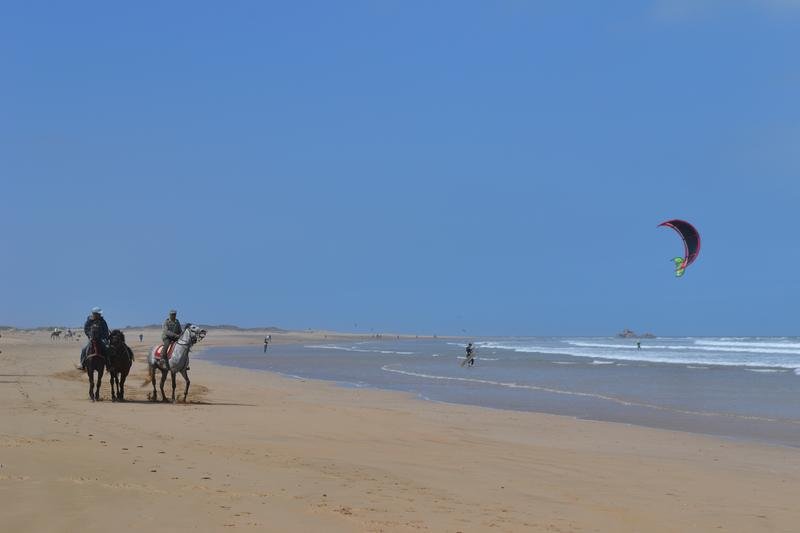 The beach being shared by everyone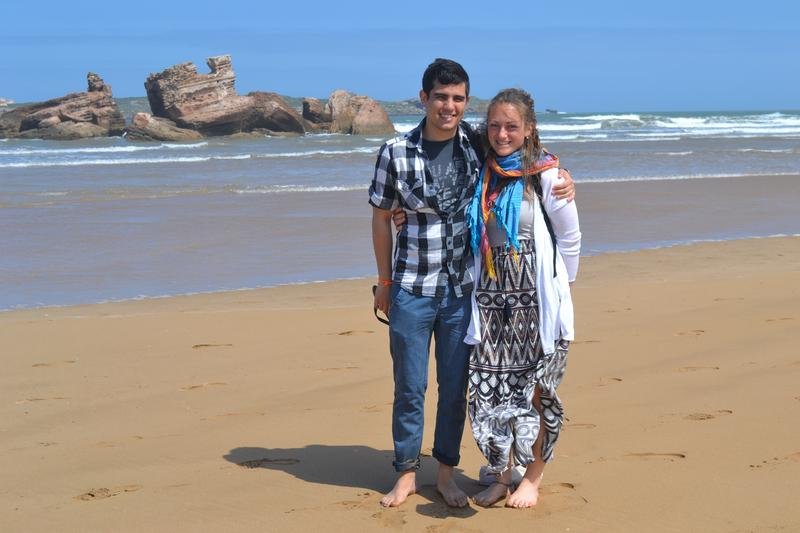 If we can't get a sun tan then we'll get a photo instead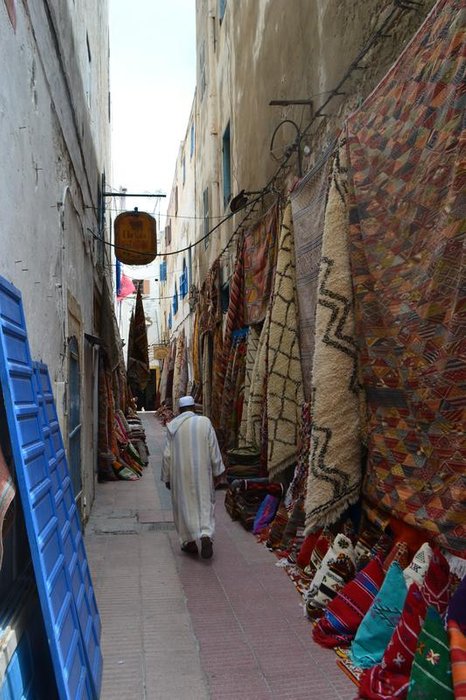 Many rugs on sale as you walk down the alleyways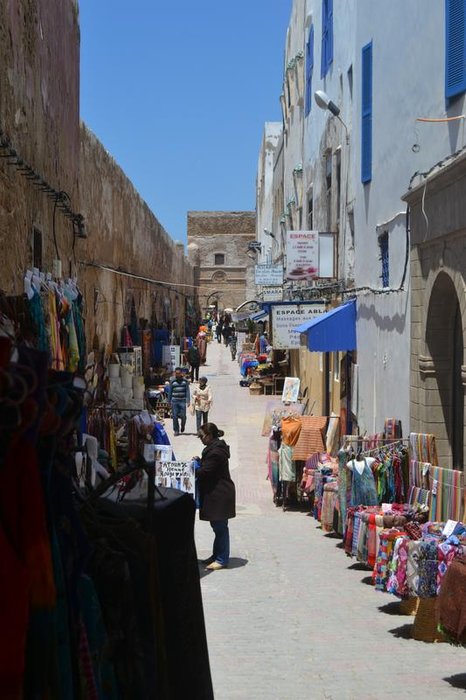 Stalls along the Medina walls selling Moroccan sourvenirs
---
Have you been to Essaouira? If you have, what was your highlight of this place?
---
As always,
Stay Classy Steemians!
Thank you for taking the time to read our post. If you really like our content, please follow us as we post regularly with different topics from Monday to Friday (with some exceptions at the weekends). How about your followers? Would they like this post? If so, please resteem it! Finally, if you are generous, please give us an Upvote! We thank you in advance! Lots of love / @travelling-two
For Wanderlusters in Thailand, please come and say 'Hi' in our Discord Server
For support with Thai written content, please click the banner below and engage with the Thai community