Hello Steemian Friends,
How are you all? We know we have already posted today, but to add to our Throwback Thursday's collection we will tell you more about our recent trip to Ethiopia to spend Christmas and New Year with Becca's family. Last week we wrote about our walks around Becca's dads house and around the Park Headquarters.
Just after spending Christmas Eve (24th December) and Christmas Day (25th December) at the house celebrating with family, with lots of eating and drinking, it was decided that we would go on a long trek/hike through the park. As Becca's father works in the National Park he wanted to make the hike as part of his work, which he managed to do. He wanted to show the National Park's tourism department the places where they could take guests/customers on future hikes and camping spots, and he also wanted to monitor park activities with the rangers.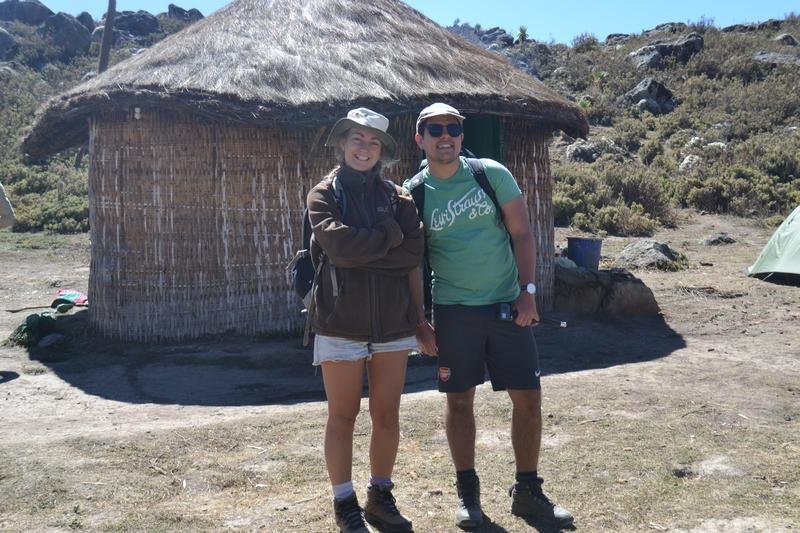 Becca and Sam, ready and waiting to start the hike
So it was all arranged, we would leave the house on the 27th December for a 4 day and 3 night hike. We had to pack enough food to last us (7 of us) for those days as well as all our camping gear, cooking pots and pans, water containers, clothes (minimal but warm ones), etc, you name it, all camping gear available was taken. We had to arrange 14 horses (7 pack horses and 7 riding horses), this was part of the National Park regulations for the number of people going on the hike. This hike was something we were really looking forward to, Becca and her family had already been on hikes here before, it was Sam's first time in the Park so everything was new to see and experience and Becca had hyped it up so much!!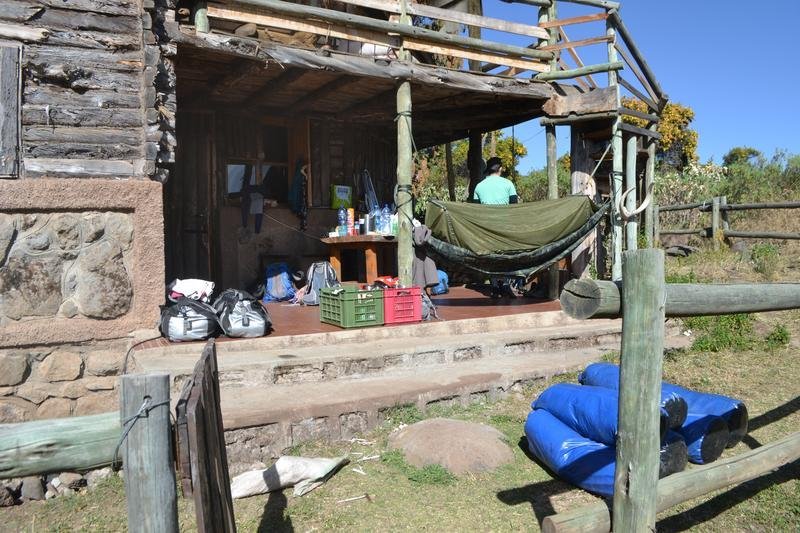 Packing our camping gear for the hike at the house
Day 1
---
Becca's brother and her fathers partner went to get the horses ready, all 14 of them, and went to the first camp spot by horseback with the other staff (mainly the guys that would look after the horses).
With all bags and camping gear packed and put inside the car, Becca, Sam, Becca's sisters and father drove to the camp spot to meet the others. Here we spent the night inside a house that is used by the Ethiopian Wolf Conservation group, they do research and monitoring of the wolves nearby. Becca, Sam and her siblings all slept in one room where the fire was in (mmmmmm warm)!
Day 2
---
Wake up! Wake up! Wake up! The first day of actual hiking was about to start! After a nice nights sleep, we all got up early-ish to get started with re-packing and getting things organised, and have breakfast! Becca's dad had a big task on his hands, organising 12 staff members, 6 people of his own family and who goes on which horse etc, and where the next camping spot would be.
After a few hours of waiting, we set off! It was a beautiful sunny day, but could feel cold at times. We had to try and keep at least our heads covered due to high risk of sunburn. We were hiking at altitudes over 3000 meters so we really needed to make sure we stayed hydrated, and Becca's dad made a point of giving us all a few handfulls each of sweets, for that extra sugar boost in case we needed it!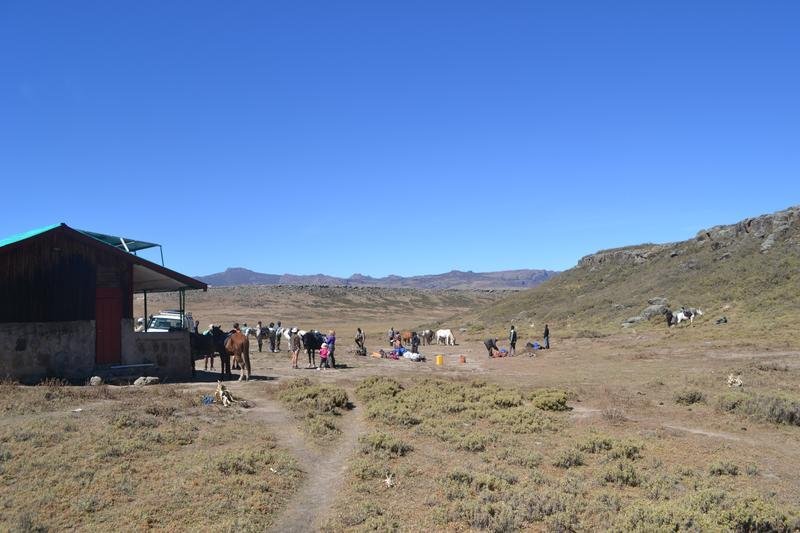 Morning madness at campsite number 1, organising pack horses and people to start hiking
Waiting to get going, Sam sits on the roofrack of the car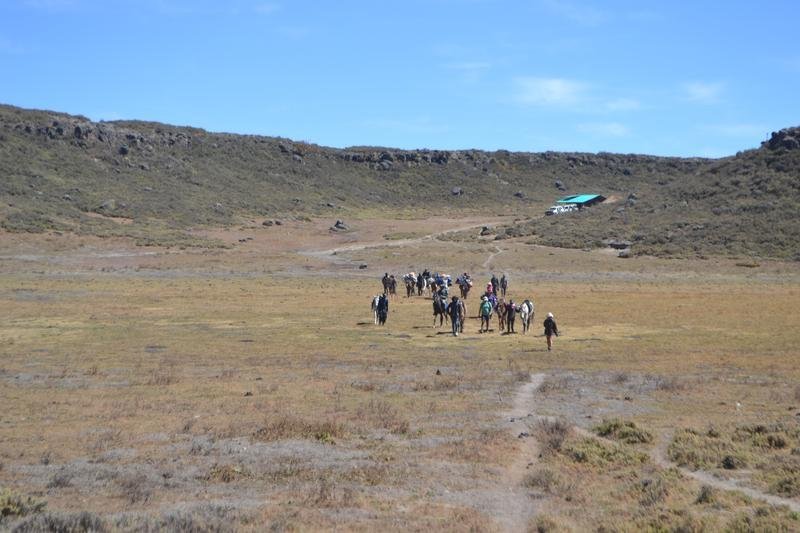 And we set off!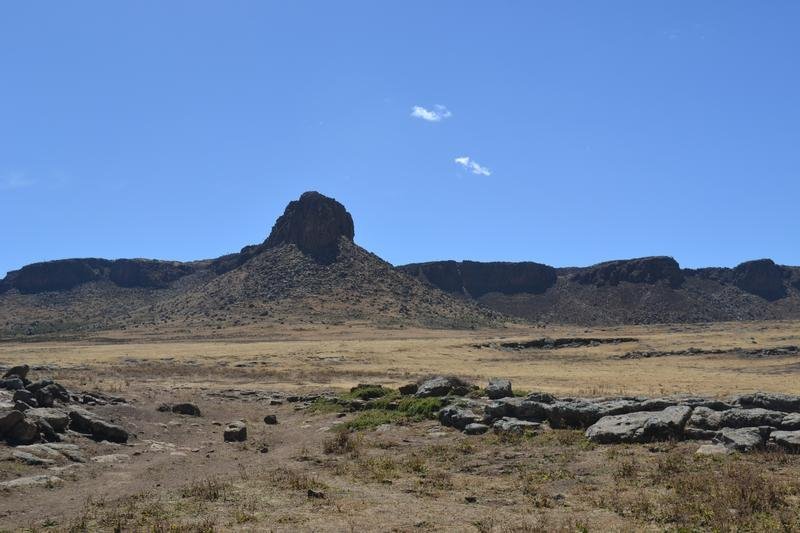 One of the beautiful views along the hike. It's a shame that it looks so barren and dry, this is due to overgrazing within the park.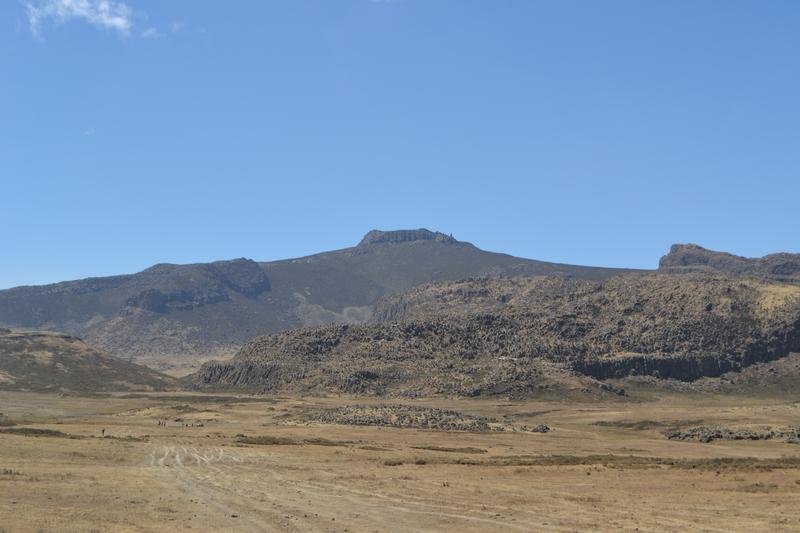 Another view! It was breathtaking how far these views could go. Some of the areas we walked across used to glaciers years and years ago!
5 hours and 12 km later, we stopped at our camp site to be. There were a few fresh water springs near by which was good for us as well as good for the horses. We pitched up our tents and went for a walk to explore a bit, play Frisbee and search for firewood. Back at our camp, we prepared the fire for later on, as well as prepared dinner and hot water on the fires. We then found a spot on a big rock to have sundowners while watching the sun set over the National Park. It was a beautiful ending to a beautiful and long day!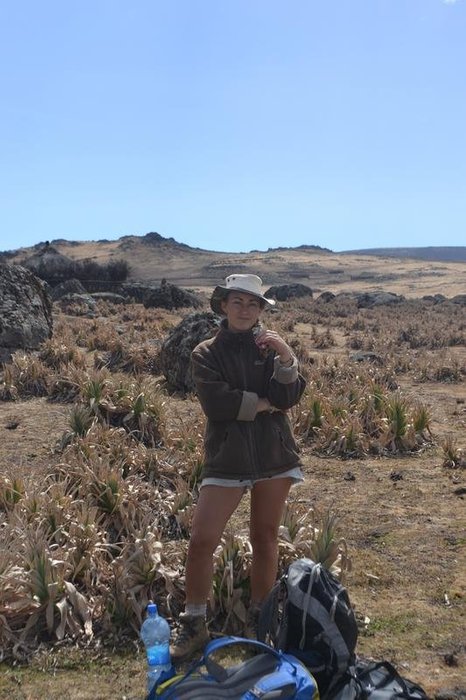 Becca, enjoying a deserved snack upon reaching the designated camp spot!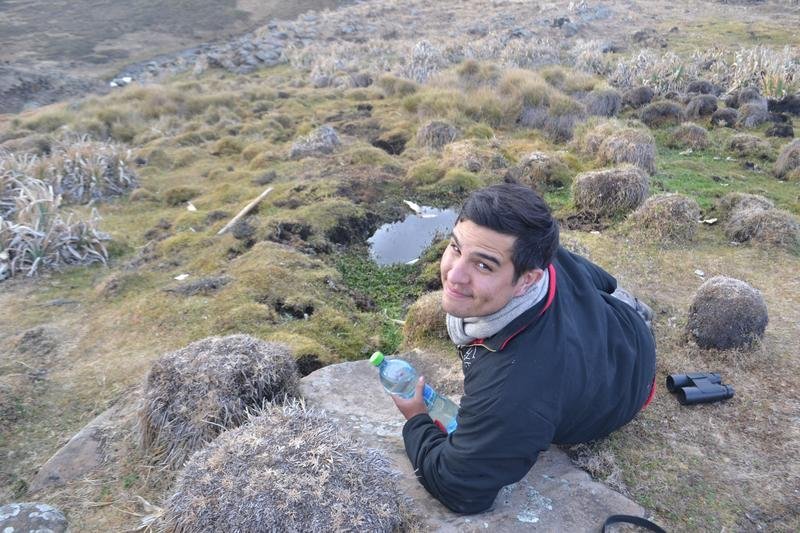 At one of the near by fresh water springs. Sam has just filled up his water bottle with nice cold fresh water!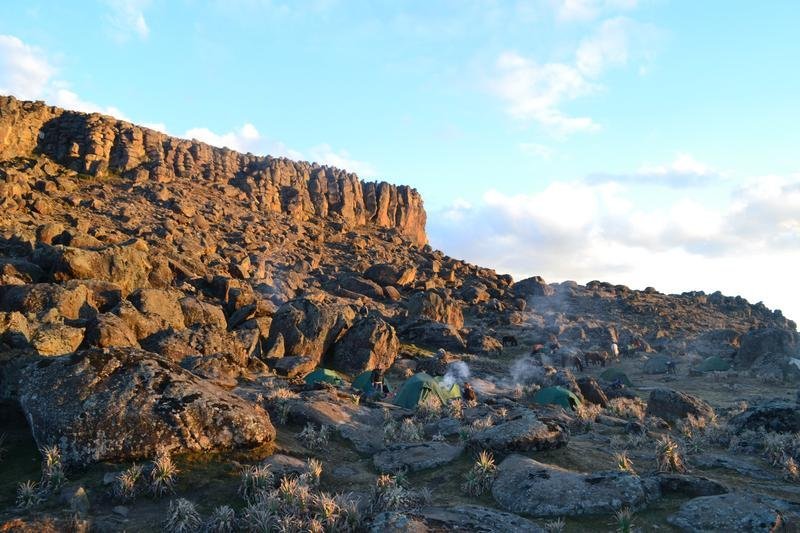 Our humble campsite in the hills of Bale Mountains National Park, in the process of preparing food.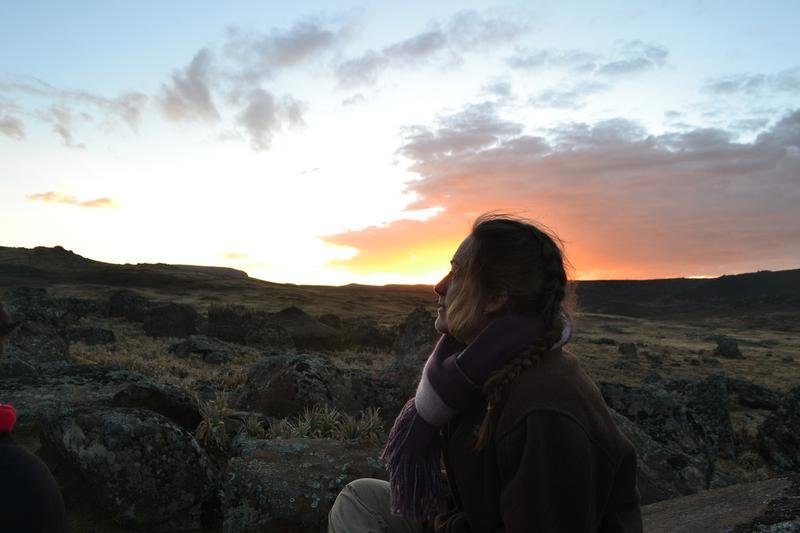 Sundowner spot! One of our favourite things to do, drink sundowners with beautiful sunstes and with good company!
Hope you enjoyed reading about the beginning of our hike. Find out what we did the next day of our hiking trip in next weeks post.
---
Stay Classy Steemians!
Throwback Thursday's is a post written by the @travelling-two every Thursday to inform their followers and readers about a previous travel adventure they had been on!
Thank you for taking the time to read our post. If you really like our content, please follow us as we post regularly with different topics from Monday to Friday (with some exceptions at the weekends). How about your followers? Would they like this post? If so, please resteem it! Finally, if you are generous, please give us an Upvote! We thank you in advance! Lots of love / @travelling-two