Hello Steemian Friends,
It is almost the end of the working week, but we hope our Throwback Thursday to Milan will help you ease into the weekend mode, especially if you have a football (soccer) or sports event that you'll be attending this weekend. Plus we thought we would do this post as the World Cup is just two weeks' away!
The Context
---
This throwback is to when we knew we were bound for Asia (back in October 2016) and we decided to make the most of the time we had left in Europe to travel! We knew we were flying off to Thailand in January 2017, so we took all of our remaining holidays to explore central Europe by inter-railing (future post series). However, Sam had a few more days off then Becca, so he decided to take a 'pre-holiday' long weekend with his guy friends to Milan! Why? Well, to put it plain and simple, it was for his first love. No, not some mysterious girl (Becca hopes not), but for football (soccer). Yes, that sport that is watched by millions and loathed by many more. It just so happens that on Sam's 'list of things to do before we leave London' was to watch a live football match with his friends. No, they couldn't just rock up at Emirates Stadium (Arsenal F.C. home ground) or Stanford Bridge (Chelsea F.C. home ground), no they had to travel over 800 miles to watch a football match! Becca wishes Sam would make these journeys for her...(crickets chirping)...(tumbleweed blowing away)...
The Reason
---
These weren't just friends that Sam knew. These were childhood friends from his days growing up and going to school in Rome, Italy. We were as international as it came, coming on this journey was Sam (Thai/English), another Sam (an Englishman), Michael (French/Bangladeshi, but acts like an Italian), another Michael (English/Italian) and Mattia (full-on Italian). Many of us were the stranieri by nature, but not by nurture. Growing up the Italian way through appreciating culture, lifestyle and friend's influence, you tend to pick up the customary hand gestures and the bad fouling that would instantly make you Italian. Who are you calling a stranieri? We're practically Italian.
Sam has been back to Rome on multiple occasions since he went off to study his Bachelor's in the U.K. and his family left Italy. However, in a sense, this weekend away to Milan was going to be a homecoming as well as a farewell or a 'until next time' trip. Italy has been a massive part of Sam's life and although he has a love/hate relationship, the love outweighs the hate.
For The Love Of Football
---
We had many nights in London together as we all once lived there, but this was more than two nights in Milan, this was a pilgrimage of sorts. AC Milan, a legendary football team (and this is coming from a Liverpool supporter) were going to play la Vecchia Signora (the Old Lady). Not literally. That would be pretty unfair. Could you imagine 11 fit young men against an old lady for 90 minutes on a football pitch? Maybe there's some unique bar in Tokyo that would have this as an evening entertainment... No, la Vecchia Signora is Italy's most successful club, Juventus F.C. from Turin. This was a very big match, even if Juventus were miles ahead on points (as they usual are in the recent seasons), this was going to be a match for pride. But still why Milan and not Rome? Okay, on top of this, AC Milan's biggest known supporter to Sam is his friend Michael (the French/Bangladeshi). He had been raving about a weekend in Milan to watch AC Milan play for some time and literally the stars aligned as this was the only weekend Sam could take off (as he already planned the Eurotrip with Becca), AC Milan had a home game and it was against the biggest team in Serie A (the Italian league).
The Journey
---
Travelling around Europe has never been so cheap, especially from London when you have five airports (Heathrow, Gatwick, Stansted, City and Luton) all within "easy" reach. Low-cost airlines like Ryanair and Easyjet are selling cheap tickets that even some people find it more economical to live aboard and fly into work for the week and then fly back for the weekend. It's crazy! Yet, max it out whilst you can (we're looking at you - single and independent people) and if you have the disposable income.
On Friday 21st of October (2016), like five coordinated friends, we all booked separate flights to meet up at the airport in Milan or the Airbnb that Sam rented for the weekend. Sam was the first to arrive after taking an early morning flight with Easyjet, yet his friend Michael (the AC Milan supporter) was meant to get there before him. Yet, it looks like BA had 99 problems and... one of them is delays! However, Michael did not mind as being a BA executive, he was taking full advantage of the executive lounge like he was a businessman (okay, he is a businessman, so that makes sense). Free food, drinks, charging points for his electronics and even a 10 minute shoulder massage! What?! Luckily, Sam did not need to wait too long at the airport in Milan (Malpensa) and once Michael arrived, we took the train into Milan together. It takes just under an hour to get in and cost us before 11€ each. This was the cheapest option besides the longer bus/coach journey in. From Cadorna train station, we walked about twenty minutes to our Airbnb, which we so happened to be the owner's first clients, so he greeted us with a hamper basket. The owner, Leone and his daughter and son were renting out what seemed to be Leone's bachelor pad back in his youthful days; a one bedroom, large living room with a sofa bed rooftop apartment. We chose it as it was within walking distance to the stadium - San Siro, which we took a walk to after our check-in.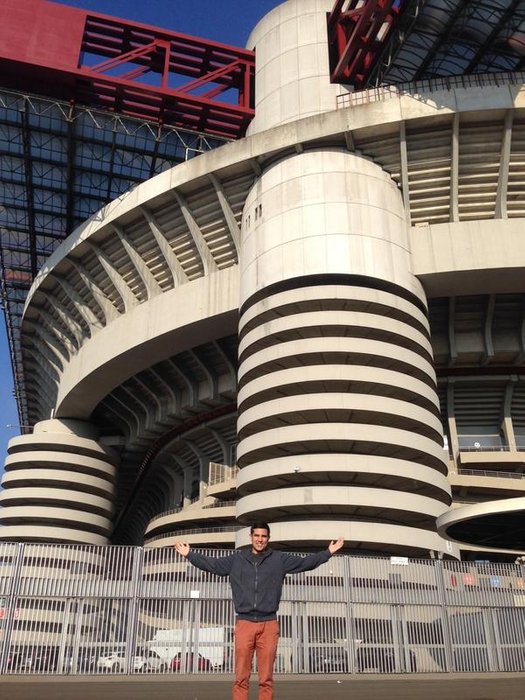 Posing outside San Siro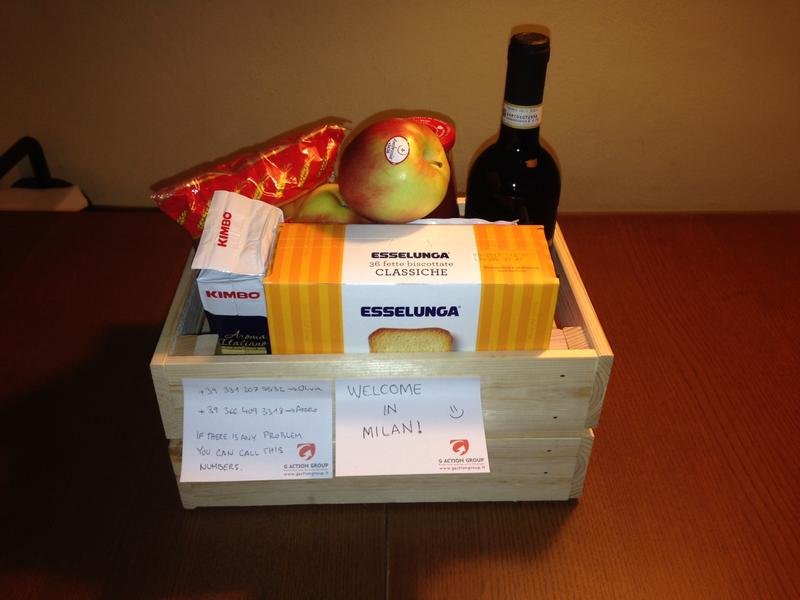 A little gift to us: hamper basket
The others started to trickle in afterwards. The other Sam (full English) took a flight that connected in Frankfurt from London?! So, with a stopover of over 2 hours, he had enough time to leave the airport and get a Frankfurter (no joke) in Frankfurt's CBD. He is always the one looking out for deals (he saved about £20-30 compared to us) and adventures and we have to applaud him for this. The other Michael and Mattia were based in Rome for work and took a half day to catch a train up to Milan later that day to arrive in time for dinner (pizza al taglio - sliced pizza). We stayed up late drinking beers, playing card games and taking in the evening view of Milan from the rooftop balcony! Michael's excitement was gleaming on his face and even though we didn't really support his team, we felt excited too! We couldn't wait for what would be in store for us on Match Day!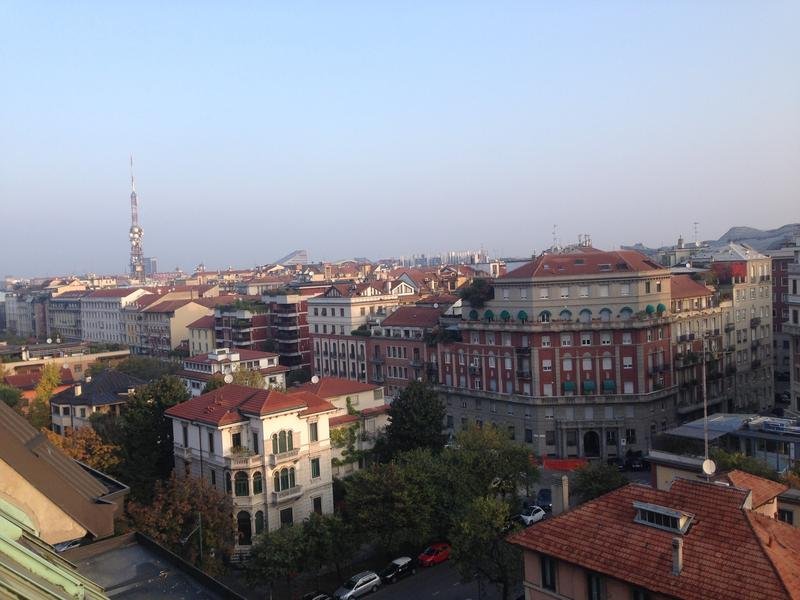 The view from the balcony (late afternoon)
---
Stay Classy Steemians!
Throwback Thursday's is a post written by the @travelling-two every Thursday to inform their followers and readers about their previous travel experiences.
Thank you for taking the time to read our post. If you really like our content, please follow us as we post regularly with different topics from Monday to Friday (with some exceptions at the weekends). How about your followers? Would they like this post? If so, please resteem it! Finally, if you are generous, please give us an Upvote! We thank you in advance! Lots of love / @travelling-two
For Wanderlusters in Thailand, please come and say 'Hi' in our Discord Server
For support with Thai written content, please click the banner below and engage with the Thai community