Hello Steemian Friends!
How are you all today? Hope all is well and you have all had a good day so far.
Welcome to another Wild Wednesday's post written by Becca.
Do you remember last week's Wild Wednesday's post? Sam and I had a day off together and decided to have an action packed day out exploring parts of London we had not been to. We went to Richmond Park for the morning and early afternoon, then we started making our way towards the Royal Botanical Gardens Kew. As I mentioned last week, this day took place in December and it was still a bit chilly, and obviously there is also a lot happening with many Christmas themed celebrations/events.
Royal Botanical Gardens Kew (also called Kew Gardens)
---
Once we had finished our stroll through Richmond Park, we then went and made our way to the Royal Botanical Gardens Kew. We had read online on their website that they had put on a Christmas Light Show at the Gardens, so we decided it would be nice to see. As it was a light show, we obviously had to wait a little while for the sky to start getting dark so that we could see the full effects of the lights. So we made sure not to rush anything that afternoon. When we arrived at Kew Gardens, the Christmas spirit was everywhere! Lights and lanterns were dangling from the trees, Christmas music was playing.. it really felt magical, as if it was already Christmas morning! We walked through the main gates after paying our tickets, yes it was not for free, and we were immediately welcomed by a huge Christmas tree all lit up!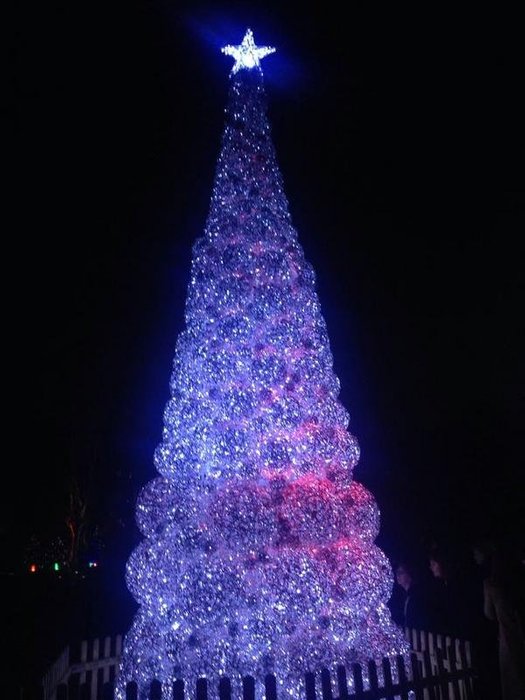 Oh Christmas Tree, oh Christmas tree!
After walking past the enormous tree, we found ourselves walking around parts of the outdoor gardens which were nicely arranged into a walking light trail with many of the plants and flowers lit up with their own individual lights, each displaying something different!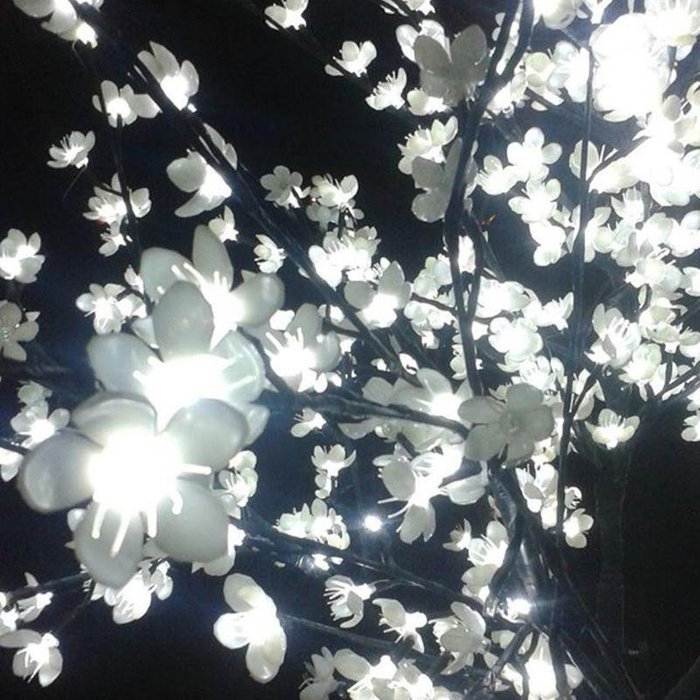 This was one of my favourite little fairy lights in the walking light trail at Kew Gardens, simple yet elegant!
Once we had made our way around the trail, we came to the Palm House, which is effectively a large iconic Victorian glasshouse that recreates a rainforest climate which supports a diversity of tropical plants from some of the most threatened environments and habitats in the world. Unfortunately, the Palm House was closed so we could not go inside, however it was here that the light show finale was to take place. All of a sudden, the Palm House lit up with lights that were dancing to the rhythm of the music, changing colours and patterns! It was truly a wonderful sight to see! Our phones were running very very low on battery (under 20% and 10%) so we were frantically trying to conserve as much battery we could so we only managed to take a few photos. However, I must say that not even photos or videos do it justice, it's one of those "I guess you had to be there" moments. Here go some photos anyway to show you a glimpse of what we did see that night!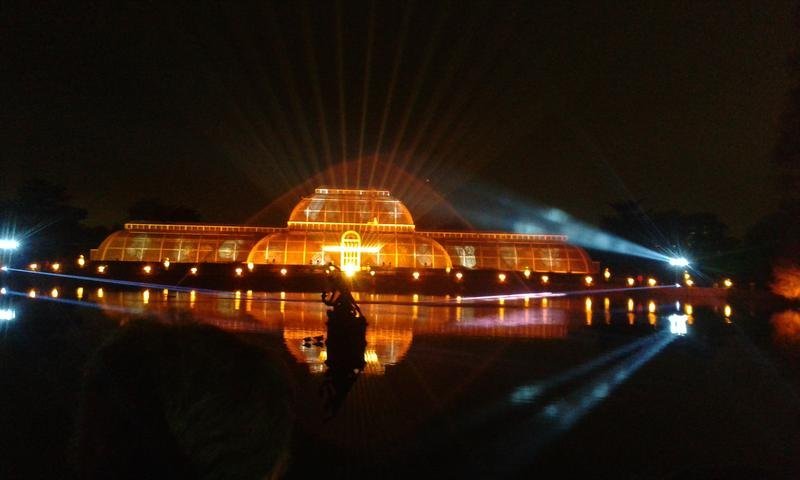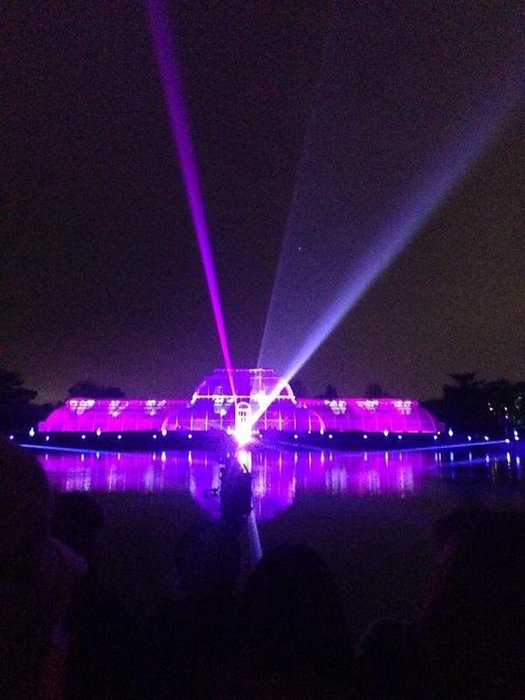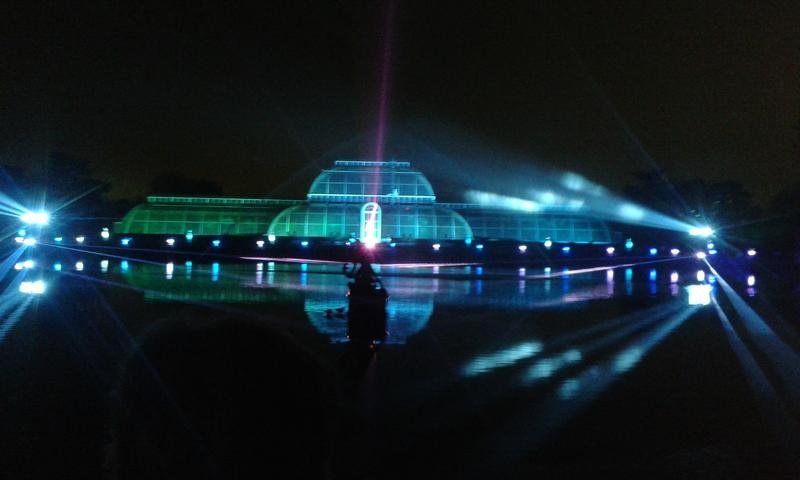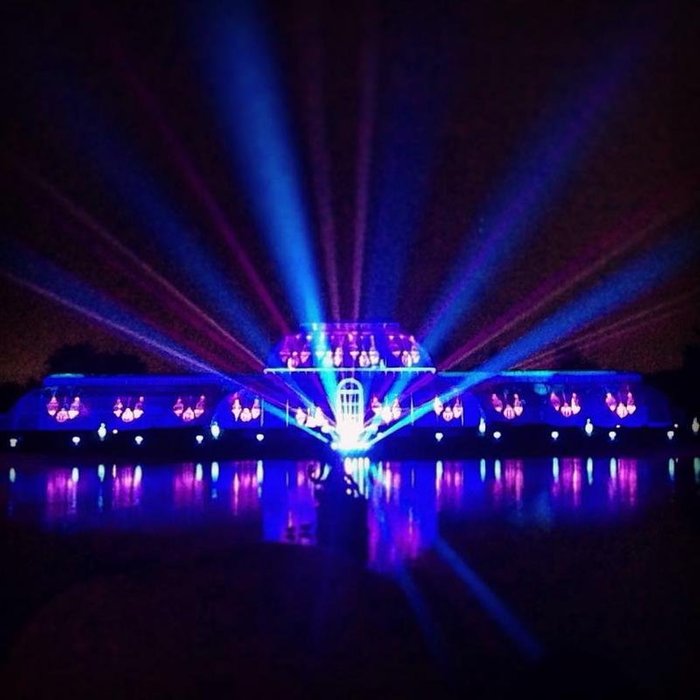 The Palm House lit up! Sorry the quality is not that great, I guess the low battery didn't help as well as the fact that these were taken on our phones at night...
We would really like to go back one day and see Kew Gardens during the day. I went to Kew Gardens once before on a university visit, however my class and I had spent a lot of the time in lectures and inside the main building doing organised activities by the University about Ecological Conservation, so I didn't get to see much of the outside. One day Sam and I will go back and explore it during day light.
Kew Gardens are London's largest UNESCO World Heritage Site and is a global resource for plant and fungal knowledge. I believe they do a lot of research for helping to understand plant life and how our human lives depend so much on plant life. Another reason why we must help to look after our planet, we share it with so many non-human organisms.
Have you been to Kew Gardens before? Did you enjoy it? Let us know about your visit, we would really like to hear as we hope one day to return and visit again!
Stay Classy Steemians!
---
Wild Wednesday's is a post written by the @travelling-two every Wednesday to inform their followers and readers about nature and conservation.
Thank you for taking the time to read our post. If you really like our content, please follow us as we post regularly with different topics from Monday to Friday (with some exceptions at the weekends). How about your followers? Would they like this post? If so, please resteem it! Finally, if you are generous, please give us an Upvote! We thank you in advance! Lots of love / @travelling-two
---
For Wanderlusters in Thailand, please come and say 'Hi' in our Discord Server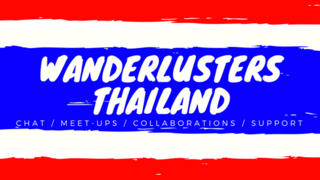 For support with Thai written content, please click the banner below and engage with the Thai community