---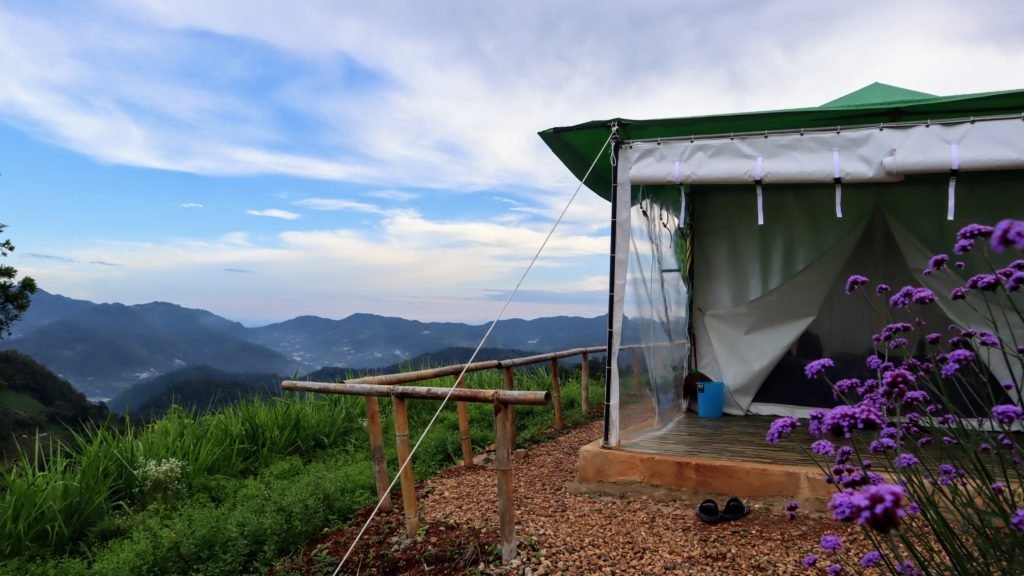 ---
Thailand is a hot country, everybody knows it. When winter comes, it's a big joy. Though, not all the parts of the country get the same level of that coolness. Up north you could totally enjoy it at its coolest as same as down south. In Bangkok, meh, not really so mostly, people put an effort to go visit natural places up north if they have time. I found one place up northern Thailand that would be such a perfect getaway especially when you're too sick of the heat, Doi Monjam, Chiang Mai (ดอยม่อนแจ่ม จังหวัดเชียงใหม่) and to be exact, we stayed at Saengnua Camping. (แสงเหนือแคมป์ปิ้ง)
Doi Monjam, Chiang Mai (ดอยม่อนแจ่ม จังหวัดเชียงใหม่)
Doi (ดอย) means mountain
I love camping in the mountains (Beaches work too). Not much of hiking, really. Just to go there, do nothing but enjoy the view then I'm all in. Last trip with my dad and step-mom, their purpose was to visit Wat Phra That Doi Kham. The perks were to have a chance to go visit another province along the way, Lampang. Just a night but that's still something. Then, to enjoy the beauty of Northern Thailand's mountains as it's famous for that.
I had never visit this mountain called 'Doi Monjam (ดอยม่อนแจ่ม)' in Chiang Mai, this is the time.
From Chiang Mai city, it takes about an hour roughly to get to the top.. A few restaurants and cafes with such pretty view. At this moment, we could already felt the cooler air then in the city. I was so surprised how many accommodations, vacation rentals and camp sites are up there (and a lot are also being built also!).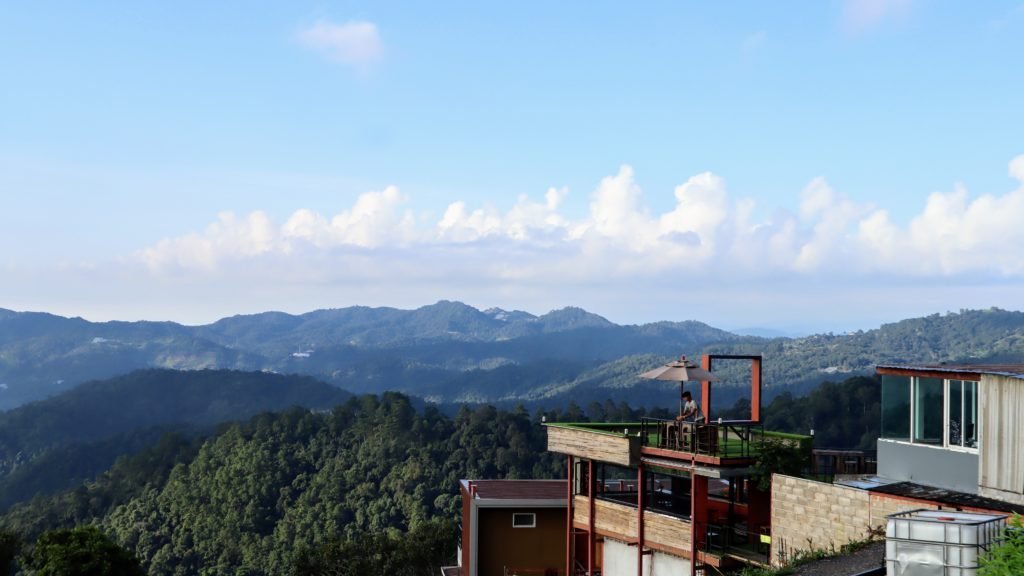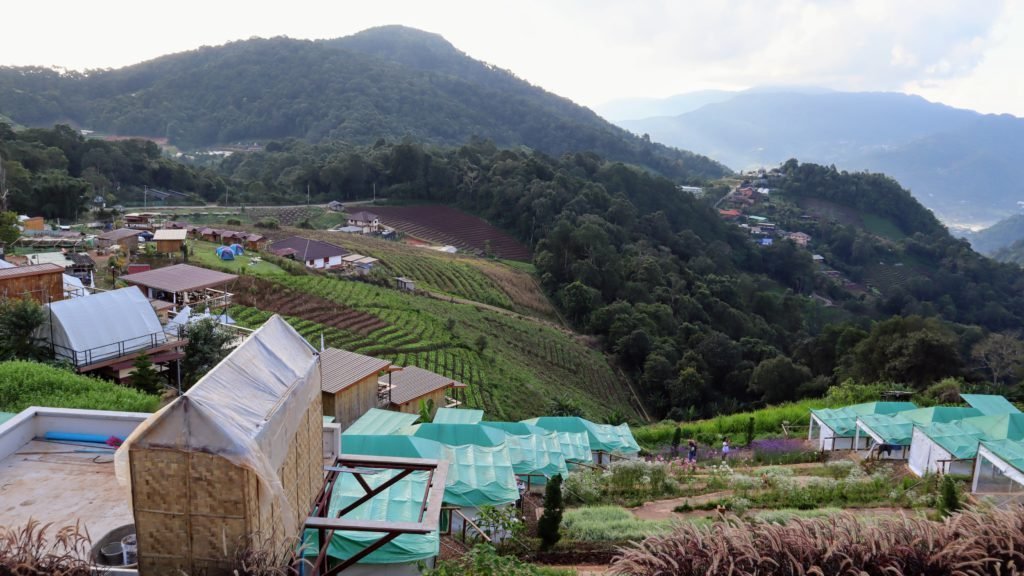 Saengnua Camping (แสงเหนือแคมป์ปิ้ง)
So many types of places and many styles we could choose how to sleep there at Doi Monjam, Chiang Mai (ดอยม่อนแจ่ม จังหวัดเชียงใหม่). My dad went for 'Camping'. Just to change it up a bit as we don't do this so often at home.. Not at all. Also, the price is good. The place my dad chose was Saengnua Camping (แสงเหนือแคมป์ปิ้ง).
The reception and the restaurant is higher than the camping spot and we had to walk down the hill a bit to get to the tent we got. Love it so much how colourful it is. The flowers and all the green with the blue sky as a background.
Besides where we stayed, there are more and more of other properties that do the same. Down the hill, we could really see some farms the locals do. So pretty to look at them from up top.
We enjoyed the flowers and their charm.
We literally took at least an hour strolling around, running up and down the hill and taking load tons of picture. Again, we don't really have this kinda scenery where we're from.
If you haven't met my dad, here he is! :)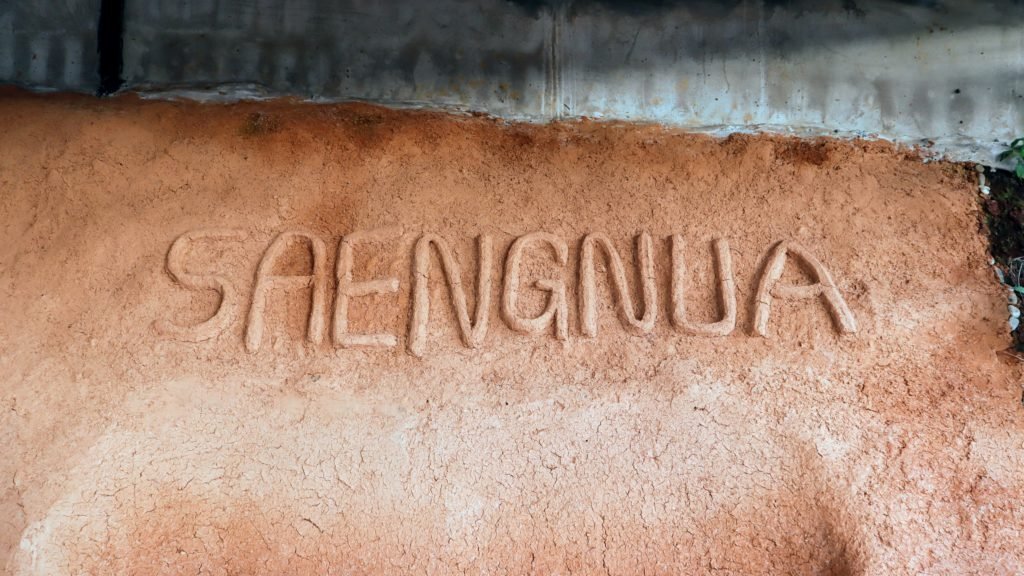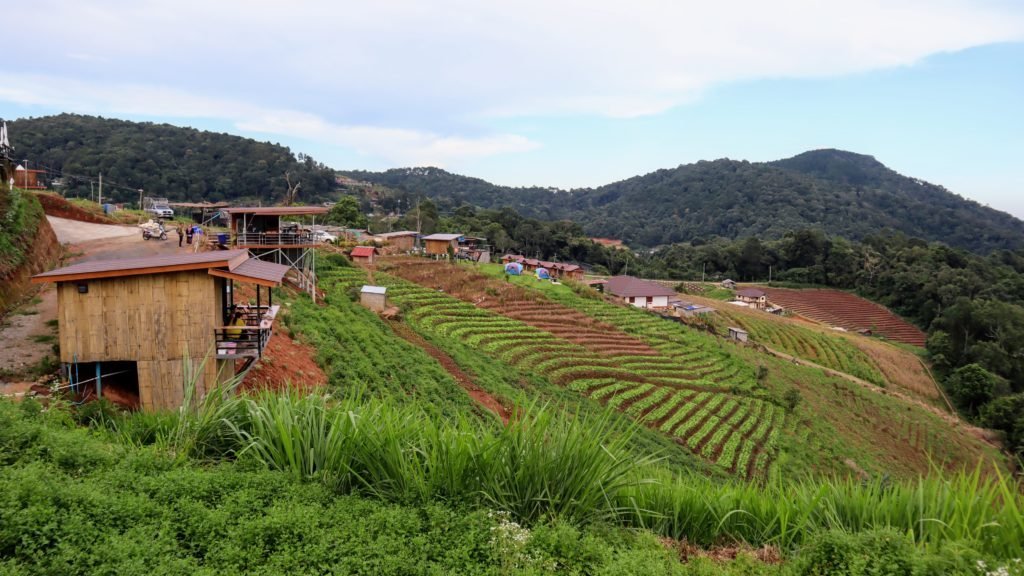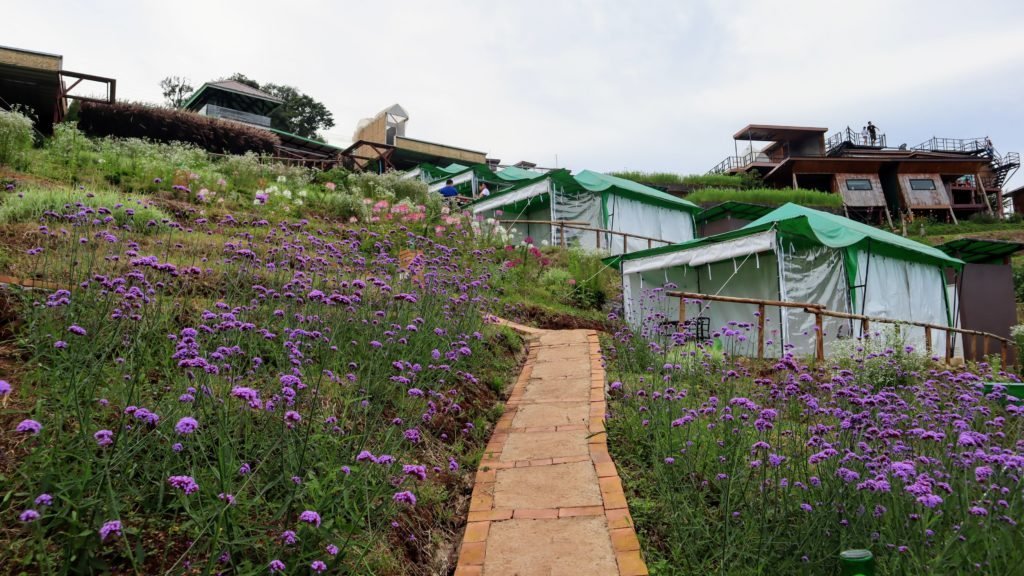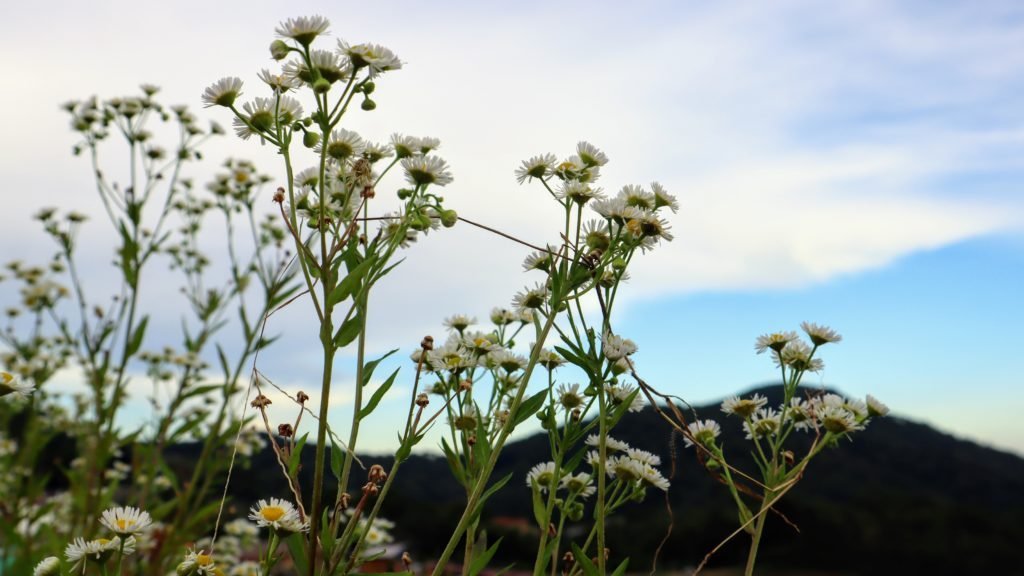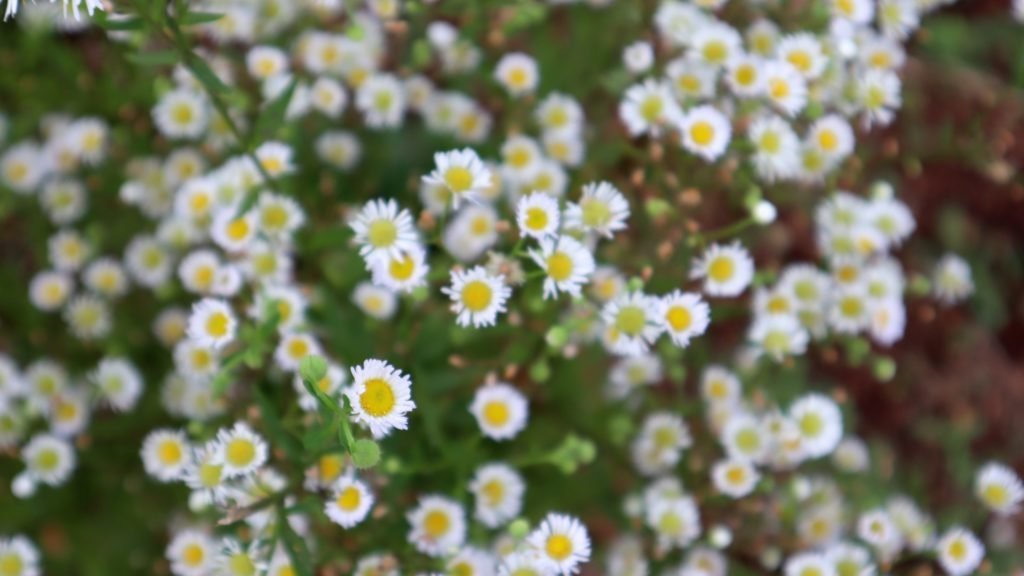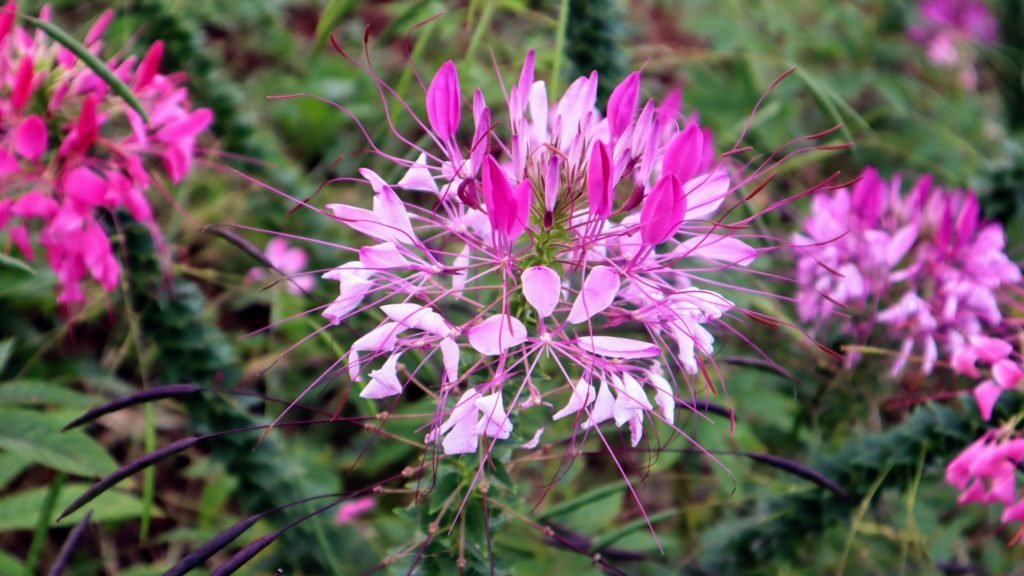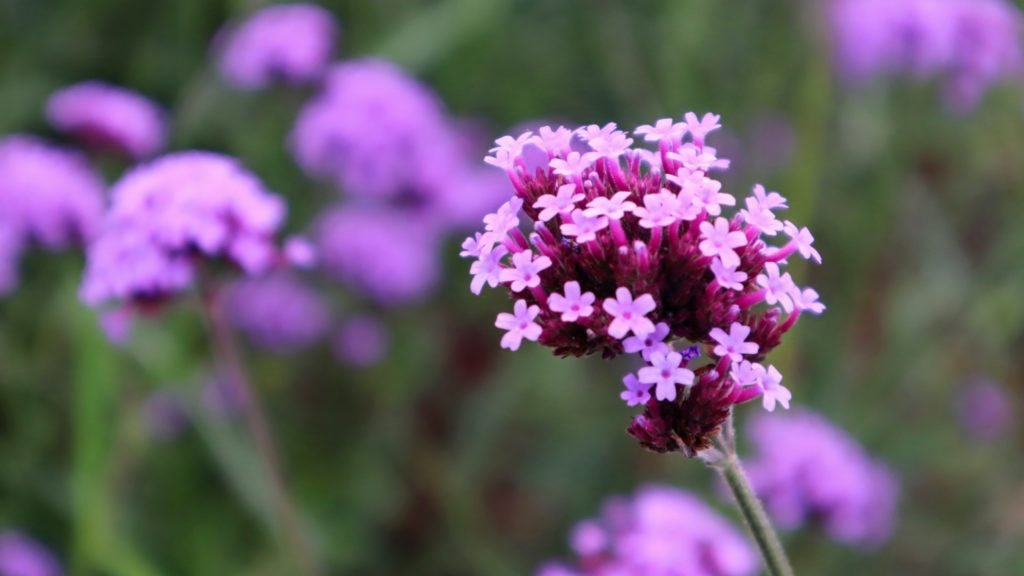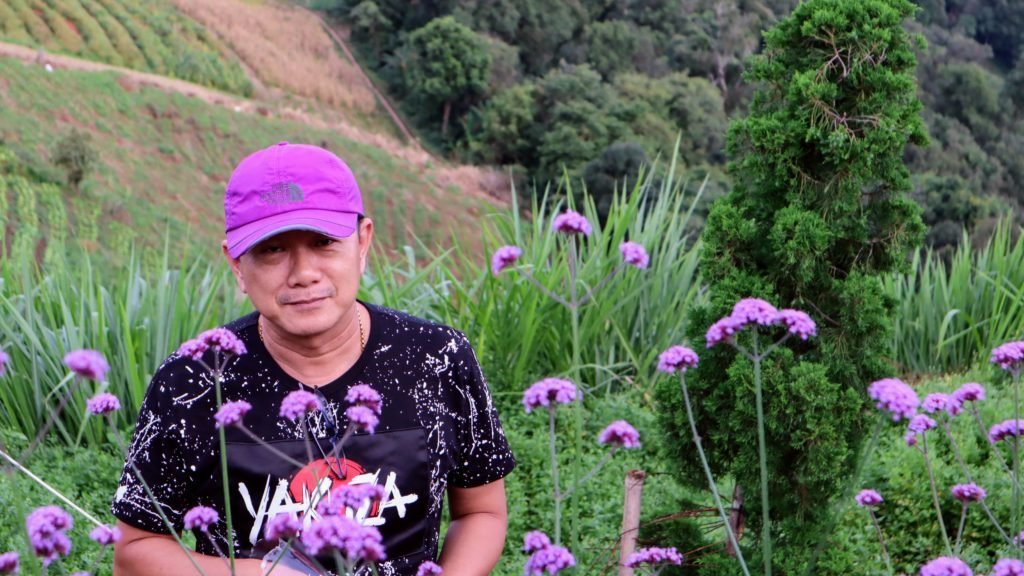 Go camp at Saengnua Camping (แสงเหนือแคมป์ปิ้ง)
Wait, I did say 'Camping', didn't I?
Not really Camping-camping that you might have in mind right now. They have already had huge tents prepared, a big bed, a decent size sofa, a small table with kettle and basic instant coffee and tea inside. There's a small toilet / shower outside just a few feet from the sleeping quarter.
Quite spacious in the tent so we fit 3 in 1. Dad and step-mom got the bed and I have all the floor to myself. The place does provide extra blankets and thin floor mattress with no additional cost.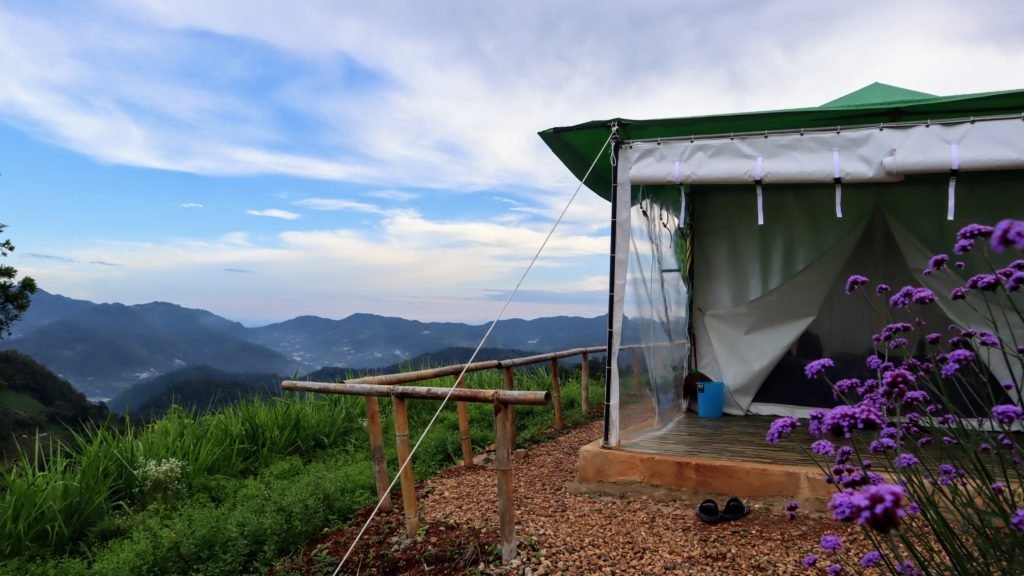 Dinner at Saengnua Camping and Doi Monjam, Chiang Mai
A trend! I think it's a trend! We had read good amount of reviews and all they do when coming here at Doi Monjam, Chiang Mai (ดอยม่อนแจ่ม จังหวัดเชียงใหม่).. At night, they eat Moo Ka Ta (หมูกะทะ), a grill-it-yourself kind of barbeque. The grill in the middle and a ring of boiling soup around it.
One set of Moo Ka Ta for 500THB 5 adults and 3 kids were well fed. Not the tastiest but totally not bad at all. I was impressed by the fatty pork. God you, I'm afraid I'm not gonna live till I get old.. Anyways, the meal taste much better with a mountain view as we sat on the floor in front of the tent during dinner.
Kids went to bed after some meat, veggies and pepsi. Adults continued with some cold beer. What a night! What a life! Writing this post makes me just miss traveling a lot and now I'm so ready for another trip up north or down south Thailand!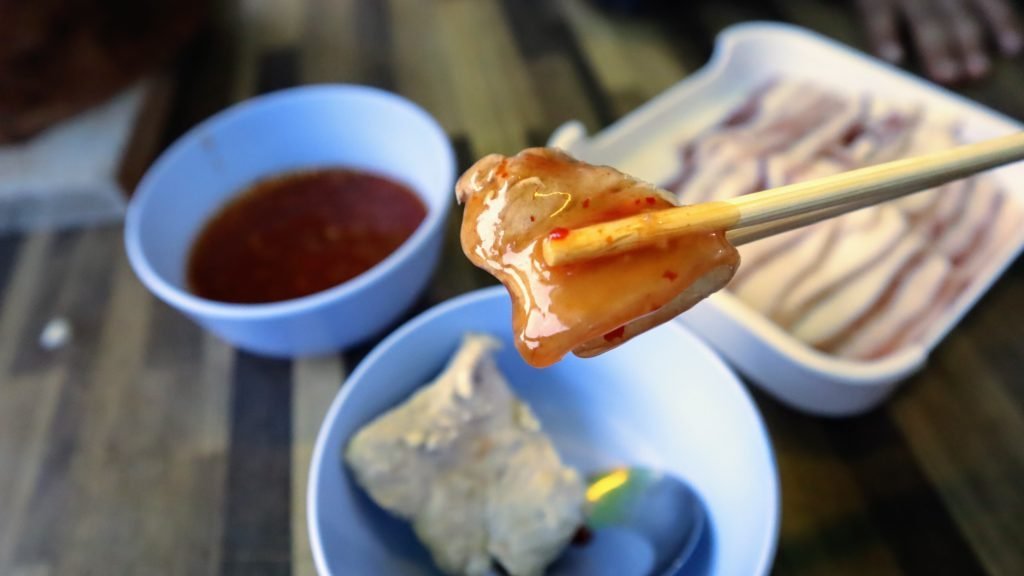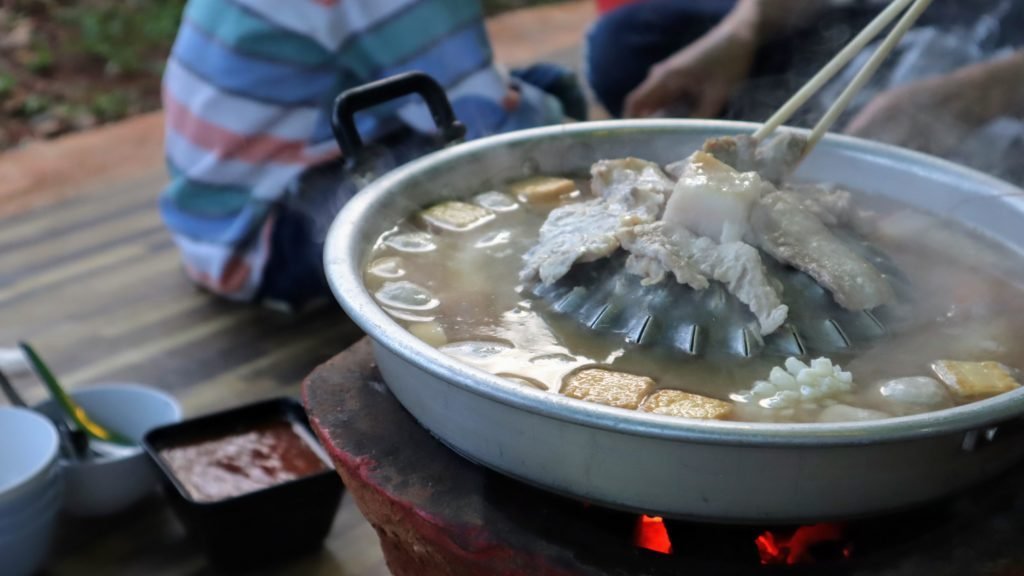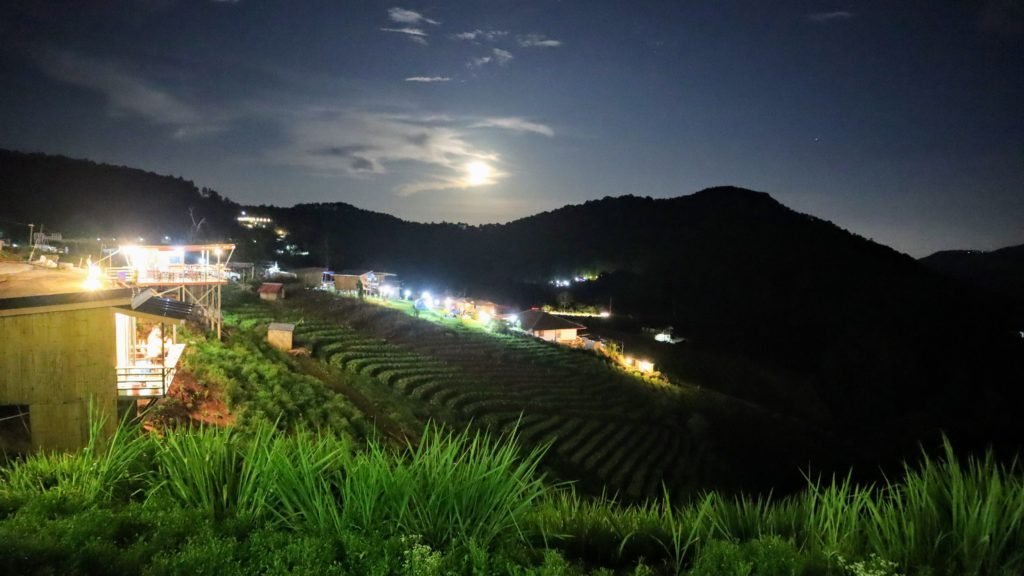 Good morning Doi Monjam !
We slept quite well. I actually felt like, I wanted to pee a bit but I kinda held it. There's a reason but let's talk abou that later. I don't want to ruin so much of the good mountain vibes and its beauty :)
The weather's real nice and you just want to be in that thick blanket just all morning and maybe cuddle if there's someone beside. Wait, I was there with dad and step-mom, dang it!
Doi Monjam in the early morning, you can already hear the birds, roosters and whatever wake up early and like making sound.
Since we gotta drive back home to Nakhon Pathom already and that would take 12 hours or so including all the food and some stops on the way, we got up real early to ready.. Nice Breakfast and long day ahead of us! ..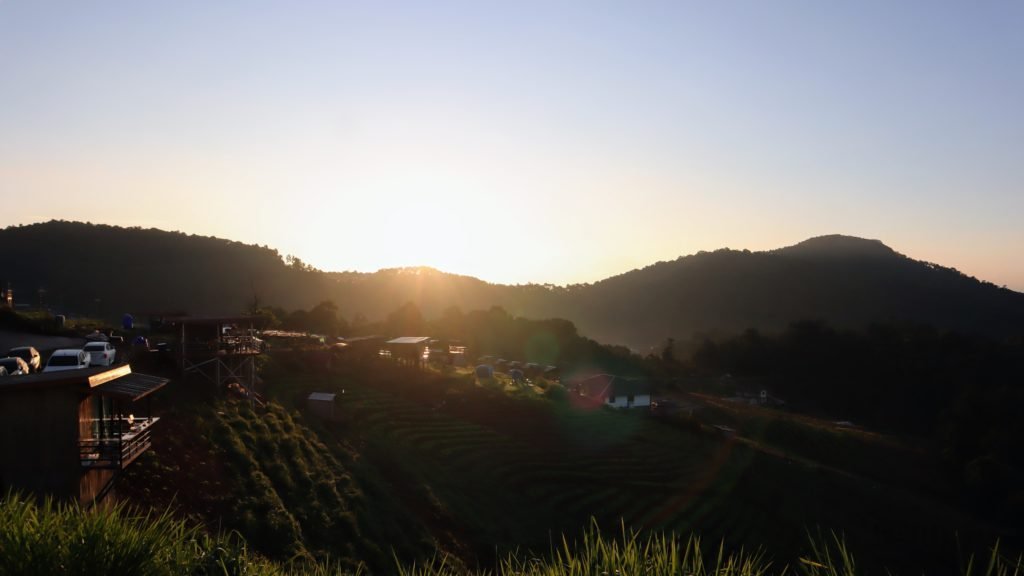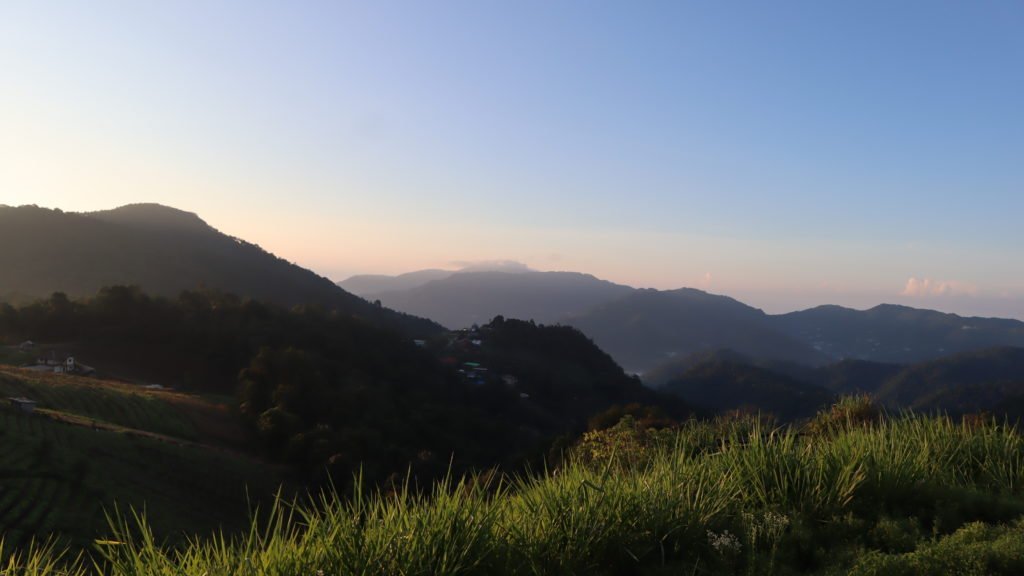 Saengnua Camping restaurant and its epic view
Yeah yeah, breakfast is provided. I was dreaming of nice bowl of salad as they grow vegetable themselves around there but uh oh.. It's a bowl of rice soup with unlimited Soft-boiled eggs. Where are all the home-grown veggies???!!! #jk That was delicious and good enough to start the day of course.
Just above where we had breakfast, I realised there's another floor. Right when I said 'Whoa! There's an upstair', the kids already ran ahead of me..
Another 'Whoa' from the girl but hey, look how lovely the view is! This view would make all the food taste great and all the dates romantic.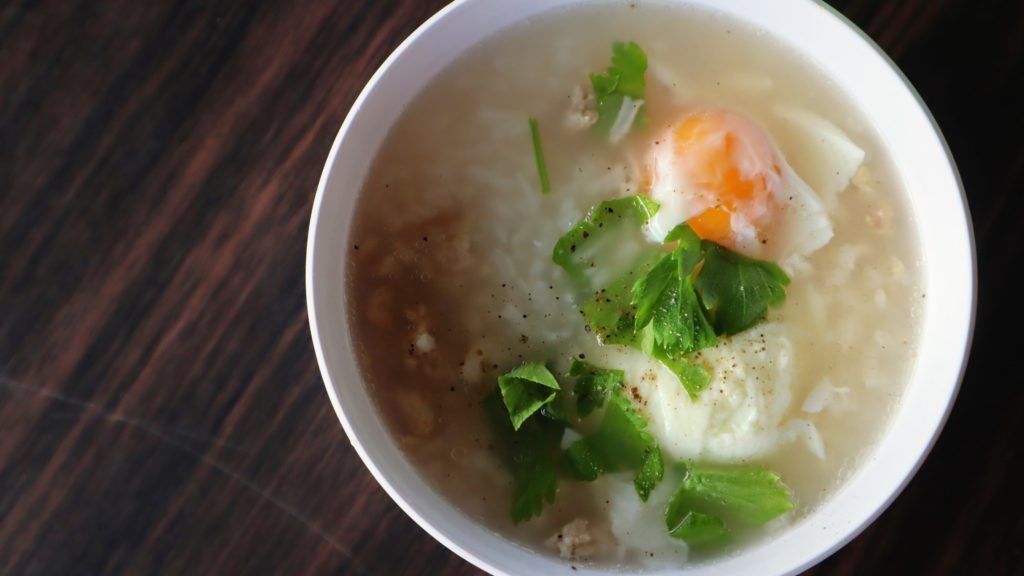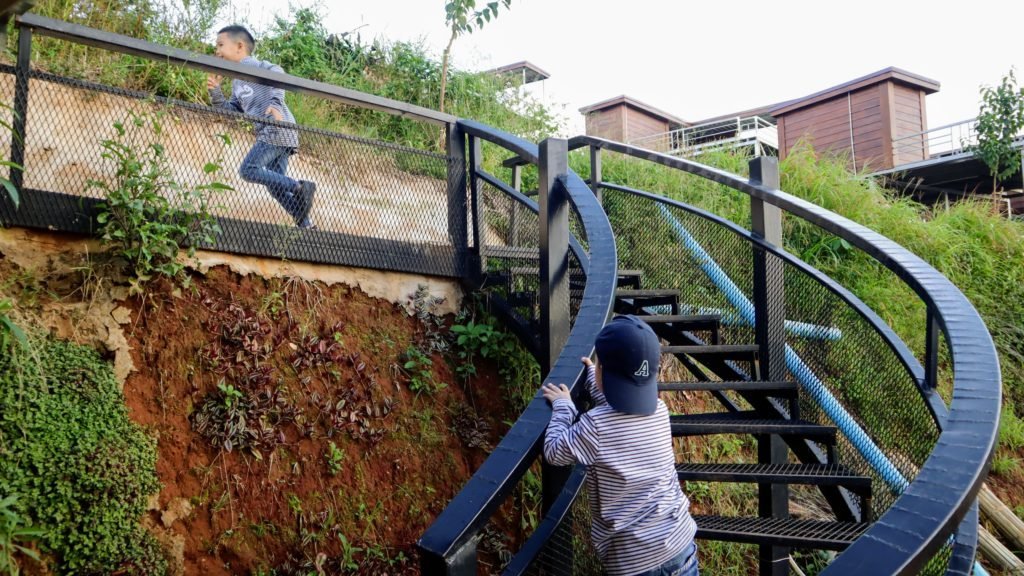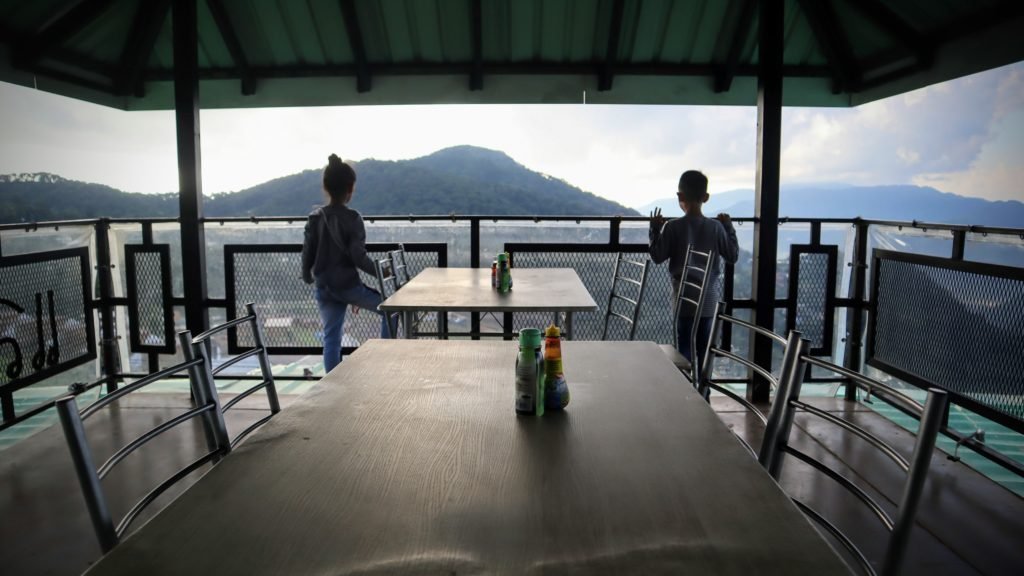 Doi Monjam, Chiang Mai is so great! It's pretty with such nice weather! Especially, right now when the winter starting to say 'Hi'. I do like the place that we stayed at but to be honest, there are more places I would totally love to give them a try as they look so nice as well.
I just wish there were many more coffee shops or cafes all around already but nah, mostly accommodations. Still, it would be such a nice getaway both from the heat, pollution or from the hecticness in the city.
I love it there <3
แสงเหนือแคมป์ปิ้ง Saengnua Campping บริการที่พัก บนดอยม่อนแจ่ม
Address : Mae Raem, Mae Rim District, Chiang Mai 50180
Tel : 092 465 6109
Not on Steem yet?? Let the ninja gets you a Steem account and start earning crypto!
㋡ Get $55 off your first adventure on Airbnb
㋡ BEST Boba Tea in town [Bangkok].
---
All copy and photos are original content by me.




TO SUPPORT WITH LOVE 💙 PLEASE SUBSCRIBE!!! TO MY SUPER DUPER AWESOME YOUTUBE CHANNEL :)