---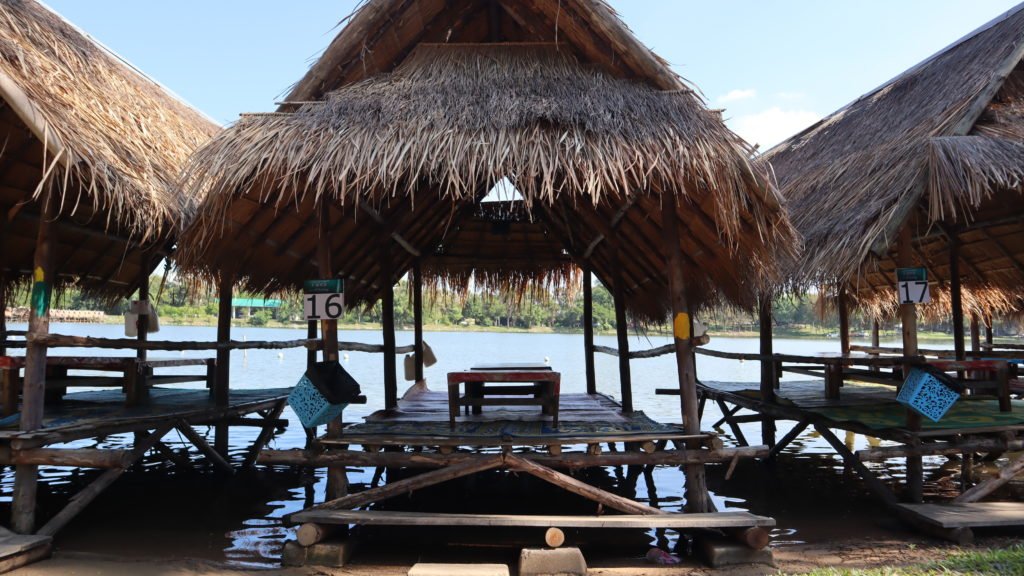 ---
When thinking about Chiang Mai, I would just always imagine being either in the city full of tourists or out of the city somewhere with mountain surrounded. Never before thinking of having lunch in a hut with a lovely view just right on the lake just a bit outside of the Chiang Mai city. It happened! and here's exactly where we went, Huay Tung Tao Lake, Chiang Mai.
It's another Steem meet-up. This one is quite casual. Not much planned in advance but more like, 'Let's meet at Tha Pae Gate and go from there' This time if I remember it correctly, @livinguktaiwan and hubby @for91days @jpphotopraphy @helgalubevi @gooddream @wanderein and a few more.
It was the idea of Helga, Brazilian Steemian living in Chiang Mai so we followed her lead. We rented a Song Taew Truck (รถสองแถว) to get there and back to the city (1000THB)
A songthaew means 'two rows' : is a passenger vehicle in Thailand and Laos adapted from a pick-up or a larger truck and used as a share taxi or bus which mostly has 2 rows of seat at the back of the truck
Huay Tung Tao Lake, Chiang Mai
First moment of seeing it, honestly, I was quite wowed. I didn't really think Chiang Mai had such a place or maybe I need to step up my exploring game or something. Many restaurants with, like, over a hundred huts surrounding the like. Each one is more like a table to dine in.
As mentioned, there're so many restaurants around there and I actually believe it wouldn't be one that too standout or much more delicious than one another. We went for the one that our friend had been to before and she told us it's quite nice!
Without any wait, we walked straight to a hut. All the huts are pretty much the same size and could fit 10-12 people easily. 100% Asian style sit on the floor eating.. Casual.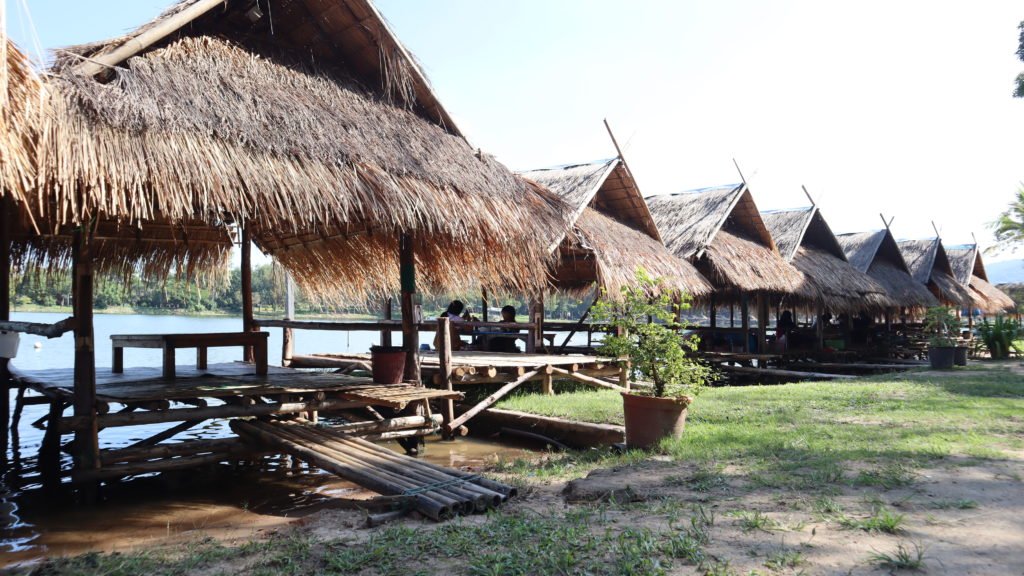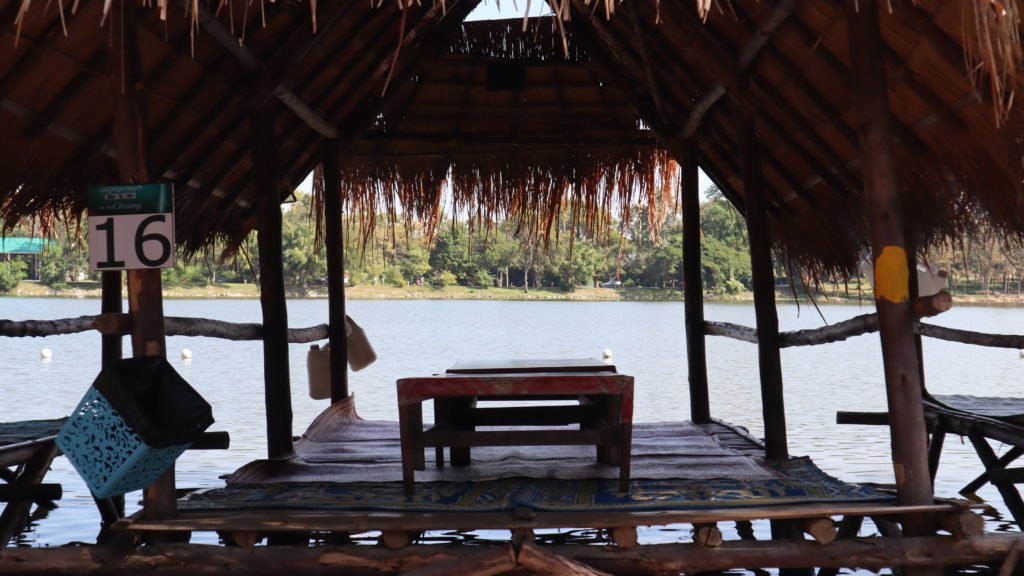 Food at Huay Tung Tao Lake, Chiang Mai
We order quite a few dishes. Stir fry, Thai style spicy salad, hot pot or even that spicy frog soup some of us wanted to try. I had no problem eating it and it's actually one of my favourite dishes. Some of us though, big 'NO'. The food was delicious. Not surprisingly delicious but you know, pretty good. I wouldn't come here just for the food but with all the surrounding combined, then it's all good.
Stir fry chicken with gingers

Spicy snow fungus salad

Deep fried Whole Fish - Pla Chon Pae-Sa
This one is more or less 'Gang Som', hot and sour soup. Though, unlike Tom Yum, this Pae Sa soup has the tamarind as an ingredient to give the sour taste.
Totally a lot more than just these 3 dishes but since we went with quite a big group, I didn't want to force my way through every one to take nice pics of all dish.. 9 of us, some ate and some didn't. All the food plus 4 bottles of beer were 1200THB roughly. Not bad of a deal at all with the decent food, great hangout spot and what a chill few hours we had.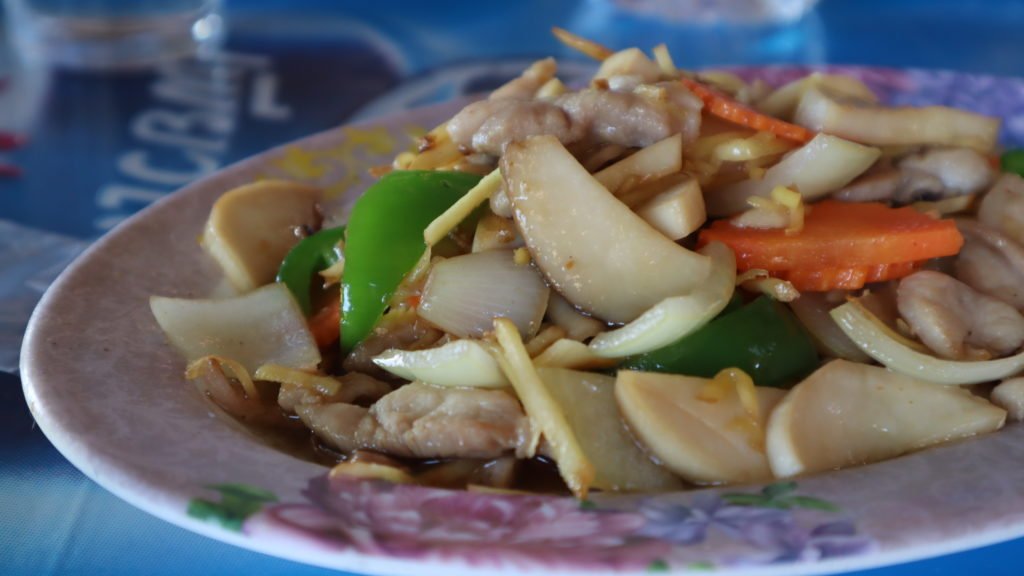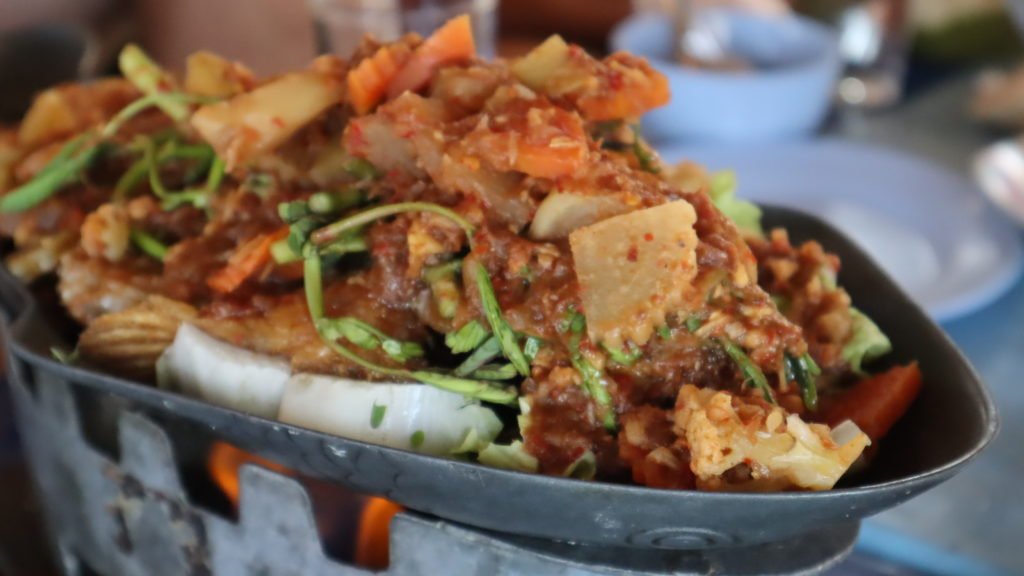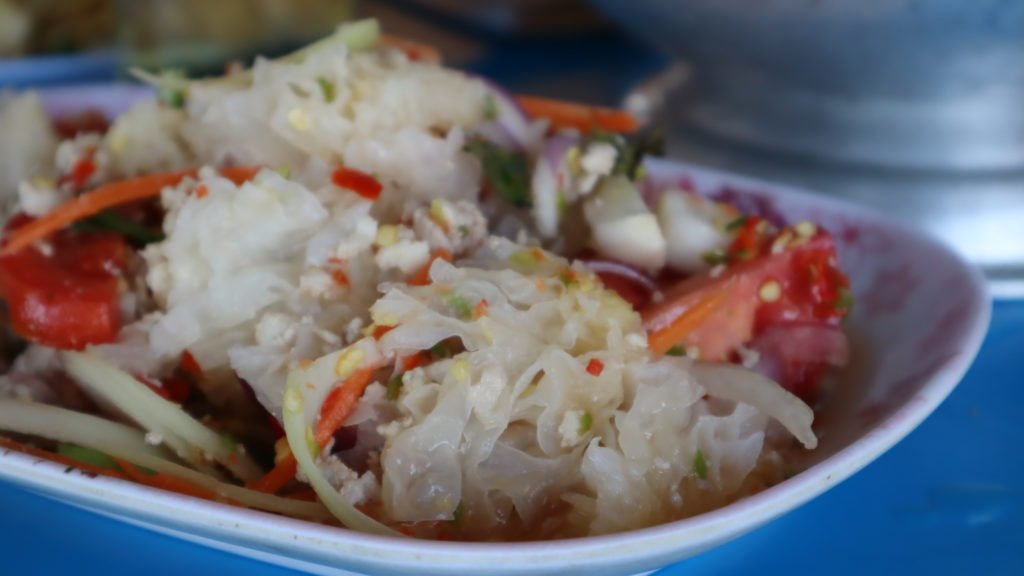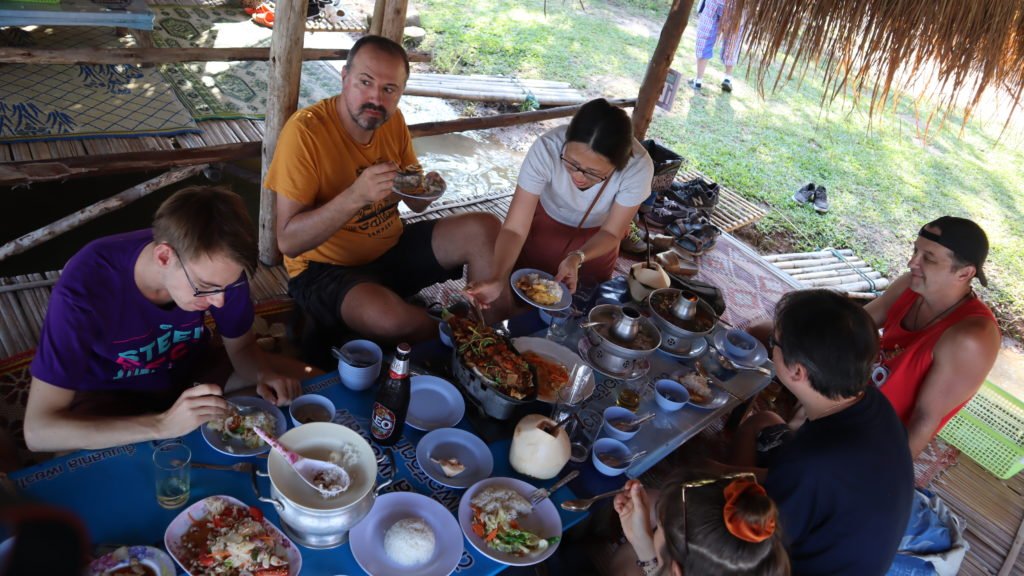 Don't freak out when going to a restaurant and they serve beer with ice
2 of us that day were German and believe it or not, Germans drink beer with ice!!. #fakenews Well, I mean, it's true but the reason they doing so, when in Thailand, they do like Thais do. Since it's really a hot country and not even kiddin' most of the people drink beer with ice especially at this kind of restaurant.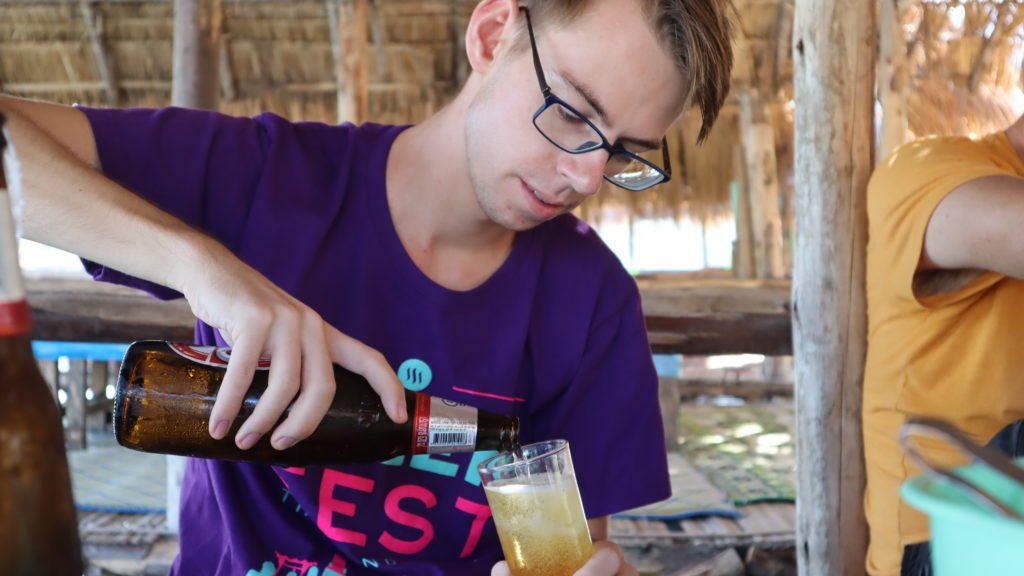 Lake! It's Huay Tung Tao Lake!
Chilling there, having some food and chitchatting with all the peep.. Looking around and oh! I didn't think of it before.. Some people just put their feet into the water, fed fish and even went swimming.. You know, not just look at the lake just like we did. That makes so much sense! I just laughed, literally.
I tried, I did try and all I did was screaming as I was afraid of that many fish all around my feet so, the whole body, no, no, no. Even we had passed that epic jumping into the fish whole at the famous Erawan Waterfalls in Kanchanaburi, no.. still a big no.
Julian though, were not afraid either the fish or the water. Feet dipped and right after skinny dipped #joke he went in with underwear.. Wait.. What did he wear again?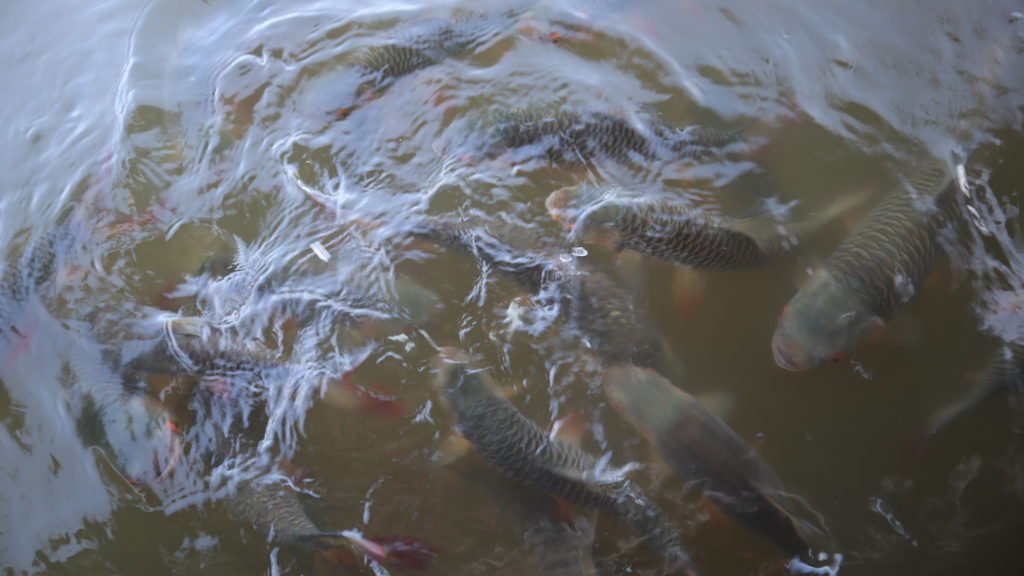 Whatever Julian wore, the lunch at Huay Tung Tao Lake, Chiang Mai was quite lovely. Totally a nice relaxing spot to come chill, have some good food and maybe a bit of a swim if you feel like.
It's not that far from the city but it's not that short of a ride either. Coming with a motorbike or have a big group of people and rent the whole Songthaew truck just like we did seems to make more sense.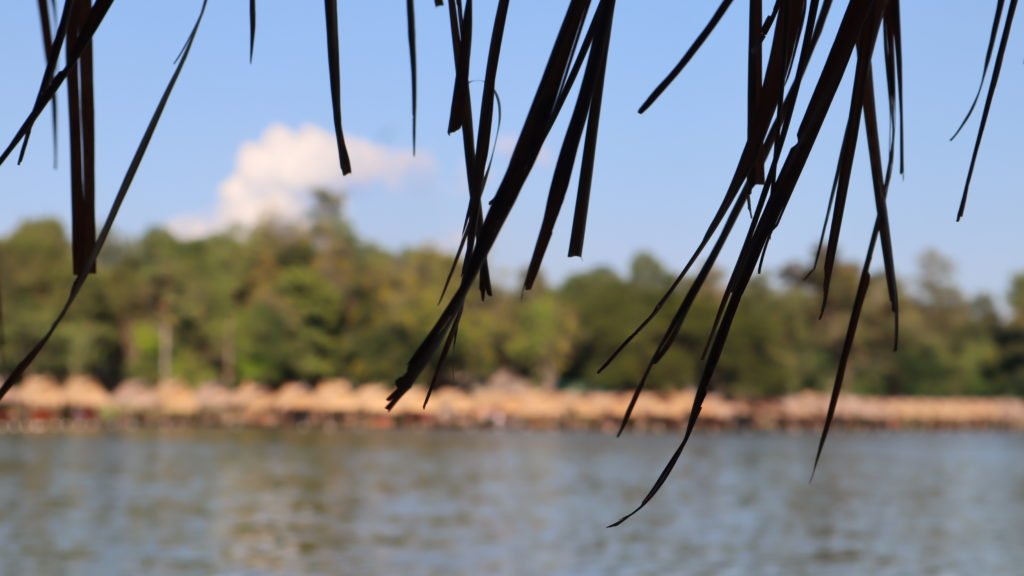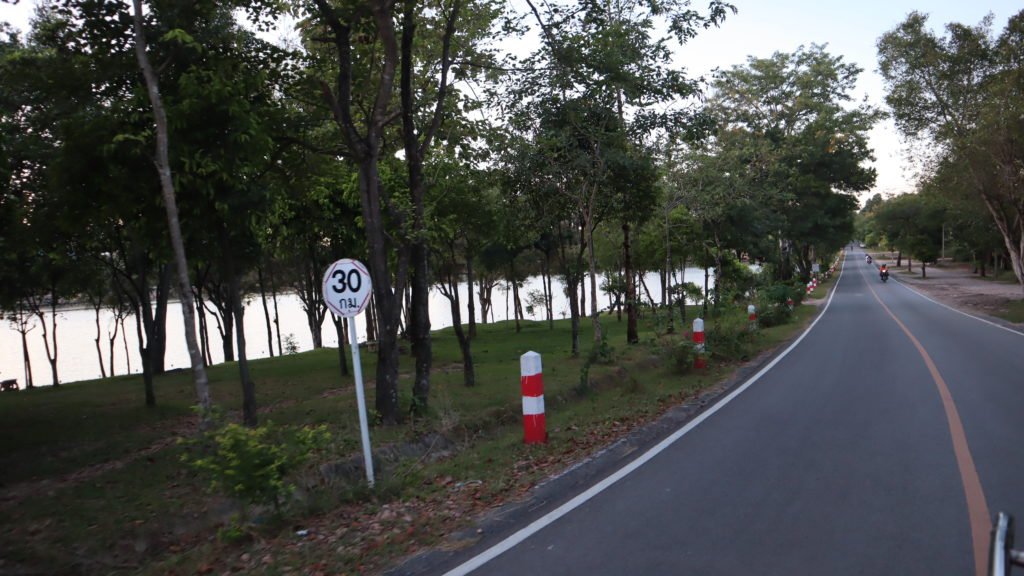 Huay Tung Tao Lake, Chiang Mai
Address: Don Kaeo, Mae Rim District, Chiang Mai 50180, Thailand
Hours: Everyday 7AM-6PM
Phone: +66 85 283 5850
Not on Steem yet?? Let the ninja gets you a Steem account and start earning crypto!
㋡ Get $55 off your first adventure on Airbnb
㋡ BEST Boba Tea in town [Bangkok].
---
All copy and photos are original content by me.




TO SUPPORT WITH LOVE 💙 PLEASE SUBSCRIBE!!! TO MY SUPER DUPER AWESOME YOUTUBE CHANNEL :)