---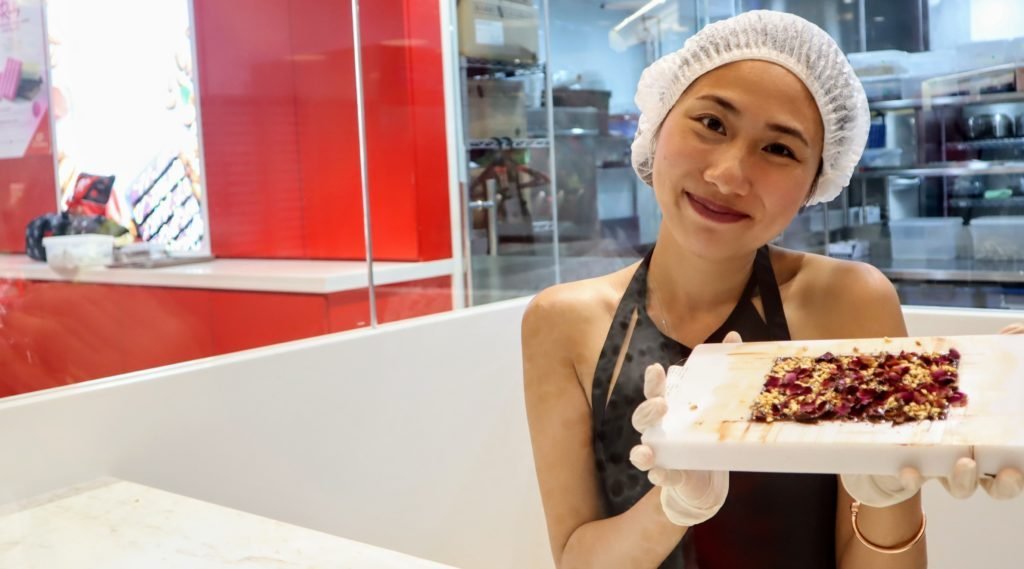 ---
Out of all the cool kids' candies, Oreo, Cadbury, M&M, Snickers, Reese, Hershey's, MilkyWay and a lot more, you name it. Kit Kat is probably one of my most favourite ones. Like, it has its own 'not too much' sort of candy. In Thailand or elsewhere, you could find it in any convenient stores easily though, have you ever before found a place where you can make your own Kit Kat? I had never till I found one in Kuala Lumpur. Yes! I made my own Kit Kat at KitKat Chocolatory. How fun!!
Kit Kat is a chocolate-covered wafer bar confection created by Rowntree's of York, United Kingdom, and is now produced globally by Nestlé
Found it randomly on Google Maps and my younger cousin was dying to go there. We went, of course. Who doesn't want his own unique handmade Kit Kat?
Kit Kat at KitKat Chocolatory at Mid Valley Megamall
We went to Mid Valley Megamall in Kuala Lumpur. Our destination is exactly Kit Kat at KitKat Chocolatory. The mall is not the biggest we've been to but somehow, to find the shop took us more than half an hour, literally. One staff told us to go that way, another told us the opposite. Found out later, there are more than one Kit Kat at KitKat Chocolatory !
Love it so much how they can be so serious about Kit Kat and also the way they combine the candy with their exotic fruits and cuisines.
Just right in front of the shop, they proudly present this whole set of Malaysia Cuisines and Durian flavoured Kit Kat.
Nasi Lemak :Malay fragrant rice dish cooked in coconut milk and pandan leaf. Imagine it with the chocolate!!!
Durian : Chocolate and fruits are a dime and dozen but you, with this spiky kind of fruit, it's a bit different story..
Ais kacang : Shaved ice with beans. Wonder how to turn it into a chocolate flavour??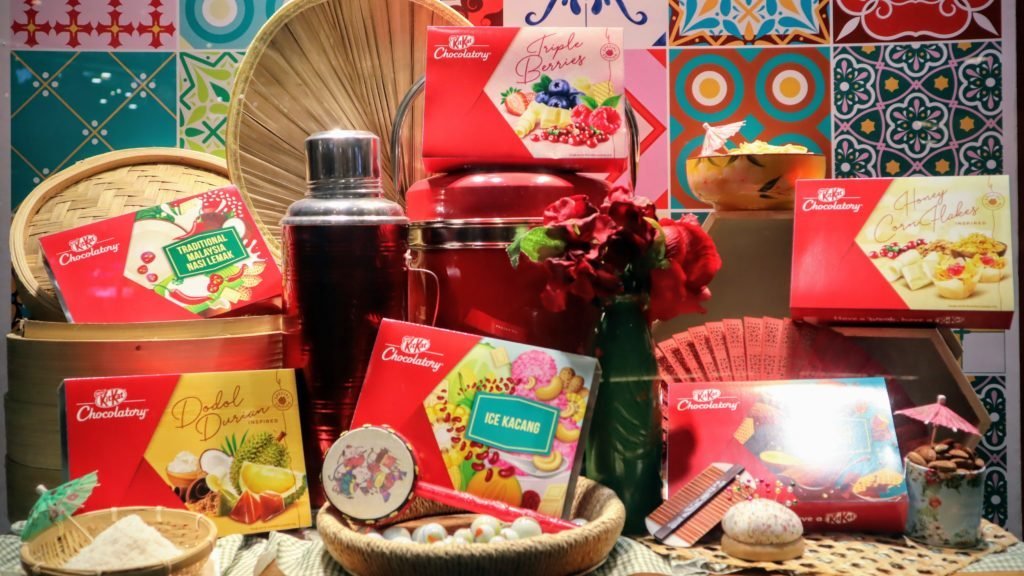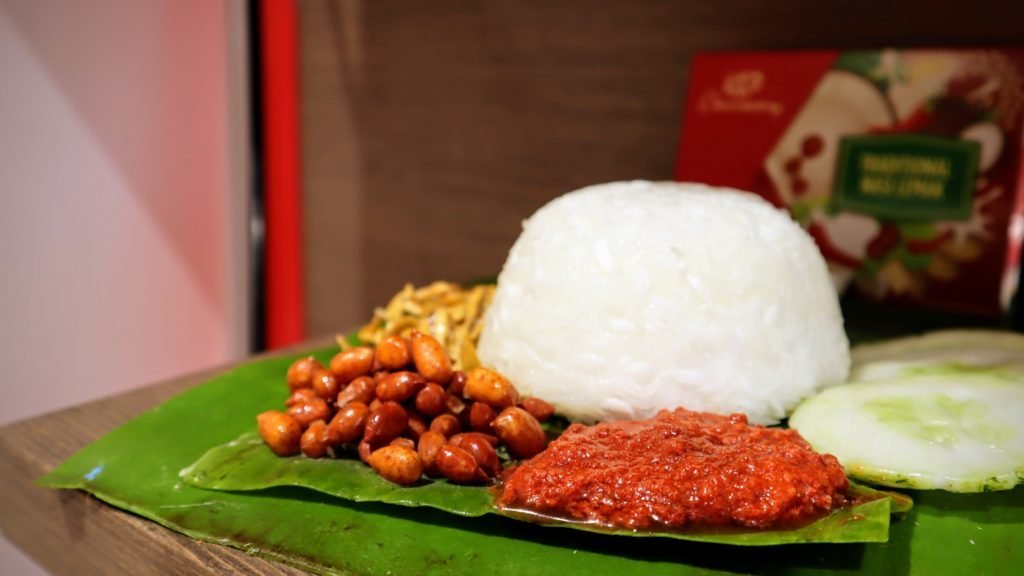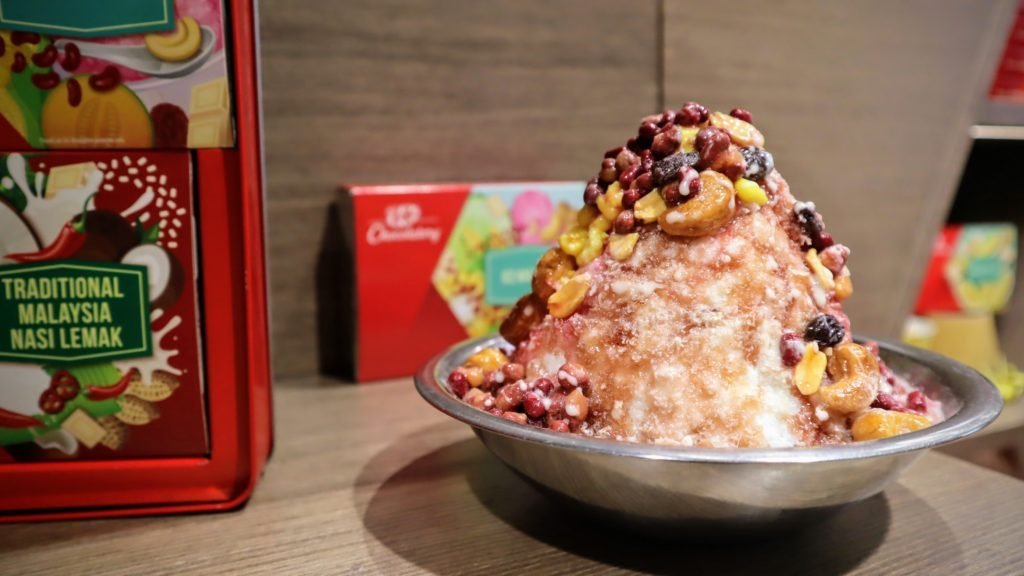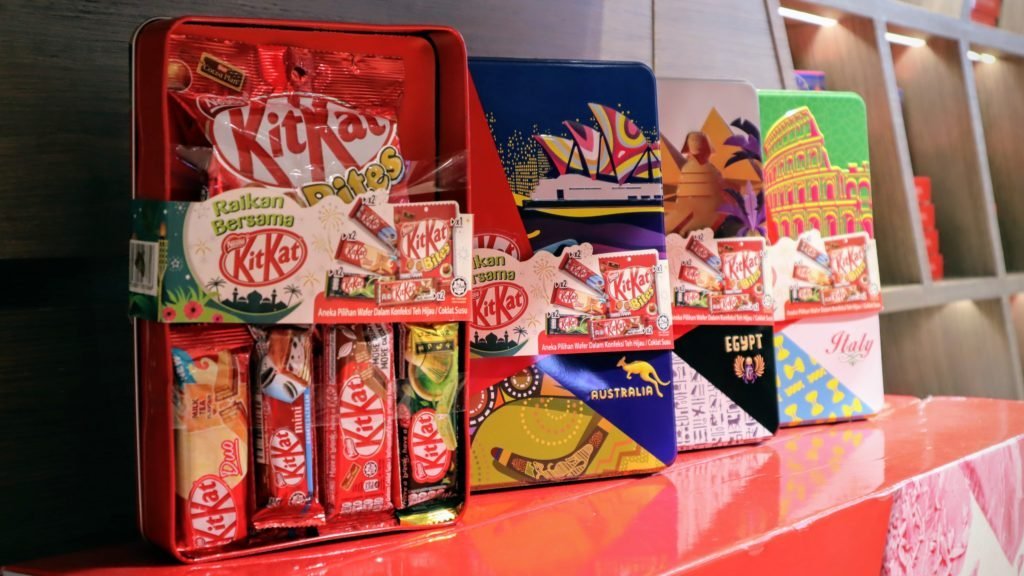 I made my own Kit Kat at KitKat Chocolatory
Said that the tenth time and still proud of saying so. It's such an experience and fun in a way to make that famous candy with your own hands!
All the KitKat Chocolatories, at least in Mid Valley Megamall, offer the activity where you can make your own Kit Kat with totally all your own choices of flavours and toppings. Yum!
RM 28 paid and you're good to go!
Yes, it costs RM 28 at the time and for that you will just right away get handed an iPad. Put in some info and choose your own chocolate base and topping.
Dark chocolate, milk chocolate, white chocolate
Rose, Hazelnuts, Almonds, Peanuts, Cranberry, etc.
Well, actually, this is not completely 100% your own designs and all. You can't really design the boxes and the sentences on the box are limited for you to choose from. I chose this diamond sort of design with the saying 'One of a kind'. It just sounds coolest out of all :/
Then, another fun part, taking photo with that iPad and have it printed on the Kit Kat box as well! Funnnn!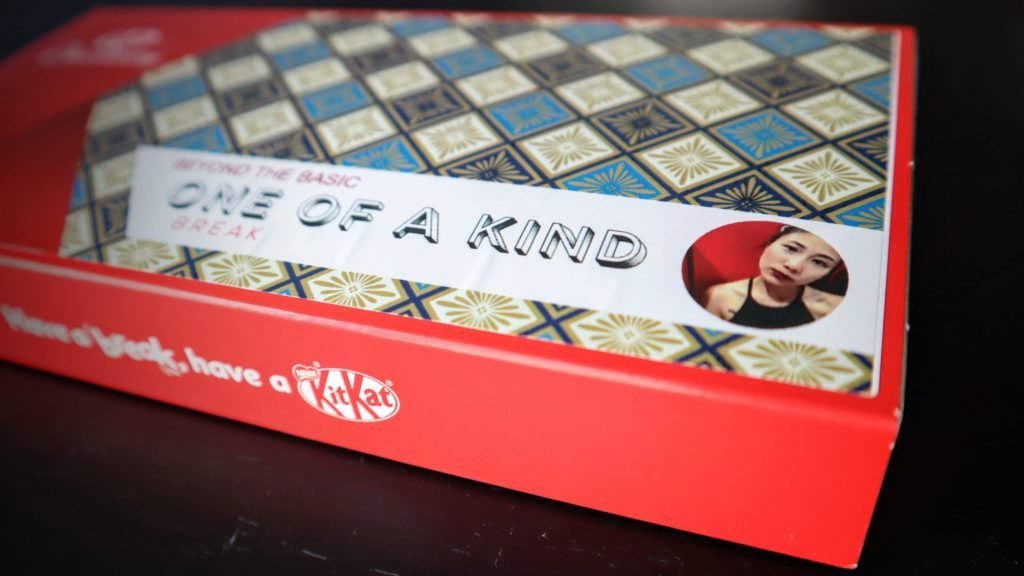 After the design and wording, here come another fun part after those few fun parts.. Well, too much Kit Kat I guess. Let's be a bit more serious.. Grab the cap, cover up your hair, put on the apron, and put on some gloves.. In the Kit Kat making area, no phones allowed but you can of course, take pictures through the glass windows :)
I put loads tons of hazelnuts and also those rose petals. Not that I can have them so much every single time when buying it in a 7-Eleven or Family Mart. Got too excited and yes, wanted to get the most out of it. My sister was like, 'Dude, Almost seemed like, the staff rolled her eyes hard the Kit Kat making room'. - Laugh out loud..
Here come the most beautiful Kit Kat I have ever seen!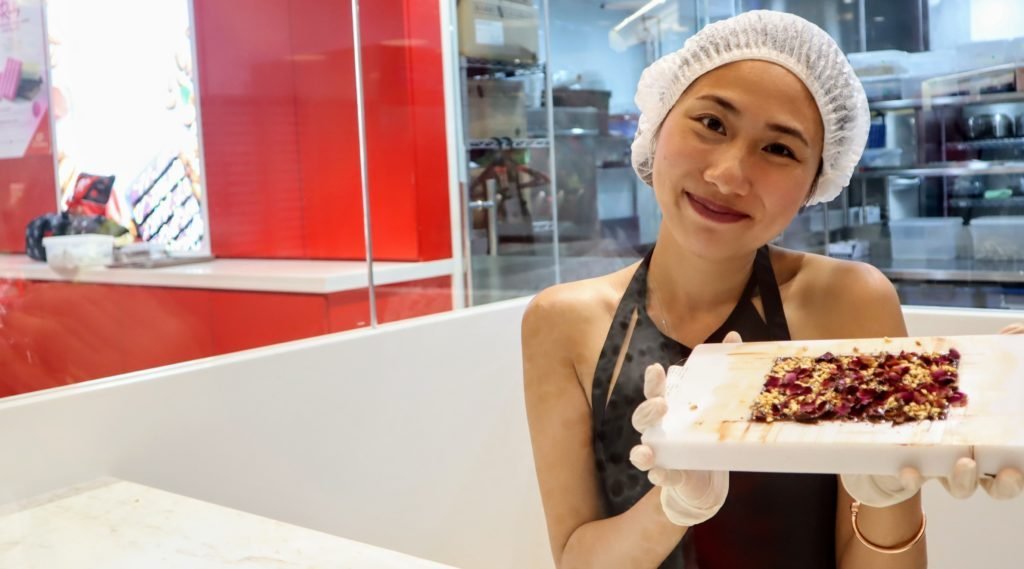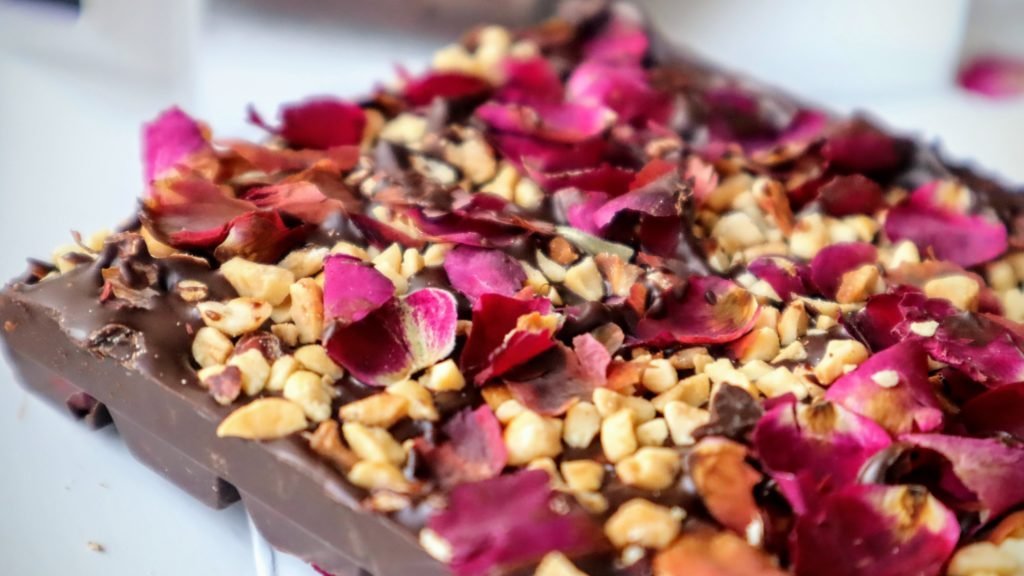 Mission completed! I made my own Kit Kat at KitKat Chocolatory. I mean, it's not the normal price of Kit Kat you'd get in the market but hey, it's your own edition! Not many places and that often you could do this. I totally love the experience and I love all the weird Kit Kat flavours they have to offer in the store. Totally recommend the place if you ever come across one either in Kuala Lumpur, Malaysia or elsewhere.
Feel like a bunch of Kit Kat right now after the post, here, get a bunch! ;)
KitKat Chocolatory
Located in: AEON Mid Valley
Address: Mid Valley Megamall (Near Aeon, F048, Lingkaran Syed Putra, Mid Valley City, 59200 Kuala Lumpur, Wilayah Persekutuan, Malaysia
Hours: Opens 10AM - 10PM
Phone: +60 3-2280 0131