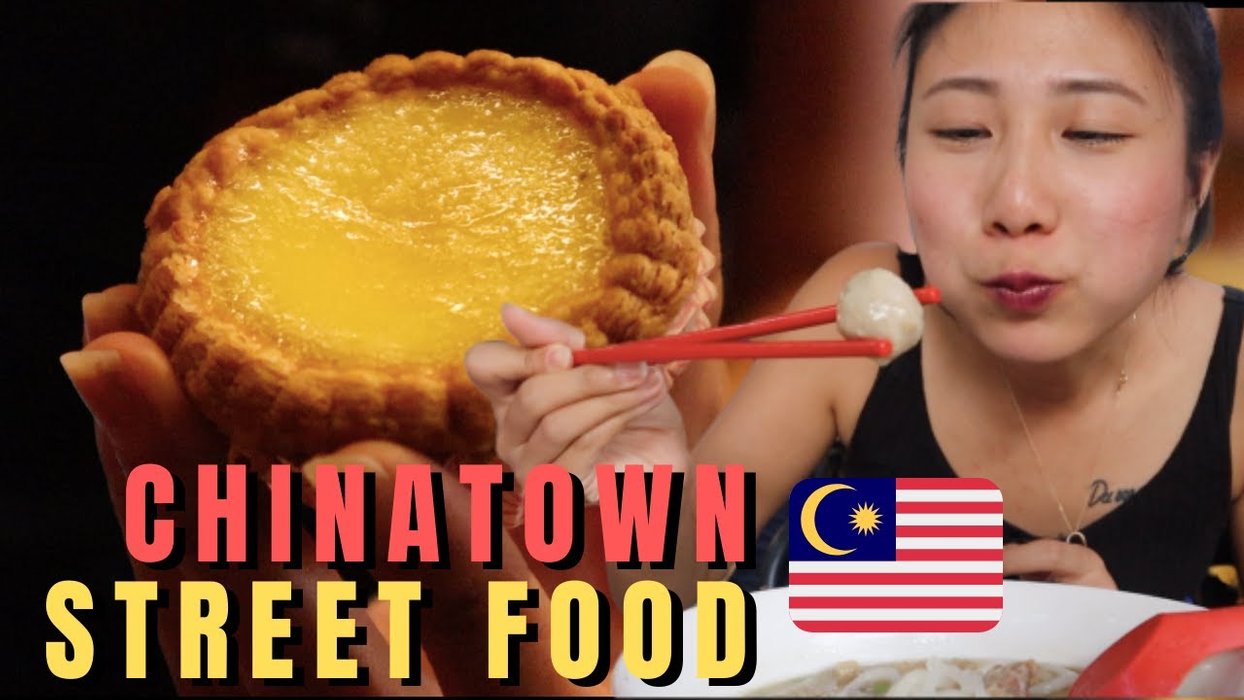 ---
Thinking of food? Chinatown wherever in the world is way to go! This time we're at Kuala Lumpur Chinatown around Petaling Street and the surrounding area.
0:48 Raw fish porridge and frog porridge at Hon Kee Porridge right on Petaling street. I love raw fish and I have porridge for breakfast once in a while but never before combined them both.. this is weirdly delicious!!!
2:28 Went for some lala noodle soup (clam noodle soup) at Lai Foong Restaurant but too long of the line. We ended up having the delicious beef noodle soup. A bit bland but I love all the meat!
3:48 BEST OF THE BEST EGG TARTS at Bunn Choon egg tarts. It's all homemade and it's made just right there at the store front. We ended up buying a bunch back to Thailand hohoho!
5:29 Stopped for some street drink! It's like ice tea made with melon. I don't know what exactly that was but it's super duper refreshingly good!
5:54 Koon Kee hidden somewhere on Petaling street serving the popular Wan Ton Mee. Not really a fan of that black dry mee but I'm all about that wonton soup!
6:53 Smooth as silk. The soya bean curd by Kim Soya bean. Also right of the main street on Petaling street. Love them both, the curd and the soy milk.
8:10 Vintage1988 A hipster coffee shop. My cousin took us there for the photos.
8:45 This TAIONE BOBA TEA just beats all the boba shops around Kuala Lumpur with its signature. The tea is aromatic and all the ingredients are all freshly made!
9:40 Love handmade noodle? Mee Tarik is way to go! They hand pulled noodle just right there before boil and dump it into a bowl of hot soup. We tried two types of them and both have their own uniqueness.
Alrighty! Kuala Lumpur China town is still nice and full of deliciousness. Bunn Choon egg tarts, Kim Soya Beans and the Taione boba tea are my MOST fav. I'm just fat and love sweets!
EPIC BANGKOK CHINATOWN FOOD TOUR 2020 »
...
KUALA LUMPER DURIAN CRAZE 'MUSANG KING' »
...
💸 PAY LESS | GET MORE
Get $55 credit on your first trip » http://bit.ly/waybeyondairbnb
Internet's BEST discount codes » http://bit.ly/waybeyondhoney
Get Paid to Google Search » http://bit.ly/waybeyondpresearch
Earn crypto while browsing » http://bit.ly/waybeyondbrave
🎥 My 2020 KIT FOR FILMMAKING, PHOTOGRAPHY & VLOGS
Affordable Vlogging Camera » https://amzn.to/2PKwgZ4
Compact on-camera Microphone » https://amzn.to/2PK1ShG
Insta360 ONE X (FREE Invisible Selfie Stick with this link) » http://bit.ly/waybeyond360
World's famous Gorilla Tripod » https://amzn.to/36WEkvt
Check out all my gear on https://www.waybeyondpadthai.com/reso...
🖤 SUPPORT DIRECTLY » http://bit.ly/waybeyondpatreon
🖤 APPAREL » http://bit.ly/waybewear
🖤 BE IN TOUCH
Subscribe to Way Beyond Pad Thai channel and ring a bell
Twitter » https://twitter.com/waybeyondpadth
Instagram » https://www.instagram.com/waybeyondpa...
Steem! » https://steempeak.com/@waybeyondpadthai
​Thanks A TON for watching and being a part of this foodie journey. I appreciate you being here and support Way Beyond Pad Thai in any way ♡
#chinatown #kl #kualalumpur #petalingstreet #sweet #food #foodvlog #foodvideo #travel #vlogs #bestfoodreview #bestfoodshow #foodshow #travelvideo #padthai #thailand #thaifood #asianfood #asian #asia #fun #funvideo #funnyvideo #funvlog #weirdfood #waybeyondpadthai
---
▶️ DTube
▶️ YouTube