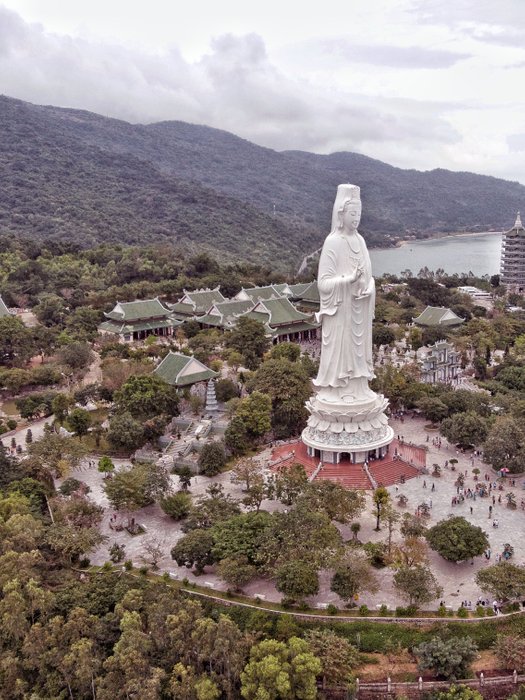 The Son Tra Mountain (monkey mountain) is a breathtaking national park in Da Nang. It is the perfect escape from the city. The mountain is pure and untouched. Wildlife is very vivid. It's basically all mountain and jungle and it looks like there is no human interaction here at all. The only human thing here is the small road they build but that's it. This place is so magical! I have been to many nature destinations, but this one hit me in the feels. I have never been this close to nature before. This place is so amazing and beautiful. But because of the density of the trees, it's impossible to get that killer picture. This beauty can not be captured in a photograph.
The Pagoda and Lady Buddha
You can divide this trip in 2 sections. The first section is the tourist section. This includes the pagoda and the lady buddha. The drive is uphill and has nice views. They take you to the big temple (pagoda). At the pagoda is a huge statue, the 'Lady Buddha'.
The pagoda is absolutely stunning! There's a huge entrance gate and the garden is pristine. There are a lot of tourists here. I recommend to try and get here early so you can enjoy this temple in peace.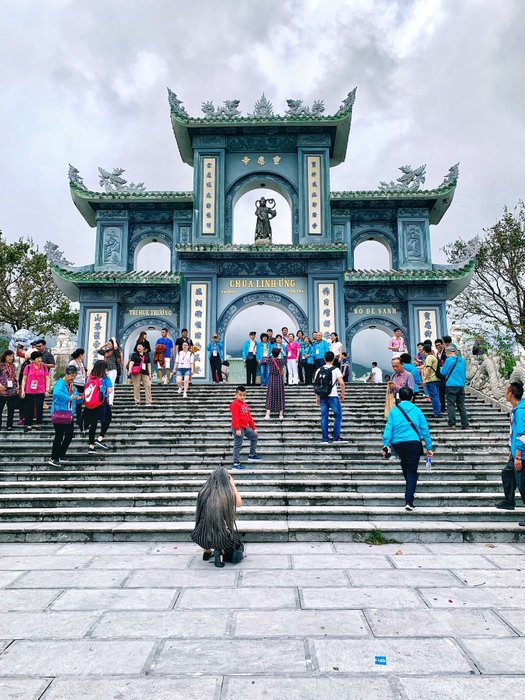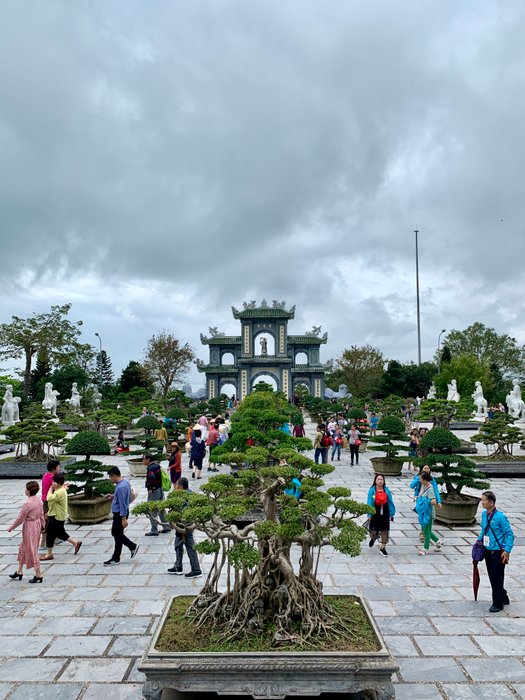 When I arrived here I bumped into a friend! We met in Hong Kong and went to Macau together! It's the friend from the blogpost A day in Macau - Hong Kong [Day 5] and the travel video. I didn't know she was going to be there and she didn't know I was going to be there. It was just a pure coincidence!
Then there is the lady buddha. An amazing and huge statue. It's mind blowing how big it is. You can see it from far away on the road. But standing in front of it really is something else.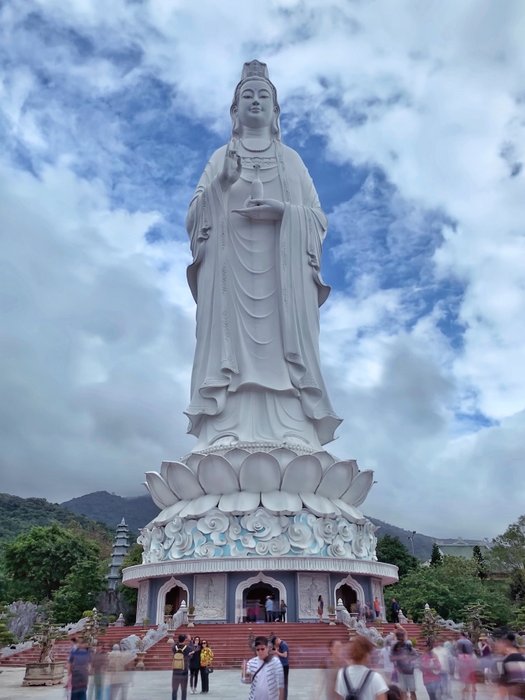 I wandered around in the area. The backside of the pagoda is really relaxing. I found this small pond.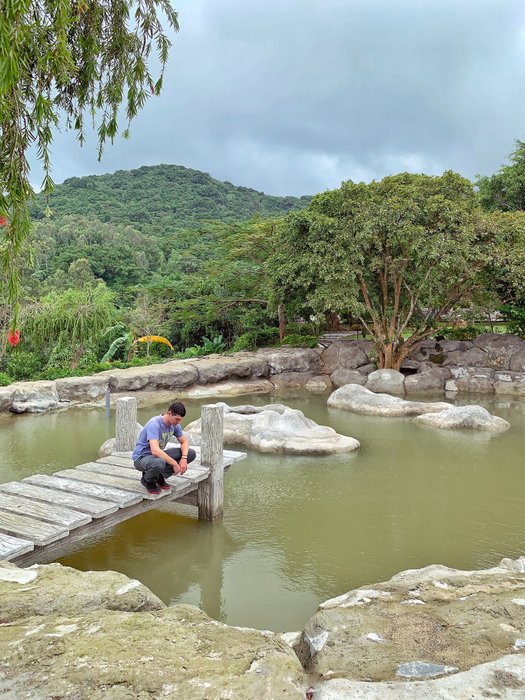 The monkey mountain
The second part is the fun part. This is the pure nature side. Not many tourists come here. It is very calm and super beautiful. I cannot even explain the feelings that hit me over here. It made it one of the most amazing adventures ever in my life!
The road in these mountains are narrow. But still easy to drive on. You really need a motorbike for this. I enjoyed every moment!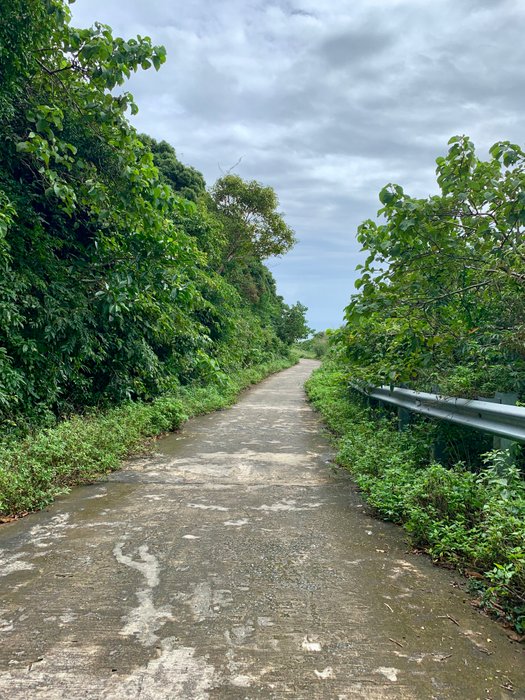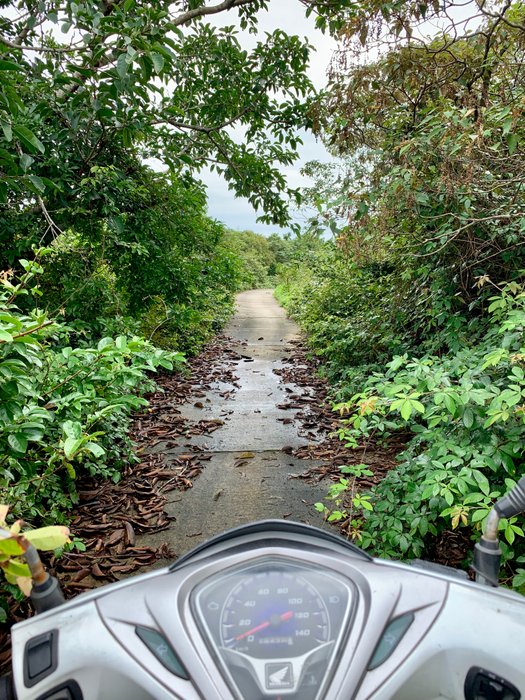 I saw wild monkeys and deer. It's also impossible to go through the nature side. It is so dense. It's a big dense jungly on a mountain. If you take some time to stop and be silent, you will hear the monkeys jumping around in the trees.
These monkeys are still wild. They do not come close to you. Nobody feeds them and neither should you! In other places the monkeys get fed by tourists. This makes them associate humans with food. They will come close to you, jump on you and steal your stuff. But not these monkeys. They are still wild. It's so amazing to witness this.
Getting there
Getting to the Son Tra mountain is very easy. There's only one road. It starts at the coastline of Da Nang and goes north into the mountains. You can't miss it. I recommend taking a motorbike.
1. By motorbike
If you want to explore the pure nature side of it, you have to get a motorbike! I got a scooter for only 150,000 VND (€5.70) and a full thank is about 50,000 VND (€1.90). These scooters are very capable of driving 2 people up the mountain hill.
The road to the pagoda is easy to drive on. If you got spooked off by the motorbikes in the city center then this will feel like heaven. The road is very wide and there's not much traffic. The only speed demons are the tour buses and vans. They will honk at you to make you aware that they are coming. Just keep right and they will pass you without any problems.
There are many beautiful viewpoints along the way. You can stop anywhere you want to enjoy the view, take pictures or even go picnicking.
The monkey mountain itself has a more narrow road. There are trees on both sides, but it so worth it. There is no traffic and no cars. There is nothing to be afraid of to drive here.
2. By taxi
You can get a taxi to take you up there. However the taxi can not bring you to the top of the mountain. The road isn't build for cars, it's for motorbikes. Most people only go to the temple and the Lady Buddha on this mountain. This is the tourist spot, which is very accessible by car. But then you will have to miss out on the beautiful nature.
However, the taxi can still go further to the start of the monkey mountain trail. There are amazing viewpoints along the way there and there's a resort up there. The resort had a lot of motorbikes, so it might be possible to rent one up there.
3. Book a tour
There are tours that take you to the Monkey Mountain. I don't know what really is included in these tours. I'm not a big fan of organized tours. Usually I just look at the brochure, see the destinations of the tour and drive there myself. I try to go early before all the tourist buses arrive.
My guess is that they don't go further than the pagoda and lady buddha and then take you somewhere else.
The way back
The way back is the same road as you came up. I used this opportunity to stop at all the viewpoints I missed on the way up. I even went down some stairs that led to the beach.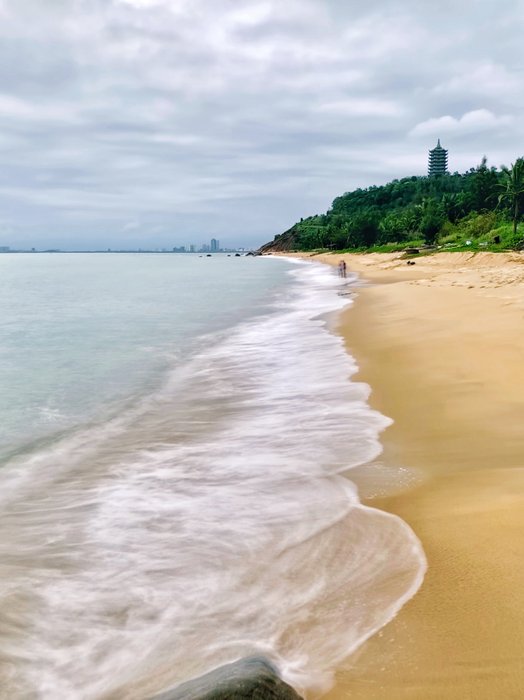 It's at this moment I felt grateful. I felt grateful for being able to explore such an amazing place. To be able to observe this nature without disturbing it and to have such amazing views.
---
Get Email notifications

---
Stay up to date with my life. Follow me on Instagram!
Continue reading
The marble mountains - Hoi An, Vietnam
https://steemit.com/travel/@beforeyoupack/the-marble-mountains--hoi-an-vietnam-hm9ht6uo
Merry Christmas from Vietnam
https://steemit.com/christmas/@beforeyoupack/merry-christmas-from-vietnam
I almost didn't make it to Da Nang - Vietnam
https://steemit.com/tavel/@beforeyoupack/i-almost-didn-t-make-it-to-da-nang-vietnam
Becoming a Monk in Dalat, Vietnam [Day 8]
https://steemit.com/travel/@beforeyoupack/becoming-a-monk-in-dalat-vietnam-day-8
Climbing the highest mountain of Lam Dong Province - Lang Biang, Da Lat, Vietnam [Day 7]
https://steemit.com/travel/@beforeyoupack/climbing-the-highest-mountain-of-lam-dong-province-lang-biang-da-lat-vietnam-day-7
The secret garden - Da Lat, Vietnam [Day 5-6]
https://steemit.com/travel/@beforeyoupack/the-secret-garden-da-lat-vietnam-day-5-6
The Vietnamese food! - Vietnam [Day 1-4]
https://steemit.com/travel/@beforeyoupack/the-vietnamese-food--vietnam-day-14-y8kksfwr