Coonoor is this peaceful, beautiful place we were staying at in the Nilgiris. On the other side of Bedford, which was the area we usually went, was really calm, very less crowded and beautiful.
On the third day we decided to go and explore the other side of the town. We didn't really have a plan except to find the market close by and walk a little bit. The road from our hostel is enough trek for a day since it is situated high on a hill.
Coming down the hill this is the view before taking the steps to all the way down to the town. The streets seemed busy from the above and it was. To add to the usual crowd, it was the holidays of Ayudha Pooja and last days of it.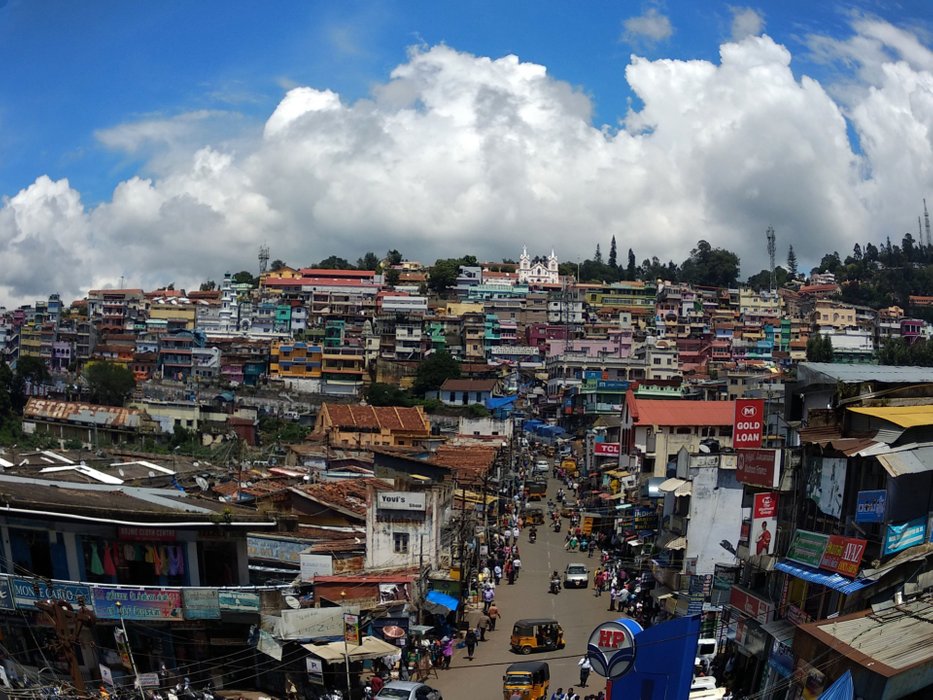 Ayudha Pooja is a Hindu festival celebrated in Tamil Nadu. It is then when everyone keep their tools, shops, books and everything for pooja and clean the places.
Since it was the time of those ceremonies almost every shop was decorated with leaves, sandalwood paste and the roadsides were busy selling those leaves and other materials for Pooja.
Not just shops but taxis and most vehicles that came after those prayer rituals also had a lot of leaves and flower garlands on them. As expected the streets were really busy.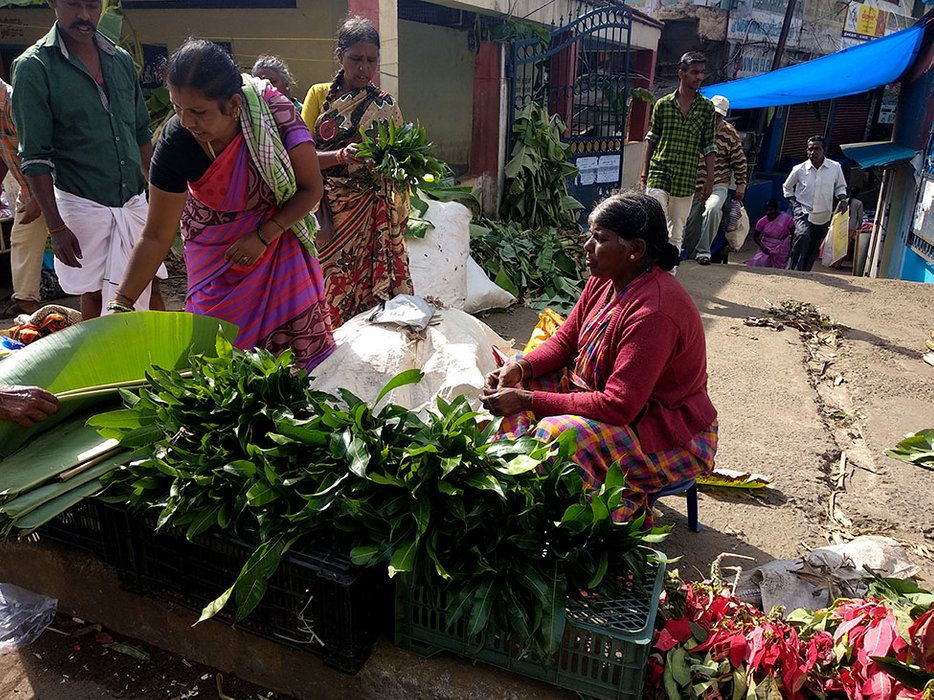 It is not just because there was a market but the main transit points were also around here which made everyone to be there. In fact, we were yet to find where the market was in the middle of this town.
There were police to help the traffic and it was a little chaos with people, vehicles and everything else. It is in these places I find walking as the best thing to do.
Not knowing exactly what to expect and the time to just look around exposes you to the best things around. That is how we found this century old bakery, Crown's bakery.
It was really old, established in 1800 and still one of the renowned bakery in Coonoor. I think I can dedicate an entire separate blog about this bakery since this one itself is going to be very long.
The Crown bakery had its special charm with the very vintage setup and the things they had. No, not just the food! They had these clocks, all of them from the past and few of them 100 or more than that years old.
The shop keepers were a mix of oldies from the place with some younger ones. But it definitely was a place for some of them to hangout too. Like this one person who was eager to explain things when the rest were busy managing the customers that were coming in.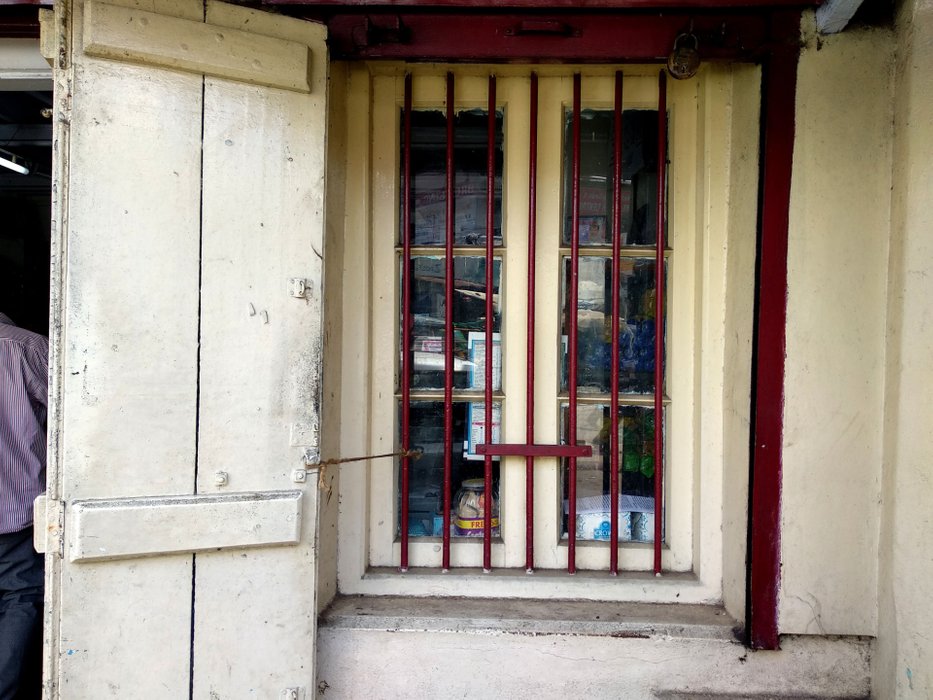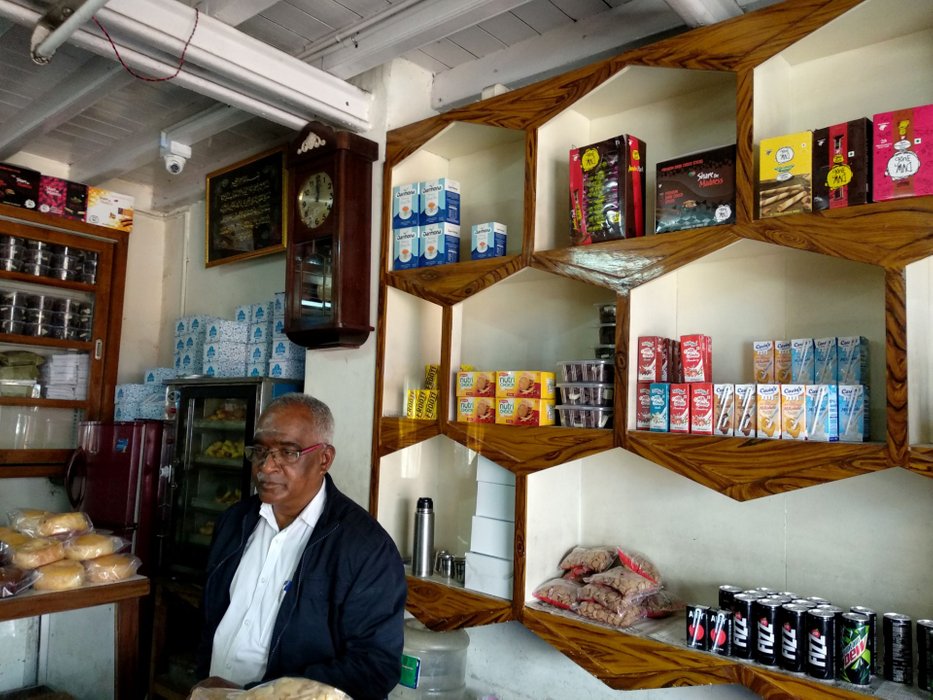 The bakery had a lot of interesting options to try. I decided to go with the first thing inside the glass box. It was this yellow sweet cake with some coconut flakes on top. It was good, not too sweet and not watery as I expected. Chi had tried a chocolate biscuit-type-cake-thingy, which I packed one for the road since it seemed dry.
There were huge shelves full of snacks and crisps to try but there was much more interesting. It was the clocks that were hung on the walls. They were really old and added to the vintage look of the shop.
When we were done eating our snacks and almost going to go, the other shopkeeper told me those bottles were really old too and imported from Germany in the past. He closed the window for me to take a picture, so there's no denying the picture of the glass jars with the lids that looked like those carvings of Buddha's head.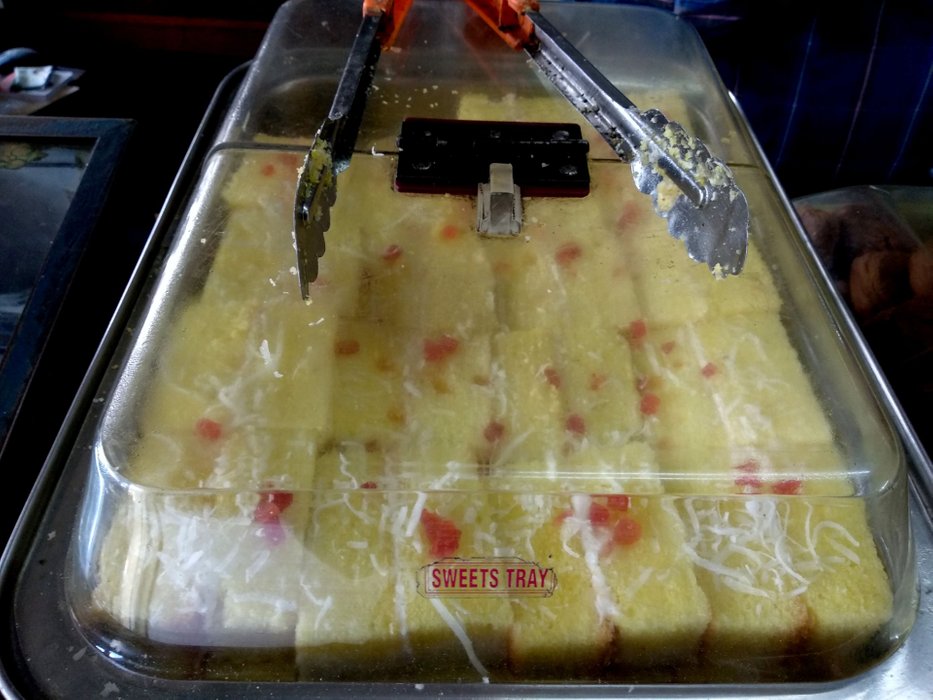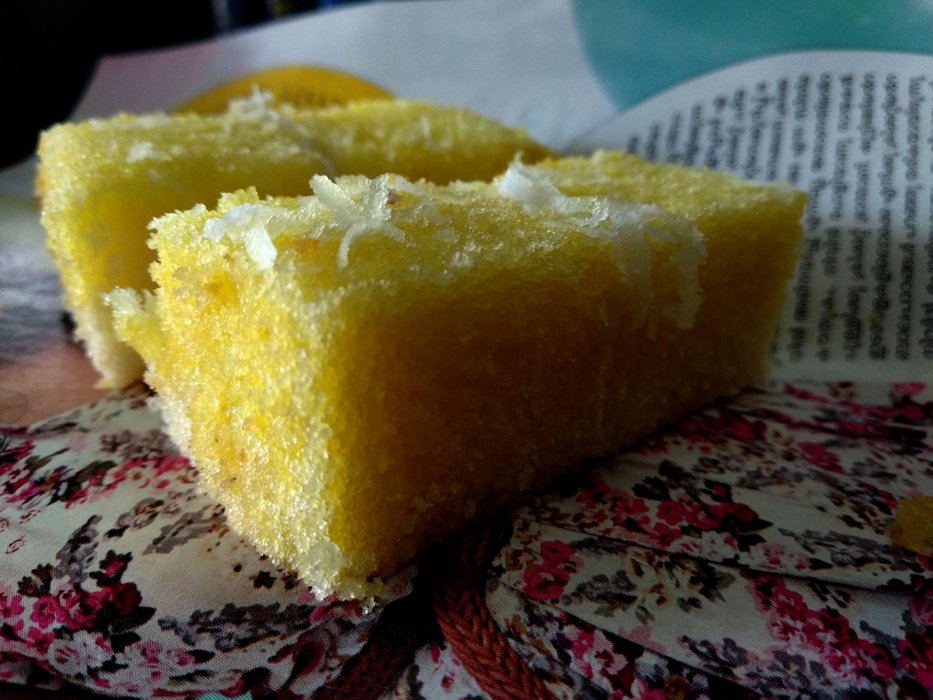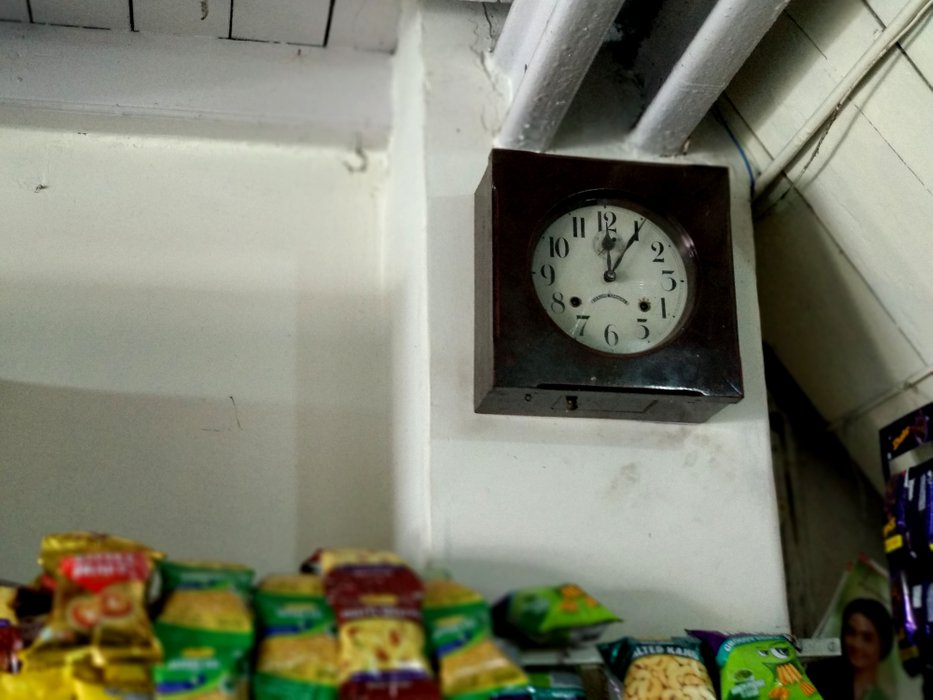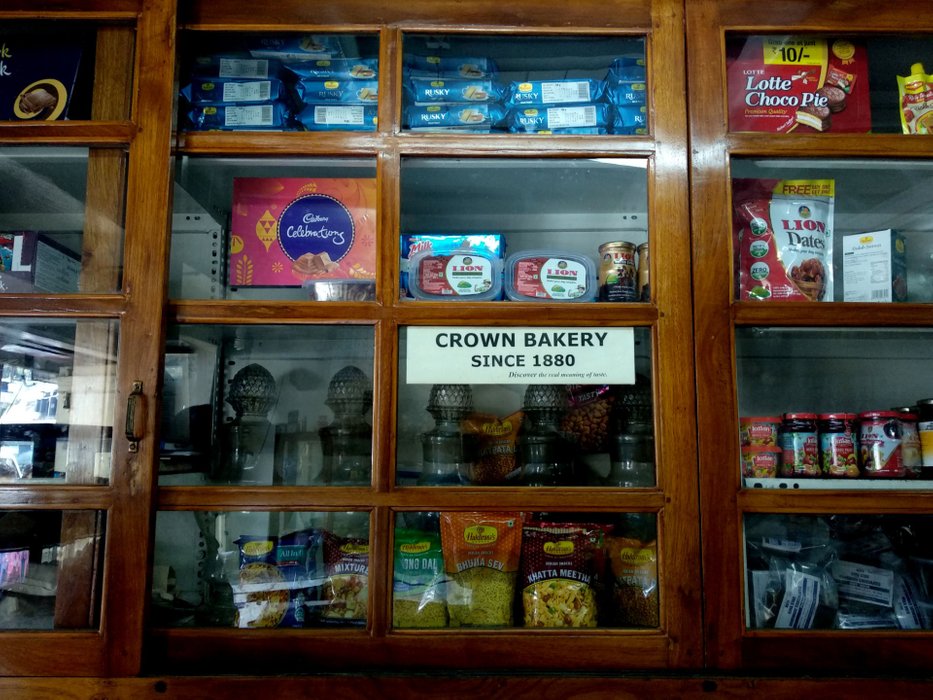 That was our first stop and in the same road we were stopped at many different snack shops. Not to buy things but how they displayed the food was worth taking pictures for me and for Chi, that was a very different sight.
We didn't buy anything from there but checked for the price and what all is available. There were some shops with freshly prepared crisps which was pretty tempting but our tummy was pretty happy from Crown's bakery.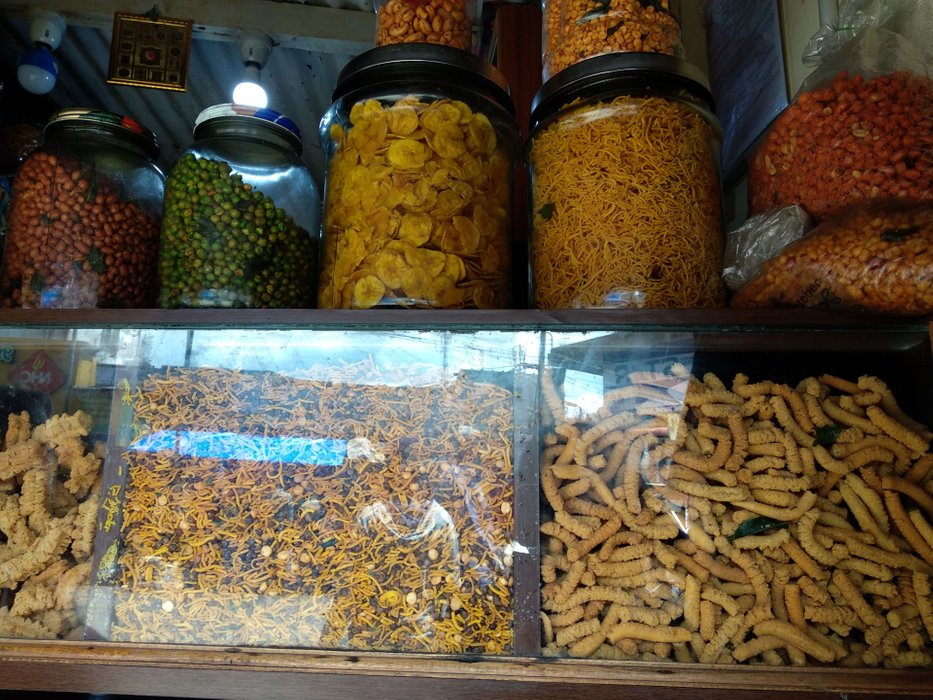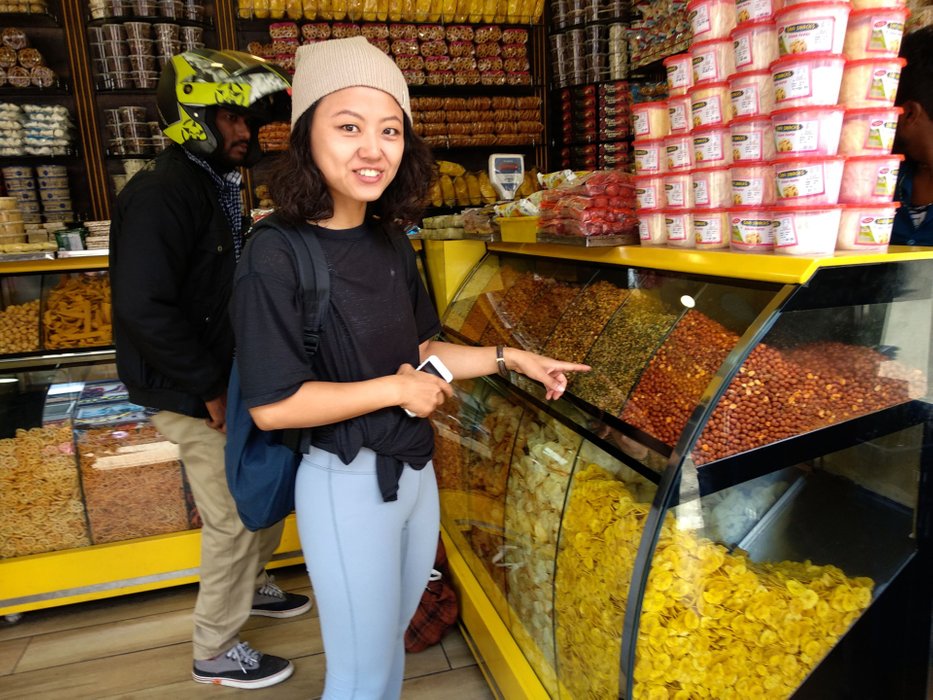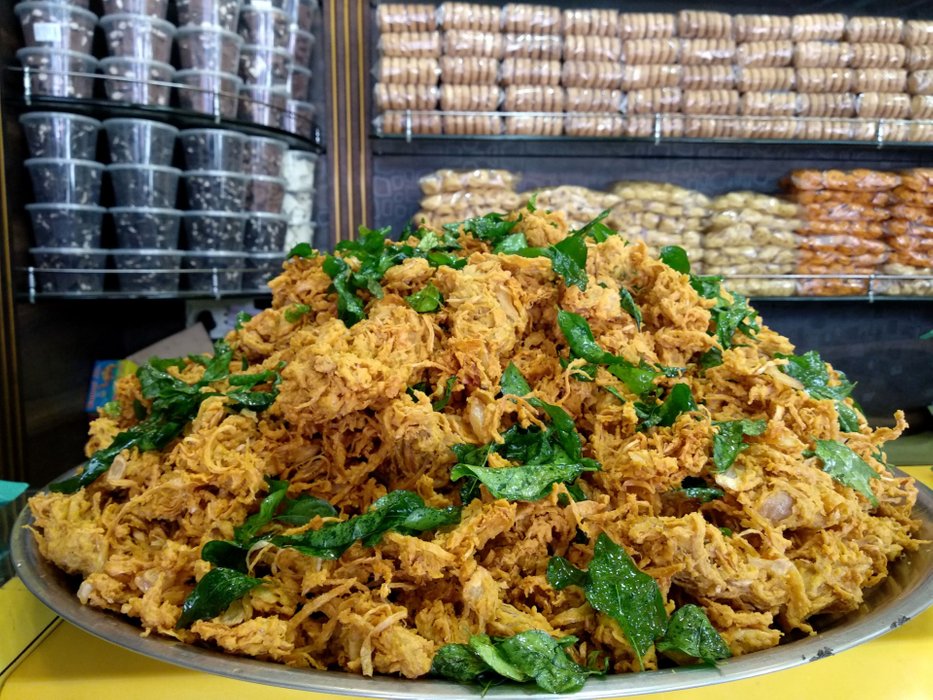 The places we went in Coonoor till that day were beautiful mostly because of the nature. But today, all the places we visited had a different beauty from the tiny shops, really old wooden doors and the pastel colours used on the buildings.
It was really something special to see how those tiny places were all functional in today's time and age. We saw this other bakery on the same street and it had the similar aesthetics of Crown's bakery and I took this picture.
I always wanted to find a genuine eucalyptus oil making place and didn't really find one there. Now, looking at this picture, I just realized I was right in front of one and didn't notice it!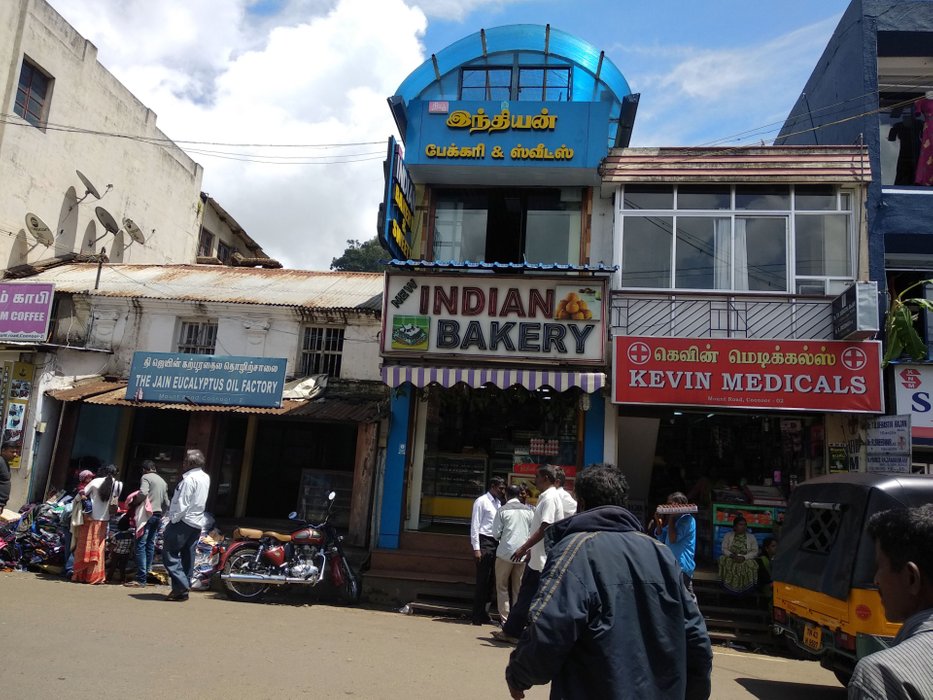 The Old Market In Coonoor
A little walk straight through that road and the market was on the left side. In fact, we later realized many parallel roads from the market joined the main road at various places.
The market was huge with different areas to purchase different products. We entered through this rice, spices and other stationary section. There was nothing to buy from there for us but it was quite a sight.
The colours and sacks and many mundane items displayed in order. I love how those flower shaped eatables have paste colours. And the chilies, there were many varieties along with many different rice varieties.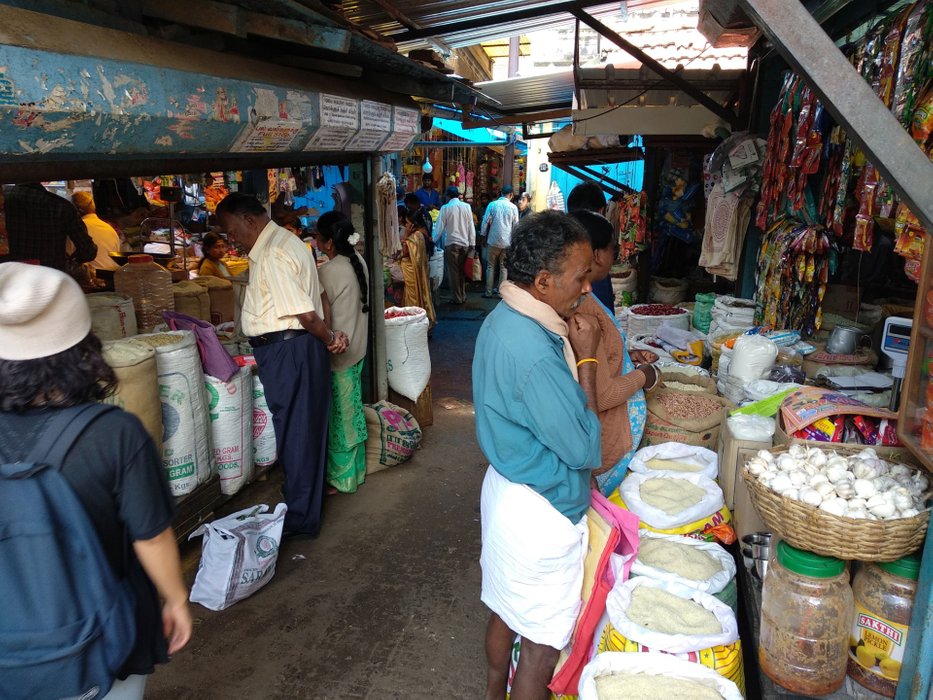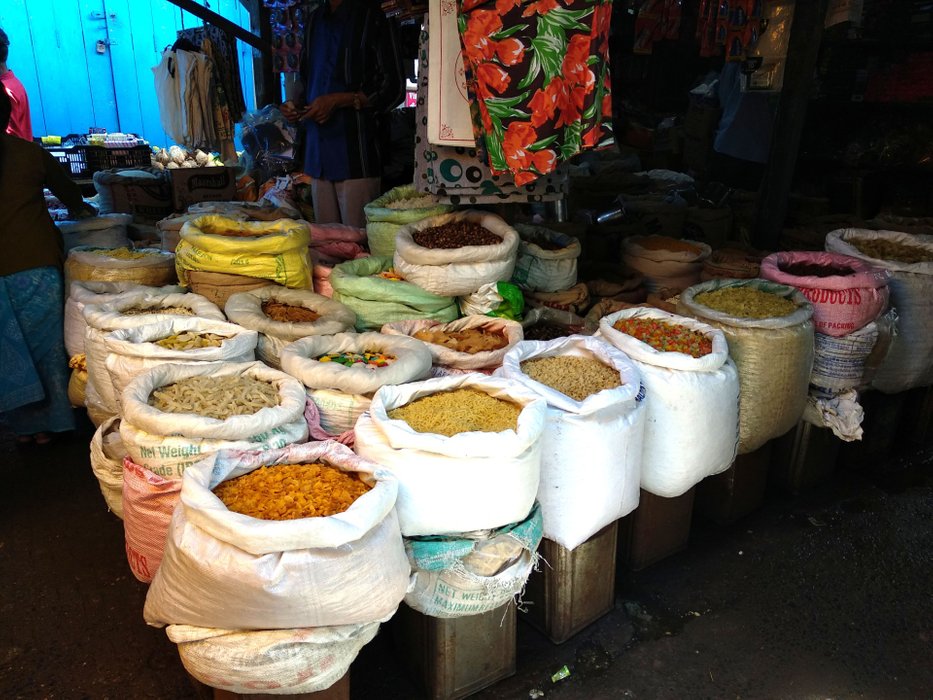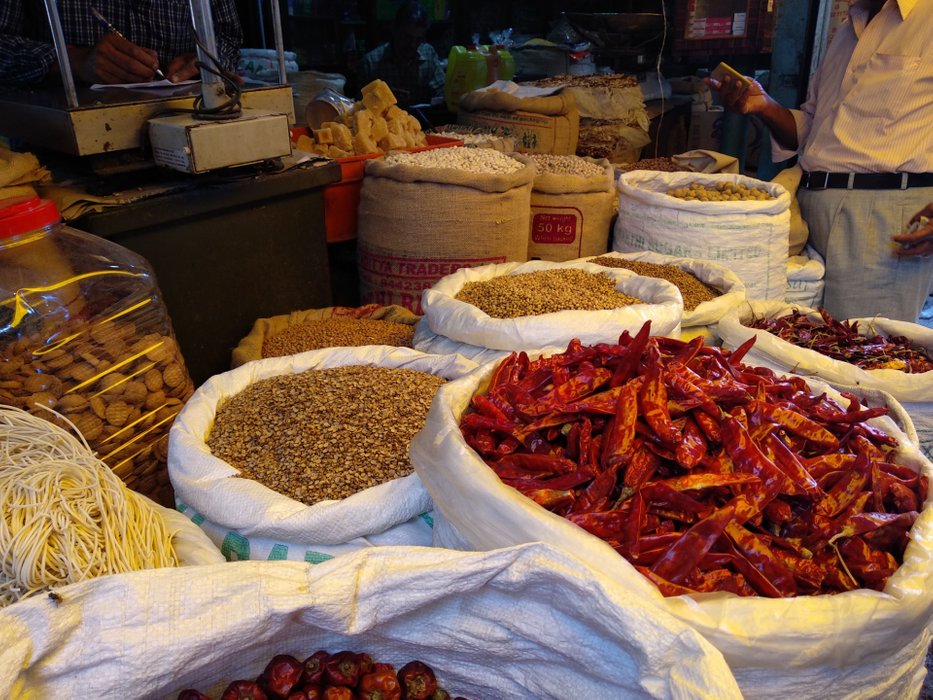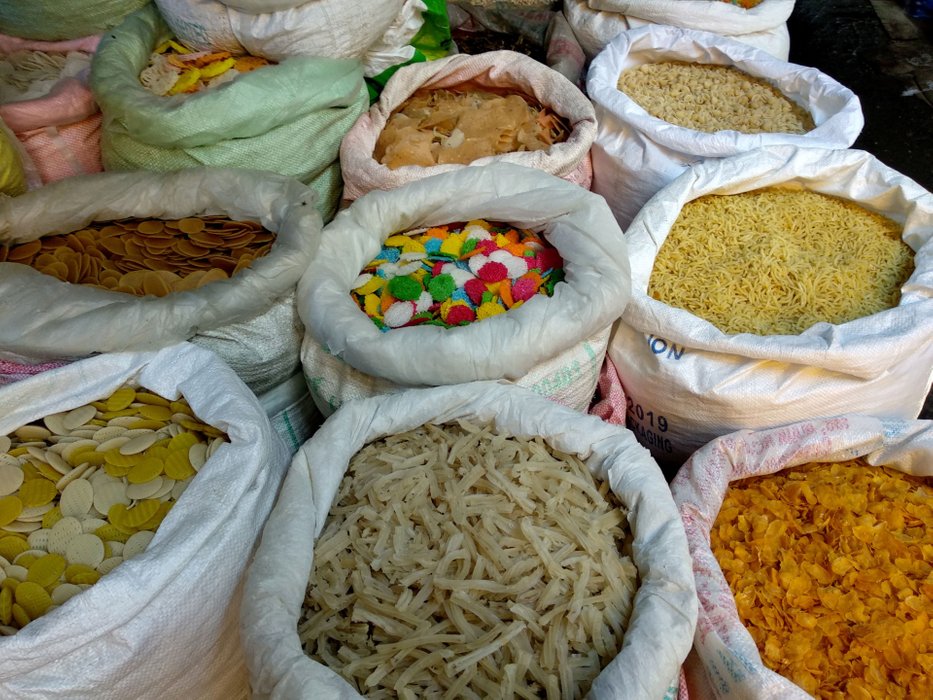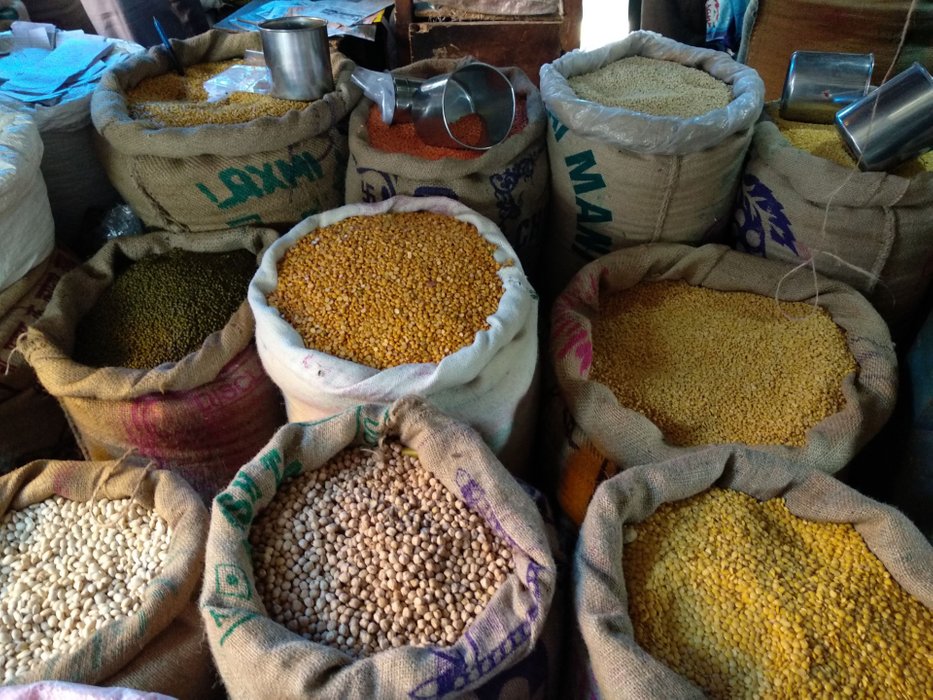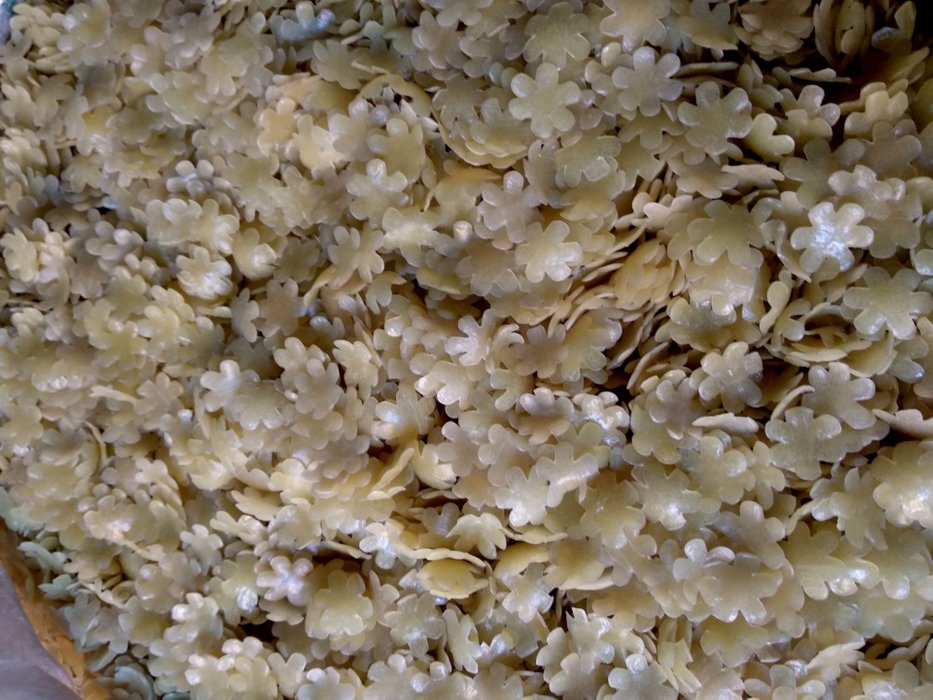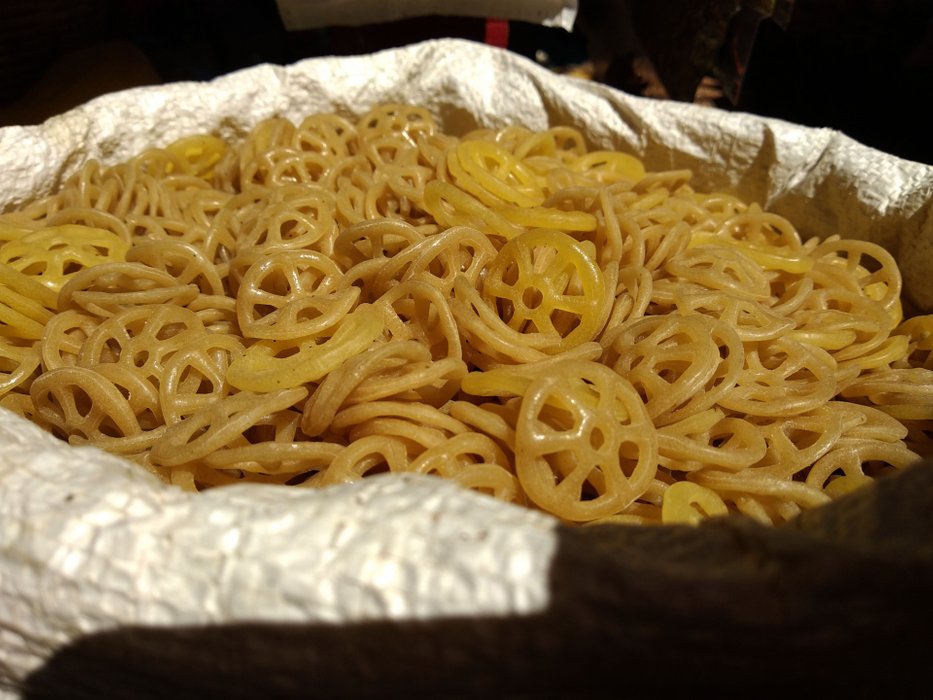 Natural Sugars
Going through the small lanes we came to this place where they sold the sugar and filter coffee powder. It was their own brand. Sugar was not the refined one but the jaggery made out of sugar cane and palm.
The cane sugar one was familiar for me but not the one from the palm. It was more darker in colour and I got to taste it too. I loved how they packed the big chunks of raw jaggery using those leaf boxes. However, it attracted a good amount of flies too.
The Vegetable Market
Inside the huge market is small sections for different items. One of the dominating sections were vegetables. One thing to notice is this market doesn't give away plastic carry bags.
That means either you have to bring your own bags or buy a cotton bag from one of the shops. Chi was interested in buying the off-white colour cloth bags from there. The problem was the confusion of which one since all of them looked same but with a different logo.
Different than our aim of finding the market and exploring the place, rest of the people came for some serious shopping. Especially it was the pooja holidays and there was going to be a high demand for making more meals, the market seemed to get busier with time.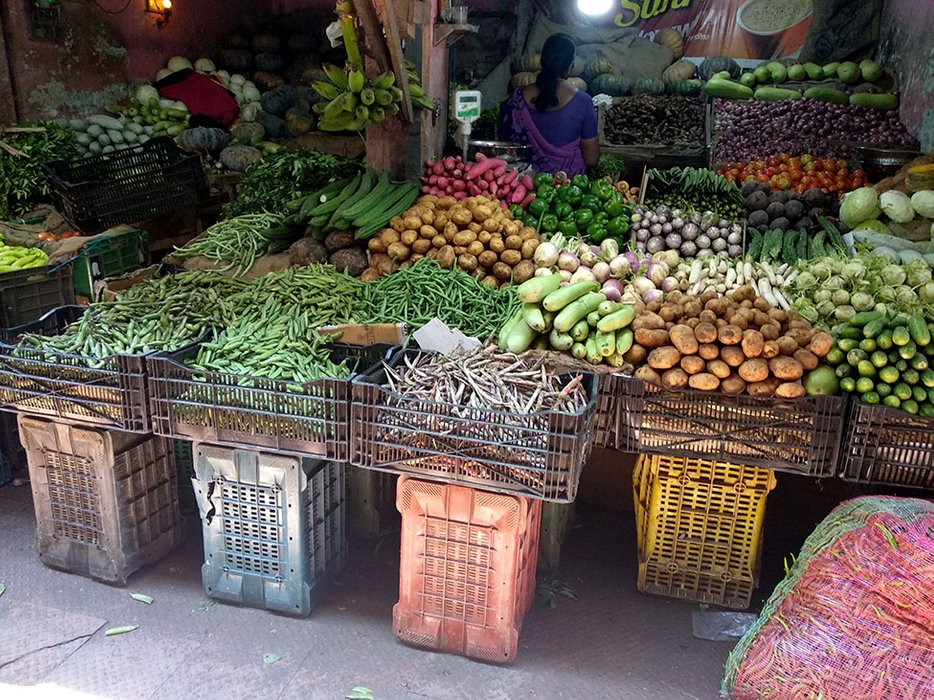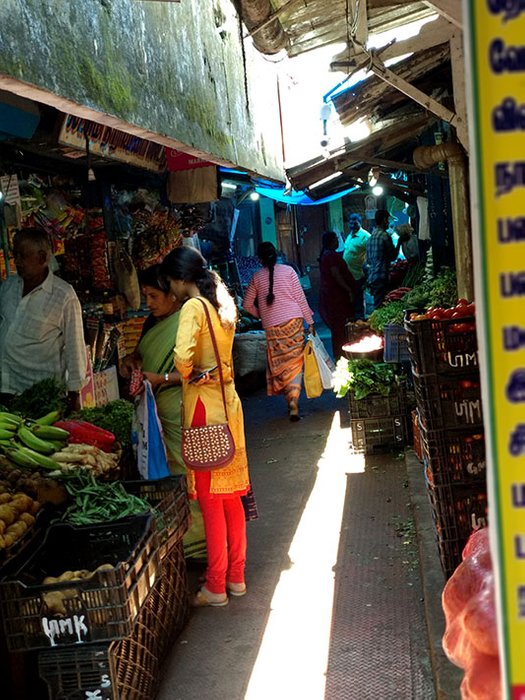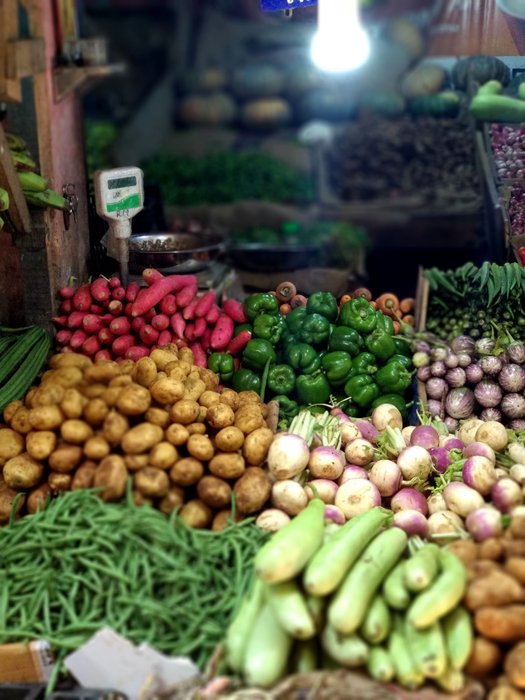 Crossing lanes was a little fun since we didn't know what the next lane is about. It was like hopping from a huge place of vegetables to another huge place but with powdered spices.
Each lane is too small just to fit two people at the same time. And there were stalls in those walking lanes too. Next was a place that had powders and pooja materials.
The powders included not only spices but the sandalwood pastes too. There was another section with flowers, coconuts, cotton thread, and everything you would need in a prayer room.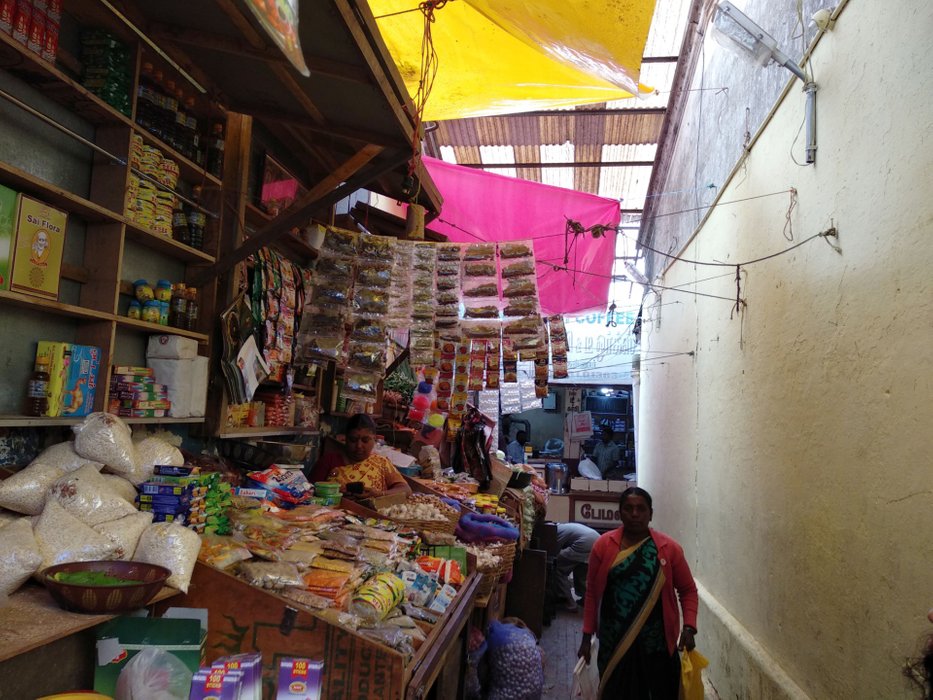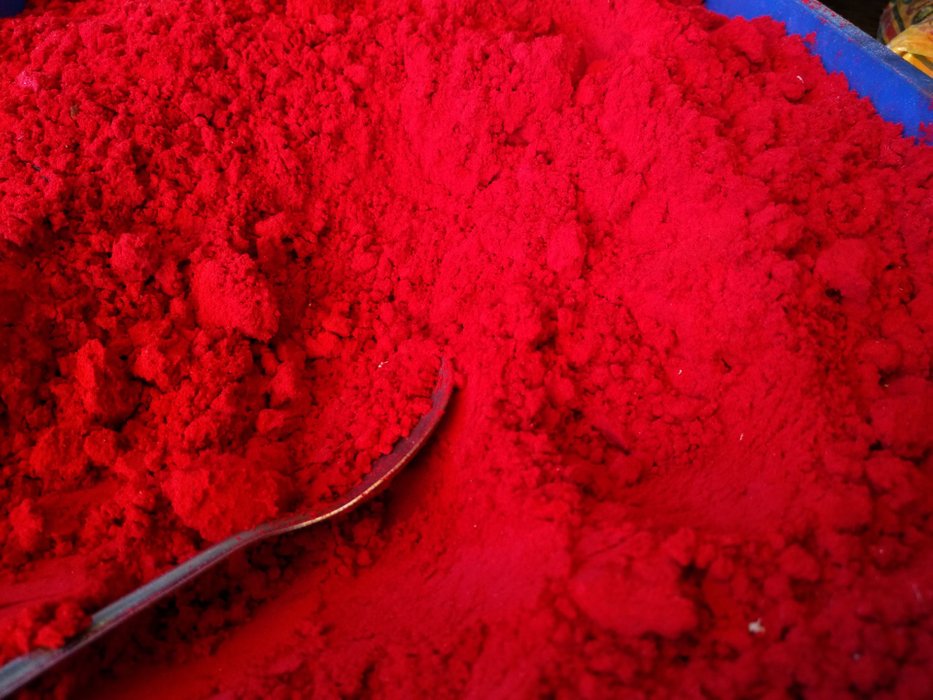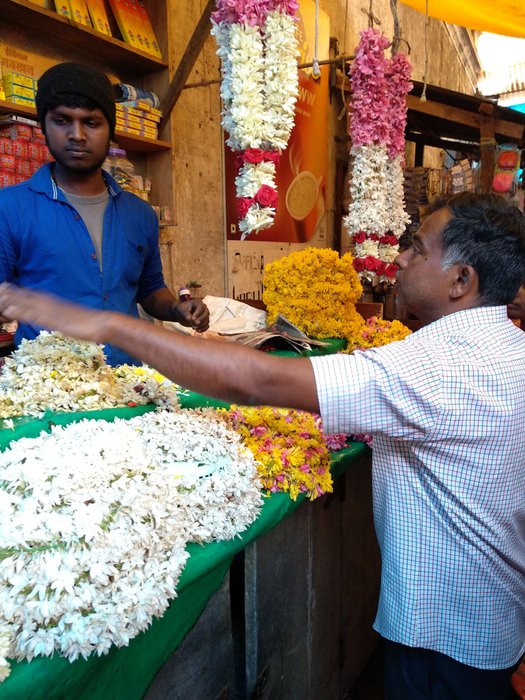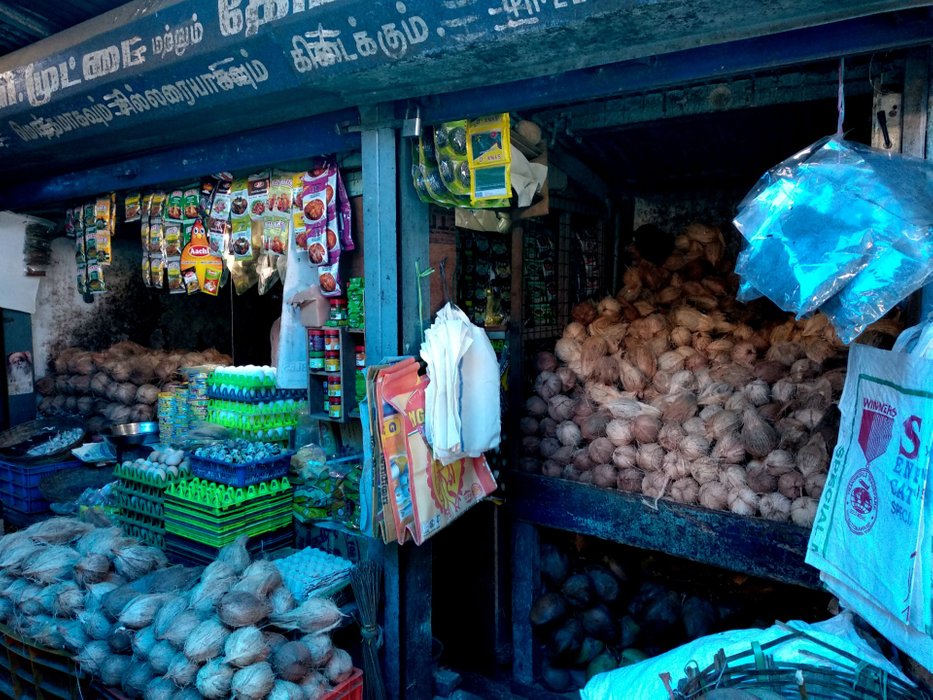 There was this shop of a brand that sold products that are made locally. Since Chi was looking for a place to get some essential oils we checked the products inside the shop. Other than oils, they had a wide range of products from shampoos and floor cleaners.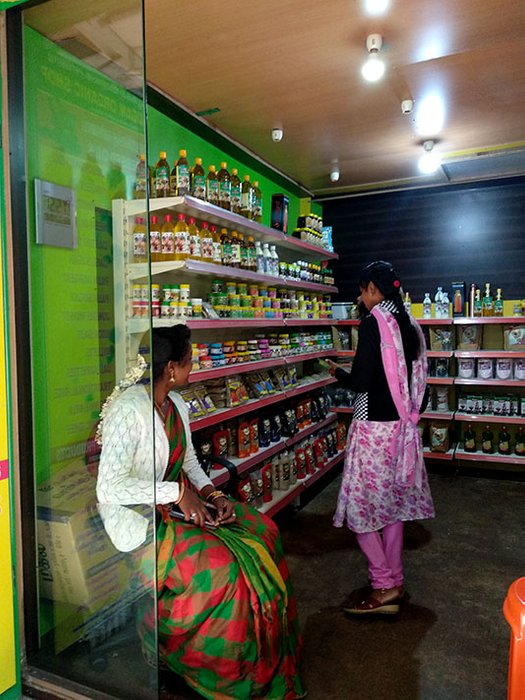 They also have a merchant association office inside the market, another tiny place but very much functional.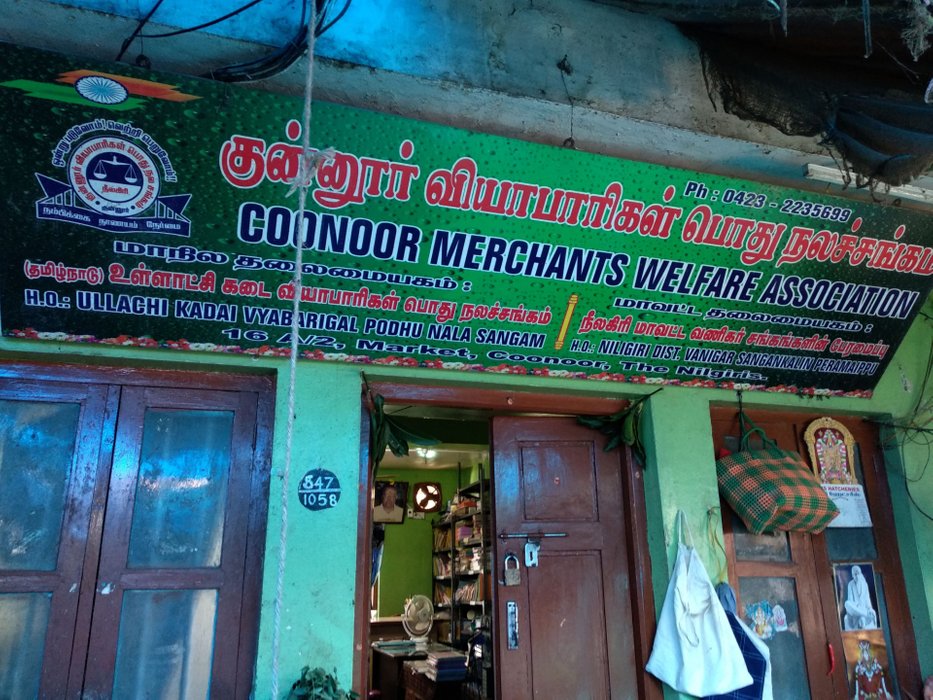 The Humans Inside A Meat House
Warning:Content below maybe disturbing
So we were walking through the lanes and there was this smell a little strong. Chi had gone ahead and I was still looking around. It was clear it came from the meat shops.
The stalls in the market are pretty open or under the tarpaulin and we can walk through the space in between which meant everything was pretty open to everyone to see. Not the meat place for obvious reasons.
So I found this building with meat hanging and I thought to take a picture from outside. That is when the one who was standing right outside insisted I go inside and take pictures.
I mean I didn't expect that and to be honest that was one of the moments where everyone just there started to show their true selves leaving their bored work-faces.
There was this guy, I assume an expert there, everyone was cheering to take his picture and he was like "wait..." went and brought this head "okay, now click the picture".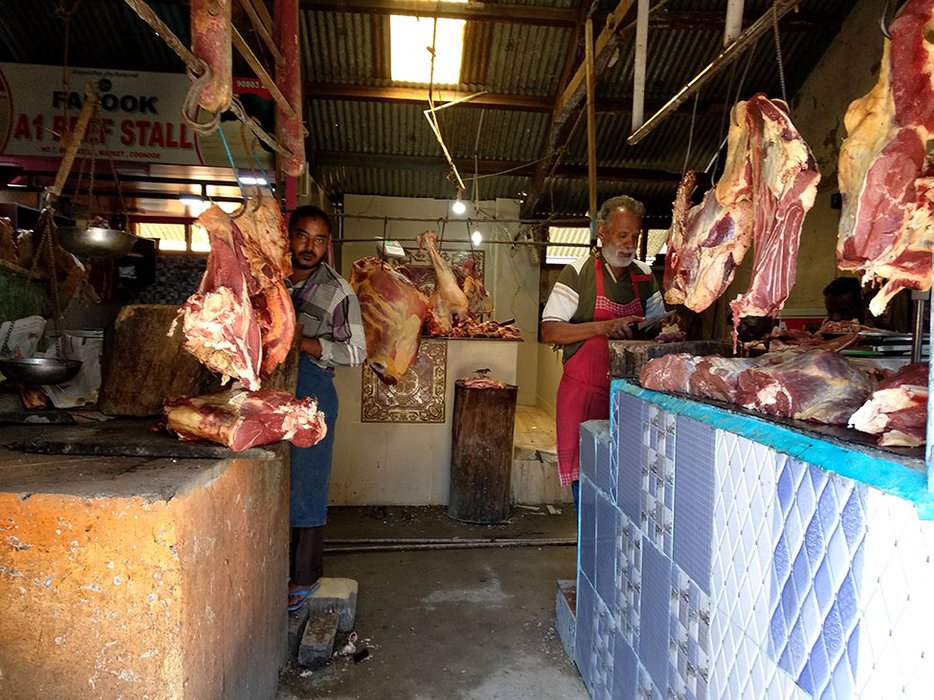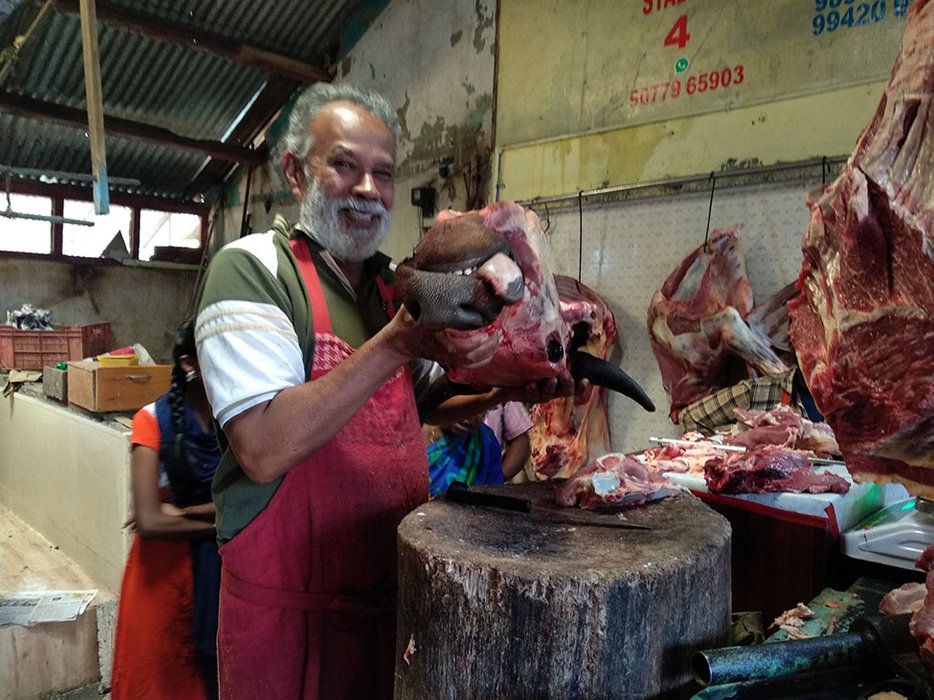 I think I have said this before, there's a huge smile I have always seen on people when asked to photograph or after showing them their photographs. Sometimes its the shy poses I get but not here.
Here, those where talking to me all happy and smiling wanted their pictures taken with a very serious pose with the best part of the meat they had cut today.
No matter the nature of the job or the situations, there is this human connection that makes the experience special. This incident was really special the way they welcomed into their little space.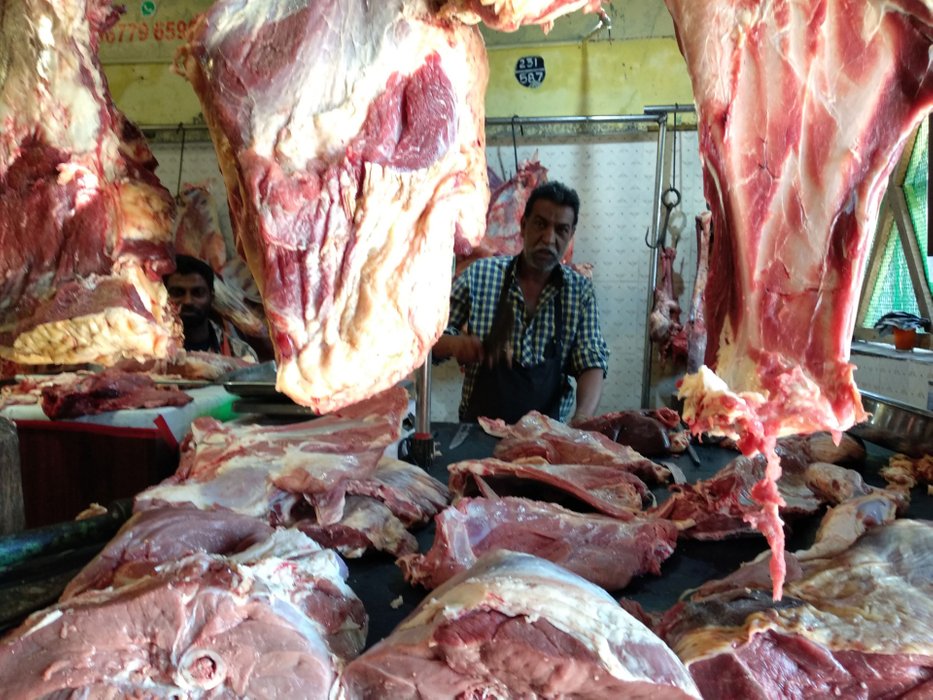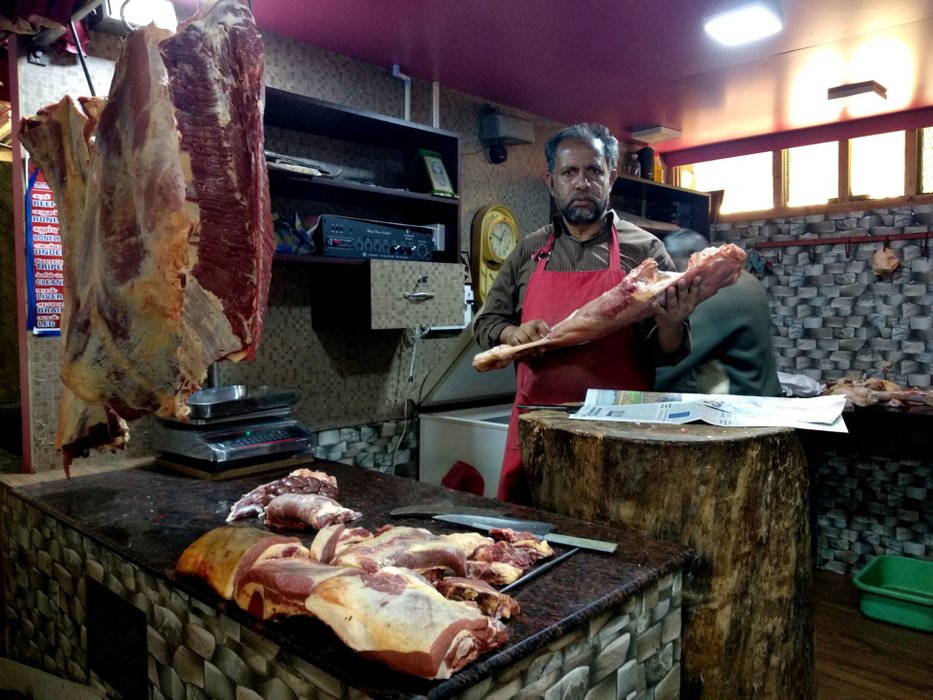 I hurried forward with the call from Chi and then we were in the fruit market.
Fruit Market
Fruits are the one reason I wanted to be in the market. I wanted to buy some fruits, mostly the locally grown and especially avocados. The Nilgiris with its ambient climate is good to grow avocados.
That not just meant availability of avocados but a cheaper price too. And there were in the middle of a lot of fruits. Here's the difference of prices I am talking about.
In my hometown or in other cities, an avocado comes for around 200 to 350+ INR per kg. Here in this market, it was 80-100 INR. And I have once bought two avocados in Pune just to know how it tastes for that kind of price and they were not at good.
In Coonoor market, there were two types, a green one and a brown skinned one. I bought the brown skinned one and I never knew a fruit (or is it a vegetable?!) to taste soo buttery.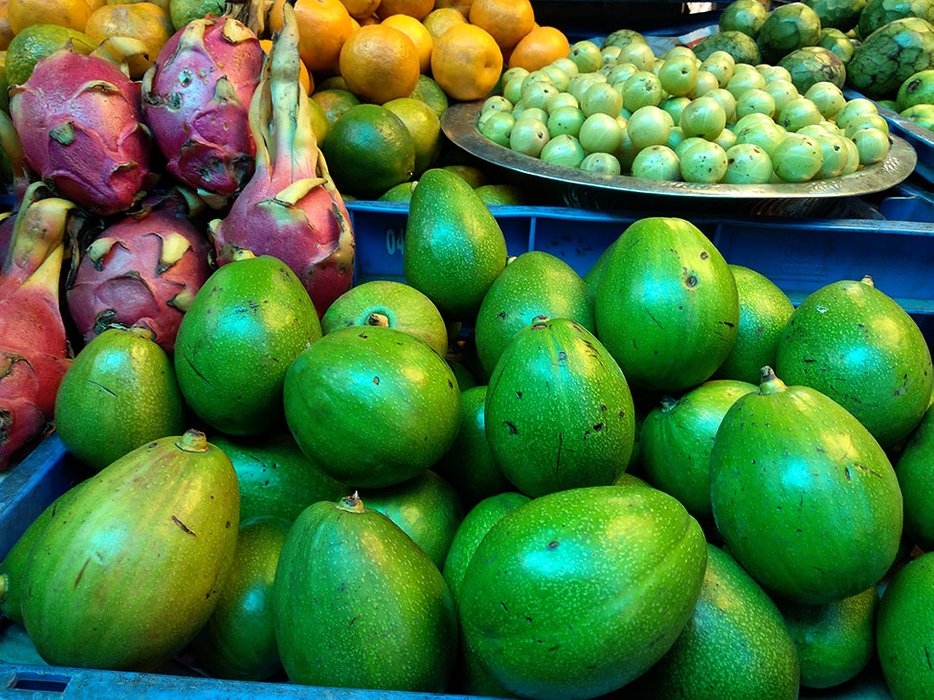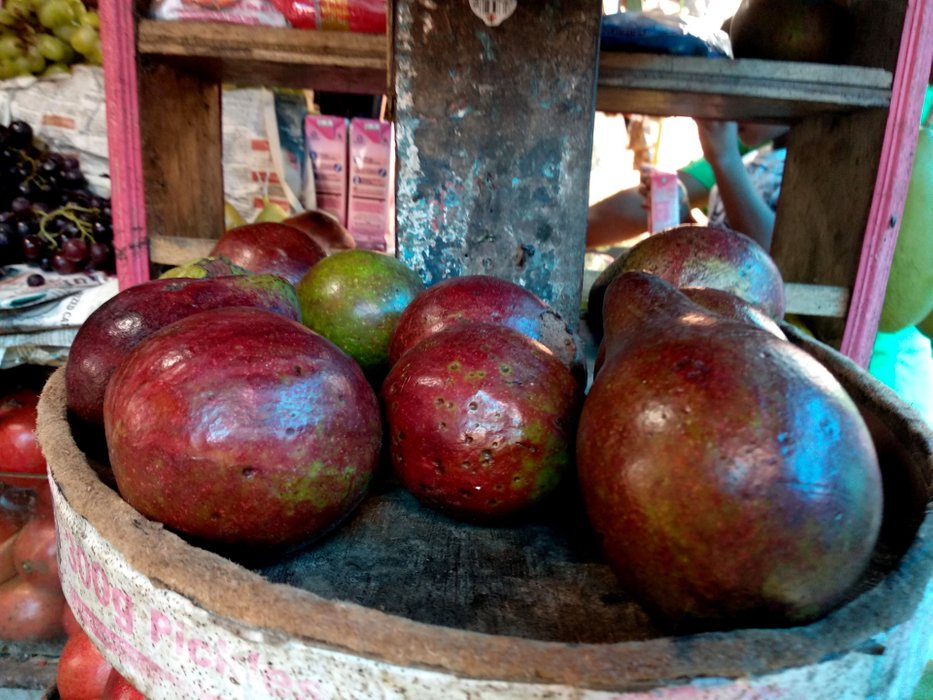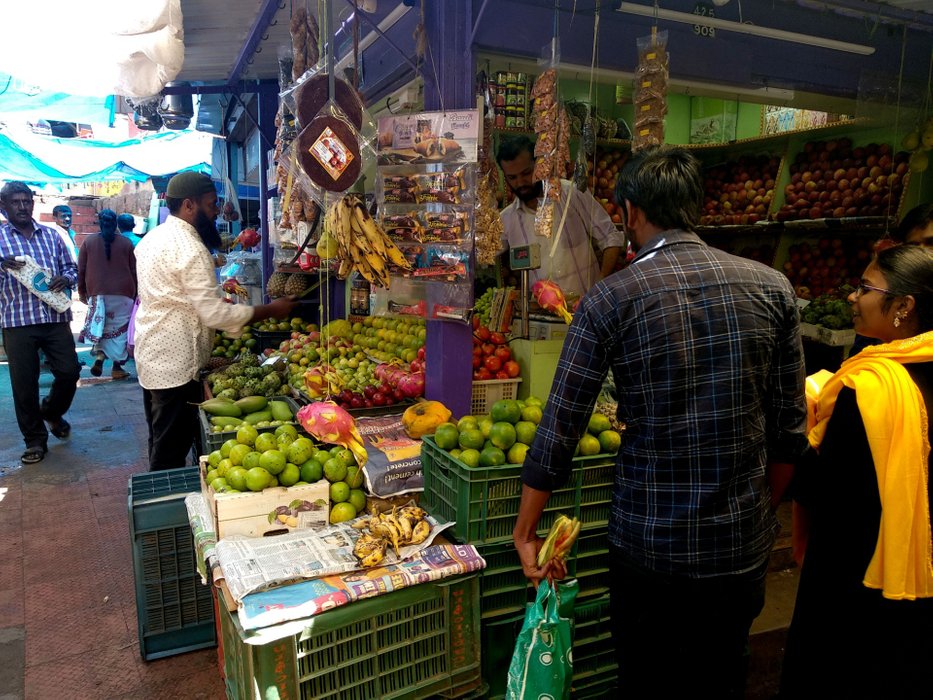 One other fruit I bought from there was this soursop looking custard apple. I mean, I'm not sure if it is a custard apple or a soursop. The custard apple I have had is different from this one and I have never had a soursop. But, whatever it was, it tasted good.
All these fruits are available in Ooty market too but I found Coonoor market to be cheaper and less touristy.
It was a long time we were inside the market and decided to go out to the main road from the fruit market. We found a temple but let's skip that part here. Later we reached this place with many stairs.
Climbing up those stairs was also another street market with tiny shops on both sides. We decided to go up since those houses were really cute and partially because we had no clue where else to go.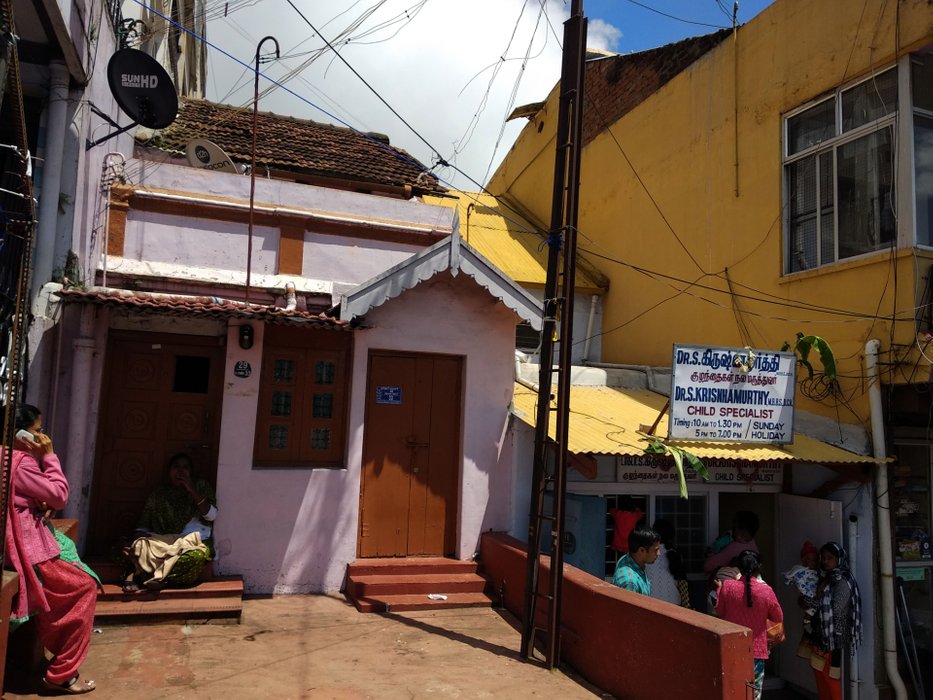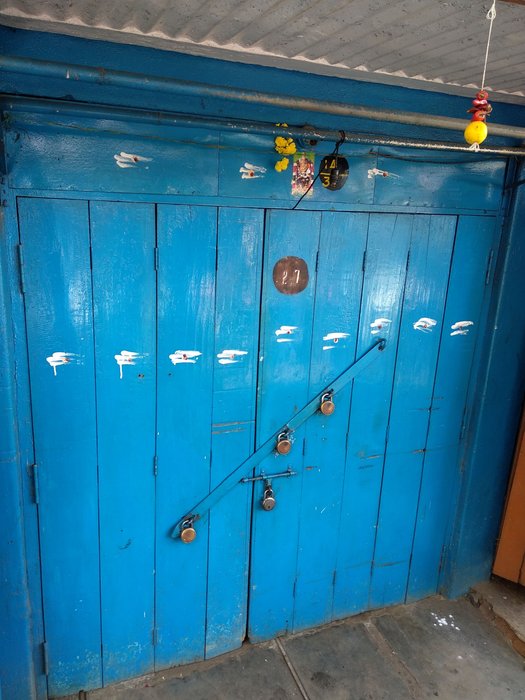 One of the shops on the ground floor was this cute little shop with old clocks and time pieces. The doors of most shops were decorated with flowers and leaves, and marked with sandalwood pastes.
When I am talking about tiny places, this is how a busy clinic looked like. The shops had small wooden doors to enter and inside each shops were fully equipped businesses.
There were everything, a studio, saloon, restaurants, flour mills and the list goes on. However, everyone was in holiday mood and most shops were closed.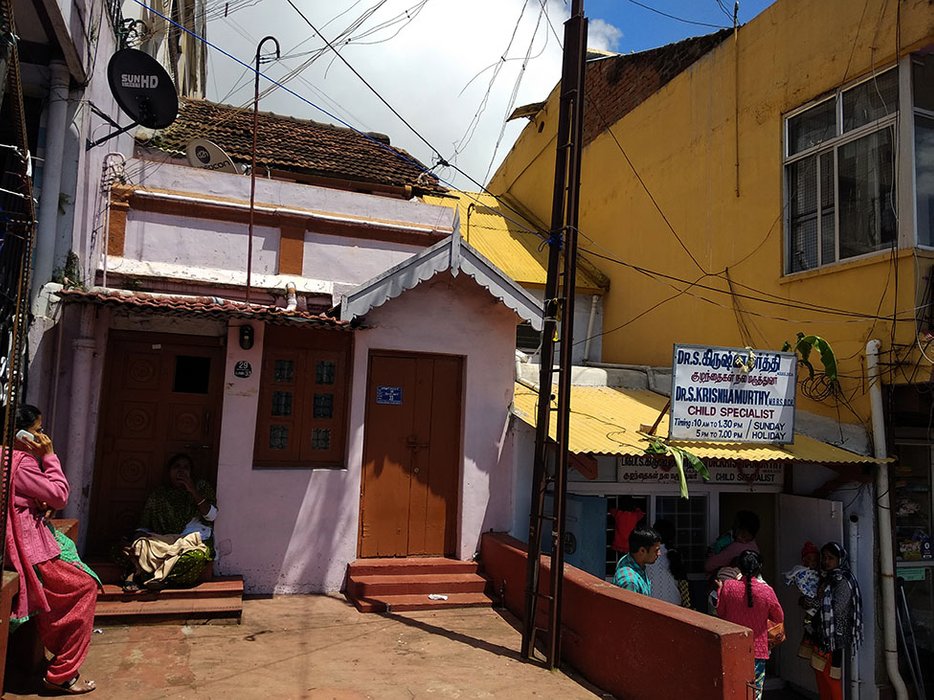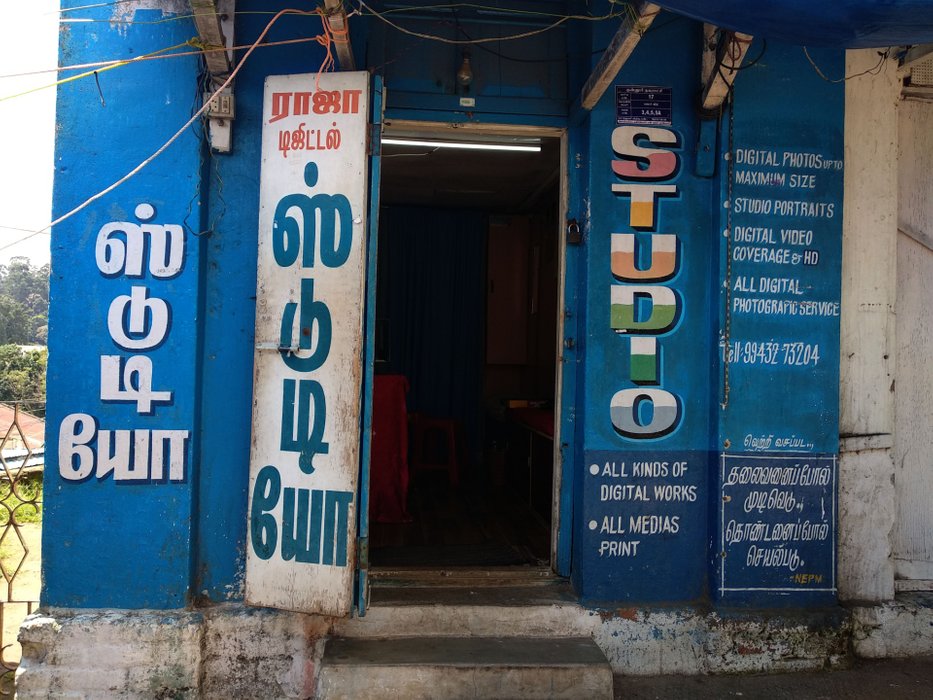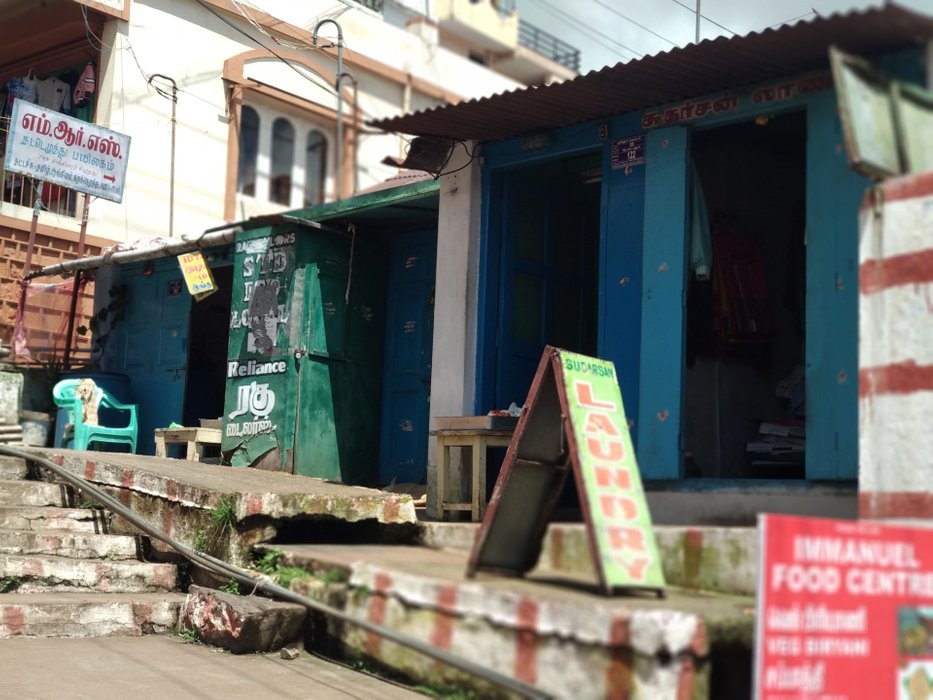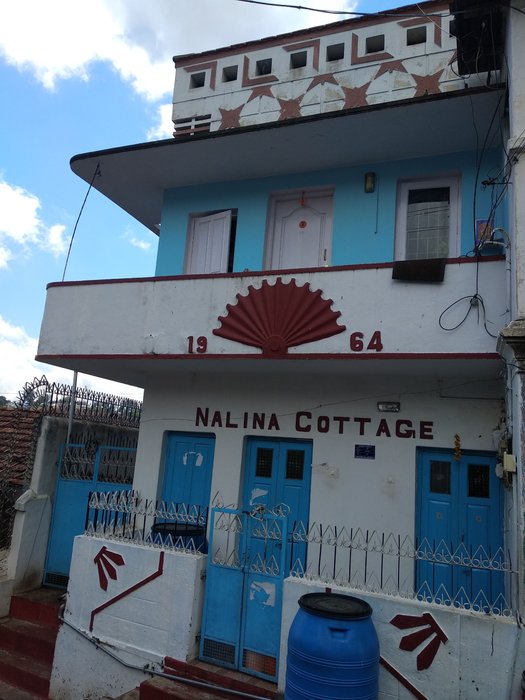 We didn't climb up all the way but took rest in front of a closed shop. Chi decided to try something from one of the shops there and I had my little snack packed from Crown's bakery.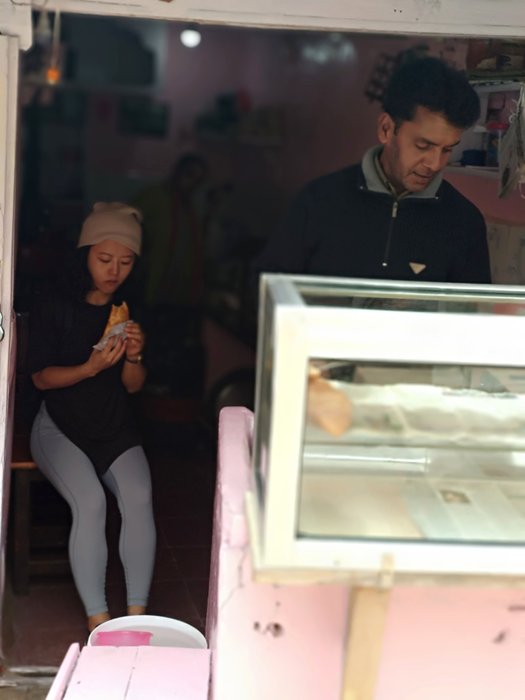 There was this cute old lady who came out seeing me taking the picture of her flour mill. She makes idli and dosa batter and sells it. We didn't need it since we had nothing to cook but she spend time talking.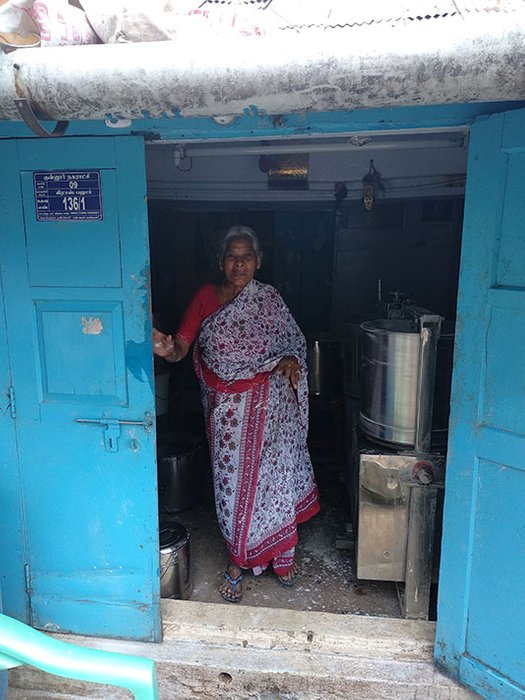 A few more ladies who sold some kind of beans and were busy with their gossips :D The shops otherwise were closed and the stairs empty. And as usual, there laid two dogs with no care for the world!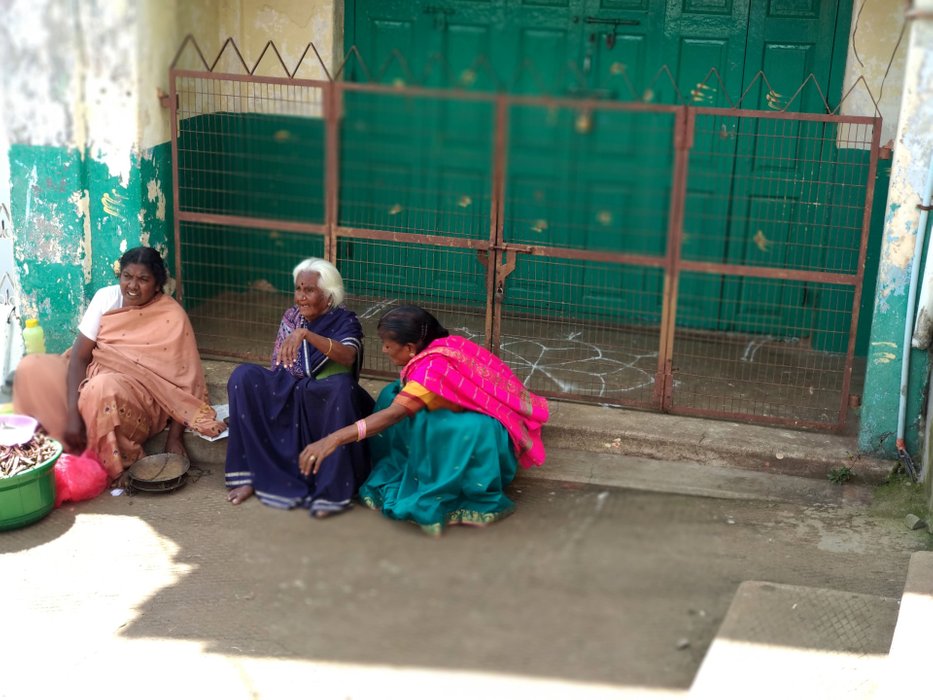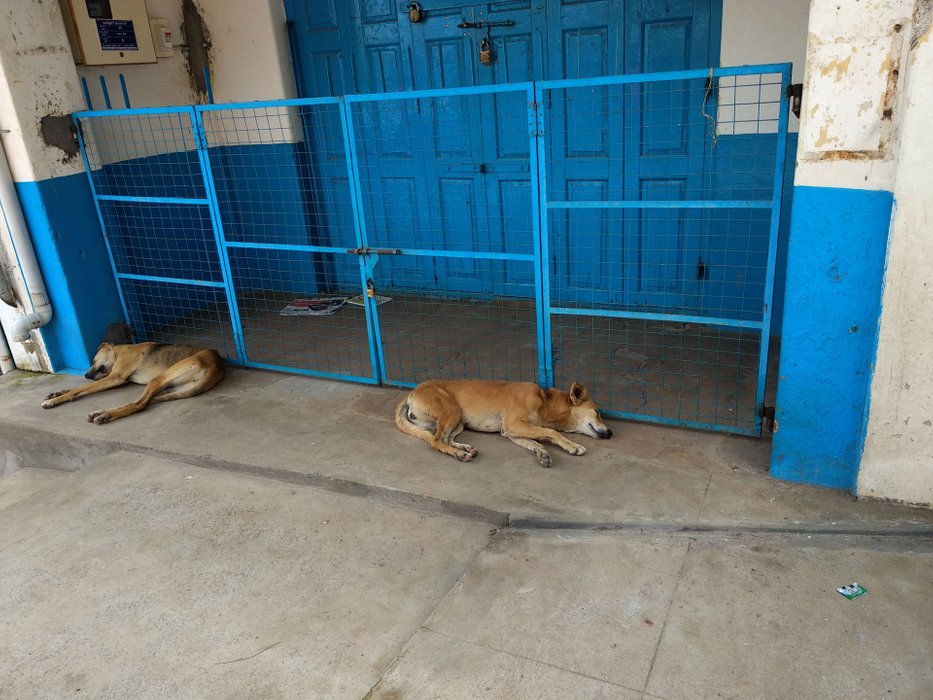 The Little Things
Coonoor was just a perfect place everywhere we went. Though the markets and this street market was not the best places to say perfect, they had their own way of perfection.
Be it the old and scrapped off walls or the art on the walls, there was something to be seen and appreciated in this little town. I love how they have used bright and pastel colours everywhere.
And the details of symmetry on the tiniest things. Like this door with the wooden zig-zags!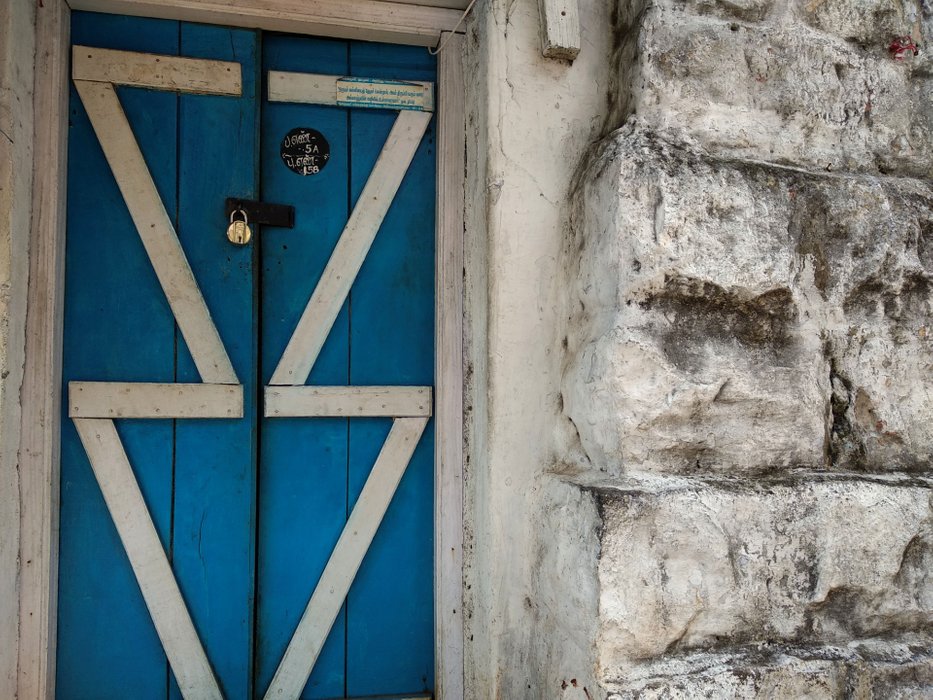 Wait, we found a school inside there. I was not sure what those big green gates were of and then there was this markings on the wall. It was also closed for the holidays but we found another beautiful thing on this wall.
Remember I told you about this flower that grows everywhere in Coonoor and Ooty?! This was a dense place with those cute ones with a perfect background colour.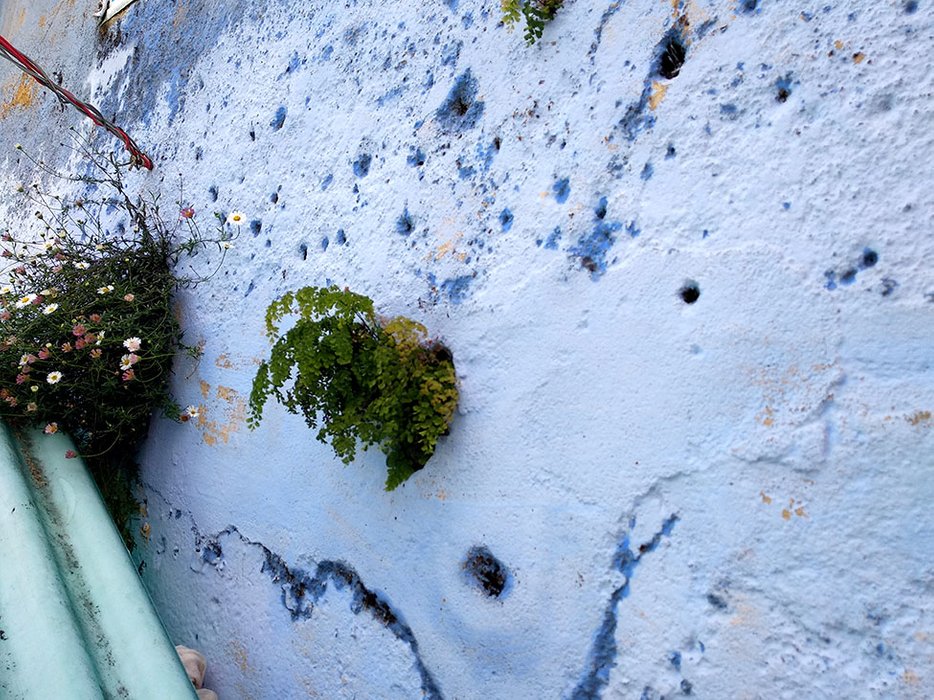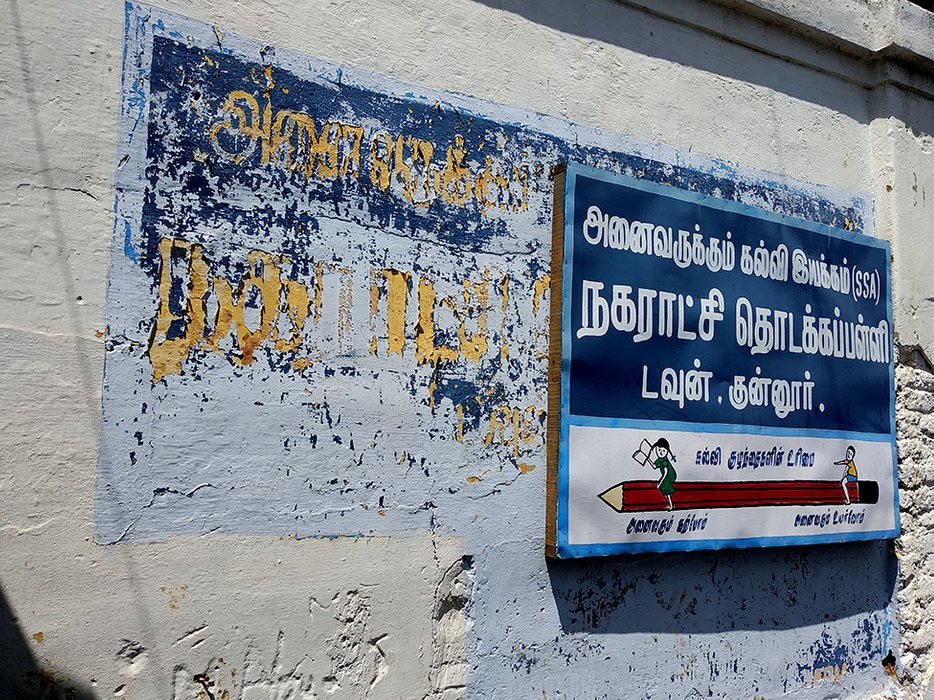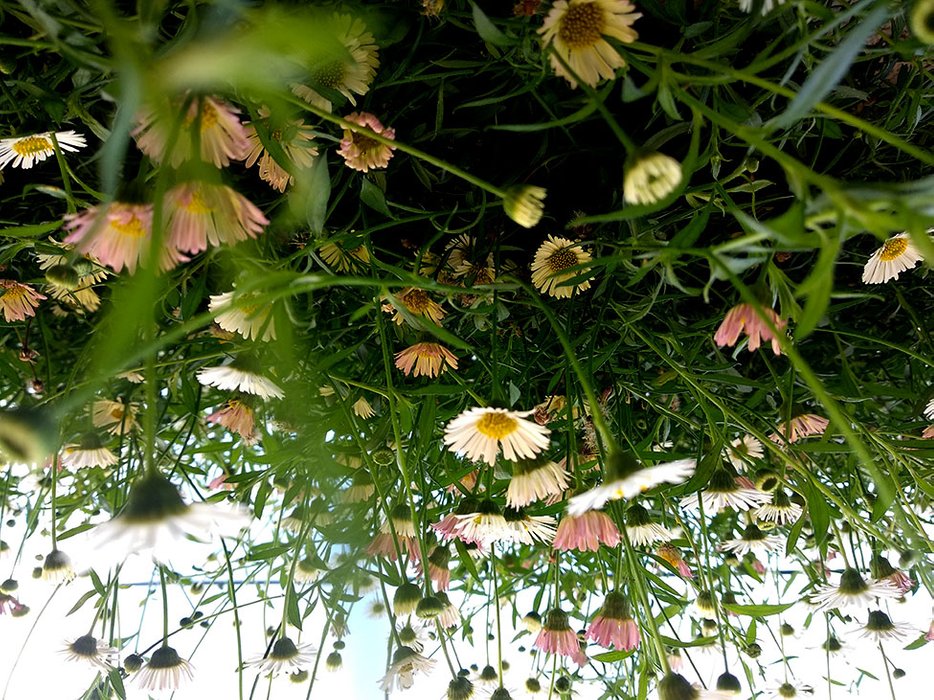 Walking further we saw these lanes with houses on both sides. The houses with Chi-sized doors and the lanes joined to the rim of the main road at different places.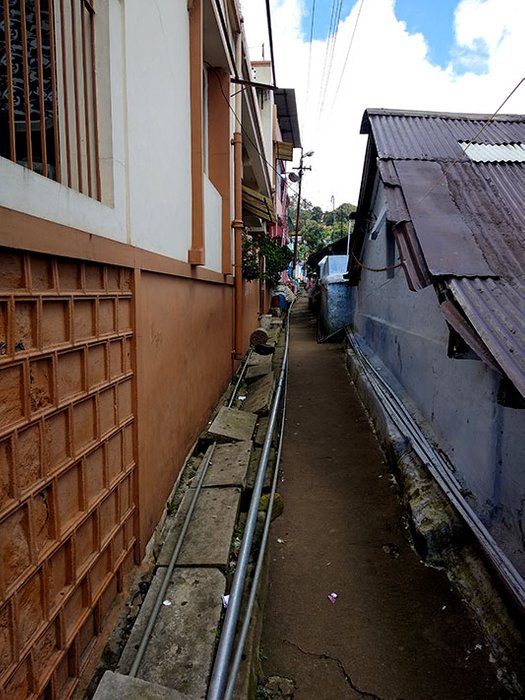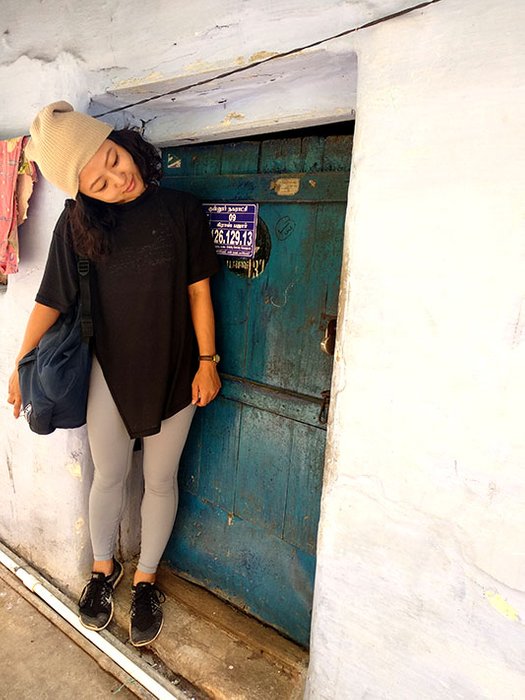 We decided to go back after sometime and there was these mango-cut seller on the way back. He was having lunch and we had started to feel hungry too.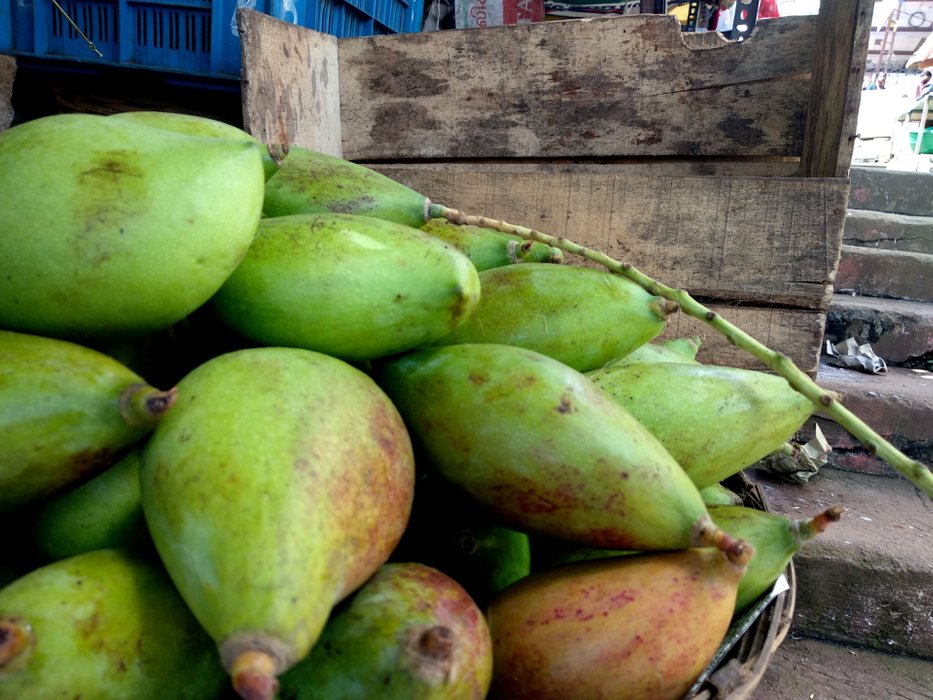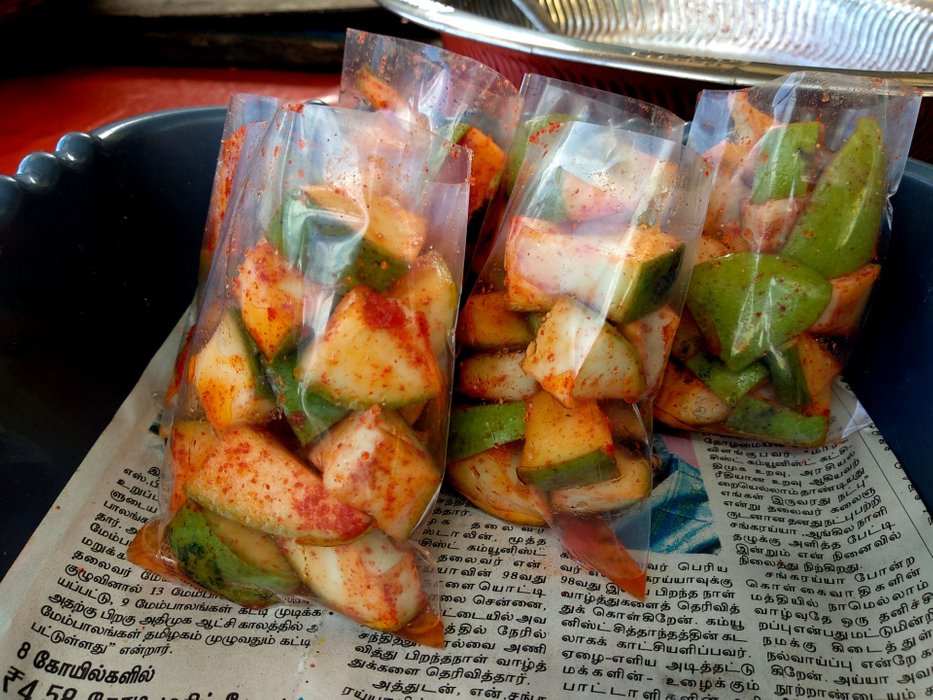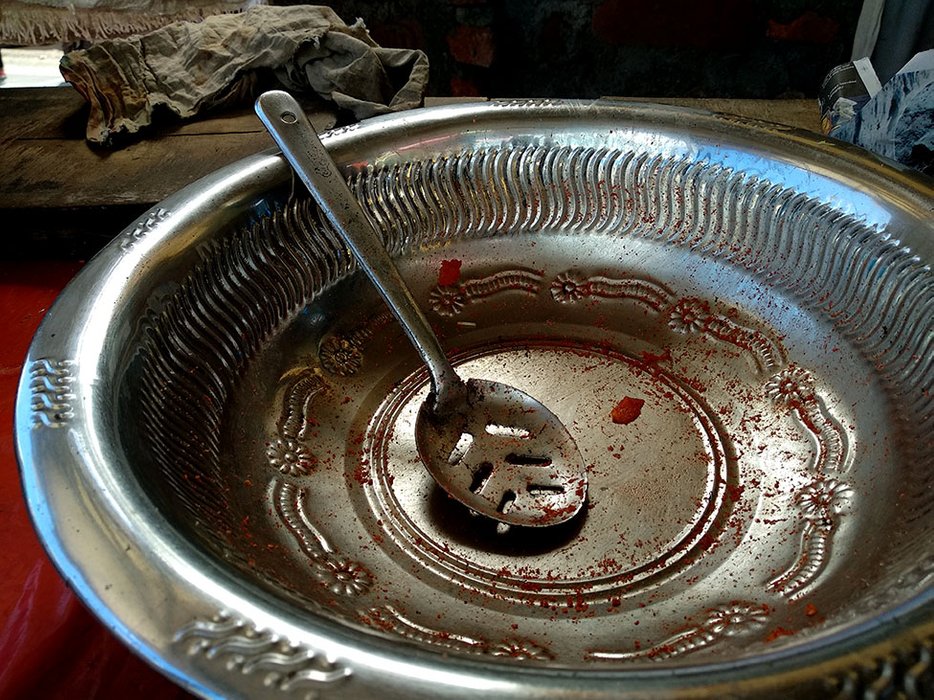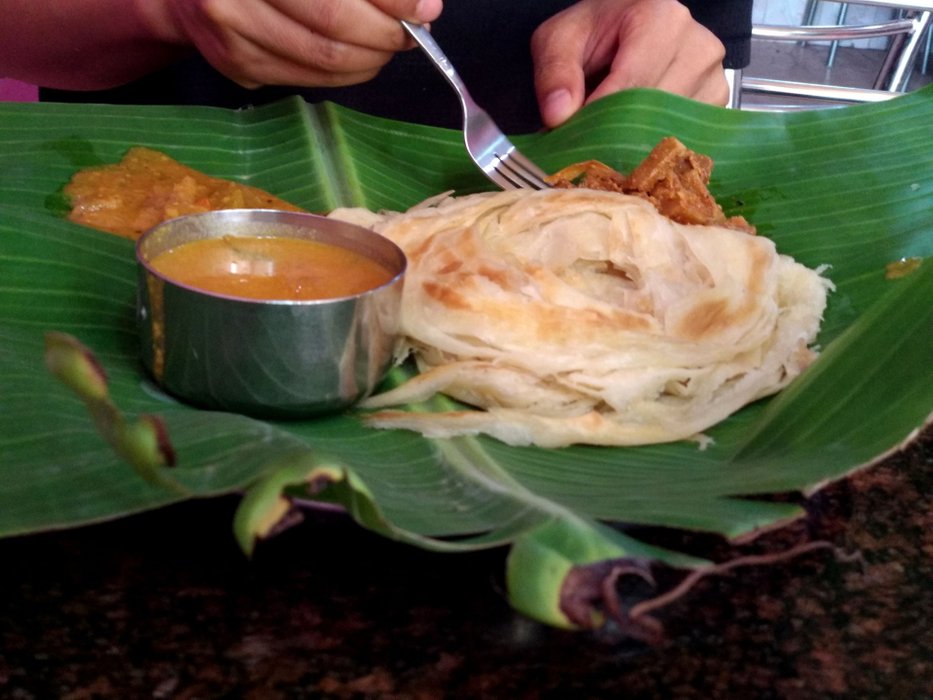 I don't quite remember what I ate but we went to this small restaurant near Crown's bakery for Chi wanted to eat from there. She had this porotta and sambhar combo.
There are many other restaurants on the other side of where we went. We knew that only when we were going back but it was a long day already. We had enough packed too.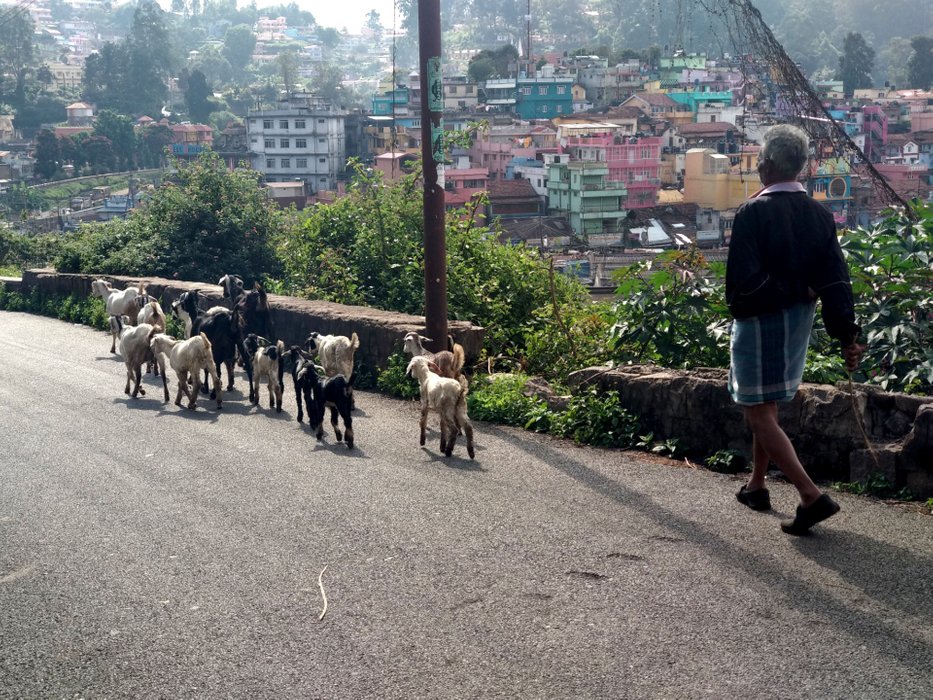 The streets were filled with those who sold the winter clothes and accessories. On the way back, we found this shop with a lot wool and threads. A lot of bundled colours.
That was our day and we were climbing up the hill while these goats made their way down the hill.