Right next to the thermal vents from last time lie the Mývatn Nature Baths.
This kind of hot spring lagoon is well worth experiencing. Our traveling friends opted for this location rather than say the Blue Lagoon since this was significantly cheaper when exploring the options. The Blue Lagoon is quite crazy in terms of needing to book months in advance as well. The only problem with here is that it's on the other side of the island. But just look at this place!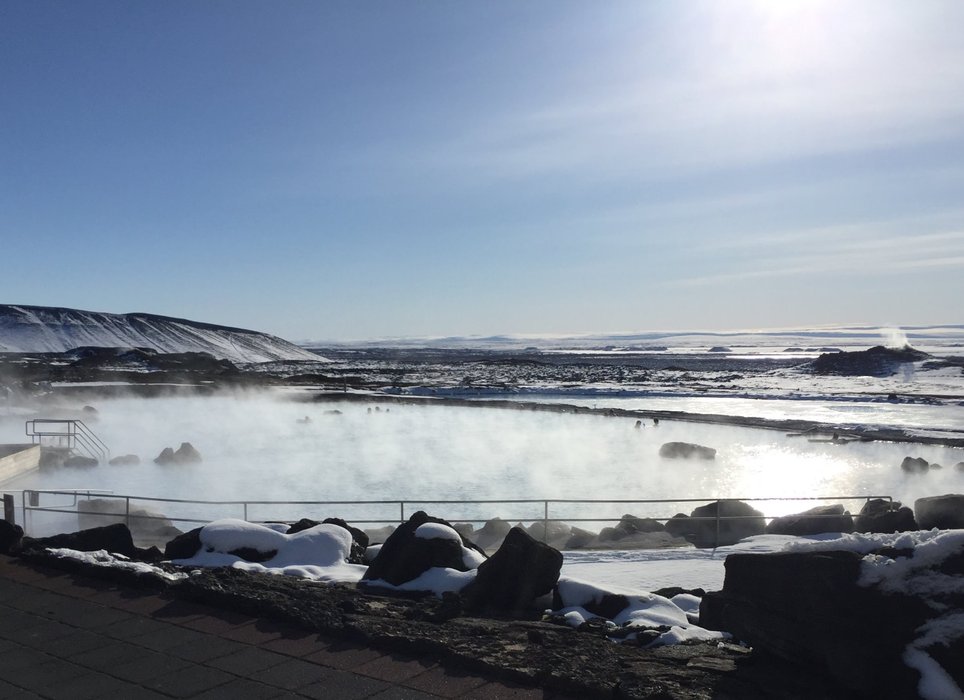 And I know what you might be thinking... How does one get in there in the first place? It's still cold cold cold, and there's about 15 feet of walkway from the locker entrance to the edge of the pool. Yup. You just have to shiver for a bit. And walk really fast. And just imagine too that you've just taken a shower to rinse off before going in.
Then whoosh, into the clear waters of the pool, complete with the heavenly scent of hot spring sulphur. The temperature is just right. If you buy a pass, you can even purchase drinks while stewing in the pool.
At the far side, there is an area where the pool becomes very shallow and ends in a rocky beach. It was at the perfect angle to just lie down. And a bunch of us did just that to take a nap. I later found that some of the little black rocks got into my ear though, yuck. I'll count that as a souvenir.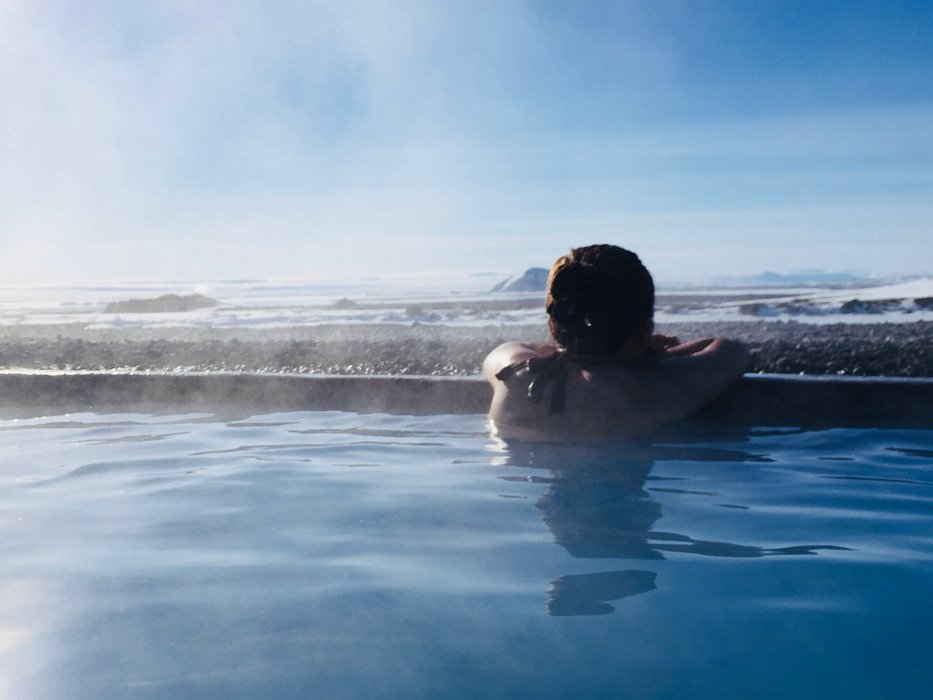 We spent quite a bit of time there (about 2 hours, though some of us wanted to stay longer), and the majority of time was spent admiring the view.
They also have a sauna that makes use of the natural steam which we sat in briefly. Towards the end hunger got the best of us and we all got ready to leave to where we would be staying the night.
And just one moving image for fun, to show the steam.
And to say goodbye. Best, most relaxing day of the trip! Imagine if we had soaked in after the long hike... That would have been perfect. Or dialing in and watching the night sky... in some other life perhaps.
Here's a link to the beginning...
And the journey continues here...
---
Click the banners to learn more about each community!
---