The sanctuary of Hera Akraia is a worth seeing and rather unknown no excavation site.
Take a look at the article busy.org an denn mit Steemit gibt es Probleme.
It can be reached by crossing the Corinth Canal and heading towards Perachora via Loutraki.
---
You drive past a beautiful lagoon past it
There are several great tavernas where you can eat freshly caught fish very well.
Position Google Map: Sanctuary of Hera Akraia
The Heraion of Perachora.
The sanctuary of Hera Akraia ('Hera on the Promontory') World Icon, about nine kilometers west of Perachora, near Cape Melangavi, was a significant Hera sanctuary in ancient Greece.
On the site of the archaeological site there is a small chapel which you can also look inside. From the archaeological site a path leads to a lighthouse and a small platform where you can sit with 2 people.
---
You should be free from giddiness because it is certainly 100 meters in depth. The picture shows my son and me.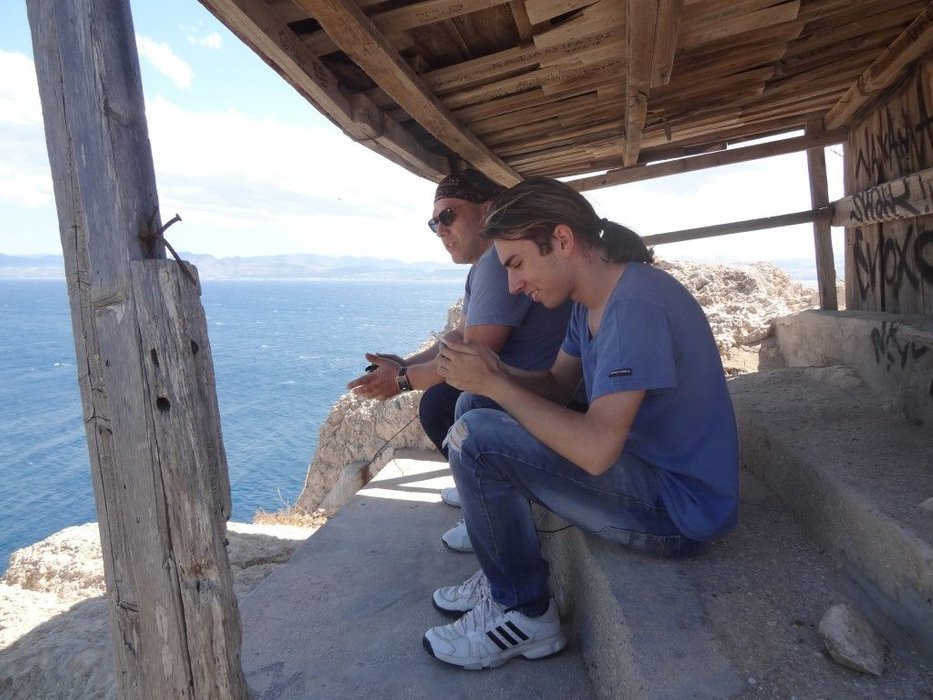 ---
The following text is from the Wikipedia accepted. The pictures are from me.
---
The sanctuary, from which one can see well the access to Corinth, came about 750 v. Chr. Under the influence of the Corinthians. An important find from the early days is an approximately 35 cm long clay model of a house.
---
During the flowering period in the 7th and 6th century BC In the 4th century BC, most visitors came from this city. In the 4th century BC Chr. There were some new buildings. In the Hellenistic period it lost importance and was in connection with the destruction of Corinth by the Romans in 146 BC. Destroyed..
From an apse temple on the harbor from the 8th century BC. There are still traces visible. About 525 BC Chr., A larger temple with Doric facade was built. Stairs at the altar should give the participants in the sacrificial ritual a better view. Well visible are the remains of two stoai from the late 4th century BC. Chr.
---
On the upper level was an impressive cistern (about 525 BC) with plastered walls. Striking is a room in which symposia were held (as can be seen from the pedestals of loungers and remnants of a hearth).
---
Video from Youtube from fab drone where you can see the beautiful lagoon and the area taken by a drone

---
reference :
Wikipedia https://de.wikipedia.org/wiki/Perachora
---
The pictures were taken by me in 2017 when we made our annual Peloponnese circuit.
---
---
What is my blog about? ?
Here I publish everything that has to do with the topic of Greece. Pictures, excursion recommendations, recipes and travel tips you can see and read here.