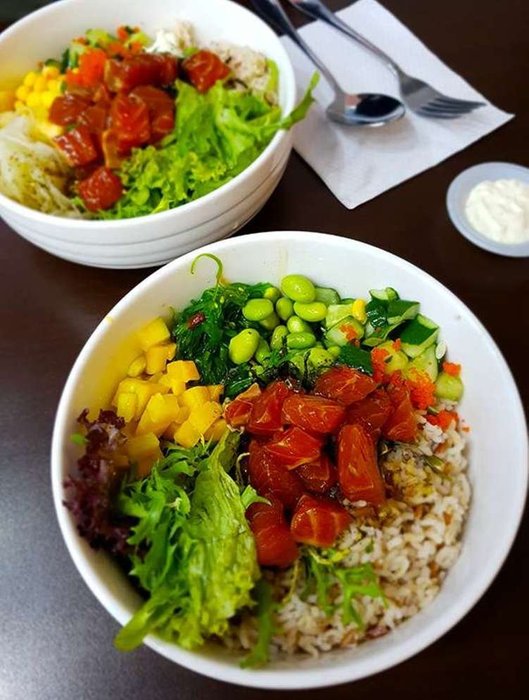 Good Food, Great Mood.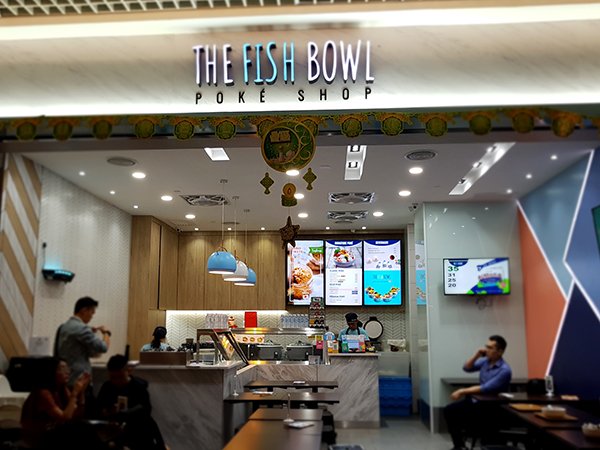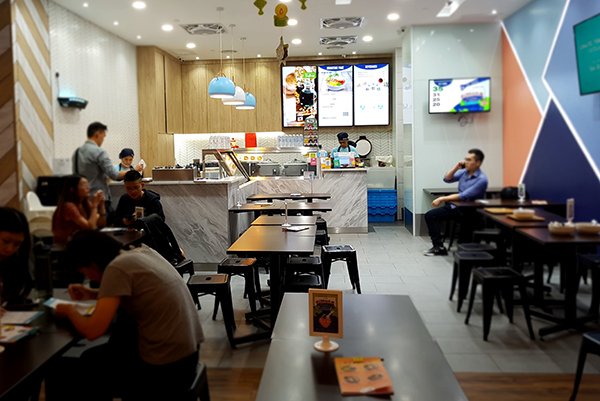 Poke Bowl has really become a trending way of eating in the city. We are seeing many sets up of Poke Bowl business around the commercial area and housing area mainly in the malls. The younger generations nowadays are all about healthy food and getting fit.
Most of the restaurants I went that served poke bowl, customers mostly in their 20's - 40's, including myself of course, hahaha... Why do we like it? I guess because it's free from oil and fried, the ingredients mainly are fresh greens and meat. Looks healthy enough!
We found this one inside the mall that we recently visited quite frequently. It's called The Fish Bowl, in 1 Utama Shopping Centre, Bandar Damansara. Their protein mainly is salmon and seafood, I guess that's why they have used the name 'Fish'.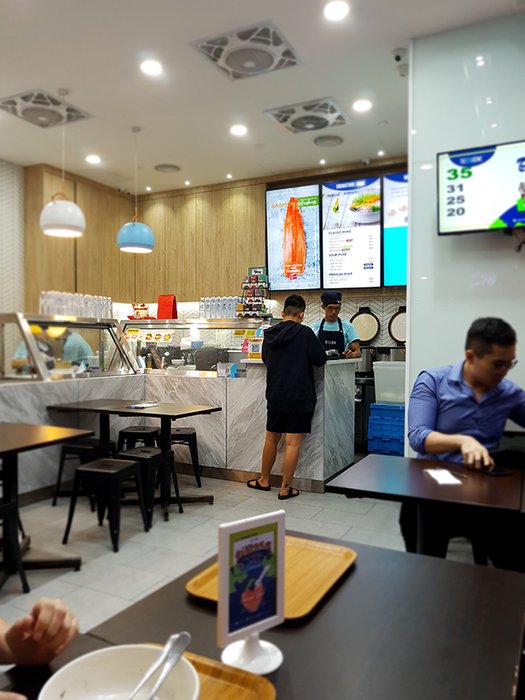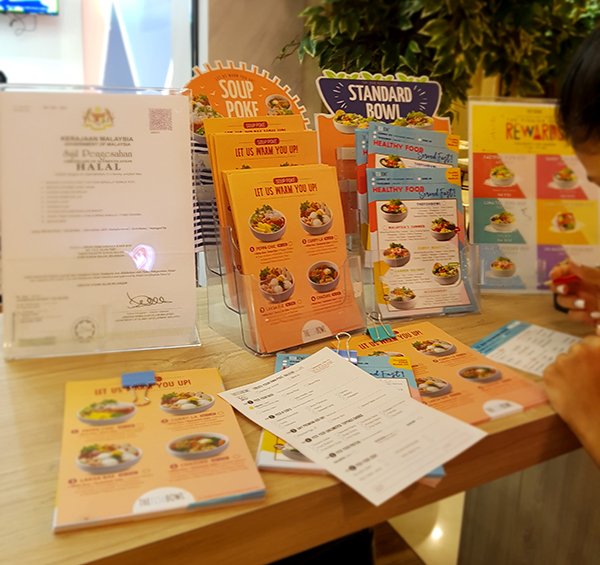 The place is not big, so you can either order your food with the 'Order Form' on the table, or you can stand at the counter outside where there is a stand with the order form for take-away. Then you pay at the counter and get a number. When your food is ready, your number will be called and you can pick up your food at the other end of the pickup counter.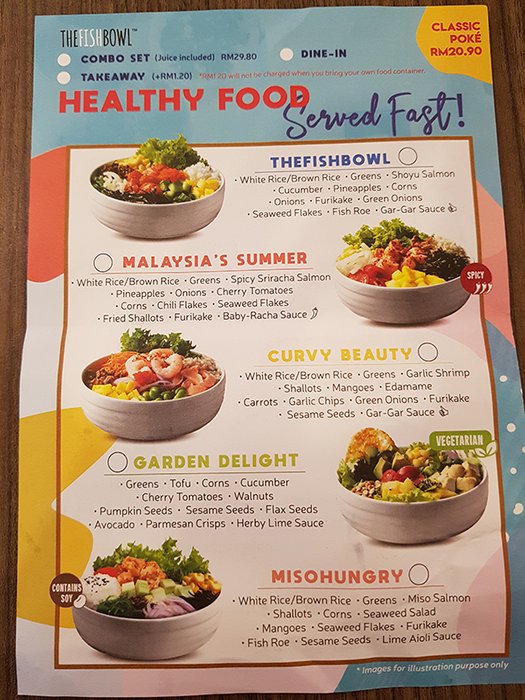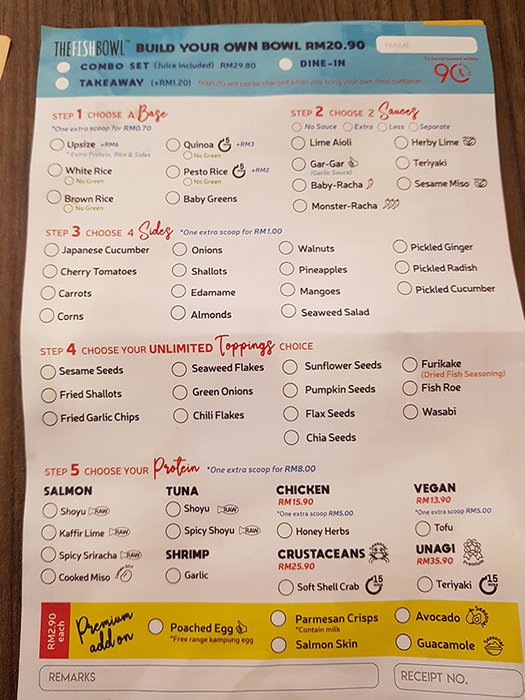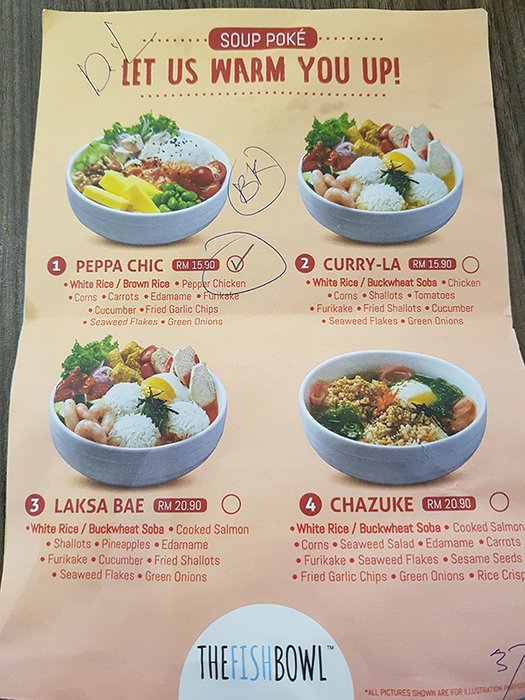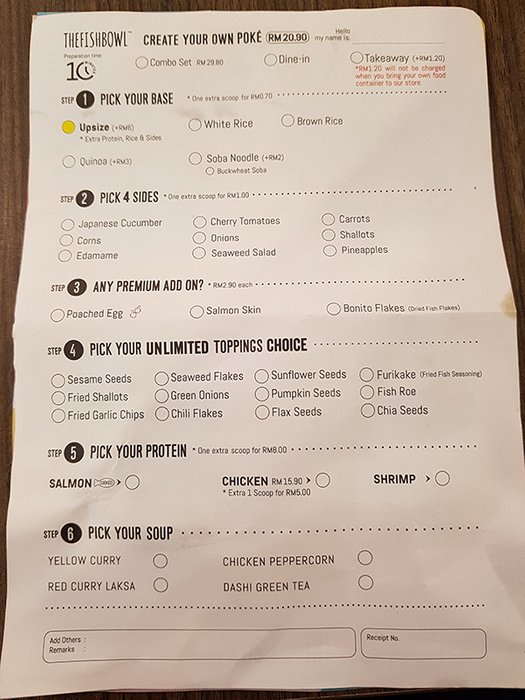 This is how you make your order, choose from the menu the sets you want, Rice or Soup. Or you can make your own combinations of Poke Bowl, and that's what so great about this style of the eatery. So it's suitable for vegetarians or vegans because you can make your own without the meat.

These were our orders.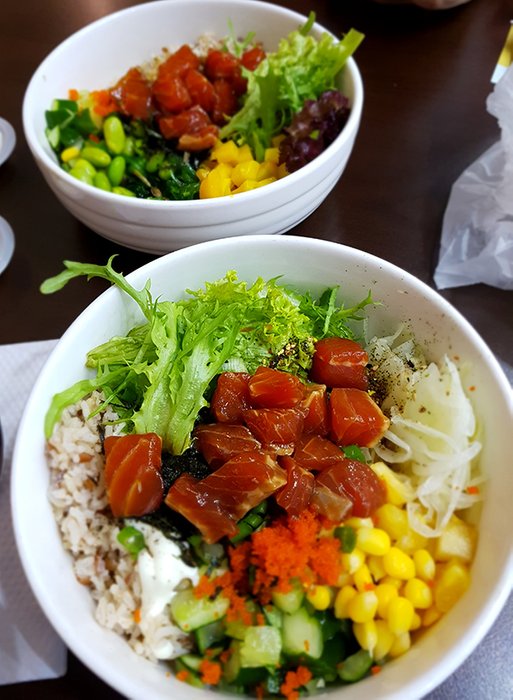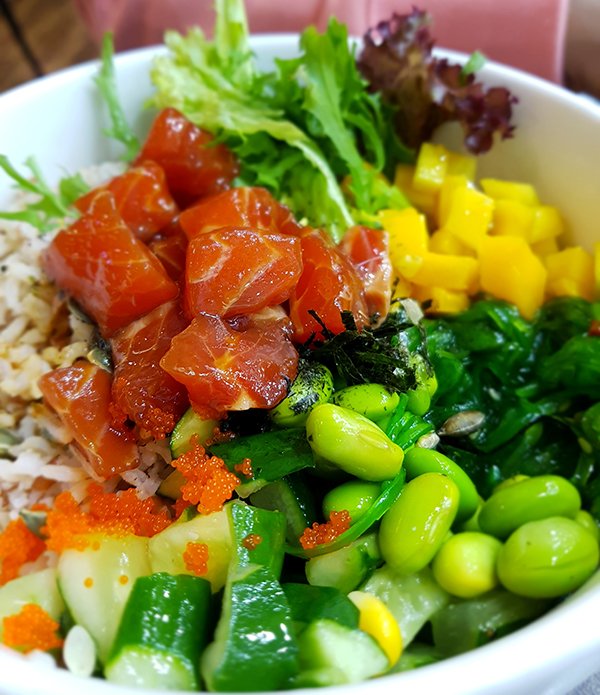 Build Your Own Bowl, RM 20.90 (USD 5.08)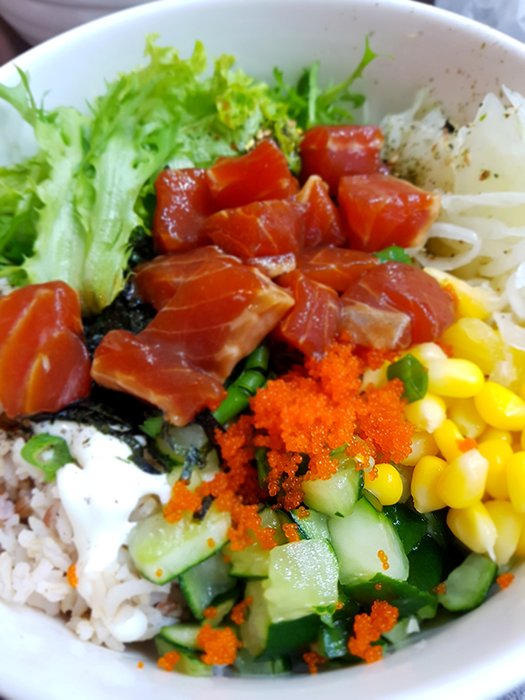 The Fish Bowl, RM 20.90 (USD 5.08)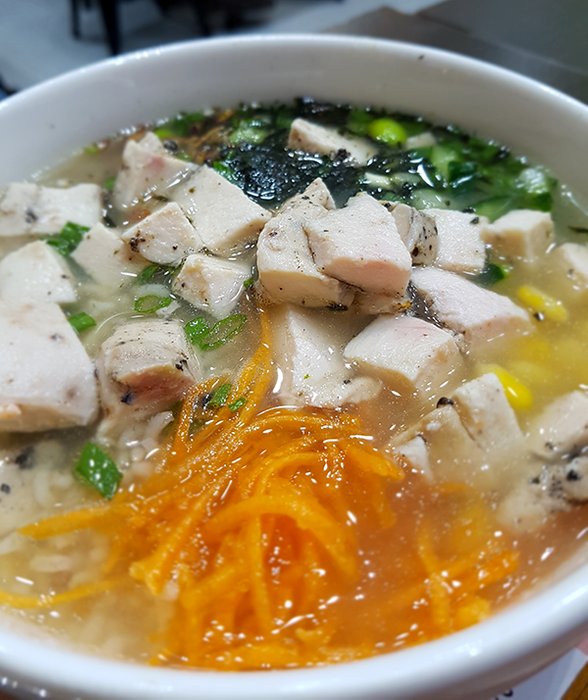 Peppa Chic, RM 15.90 (USD 3.87)
We tried their rice and soup. As expected, the food was delicious, everything is fresh and juicy, mixed with their sauces makes the dull veggies much tastier!
The Fish Bowl comes with standard ingredients of rice, greens veggies, Shoyu Salmon, cucumber, pineapples, corns, onions, Furikake (Fried Fish Seasoning), green onion, seaweed flakes, fish roes and their own gar-gar sauce (garlic sauce). I like their sauce very much, and the portion is quite big, worth the price you are paying.
As forPeppa Chic, comes with rice, Pepper Chicken, corns, carrots, edamame, Furikake, cucumber, fried garlic chips, seaweed flakes and green onions. Rice in a soup is like eating half-cooked porridge, though when mixed all together it's rather tasty!

Overall
Eating Poke Bowl will be expecting it to be pricy, a small price to be in a healthy state right! The place is clean and bright, great for dining. Ordering is easy, I would totally recommend this place to you all if you have never tried a Poke Bowl before and decided to give it a go.

All photos were taken with my Samsung Galaxy S7 Edge.

The Fish Bowl @ 1 Utama Shopping Centre.
Address: LG115, Lower Ground Floor, 1, Lebuh Bandar Utama,
Bandar Utama City Centre, 47800 Petaling Jaya, Selangor, Malaysia.
Operating Hours: Monday - Sunday 10am - 10pm
Website: https://thefishbowl.my/

Thank you for stopping by, this is a place where I can share the things I enjoy in life, art, gardening, nature, foods. This is why my divider above are filled with all the different kind of icons that I love doing. I hope you enjoy my post so far, leave me a comment if you like.
谢谢您的到访,这里是个我可以分享关于我所喜爱的生活,包括艺术,园艺,大自然,食物等等的地方。 这就是为什么我上面的页脚全都是我喜欢做的不同类型的图标。 我希望您喜欢我的帖子,如果您喜欢,不妨留下您的评语。
Proud Member of:

Proud curator and editor of #cn-malaysia

---
Restaurant Information

The Fish Bowl.


1, Lebuh Bandar Utama, Bandar Utama, 47800 Petaling Jaya, Selangor, Malaysia
---
STEEM Food Tours #69 - The Fish Bowl.
This post participated in the Tasteem contest Your weekly choice